Watching psychological movies can be scary and challenging at times. Perhaps persons does not question themselves every day. However, a situation or scene he encounters may make him feel the need to question himself. When he questions himself, he may face traumas that he was unaware of before.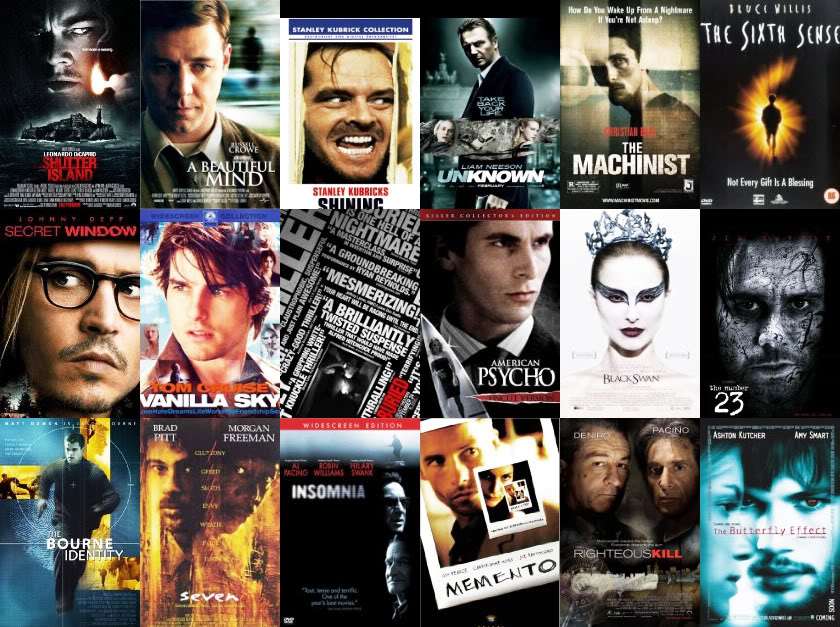 In addition to traumas,
psychological
films lead people to question. Sometimes, thanks to these inquiries, you can find answers to problems that you could not find the answer to. We have compiled for you the best psychological movies, some of which are based on real events and you can't get over the effect for a long time. We wish you a good viewing.
---
1) Twelve Angry Men (1957) | IMDb: 8.9
Director: Sydney Lumet
Cast: Henry Fonda, Lee J. Cobb, Martin Balsam
The subject is 12 jurors who will decide the fate of a teenager accused of murder. If the accused is found guilty, the penalty will be death. The youth's defense is not satisfactory. Moreover, the knife he said he lost is found at the crime scene. The majority of the jury decides that the teenager is guilty. Only juror number 8 says the young man is innocent. This jury tries to persuade the other juries one by one. The reasons behind the other jurors voting guilty are often xenophobia and majority conformity. One of the most cult productions of our psychological movies list.
---
2) One Flew Over the Cuckoo's Nest (1975) | IMDb: 8.7
Director: Milos Forman
Cast: Jack Nicholson, Louise Fletcher, Michael Berryman
Adapted from the book "One Flew Over the Cuckoo's Nest", the film tells the story of a prisoner trying to break out of prison. A prisoner named Randle P. McMurphy thinks the way out of prison is to pretend to be mentally ill. The prison administration observes Randle's misconduct and sends him to a mental institution.
Randle immediately draws the attention of the mental hospital management. His deviant and self-directed movements set a bad example for other patients. A nurse named Ratched, who works in a mental hospital, puts Randle on probation. He watches every move he makes. These two have two very opposite characters. This contrast creates great tension between them.
---
3) Vertigo (1958) | IMDb: 8.3
Director: Alfred Hitchcock
Cast: James Stewart, Kim Novak, Barbara Bel Geddes
The technique used by Hitchcock, sitting in the director's chair, causes the film to occupy an important place in history. Detective Scottie Ferguson can't save his partner, who fell off the roof while trying to catch a criminal. Ferguson, who can't get over this event, starts to have a fear of heights. This fear of heights grows and turns into vertigo. Ferguson, who retired because he couldn't continue his job while struggling with this disease, starts working again to help a friend.
His friend asks him to watch his wife, Madeleine. This tracking proceeds differently than anticipated. Because Madeleine is suicidal. Ferguson also has to face his own fears trying to make things right.
---
4) La Vita e Bella (1997) | IMDb: 8.6
Director: Roberto Benigni
Cast: Roberto Benigni, Nicoletta Braschi, Giorgio Cantarini
Guido and teacher Dora fall madly in love with each other. Overcoming many difficulties, they get married and have a child. At a time when they were waiting for everything to go well, II. World War II begins and everything turns upside down. Because they are Jewish, they are taken to one of the concentration camps.
Guido creates a game so that his son is not afraid of this environment. He describes the situation they are in as a playground. He says that if they complete these tracks, they will win great prizes. He gamifies everything by saying that they have to complete these tracks especially so that his son can get that prize tank he wants.
---
5) Black Swan (2010) | IMDb: 8.0
Director: Darren Aronofsky
Nina is an extremely talented ballerina. Nina's whole life, whose mother is also a ballerina, is indexed to dance with her mother's influence. Ballet director Thomas Leroy decides to make a few changes to the Swan Lake Ballet. He wants to make a combination of innocent purity and evil, lust.
Nina is the first person who comes to mind for this show. While Nina is expected to do both roles and is excellent as a white swan, she is not good enough to portray a black swan. Opposite Nina is Lily and Lily is very successful in portraying the black swan. Nina, who spends her days and nights to win against Lily, meets her dark side in the process. The story of Nina, who has an entirely different confrontation with herself, is taken as the subject.
---
6) Mary and Max (2009) | IMDb: 8.1
Director: Adam Elliot
Cast: Toni Collette, Philip Seymour Hoffman, Eric Bana
We continue our psychological movies list with an animated movie. Mary is the daughter of a low-income family in Australia. Mary's only connection to life, who is not very social, is her pen pal, an Australian war veteran. When he gets to the post office, he decides to mail the letter to another address, to New York.
Max, who lives at that address, is an
asocial
individual. Max, who does not go out of the house and has no social relations, decides to reply to this letter. An unexpected friendship emerges. The movie is about Asperger's Syndrome.
---
7) A Beautiful Mind (2001) | IMDb: 8.2
Director: Ron Howard
Cast: Russell Crowe, Ed Harris, Jennifer Connelly
The film is about Nobel Prize-winning mathematician John Nash's life about schizophrenia. Nash, who won a scholarship to Princeton University, was a very antisocial teenager during his student years. This asocial identity begins to show signs of schizophrenia day by day. While making a name for himself with groundbreaking theories in the world of mathematics, he tries to struggle with schizophrenia.
---
8) The Sea Inside (2004) | IMDb: 8.0
Director: Alejandro Amenabar
Cast: Javier Bardem, Balen Rueda, Lola Duenas
Ramon Sampedro has been bedridden for about 30 years due to an accident. Ramon, who has no ties to life, is the only relationship with life through his window that sees the sea. One of the two women who entered his life tries to tell him what life is. He tries to make the meaning of life taste.
Euthanasia is a controversial issue in many countries. The film introduces euthanasia to the audience in a dramatic way.
---
9) Memento (2000) | IMDb: 8.4
Director: Christopher Nolan
Cast: Guy Pearce, Carrie-Anne Moss, Joe Pantoliano
Among
Christopher Nolan movies
, it is one of the most successful movies. Losing his memory in a short period of time, Leonard Shelby is dedicated to finding the person who raped and killed his wife. He stays in different cheap hotels and uses cash only.
This quest is not an easy one. Because he has a strange disease and there is no cure for this disease. He cannot remember what happened before the accident and sometimes forgets what happened 15 minutes ago. He forgets why he is there, where he is going. Memento is one of the most popular productions on our psychological movies list.
---
10) Stalker (1979) | IMDb: 8.1
Cast: Alisa Freyndlikh, Aleksandr Kaydanovskiy, Anatoliy Solonitsyn
The film takes place in an unnamed country with a different life order in the future. With a meteorite falling to the world, life order is affected, and a new region called Zone is formed. Different rumors arise among people.
The most believable rumor is that all your passions will come true if you enter that territory. Soldiers guard the Zone, and Stalkers who have reached sufficient maturity can enter this zone and accompany the people who enter there. The main character of the movie, Stalker, accompanies a scientist and writer who wants to enter the region despite all the objections around him.
---
11) Shutter Island (2010) | IMDb: 8.2
Cast: Leonardo DiCaprio, Emily Mortimer, Mark Ruffalo
Two cops, Teddy Daniels and Chuck Aule, travel to Ashecliffe Hospital on Shutter Island to investigate the disappearance of the mentally ill Rachel Solando. There are dangerous mental patients on this island.
Things start to get out of hand when mysterious events occur at the hospital where they go to investigate. Police officers at some point begin to have difficulty distinguishing between dreams and reality.
---
12) Rain Man (1998) | IMDb: 8.0
Director: Barry Levinson
Cast: Dustin Hoffman, Tom Cruise, Valeria Golino
Extremely materialistic Charlie dreams of inheriting a large inheritance from his father upon his death. However, his older brother, who he did not even know existed, inherited the entire inheritance upon his father's will. Charlie, who wants to get a tiny share of that inheritance by doing whatever he can, kidnaps his autistic brother Raymond, who requires care, from the clinic and takes him on a long journey.
Raymond is so good at math and memory that Charlie wants to use it at the casino. Although he gets angry from time to time with his habits that make his brother's life difficult along the way, he starts to question himself on this journey. This movie, which increases the visibility of autism, won 4 Oscars.
---
13) The Machinist (2004) | IMDb: 7.7
Director: Brad Anderson
Cast: Christian Bale, Jennifer Jason Leigh, Aitana Sanchez-Gijon
Trevor is a factory worker who has suffered from insomnia for a year. Unable to rest no matter what he does, Trevor's job requires concentration. However, Trevor, unable to focus his attention due to insomnia, begins to leave notes for himself.
Due to the appearance of Trevor, who is starting to lose weight due to lack of sleep, his colleagues do not trust him. There is a prostitute in his life with whom he has experienced something emotionally. He also has Maria, whom he is extremely passionate about.
---
14) My Left Foot (1989) | IMDb: 7.9
Director: Jim Sheridan
Cast: Daniel Day-Lewis, Brenda Fricker, Alison Whelan
Christy Brown is born with cerebral palsy. As a result, he cannot control his movements. While continuing to live in a wheelchair, he realizes that his left foot is not affected by this paralysis. He starts to use his left foot and tries to hold on to life with that foot. He begins to write novels and poems with his left foot. He writes his name in Irish literature with golden letters and his novels.
---
15) Identity (2003) | IMDb: 7.3
Director: James Mangold
Cast: John Cusack, Ray Liotta, Amanda Peet
On a whirlwind night, the paths of ten strangers who grapple with different troubles cross. These ten people, who do not know each other at all, take shelter in the same hotel. However, murders begin to be committed by a force in the hotel where they took shelter. When the murders are connected to the series, the environment turns into a life market. It's getting harder and harder to survive.
The main character, Malcolm Rivers, is a person with 10 different personalities who is being treated for schizophrenia. The events taking place in the hotel are actually not real. They are all fictional characters. As a result of the doctor's misdirections, Malcolm is unable to make the right healings. Psychological disorders can lead to murder if not appropriately treated.
---
16) Lost Highway (1997) | IMDb: 7.6
Cast: Bill Pullman, Patricia Arquette, John Roselius
Fred Madison doesn't know anything about his wife's past. Wanting to establish a new and different order for himself and his wife, Fred lives in peace, while some things from the past disturb his peace.
Things start to get more difficult for Fred, who fears that his wife will constantly cheat on him. His wife is murdered and Fred begins to have a split personality. Fred is taken to prison. When he wakes up in the morning, he finds himself in a completely different place.
---
17) The Blind Side (2009) | IMDb: 7.6
Director: John Lee Hancock
Cast: Quinton Aoron, Sandra Bullock, Tim McGraw
The life of a young man who has 13 siblings, whose mother is a drug addict and whose father is unknown. One day, the life of this illiterate child who is unsuccessful in school changes. Life becomes different when he starts being patronized by a wealthy family. He starts playing football at school and that's when he realizes his talent.
---
18) Driving Miss Daisy (1989) | IMDb: 7.3
Director: Bruce Beresford
Miss Daisy is a wealthy woman. However, she never saw herself as rich and always remembered where she came from. A chauffeur is hired for Daisy, who can't handle some of her chores as she gets older. However, the woman thinks that this is not necessary. Although the driver constantly scolds Hoke at the beginning, a completely different friendship is established between them in the following days.
Jessica Tandy as Miss Daisy becomes the oldest actress to win an Oscar for her performance.
---
19) Ordinary People (1980) | IMDb: 7.7
Director: Robert Redford
Cast: Donald Sutherland, Mary Tyler Moore, Judd Hirsch
The Yugoslav civil war is a tragedy with great destruction and painful events. The film is about this war and shows how people who were neighbors the day before could brutally kill each other. It makes you think about the concepts of religion and nationality, which suddenly became a problem.
Seven soldiers go to an abandoned farm due to news given to them. After a while, a busload of people with fear on their faces is brought to the farm. Soldiers say these people are enemies. The brutal murders meet the audience with an extremely touching style.
---
20) Joker (2019) | IMDb: 8.4
Director: Todd Phillips
This time we are watching our own story of the famous character Joker, which even those who have not watched
Batman movies
know. Arthur Fleck is a casual man who dreams of becoming a comedian. Arthur, who is condemned to be excluded at every opportunity by the society, leads a difficult life with his mother.
Arthur, who has never met his father, is nicknamed "Happy" by his best friend. This nickname makes it easy for Arthur to suppress the angles inside him. Arthur, who is in a fit of laughter in his stressful moments, finds himself in difficult times because of this ailment. But he is constantly subjected to all kinds of bullying and takes on an utterly contradictory character. Psychologically, he is about to enter a shaky and challenging path. Nothing will ever be the same anymore. Joaquin Phoenix, who gave life to the
Joker
, won the Best Actor award at the 2020 Oscars for his performance in this movie.
---
21) The Number 23 (2007) | IMDb: 6.4
Director: Joel Schumacher
Number 23, one of the best psychological films about the effect of obsessive personality disorder on human life, impresses the audience with its quality cast and gripping plot.
A red-cover crime novel where the main characters, Walter Sparrow, come across at the bookstore and his obsession with it will change his life. The events in the book, which is in the genre of neuroscience, murder and psychology, take place around the number 23. In addition, the story in the book shook Walter deeply, and attention was paid to the events in his own life that he could interpret as the number 23.
---
22) Copying Beethoven (2006) | IMDb: 6.8
Director: Agnieszka Holland
Cast: Ed Harris, Diane Kruger, Matthew Goode
The sense of creativity is the common base of all artists, and one of the biggest problems they experience after a particular stage is not being able to repeat existing successes. This problem occurred with much greater pain in Maestro
Beethoven
. The psychology of this great genius is deeply shaken by the fact that he hasn't been able to finish his composition, which he is still working on, even though years have passed since his last successful work.
The gradual increase in his deafness, the psychological problems he experienced, and the feeling of loneliness due to these, led him to seek ways to get out of the depression he was in. At this point, he needs someone to copy all of his works so that he can finish his last composition on a specified date, and that person will be Anna Holtz. Throughout the film, which consists mainly of imaginary parts of Beethoven's life and some real stories, you will both realize how great the need for socialization and sharing is, and you will witness how much effort creativity and art require.
---
23) Mulholland Drive (2001) | IMDb: 7.9
Director: David Lynch
Cast: Naomi Watts, Laura Harring, Justin Theroux
Betty Elms' biggest dream is to become a famous actress in Hollywood. So he devoted himself to this and finally embarked on a journey to Hollywood. While everything is going well in his life, he meets a woman here and that woman affects his life deeply. His admiration for his achievements and his quick connection only lasted until the car accident at Mulholland roundabout. In the film, where you will suddenly find yourself in the events with its mysterious and gripping narration, all the conscious and subconscious actions are mixed together.
The film, which marked 2001, made its name in a short time and returned with various awards from many important film festivals, especially Cannes. We strongly recommend you to watch the movie, which is one of the best examples of the psychological thriller genre.
---
24) Secret Window (2004) | IMDb: 6.6
Director: David Koepp
Cast: Johnny Depp, Maria Bello, John Turturro
Mort Rainey, a successful writer who made a name for himself with his thriller novels, goes into a wretched psychological depression when he sees his wife Amy cheating on him one day. Faced with the problem of 'author's block' after his divorce from his wife, Rainey begins to live near Tashmore Lake, one of the desolate areas of New York, in order to be able to work on his new book and to get rid of the effects of the events he has experienced. One day, a mysterious man named John Shooter finds him and accuses him of stealing his own story. Rainey, who does not take the man into consideration at first, becomes aware of the magnitude and danger of the event over time.
Adapted from Stephen King's novel to the cinema, the film broke box office records in many screenings and was nominated for awards. The movie, starring Johnny Depp, Oscar winner Timothy Hutton and master actor John Turturro, is in a very assertive position in the list of psychological films.
This post is also available in: Türkçe