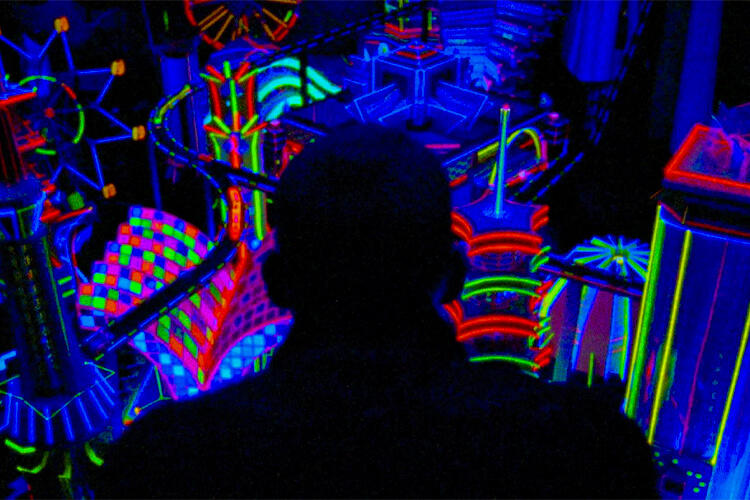 Drug movies often manage to affect us deeply. The realism created by these films, the problems that the characters suffer due to addiction and the reflection of these elements on the screen; It can be quite disturbing for many of us. But drug movies aren't just about ruined lives portrayed with cruel realism. There are also fun dope movies that are a generation's favourite. In addition, there are many productions dealing with the drug trade and real events that are popular in recent cinema. In our list of drug movies, we bring together 30 popular drug movies of almost all genres for you.
---
1) Requiem for a Dream (2000) | IMDb: 8.3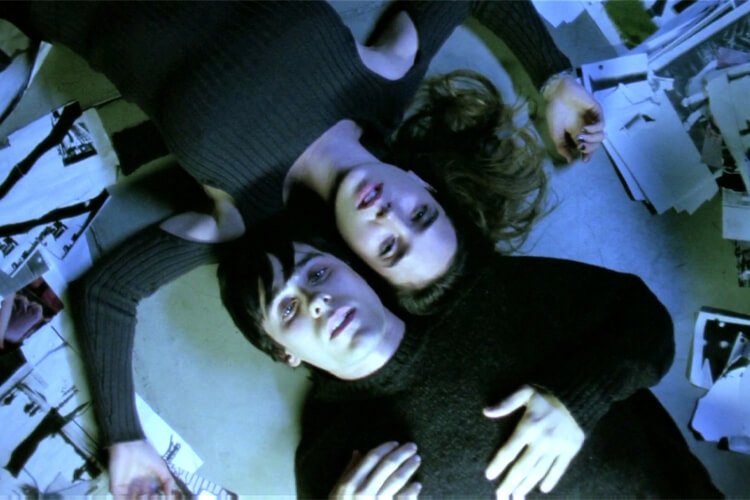 Director: Darren Aronofsky
Cast: Ellen Burstyn, Jared Leto, Jennifer Connelly
Requiem for a Dream is one of the films that best describes how drug addiction has hit a generation. In this movie that comes to mind first when it comes to drug movies, it's not just drugs; We can see the effects of all kinds of addictions on human life. Using cruel realism, the film makes a social critique of the relationship between a teen drug addict and a television addicted mother.
---
2) Trainspotting (1996) | IMDb: 8.1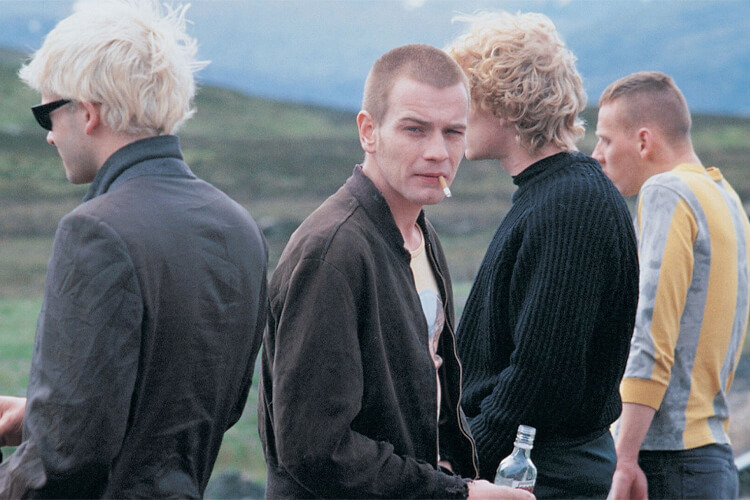 Director: Danny Boyle
Cast: Ewan McGregor, Ewen Bremner, Johny Lee Miller
Adapted from the cult novel of the same name by Irvine Welsh, Trainspotting is the best work ever written and drawn on heroin addiction. Taking us back to Edinburgh's lost youth, the film presents fragments from the lives of heroin addict Mark Renton and his friends. This group, which has no purpose in life other than finding and hanging out with heroin, cannot escape from the clutches of drugs like many addicts. Until Renton one day tastes the gold strike experience. After this point, the lives of Renton and his friends, who have to step out of the heroin utopia, change tragically.
---
3) Cidade de Deus – City of God(2002) | IMDb: 8.6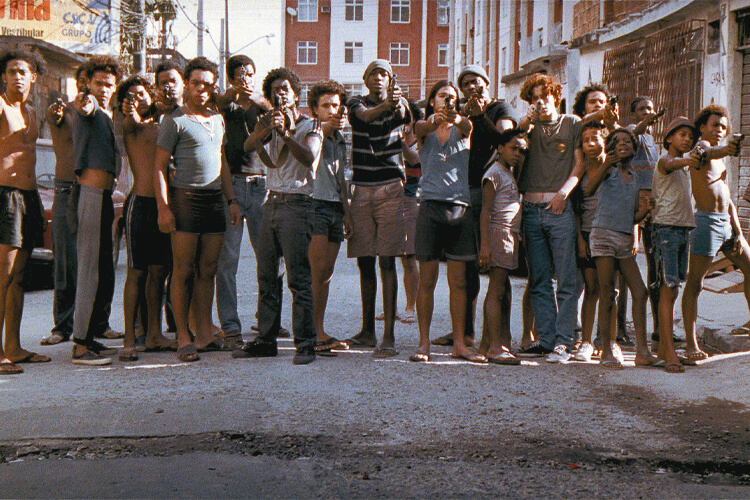 Director: Fernando Meirelles, Katia Lund
Cast: Alexandre Rodrigues, Leandro Firmino, Matheus Nachtergaele
City of God; It is considered not only among the narcotic movies, but generally as one of the best crime movies of our time. Cidade de Deus is actually the name of one of the slum prevention complexes established by the Brazilian government in the 1960s. The film and the novel it is adapted from also convey the lives of the people living in this neighborhood with all their reality to us. The film generally begins in the 1960s and looks forward to the life of a group of children living in this neighborhood, surrounded by drugs and crime.
---
4) Scarface – Scarface (1983) | IMDb: 8.3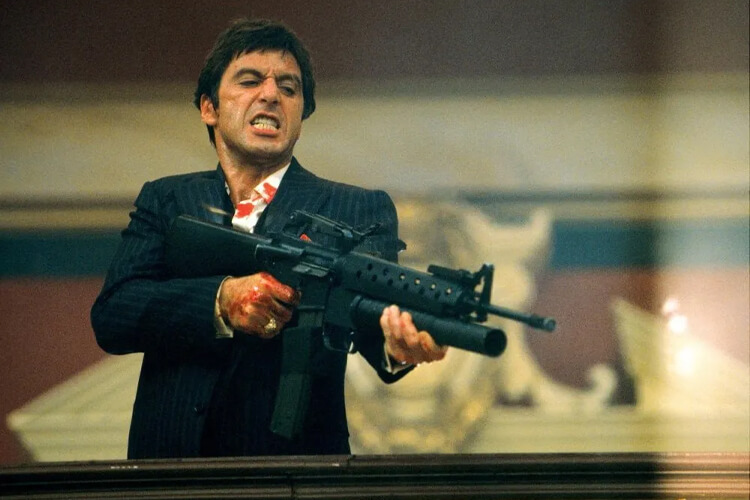 Director: Brian De Palma
Cast: Al Pacino, Michelle Pfeiffer, Steven Bauer
There is no one who does not know the Scarface movie, because he is one of the most famous names among drug movies. The film takes us into the world of crime and drugs in 1980s Miami. Although this world may seem pompous from the outside, it has actually become the utopia of a group of cruel drug lords who are themselves addicted.
Influenced by real people and events, screenwriter Oliver Stone frequently entered this world of crime and risked his life in order to write the script of the film realistically. In the movie, as you know, we watch how Tony Montana, a Cuban immigrant, comes from scratch and turns into a greedy drug lord.
---
5) Sid and Nancy (1986) | IMDb: 7.0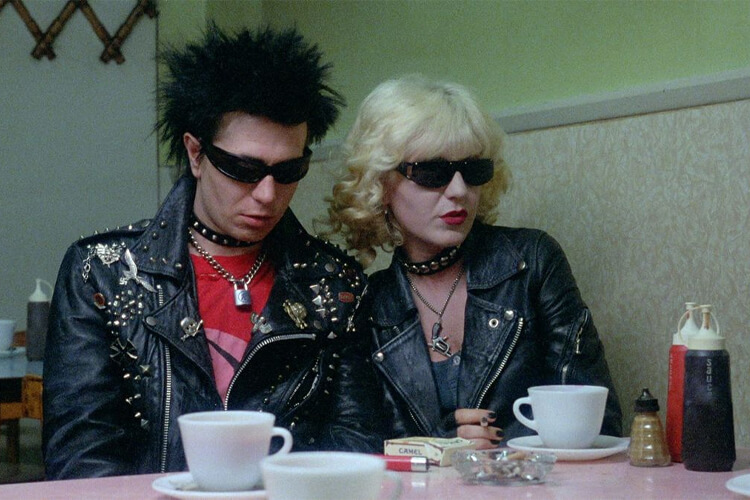 Director: Alex Cox
Cast: Gary Oldman, Chloe Webb, David Hayman
Those who follow punk culture closely will know about the legendary and equally toxic love affair between Sex Pistols bassist Sid Vicious and Nancy Spungen. This relationship resulted in Nancy being found stabbed to death in the Chelsea Hotel, and Sid died from an overdose. The movie Sid and Nancy starts from this point and dives deep into the world of British punk. While watching the heroin and violent relationships of Sid and Nancy, we come across famous faces of the punk community.
---
6) Christiane F. – Wir Kinder vom Bahnhof Zoo (1981) | IMDb: 7.6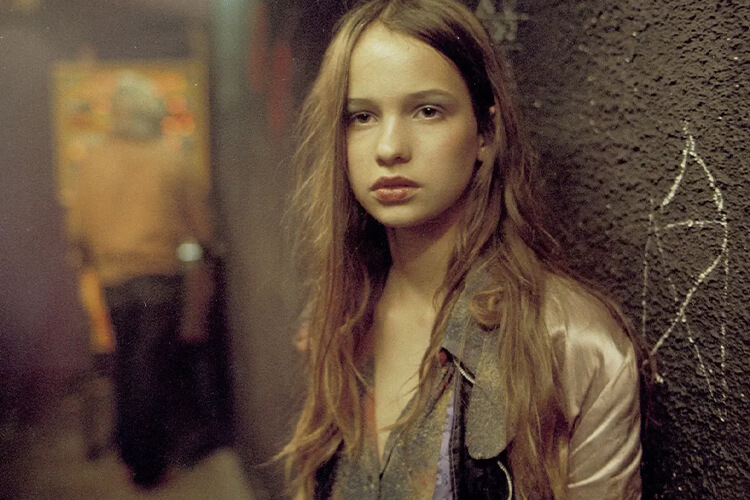 Director: Uli Edel
Cast: Natja Brunckhorst, Eberhard Auriga, Peggy Bussieck
Set in 1970s Berlin, Christiane F. was a novel that swept through an era before it became a movie. The story about how 14-year-old Christiane became addicted to heroin is narrated by the young girl's mother. As young Christiane gets sucked into the heroin swamp, her whole life, even what she has and what she doesn't have yet, begins to slip away from them. Christiane F. is one of the most realistic and impressive productions of drug movies.
---
7) Dazed and Confused – Young and Excited (1993) | IMDb: 7.6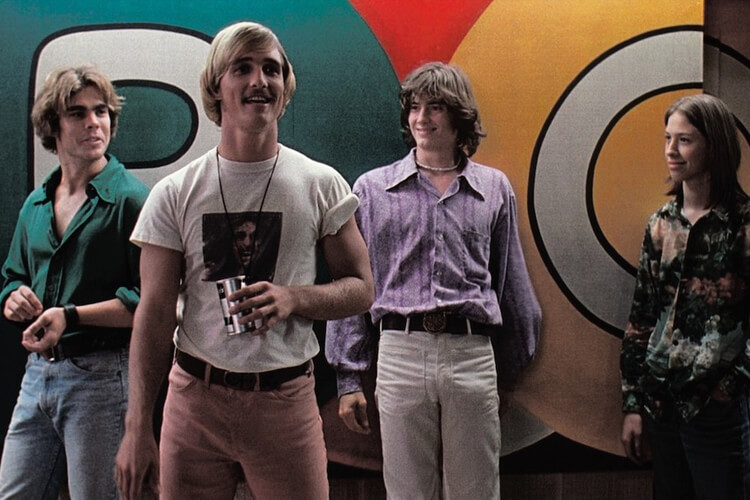 Director: Richard Linklater
Cast: Jason London, Wiley Wiggins, Matthew McConaughhey
It's 1976, the last day of school at Lee High School in Austin, Texas. Classic American proms have no place in this movie. A group of hippie teenagers have very different ideas than a vanilla prom. Instead of an old-fashioned ball, the young people decide to gather on a hill and throw a legendary party full of drugs and alcohol. Dazed and Confused, which shed light on the entertainment life of American youth in the 1970s, is also a film that makes a lot of fun with this style.
---
8) Blow – White Devil (2001) | IMDb: 7.6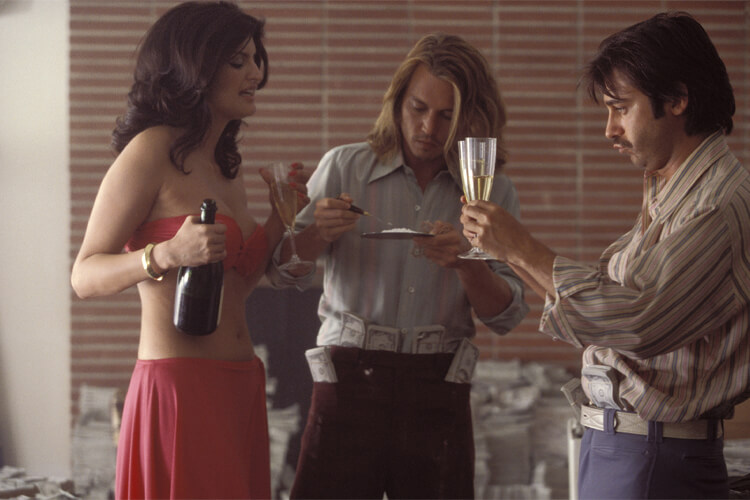 Director: Ted Demme
Cast: Johnny Depp, Penelope Cruz, Franka Potente
Blow is a movie that didn't get the attention it expected among the drug movies. But he still tells a very interesting story. In the film, the life story of George Jung, who started his life as the son of a small entrepreneur, from the ground up to founding the US cocaine market from scratch with Pablo Escobar, is brought to the big screen. Blow, the biopic about the life of a drug legend, George Jung, features many well-known organizations and names, especially the Medellín Cartel.
---
9) Enter the Void – The Void (2009) | IMDb: 7.3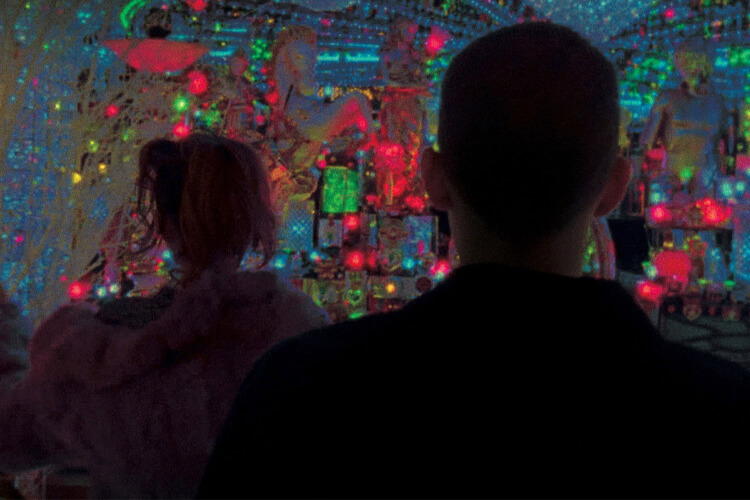 Director: Gaspar Noé
Cast: Nathaniel Brown, Paz de la Huerta, Cyril Roy
Enter the Void is the depiction of Gaspar Noé, who is famous for his unorthodox films, a DMT trip in itself. Enter the Void, a film that has surpassed its art, leaves us with dizziness and confusion after 2 hours and 40 minutes of screen time. The movie begins with the betrayal and murder of an American drug dealer living in Tokyo by his best friend. But Oscar's spirit does not intend to leave this world immediately.
---
10) Filth – Filth (2013) | IMDb: 7.1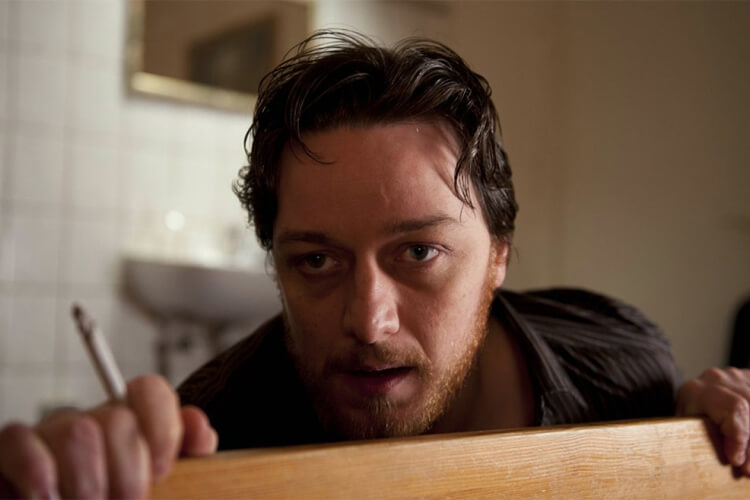 Director: Jon S. Baird
Cast: James McAvoy, Jamie Bell, Eddie Marsan
Filth, another Irvine Welsh adaptation of our drug movies list, takes us back to the drug and corruption skies of Great Britain. Bruce Robertson, thousands of steps away from being a regular police officer; He is a drug addict, bipolar disorder patient and has a rather filthy personality. With nothing he won't do for promotion, no bench to set, Bruce gets into trouble as he grapples with growing hallucinations and the burden of his past.
---
11) Up in Smoke (1978) | IMDb: 6.9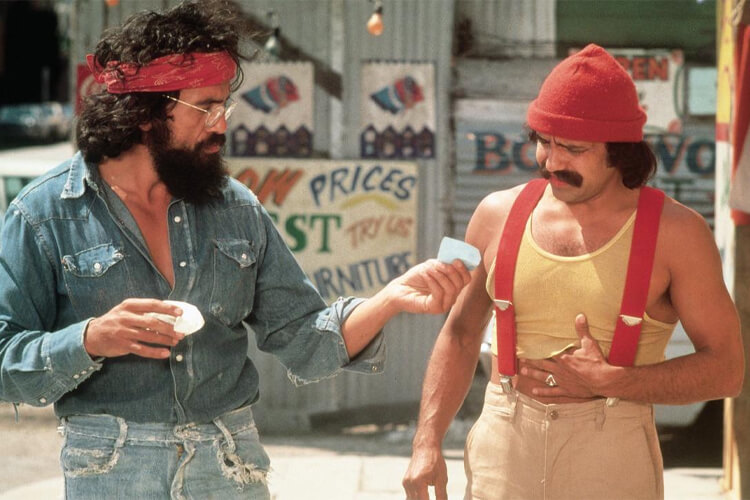 Director: Lou Adler, Tommy Chong
Cast: Cheech Marin, Tommy Chong, Strother Martin
Maybe you've heard of the Cheech and Chong duo before. A product of popular culture, the most famous movie of this duo is Up in Smoke. The comedy duo Cheech and Chong both bring hippie and weed culture to the big screen and make fun of the culture with this movie.
---
12) Pineapple Express – Cold Heads (2008) | IMDb: 6.9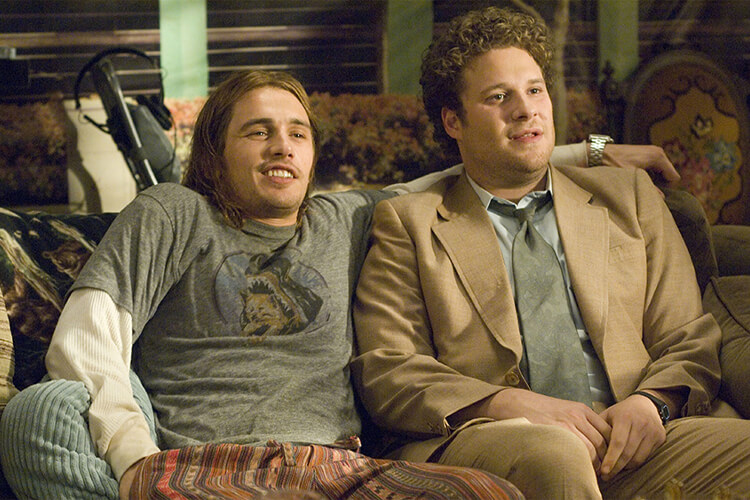 Director: David Gordon Green
Cast: Seth Rogen, James Franco, Gary Cole
Pineapple Express is a stoner comedy that has done quite well at the box office. The film deals with the tragicomic events that befell a lazy junkie Dale Denton and his drug dealer friend Saul Silver, who looks just like him. Dale buys a herb called Pineapple Express from Saul Silver one day. But then, witnessing a drug dealer execution, Dale drops his own drug at the scene and runs away. Knowing that only Saul Silver sells this weed variety, the network goes after these two.
---
13) Candy (2006) | IMDb: 7.2
Director: Neil Armfield
Cast: Heath Ledger, Abbie Cornish, Geoffrey Rush
Saying that love is an addiction like drugs, Candy is based on Luke Davies' novel Candy: A Novel of Love and Addiction . In the film, Dan, an Australian poet, falls madly in love with Candy, an art student. But there is another important name that shares Dan's love for Candy: Heroin. This dual relationship, which oscillates between drug addiction and love addiction, begins to lead individuals to destruction.
---
14) Cherry (2021) | IMDb: 6.6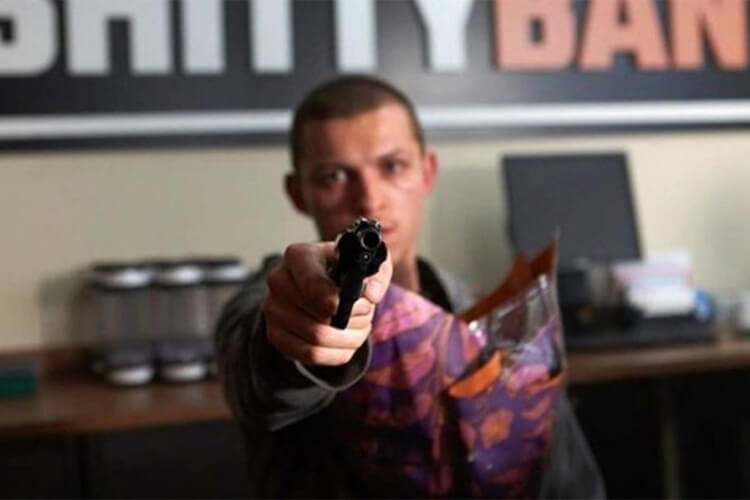 Director: Anthony Russo, Joe Russo
Cast: Tom Holland, Ciara Bravo, Jack Reynor
Cherry touches on the devastating consequences of war as well as the effects of drugs on human life. In the movie, a young lover named Cherry decides to move to another city, and he enlists in the army with a sudden decision. But his girlfriend Emily gives up on her decision and these two get married. Still, Cherry is forced to go to Iraq. Cherry, who suffered countless deaths and violence during her tenure, returns from the army with PTSD. Soon after, Cherry, a drug addict, begins a dark life with Emily, in the grip of addiction.
---
15) Pusher (1996) | IMDb: 7.4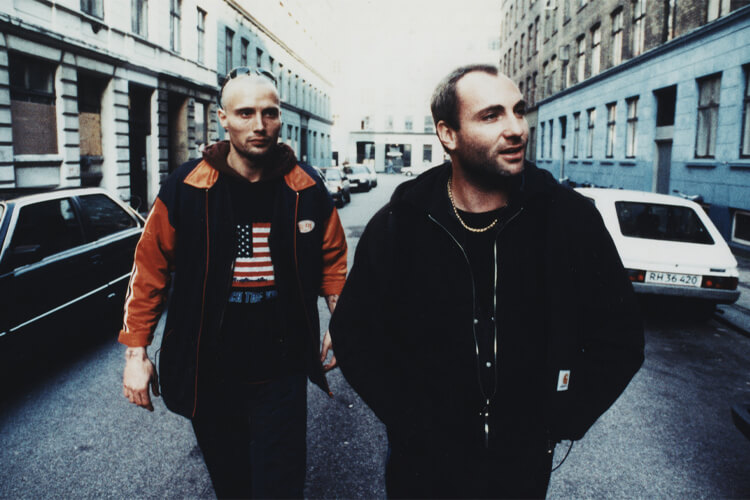 Director: Nicolas Winding Refn
Cast: Kim Bodnia, Laura Drasbaek, Mads Mikkelsen
Pusher, a Danish drug movie, deals with the world of dealers, not addicts. Taking you into Copenhagen's criminal underworld, the film follows Frank, a low-level drug dealer, who gets into trouble with the main drug lord. Generally receiving average reviews, Pusher manages to get away with its high and quality action.
---
16) A Scanner Darkly (2006) | IMDb: 7.1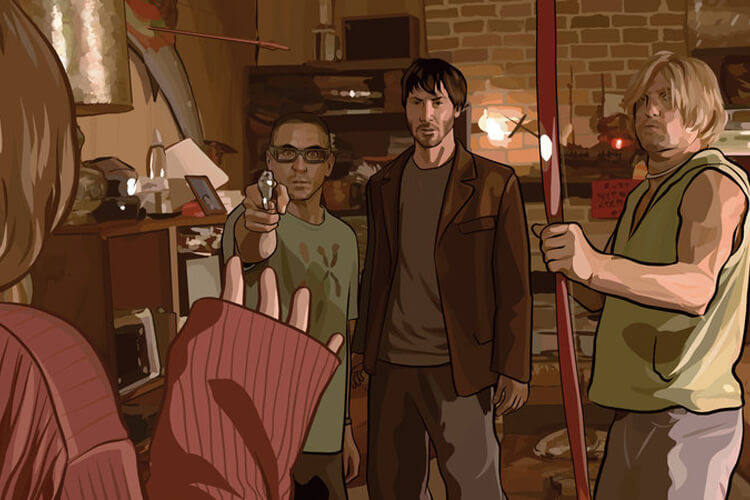 Director: Richard Linklater
Cast: Keanu Reeves, Winona Ryder, Robert Downey Jr.
A Scanner Darkly is based on the novel of the same name by Philip K. Dick. This movie with the cast of Ansambl also has a very interesting animation technique. The film tells the story of an undercover cop in the not-too-distant future. Losing its war against drugs, the USA is shaken under the influence of a drug called Substance D. Our secret police, who are exposed to this drug, begin to lose their identity accompanied by strong hallucinations.
---
17) Fear and Loathing in Las Vegas – Fear and Loathing in Vegas (1998) | IMDb: 7.6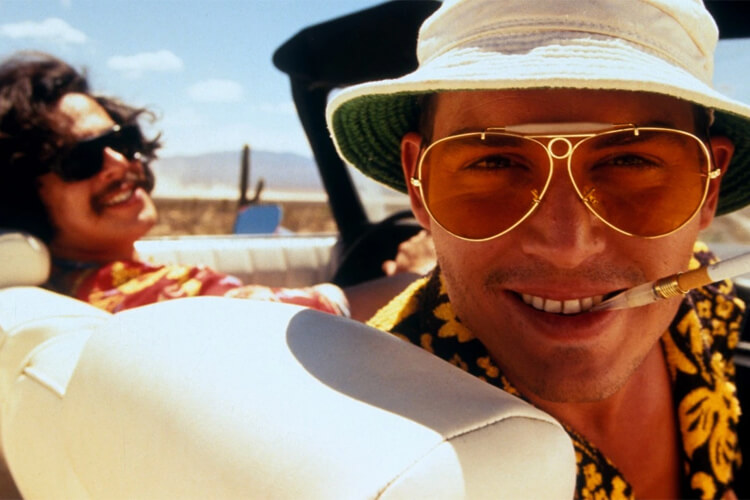 Director: Terry Gilliam
Cast: Johnny Depp, Benicio Del Toro, Tobey Maguire
Fear and Loathing in Las Vegas is a drug-filled comedy-road movie based on Hunter S. Thompson's novel Fear and Loathing in Las Vegas: A Savage Journey to the Heart of the American Dream . Set in 1972, the Vietnam War still continues and the seeds of a lost generation are planted because of the war. Doctor Gonzo and Raoul Duke duo, who take the burden of the past on their shoulders and move towards the heart of the desert, experience strange hallucinations under the influence of drugs. Until he is stopped by a hitchhiker…
---
18) Spun – Fuzzy (2002) | IMDb: 6.8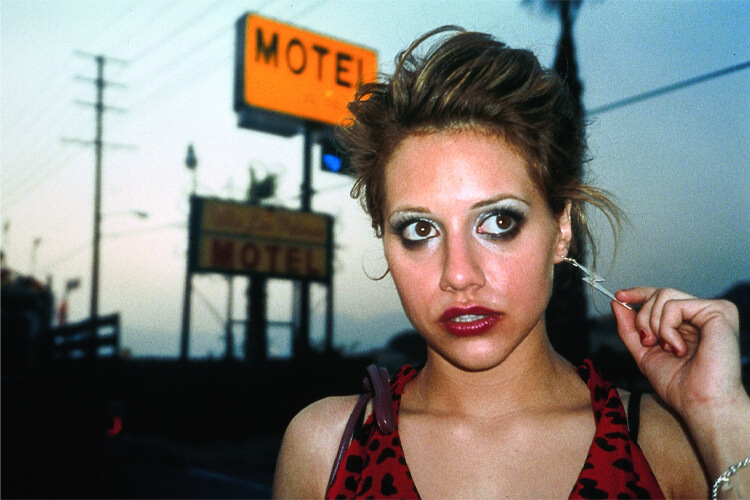 Director: Jonas Åkerlund
Cast: Jason Schwartzman, John Leguizamo, Brittany Murphy
Created by the famous clip and film director Jonas Åkerlund, Spun combines the theme of drug addiction with black humor. There is not much to say about the movie, Spun is more of a movie that should be experienced by watching it directly. However, if we look at the movie as a whole, a methamphetamine dealer named Spider Mike introduces a customer to The Cook, who runs a meth lab. This acquaintance ignites the fuse of a crazy adventure that will last 3 days.
---
19) How High – Super Weed (2001) | IMDb: 6.3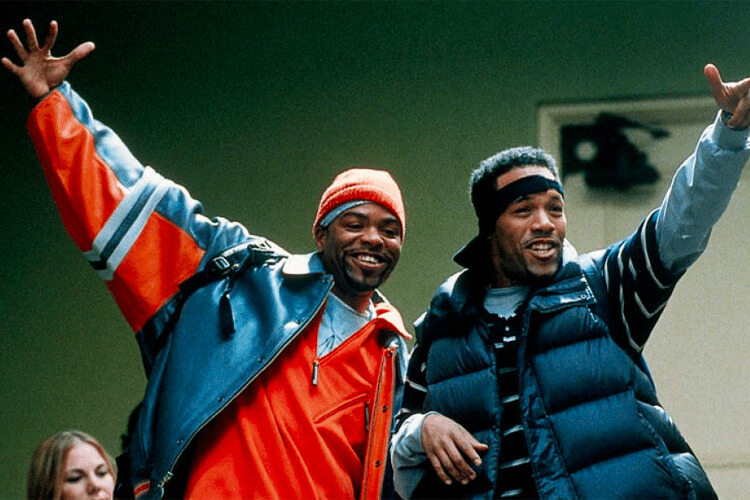 Director: Jesse Dylan
Cast: Method Man, Redman, Obba Babatundé
Starring Method Man and Redman, two members of the legendary rap group Wu-Tang Clan, How High is a legendary production that determines the course of a genre. We are watching the story of Jamal and Silas, two stoners who could not find success in their lives, in the movie that almost embraces the Stoner comedy genre. One day, they manage to grow a magic "weed" thanks to the ashes of their friends. This weed is the kind that will provide them with any kind of success they want in life.
---
20) American Made – Barry Seal: Smuggler (2017) | IMDb: 7.2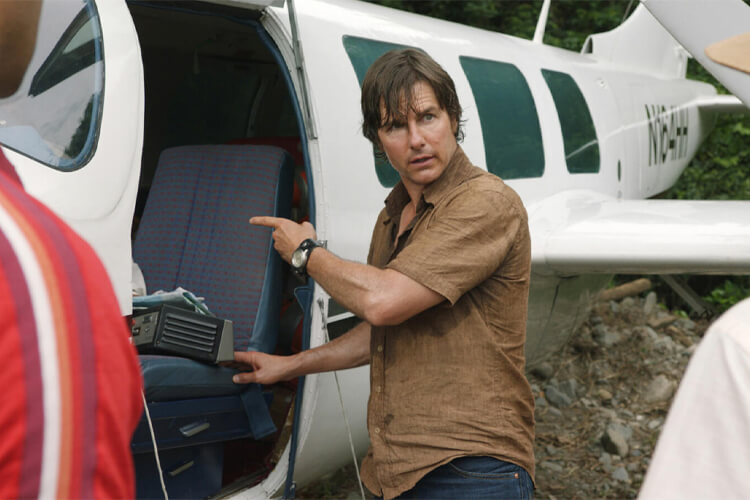 Director: Doug Liman
Cast: Tom Cruise, Domhnall Gleeson, Sarah Wright
Those who are interested in the life of Pablo Escobar and the drug world of the 80s have heard the name Barry Seal. American Made chronicles the life of pilot Barry Seal, who worked as a drug trafficker for both Pablo Escobar and the CIA in the '80s. Although it resembles a documentary, unlike its film counterparts, it successfully combines genres and produces a period film that is both serious and entertaining. In addition, Barry Seal's dangerous life among names such as the CIA, Pablo Escobar, Bill Clinton and Reagan is a story worth watching.
---
21) Limitless – No Limit (2011) | IMDb: 7.4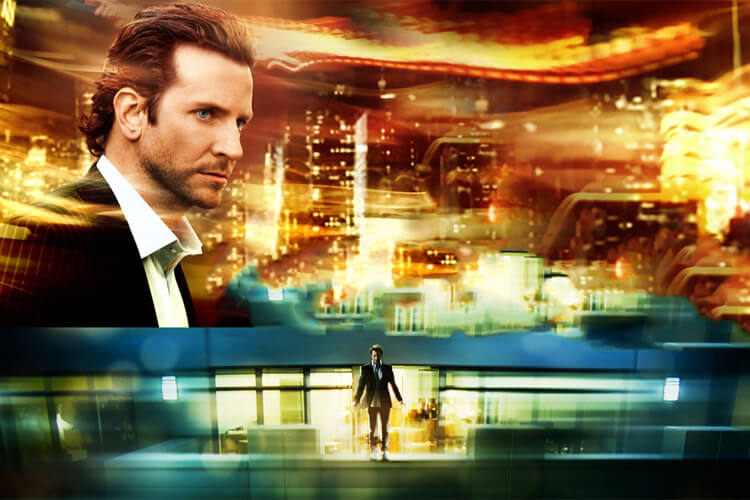 Director: Neil Burger
Cast: Bradley Cooper, Anna Friel, Abbie Cornish
When Limitless first came out, it attracted a lot of attention with its interesting subject. In the movie, which became a series later, there is a kind of drug that allows people to use 100 percent of their brains. Eddie Mora, who broke up with his girlfriend and suffers from writer's block, met this NZT 48 pill by chance, thanks to an old friend. From this point on, life literally begins anew for Eddie.
---
22) Pulp Fiction – Pulp Fiction (1994) | IMDb: 8.9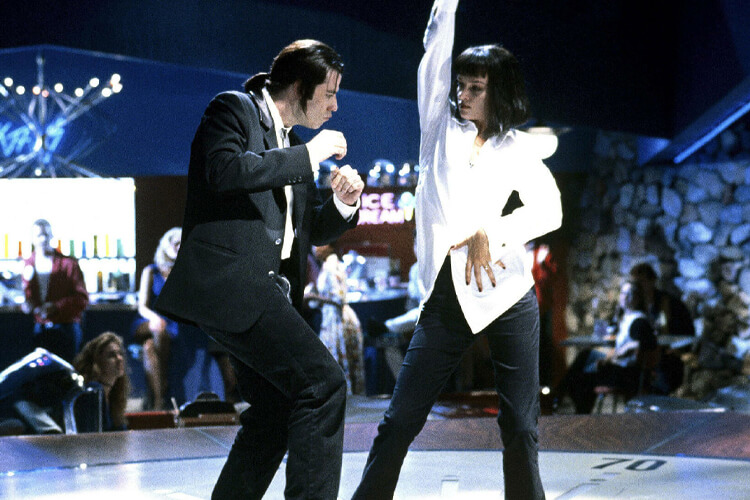 Director: Quentin Tarantino
Cast: John Travolta, Uma Thurman, Samuel L. Jackson
Actually, Pulp Fiction isn't exactly a dope movie. Still, the theme of drugs and addiction occupies an important place in the film. Pulp Fiction; It brings together people of many different types, from mafia hitmen to disgraced underworld boxers, from the dark types to the beautiful wife of a drug lord. The stories of these different types come together in a way we never expected as a result of extraordinary chance encounters.
---
23) 21 Grams (2003) | IMDb: 7.6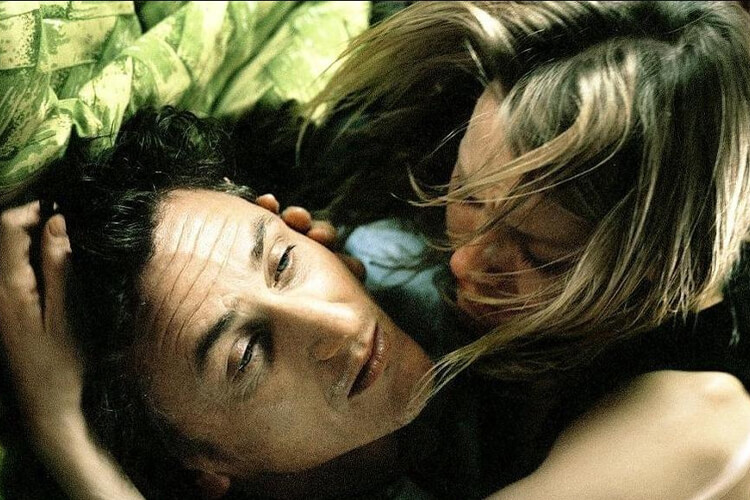 Director: Alejandro G. Iñárritu
Cast: Sean Penn, Benicio Del Toro, Naomi Watts
21 Grams is one of those movies that does a pretty good job of bringing different people's lives together. In the movie, we witness the life stories of three people who are different from each other, but who are just as similar. The first of these people is Raul, a math professor awaiting a heart transplant and wanting a child. Cristina is free from drug addiction and is trying to start a new life with her husband and two children. Finally, Jack is in the final stages of recovering from drug and alcohol addiction. The life lines of these three people are about to merge in a way that will affect their lives deeply.
---
24) Traffic – Traffic (2000) | IMDb: 7.6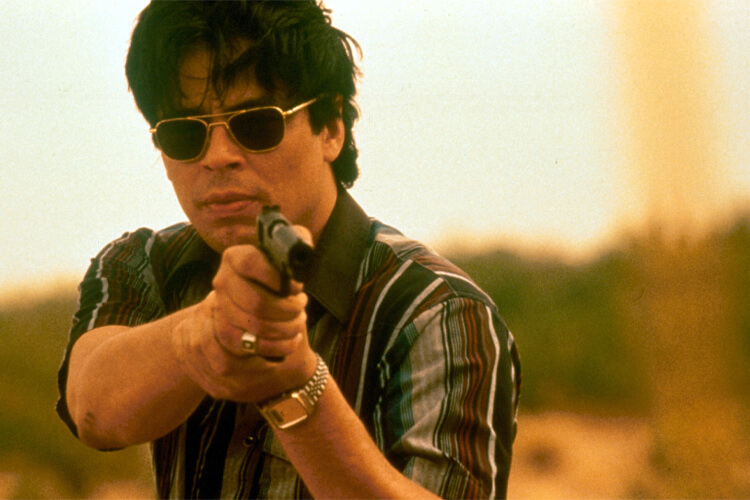 Director: Steven Soderbergh
Cast: Michael Douglas, Benicio Del Toro, Catherine Zeta-Jones
Bringing the Best Supporting Actor Oscar to Benicio Del Toro, Traffic also took home three Oscars at the 2000 Academy Awards. Adapted from the 1989 mini-series Traffik, the film sheds light on the US's war on drugs. In the film, a conservative judge is appointed head of the US drug investigations. But our judge discovers that his 17-year-old daughter is also a crack addict. Traffic tells us about drug addiction and the war against drugs through the eyes of judges, police and addicts.
---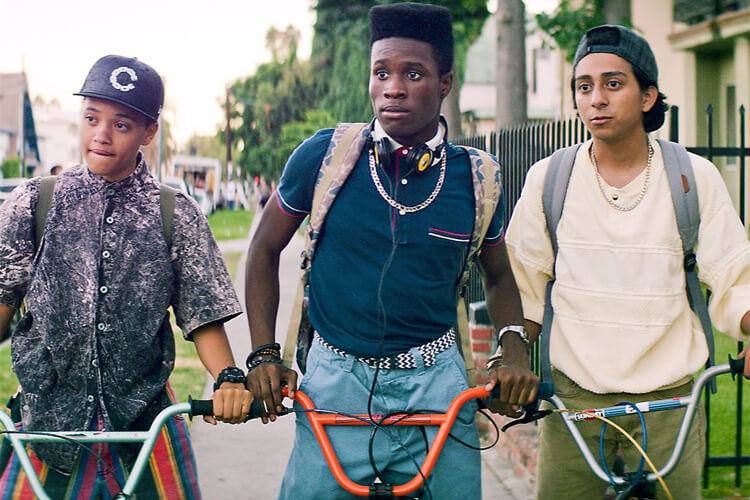 Director: Rick Famuyiwa
Cast: Shameik Moore, Tony Revolori, Kiersey Clemons
Dope, which met with the audience in 2015, handles the dilemma between drugs and a simple life very well, although it received mixed reviews. In the movie, Malcolm is an African-American teenager with goals. Admiring the 90s culture and joining a punk band, Malcolm's biggest goal is to enter Harvard University.
Living among drug dealers and gangsters in California's dangerous neighborhood, Malcolm is invited to a party in Los Angeles one day. Realizing that drugs are hidden in his bag, Malcolm enters a difficult decision-making process. Should Malcolm pursue his dreams no matter what, or turn into a drug dealer to be with the woman he loves?
---
26) Drugstore Cowboy (1989) | IMDb: 7.3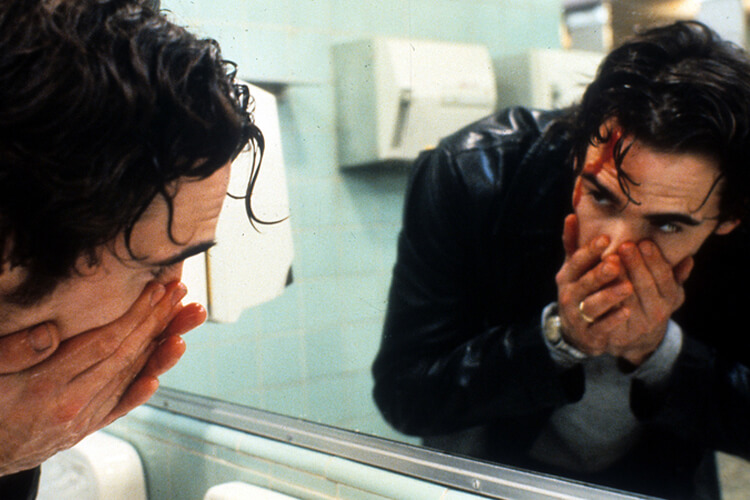 Director: Gus Van Sant
Cast: Matt Dillon, Kelly Lynch, James Le Gros
Drugstore Cowboy, the second film by now movie legend Gus Van Sant, deals with drug addiction in a very stylish way. Drugstore Cowboy is based on the autobiographical novel by James Fogle. The film takes us on a journey to 1970, the life of a group of drug addicts. These people, who are thrown from place to place, are literally robbing pharmacies to meet their needs for drugs, pills and money. Legendary novelist William S. Burroughs also has a small role in the film.
---
27) The Basketball Diaries – The Diary (1995) | IMDb: 7.3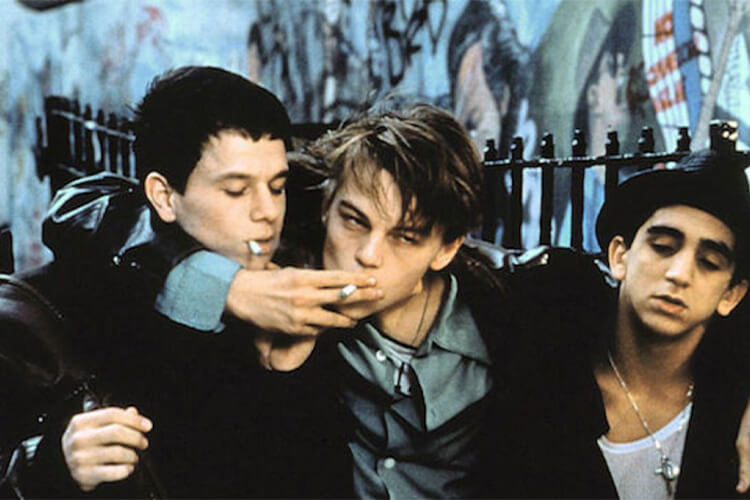 Director: Scott Kalvert
Cast: Leonardo DiCaprio, Lorraine Bracco, Marilyn Sokol
Filmed when Leonardo DiCaprio was still a teenager, The Basketball Diaries tells the traffic life story of high school student Jim. A biographical film, The Basketball Diaries is based on the autobiographical novel by Jim Carroll. Jim is the hottest player on the high school basketball team. With his eyes on prestigious leagues and teams, Jim is successful enough to pursue his dream. Until one day he fell into a free fall into heroin addiction. For Jim, dreams are now pushed aside and criminal days are beginning to appear on the horizon.
---
28) Friday – Friday (1995) | IMDb: 7.3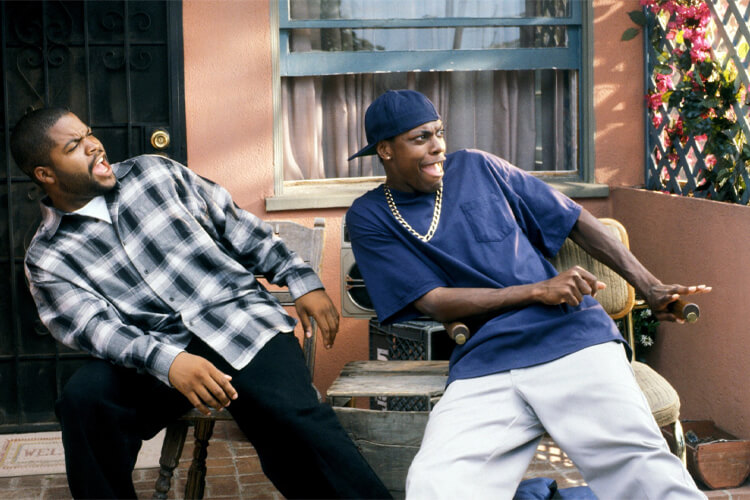 Director: F. Gary Gray
Cast: Ice Cube, Chris Tucker, Nia Long
Friday is an iconic stoner movie that is critically acclaimed and still a part of popular culture. Craig is fired from his job and spends most of his time with his close friend Smokey. Smokey is a small-time drug dealer and full-time user. When Smokey and Craig smoke the marijuana Smokey is supposed to sell, he gets into big trouble with the neighborhood drug lord, Big Worm. With no income, these two have until Friday to pay the $200.
---
29) Beautiful Boy (2018) | IMDb: 7.3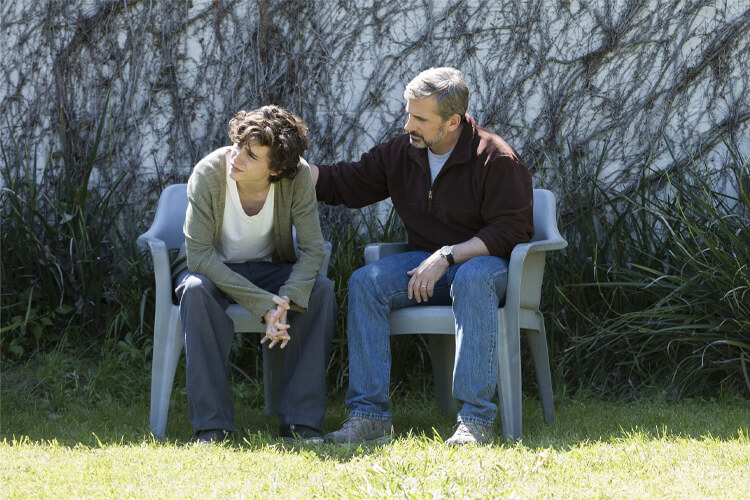 Director: Felix van Groeningen
Cast: Steve Carell, Maura Tierney, Jack Dylan Grazer
Telling the true story of a father and son named David and Nic Sheff, Beautiful Boy is adapted from the memoir book written by these two. The film chronicles Nic Sheff's fall to methamphetamine addiction and the sacrifices his father David made to help his son recover from addiction.
---
30) Thirteen – Thirteen (2003) | IMDb: 6.8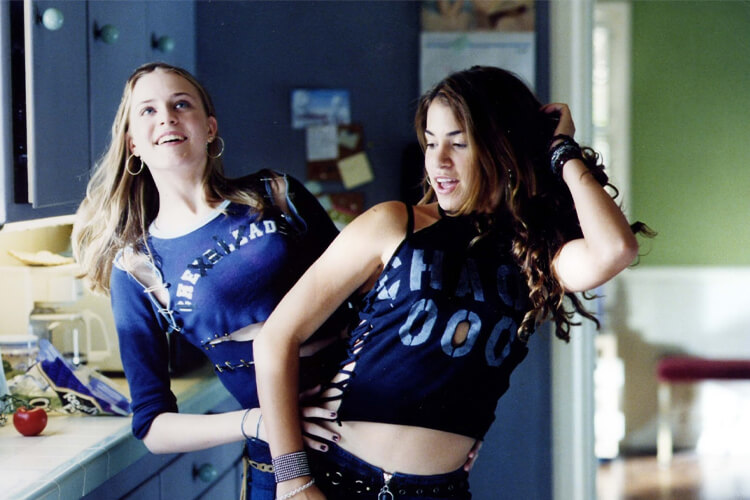 Director: Catherine Hardwicke
Cast: Evan Rachel Wood, Holly Hunter, Nikki Reed
Tracy Freeland is a good junior high school student who is having a bit of a hard time going through puberty. At 13, Tracy's parents are divorced, and Tracy hates her mother's new boyfriend, Brady. Tracy, who was only a smoker at first, begins to discover all the secrets of life with her new friend Evie. Thanks to Evie, the doors of everything, including drugs, addiction, orgies and theft, are opened to him. The movie was highly appreciated by the critics. However, the presence of scenes of people under the age of 18 using drugs, self-harming and having sex also brought great criticism to the film.
---
This post is also available in: Türkçe Français Español Deutsch