Cartoon characters are always in our minds, no matter how old we are or how much we think of them as our childhood. We have compiled for you unforgettable cartoon characters and episodes that have established a throne in the hearts of all of us, where we wake up early in the morning to watch them, try to heal with them for hours when we get sick, and stay at home. We've also included an unforgettable part of each. We wish you a good time:
---
1) Bugs Bunny
Bugs Bunny is the first character that comes to mind regarding the unforgettable cartoon characters of our childhood. There is nothing that he cannot overcome with his intelligence and cunning. Bugs Bunny, which we often watched with different cartoon characters, was always the winner.
Bugs Bunny was created in 1938 by Ben Hardaway. It was known as Happy Rabbit in the early days of its creation. In 1940, it took the name we know as Bugs Bunny. The character's popularity, whose first movie was A Wild Hare, dates back to that time. During the Second World War, with the entry of America into the war, episodes of criticism of Hitler and Nazi Germany began to be made with intensity.
The cartoon, whose new episodes were not broadcast between 1964 and 1979, received great acclaim in 1996 with a Space Jam movie with Michael Jordan.
---
2) Mickey Mouse
The cartoon characters we know as Mickey Mouse or Mickey Mouse were created by Walt Disney in 1928. Mickey Mouse, one of the most recognizable symbols globally, has filmed with many other characters. Its creator, Walt Disney, voiced the character himself until 1946. In the 1970s, an artist of Turkish origin named Murad Gümen joined the team that drew Mickey Mouse cartoons.
---
3) Popeye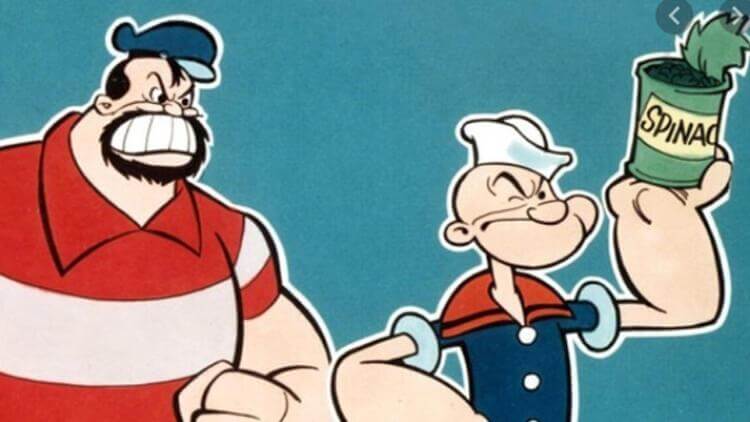 Popeye was created in 1929 by Elzie Crisler Segar. Popeye, who entered our lives with a humor magazine in 1929, began to appear on the big screen in 1933 with the cartoon Betty Boop.
Whenever he had difficulty and needed strength, Popeye would eat a can of spinach go on adventures with his lover Safinaz and his arch-enemy Kabasakal. Thanks to his biceps, which start to swell when he eats spinach, we all ask, "Is it real?" We tried to eat spinach ☺
---
4) Winnie the Pooh
Winnie the Pooh is a bear who lives in the 1000 Hectare forest and has his best friends Piglet, tiger Tigger, Rabbit, and donkey Eeyore. Winne the Pooh creator Alan Alexander Milne writes this character to describe it to his son, Christopher Robin. This is the story of Christopher Robin we see in the cartoon. Winnie the Pooh deals only with positive topics and moves forward with an instructive mission.
---
5) Daffy Duck
This is the story of Christopher Robin we see in the cartoon. Daffy Duck, or Cheeky Daffy, came into our lives in the late 1930s after Mickey Mouse and Popeye. Winnie the Pooh deals only with positive topics and moves forward with an instructive mission.
---
6) Pork Porky
Pig Porky was a stuttering character. We remember this adorable character from Looney Tunes in general with his episodes with Daffy Duck.
---
7) Tweety and Sylvester
Sylvester is a character who entered our lives after the Second World War. The character, whose creator is Friz Freeleng, begins to embark on adventures with the character Tweety, created by Bob Clampett after 1947. Granny Nine is later added to the Tweety and Sylvester cartoon. Granny Nine was engraved on our minds when she hit Sylvester with her umbrella while protecting Tweety.
---
8) Yogi Bear
Bear is a character created by Yogi Hanna-Barbera. We remember Yogi the Bear, one of the main characters of family-watched cartoons, with his green tie. Yogi the Bear, who jumped from adventure to adventure in every episode with his fedora and mischievous temperament, was one of the unforgettable characters of our childhood.
---
9) Donald Duck
It was created by Donald Fauntleroy Duck, after whom Donald Duck is named. Uncle Donald, who didn't like jokes, was always in trouble. Sometimes it took a lot of attention to understand her nervousness in her raspy voice. Donald Duck, who was quite unlucky, made us laugh with every episode.
---
10) Woody the Woodpecker
When you think of Woody the Woodpecker, do you think of his smile? Walter Lantz Studio produced the character in our minds even today with his unique smile in the 1940s. Woody overcame the problems with his clever plans and laughed after every episode ☺
---
11) Tom and Jerry
Tom and Jerry was created by William Hanna and Joseph Barbera. In Tom and Jerry, one of the most exciting cartoons of our childhood, what Jerry did to Tom sometimes caused sadness and sometimes a mouthful of laughter. Although there is a fierce rivalry between them, they also reflect true friendship. Daddy dog and puppy, sometimes included in Tom and Jerry, would add fun to the fun ☺
---
12) Powerpuff Girls
Which of the Powerpuff Girls girls would you be? One of our biggest fights as kids was sharing Blossom, Bubbles, and Buttercup among us. A scientist, professor, accidentally pours Chemical X into the mix while creating the girls. As a result, three girls with special powers appear. They fight relentlessly to save the world from evil.
---
13) Sonic
Sonic is a hedgehog character who appeared in 1991. He manages to escape from the evil future planned by Dr. Robotnik. She is among the unforgettable cartoon characters with her supergirl run.
---
14) Garfield
Did anyone not crave lasagna because of Garfield? We know the character created by Jim Davis in 1978 for his laziness. There is no one who does not associate himself with this character who always wants to sleep, hates movement and can do anything to eat ☺
---
15) Inspector Gadget
Have you dreamed that you are Inspector Gadget? It is probably a wonderful thing to be able to come out of your body with completely different tools, to be able to carry everything you need to do. Inspector Gadget tried to do his duties properly. Even though he sometimes messed up with his wrong tools and clumsiness, the result was always on his side.
---
16) Lucky Luke – Red Kit
Red Kit was a comic book character drawn by Morris. Our lone cowboy, RedKit's loyal horse Jolly Jumper, and his dog Rantanplan, who do not leave his shadow in our minds, stand against injustice. He always wins with his intelligence, especially in battles with the Daltons.
---
17) Fred Flintstone
Fred Flintstone was one of the unforgettable characters of the Stone Age cartoon. Although an optimistic person, Fred, who occasionally upset his friends and wife with his unkind demeanor, would definitely realize his mistake at the end of the episode. Known especially for his passion for bowling, Fred was a cartoon character that stuck in our ears with the line "Yabba Dabba Doo" ☺
---
18) Gargamel
What is the first thing that comes to mind when you think of Gargamel? The worst character I remember from my childhood is Gargamel. He was one of those kind of clumsy cartoon characters trying to catch the Smurfs, getting a little closer each time and always missing them in the end ☺
---
19) Tintin
Tintin was the detective character of our childhood. Tintin, written by Belgian illustrator Hergé, came into our lives in 1929. While the character, a traveling journalist, went from adventure to adventure, his dog Milou never left his side. No matter how dangerous the adventures were, the fearless Tintin and his dog Milou would overcome it.
---
20) Homer Simpson
Homer Simpson was the laziest of the Simpson family. Homer, who was as naive as lazy, made us laugh at his clumsiness. The Simpsons series, which started broadcasting in 1989, comes to the fore in many events today. It seems that he will not be out of our lives for many years, especially with his prophecies.
---
21) Candy Girl Candy
Candy Girl Candy is a character created by Kyoko Mizuki. The story, which became a manga after being published piecemeal in a magazine, began to be published in Turkey in 1979. This is the first anime broadcast in Turkey. The life of Candy, who is left in an orphanage called Pony's house, is told. A wealthy family adopts Candy, and Candy's life changes.
---
22) The Pink Panther
Do you remember the Pink Panther's music? An incompetent inspector and our hero, the Pink Panther, managed to escape from him every time. The Pink Panther won our appreciation by sneaking away from all kinds of events and cleverly.
---
23) George Jetson
After watching the world of the Jetson, including Gergo Jetson, which of us has not dreamed of a flying car? I'm sure this cartoon, in which we watched jobs accelerating thanks to robots, robots that clean the house, flying cars, face-worn masks, and many other innovations, was full of technologies that we would dream of back then.
---
24) Scooby-Doo and Shaggy
Scooby Doo and Shagy's friendship has always been an enviable one. The Scooby-Doo cartoon, which began airing in 1969, showed children that bad people are the only thing to fear. Shagy and Scooby, on the other hand, were two close friends who ate all the time and were frightened each time and still found themselves in the middle of things.
---
25) SpongeBob SquarePants
SpongeBob is created by marine biology educator Stephen Hillenburg. The cartoon about the adventures of SpongeBob and his friends trying to live in Bikini Town was among the unforgettable memories of our childhood. The most energetic and cute character of Bikini Town was of course SpongeBob ☺
---
26) Ash Ketchum
Ash was the memorable character of Pokemon. Although many years have passed since the cartoon's release, we still know Pokemon by heart today. Even in new games released, Pokemon adaptations continue. Pikachu's voice, how possible to forget the features of other Pokemon ☺
---
27) Road Runner and Coyote
The Road Runner is the unforgettable story of a constantly running bird and the Coyote trying to catch it… Does anyone remember the "beep beep" sound of the Road Runner? The silent cartoon, which we watched thinking that Coyote would definitely be successful one day, is among the cartoons we cannot forget about our childhood.
---
28) Casper
Casper was the sweetest of ghosts. Ghosts, who always appear as beings we should be afraid of, were included in our lives as a close friend this time thanks to Casper. He was always chasing good. He always failed at school because he couldn't scare anyone. He used to go from adventure to adventure with his best friend Wendy.
---
29) Marsupilami
Marsupilami used to lead a happy life with his big family as he went from adventure to adventure with his long tail. Marsupilami's best friend, who is on good terms with a family living in the forest, was Leo. The hunter named Bring M. Backalive would make all kinds of games to catch Marsupilami and his family. But there was one thing he forgot: He shouldn't underestimate the other side.
---
30) Tasmanian Devil
The Tasmanian Devil was the most active of the Looney Tunes. Our character, who was always hungry, would scatter around. Many of us say from our mother, "You're messing up your room like a Tasmanian Devil." We've heard the word. Especially popular in the 1990s, this cartoon character was created by Robert McKimson. The Tasmanian Devil, who faced the other character many times, would continue to scatter everything without compromising himself.
---
31) Mischievous Dennis
We remember the mischievous Dennis with his neighborhood and his dog. Constantly curious, Dennis researched everything. During these researches, he would do various mischief and get scolded. This is where the nickname Afacan came from. Thanks to Dennis, who came into our lives in the 1980s, we learned that it is important to wonder and research.
---
32) Ninja Turtles
The Ninja Turtles, namely Leonardo, Raphael, Michelangelo, and Donatello, were mutated turtles. Their master was the mouse Splinter, who was extremely proficient in martial arts. This gang, which stood firm against evil thanks to the education they received, was once a role model for many of us. We would be one of them with the colorful belts we blindfolded ☺
---
33) Cedric
Cedric says at the end of each episode, "I have to admit. Life is really beautiful/hard when you are 8 years old." Did you forget your quote? As an 8-year-old boy, he lived through the difficulties of daily life with the girl he fell in love with, Chen, and his close friend. Cedric, who loved his grandfather very much, had problems with his father from time to time. At the end of the day, he would write everything he lived in a diary and say his unforgettable lines.
---
34) Richie Rich
We remember Richie Rich, the richest cartoon character, with a dollar sign in his eye. Created by Alfred Harvey in 1953, this character is the only child of a very wealthy family. He could reach anything he wanted, eat whatever he wanted. Was there anyone who didn't like him as a kid?
---
35) Teletubbies
The Teletubbies' memorable characters were named: Tinky Winky, Dipsy, Laa-Laa, Po. These four had a vacuum cleaner called Noo-noo in their house. This broom, which was a kind of steward of the Teletubbies, also protected them from evil. The part that started with the sunrise would end with the sunset again.
Editor's Note: Sometimes going back to the past brings memories that we never expected. From time to time, you can make yourself happy by remembering the good days of your childhood. Cartoons were the most beautiful of those happy times.
This post is also available in: Türkçe