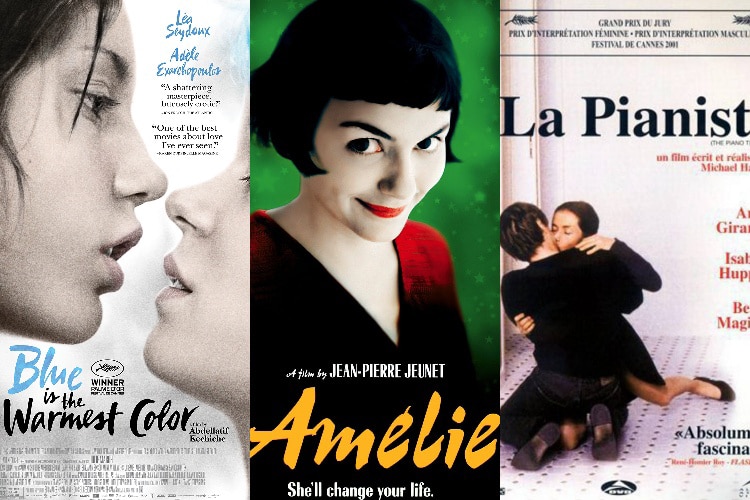 France; A European country where love is at its peak. French cinema, with its history starting with the Lumiere Brothers and extending to the Cannes Film Festival late 19th century and It has been the most important cinema industry of the 20th century. When this is the case, French films have a special place in the world of cinema. In this article, we have included films that belong to this industry and that have managed to get the full score of the audience. If you're ready, let's take a closer look at our list of French movies.
---
1) Coco avant Chanel – Before Coco Chanel (2009) IMDb: 6.7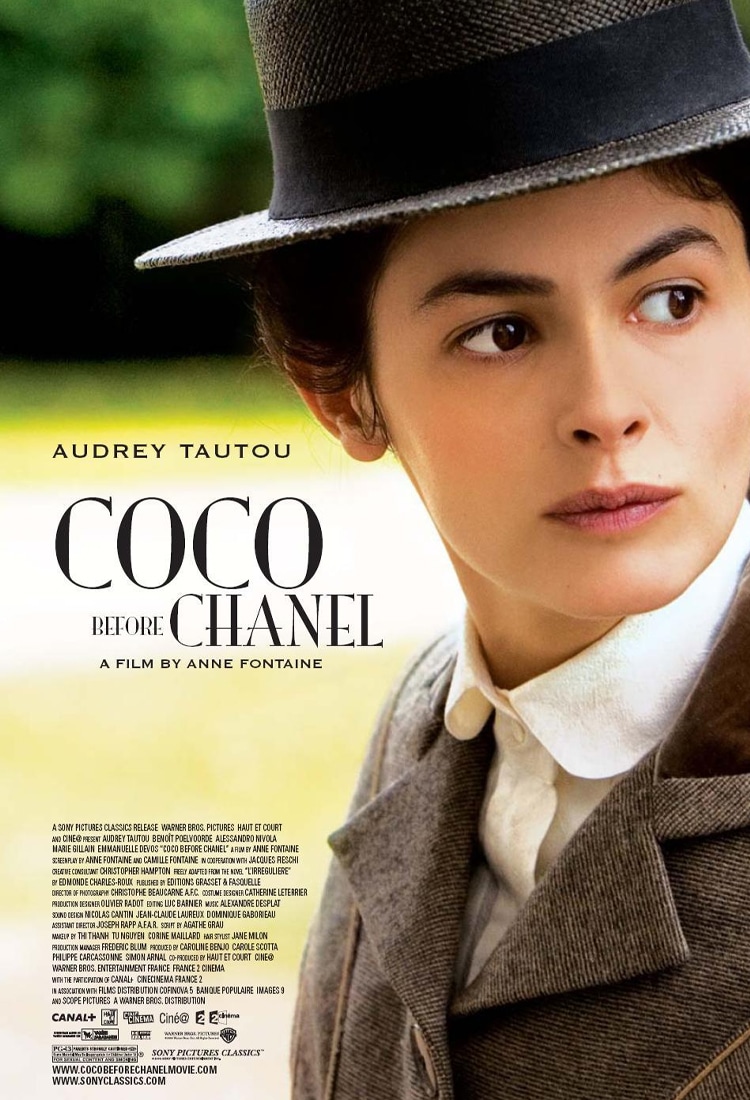 Genre: Romance, Drama
Director: Anne Fontaine
Cast: Audrey Tautou, Benoit Poelvoorde, Alessandro Nivola, Marie Gillain
Leaving the orphanage where she was left by her father, Gabrielle Chanel finds herself working in a bar. During the day she works as a tailor for the artists there, and at night she works as a cabaret singer. She got the nickname " Coco " after a song she sang with her sister Adrienne. After the relationship she started with Baron Balsan, she allowed her to enter French society.
Thus, he had the chance to develop his hat design skill, which has become more and more popular. Coco later falls in love with British businessman Arthur Capel. Later, Coco becomes very successful at her job and Capel is killed in a car accident. Coco continues her job, which was started thanks to Capel and became a memory of their love for each other.
---
2) Amélie (2001) IMDb: 8.3
Genre: Romance, Comedy
Director: Jean-Pierre Jeunet
Cast: Audrey Tautou, Mathieu Kassovitz, Rufus, Lorella Cravotta
Our film, originally called Le Fabuleux Destin d'Amélie Poulain (The Fairytale Fate of Amélie Poulain), is a French romantic comedy. Amélie is one of the first examples that come to mind when it comes to French films. In the film, Amélie is raised away from other children by her doctor father, on the pretext that she has heart disease.
Actually, this diagnosis of his father is wrong. Because Améelie's rare physical contact with her father takes place at the doctor's checkups, and Amélie's heartbeat, which is excited, always accelerates. When Amélie was young, her mother died. After this death, Amélie, who continues her life with her father, who is very obscure and quiet, develops a very colorful dream world. When she grows up, Amélie starts working as a waitress in a cafe and leads a fairly simple life.
The life of Princess Diana, which changes on the day of her death, takes her to a different place as a result of a series of events. He finds a metal box that a boy hid years ago in his house and starts to look for the owner of this box. Having delivered this box to its owner, Amélie now becomes a secret good angel, but feels that her own happiness has been neglected. However, he learns that he can solve this problem thanks to Raymond's advice.
---
3) Le Scaphandre et Le Papillon – The Butterfly and the Diver (2007) IMDb: 8.0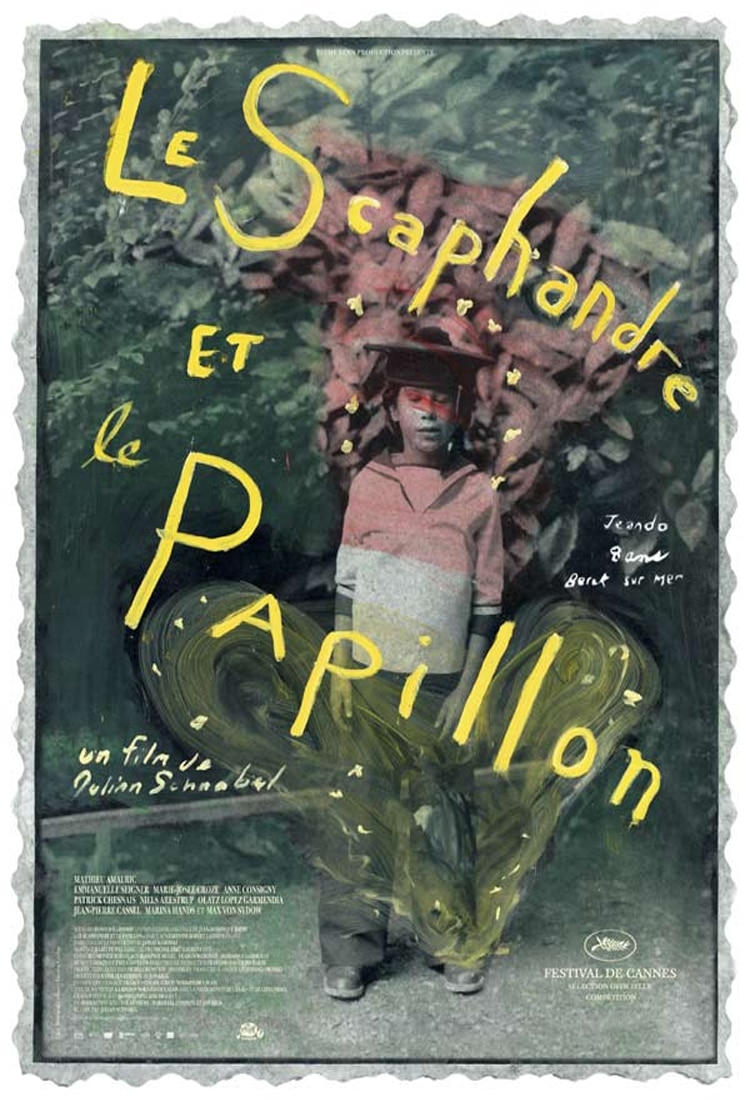 Genre: Drama
Director: Julian Schnabel
Cast: Mathieu Amalric, Emanuelle Seigner, Marie-Josée Croze, Anne Consigny
43-year-old Jean-Dominique wakes up from a three-week coma. This is a miraculous awakening, because Jean's brain region, which is physically unable to perform any function, has no problems. From this moment on, the audience witnesses the events with Jean's inner voice. The only body part Jean-Dominique can control is the left eyelid.
By performing a miracle, he begins to communicate with people with the help of eye movements. As if this weren't enough, he started to write his book in which he will tell his life story. The film, which tells the true story of Jean-Dominique Bauby, who is a writer/editor of the famous magazine magazine Elle, has achieved many successes.
---
4) La Haine – Protest (1995) IMDb: 8.1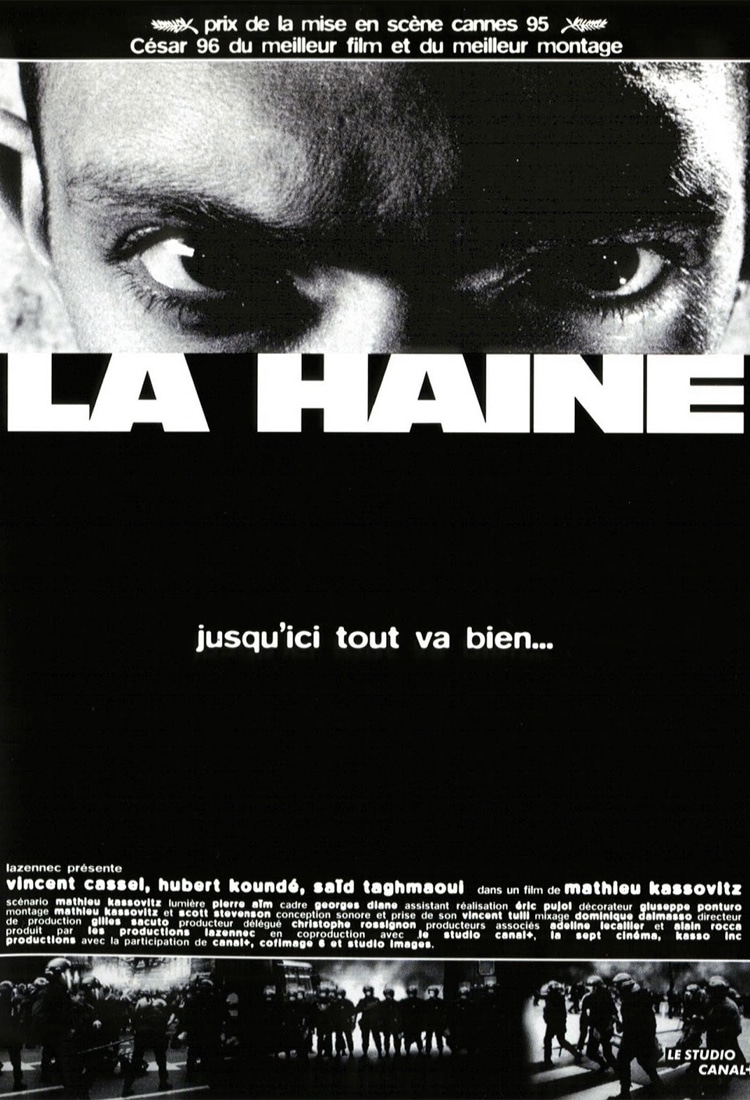 Genre: Drama, Crime
Director: Mathieu Kassovitz
Cast: Vincent Cassel, Hubert Koundé, Said Taghmoui
French films Fierce hours are experienced in the ghetto parts of Paris. The hate-filled glances between the local youths walking around in groups and the surrounded police are the reason for this fervor. One of the youth, Abdel, is beaten during the police investigation and is fighting for his life in the hospital.
Abdel's friend Vinz swears to shoot a cop if Abdel dies. Kassovitz was only 28 years old when he wrote the script for this movie. With references to racism and social class differences, the film aroused great repercussions in France and around the world. The movie was also shot in black and white.
---
5) La vie d'Adéle – Blue Is The Warmest Color (2013) IMDb: 7.7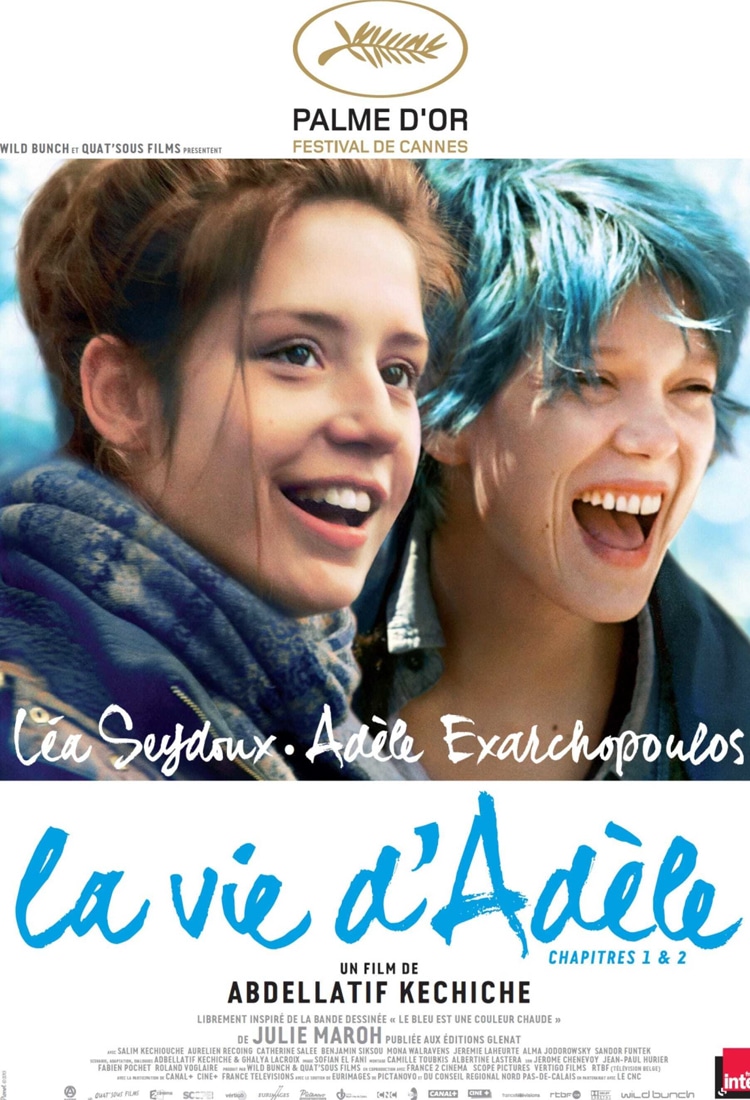 Genre: Romance, Drama
Director: Abdellatif Kechiche
Cast: Léa Seydoux, Adele Exarchopoulos, Salim Kechiouche, Aurelien Recoing
Adéle is a 15-year-old girl and she is sure of two things; She is a girl and has relationships with men. One day, he notices Emma and her blue hair in a big square and her life starts to change after that point. She is left alone with her own puberty issues. In his relationship with Emma, he experiences love as a woman, as an adult.
However, Adéle cannot make peace with this strange world, neither herself nor her family. Approximately 800 hours were shot for the film, which took 6 months to produce. This time was recently reduced to 179 minutes. It was cited by many critics as one of the best films of 2013.
---
6) Léon: The Professional – The Power of Love (1994) IMDb: 8.5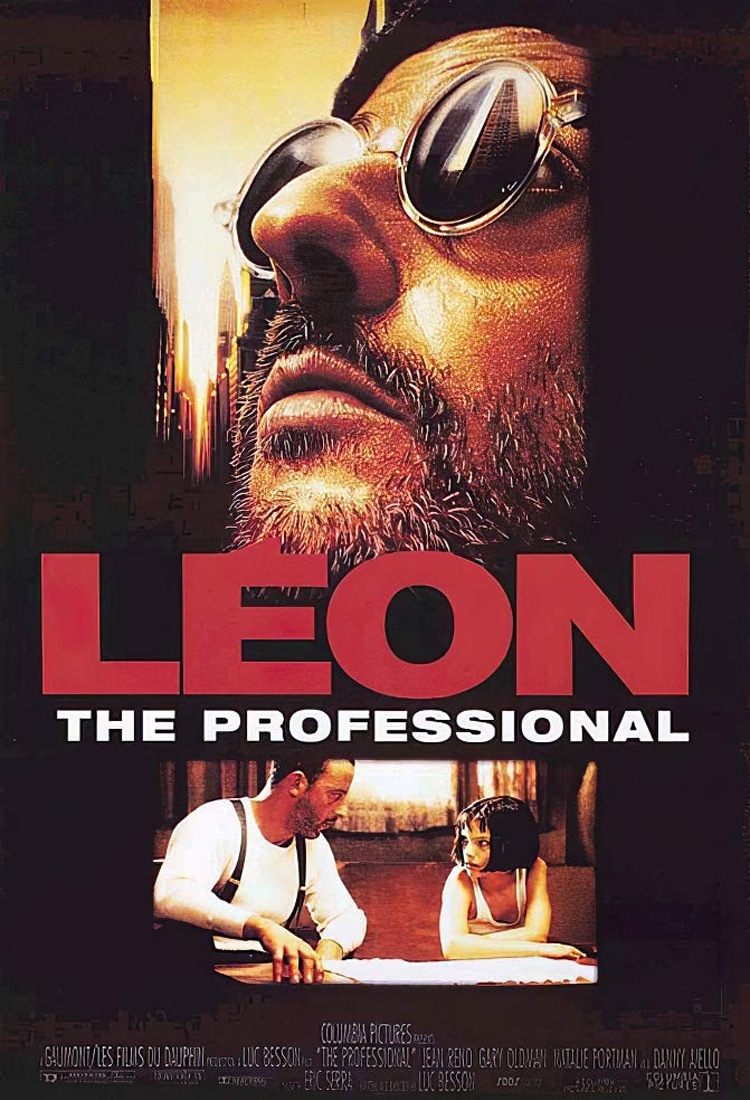 Genre: Drama/Action
Director: Luc Besson
Cast: Jean Reno, Gary Oldman, Natalie Portman , Danny Aiello, Peter Appel
Léon is one of the first unique productions that comes to mind when French films are mentioned. Léon, a hitman residing in New York City, USA, working under his boss Tony, is somehow left alone with 12-year-old Mathilda. Léon is a strict professional who has built his life out of rules.
An interesting relationship develops between them and Mathilda becomes Léon's student. He wants to avenge his murdered family. There were many people who criticized the film, thinking that there was an inappropriate relationship between these two. However, the situation is very different and deep. A movie that you won't regret watching, that really reveals the power of love!
---
7) Dans la brume – One Breath Away (2018) IMDb: 5.9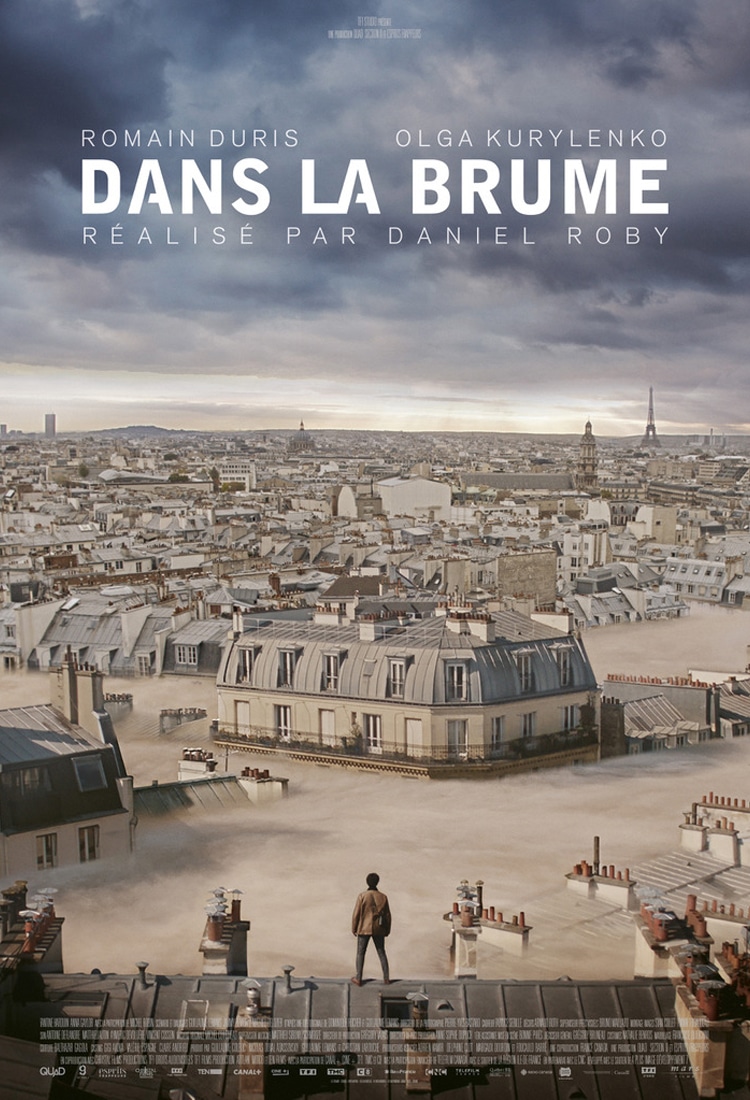 Genre: Thriller, Sci-Fi
Director: Daniel Roby
Cast: Olga Kurylenko, Romain Duris, Fantine Harduin, Anna Gaylor
After a major earthquake, Paris was covered with a deadly gas cloud. The film tells the story of a family trying to survive in the middle of this mess. No one has electricity, water, or anything to eat. Trying to protect their daughter from this mess, our family realizes that there is no one to help them as time goes on. The only way out of the disaster they're in is through the fog. Can this broken family come out of their situation together and strong? Let's watch, let's see.
---
8) The Intouchables – My Heart (2011) IMDb: 8.5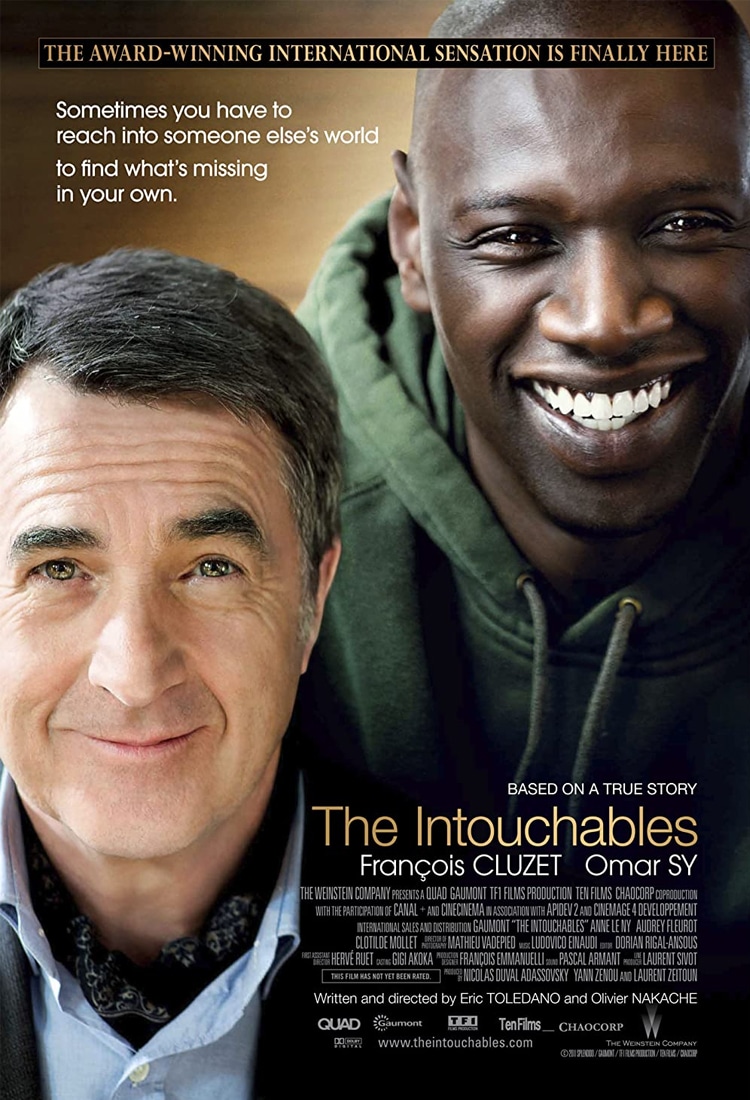 Genre: Comedy, Drama
Directors: Olivier Nakache, Éric Toledano
Cast: François Cluzet, Omar Sy, Anne Le Ny, Audrey Fleurot
Philippe, a wealthy businessman and aristocrat, is paralyzed by an accident and is incapable of using his neck down. Driss is unemployed and has just gotten out of jail. Somehow, Philippe hires Driss to be his 24/7 stay-at-home babysitter. This will change both their worlds.
These two, who seem impossible to come together under normal conditions, enjoy life together, both good and bad, and embark on adventures. With the class issues it touched on from the end and the political environment it was drawn into, the movie was talked about a lot when it was released. With these topics, Intouchables has also managed to stand out among recent French films.
---
9) La Pianiste – The Pianist (2001) IMDb: 7.5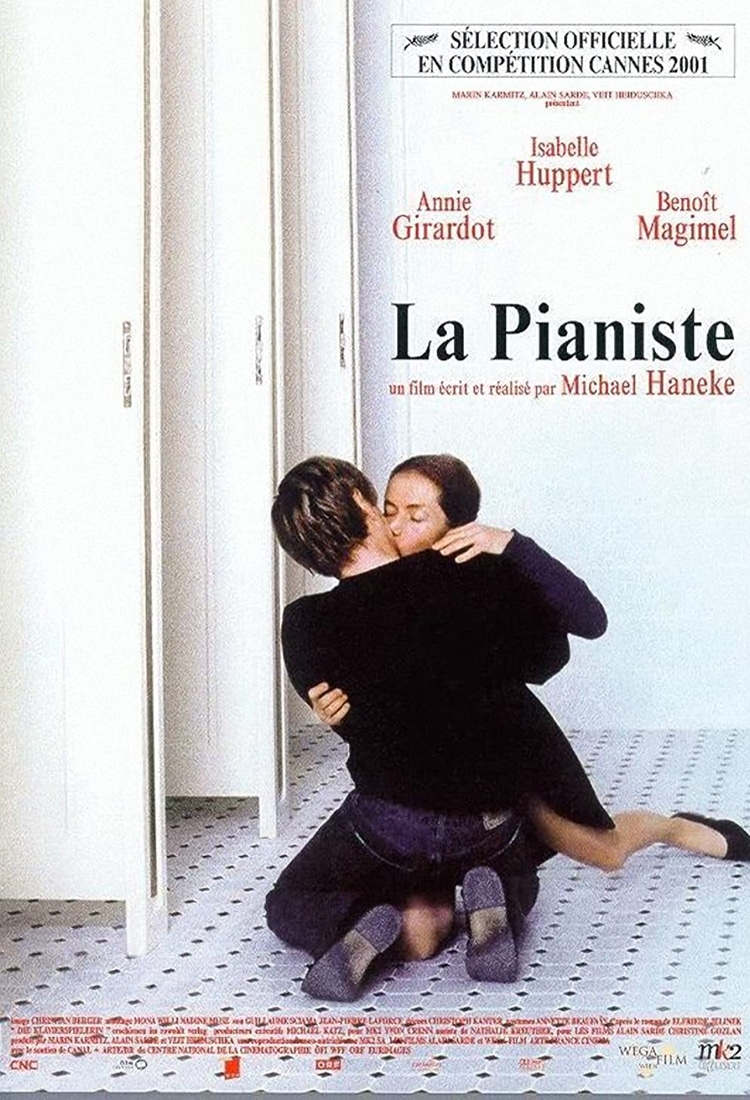 Genre: Drama, Romance
Director: Michael Haneke
Cast: Isabelle Hupert, Annie Girardot, Benoit Magimel
The main character, Erika Kohut, is an extremely authoritarian, idealistic teacher. Besides this ordinary character, he also has a second personality that is completely controlled by his passions. This personality is the side of Erika, embedded in her sexual desires, watching people having sex in the park. Although he manages to make this part of himself special to himself, this balance will start to deteriorate when one of his students starts to take an interest in him. It is possible to feel very different emotions in this work, which is a very brave and free film of director Michael Haneke! Isabelle Hupert's masterful acting is like a gift next to the movie!
---
10) La Cité des Enfants Perdus – City of Lost Children (1996) IMDb: 7.5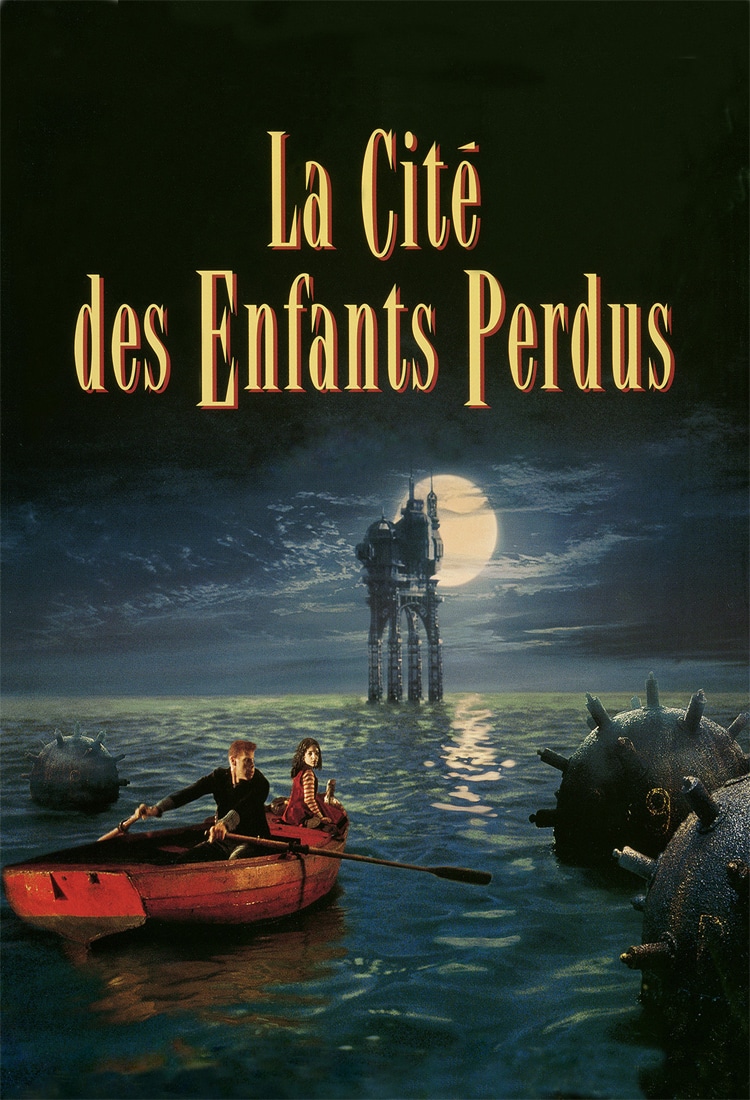 Genre: Fantasy, Sci-Fi
Directors: Marc Caro, Jean-Pierre Jeunet
Cast: Ron Perlman, Daniel Emilfork, Judith Vittet, Dominique Pinon
A crazy fantasy world with perfect costumes and freaky characters! Crank is a scary scientist licking off the coast of a port city. He ages early because he is not capable of dreaming. He lets his one-eyed scary helpers kidnap the kids in the city. Thus, he connects the children to the machines in his laboratory and steals their dreams.
An interesting duo that Krank doesn't know about yet will work together to foil his treacherous plans and may succeed! The film is truly the product of an unlimited imagination. If you like change, if you like to stretch and watch a movie on the edge of the sofa while watching a movie, you should take a look at the City of Lost Children.
---
11) Jeux D'enfants – Do You Dare Love? (2003) IMDb: 7.6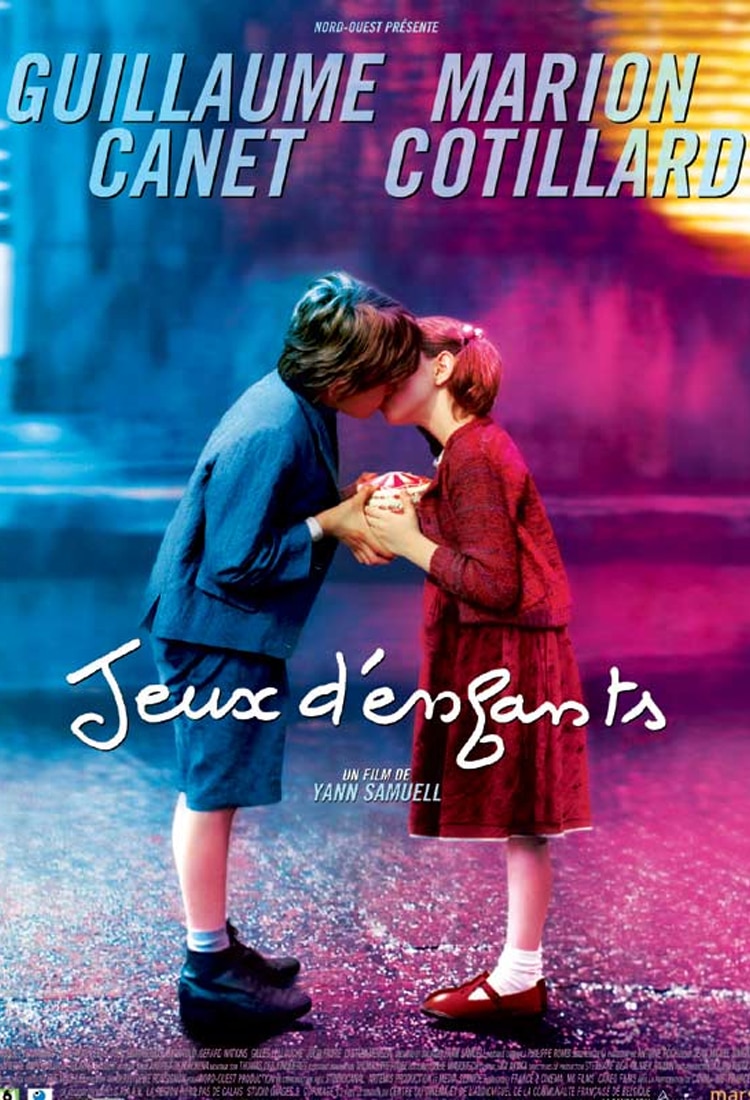 Genre: Romance, Drama
Director: Yann Samuell
Cast: Guillaume Canet, Marion Cotillard, Thibault Verhaeghe, joséphine Lebas-Joly
Julien Janvier's mother has cancer and is dying. Sophie Kowalsky is struggling with the challenges of being an immigrant. The special bond between these two will become stronger thanks to the game of courage they play. As a result of this game, everyone gives each other different tasks that require courage.
As time progresses, the difficulties in their lives become a part of this game. While rekindling the great love between the two friends, it also prevents them from meeting. After this movie, lead roles Marion Cotillard and Guillaume Canet started to be together in real life.
---
12) Irreversible – No Return (2002) IMDb: 7.4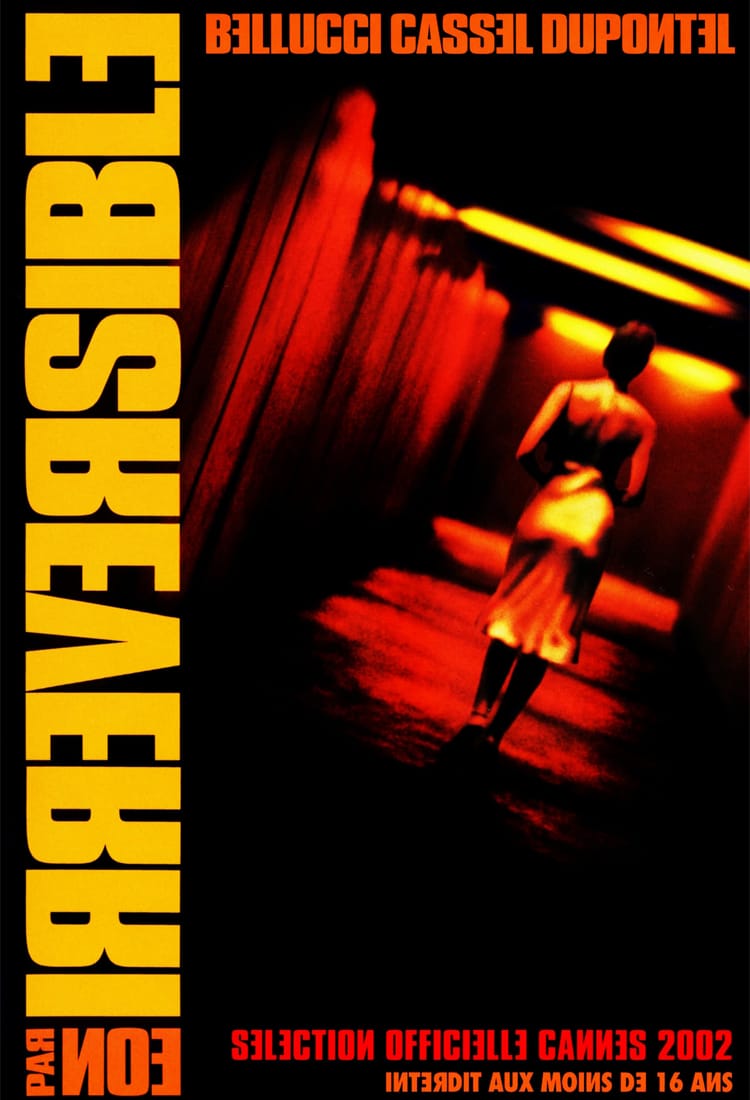 Genre: Crime, Drama
Director: Gaspar Noé
Cast: Monica Bellucci, Vincent Cassel, Albert Dupontel, Jo Prestia
Gaspar Noé applied the method of telling the story backwards, just like in the movie Memento. If we tell from the normal order; Alex, her boyfriend Marcus, and Alex's ex-husband Pierre decide to go to a party. Meanwhile, Alex learns that she is pregnant, but does not tell anyone about it. Alex and Marcus get into a fight, after which Alex leaves their place. On the way back, she is heavily sexually and physically assaulted in a tunnel.
Seeing her on the stretcher, Marcus and Pierre want to avenge this situation. Learning the name and whereabouts of the attacker, the duo find themselves in a bar called Rectum and start beating the man heavily. However, the person they attack is not the real attacker, he watches the whole fight in a corner laughing and having fun. Irreversible has a very different place among French films of the 2000s.
---
13) 8 Femmes – 8 Women (2002) IMDb: 7.1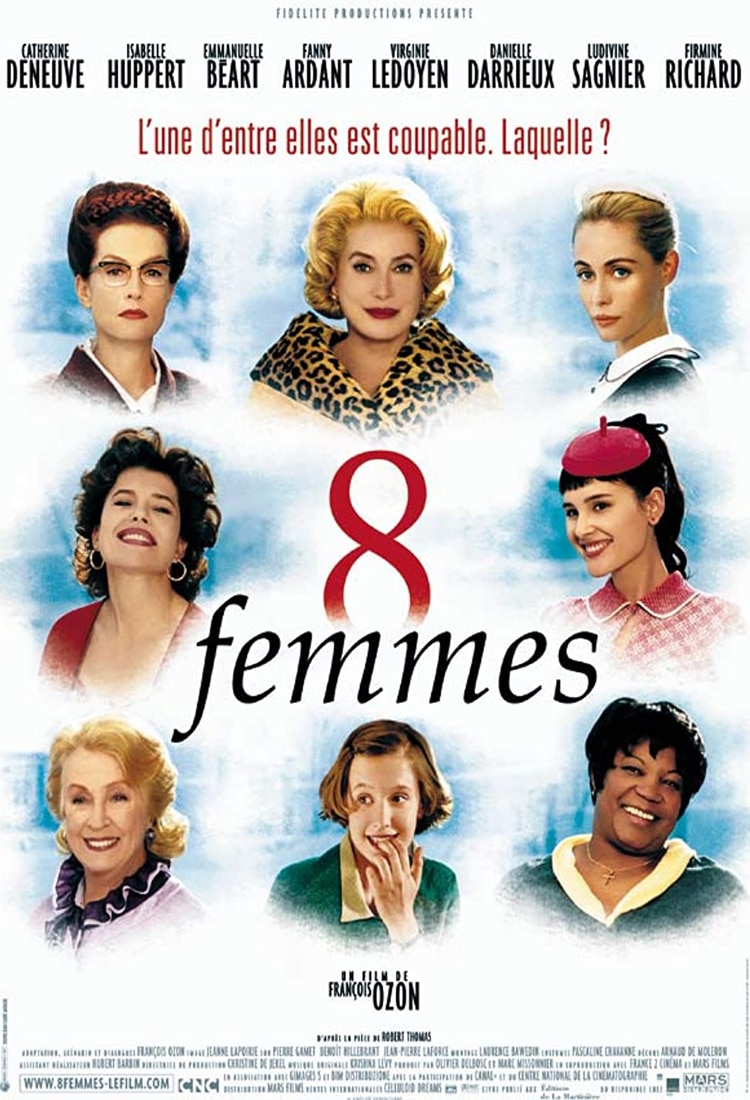 Genre: Musical, Comedy
Director: François Ozo
Cast: Fanny Ardant, Virginie Ledoyen, Danielle Darrieux, Firmine Richard
Our movie takes place in France in the 1950s, at Christmas time. In a country house there is Marcel and the 8 women in his life. Marcel is found stabbed and dead in his room. After that, 8 women in the isolated house try to reveal the murderer among them. This film, which has a style that is between a black comedy and a musical, was the winner of the 2002 Berlin Film Festival Golden Bear.
---
14) Le temps retrouvé, d'aprés l'oeuvre de Marcel Proust – Time Re-found (1999) IMDb: 6.7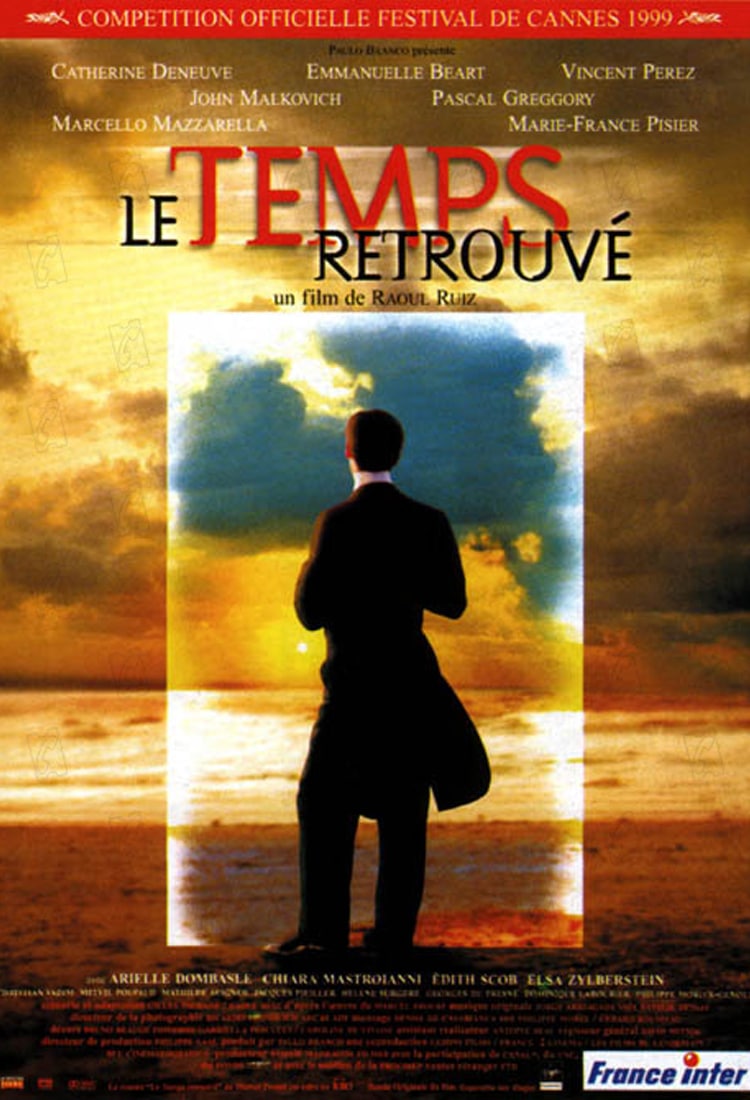 Genre: Drama, Romance
Director: Raoul Ruiz
Cast: Catherine Deneuve, Emmanuelle Béart, Vincent Perez, John Malkovich
The film is about the last of Proust's seven-part books called In Search of Lost Time . 1922, Proust is on his deathbed. He reconsiders his life through the old photographs he finds. However, doing this is not as easy as it seems. As time passes, the characters of the novel he wrote with the real characters begin to mix.
In this way, our author discovers that his life actually lies in his stories. With these pictures, he remembers his childhood, youth, lovers and how the First World War destroyed their social status. Director Ruiz conveyed to the audience the fact that time, which is touched again with memories just like in the books, never feels like the moment it was lived.
---
15) La Môme – The Sidewalk Sparrow (2007) IMDb: 7.6
Genre: Musical, Drama
Director: Olivier Dahan
Cast: Marion Cotillard, Sylvie Testud, Pascal Greggory, Jean-Paul Rouve, Gérard Depardieu
Focusing on the life of the famous artist Edith Piaf, the film begins when Piaf faints during a concert. Then, starting from the childhood years, its progressive development is revealed. Career growth, illness, and the end of his career are included in the film without the sequence. In addition to these, you have the opportunity to listen to many of the songs that have become legendary and identified with the artist. At the end of the movie, we witness that he sang the song "Non, je ne regrette rien", which is also identified with him, at Olimpiya.
---
16) Ma vie en rose – Pink Life (1997) IMDb: 7.6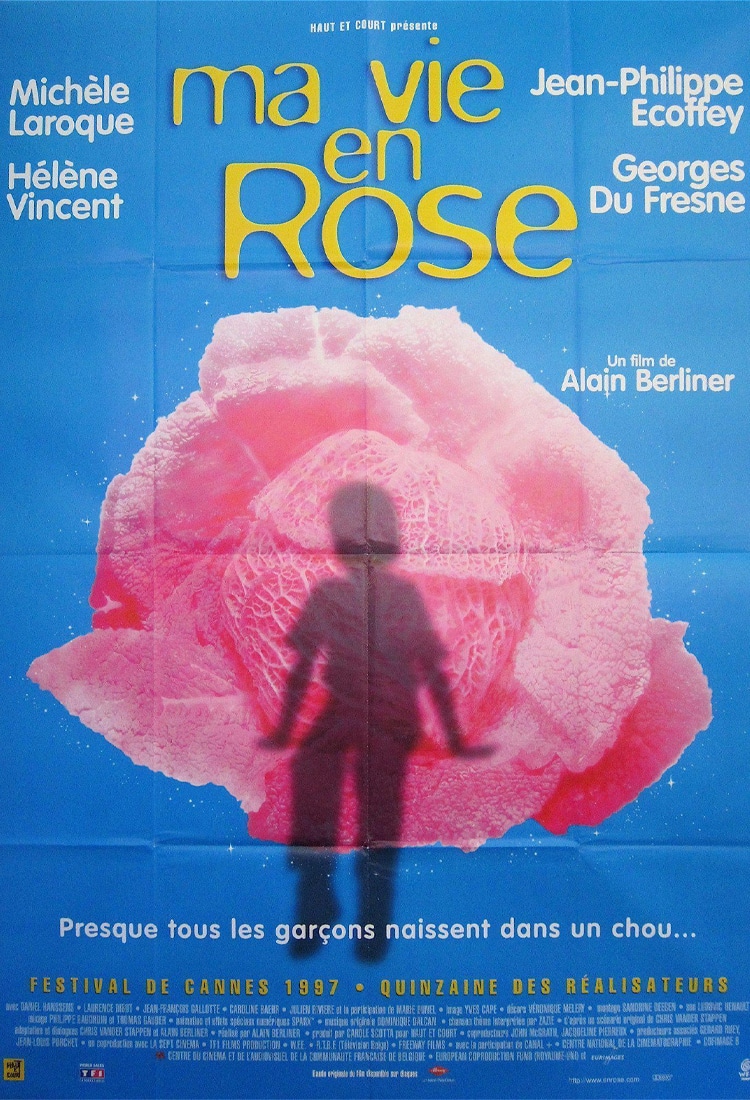 Genre: Drama, Comedy
Director: Alain Berliner
Cast: Michele Laroque, Jean Philippe Écoffey, Helene Vincent, Georges Du Fresne
Ludovic, who has a gender identity crisis, dreams of turning into a girl one day, even though he was born in a boy's body. Her family, who did not take this situation seriously before, starts to panic when she plans to marry her friend from school, Jerome. When the two children, who are very close friends, start pretending to be married, this rush spreads to all around them. In the year it was screened, our film won a Golden Globe in the category of Best Foreign Language Film.
---
Italian Films from the Pre- and Post-2000s
This post is also available in: Türkçe