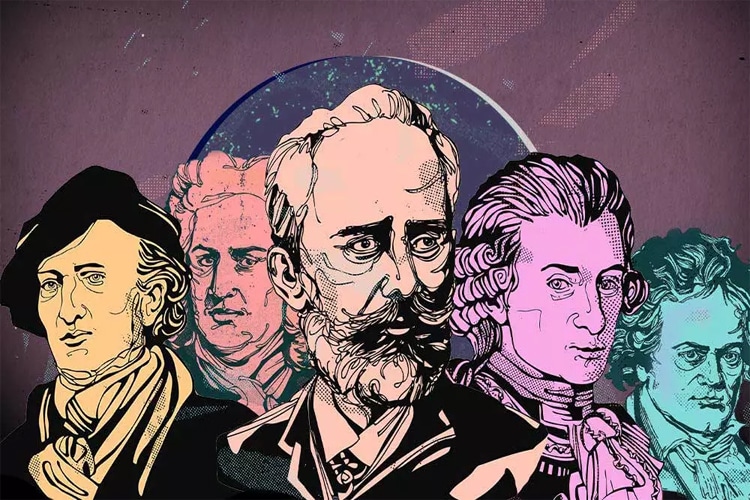 The debate about which one is the best among classical music artists has been one of the most heated debates of every period by the audience. Despite all the discussions, the three composers at the top of the lists are Beethoven, Bach and Mozart.
Undoubtedly, the ranking of the best will vary according to each listener, but the ones in the list below are considered to be the best classical music artists of all time. While reading our list of the 45 best classical music artists of all time, we will be sharing some famous compositions with you so that you can listen to these artists.
---
Here are the Classical Music Artists Who Have Marked History:
1) Johann Sebastian Bach (1685-1750)
Bach is to classical music what Leonardo da Vinci is to art and Shakespeare is to literature. Among classical music artists, he is considered one of the greatest creative geniuses in history. Bach was born on March 21, 1685, in Eisenach, Germany. He started playing the organ in 1703, thus improving his skills on the keyboard. Bach is a prolific composer, violist and violinist.
Apart from opera, Bach composed high masterpieces in every major Baroque genre: sonatas, concertos, suites and cantatas, as well as numerous keyboard, organ, and choral works. His compositions span a wide spectrum, from solo instrumental works such as Cello Suites to massive orchestral pieces, instrumental concertos such as the Brandenburg Concertos , and contemporary music collections including The Well-Tempered Clavier .
---
2) Wolfgang Amadeus Mozart (1756-1791)
Johannes Chrystostomus Wolfgangus Theophilus Mozart is arguably the most talented musician in the history of classical music. Mozart was born in Salzburg in 1756. Mozart's father, Leopold, was an ambitious composer and violinist. Young Wolfgang composed his first opera, Apollo et Hyacinthus , when he was only 11 years old. A year later, Emperor II. Joseph commissioned him to write La finta semplice .
He composed 41 symphonies, nine piano concertos between 1784 and 1786, and three of them simultaneously with The Marriage of Figaro . In 1787, Mozart's second opera, Don Giovanni, was premiered. His health began to deteriorate and by 1790 his pace of work slowed. He composed only the most famous Magic Flute , Requiem and Clarinet Concerto . Mozart did not live to complete his Requiem . 36 in 1791. He died in Vienna before his birthday.
---
3) Ludwig van Beethoven (1770-1827)
Beethoven, who composed in the romantic period of classical music, created an absolute revolution in orchestral music with his third Eroica Symphony , and wrote music that captures the inner struggle of the individual and the pure joy of life. The earliest work composed by Beethoven is a set of nine piano variations composed in 1782. Beethoven composed the Piano Sonata No. 14 (Moonlight) in 1802. The opening motif of the Fifth Symphony from 1808 is one of the most famous musical quotes in history.
Beethoven's Ninth Symphony , Chorus in 1824, is another work of his that remains endlessly popular. It was the first time a composer used choral voices in a major symphony. Beethoven's health problems and growing deafness caused a decline in productivity at the end of his life, but he still managed to produce important works that were wildly creative for the time, such as the Late Quartets of 1825. Beethoven takes his place among the unforgettable classical music artists with these works.
---
4) Antonio Vivaldi (1678-1741)
With Antonio Vivaldi, Italian Baroque music reached its peak. Antonio Vivaldi was born on March 4, 1678 in Venice, the child of violinist Giovanni Battista Vivaldi. One of the most prolific composers of the Baroque era, Vivaldi wrote 500 legendary concertos, 46 operas, including the still often heard Four Seasons , four violin concertos each depicting a season of the year. The piece is a melodic, harmonic masterpiece, still fresh and colourful, as it was when heard by Vivaldi's contemporaries.
---
5) Claudio Monteverdi (1567-1643)
A composer who bridged the Renaissance period with the Baroque, Monteverdi is considered one of the most powerful figures in the history of music among classical music artists. He wrote nine books and is the father of the opera form in its present form. Among his most notable works are the operas L'Orfeo and L'incoronazione di Poppea .
His 1607 opera, L'Orfeo , ushered in a new era of opera. L'Orfeo tells the legendary story of Orpheus, a musician who tries to save his wife from the land of the dead, but is thwarted by love. L'Orfeo (1607) is the oldest opera still widely performed today, but we should also mention Monteverdi with L'incoronazione di Poppea (1643), which he wrote towards the end of his life.
---
6) George Frideric Handel (1685-1759)
George Frideric Handel is one of the giants in music history. Frideric Handel was born on February 23, 1685 in the German town of Halle. Handel is a German-British Baroque composer famous for his operas, oratorios, marches and organ concertos. He founded three commercial opera companies to bring Italian opera to English nobility. During the 1720s he composed Italian opera masterpieces, often based on classical stories, including Ottone and the Serse (Xerxes) for London stages.
In 1737, Handel suffered a stroke in his right arm that caused both temporary paralysis and some loss of his mental faculties. Losing his sight as he got older, Handel continued to compose. He died in London on April 14, 1759. Beethoven used these words, saying that Handel was the greatest of his predecessors: "I would kneel at his grave."
---
7) Hildegard von Bingen (1098-1179)
Hildegard von Bingen was a saint, poet and composer. What has been written about Hildegard's life is about an extraordinarily successful woman. He was a pioneer who wrote practical books on biology, botany, medicine, theology, and the arts. He wrote impressive compositions beyond the limits of his time and left the manuscripts of his songs behind, becoming one of the rare figures of the middle ages.
Over the next three decades, he wrote two more theological books, one on medicine and natural healing, the Symphonia Armonie Celestium Revelationum , a collection of about 400 letters, music, and poetry. About 900 years of his birth. works written by him on his anniversary are still being discovered and composed. Hymns and Songs (12th century) is one of the Bingen compositions you must listen to.
---
8) Joseph Haydn (1732-1809)
Returning to the classical age, Haydn, together with Mozart and Beethoven, is the first of a trio of composers called the 'Vienna School'. (The term Vienna School was first used by the Austrian musicologist Raphael Georg Kiesewetter to describe Haydn and Mozart in 1834.) The Austrian composer was the son of a steelmaker.
Haydn had such a beautiful voice that at the age of five he entered the St. Stephen's Cathedral Choir School in Vienna. After listening to the Habsburg Empress Maria Theresa Haydn, she uttered the following famous words: "This child is not singing, he is singing!" Called the Father of the Symphony , Haydn has notated 107 symphonies and countless other compositions in total.
---
9) Robert Schumann (1810-1856)
Robert Schumann is a German romantic composer and music critic. He was 10 years old when he started piano lessons. Despite his growing enthusiasm for composing and his passion for romance, he kept up with the family line by enrolling as a law student at the University of Leipzig. No other classical composer has studied the romanticism's obsession with emotion and passion as deeply as he has.
Also a music critic, Schumann is one of the founders of one of the most influential music publications, Neue Zeitschrift für Musik. Schumann composed more than 140 songs. He focused on multi-instrumental composition and produced the Piano Concerto , Piano Quintet and Symphonies 1 , 2 and 4.
---
10) Franz Liszt (1811-1886)
Liszt is one of the most important composers of the Romantic era and is considered one of the greatest pianists of all time among classical musicians. He created the orchestral symphonic poem and devised the leitmotif technique Wagner used in his epic operas.
Piano compositions such as Etudes, Hungarian Rhapsodies , and Mephisto Waltzes are excellent works that require both technical skill and expression. Many of his piano compositions are among the most technically demanding in his repertoire and are known for popularizing the music of other composers through his piano arrangements.
---
11) Pyotr Ilyich Tchaikovsky (1840-1893)
Pyotr Ilyich Tchaikovsky is the most popular of Russian composers. Tchaikovsky was born in Russia in 1840. He became one of the most successful composers the world has ever seen, writing works such as The Nutcracker , 1812 Overture , Swan Lake , and Sleeping Beauty . Apart from the ballet stage, he has composed epic symphonies and concertos as well as permanent orchestral works. He married Antonina Miliukova in 1877, but had no children. And he died of cholera in 1893 during a disease epidemic in Saint Petersburg.
---
12) Claude Debussy (1862-1918)
Claude Debussy, 20. He is a 19th century French composer and is considered the founder of musical impressionism. He was born on August 22, 1862, in Saint-Germain-en-Laye. Debussy completed the first piece to declare his independence of thought only in 1894, at the age of 32: Prelude a l'Apres-midi d'un Faune , a highly innovative piece inspired by a poem by Stephane Mallarmé.
After his early successes, he began serious work on the Debussy opera Pelleas et Melisande (completed in 1902) and the three-orchestral Nocturnes (completed in 1899). In 1914, Debussy learned that he had cancer. A surgery left him so weak that he could not compose for more than a year. He completed his last masterpiece, the Violin Sonata , before he died in Paris in 1918.
---
13) Edward Elgar (1857-1934)
Edward William Elgar is an English composer with orchestral works such as violin, cello concertos and two symphonies. Elgar's father owned a music shop and was a church organist who taught his son piano, organ, and violin. At the age of 16, he became a composer and became a musician.
Elgar's most productive period was the first decade of the twentieth century, when he wrote some of his most impressive music, including the first four of Pomp and Circumstance Marches . One of them, the subtitle Land of Hope and Glory , became the second unofficial national anthem of the British Empire.
---
14) Giuseppe Verdi (1813-1901)
Verdi is the greatest Italian opera composer who ever lived. Giuseppe Verdi was born on October 10, 1813, near Busseto. By the age of seven he was organist at the local church San Michele Arcangelo, and by the age of 13 he was vice-conductor of the Busseto Orchestra. At the height of his fame, he successfully produced two operas – La Forza del Destino and Don Carlo – in the 1860s.
Verdi was commissioned to write an opera to celebrate the opening of the Egyptian ruler Khedive Ismail's new opera house in Cairo. Verdi missed the deadline, but after a year Aida was gone. He composed La Traviata , Aida , Nabucco , Rigoletto , Otello . And his arias La donna è mobile and Si Un Jour are still favorites today.
---
15) Richard Wagner (1813-1883)
No composer before or after has had such a profound effect on the course of his art. Philosopher, poet, conductor, one of the most important composers in history and 19th century. He knew that Wagner, one of the most remarkable men of the century, was a genius. Few people compete with this great German composer when it comes to revolutionizing the art form.
In the 19th century, Wagner wrote two unique operas, among other monumental works: Tristan und Isolde and The Ring (four long operas). He built his own opera house, Bayreuth, to house his epic works. He also invented the 'leitmotif', a musical instrument that sees melodies or themes composed to depict certain characters or ideas.
---
16) Hector Berlioz (1803-1869)
Hector Berlioz is a French composer. His most famous work is Symphonie Fantastique . Berlioz, 19. He was one of the most influential of the 20th century conductors and classical music artists. In 1826, he began formal musical studies at the Paris Conservatory. In 1832, Berlioz started out as a music critic for the Journal des Débats for 30 years.
He began writing for the Gazette Musicale in 1834, when he produced his second symphony, Harold en Italie . When Requiem , Grande Messe des Morts was first performed in 1837, its unprecedented scale left the audience breathless, while Roméo et Juliette (1839) had much the same response in the symphonic field. His greatest masterpiece is his epic five-hour opera Les Troyens .
---
17) Richard Strauss (1964-1949)
Richard Strauss was one of the most talented composers of the twentieth century. Strauss demonstrated his mastery of miniature forms with his first published set of nearly 200 songs. In 1889, Strauss was appointed chief conductor of the Weimar Court Orchestra. In 1894 he produced his first opera, Guntram , and fell in love with leading soprano Pauline de Ahna.
In 1933, Goebbels appointed him head of Hitler's music commission. However, Strauss was dismissed in 1935 for his collaboration with the Jewish librarian Stefan Zweig in the opera Die Schweigsame Frau. His one-act opera Salome shook the classical music scene with its erotic and murderous themes, went against a religious context and was censored for a time. Other major works include orchestral works Sprach Zoroaster and Don Quixote .
---
18) Gustav Mahler (1860-1911)
Gustav Mahler was an Austrian composer and symphony master who thought that "the symphony should be like the world; it should embrace everything". Mahler discovered a piano in his grandmother's loft when he was six years old. Just four years later, she gave her first public performance. It introduced 32 new works, including Puccini's La Boheme and Madame Butterfly . He wrote 10 symphonies along with many romantic 'lieder' songs that explore existentialism, love and loss with solo voice and piano accompaniment in the German tradition.
---
19) Christoph Willibald Gluck (1714-1787)
Gluck's father was a forester and did not want his son to play any musical instrument while it was clear that he had musical talent. Gluck left home at the age of 18 and went to Europe to pursue a musical career for the next 25 years. Gluck began work on Orfeo ed Euridice , the first of his three 'reform' operas.
He wanted music to be the servant of poetry; He wanted drama to lead and music to follow. Gluck's passionate interest in French opera took him to France, where he became a key player in the French opera revival. He wrote new operas in French and reworked some of the best Italian works.
---
20) Franz Schubert (1797-1828)
https://www.youtube.com/watch?v=biUv4VLW0fc
Franz Schubert is an Austrian romantic composer. Although he died at the age of 31, he was a prolific man who wrote around 600 lieders and nine symphonies. The young 10-year-old Schubert took part in the Vienna Imperial Court chapel choir and quickly gained a reputation as a growing composer with a range of string instruments.
While teaching, Schubert composed 145 lieder (songs), the Second and Third Symphonies , two sonatas, and a series of miniatures for solo piano and short choral works. This period of intense creative activity remains one of the most inexplicable achievements of productivity in music history.
---
21) Frederic Chopin (1810-1849)
Frederic Chopin is a Polish composer and virtuoso pianist of Franco-Polish origin. He is considered one of the greatest masters of romantic music among classical music artists. Chopin was composing and writing poetry at the age of six. He gave his first public concerto performance at the age of eight. Chopin dedicated his second piano concerto to Delfina Potocka, whose love letters made headlines in the 1840s.
Chopin's Funeral March , one of the most famous works of the piano repertoire, was composed in 1837. In 1841, both sets of Chopin's etudes were published. These sets have become essential volumes for piano students everywhere. Chopin paid for his expensive lifestyle by giving piano lessons to wealthy people in Paris. He didn't like the idea of asking them for money, so he would look away while the money was left on the fireplace.
---
22) Camille Saint-Saëns (1835-1921)
The French composer Saint-Saëns was one of the sages in the history of music. Born in Paris in 1835 to the daughter of an inspector and carpenter, Saint-Saëns showed signs of exceptional musical talent from infancy.
He gave his first concert at the age of five. The following year he began composing in earnest. He made his professional debut at the age of 10 by playing the Mozart concerto of an orchestra and the first part of Beethoven's C minor concerto. Besides being a composer, virtuoso pianist and organist, he was a multilingual, consulted authority on literature and art in general, a prominent writer and poet.
His most notable work, Danse Macabre (1874), includes a scordatura (unorthodoxly tuned) solo violin, a xylophone making blood-curdling skeletal sounds, and a grotesque death dance silenced only by the sound of the oboe.
---
23) Igor Stravinsky (1882-1971)
Igor Stravinsky, 20. He was a Russian composer who revolutionized the music of the 19th century and provoked riots with The Rite of Spring . 17. and He discovered a way to rethink the creative ideals of the 18th century, and in doing so struck one of the most far-reaching movements of the past 100 years: Neo-Classicism.
On May 29, 1913, there was a riot in a theater in Paris at the world premiere of The Rite of Spring . The riot at the gala was one of the most famous scandals in art history. Stravinsky skyrocketed to stardom literally overnight. Interrupted by farmyard sounds from the gallery, the infamous performance ended with rival bands swearing at each other and the conductor and musicians fleeing in disarray.
---
24) Edvard Grieg (1843-1907)
Edvard Grieg was a Norwegian composer and pianist. He is best known for the Piano Concerto in Minor and the Peer Gynt . Edvard Grieg is to Norway what William Shakespeare is to England: one of his country's most famous icons. In 1866, Grieg gave a concert of his own pieces, including some piano miniatures and the sensational First Violin Sonata.
After the birth of his youngest daughter, Alexandra, he composed his masterpiece, Piano Concerto in A Minor. He was about to embark on a trip to England when he suffered a heart attack in the autumn of 1907 and died in hospital shortly after arriving.
---
25) Giacomo Puccini (1858-1924)
Giacomo Puccini was an Italian composer whose operas such as La Bohème , Tosca and Madama Butterfly were among the most frequently performed. He fed Tudandot , which includes Nessun Dorma, one of the most famous arias ever written. Puccini couldn't have wished for a better start with his first opera, Le Villi, which premiered in May 1884.
Critics loved it, with one journalist referring to Puccini as "the next Bizet or Massenet". In 1896, Puccini's best opera, La Boheme, was premiered. Puccini's last opera, Turandot, was unfinished when he died of heart failure and was completed from sketches by Franco Alfano in 1926.
---
26) Vaughan Williams (1872-1958)
Ralph Vaughan Williams, 20. He is one of the most important composers of the century. The English composer has succeeded in reviving English orchestral music throughout his career of more than sixty years, using English folk songs. Ralph's first major success came in 1910 at the premiere of Fantasia on a Theme of Thomas Tallis . It subsequently earned even greater praise for A London Symphony . Orchestral works Thomas Tallis' The Lark Ascending and Fantasia on a Theme on a Theme still remain popular with audiences today.
---
27) Amy Beach (1867-1944)
Among classical music artists, American composer Amy Beach holds a special place because she was the first American woman to publish a symphony. Amy was born in New Hampshire in 1867, and it soon became clear that she wasn't like other babies. By the age of one, he could sing 40 different songs!
His composing career began soon after, when he was staying with his grandfather for the summer, composing three waltzes… It might sound impressive, but what made this particular story surprising was that his grandfather didn't have a piano. He began performing Beethoven at the age of seven and made his concert hall debut at the Boston Music Hall at the age of 16.
In 1896, the Gaelic Symphony became the first symphony published by an American woman. And it was premiered by the Boston Symphony Orchestra. For the rest of her life, she carried out various activities to encourage women to music.
---
28) Felix Mendelssohn (1809-1847)
By the age of 12, the German composer Mendelssohn had composed four operas, a 12-string symphony, and numerous chamber and piano music. He was extraordinarily talented and continued to produce stunning music as his career progressed. He marked 1825 with his String Eight and the magical overture of A Midsummer Night's Dream .
Mendelssohn's Violin Concerto in E minor , Scottish Symphony no. 3 and the Hebrides overture remain the most popular of the concert hall. Mendelssohn also went to great lengths to revive interest in the work of the all-time great JS Bach, so we owe him a lot.
---
29) Sergei Rachmaninoff (1873-1943)
Rachmaninov was a legendary romantic Russian composer, pianist and conductor. His music is characterized by extensive melodies, virtuoso pianism and stunning orchestration. Although strong influences from Chopin and Liszt can be seen, most of his works are in the late Romantic style similar to Tchaikovsky. Rachmaninov's Piano Concerto No. 2 is one of the greatest works in the piano repertoire.
---
30) Antonín Dvořák (1841 – 1904)
Dvořák is one of the greatest classical composers and the first Czech composer to achieve worldwide recognition. He often incorporated folk elements from his Czech homeland into his music. After recommending his music for broadcast, Brahms began composing full-time in a wide variety of forms. The most famous of his nine symphonies, From The New World, was written while he was director of the National Conservatory of Music in New York.
---
31) Maurice Ravel (1875-1937)
Ravel, 20. century French composer. He was anti-Wagner, impressionist and neoclassical. Ravel, though not a genius, won the Paris Conservatory at the age of 14. His first work appeared only in 1895: Menuet Antique . After a successful American tour in 1928 and an honorary doctorate from Oxford University, Ravel revealed his final masterpieces with two piano concertos and his final work, Don Quichotte a Dulcinee . The rest of his life was spent battling Pick's disease, which increasingly affected his speech and motoric urges.
---
32) Dmitri Shostakovich (1906-1975)
Having a solid place among Russian classical music artists, Shostakovich's Symphony No. 5 was considered a Stalinist victory. Then Dmitri came to the fore when he was condemned by the Soviets for being unpatriotic. Shostakovich wrote 15 symphonies, numerous operas and ballets, numerous soundtracks, instrumental and orchestral works. The artist, whose works such as The Second Waltz and The Gadfly are among the favorites of the concert hall, He remains one of the most popular composers of the century.
---
33) Johannes Brahms (1833-1897)
Johannes Brahms is a German composer and pianist. He is considered the leading composer of the Romantic era. His best-known works include the Academic Festival Overture and the German Requiem . Brahms learned the piano at the age of eight; At the age of 11 he improvised a piano sonata. He studied theory and composition at the age of 13 and became a male voice choir conductor at the age of 14. Brahms was a master of almost all types of classical music. He wrote four major symphonies and chamber music.
---
34) Gabriel Faure (1845-1924)
Gabriel Fauré was a French composer, organist, pianist and teacher. He was one of the leading composers of his generation, and his musical style was well-known to many 20th century composers. century composer. He is best known for his Requiem . His first published works include Chants Sans Paroles (Songs Without Words) and Cantique de Jean Racine , a fascinating choral miniature from 1865.
In 1888, after nearly 20 years of work, he published his masterpiece, Fauré's Lament , which revealed the composer's unwavering belief in the afterlife. Faure died of pneumonia in 1924. Despite his unfortunate death, Fauré managed to put his name on the list of the best classical music artists.
---
35) Jean Sibelius (1865-1957)
Sibelius studied composition, but it was the Berlin premiere of his fellow conductor-composer Robert Kajanu's Aino Symphony that prompted him to become a composer. Between 1899 and 1926, Sibelius composed seven symphonies that revealed his romantic leanings. Sibelius' last major work was his orchestral poem Tapiola , which marks his period of mastery. He secretly worked on the Eighth Symphony for several years, but this was later set on fire.
---
36) Béla Bartók (1881-1945)
Bartók was a twentieth-century Hungarian composer, best known for his Orchestral Concerto . He was playing the piano at the age of 11 and was composing at the Liszt-Richard Strauss level when he graduated from the Royal Academy of Budapest in 1903. Bartok began collecting Hungarian and Transylvanian folk songs with the composer Zoltan Kodaly.
This formed the basis of Bartok's rapidly evolving musical style. He has published works such as the Orchestral Concerto , the Third Piano Concerto , and the Viola Concerto , which unfortunately was incomplete. However, one last surprise for Bartok was with the enigmatic Sonata for Solo Violin (1944) he wrote for Yehudi Menuhin.
---
37) Samuel Coleridge-Taylor (1875-1912)
Samuel Coleridge-Taylor was a British composer, conductor and activist who fought against racism. He was born in Holborn in 1875 to an English mother and a father from Sierra Leone. He liked to be described as Anglo-African and was later referred to as 'Black Mahler' by New York musicians for his musical success. Growing up in a musical family, Taylor's father taught her to play the violin at a young age.
He joined the Royal College of Music at the age of 15. The brilliant young composer made his musical debut with Ballade in A Minor , where he was dubbed a "genius" by music publisher August Jaeger. Taylor's classical compositions were heavily influenced by traditional African music. Some of Taylor's best-known works today include Nonet in F Minor , the remarkable Christmas Overture , and Deep River .
---
38) Joseph Bologne, Chevalier de Saint-Georges (1745 – 1799)
Chevalier de Saint-Georges, nicknamed ' Le Mozart noir ' (Black Mozart), is known as the first classical composer of African origin. Saint-Georges, 18. He was a prolific composer who wrote string quartets, symphonies, and concertos in the late 19th century. He also conducted one of Europe's top orchestras, Le Concert des Amateurs , and former US president John Adams called him "the most successful man in Europe".
It is known that Mozart was jealous of Saint-Georges' success. There is a popular theory that Mozart, in addition to fending off one of Saint-Georges' ideas in his Sinfonia Concertante , used his jealousy to create Monostatos, the evil black character who appears in the opera The Magic Flute .
---
39) Florence Price (1887-1953)
Florence Price was the composer of symphonies, concertos, sonatas, choral works, and numerous other orchestral, chamber, and piano works. Price was born in Arkansas in 1887 to a music teacher mother and a dentist father.
He studied piano and organ at the Florence British Conservatory of Music. He graduated with honors and in 1910 became head of the music department at Clark Atlanta University in Georgia. He published four piano works in 1928.
In March 2020, the handwritten manuscripts of Price's Colonial Dance and Songs of the Oak were discovered and published by G. Schirmer. In 1933, Florence Price became the first African-American woman to have her music performed by a major symphony orchestra.
---
40) Scott Joplin (1867-1917)
Known as the 'King of Ragtime', Scott Joplin He was one of the most important and influential composers at the turn of the century. He studied music and piano at George R. Smith College. Joplin moved to New York in 1907 and wrote his composition book, Ragtime School . His ideas on harmony and complex bass patterns are still imitated by composers today.
Among his best-known works are Maple Leaf Rag , Joplin's Theme Melody , and The Entertainer . The Oscar-winning 1973 film The Sting used several of Joplin's compositions, including The Entertainer and Solace . In the early 1970s, US conductor Joshua Rifkin released an album of Joplin's works.
---
41) Erik Satie (1866–1925)
Erik Satie is a French composer and pianist. Today most beloved Gymnopédies are known for their small melancholy piano pieces from 1890. But at the time of her death in 1925, Satie was barely known beyond the city limits of Paris. Pablo Picasso found success that had long eluded him with Parade , a collaboration with Jean Cocteau and Serge Diaghilev, director of Les Ballet Russes de Monte Carlo.
Satie wrote a piece for piano with one hundred and eighty notes that had to be repeated eight hundred and forty times. When it was introduced in New York in 1963, five different pianists had to play in relays all night to give it a full performance. Satie died in 1925, his music remained in the dark for almost 50 years until the 1960s. Pieces of Satie have been resurrected by the modern minimalist composer John Cage.
---
42) Karl Jenkins (1944-)
Karl Jenkins was born in Wales in 1944 and learned to play the piano from his father. He studied music at Cardiff University before completing his music education at the Royal Academy of Music, London. His classic work 'Adiemus', commissioned for a television commercial, topped the classical charts around the world.
In 2015, he was named the most popular living composer in Classic FM's 'Ultimate Hall of Fame'. He was Knighted in the 2015 Queen's Birthday Honors for his "services in composing and crossing genres" and his autobiography Still with the Music was published by Elliott & Thompson. In June 2010, Jenkins was awarded for his services to music in the Queen's Birthday Hall of Fame.
---
43) Ludovico Einaudi (1955-)
Ludovico Einaudi is an Italian contemporary music composer and pianist. Born in Turin, Italy, the young Ludovico's grandfather was the President of Italy and it was his mother who taught him piano as a child. Einaudi decided to choose music as a career. He studied with the famous Italian composer Luciano Berio.
Einaudi's musical influences span the world of pop and rock, from JS Bach to Mozart and Chopin, to Manuel de Falla in the classical field and Bob Dylan of The Beatles to U2 and Radiohead. He composed for cinema, theater and dance. His works have been performed in important venues around the world such as the Teatro alla Scala, Maggio Musicale Fiorentino, Tanglewood Festival and Queen Elizabeth Hall in London.
---
44) John Williams (1932- )
John Williams is an American film composer. ET phoning home in the 1980s? Yes, Williams was there with his compositions. Dinosaurs walking in a theme park misunderstood in 1990s Jurassic Park? Again, Williams was there. The broomsticks and whistleblowers revolving around the wizard Harry Potter in the 2000s? Once again, we're glad they called Williams. Williams, 20. and A true legend of 21st century soundtrack art.
---
45) Hans Zimmer (1957-)
Hans Zimmer is a German soundtrack composer and music producer who has composed music for more than 100 films, including Hollywood blockbusters such as the Pirates of the Caribbean series, Gladiator, The Lion King, The Da Vinci Code, Angels. Zimmer was born in Frankfurt am Main, Germany and moved to London at a young age.
A turning point in Zimmer's career came with the 1988 film Rain Man. For the 1992 film The Power of One, Zimmer traveled to Africa to use African choirs and drums for musical recordings. Zimmer has won numerous awards for his work on The Lion King, including an Oscar for Best Music, a Golden Globe and two Grammys. Zimmer is undoubtedly one of the best classical music artists of the modern age.
This post is also available in: Türkçe Français Español Deutsch