Netflix horror movies might be the right list you're looking for because any time you want to watch something is the right moment to watch a horror movie. Along with the pandemic, horror movies have become one of the most popular genres of recent times. Now you can turn on Netflix for an enjoyable movie night, sit back and squeal of fear in comfort in your armchair.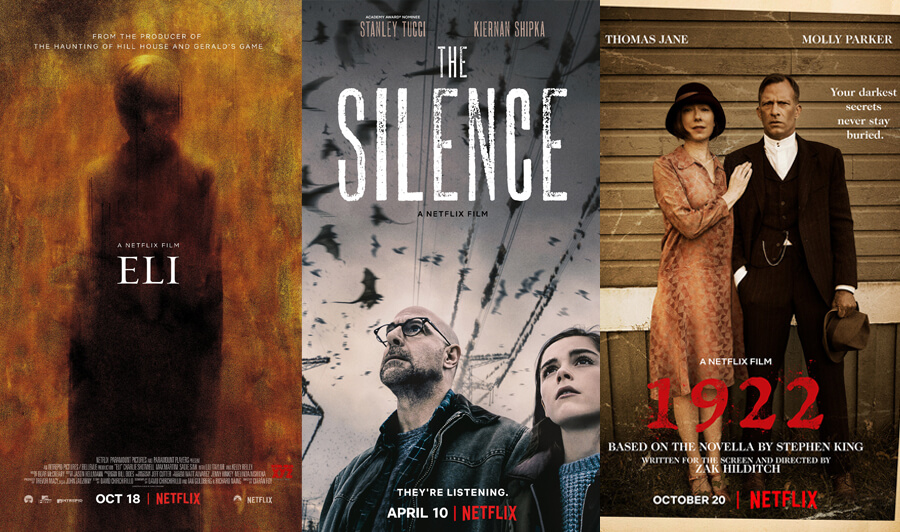 We've taken all that into account and made a list of
the best Netflix horror movies
you can watch right now. This extensive list includes both classic horror movies and next-gen horror movies. Movies based on
Stephen King
novels, classics like Hannibal, and the latest movies like Bird Box are all on this Netflix horror movie list. We're sure there's a good movie for everyone on this list. We have listed all movies according to their
IMDb scores
.
As Netflix adds new horror movies, we'll regularly update productions on that content. We also leave some other lists below that may be of interest to you.
---
The Best Netflix Horror Movies
1. Psycho (1960) | IMDb: 8.5
Considered the masterpiece of Alfred Hitchcock, the successful name of the horror and thriller genre. Psycho is about the events that a woman has gone through and the frightening events she will experience when she wants to die in a hotel as a result of these events.
Director : Alfred Hitchcock
Players : Anthony Perkins, Janet Leigh, Vera Miles
Why is this movie scary? Most of the movie takes place in a quiet and secluded hostel. Psycho.
---
2. The Shining (1960) | IMDb: 8.4
Stanley Kubrick's The Shining is based on the Stephen King novel of the same name. Jack Torrance is a writer with a small family who wants to complete his book. Torrance, who takes care of a hotel closed during the winter season with his son and wife, will meet unexpected guests.
Director : Stanley Kubrick
Players : Jack Nicholson, Shelley Duvall, Danny Lloyd
Why is this movie scary? It is one of the cult productions that combines psychological thriller and horror. The movie progresses on a giant reincarnation plot, but the pieces and stories from the past of reincarnation are disturbing. While watching the movie, you will be afraid to witness this family massacre again.
---
3. The Conjuring (2013) | IMDb: 7.5
Based on a true story, The Conjuring chronicles the chilling case of Ed Warren and Lorraine Warren couple, who examine the spiritual and extraordinary events up close and try to bring these oddities to light. Roger Perron and Carolyn Perron moved with their 5 daughters to a farmhouse in Harrisville, Rhode Island. While the children were playing, one of the children found a secret place that went down to the dark cellar of the house. There are a lot of old items in the cellar. Paranormal events begin to occur in the house. Ed Warren and Loraine Wallen come home and start investigating the events.
Director : James Wan
Players : Patrick Wilson, Vera Farmiga, Ron Livingston
Why is this movie scary? A family takes up a terrifying event with many children in a large house. The movie is also an adaptation of a true story that happened to the Perron family. Your heart will be in your mouth, especially in the scenes where malicious entities disturb children.
---
4. A Quiet Place (2018) | IMDb: 7.5
The Abbott couple, who have a son and a daughter, lead a quiet and serene life in a rural land far from people and cities. Unfortunately, the family, the protagonists of the story, have to do this. The family living in a rural house tries to communicate with sign language no matter what. But one day, the fearful moments begin with the sound of a vase dropped by one of the children.
Director : John Krasinski
Players : Emily Blunt, John Krasinski, Millicent Simmonds
Why is this movie scary? We are faced with a post-apocalyptic-like fiction. Alien-like creatures end your life as soon as you make a sound. You can imagine how difficult it would be for a family with two children to survive in such a world. And a new baby joins the family. Throughout the movie, you are always on the alert and your mind is blown that there will be a snap.
---
5. Bram Stoker's Dracula (1992) | IMDb: 7.4
Young lawyer Jonathan Harker, who has just started his career, is kidnapped by Dracula. Impressed by the photograph of Mina, Harker's beloved fiancee, Dracula also wants to kidnap the young girl. Lucy and friends will fight against Dracula, who is trying to get closer to his goal step by step. The production, which includes giant names, won an Oscar in 1993 for make-up, costume, and sound effects.
Director : Francis Ford Coppola
Players : Gary Oldman, Winona Ryder, Anthony Hopkins
Why is this movie scary? The movie was made in 1992. In fact, even this nostalgic atmosphere is enough to scare you. There have been many different adaptations of Dracula in the history of cinema until now, but it is a frightening film where the texture of the past meets the horror elements of today. He thinks that there is no need to discuss how successful Anthony Hopkins, who brought Dracula to life, is in the horror genre.
---
6. The Conjuring 2 (2016) | IMDb: 7.3
Ed Warren and Lorraine Warren encounter another case this time in the movie, which is a sequel to the first movie. The Warrens travel to North London to help when a dark spirit haunts a single mother of four and her family. In this movie, the events focus more on the Warren couple.
Director : James Wan
Players : Vera Farmiga, Patrick Wilson, Madison Wolfe
Why is this movie scary? As in the first movie, we witness a family with many children being disturbed by evil spirits in a big house. As in the first movie, this movie is based on a true story. The story of the Hodgson family who lived in the 70s. The movie is scary enough to make you feel uneasy for a few more days in your home where you thought you were safe.
---
Adapted from the novel by Stephen King, IT tells the story of 7 children, who live in a small town where mysterious events take place, in both adventure and horror. All seven of the children have problems at school, within the family, and are on the verge of being excluded from society. But that's not the biggest problem for them. The biggest problem is the evil clown pennywise . Pennywise, who has caused all kinds of disasters in the town for years, will trouble these 7 children in various ways this time.
Director : Andy Muschietti
Players : Bill Skarsgård, Jaeden Martell, Finn Wolfhard
Why is this movie scary? Even seeing Pennywise is scary enough, but when the heroes of the movie are children, you always feel uneasy and uncomfortable. One of the most successful productions of recent times, based on the horror of the clown.
---
A group of people, all from different social groups, with different abilities and different deficiencies, one day finds themselves in a cube. They don't know how they got there, and they have to get to know and cooperate with each other in order to resolve the situation and get out of here. But the key word in this cube is difficulty. Even finding a way to search for answers will be just as difficult as finding the answer. The only emotion that these people who do not know and cannot understand what they are in is fear.
Director : Vincenzo Natali
Players : Nicole de Boer, Maurice Dean Wint, David Hewlett
Why is this movie scary? What would you think if you suddenly found yourself in a cube while continuing your life? With people you don't know and different passwords you need to solve? Even watching the inside of the cube, which is the movie's primary location, is disturbing in itself; witnessing the tension of people encountering traps in such a small and closed area will make you very nervous. It's an excellent option for those who are claustrophobic and love horror movies.
---
9. Don't Breathe (2016) | IMDb: 7.1
The film tells the frightening story of a group of teenagers who plot to rob a visually impaired man's home. This robbery plan seems as simple and easy as pulling a hair out of butter for them. But things will not go as planned. However, the host, whom they think is an easy bite, is actually one of the most dangerous types they will ever see in their lives. It doesn't take long for young people who think they've made the perfect heist plan to realize that they've actually made a mistake that could cost them their lives.
Director : Fede Alvarez
Players : Stephen Lang, Jane Levy, Dylan Minnette
Why is this movie scary? Don't Breathe is actually a thriller with horror elements. There are no supernatural events in the movie. But he does the job of scaring with reality adeptly. Imagine, you are in someone else's house and you are face to face with death for reasons you have never considered.
---
10. The Host (2006) | IMDb: 7.1
4 won with the movie Parasite Oscar successful director who made his mark in the history of cinema with his award Bong Joon Ho the movie of The Host is about the brutality created by a terrifying creature in the depths of the Han river that connects the two sides of Seoul. The creature, which was created as a result of chemical wastes left by US ships in this region years ago, also infects people with a virus that kills them.
Director : Bong Joon Ho
Players : Kang-ho Song, Hee-Bong Byun, Hae-il Park
Why is this movie scary? Due to the rise of Korean movies in recent years, the effects are very good and therefore terrifying. In the very heart of the city, a giant creature appears and is terrifying. This is an absolutely terrible movie.
---
11. The Platform (2019) | IMDb: 7.0
Imagine a prison… This is a multi-storey prison with more than 150 floors. There are two prisoners on each floor. And there's an elevator-like platform that goes through each floor. There are unique and delicious dishes on the platform. In this way, the platform begins to descend from the top floor. Every downstairs has to eat leftovers from those upstairs. There is almost nothing left for those on the bottom floor. The number of floors where the prisoners are located changes every month. First month 4. the next month while on the 98th floor. You can wake up on the floor. The series actually sheds light on the flaws and injustice of class distinction and the capitalist order.
Director : Galder Gaztelu-Urrutia
Players : Ivan Massagué, Zorion Eguileor, Antonia San Juan
Why is this movie scary? Hunger is a life-threatening condition. The desire to survive can make a person do anything. It is disturbing to witness this terrible point of hunger and class discrimination.
---
12. Annihilation – Annihilation (2018) | IMDb: 6.9
A reconnaissance group will be sent to the AREA X area, which has been quietly quarantined by the US government due to some supernatural activity. The first group of expeditions to the area reported an idyllic nature untouched by man. But subsequent discoveries are of the blood-chilling kind. The second reconnaissance group committed mass suicide. The 3rd reconnaissance group was killed by friendly fire. the last group The 11th reconnaissance group made a strange return and died of cancer a short time later. Order It is in group 12. This group enters this mysterious region where they do not know what awaits them.
Director : Alex Garland
Players : Natalie Portman, Jennifer Jason Leigh, Tessa Thompson
Why is this movie scary? An example of the unique combination of mystery and horror. There is a region that goes, does not come back. But why? What's in here? Together with the last team, we are getting ready to witness this. A breathtaking horror movie!
---
13. Under the Shadow – Shadow of Fear (2016) | IMDb: 6.9
Shideh tries to get back to college during the Iran-Iraq war, following the Islamist revolution in Iran. However, the dean does not accept this. His wife, Dr. Iraj is assigned to war. Shideh stays with her daughters Dorsa at their home in Tehran. Mother Shideh insists on staying in this house with her daughter, even though the war continues in the city where their home is located. Under the Shadow tells about the fearful moments that mother-daughter lived in this house. The people living in the apartment where the house is located start to leave this building one by one as a result of strange events. Bombs are not the only thing that threatens the life of the mother-daughter, who is left alone in the apartment. When the mother realizes that they are sharing the house with a demonic entity, she begins to struggle to protect her daughter.
Director : Babak Anvari
Players : Narges Rashidi, Avin Manshadi, Bobby Naderi
Why is this movie scary? War, Middle East geography, and supernatural beings… All these components are extremely scary. Another successful aspect of the movie is that it has a deeper and more impressive story than other horror movies.
---
14. Hannibal (2001) | IMDb: 6.8
Starring Anthony Hopkins and Julianne Moore and directed by Ridley Scott, the subject of the movie is the adventure of Hannibal Lecter. Lecter, who has chosen Florence to hide in, has a criminal stalker who wants to confront him. Agent Starling is caught between these two criminals. He has to do his best to survive.
Director : Ridley Scott
Players : Anthony Hopkins, Julianne Moore, Gary Oldman
Why is this movie scary? Lecter is extremely cold-blooded. He commits all the murders he commits very calmly. Unusual murder is commonplace for him. It's a scary movie because this calmness and composure is unusual for most people.
---
15. The Exorcism of Emily Rose – Demon Strike (2005) | IMDb: 6.7
A young girl named Emily suspects that she is possessed by the devil. Then he asks the church for help. Father Moore of the church performs the exorcism ritual. However, shortly afterward, Emily suddenly dies. People blame Father Moore and the exorcism ritual for this death. Erin Bruner, the attorney who will represent Moore, is in a difficult situation. He must win this case in order to increase his reputation in the office where he is a partner. No one believes Moore's defense. Lawyer Erin, on the other hand, is caught between her religious beliefs and logic. Father's lawyer, who was arrested as a murder suspect, begins to investigate this gruesome case.
Director : Scott Derrickson
Players : Laura Linney, Tom Wilkinson, Shohreh Aghdashloo
Why is this movie scary? It is a movie that is fictionalized in a religious dimension and is the subject of demon strike. Horror scenes and traces of the past are very disturbing. An ordinary, happy young girl does not go unnoticed. In addition to all these, the film also has an impressive detective and legal side. Frightening things are happening and on the one hand, these events are tried to be enlightened.
---
16. The Ninth Gate (1999) | IMDb: 6.7
Dean Corso is a researcher who searches for old and valuable books for wealthy collectors. This task requires cultural background, talent and strong nerves. Corso's new mission is to find the last in a series of books on Satanic rites for Boris Balkan, and according to some rumors, this last book is a manuscript that will open the nine gates of the Kingdom of Darkness. Two existing copies are in Europe. Traps and mysterious deaths await Corso on this journey from New York to Paris. Thanks to the powers that help him, he is close to a being much stronger than himself. In time, Corso will realize that he served more than just finding this book.
Director : Roman Polanski
Players : Johnny Depp, Frank Langella, Lena Olin
Why is this movie scary? A researcher who goes after the devil… The symbols, books and mysterious meanings behind them will keep your curiosity alive. The creepy details that Corso, whose gripping story we will witness, will find on his way out, are quite surprising and scary.
---
Maddie is a writer who has lost her hearing. The young woman, who wants to live alone, settles in a forest house in nature. Maddie, who is trying to complete her last book, receives a message one day. In the incoming message, there is a photo of the current moment. Realizing that there is someone else outside her home, Maddie will soon meet that masked villain.
Director : Mike Flanagan
Players : John Gallagher Jr., Kate Siegel, Michael Trucco
Why is this movie scary? A movie set in one location. Imagine you are alone in a quiet house. Your only goal is to be alone. When all is well, you suddenly realize that you are not alone. Someone's after you, and it's obvious that their goal is to kill you. What would you do? This movie is about a woman's struggle to survive in the loneliness of seclusion.
---
18. Bird Box (2018) | IMDb: 6.6
BirdBox is about a mother and her children's struggle to survive, blindfolded, at a time when supernatural events turn the world upside down. Life has not been easy for Malorie and her two children, who have survived the event five years ago. The family, who has calculated every step to date, lives in a deserted house by the river. It's time to go for Malorie and her kids, who want to take her family to a place where they can keep them safe. This journey will not be an ordinary one. Even a single mistake they make can cause their death. During their journey, they have to be blindfolded and their only security will be their intelligence and the hearing abilities they have developed. What they don't realize is that they will never be alone on this journey.
Director : Susanne Bier
Players : Sandra Bullock, Trevante Rhodes, John Malkovich
Why is this movie scary? Bird Box is a suspenseful thriller. The scary part of the movie is that the moment you open your eyes to the outside world, you see some images and go crazy. You have to cover all the windows of the house you are staying in and blindfold yourself when you go out. One of the movies that you will watch in one breath without raising your voice…
---
19. Gerald's Game – The Game (2017) | IMDb: 6.6
Gerald and his wife Jessie, a sex-hungry couple, choose a deserted lake house for their vacation. On the first night of their vacation, Gerald handcuffs his wife to the bed and the game begins. Just then, Gerald has a heart attack and his wife can't do anything because she is handcuffed to the bed. The handcuffs are impossible to get rid of, as the key is at the other end of the room. We follow Jessie as she struggles to get out of handcuffs after her husband's death. On the one hand, Jessie's mind is filled with childhood memories that she doesn't want to remember.
Director : Mike Flanagan
Players : Carla Gugino, Bruce Greenwood, Chiara Aurelia
Why is this movie scary? The movie captures the horror of despair very well. You are handcuffed to a bed and the keys are a meter away. There is no one near the house. What can you do? Gerald's Game is a good horror and thriller that also disturbs with its psychological drama dimension.
---
20. Life – Life (2017) – IMDb: 6.6
A crew of 6 is on the international space station. They are working towards a discovery that has the potential to be groundbreaking for humanity. Our team encounters some forms on Mars and finds clues that there will be life on this planet. As the discovery takes place, disturbing events begin to happen over time. This new life form they discovered is perhaps more intelligent and deadly than any human being.
Director : Daniel Espinosa
Players : Jake Gyllenhaal, Rebecca Ferguson, Ryan Reynolds
Why is this movie scary? There's nowhere to run. This is the scariest part of the movie. They are trying to escape from this creature that can take various forms inside the spacecraft. In the middle of outer space, perhaps in the most desolate place in the universe where human beings can be found, an alien creature begins to kill the team one by one.
---
21. Annabelle: Creation – Annabelle: Birth of Evil (2017) | IMDb: 6.5
The husband and wife, who make a living by making dolls, have a beautiful family life. One day, they are dragged into a great tragedy when their little daughter dies. Despite the passage of time, the couple, whose pain does not subside, takes the girls and the priestess of a closed orphanage as guests in their home. But this girl group, especially Janice, is the cursed toymaker's creation. Annabelle 's target.
Director : David F. Sandberg
Players : Anthony LaPaglia, Samara Lee, Miranda Otto
Why is this movie scary? Annabelle is a spooky doll and home to evil spirits. Whichever house it is, it almost haunts those there. This movie focuses on how Annabelle was born. The story takes place in an orphanage. A chilling story…
---
22. Friday the 13th – 13. Friday (1980) | IMDb: 6.5
Camp Crystal Lake is a youth camp that witnessed mysterious murders years ago and was abandoned afterward. A brave entrepreneur decides to run the camp again. He begins his service with a staff of handsome men and beautiful women. The ensuing rainstorm isolates the camp from the rest of the world, which marks the beginning of gruesome deaths. Young people are murdered in order and creatively from each other. 13. Although the Friday scenario seems minimal and familiar, the effects used in the production made it stand out compared to the period. According to many cinema authorities, it is a cult status production.
Director : Sean S. Cunningham
Players : Betsy Palmer, Adrienne King, Jeannine Taylor
Why is this movie scary? The best of the "teen-slasher" movies shot in 1980, even a cult movie. Although the subject may seem familiar, your blood will freeze in the face of the tension it creates and the horror of the serial killer. The creativity and obsession behind the way the victims are slaughtered will attract you and you will wait in wonder.
---
23. The Ritual (2017) | IMDb: 6.3
A group of college friends reunite for a trip in the woods. The travel route is the untouched forests of Scandinavia. A wrong turn will take them into dark and mysterious forests reminiscent of Norse legends. But they are unaware of the menacing presence in the forest.
Director : David Bruckner
Players : Rafe Spall, Arsher Ali, Robert James-Collier
Why is this movie scary? It's an outdoor movie. It is a highly disturbing production as well as an ordinary thriller-horror movie. The movie, which also has a psychological background, takes place during a mountain walk in a geography where phones cannot capture it. A group of friends who do not know what they are facing in a desolate forest are trying to survive.
---
24. Apostle – Apostle | IMDb: 6.3
Apostle well Apostle The movie takes place in London in 1905. Thomas Richard pursues his sister, who has been kidnapped by a cult. The sect demands a large ransom to release his sister. Richard is ready to do anything to save his brother. Therefore, he decides to go to the island where the sect is located. However, as he enters the people on the island, he becomes aware of the existence of a terrible secret.
Director : Gareth Evans
Players : Dan Stevens, Richard Elfyn, Paul Higgins
Why is this movie scary? Although it has horror scenes, it is a production with more tension. The fact that the movie takes place in the dark of the 1900s is one of the scariest things about the movie. Religious elements, supernatural events and brutality are the other details that make this movie the most frightening.
---
25. Errementari (2017) | IMDb: 6.3
Based on the stories that have become legends in the Basque region of Spain, Errementari is about the life of a blacksmith who devoted his life to fighting the devil. The blacksmith who managed to catch him after years of chasing the devil has imprisoned him and tortured him. The order of the blacksmith, who has a beautiful life, will be completely turned upside down with the orphan child who suddenly appears. The boy will spoil everything and the blacksmith's struggle will begin again.
Director : Paul Urkijo Alijo
Players : Kandido Uranga, Uma Bracaglia, Eneko Sagardoy
Why is this movie scary? The film consists of a scenario that references Christian mythology. The horror theme of the movie is based on "a deal with the devil". And that's the main reason why this movie is scary enough. It is a frightening and fairy-tale production with plenty of horror elements such as depictions of hell, devils, demons, and religion.
---
Featured in Stephen King's story compilation Pitching Dark Starless Night 1922 Wilfred Leland James is a farmer from Nebraska. Wifred's 80-decare land, next to 100-decare land, is inherited by her husband, Arlette, from her father. Like all farmers living in those years, Wilfred's aim is to consolidate the lands and expand the business. But his wife, Arlette, dreams of selling all the land and moving to the city and opening a store there. This disagreement between husband and wife progresses until Wilfred plans to get rid of his wife. Wilfred wants to convince his 14-year-old son Henry to get rid of the mess at home. But 1922 will be a long and terrifying year for them.
Director : Zak Hilditch
Players : Thomas Jane, Molly Parker, Dylan Schmid
Why is this movie scary? We witness the psychological approach of a man who plans to kill his wife, step by step, towards this decision. While this is already a frightening process, we also witness the curses that death will bring. Especially if you are bothered by mice, this movie is a candidate to lose your sleep.
---
27. The Babysitter (2017) | IMDb: 6.3
Cole is a boy who falls in love with his babysitter Bee and has a hard time making friends. He has a very ordinary family life. The reason he likes Bee is because he is cool, charming and funny. However, Bee has an unknown side. One day, Cole wakes up from his sleep and starts watching Bee and his friends. He encounters a landscape he could never imagine. Bee and her friends are performing rituals among themselves, and there are also murders they have committed. Upon this, Cole begins to live a night where he will try to escape from these murderers.
Director : Joseph McGinty Nichol (McG)
Players : Judah Lewis, Samara Weaving, Robbie Amell
Why is this movie scary? The Babysitter is a great alternative to the standard horror movie. The movie is based on a satanism-like horror theme. A young child suddenly has trouble understanding what he is getting into and begins to worry for his own life.
---
28. Cargo (2017) | IMDb: 6.3
A terrifying epidemic has broken out in Australia. While Andy and his family lead a happy life, Andy is forced to watch his wife turn into a zombie. After losing his wife, Andy is left alone with his child in rural Australia. Andy, infected by his wife's bite, will turn into a zombie within 48 hours. She looks for a new home for her baby daughter, Rosie, and looks for ways to protect her from herself.
directors : Ben Howling, Yolanda Ramke
Players : Simone Landers, Martin Freeman, Marlee Jane McPherson-Dobbins
Why is this movie scary? A survival and zombie themed production. Set in a post-apocalyptic atmosphere, the film tells the journey of a father who is slowly turning into a zombie, trying to deliver his baby to a safe place. You are nervous throughout the journey, zombies can come out at any moment. The thing that scares you the most is that an innocent and tiny baby is so close to danger…
---
29. Lights Out (2016) | IMDb: 6.3
Rebecca left her parents' home years ago, and it's because she wants to leave her childhood of fear behind. A supernatural entity attached to her mother has terrorized Rebecca throughout her childhood. Therefore, his relationship with his family has always been tense. When her younger sister mentions the same entity, Rebecca returns to mysterious events to protect her sister. This supernatural entity, which can only survive in the dark, threatens everyone's life. It's up to Rebecca to stop this.
Director : David F. Sandberg
Players : Teresa Palmer, Gabriel Bateman, Maria Bello
Why is this movie scary? Darkness is one of the greatest fears of the modern world man. Darkness means unknown. Therefore, this uncertainty gives you such tension that you are left alone with your imagination. We're sure you'll want to be in high-light rooms for a few days after watching this movie.
---
30. The Perfection (2018) | IMDb: 6.1
The Perfection tells the story of a cello prodigy who gives up on his dreams. Charlotte is a young woman who has given up her life to take care of her terminally ill mother. Charlotte is also a cello prodigy and had to distance herself from her passion for the cello while taking care of her mother. As the years passed, the pain inside him grew even more. Lizzie, Charlotte's old trainers, Anton and Paloma's new favorite, will get her into action. Charlotte follows Lizzie, who now has what she once had, and they meet. A friendship soon develops between them, but Charlotte's plans take the friendship to an unsettling point.
Director : Richard Shepard
Players : Logan Browning, Allison Williams, Steven Weber
Why is this movie scary? This movie is a kind of social horror movie without supernatural events. It comes across as a kind of "taking someone else's place" story, adorned with eroticism. You witness how the concept of revenge can grow inside a person. This movie may make you question the way people around you view you.
---
31. Pet Sematary – Pet Cemetery (2019) | IMDb: 5.7
Louis Creed and his wife Rachel decide to give up their city life in Boston and move to the countryside with their two children. Trying to get used to their new life, the family experiences great sadness when their cat dies as a result of an accident. The family, who buried their cats in the mysterious cemetery near the house, then encounters an unexpected situation. The cat they buried comes back to life, and the Creed family learns the secret of the cemetery. After losing their daughter, the family decides to use the cemetery to bring their daughter back to life, but will this plan work?
directors : Kevin Kolsch, Dennis Widmyer
Players : Jason Clarke, Amy Seimetz, John Lithgow
Why is this movie scary? It is a movie that contains a lot of horror clichés and successfully implements them. The biggest horror item is the cat in the movie! Although we disagree, it is said that cats have a disturbing side. It is possible to experience this feeling in abundance in this movie.
---
His hand It begins when a child undergoing autoimmune treatment realizes that the house he lives in is not as safe as it seems. Although the scary images seen by Eli, who is trying to cope with a deadly disease at the age of 11, are described as hallucinations, it is a fact that this house is surrounded by completely different beings.
Director : Ciaran Foy
Players : Charlie Shotwell, Kelly Reilly, Max Martini
Why is this movie scary? You know the movie The Sixth Sense? This movie is somewhat reminiscent of the movie The Sixth Sense, with the theme of "abnormal things a child sees". Horror scenes are very good. The events take place in a large mansion. And, of course, there is a child in the middle. It's an absolutely terrifying production.
---
33. Annabelle (2014) | IMDb: 5.4
Have you thought that your life could change with a gift your spouse bought you? Mia is a pregnant woman collecting dolls. His wife, John From, buys an antique doll that he can use in this collection to make her happy. toy Annabelle Seeing Mia is very happy. However, one night, when their house is suddenly raided by a cult, all her joy is left in her crop. This utterly deviant sect has wreaked havoc on the Form family's home. However, the damage they cause to the house is not only physical, they leave the house leaving an evil spirit.
Director : John R. Leonetti
Players : Ward Horton, Annabelle Wallis, Alfred Woodard
Why is this movie scary? A horror movie about paranormal events. The cursed doll Annabelle is turning someone's life upside down again. The story begins in 1967, when a happy family buys this baby. After that, the events continue in a creepy way.
---
34. In the Tall Grass (2019) | IMDb: 5.4
Two brothers, Cal and Becky, set out to visit their aunt, who lives in an area with tall and dense grass. They hear a sound through this tall and dense grass. This sound is someone's cry for help. But they are also very afraid of being caught. They move silently towards the cries for help. Cal and Becky become part of a strange and frightening story that they never wanted to be.
Director : Vincenzo Natali
Players : Laysla De Oliveira, Avery Whitted, Patrick Wilson
Why is this movie scary? The grass in the field is so tall and dense that you hear a step behind you, but when you look back, you can't see anything because of these grasses. This is really a new concept of horror. This deep unknown around you scares you greatly. In addition to all this, extremely strange things are happening in this land. You cannot make sense of them. Throughout the movie, you are constantly tense and nervous while trying to understand them.
---
35. The Silence (2019) | IMDb: 5.3
The world is under an invasion. Deadly creatures that have grown underground for decades take over the world. Creatures that hunt humans one by one, recognize humans by their voices. Trying to escape from these creatures, a girl and her family run out of town. However, while escaping from the creatures, they fall into a completely different mystery. Here they come face to face with a mysterious cult.
Director : John R. Leonetti
Players : Stanley Tucci, Kiernan Shipka, Miranda Otto
Why is this movie scary? It's a very similar production to A Quiet Place. In order to survive, you have to make absolutely no noise. Again, we witness the struggle for life of a family with children and dogs in the midst of this blood-curdling danger. Every sound, every event that has the potential to make a sound will bring your heart to your mouth.
This post is also available in: Türkçe