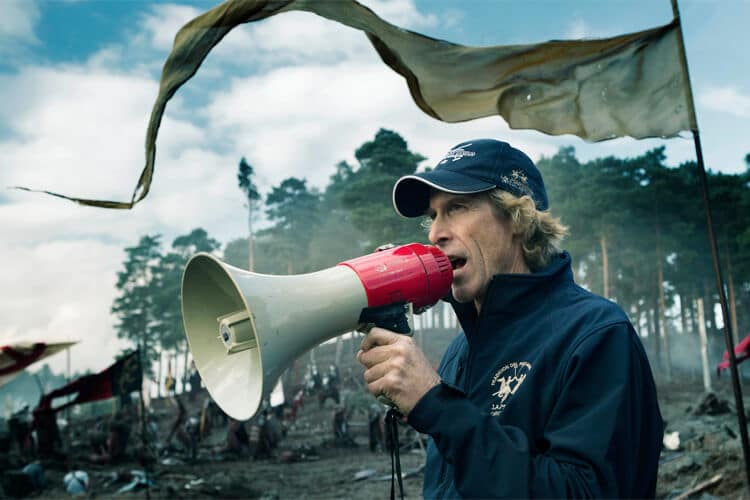 Micheal Bay is one of the first directors that comes to mind when it comes to action movies. Michael Bay films, on the other hand, fully reflect the popular aspects of cinema. Michael Bay, 13. He became well known for producing the films Friday and A Nightmare on Elm Street. The famous director later greatly increased his recognition with the Transformers series. Michael Bay movies are with you in chronological order. Let's take a closer look at the master director's films together.
---
1) Bad Boys – Crazy Duo (1995) | IMDb: 6.9
Cast: Will Smith, Martin Lawrence, Lisa Boyle
Marcus Brunett and Mike Lowry are the drug lord's detectives from Miami. Hundred million dollars of drugs are stolen, which is the responsibility of the police. They only have 72 hours to get the drugs back. Moreover, they are tasked with protecting a murder witness.
---
2) The Rock (1996) | IMDb: 7.4
Cast : Sean Connery, Nicholas Cage, Ed Harris
A group of naval commandos invade the island of Alcatraz with chemical weapons. They hold tourists hostage. The leader of the commando unit is a former war hero and a general.
For soldiers killed in covert operations, they demand a hundred million dollars ransom to be paid to their families. Otherwise, San Francisco bay will be bombarded with chemical weapons. The only prisoner to escape Alcatraz and a chemical weapons expert will be able to stop them.
---
3) Armageddon (1998) | IMDb: 6.7
Cast: Bruce Willis, Liv Tyler, Ben Affleck, Billy Bob Thornton
Armageddon is a huge hit among Michael Bay movies and disaster movies in general. In the film, New York is in an uneasy atmosphere with damaging meteorite fragments. NASA does research on this issue. Thus, they notice a huge meteor approaching the earth at great speed.
As big as a province, the meteor must be stopped before it hits the earth. Otherwise, it will cause great harm to the world. Scientists turn to devise a plan to destroy the meteorite. The plan is to split the meteor in two and have it go from both sides of the earth.
---
4) Pearl Harbor (2001) | IMDb: 6.2
Cast: Ben Affleck, Josh Hartnett, Kate Beckinsale
The Second World War continues with all its brutality. The United States determines its destiny in the middle of the Pacific Ocean. Two old friends are just before going to war. The two friends will find themselves in the midst of all the horrors of war.
---
5) Bad Boys II – Crazy Duo II (2003) | IMDb: 6.6
Cast: Will Smith, Martin Lawrence, Gabrielle Union
Narcotics detectives Mike Lowrey and Marcus Bennett are tasked with investigating the drug flow in Miami. But the research takes a dangerous turn. The city's drug flow is under this man's control.
A great war has just broken out in the underworld. A rapprochement begins between Mike and Marcus' sister, Syd. This creates a problem between the two policemen. This will also be reflected in their duties.
---
6) The Island – The Island (2005) | IMDb: 6.8
Cast: Ewan McGregor, Scarlett Johansson, Djimon Hounsou
The island is a futuristic utopia in the twenty-first century. Lincoln and everyone else are trying to reach the "Island". This goal can be achieved by winning the big draw. But Lincoln realizes that everything that happened was a fiction.
He and the others are clones. Their purpose of existence is to be spare parts of the people they are clones of. When the time comes, they will provide organs to those to whom they belong. Lincoln decides to rebel against this situation. By escaping, they desire to face their creators.
---
7) Transformers (2007) | IMDb: 7.0
Cast: Megan Fox, Shia LaBeouf, Josh Duhamel
Far away on the planet Cybertron, a war is about to break out. This planet is the planet of robots that can transform into other structures.
Fighting for their own cause, transformers start looking for other fuel sources in the space environment when the planet's fuel runs out.
This quest will cause them to come to Earth. Robots that can transform into a car, ship or plane at will, will wage war for Earth. Undoubtedly, well-meaning robots will stand in the way of those who started the war.
---
8) Transformers: Revenge of the Fallen – Transformers – Revenge of the Fallen (2009) | IMDb: 6.0
Cast: Megan Fox, Shia LaBeouf, Josh Duhamel
Sam Witwicky leaves the Autobots behind for a normal life. But when his mind is filled with cryptic symbols, the Decepticons target him and he is drawn back into the Transformers' war.
---
9) Transformers: Dark of the Moon – Transformers: Dark of the Moon (2011) | IMDb: 6.2
Cast: Shia LaBeouf, Rosie Huntington-Whiteley, Tyrese Gibson
The Autobots learn of a Cybertronian spacecraft hidden on the moon and race against the Decepticons to reach it and learn its secrets.
---
10) Pain&Gain – Hard Gain (2013) | IMDb: 6.4
Cast: Dwayne Johnson, Anthony Mackie, Mark Wahlberg
Daniel Lugo and his close friend Adrian Doorbal are living in Florida. They are coaching in the bodybuilding gym. With their lives monotonous, the duo are fed up with the frustrating layout of the gym and their low salaries.
They want to follow their own American dreams. They kidnap a wealthy client believed to be a criminal. So, they make plans to get rich. Paul Doyle, newly released from prison, will also help with his plans.
---
11) Transformers: Age of Extinction – Transformers: Age of Extinction (2014) | IMDb: 5.6
Cast: Mark Wahlberg, Nicola Peltz, Jack Reynor
When humanity allies itself with a bounty hunter in pursuit of Optimus Prime; The Autobots seek help from a mechanic and his family.
---
12) 13 Hours – 13 Hours: Benghazi's Secret Soldiers (2016) | IMDb: 7.3
Cast: John Krasinski, Pablo Schreiber, James Badge Dale
During the attack on the US compound in Libya, a security team tries to make sense of the chaos.
---
13) Transformers: The Last Knight – Transformers: The Last Knight (2017) | IMDb: 5.2
Cast: Mark Wahlberg, Anthony Hopkins, Josh Duhamel
A deadly threat from world history reappears. A hunt for a lost artifact begins between the Autobots and the Decepticons. Optimus Prime meets his creator in space.
---
14) 6 Underground (2019) | IMDb: 6.1
Cast: Ryan Reynolds, Mélanie Laurent, Manuel Garcia-Rulfo, Ben Hardy, Adria Arjona, Dave Franco
Six people from around the world, each the best at what they do, have a unique desire to erase their past not only for their talents but also to change the future.
---
After the list of Michael Bay movies, you can also check out these:
This post is also available in: Türkçe