The movies of the 90s were the ones that left their mark on a time and made many of us fall in love with the cinema. Let's take another look at those old movies together. Maybe we can go back to the good old days, albeit for a short time. We wish you a good viewing.
---
Director: Yavuz Turgul
Cast: Şener Şeyn, Uğur Yücel, Şermin Hürmeriç
We wanted to start the list of 90's movies with one of the giants of Turkish cinema. Bandit is one of the films that left its mark on the 90s. A group of bandits are caught near Mount Judi and they are all imprisoned. Over the years, many get sick and die. The rest die because of various showdowns. Only one person remains in life. He regains his freedom after 35 years. However, during his days in prison, he sets a single goal for himself. Finding out who reported them is now his life's purpose. After getting out of prison, he returns straight to his village. The scene he encounters here is very heavy. His closest childhood friend complained about him and the men next to him, causing him to spend 35 years in prison. Moreover, not only that, he married the woman whom the bandit loved and took her to Istanbul.
---
2) Good Will Hunting – My Dear Friend (1997) | IMDb: 8.3
Director: Gus Van Sant
Cast: Robin Williams, Matt Damon, Ben Affleck
Will Hunting, who is trying to make a living as a cleaner at MIT, is a young man with a very high IQ. One day, when he is cleaning the classrooms after the lessons are over, he comes across a math question on the blackboard in one of the classrooms. This problem is almost impossible to solve. However, Will solves the question without a fuss and leaves the classroom. The professor who writes the question on the board looks for the person who solved the question and eventually finds Will. He asks Will many more questions and Will solves them all one by one. Will is very happy, experiencing such a change in his life. However, one day he gets into a big fight and gets into trouble. He gets a prison sentence and tries to reach the professor who helped him to get rid of this punishment.
---
3) Casino (1995) | IMDb: 8.2
Director: Martin Scorsese
Cast: Robert De Niro, Sharon Stone, Joe Pesci
Another must-have item in the list of 90's movies is Casino. Starring Robert De Niro and Sharon Stone, the film focuses on the colorful nightlife and casinos of Las Vegas. Ace Rothstein is a casino manager. Ace's biggest goal is to maintain its credibility by doing its job in the best way possible. Ace's life is turned upside down when one of his close friends, Nicky, starts helping him, trying to keep his relations with the casino owners by keeping his trust.
---
4) Unforgiven – Unforgiven (1992) | IMDb: 8.2
Director: Clint Eastwood
Cast: Clint Eastwood, Gene Hackman, Morgan Freeman
Little Bill Dagett, a very sadistic and uncompromising person, does not fly a bird in the town where he is sheriff. The town is now almost uninhabitable. He says he will not enforce justice and things get out of hand. Upon this statement, Will Munny, one of the notorious robbers of the time, puts himself forward.
---
5) Braveheart – Braveheart (1995) | IMDb: 8.3
Director: Mel Gibson
Cast: Mel Gibson, Sophie Marceau, Patrick McGoohan
After returning to his native Scotland, William Wallace wants to build a farm and lead a simple life. Years later, he meets his childhood sweetheart and life is much better for him now. As everything goes well, British soldiers try to rape William's childhood sweetheart, Murron. William saves Murron, but also starts an irreversible struggle. Despite the tortures, William Wallace does not take a step back and becomes the hero of Scotland.
---
6) Satantango – The Devil's Tango (1994) | IMDb: 8.4
Director: Bela Tarr
Cast: Milhaly Vig, Putyi Horvath, Laszlo feLugossy
With the end of communism in Hungary in the 1980s, life stopped in a devastated state. The people living in a very small village expect some payments. After receiving this payment, some will leave the village and try to get more. They think that the charismatic man named Irimias died two years ago. But Irimias is not actually dead. The people are surprised at what happened.
---
7) American History X – In the Shadow of the Past (1998) | IMDb: 8.5
Director: Tony Kaye
Cast: Edward Norton, Edward Furlong, Beverly D'Angelo
Derek's father is killed by a black drug dealer. Then Derek starts working to avenge his father. In order to realize this revenge, he joins a fascist group and becomes an important member of this group. This fascist group uproots those who are not themselves. One day, Derek's car is about to be stolen by two black men, and Derek kills them both. After this incident, Derek goes to prison. After he enters prison, his brother Danny begins to follow his brother's path to avenge their father. Derek realizes the mistake he made while in prison and gives up revenge. However, a difficult task awaits him. He must discourage Danny from taking revenge.
---
8) Pulp Fiction – Pulp Fiction (1994) | IMDb: 8.9
Director: Quentin Tarantino
Cast: John Travolta, Uma Thurman, Samuel L. Jackson
Pulp Fiction is one of the cult movies of the 90s. Pumpkin and Honey Bunny are a couple in love and trying to change their lives. In this direction, they make small robberies. Vincent and Jules are two men tasked with shooting gangsters for years who don't pay their bosses. Another duty of Vincet is to help his bosses take care of his wife and baby. While everything is running smoothly, Jules tries to leave by saying that he is bored with this job. Saying that he cannot cheat for money, the boxer has no choice but to flee the city. These people's lives intersect at some point.
---
9) Jurassic Park (1993) | IMDb: 8.1
Director: Steven Spielberg
Cast: Sam Neill, Laura Dern, Jeff Goldblum
Jurassic Park was a movie full of dinosaurs. It was one of the cult movies that left its mark on the 90s. A theme park is built on an island off the coast of Costa Rica and dinosaurs are tried to be cloned in this park. One of the employees is seriously injured at the opening of the park. Upon this incident, the authorities step in to examine whether the park is safe and the adventure begins.
---
10) Close-Up – Close-Up (1990) | IMDb: 8.3
Director: Abbas Kiarostami
Cast: Hossain Sabzian, Mohsen Makhmalbaf, Abolfazl Ahankhah
Ali is a fan of director Mohsen Makhmalbaf. On a journey, he meets a woman who admires the same director. The woman admires the director so much that Ali wants to attract this attention and introduces himself as that director. He doesn't just introduce himself by that name. He tells stories about having different options in mind for new movies. But remember, every lie will be revealed one day.
---
11) A Brighter Summer Day (1991) | IMDb: 8.4
Director: Edward Yang
Cast: Cahng Chen, Lisa Yang, Kuo-Chu Chang
Being a refugee is very difficult wherever you are in the world. Xiao is the son of a refugee who has to live in Taiwan. Adapted from a real event, the movie is about two hostile gangs. There is a love between the gangs that grows with pure and pure feelings as well as a relentless hostility.
---
12) Children of Heaven – Children of Heaven (1997) | IMDb: 8.3
Director: Majid Majidi
Cast: Mohammad Amir Naji, Amir Farrokh Hashemian, Bahare Seddiqi
One of the sine qua non of the 90s movies list is Children of Heaven. It is one of the most admired films of one of the successful directors of Iranian cinema, Majid Majidi. Living in a very poor family, the little boy loses his sister's shoes. Then he begins a relentless struggle to find them.
---
13) To Live (1994) | IMDb: 8.3
Director: Yimou Zhang
Cast: You Ge, Gong Li, Ben Niu
Living in China in the 1940s, Wei is the son of a very wealthy family. Wei constantly loses money due to his gambling addiction. Because of Wei, who could not get out of this swamp, all the family's assets begin to melt and disappear. A completely different life awaits the family, which was destroyed by this loss. However, an unexpected development takes place in China and China begins to become communist. Now life is changing for everyone.
---
14) The Matrix (1999) | IMDb: 8.7
Director: Lana Wachowski, Lilly Wachowski
Cast: Keanu Reeves, Laurence Fishburne, Carrie-Anne Moss
Of course, one of the must-have movies of the 90s movies list is The Matrix. The film, which fascinated us all in the first days of its release, and even today, the name of which is mentioned as the first day, is about the reality that is lived and the reality beyond life. Aware of this order, Neo thinks that Morpheus, who is known to be dangerous, also knows the truth. While living with these ideas, one day he meets a woman named Trinity. Trinity will be able to take him to another world. At least Neo thinks so. Trinity will take Neo to another world, where Neo will find Morpheus and learn all about the Matrix.
---
15) Reservoir Dogs – Reservoir Dogs (1992) | IMDb: 8.3
Director: Quentin Tarantino
Cast: Harvey Keitel, Tim Roth, Michael Madsen
Are you ready to watch a very original heist story on the big screen? Many very successful robbers come together for this big robbery. However, none of them even know their names, let alone know each other. The team takes action to carry out the robbery. The robbery begins, but things don't go their way and the police intervene. Despite the bloodbath, the team do their best to escape from the police. Meanwhile, they come face to face with the fact that one of them is a spy cop. Now, psychological violence comes into play in an even higher dimension of physical violence. A relentless struggle begins within the team.
---
16) American Beauty – American Beauty (1999) | IMDb: 8.3
Director: Sam Mendes
Cast: Kevin Spacey, Annette Bening, Thora Birch
The breakdown of families sometimes brings with it very painful processes. Lester is a man who is tired of his routine life and cannot communicate with his wife, who is in midlife crisis. Moreover, his communication with his daughter is almost zero. Tired of living this life. One day, she wants to quit her job and take action to live a life she has never experienced before. Now he needs to feel young like in the old days. In all this depressed time, Lester meets a feeling he has never experienced before. Lester begins to like his daughter's beautiful friend Angela. There is a sexual attraction between them. The already broken family ties are completely broken. A painful separation story ensues.
---
17) The Usual Suspects – The Usual Suspects (1995) | IMDb: 8.5
Director: Brayn Singer
Cast: Kevin Spacey, Gabriel Byrne, Chazz Palminteri
27 people die as a result of an explosion on a boat in San Pedro. Police investigating the explosion find 27 bodies on the boat, as well as $91 million in drug money, and the investigation escalates. Two people survive this big explosion. One of these people is a Hungarian terrorist and his body is full of burns. The other survivor is a hitman named Verbal Kint. Kint describes the whole incident in detail in the interrogation. He tells the police one by one why and how the five criminals involved in the incident came together.
---
18) Life is Beautiful – Life is Beautiful (1997) | IMDb: 8.6
Director: Roberto Benigni
Cast: Roberto Benigni, Nicoletta Braschi, Giorgio Cantarini
Life is Beautiful is both the most popular 90's movies and the most admired II. World War II movies. Guido, who loves to live and tries to spend every day in a festive mood, II. He is a Jew who was taken to a concentration camp with his son during World War II. Guido, who loves his son more than anything else in life, turns his experiences into a game so that his son will not be sad and afraid of what happened. In that camp where the children are gathered, he hides his son in his own ward and ensures his survival. They earn a point with each mission and if they get the highest score they will get a toy tank as a reward. This is how Guido's son knows what he is going through.
---
19) Piano Piano Kid – Piano Piano Legless (1991) | IMDb: 7.8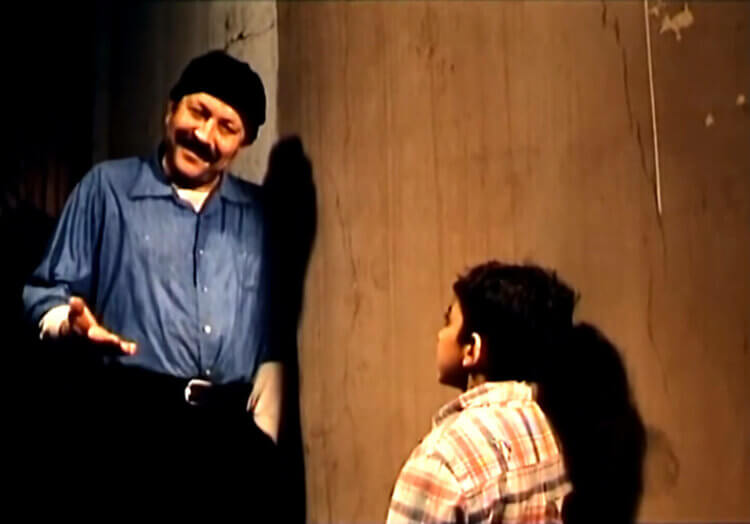 Director: Tunc Basaran
Cast: Rutkay Aiz, Emin Sivas, Serap Aksoy
II. World War II shook the world. Although we did not enter the war as a country, we were one of the countries that were heavily affected by its effects. Would you like to watch the years at the height of the economic crisis through the eyes of a child? The film, which made a great production with its cast, was also nominated for an Oscar.
---
Director: Joel Coen, Ethan Coen
Cast: William H. Macy, Frances McDormand, Steve Buscemi
Fargo, a neo noir film, is among the unforgettable works of the successful Coen brothers. Jerry falls into a huge debt trap. In order to pay off this debt, he has to kidnap his wife. Two men kidnap Jerry's wife and demand a ransom of $100,000. However, this plan unfortunately turns into bloody events. A pregnant police officer named Marge Gunderson follows this kidnapping story, which also caused many murders. Things are pretty complicated, but Marge puts out more than her best.
---
21) LA Confidental – Los Angels Secrets (1997) | IMDb: 8.2
Director: Curtis Hanson
Cast: Kevin Spacey, Russell Crowe, Guy Pearce
The screenplay of the movie Los Angels Secrets is adapted from the novel of the same name by the successful writer James Ellroy. Three detectives, with very opposite characters in every context, must work together to solve a murder. In the middle of a mafia war, brutal murders must be solved. However, the situation is much more complex and challenging than it is. Moreover, the fact that three opposite characters work together makes things even more difficult.
---
22) Fight Club (1999) | IMDb: 8.8
Director: David Fincher
Cast: Brad Pitt, Edward Norton, Meat Loaf
Jack, who spends his days in an ordinary life, works as a clerk in an insurance company. Ordinary lives sometimes disrupt order. In this ordinary life, Jack's sleep pattern is disturbed and he cannot sleep. Wanting to get rid of this insomnia, Jack starts going to therapy. Moreover, insomnia is not the only problem. At the same time, he has many psychological problems. In one of the group therapies he attends, he meets two people named Marla and Tyle Durden. Durden lets Jack meet Fight Club. The line that is engraved in our minds also comes into play here. The club has two rules. "The first is not to talk about Fight Club. The second is to never, ever talk about Fight Club."
---
23) The Silence of the Lambs – The Silence of the Lambs (1991) | IMDb: 8.6
Director: Jonathan Demme
Cast: Jodie Foster, ANthony Hopkins, Lawrence A. Bonney
One of the first masterpieces that comes to mind when talking about 90's movies is The Silence of the Lambs. It is a movie that is engraved in our minds with Anthony Hopkins' unforgettable acting and screenplay. Moreover, it proved its success by being nominated for 7 Oscars. Freshly graduated Clarice Starling hunts down a perverted murderer that even master detectives will have a hard time finding. Hannibal Lecter will help Clarice find this ruthless killer who has skinned his victims. However, it is not that easy. Clarice must first gain Hannibal Lecter's trust.
---
24) The Truman Show (1998) | IMDb: 8.1
Director: Peter Weir
Cast: Jim Carrey, Ed Harris, Laura Linney
Wouldn't Truman Show be on the list of '90s movies? Of course not. Truman, who lives in a utopia, lives quite happily on an island. Having a happy life with his family, Truman's life is turned upside down by the familiar face he meets on the street. His father, whom he thought to be dead years ago, is in front of him in blood. Truman, who experiences a great shock, encounters another shock: His father disappears. He tells everyone what he has been through. But no one believes him. He can't prove it either. Days follow each other, and Truman encounters something different every day. He begins to question his life now. Is this life that he is in, or rather that he has to live, real?
---
25) Twelve Monkeys – 12 Monkeys (1995) | IMDb: 8.0
Director: Terry Gilliam
Cast: Bruce Willis, Jon Seda, Brad Pitt
Do you remember that unforgettable movie starring Bruce Wills and Brad Pitt? That relentless virus, which caused the death of almost 5 billion people, has spread all over the world. The only way for people who managed to survive by being protected from the virus to continue to survive is to continue living in underground shelters. While living underground, they also work on the virus and eventually find a way to get rid of this virus. In this direction, they make a time machine. With this time machine, prisoner James Cole will be sent to the past. Cole is a prisoner and volunteered for this study. Cole goes back 7 years, but the situation is quite difficult. He finds himself in a mental hospital. He tries to tell the truth, but due to the place, everyone thinks he is crazy.
---
26) Forrest Gump (1994) | IMDb: 8.8
Director: Robert Zemeckis
Cast: Tom Hanks , Robin Wright, Gary Sinise
Forrest Gump is one of the most admired movies of the 90s by the audience. Forrest Gump has a lower intelligence level than other people around him. It is not easy for him to adapt to the environments he enters because he also has a learning disability. Although different from other people, love is for everyone, and Forrest Gump tastes it too. He falls in love with a beautiful girl named Jenny. Life drags Forrest to different places. Instead, he fights in Vietnam as a soldier in the US Army. He becomes very rich, he is known by everyone. No matter what she goes through, there is only one person she can't forget: Jenny. The story of Forrest, who makes a name for himself with everything he does, will warm your heart.
---
27) The Green Mile – The Green Mile (1999) | IMDb: 8.6
Director: Frank Darabont
Cast: Tom Hanks, Michael Clarke Duncan, David Morse
Haven't you followed the Green Mile? If you haven't watched it, the first thing you should do is watch it in your spare time. Communication between the prisoner named John Coffey and the guard named Paul Edgecomb is the main issue. Paul's job in prison is to walk alongside the death row inmates on their final journey. John Coffey is a rather large man. It is almost impossible for those who see it not to be afraid. However, he is actually quite naive and good-hearted. His punishment is the murder of two girls. However, the situation is not as it seems. With the conversation between Paul and John, all the truth is revealed.
---
28) Saving Private Ryan – Saving Private Ryan (1998) | IMDb: 8.6
Director: Steven Spielberg
Cast: Tom Hanks, Matt Damon, Tom Sizemore
II. World War II shattered thousands of families with their losses. The subject of the movie Saving Private Ryan begins with a mother who is going through one of the biggest losses and asks for help. The only wish of the tearful mother, who lost three of her four sons in the war, is for her only surviving child to return home safely. He conveys this wish to the president with a petition. The petitioner reaches his hand, and the president gives an order for the woman's son to return home alive. On the day of the Normandy Landing, which could change the course of the war, eight good soldiers were sent to the field. The goal is to find Private Ryan. However, this event causes a lot of controversy. Does it really make sense for a soldier to risk the lives of eight people?
---
29) Se7en – Seven (1995) | IMDb: 8.6
Director: David Fincher
Cast: Morgan Freeman, Brad Pitt, Kevin Spacey
Another must-have movie in the list of 90's movies is Seven. A serial killer sets himself the goal of killing anyone who has committed the 7 deadly sins. According to Christianity, arrogance, greed, lust, envy, destructiveness, sloth and gluttony are the 7 deadly sins. Two police detectives are appointed after the murderer who murdered these sinners with his own methods. Police detectives have a tough job as they face a ruthless serial killer.
---
30) The Lion King – The Lion King (1994) | IMDb: 8.5
Director: Roger Allers, Rob Minkoff
Voiced by: Matthew Broderick, Jeremy Irons, James Earl Jones
The baby lion Simba was the unforgettable hero of many of our childhood. Simba is a lion cub who spends his life quite happily. His father, Mufasa, is the king of the land. Simba also loves Mufasa very, very much. Mufasa's brother Scar is very sneaky and has plans to spoil the happiness. His goal is to make himself king. He takes action in line with this plan and has his brother Mufasa killed. But Mufasa's death is not enough. This time too Simba is the problem. Scar reigns for years, but Simba returns when the time comes to claim the kingdom.
---
31) Goodfellas – Best Friends (1990) | IMDb: 8.7
Director: Martin Scorsese
Cast: Robert De Niro, Ray Liotta, Joe Pesci
Another movie of the 90s movies list is Best Friends. Jimmy Conway and Tommy De Vito and a gangster named Henry Hill plan a joint heist. After this robbery, there are two people who want to rise even higher inside, they kill other people. Their dreams of rising in the mafia come true and they take the steps one by one. However, this rise causes a very negative situation for Henry Hill.
---
32) Schindler's List – Schindler's List (1993) | IMDb: 8.9
Director: Steven Spielberg
Cast: Liam Neeson, Ralph Fiennes, Ben Kingsley
Schinler's List movie II. It depicts the dark days of World War II. The screenplay of the movie is based on a true story. German Oscar Schindler is a very wealthy businessman. II. During the most painful days of World War II, he establishes a factory in Poland and starts to employ Jews there.
---
33) The Shawshank Redemption – The Price of Bondage (1994) | IMDb: 9.3
Director: Frank Darabont
Cast: Tim Robbins, Morgan Freeman, Bob Gunton
Accused of murdering his wife and her lover, Andy Dufresne is a highly successful banker. After the accusation, he is tried and sentenced to life imprisonment. The prison where he will stay for the rest of his life is Shawsank Prison. This is a place where there is all kinds of filth. It is not known where the beating and torture will come from. Andy, on the other hand, is still quite optimistic about life despite all this environment. Andy's joy of life covers those around him. They begin to liberate their lives in the space they think they are captive.
---
34) Leon: The Professional – Leon The Power of Love (1994) | IMDb: 8.5
Director: Luc Besson
Players: Jean RenoGary OldmanNatalie Portman
The other movie of the 90s movies list is Leon: The Power of Love. It is one of the unforgettable movies for many of us. Mathilda and Leon, who live in New York, cross paths and become inseparable again. 12-year-old Mathilda grows up with a foster family and her younger brother is her only reason to endure this life. Mathilda gets the shock of her life when she returns from shopping one day. His entire family has been killed and he has nowhere to go. He saves himself by taking shelter in his neighbor's house. His neighbor is Leon, the shooter. They start living together. The attraction between them is one that cannot be described with words.
---
35) Terminator 2: Judgment Day – Terminator 2: Judgment Day (1991) | IMDb: 8.5
Director: James Cameron
Cast: Arnold Scharzenegger, Linda Hamilton, Edward Furlong
The movie, which was released in the 90s, takes place in 2009. The Synet robots cannot fulfill their mission to kill Sarah Connor. Thereupon, the production of the T-1000 robot begins. This is a new "Terminator" and it has a very difficult task. He will go to the past and change the course of history by killing the son of Sarah Connor, who is the leader of today. However, he is not alone in this task. Others built the T-800 robot and sent Sarah Connor's son to the past to protect him. The first task of both robots is to find Connor's son. Whoever finds it first will do his duty.
This post is also available in: Türkçe