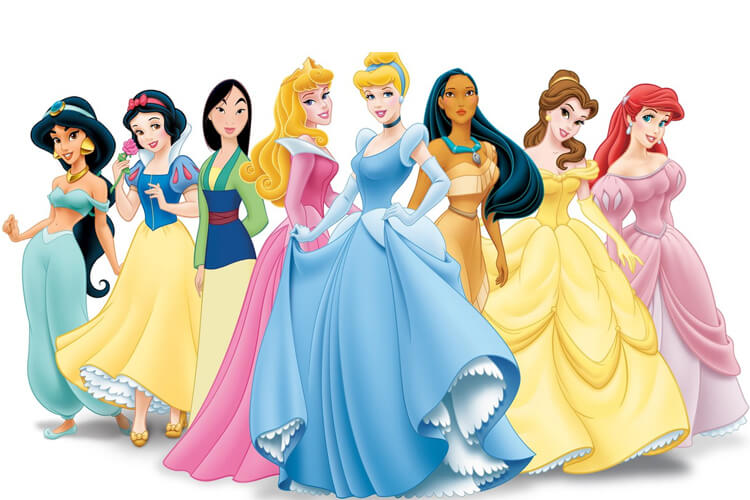 Disney Princesses entered our lives with Disney's transformation of stories from world folklore into animations and movies. Disney Princesses have become indispensable characters of animations famous for their musicals. We have compiled Disney princess movies and animations chronologically for you.
---
Disney Princess Animations
1) Snow White and the Seven Dwarfs – Snow White and the Seven Dwarfs (1937) | IMDb: 7.6
Driven into the dangerous forest by her evil stepmother, Snow White is rescued by seven dwarf miners. Adapted from Grimm's Tales. Snow White was the first fictional character to have a star on Hollywood Boulevard. Indeed, that star also comes with this movie.
Alongside the regular-size Oscar statuette, Disney received 7 miniature figurines "for its major on-screen invention, where it launched a new entertainment space and captivated millions."
---
2) Cinderella – Cinderella Cinderella (1950) | IMDb: 7.3
Cinderella's cruel stepmother prevents her from attending the Royal Ball. The cute mice get unexpected help from Gus and Jaq and their fairy godmother.
Like most Disney Princesses, it was adapted from Grimm's Tales, a compilation of oral European fairy tales. As the years marked 1951, it was nominated for an Oscar for Best Sound.
---
3) Sleeping Beauty- Sleeping Beauty (1959) | IMDb: 7.2
Outcast by the royal family, the malevolent fairy places a curse on the princess that only a prince can break. This Disney Princess also comes from European fairy tales compiled by the Brothers Grimm.
---
4) The Little Mermaid – The Little Mermaid (1989) | IMDb: 7.6
Princess of the Atlantic Ocean, Ariel makes a bargain to become human and win the love of a prince. It was adapted from The Andersen Tales and was nominated for three Oscars. Şebnem Ferah adapted the song "Part of Your World" in the movie into Turkish.
---
5) Beauty and the Beast – Beauty and the Beast (1991) | IMDb: 8.0
A prince cursed to spend his life as a hideous monster seeks to rediscover his humanity in order to win the love of a young woman.
It is adapted from the fairy tale La Belle et la Bête by the French writer Jeanne-Marie Leprince de Beaumont.
---
6) Aladdin – Aladdin and the Magic Lamp (1992) | IMDb: 8.0
A kind-hearted street kid and a power-hungry Grand Vizier compete for a magic lamp that has the power to make their deepest wishes come true.
Princess Jasmine in this movie is the first non-European princess among Disney Princesses. Adapted from The Thousand and One Nights, which tells the tales of the Middle East.
---
7) Pocahontas (1995) | IMDb: 6.7
A British soldier and the daughter of an Algonquin chief share a romance when British colonists invade seventeenth-century Virginia. He won Oscar, Grammy and Golden Globe awards for his songs.
The story is based on reality. Pocahontas, an Algonquian Indian, marries an Englishman named John Rofle. He spent the rest of his life in London and became famous. Among the Disney Princesses, she is the first princess born in the Americas.
---
A young girl secretly takes her father's place in the army to save her father from death. Thus, he manages to become one of China's greatest war heroes. Adapted from the stories of female warriors in Chinese folklore.
At the time the animated movie was released, McDonald's briefly used "szechuan" sauce in its restaurants in honor of the movie.
---
9) Princess and the Frog – Princess and the Frog (2009)| IMDb: 7.1
A waitress eager to fulfill her dreams as a restaurant owner embarks on a journey to transform the frog prince back into human being. However, after kissing her, she has to face the same problem.
Adapted to modern life from the fairy tale The Frog Prince, which is a part of Grimm Tales.
She is the first African-American princess among the Disney Princesses.
---
10) Tangled – Tangled (2010) | IMDb: 7.7
The magical long-haired Rapunzel has spent her entire life in a tower. But she's about to discover the world and who she really is for the first time when a runaway thief stumbles upon her.
It is the first 3D animation to come out of Disney Animation Studios. Based on the fairy tale Rapunzel by the Brothers Grimm.
---
11) Brave – Brave (2012) | IMDb: 7.1
Determined to carve her own path in life, Princess Merida defies a tradition that has brought chaos to her kingdom. With only one wish, Merida must rely on that right as well as her courage and archery skills to reverse the terrible curse.
It is a joint production of Disney and Pixar. The story is based on a compilation of Scottish folklore.
---
12) Moana (2016) | IMDb: 7.6
In ancient Polynesia, a terrible curse to which the Demigod Maui has been subjected reaches Moana's island. Moana sets out to fix Ocean's affairs and seek the Demigod.
Although Moana and her island are fictional, the story is a product of the common folklore of the Polynesian Islands. 89. It won the Best Animated and Most Original Song awards at the Oscars.
---
13) Frozen – Frozen (2013) | IMDb: 7.4
For the newly crowned Queen Elsa, she accidentally uses her power to curse her house and turn it into ice. His sister Anna teams up with a mountain man and his playful reindeer and a snowman to change the weather.
Based on Hans Christian Andersen's fairy tale The Snow Queen. Frozen is the highest-grossing film of 2013.
---
14) Frozen II – Frozen II (2019) | IMDb: 6.8
Anna, Elsa, Kristoff, Olaf and Sven leave Arendelle for the ancient autumn-bound forest of a magical land. They set out to save their kingdom and find the source of Elsa's powers.
---
Disney Princess Movies
1) Princess Diaries – The Princess Diaries (2001) | IMDb: 6.4
Director: Garry Marshall
Cast: Anne Hathaway, Julie Andrews, Hector Elizondo
Mia learns that Thermopolis is the heir to the throne of Genovia. With his friends Lilly and Michael Moscovitz behind him, he tries to find his way through his sixteenth birthday.
It is one of the movies that Disney frequently broadcasts on its own television channel. It is also Anne Hathaway's feature film debut.
---
2) Princess Diaries 2 : Royal Engagement – Princess Novice 2 : Royal Engagement (2004) | IMDb: 5.8
Director: Gary Marshall
Cast: Anne Hathaway, Julie Andrews, Chris Pine
Settling in Genovia, Princess Mia is faced with a new royal assignment. An arranged marriage awaits him with an English suitor.
---
3) Maleficent – Maleficent (2014) | IMDb: 7.0
Director: Robert Stromberg
Cast: Angelina Jolie, Elle Fanning, Sharlto Copley
A vengeful fairy decides to curse a baby princess. But she discovers that the boy may be the only one who can restore peace to her troubled land.
This movie gives a new perspective to the Sleeping Beauty tale.
---
4) Cinderella – Cinderella (2015) | IMDb: 6.9
Director: Kenneth Branagh
Cast: Lily James, Cate Blanchett, Richard Madden
When her father dies unexpectedly, young Ella finds herself at the mercy of her cruel stepmother and scheming stepsisters. Never losing hope, Ella's fate begins to change after she meets a brave stranger.
---
5) Beauty and the Beast – Beauty and the Beast (2017) | IMDb: 7.1
Director: Bill Condon
Cast: Emma Watson, Dan Stevens, Luke Evans
A selfish Prince is cursed to become a monster for the rest of his life unless he learns to fall in love with a beautiful young woman he's holding captive.
---
6) Maleficent : Mistress of Evil – Maleficent: The Power of Evil (2019) | IMDb: 6.6
Director: Joachim Ronning
Cast: Angelina Jolie, Elle Fanning, Harris Dickinson
Maleficent and her goddaughter Aurora are pulled in different directions by impending marriages, unexpected allies, and dark new forces at play. Meanwhile, they begin to question the tangled family ties that keep them inseparable.
---
7) Aladdin (2019) | IMDb: 6.9
Director: Guy Ritchie
Cast: Will Smith, Mena Massoud, Naomi Scott
A good-hearted street kid and a power-hungry Grand Vizier face off over a magic lamp to make their deepest wishes come true.
---
Director: Niki Caro
Cast: Liu Yifei, Donnie Yen, Gong Li
A young Chinese girl disguises herself as a male warrior to save her father.
---
This post is also available in: Türkçe