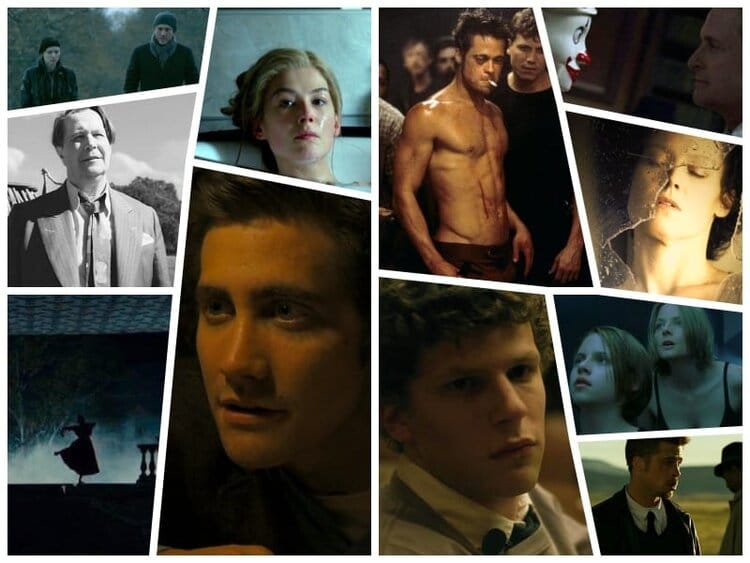 When we think of David Fincher movies , movies such as Fight Club, Seven and The Game come to mind first. Born on August 28, 1962, David Fincher has made documentaries, video clips and short films for a long time. His first feature film was the third in the Alien series, which is considered a masterpiece. Although he did not attract much attention with this film, he had the opportunity to introduce himself to the world of cinema.
David Fincher is a director in the Hollywood movie industry. However, thanks to his shooting technique, storytelling style and his success in editing, he became a director who produces unique films in a regulated sector like Hollywood.
Benefiting from the power of Hollywood cinema but never compromising his own style, David Fincher has made a name for himself with almost every film he has shot. Producing succinctly but literally, David Fincher is one of the favorite directors of many moviegoers around the world.
We have compiled the films of David Fincher, the free and independent spirited director of Hollywood cinema, for you.
---
1) Alien 3 – Alien 3 (1992) | IMDb: 6.5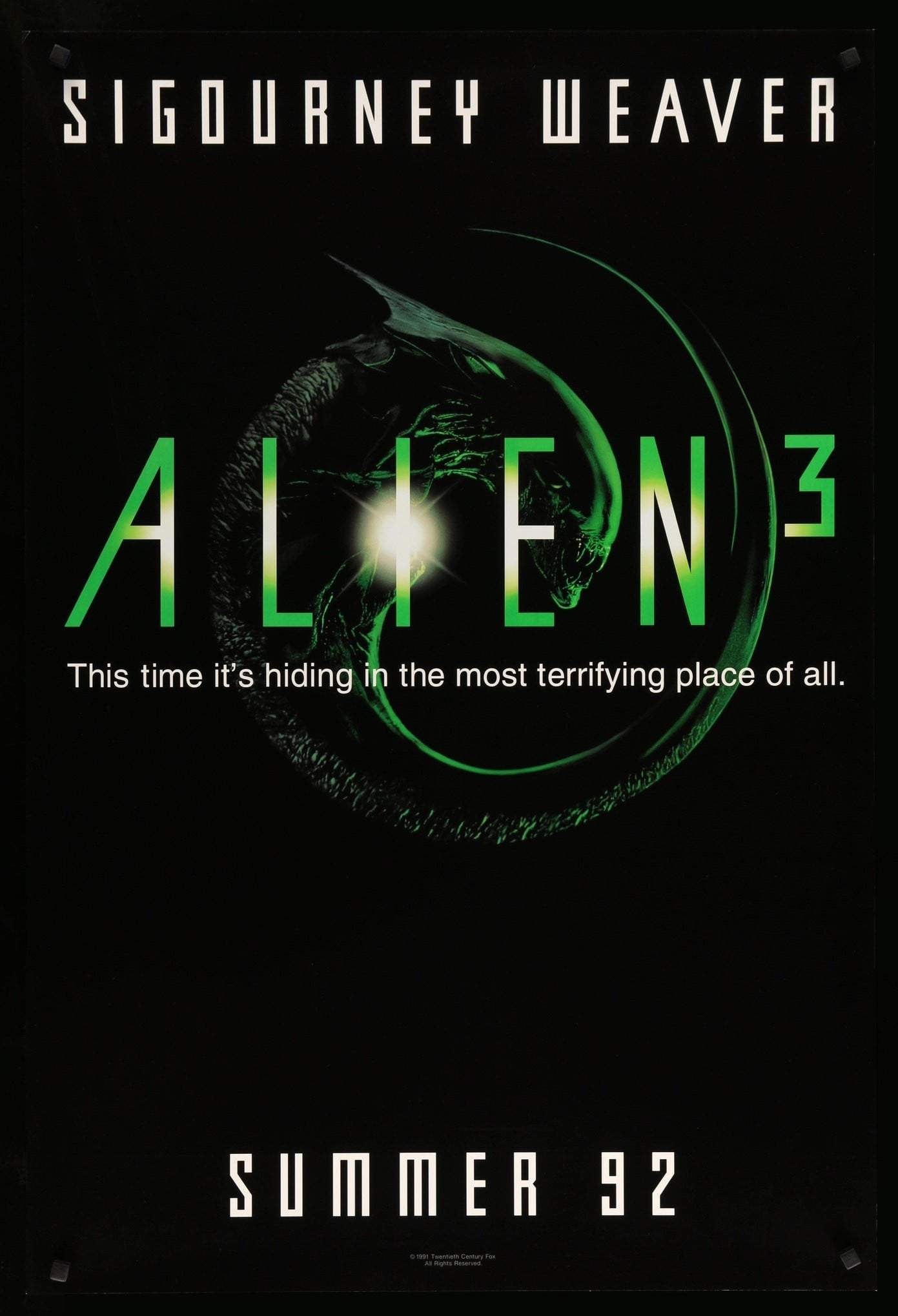 Genre: Action, Horror, Sci-Fi
Cast: Sigourney Weaver, Charles Dance, Charles S. Dutton
Alien 3, the first film of our list of David Fincher films, is also the director's first film. The Alien series is considered one of the cult productions in the history of cinema. The first movie was shot in 1979 by another legendary director, Ridley Scott. Then, in 1986, James Cameron , who went to the director's chair, signed the second film of the series. In the third movie of the series, David Fincher was on the sofa, who was going to shoot his first feature.
Alien 3 takes place on the prison planet Fury 161. The main character is Ripley, who is the main character of the first two movies. A religious cult reigns on the planet. Members of the sect are former murderers and rapists. The film, which contains a strict criticism of capitalism and religion, carries out its trademark tension and action dose again through "Alien", that is, "Alien". Although it lags behind the first two films, according to some, the final scene, which is especially memorable, and of course the David Fincher touches, make Alien 3 a movie that cannot be ignored.
---
2) Se7en – Seven (1995) | IMDb: 8.6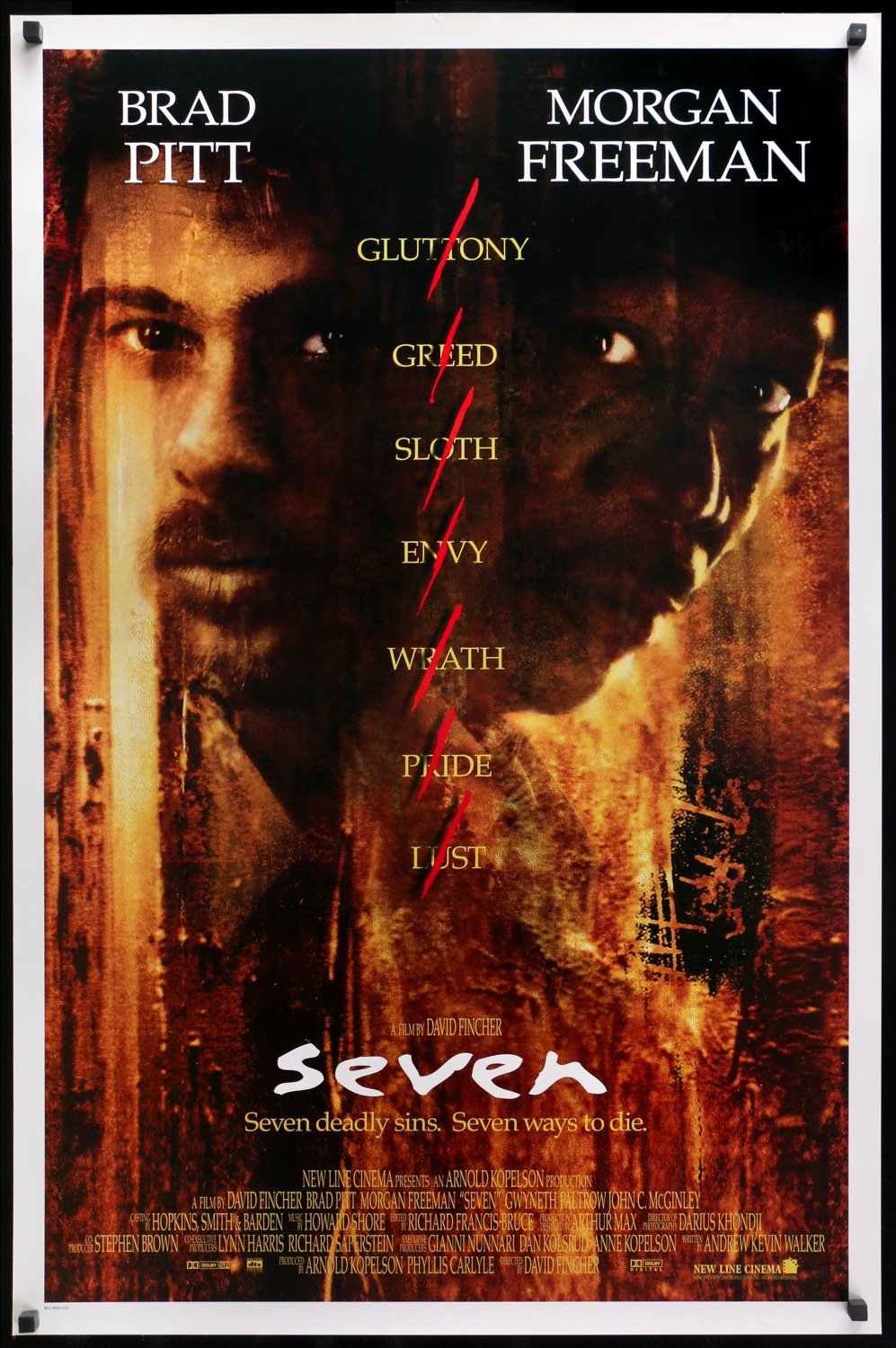 Genre: Crime, Drama, Mystery, Thriller
Cast: Brad Pitt , Morgan Freeman, Kevin Spacey
Seven, the second movie of our David Fincher movies list, is also the movie that the director made his name known to the world. Greed, Lust, Arrogance, Envy, Gluttony, Anger and Sloth. The film, which deals with the 7 deadly sins of Christianity, tells these sins through a serial killer and two detectives trying to catch him. With Seven, David Fincher creates his first masterpiece, blending his success in storytelling and editing with a dark atmosphere. David Fincher, who makes both individuals and the society in general question the concept of morality through sins, produces a magnificent film that blends murder, thriller and action genres. Kevin Spacey, who gave life to a character that will go down in the history of cinema, together with Brad Pitt and Morgan Freeman , who shared the lead roles in the movie, impresses with his acting.
---
3) The Game – The Game (1997) | IMDb: 7.7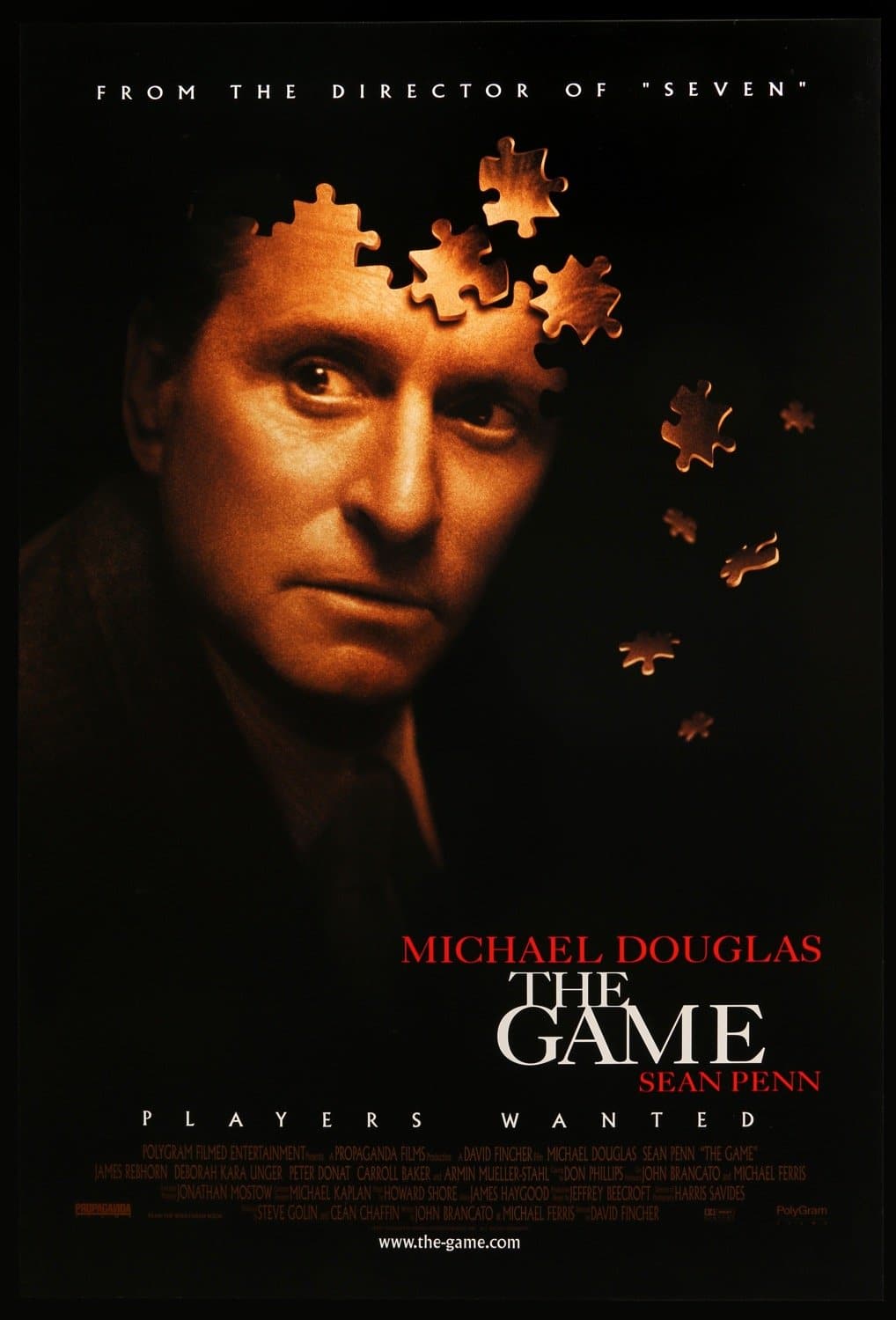 Genre: Drama, Mystery, Thriller
Cast: Michael Douglas, Sean Penn, Deborah Kara Unger
Nicholas Van Orton is a character who controls his whole life, and he has lived with this control pattern throughout his life. However, one day, he encounters a situation of out-of-control that has never been accounted for. His human relations, peaceful life, achievements, in short, everything he has ever been under his control will be turned upside down with the birthday gift he receives.
Nicholas' brother Conrad prepares a play for him as a birthday present. He says that there is a big prize at the end of this game. Although everything goes well at first, as time passes, the game ceases to be a game. Nicholas realizes that all the decisions he has made throughout the game become reality, not stay in the game. From this moment on, Nicholas will find himself literally in a life and death struggle.
---
4) Fight Club (1999) | IMDb: 8.8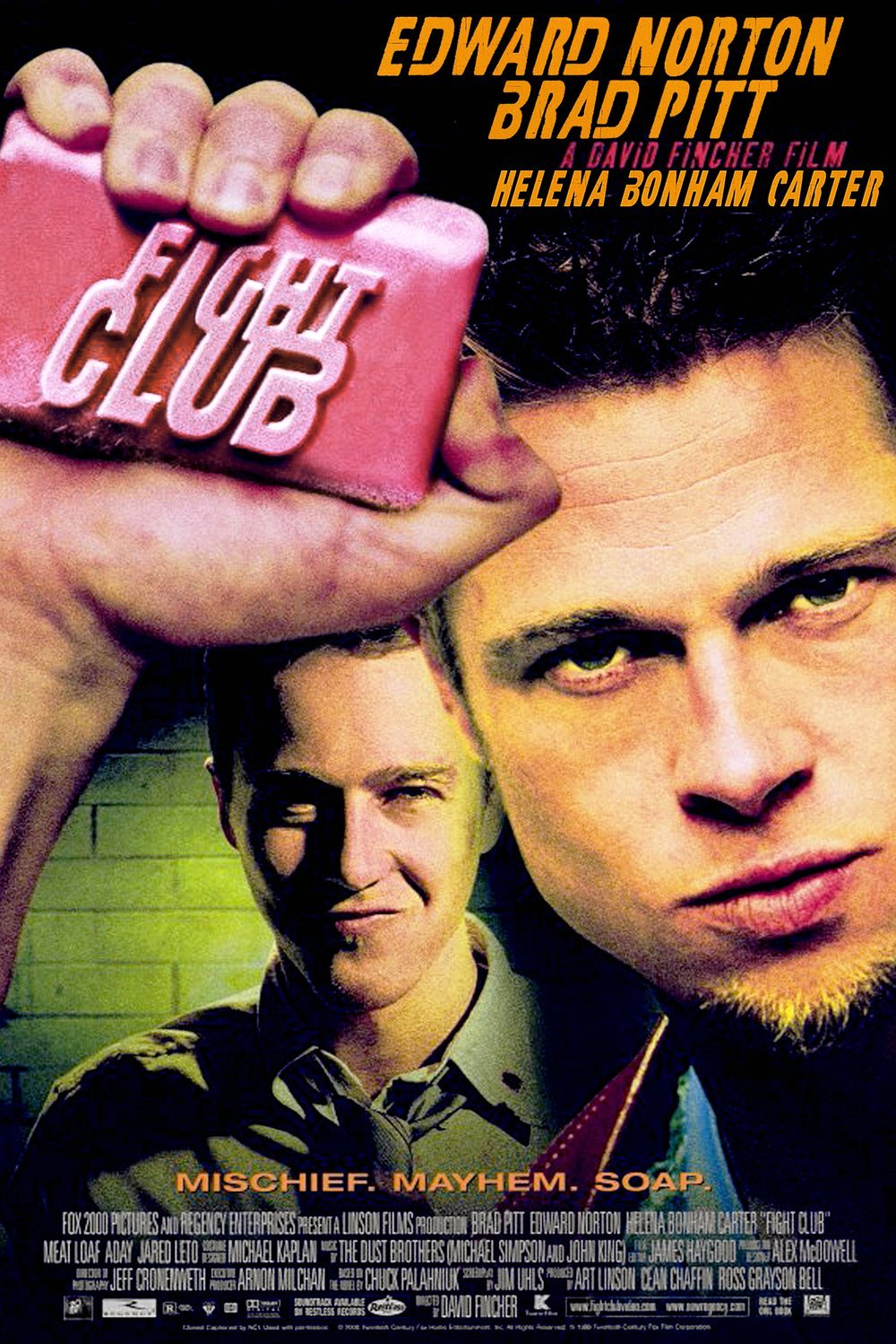 Genre: Drama
Cast: Brad Pitt, Edward Norton, Helena Bonham Carter
Rule number one: Never talk about Fight Club!
Rule number two: Never ever talk about Fight Club!
It's time for the movie with the highest IMDb score on our list of David Fincher movies. We can also say that Fight Club is the most cult movie among David Fincher movies.
Fight Club is one of the most iconic films not only in David Fincher's filmography, but also in the history of cinema. Adapted from Chuck Palahniuk's novel of the same name, the movie was a huge hit when it was released. Not only that, it became one of the few films passed down from generation to generation thanks to the effect it created.
Jack is an ordinary insurance officer with an ordinary life. He has been suffering from insomnia for a long time due to his psychological problems. With his psyche getting worse and worse, Jack decides to attend group therapy. In one of these therapies, he meets a woman named Marla. Marla has some psychological problems just like her. As the therapies continue, Jack meets another person named Tyler Durden, independent of Marla. Although he was afraid of her at first, a very close friendship started to form between them over time.
Compared to Jack, Tyler Durden is a self-confident person who has achieved his goals. When Durden learns about Jack's life and his problems, he introduces him to an underground organization called Fight Club. Jack now has a completely different life, and this life will make him a completely different person.
---
5) Panic Room – Panic Room (2002) | IMDb: 6.8
Genre: Crime, Drama, Thriller
Cast: Jodie Foster, Kristen Stewart, Forest Whitaker
Although Panic Room is not one of the first movies that comes to mind when we talk about David Fincher movies, it makes you feel the David Fincher touches to the end. Meg Altman is divorced from her husband and after the divorce, she moves to a magnificent mansion with her 11-year-old daughter. This three-storey mansion with an elevator inside is not only magnificent, but also has an interesting feature. Inside, there is a room called the panic room. This room is a room with special security systems, which is very difficult to enter by someone else. Moreover, the whole house can be monitored thanks to the monitor in the room.
One day, three thieves break into the mansion. Realizing the situation, Meg takes her daughter with her and hides in the panic room. Meg and her daughter will have a tense fight against the thieves in this room.
---
6) The Zodiac (2007) | IMDb: 7.7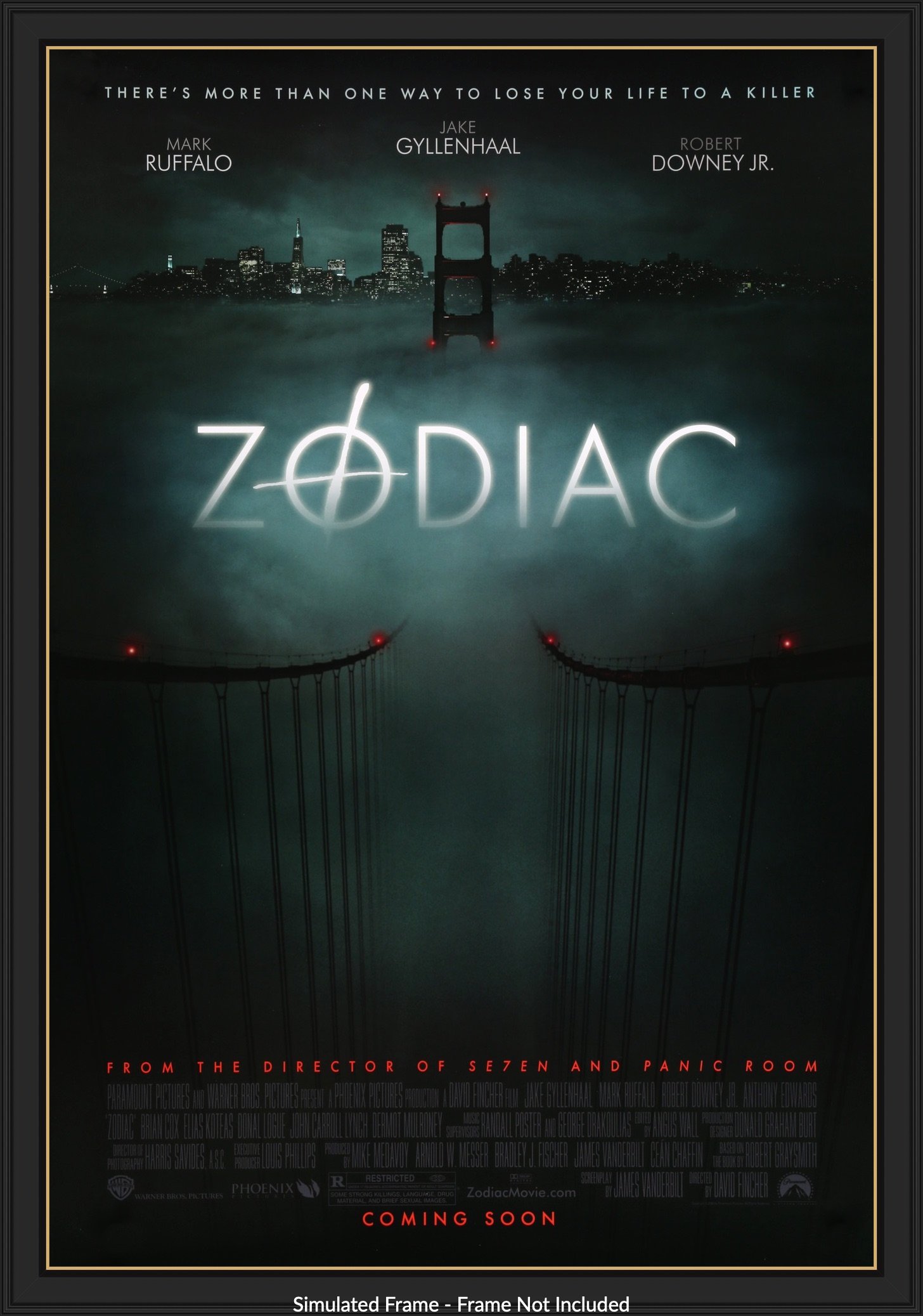 Genre: Crime, Drama, Mystery, Thriller
Cast: Jake Gyllenhaal, Mark Ruffalo, Robert Downey Jr.
David Fincher, 6. this time he turns his route to a true story in his feature film. A serial killer in San Francisco confesses to all the murders he has committed by sending documents to various newspapers. It wants all of these messages to be published. He says that if it is not published, he will continue to murder. A young cartoonist named Robert Graysmith, who works in one of the newspapers he sends the messages to, sees the messages and starts researching the murderer. Along with him, inspectors David Toschi and William Armstrong and correspondent Paul Avery try to find the murderer through the same documents. Despite their best efforts, these four men find no trace. David Toschi, William Armstrong, Paul Avery and other officials decide to quit. However, Robert Graysmith will not give up to catch this murderer who calls himself the Zodiac.
---
7) The Curious Case of Benjamin Button – The Curious Case of Benjamin Button (2008) | IMDb: 7.8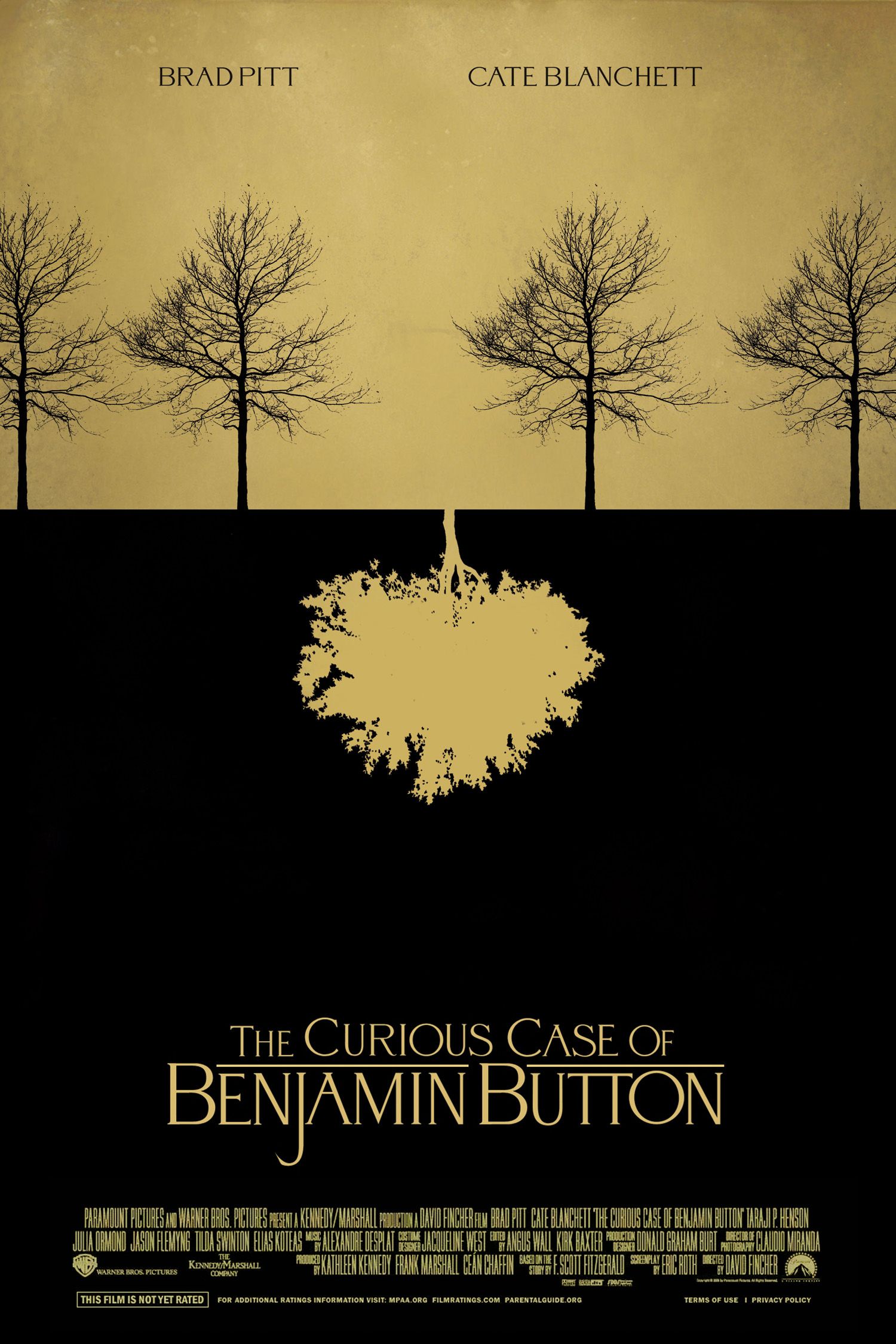 Genre: Drama, Fantasy, Romance
Cast: Brad Pitt, Cate Blanchett, Tilda Swinton
It would not be wrong to say that Benjamin Button's Curious Case is one of the most interesting scenarios of recent years. David Fincher tells the story of a man named Benjamin Button in this film scripted by F. Scott Fitzgerald, based on a short story written in 1922. Benjamin Button's father was a watchmaker during the First World War. That period makes a clock running backwards for the train station. He did this because he wanted those who died in the war to return with this watch. Of course, his wish does not come true, but he unwittingly creates another miracle.
On the day the war officially ends, a child is born. The child born is 80 years old. This old baby, named Benjamin Button, will live his life backwards. In other words, he will die when he reaches the age of zero. Although it is difficult for him and those around him to get used to this situation, Benjamin Button continues to live and enjoy life, waiting for the day he will die. One day he meets a woman named Daisy Williams. A great love and friendship develops between them. However, as the years pass and Benjamin Button begins to shrink, the love and friendship relationship between the two will take a completely different turn.
---
8) The Social Network – Social Network (2010) | IMDb: 7.7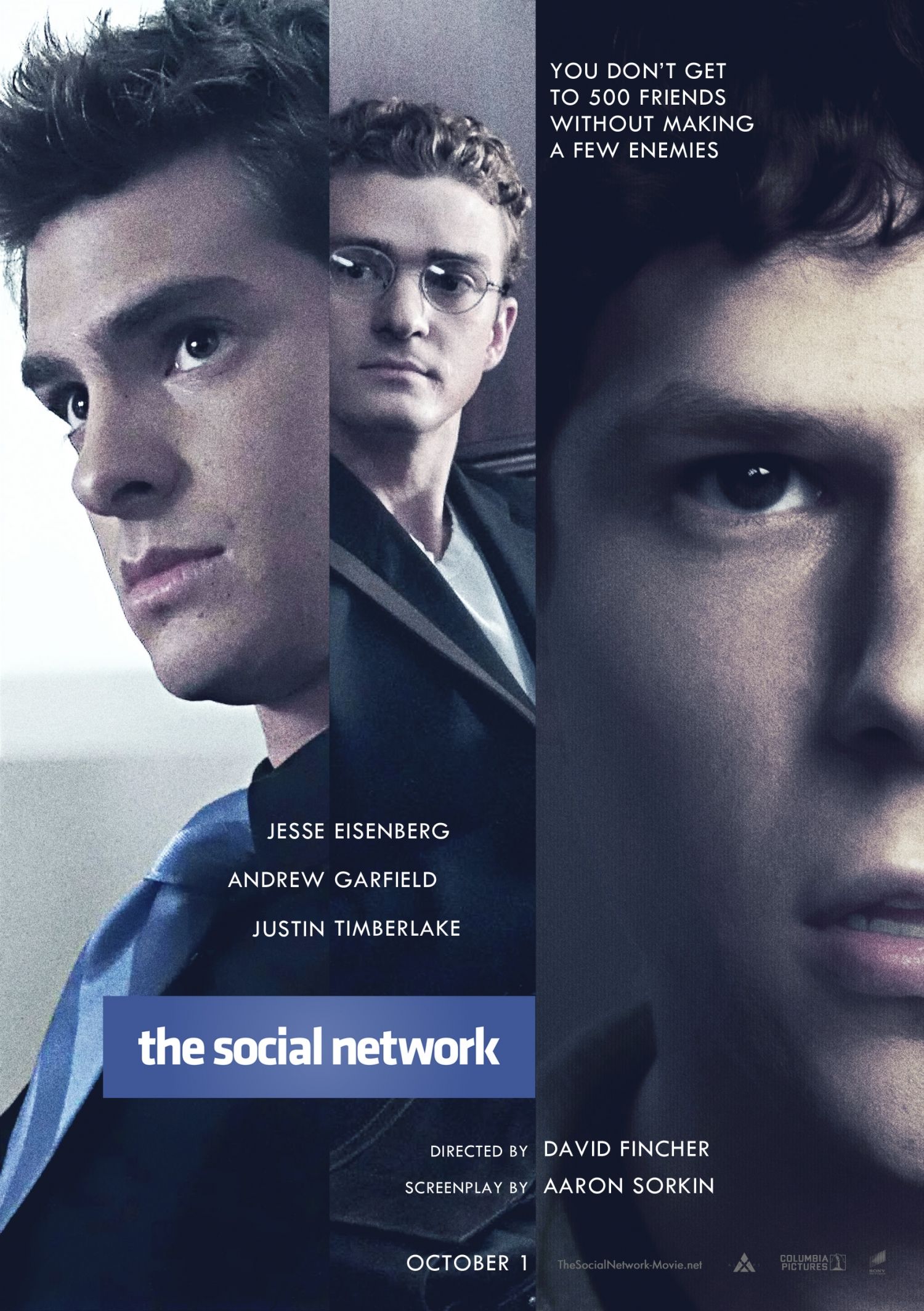 Genre: Biography, Drama
Cast: Jesse Eisenberg, Justin Timberlake, Andrew Garfield
We follow the story of Mark Zuckerberg, the founder of the world-famous social networking site Facebook, to found Facebook. The film, which caused a great sensation when it was released, also caused Mark Zuckerberg to receive great criticism from all over the world. Mark, who is studying at Harvard University, opens a website called Facemash. This site, which has photos of the girls at the university, quickly spread throughout the school. Then they take a few more friends with them, develop the site and change the name of the site to Facebook. Just like Facemash, the site, which was first used in Harvard, is also used in other universities in a very short time and its reputation is spreading day by day.
When the site grows and its reputation reaches Silicon Valley, Mark and his friends realize that they have done a great job. However, Mark thinks that the site is completely his own, and from this moment on, a court process begins between Mark and his friends. Meanwhile, Facebook has managed to become popular all over the world. The film, which reveals the establishment phase of Facebook, one of the most famous social media giants in the world, and the unknowns in the background, is indeed a successful biography.
---
9) The Girl with the Dragon Tattoo – The Girl with the Dragon Tattoo (2011) | IMDb: 7.8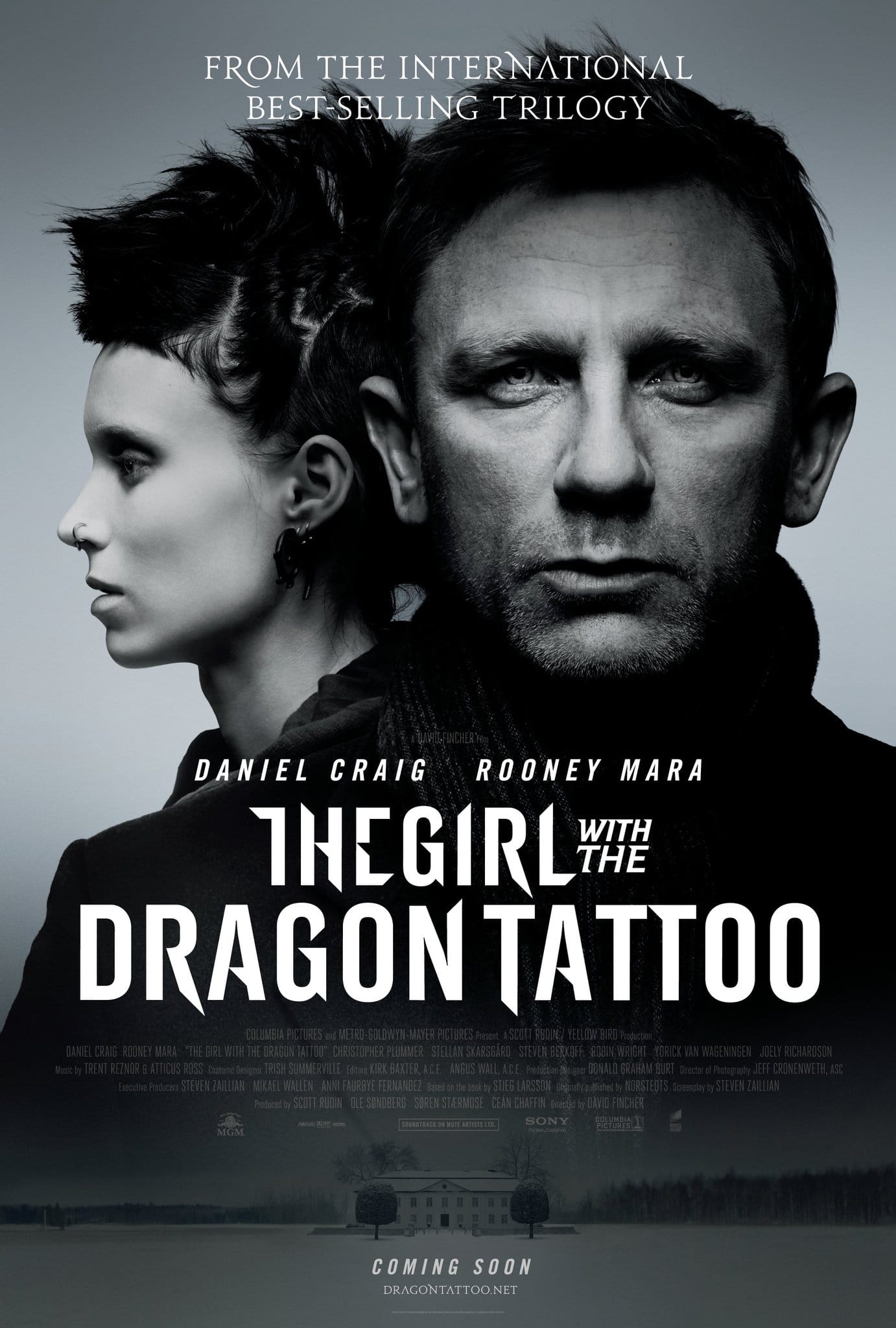 Genre: Crime, Drama, Mystery, Thriller
Cast: Rooney Mara, Daniel Craig, Christopher Plummer
Adapted from Stieg Larsson's novel of the same name, the film was first screened in 2009 by Niels Arden Oplev as "Män som hatar kvinnor". The film made a sensation not only in Sweden, but throughout the world. Two years later, David Fincher took over the director's chair this time.
A journalist named Mikael Blomkvist is slandered. Trying to clear himself, Mikael gets a job offer from a man named Henrik Vanger. Vanger wants to know why her long-lost niece, Harriet, has disappeared. Mikael accepts the offer. While trying to clear himself, he also pursues the story of Harriet's disappearance.
On the other hand, a hacker named Lisbeth Salander working for a security company is tasked by the company to investigate Mikael's past. At the crossroads, Mikael and Lisbeth set out to unravel a string of murders. Things have now moved to a different point.
---
10) Gone Girl – Lost Girl (2014) | IMDb: 8.1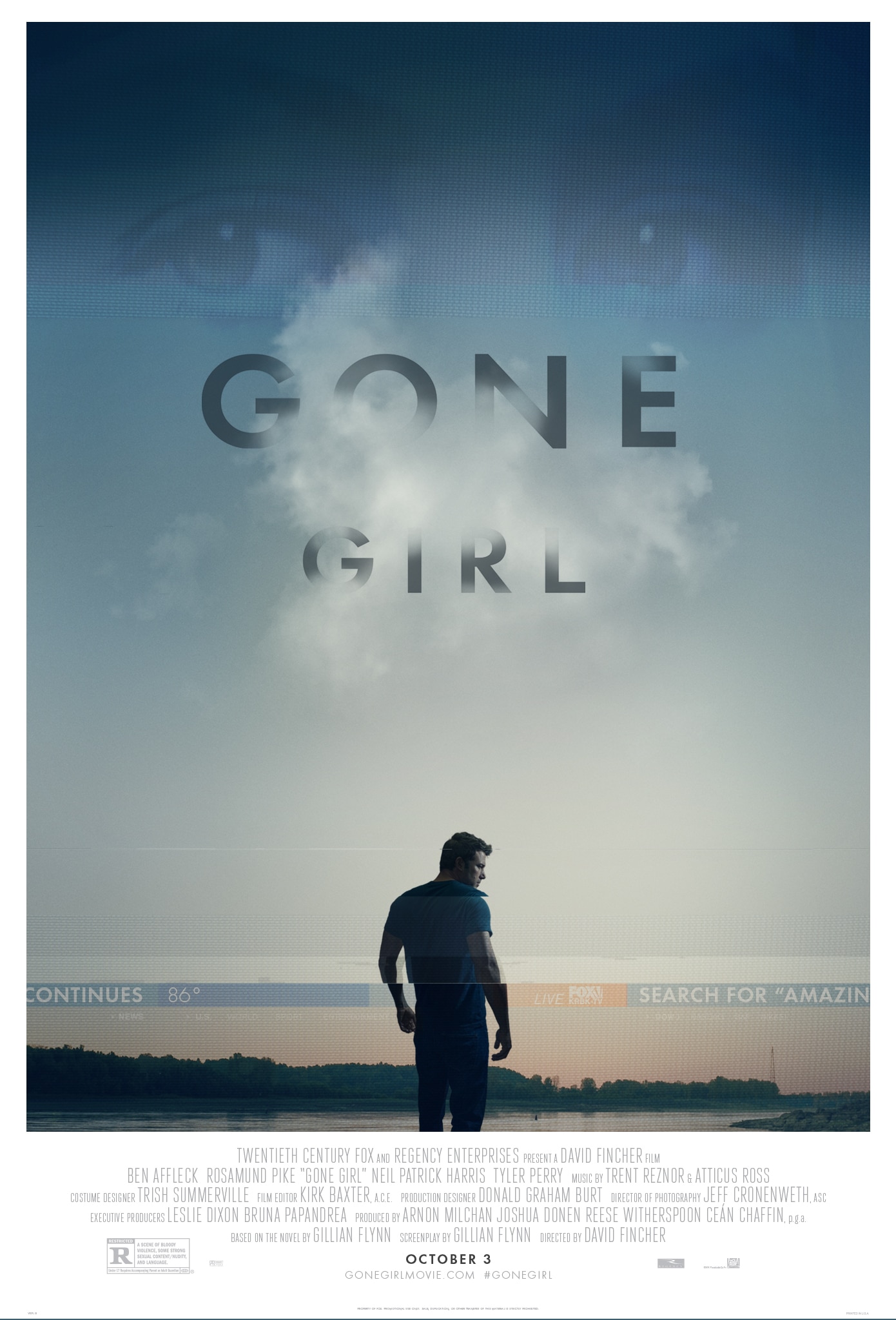 Genre: Drama, Mystery, Thriller
Cast: Ben Affleck, Rosamund Pike, Neil Patrick Harris
Nick and Amy prepare to celebrate their fifth wedding anniversary. From the outside, they seem like a very happy couple. But things are not like that at all. Nick doesn't hear from Amy for a long time on the day of their wedding anniversary. As a last resort, she applies to the police and reports her missing. The police interestingly suspect Nick as a result of their investigations. Nick, on the other hand, can't make sense of what happened and the fact that he's building on suspicion.
While all this is going on, Amy's family organizes a charity night to find Amy. But the purpose of the night is very different. Nick suddenly finds himself being dragged from place to place in this organization, having to do everything he is told. Now everyone has begun to suspect him and he cannot convince anyone of his innocence. Still no word from Amy.
---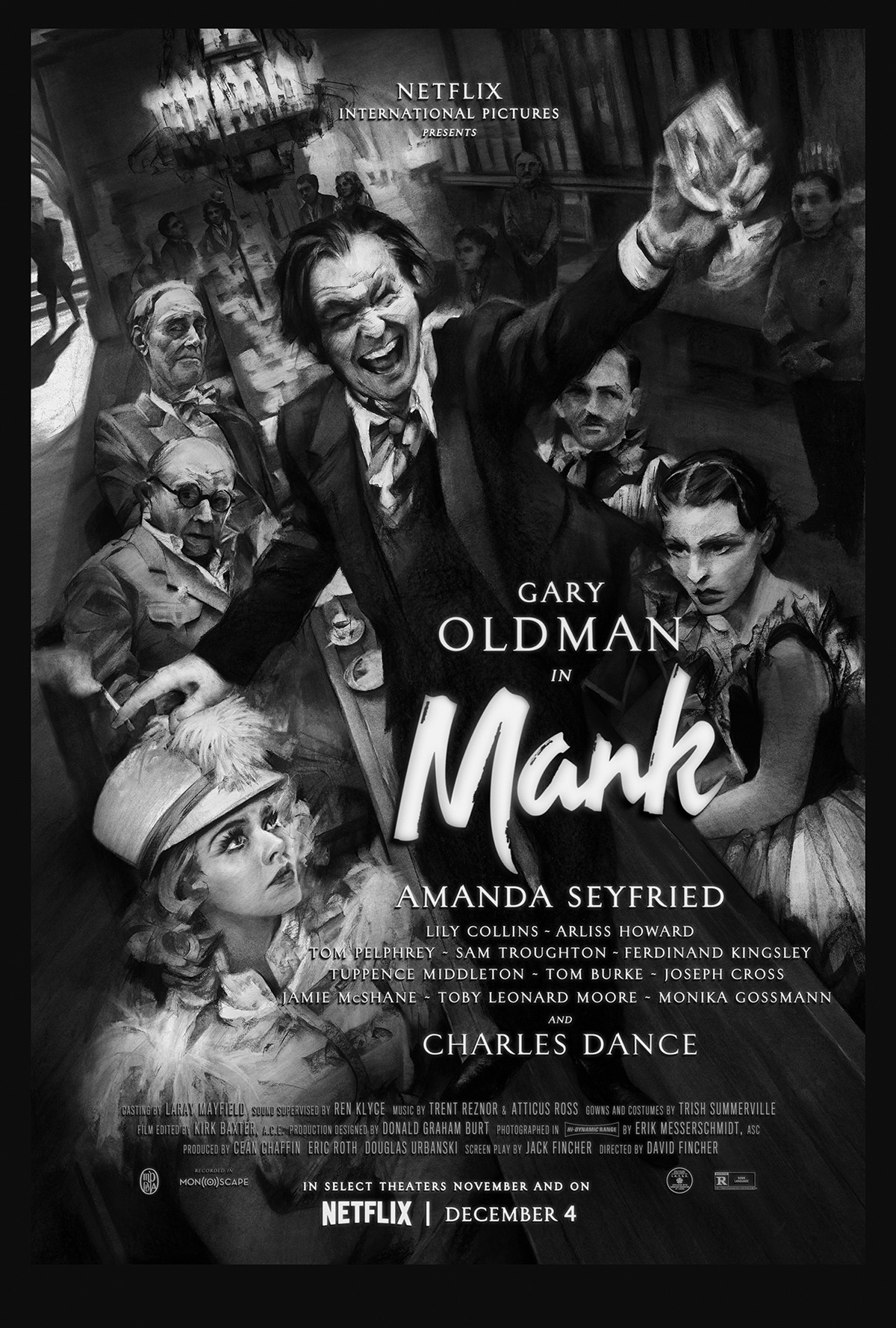 Genre: Biography, Comedy, Drama
Cast: Gary Oldman, Amanda Seyfried, Lily Collins
We have come to the last movie of our list of David Fincher movies. This time, David Fincher tells us about Herman Mankiewicz, the screenwriter of the 1941 movie Citizen Kane, which is considered one of the most important films in the history of cinema. The film, which touches on many points from Herman's life story to the process of writing the screenplay of Citizen Kane, from the Hollywood of the 1930s to the director and lead actor of the film, Orson Welles, draws attention with its black and white.
---
This post is also available in: Türkçe Deutsch