Nazi films help us witness the darkest times in world history by bringing the Nazi ideology to the screen with cinematographic elements. While such dark times are beyond our imagination, the filmmakers tried to write down what happened in this terrible age. While some have been able to understand and bring out inspiring cinematic creations, others have not. Without further ado, we have compiled a list of the 25 best Nazi films ever made for you.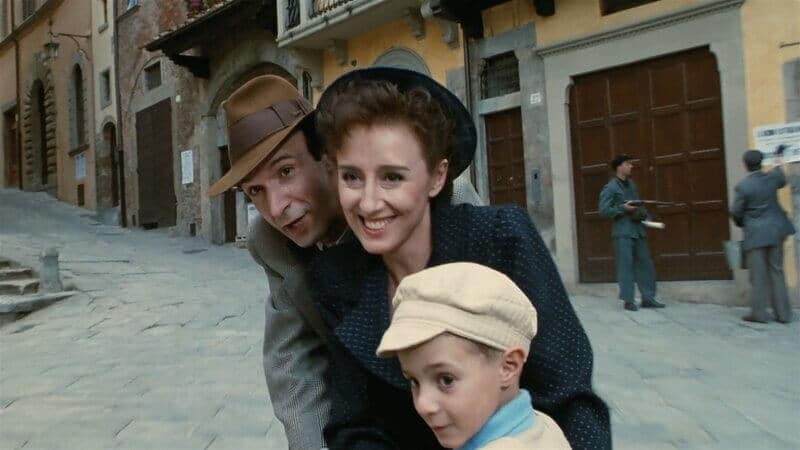 ---
25) Defiance – Resistance (2008) | IMDb: 7.2
Director: Edward Zwick
Cast: Daniel Craig, Liev Schreiber, Jamie Bell
Rotten Tomatoes: 58%
In 1941, Nazi soldiers massacred thousands of East European Jews. In Belarus, the Bielski brothers' parents are also killed by Nazi forces. Three brothers, Tuvia (Craig), Zus (Schreiber) and Asael (Bell), manage to escape the massacre. They take shelter in the forest where they played in their childhood. Seeking a way to avenge the death of their loved ones, the brothers turn their daily struggle for survival into a war against the Nazis. As news of the abuses spread, others willing to risk their lives join the battle with them. The brothers colonize the forest with Russian resistance fighters. They successfully house around 1200 Jews in refugee camps and escalate the resistance.
---
24) The Diary of Anne Frank – The Diary of Anne Frank (1959) | IMDb: 7.4
Director: George Stevens
Cast: Millie Perkins, Joseph Schildkraut, Shelley Winters
Rotten Tomatoes: 78%
During the Second World War, Jews living in the Netherlands were captured and sent to camps during the Nazi occupation. In Amsterdam, a shopkeeper hides two Jewish families in the attic of his house. These two families, the Franks and the Van Daans, cannot go out for two years. On the one hand, they struggle with hunger, on the other hand, they have great arguments among themselves. While all this is going on, young Anne Frank (Perkins) writes in her diary both the Nazi threat and the conflicts of these two families, everything that happened in that room. Otto Frank (Schildkraut) returns to the penthouse years after both families are captured and finds his deceased daughter's diary. The movie won three Oscars.
---
23) Persian Lessons – The Language of Hope (2020) | IMDb: 7.4
Director: Vadim Perelman
Cast: Nahuel Perez Biscayart, Lars Eidinger, Leonie Benesch
Rotten Tomatoes: 76%
When Nazi movies are mentioned, massacres come to mind, or those who risk their lives to escape from these massacres. In this movie, a young Jewish man who risks his life to risk his life pretends to be an Iranian to avoid execution. Klaus Koch (Eidinger), one of the commanders in the camp, wants to learn Persian, the Jewish young Gilles pretends to know Persian in order not to die, but he does not know this language. With an ingenious trick, Gilles survives by inventing and teaching Persian words every day to Koch. The special relationship between the two men causes the other prisoners and SS guards to become jealous of Gilles. And as Koch's suspicions of Gilles grow with each passing day, Gilles realizes that he cannot keep his secret for long.
---
22) Son of Saul – Son of Saul (2015) | IMDb: 7.5
Director: Lászlo Nemes
Cast: Géza Röhrig, Kecske Molnár Levente, Todd Charmont
Rotten Tomatoes: 96%
During WWII, Saul (Röhrig), a Jewish worker in the Auschwitz concentration camp, is tasked with deporting and later cleaning up concentration camp inmates and other inmates into the gas chambers. One day, he sees that a child who was gassed to death in the gas chambers has survived. But he witnesses the moment when a Nazi doctor drowns the surviving boy. Convinced that the boy is his own, Saul is determined to give the boy a proper Jewish burial. He tries to find a rabbi to hold the boy's funeral properly. He sets out to do everything in his power to protect the child's body. A gripping tale of despair and desperation, this Hungarian film won multiple awards, including Best Picture from the Oscars and Golden Globes.
---
21) The Reader (2008) | IMDb: 7.6
Director: Stephen Daldry
Cast: Kate Winslet, Ralph Fiennes, David Krossther
Rotten Tomatoes: 63%
Michael Berg (Kross), a law student watching the trial of female Nazi guards, is shocked to find that an older woman he had an affair with in his teenage years is one of the defendants. A teenager in post-war Germany, Michael begins a passionate but secret relationship with Hanna Schmitz (Winslet), an older woman who enjoys reading him classic novels. Hanna suddenly disappears mysteriously. Years later, Michael, a law student, gets the shock of his life when he sees Hanna on trial for Nazi war crimes. Hanna finds a secret that could help her with the case. However, he prefers to remain silent. The Reader has won five Oscars and BAFTA awards.
---
20) Sophie's Choice – Sophie's Choice (1982) | IMDb: 7.6
Director: Alan J. Pakula
Cast: Meryl Streep, Kevin Kline, Peter Mac
Rotten Tomatoes: 78%
Stingo (Peter Mac), a young writer, moves to Brooklyn in 1947 to start work on his first novel. While befriending Sophie (Streep) and her lover, Nathan (Kevin Kline), he learns that Sophie is a Nazi massacre survivor. Sophie, a Polish immigrant, describes the circumstances that brought her to Auschwitz, where she had to do the unthinkable to protect her children. Flashbacks show Sophie's harrowing story from her pre-war life to Auschwitz. Stingo struggles to understand why Sophie is staying with him, despite Nathan's harassment and jealous rage. Merly Streep won the Best Actress Award for one of her best performances in her career, while the film won four more Oscars.
---
19) The Pawnbroker – Moneylender (1964) | IMDb: 7.7
Director: Sydney Lumet
Cast: Rod Steiger, Geraldine Fitzgerald, Brock Peters
Rotten Tomatoes: 84%
The Pawnbroker is an adaptation of Edward Lewis Wallant's novel of the same name. The film tells the story of former professor Sol Nazerman (Steiger), a survivor of a German concentration camp who runs a pawn shop in East Harlem. Left was offended by humanity after witnessing his family's torture and death by the Nazis. He alienates everyone around him, including his young Puerto Rican employee Jesus (Jaime Sanchez). While Nazerman deals with his inner conflicts, the harsh realities of the city affect his life as well. Being excluded by the new environment he lives in also causes him to be introverted, but this closure will cause a spiritual explosion at some point.
---
18) Black Book – Black Book (2006) | IMDb: 7.7
Director: Paul Verhoeven
Cast: Carice van Houten, Sebastian Koch, Thom Hoffman
Rotten Tomatoes: 76%
Jewish singer Rachel Rosenthal (Houten) wants to escape the Germans and escape oppression. He smuggled into a boat to go to the Netherlands. However, the boat is stopped by the Germans. Although everyone on board dies, Rachel Rosenthal survives. Unable to leave the country, Rachel has one last resort. He goes undercover to help the Dutch resistance to infiltrate Nazi headquarters in the Netherlands. Young Rachel, who narrowly escaped death, became a part of the Jewish resistance in the Netherlands, taking the name Ellis de Vries. His superiors order him to seduce a Gestapo officer named Ludwig (Koch). Ellis succeeds in his mission but soon finds himself falling in love with his mortal enemy.
---
17) Mephisto – Mephisto (1981) | IMDb: 7.8
Director: Istvan Szabo
Cast: Klaus Maria Brandauer, Krystyna Janda, Ildikó Bansági
Rotten Tomatoes: 78%
Mephisto is the first Hungarian film to win the 'Best Foreign Language Film' award at the Oscars. The film is about Hendrik Hoefgen (Brandauer), who impresses with his impressive performance in a theater play for which Nazi party members get tickets. Hoefgen is an actor who loves the stage. After years of performing in state theaters, the Nazi party offers to make him a star. As Hoefgen's friends flee or are tortured under Nazi terror, he continues to grow in popularity. She gets bigger and bigger roles and enjoys her success with great accolades. He dreams of playing Mephisto in the end, and to that end, he overlooks the moral compromises of his condition. Directed by István Szabó, 'Mephitso' is a commentary on Nazi abuses that had an impact on the human psyche.
---
16) Dunkirk (2017) | IMDb: 7.8
Director: Christopher Nolan
Cast: Fionn Whitehead, Tom Glynn-Carney, Jack Lowden
Rotten Tomatoes: 92%
Dunkirk, II. It deals with the Dunkerque Evacuation, one of the most important events of World War II, where 330,000 soldiers were saved. In May 1940, Germany advances into France, trapping Allied troops on the beaches of Dunkirk. Soldiers are left in a helpless situation, trapped between the sea and the land. They can neither defend nor escape from the shore. Under the air and ground protection of British and French forces, soldiers are slowly and methodically evacuated from the shore using every useful naval and civilian vessel. However, rescue ships do not reach land easily, some of them are bombed and destroyed by the Nazis. At the end of this difficult mission, which also received support from the air, 330,000 French, British, Belgian and Dutch soldiers were evacuated safely.
---
15) Jojo Rabbit – Jojo the Rabbit (2019) | IMDb: 7.9
Director: Taika Waititi
Cast: Roman Griffin Davis, Thomasin McKenzie, Scarlett Johansson
Rotten Tomatoes: 80%
In Jojo Rabbit, one of the Oscar-winning Nazi films, 10-year-old Hitler Youth member Jojo Betzler (Griffin) lives with his mother with his imaginary friend, closest confidant Adolf Hitler (Waititi), during the fascist times of Germany. In 1935, membership in the paramilitary organization Hitler Youth in Germany was a requirement for boys aged ten and older. His mother, Rosie (Johansson), is hiding a Jewish girl in the attic. When Jojo meets the girl, he is forced to confront his blind nationalism. Throughout the film, Jojo grapples with the Nazi ideology imposed on him. These scenes are cleverly dialogued with Jojo's conversations with his imaginary friend. Comedy elements show themselves in every moment of the movie. The film won the Best Adaptation Award at the 2020 Oscars.
---
14) Au Revoir Les Enfanst – Goodbye Kids (1987) | IMDb: 8.0
Director: Louis Malle
Cast: Gaspard Mannesse, Raphael Fejto, Francine Racette
Rotten Tomatoes: 97%
Directed and written by Louis Malle, the film tackles the sad realities of the regime and innocence shattered by political propaganda. In 1943, Julien (Manesse) is a student at a French boarding school. When three new students arrive, including Jean Bonnett (Fejto), Julien thinks they're no different from the other kids. While Julien and Jean initially hate each other, the two eventually become good friends and Julien discovers Jean's secret. Jean is one of the few Jewish children whose school principal, Père Jean (Philippe Morier-Genoud), hid from the Nazi police. The film unfolds a beautiful story of friendship that is shattered when Julien unwittingly betrays his friend. The film ends with director Malle's voiceover, "More than 40 years have passed, but I will remember every second of that January morning until the day I die".
---
13) The Imitation Game – Enigma (2014) | IMDb: 8.0
Director: Morten Tyldum
Cast: Benedict Cumberbatch , Keira Knightley, Matthew Goode
Rotten Tomatoes: 89%
The Imitation Game is based on the real life story of legendary cryptanalyst Alan Turing. In 1939, MI6, the newly created British intelligence agency, recruits Cambridge mathematics graduate Alan Turing (Cumberbatch) to crack the Nazi codes that cryptanalysts thought were unbreakable. Despite opposition from his colleagues and the apparent hostility of the commander (Charles Dance), Turing designs the ancestor of the modern computer. Turing's team, including Joan Clarke (Knightley), build the machine designed to decipher Enigma messages. Turing and his team eventually succeed. But in 1952, the silent genius is stripped of everything when the authorities reveal that Turing is gay, isolating him from society and isolating him.
---
12) The Great Escape (1963) | IMDb: 8.2
Director: John Sturges
Cast: Steve McQueen, James Garner, Richard Attenborough
Rotten Tomatoes: 94%
Based on the nonfiction book of the same name by Paul Brickhill, The Great Escape is about the escape of Commonwealth soldiers from a Nazi camp in Nazi Germany. With more escaping the POW camps, the Nazis build a high-security camp for their captors for the remainder of the war. British prisoners, World War II. They devise the most dangerous escape plan of World War II. The fact that the movie is based on a true story increases the excitement in the escape scenes even more. The Great Escape is dedicated to the fifty officers who lost their lives during the escape and has become a cult classic in the history of cinema.
---
11) Judgment at Nuremberg – The Nuremberg Trial (1961) | IMDb: 8.2
Director: Stanley Kramer
Cast: Spencer Tracy, Burt Lancaster, Richard Widmark
Rotten Tomatoes: 92%
Set in the late 1940s after the Second World War, this political drama is one of the most striking Nazi films. The film is a note falling into history, with the subject of the Nazis tried in an American court in Germany. Four German judges accused of war crimes against humanity will be brought before a military court and tried. Chief Justice Haywood (Tracy) listens to evidence and testimony not only from the lead defendant Ernst Janning (Lancaster) and defense attorney Hans Rolfe (Maximilian Schell), but also from the widow of an idealistic Nazi general (Marlene Dietrich). Although the film is made in the USA, it is one of the first objective films that come to mind when it comes to lawyer films. It won two Oscars.
---
10) Army of Shadows – Army of Shadows (1969) | IMDb: 8.2
Director: Jean-Pierre Melville
Cast: Lino Vertura, Paul Meurisse, Jean-Pierre Cassel
Rotten Tomatoes: 97%
Adapted from the book by Joseph Kessel, the film is about the lives of underground resistance fighters in France during the Second World War. Filmed as a documentary, the film presents resistance in a bleak, non-romantic objective framework. Betrayed by an informant, Philippe Gerbier (Vertura) finds himself trapped in a torture-filled Nazi prison camp. Gerbier flees to rejoin the Resistance in France. The film failed at the box office as French critics condemned the film as perceived to glorify Charles de Gaulle. However, in the mid-1990s, "Cahiers du Cinema" made a re-evaluation of the film. This evaluation led to the film's restoration and re-release in 2006. Since then, it has taken its place in the lists as one of the best films of world cinema.
---
9) Downfall – Downfall (2004) | IMDb: 8.2
Director: Oliver Hirschbiegel
Cast: Bruno Ganz, Alexandra Maria Lara, Corinna Harfouch
Rotten Tomatoes: 90%
Downfall has a special place among Nazi films as it is the first German film to deal directly with Hitler since 1956's Der Letste Akt (The Last Act). This Oscar-nominated thriller chronicles Adolf Hitler's final days in hiding in a Berlin bunker. In the middle of the night in 1942, 22-year-old Traudl Junge (Maria Lara) is taken from Munich to Wolf's Lair, Hitler's headquarters in East Prussia. An excited young woman from Munich is chosen as Hitler's secretary. Three years later, Hitler (Ganz) retreats to a bunker under the German Chancellor. The Russian army gradually captures Berlin. Even the most ardent Nazis understand that the end of their reign of power is near. Based on Traudl's memoirs, Hitler's last days in the bunker and the occupation of Germany are expertly handled.
---
8) Inglorious Basterds – Inglourious Basterds (2009) | IMDb: 8.3
Director: Quentin Tarantino
Cast: Brad Pitt , Melanie Laurent, Christoph Waltz
Rotten Tomatoes: 89%
It is the first year of the German invasion of France. Allied officer Lieutenant Aldo Raine (Pitt) assembles a team of Jewish soldiers to carry out violent acts of revenge against the Nazis, including scalping. He and his men join forces with German actress and secret agent Bridget von Hammersmark to overthrow the leaders of the Third Reich. Their fates converge with theater owner Shosanna Dreyfus, who seeks revenge for the Nazis' execution of her family. Shosanna is the only member of the Jewish family to survive Colonel Hans Landa's attack. Four years later, Shosanna runs a movie theater under a pseudonym and is asked to host the premiere of a Nazi propaganda film. On the one hand, Shosanna's plan to destroy the Nazis, on the other hand, the plan of Aldo and his team comes into play in the same movie. The film won many awards at both the Oscars and the BAFTAs.
---
7) Das Boot – Sacred Duty (1981) | IMDb: 8.3
Director: Wolfgang Peterson
Cast: Jürgen Prochnow, Herbert Grönemeyer, Klaus Wennemann
Rotten Tomatoes: 98%
Directed by Wolfgang Peterson, the successful director of the Trojan movie, Das Boot is a part of World War II. An epic war movie that deals with World War II through the psychology of soldiers. Personifying fear, joy, sadness and power, Peterson deftly portrays the feeling of claustrophobia and the fluidity of time. The movie is completely focused on war and destruction. A German submarine patrols the Atlantic Ocean during WWII. The Germans, looking for a force to destroy the British defense, encounter a British attack when they least expect it. War reporter Werner (Grönemeyer) observes daily life on the submarine, while the gray-haired captain (Prochnow) tries to keep the ship's morale high in the face of fierce fighting. The film received six Academy Award nominations and a BAFTA Award.
---
6) The Great Dictator (1940) | IMDb: 8.4
Director: Charlie Chaplin
Cast: Charlie Chaplin, Paulette Goddard, Jack Oakie
Rotten Tomatoes: 93%
Part of Charlie Chaplin's transition to sound film, The Great Dictator is a stark satirical return to the genre of Nazi films. Filmed at a time when the atrocities of the Holocaust were not yet under investigation, the film received many criticisms for Chaplin's seemingly hilarious approach to the subject. However, the 1940 film is full of political allegory and satire that interpret the rigid regime and inhumanity that seeps through the country's veins. Describing the roles of a Jewish barber in the ghetto and Adenoid Hynkel, the Dictator of Tomania, a parody of Germany and Adolf Hitler, the film traces their identities. After dedicated service in the Great War, a Jewish barber (Charles Chaplin) spends years in an army hospital to heal his wounds. He is very similar to the barber Hynkel, unaware of the simultaneous rise of the fascist dictator Adenoid Hynkel and his anti-Semitic policies. Before long, the roles collide and the barber takes Hynkel's place.
---
5) The Pianist – Pianist (2002) | IMDb: 8.5
Director: Roman Polanski
Cast: Adrien Brody, Thomas Kretschmann, Frank Finlay
Rotten Tomatoes: 95%
In this adaptation of his 1939-1945 autobiography 'The Pianist: The Extraordinary True Story of One Man's Survival in Warsaw', World War II As World War II began, Warsaw seems to be slowly changing. Polish Jewish radio station pianist Wladyslaw Szpilman (Brody) is forced into the Warsaw Ghetto. However, he is later separated from his family during Operation Reinhard. Until the concentration camp prisoners are freed, Szpilman fights for five years, hiding in various places among the ruins of Warsaw. Szpilman later helps a Jewish revolt, eventually fleeing. Pianist is the first movie that comes to mind for some movie lovers when it comes to Nazi movies. This success brought him awards for Best Director, Best Adapted Screenplay and Best Actor at the Oscars. The film is also the BBC's 21st. It was included in the list of the 100 Best Movies of the Century.
---
4) Casablanca (1942) | IMDb: 8.5
Director: Michael Curtiz
Cast: Humphrey Bogart, Ingrid Bergman, Paul Henreid
Rotten Tomatoes: 99%
Casablanca is one of the most important Nazi films. Because the movie is considered as one of the masterpieces of fuya cinema. On the one hand, she puts the war-torn romance into the focus. Rick Blaine (Bogart), the owner of a nightclub in Casablanca, learns that his ex-girlfriend Ilsa (Bergman) is in town with her husband, Victor Laszlo (Henreid). Laszlo is the leader of the Czech resistance organization, a famous rebel, and the Germans are after him. While Ilsa and her husband seek ways to defect to America, she knows Rick can help them get out of the country. Directed by Michael Curtiz, 'Casablanca' is characterized by sociological concepts and analyzes social class, race, altruism and many more. Although the film does not take place in a war environment spatially, II. It takes place during the years of World War II.
---
3) Life Is Beautiful (1997) | IMDb: 8.6
Director: Roberto Benigni
Cast: Roberto Benigni, Nicoletta Braschi, Giorgio Cantarini
Rotten Tomatoes: 80%
Guido Orefice (Benigni), a kind Jewish Italian waiter, meets Dora (Braschi), a beautiful teacher. Guido, who wins over Dora with his charm and humor, proposes to her. They get married and have a son named Giosue (Cantarini). But their happiness turns into a nightmare when Guido and Giosue are separated from Dora and taken to a concentration camp. Determined to protect his son from the horrors of the environment, Guido convinces Giosue that their time at the camp is just a game. Although the film was criticized for its comedic elements in terms of genocide, it was appreciated for Benigni's portrayal of paternal love and human dignity. It won numerous awards, including an Oscar (Best Foreign Language Film and Best Actor), making it one of the most successful non-English films of all time.
---
Director: Claude Lanzmann
Cast: Simon Srebnik, Michael Podchlebnik, Richard Glazar
Rotten Tomatoes: 100%
'Shoah', a French documentary, features director Claude Lanzmann's interviews with survivors, witnesses and perpetrators during his visits, including to concentration camps. What makes this film so special among Nazi films is the atmosphere of personal interaction Lanzmann creates between his work and the audience. The 1985 documentary features testimonies of Chelmno concentration camp survivors, an Auschwitz escapee, and witnesses of the Warsaw Ghetto Uprising, as well as chilling accounts of an SS officer's gas chambers. Lanzman refused to use a single archive image. The team's collective efforts were widely praised, describing the film as "the greatest documentary on contemporary history ever made." The film was hailed as a masterpiece by several respected critics, including Richard Brody, François Mitterrand, and Roger Ebert.
---
1) Schindler's List – Schindler's List (1993) | IMDb: 8.9
Director: Steven Spielberg
Cast: Liam Neeson, Ben Kingsley, Ralph Fiennes
Rotten Tomatoes: 98%
Although every movie in the list of Nazi movies is more valuable than the other, it would be very appropriate to start watching Nazi movies from this movie. Based on Thomas Keneally's novel 'Schindler's Ark' (1982), the film was nominated for 12 Academy Awards and won seven. Steven Spielberg's masterpiece tells the true story of a man who overcomes his own human weaknesses and becomes the savior of hundreds of Jews. Oskar Schindler (Neeson) is a money-hungry Nazi supporter who is initially indifferent to the plight of the Jews. However, he later remembers the image of a little girl in a red apron, whose body he sees among the dead. Schindler equips his factory with Jewish workers. When the SS begins to exterminate Jews in the Krakow ghetto, Schindler begins to protect his workers to keep his factory running. He soon realizes that in doing so, he also saves innocent lives.
Related content that may interest you:
This post is also available in: Türkçe