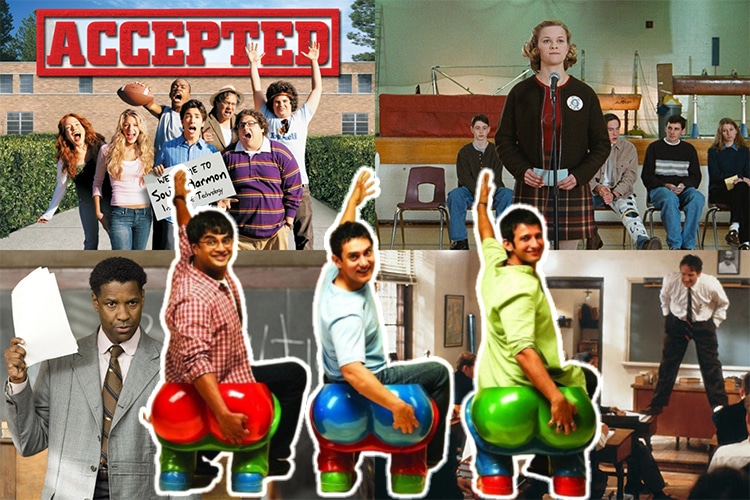 School films have a different place in the hearts of many of us. School films that return us to our high school years make us feel both nostalgic and warm feelings. We usually watch school movies in high school. For this reason, encountering these films after years increases the effect of the movie even more. Now that it's time to go back to school, it's time to take another look at school-themed movies. If you're ready, let's take a closer look at our list of school movies together.
---
30) Accepted (2006) | IMDb: 6.4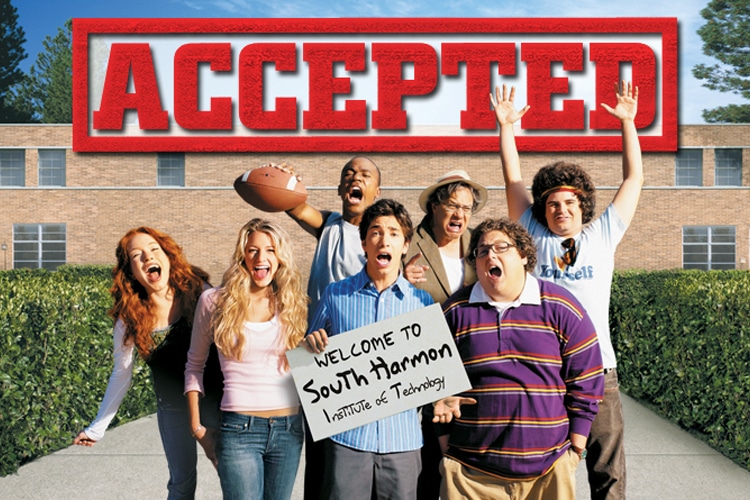 Cast: Justin Long, Jonah Hill, Blake Lively
Accepted, where there is an imaginary university, is a film that the IMDb rating should not deceive us. Because Accepted is perhaps one of the most entertaining productions among school movies. Bartleby, who graduated from high school in the movie, is not accepted to any university. Unable to explain the situation to his family, our young hero decides to establish an imaginary university with Sherman's accomplice.
---
29) Rock 'n' Roll High School (1979) | IMDb: 6.7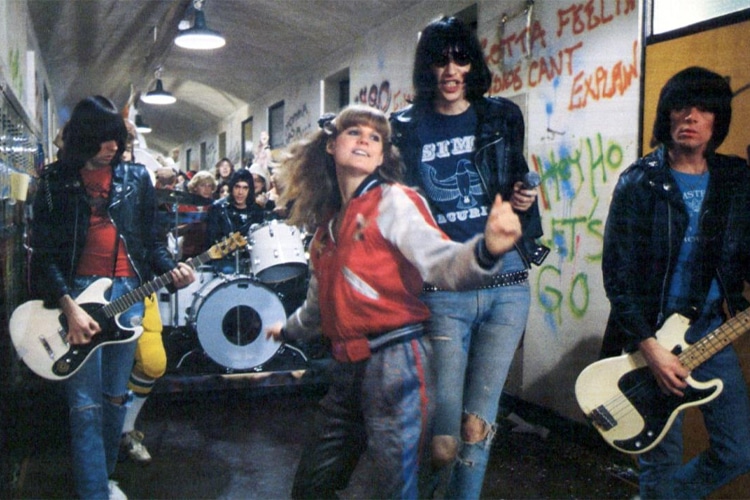 Cast: PJ Soles, Vincent Van Patten, Clint Howard, Ramones
Rock 'n' Roll High School brings the protest attitude of the punk rock genre to the high school hallways. In the movie, Vince Lombardi High School students love rock music, but the school principal hates this music. The only dream of the Riff, the ringleader of the students at the school, is to meet the Ramonesband. When he meets Joey Ramone, the drummer of Riff Ramones, the foundations of a significant rebellion that will break out at school are laid.
---
28) The Emperor's Club (2002) | IMDb: 6.9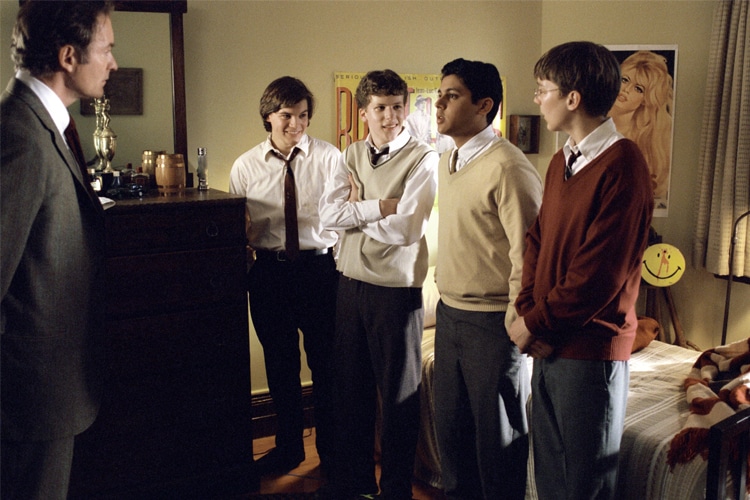 Cast: Kevin Kline, Emile Hirsch, Joel Gretsch
Despite the pretty good cast, The Emperor's Club is a film that has hardly overcome stereotypes. Still, the film successfully portrays the classic idealistic teacher-student relationship. In the film, we watch the ups and downs between the idealistic professor William and his student Sedgewick, the son of a famous politician.
---
27) Mean Girls (2004) | IMDb: 7.0
Cast: Lindsay Lohan, Jonathan Bennett, Rachel McAdams
Mean Girls is based on the personal development book Queen Bees and Wannabes by Rosalind Wiseman. This book, as you can imagine, focuses on the aggressive behavior disorders of high school girls. On the other hand, Mean Girls takes this idea and turns it into a very entertaining movie.
In the film, our real daughter Candy was raised by a family of zoologists in Africa. Candy, who grew up according to the laws of the jungle, is quite surprised by what she sees when she starts high school in the United States. Because American high school life is no different from the wild forests of Africa.
---
26) American Pie (1999) | IMDb: 7.0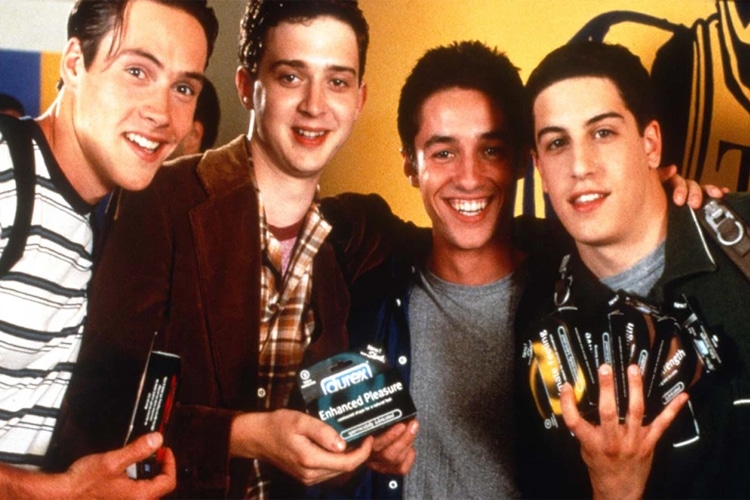 Cast: Jason Biggs, Chris Klein, Thomas Ian Nicholas
American Pie is a movie that we've all at least heard of, even if we haven't watched it. American Pie is a youth and high school film, incredibly full of erotic scenes, under-the-belt jokes, and atmosphere. In the movie, we follow the adventures of 4 high school students until their graduation ball. The focus of this adventure is to lose their virginity.
---
25) Easy A (2010) | IMDb: 7.0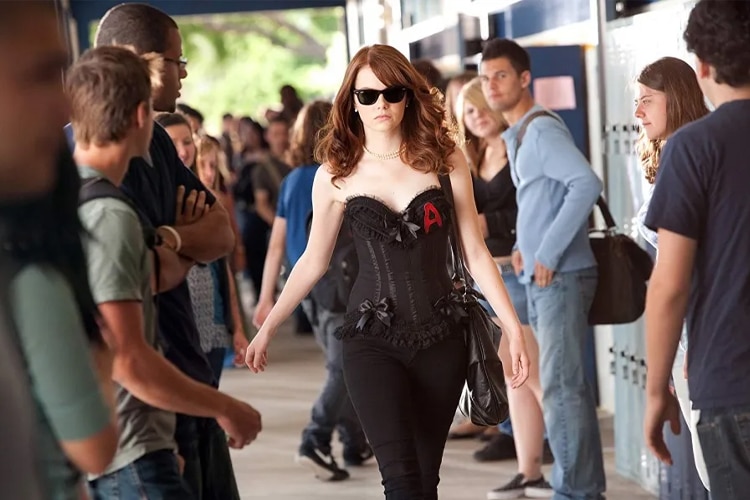 Cast: Emma Stone, Amanda Bynes, Penn Badgley
Maybe you've heard of Nathaniel Hawthorne's Scarlet Letter novel about the puritan era. On the other hand, Easy A adapts the story in the book to the present day and slightly changes the course of events. Olive, who is in her state but not so beautiful, one day becomes the focus of cruel gossip. Olive, who is rumored to have had a sexual relationship with her, cannot convince anyone, although she denies this. But thanks to these rumors, Olive suddenly becomes the most popular girl in school, and her life changes in a direction she did not expect.
---
24) Pitch Perfect (2012) | IMDb: 7.1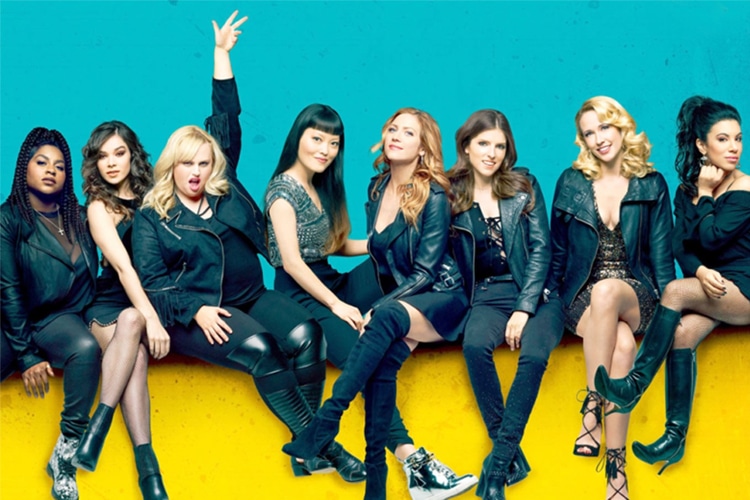 Cast: Anna Kendrick, Brittany Snow, Rebel Wilson
Pitch Perfect is a pretty entertaining musical and college movie. Barden University newcomer Beca joins the all-girl acapella group The Bellas in the film. This group aims to beat the male acapella group in the campus competition. Although it is based on a simple theme, Pitch Perfect presents a very entertaining and emotional work.
---
23) The Spectacular Now (2013) | IMDb. 7.1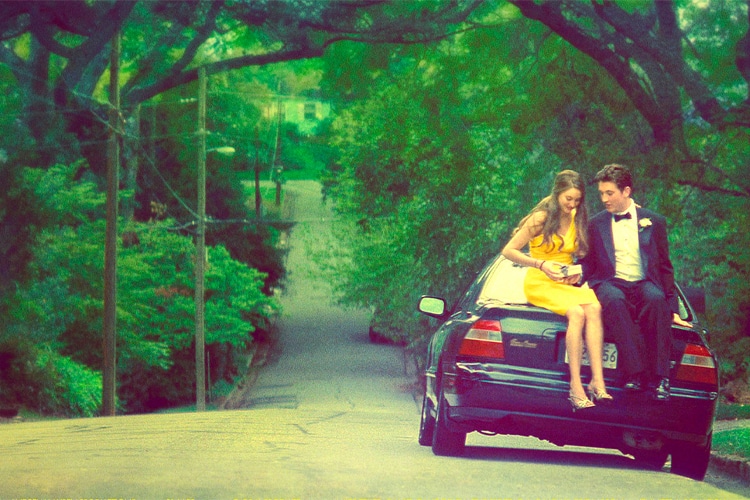 Cast: Miles Teller, Shailene Woodley, Kyle Chandler
The Spectacular Now begins as a story of growing up in an ordinary American town. Party-loving Sutter Keely is a high school student who spends every day in another frenzy. Aimee Finecky is a high school student who nobody knows on her own. Of course, as the cliché requires, these two names are starting to get closer. However, under this cliché, events emerge in a depth that we do not expect at all.
---
22) School of Rock (2003) | IMDb: 7.1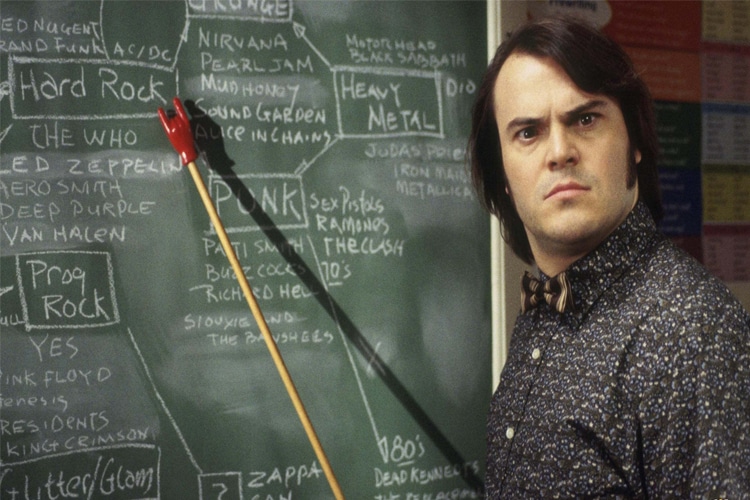 Cast: Jack Black, Mike White, Joan Cusack
School of Rock, where Jack Black performs one of his magnificent performances, takes the idealistic teacher-student relationship to another dimension. Dewey, who is in his 30s and has not achieved anything in life, enters a private school as a fake substitute teacher. Dewey aims to instill a love of rock music in his younger students who grew up with classical music. Under the leadership of Dewey, this class makes up one of the best rock bands in the history of cinema.
---
21) Booksmart (2019) | IMDb: 7.2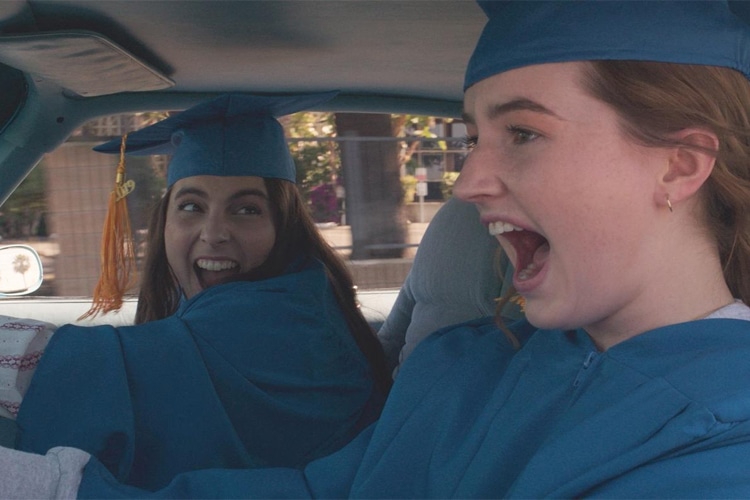 Cast: Kaitlyn Dever, Beanie, Feldstein, Jessica Williams
Superbad, which is also on our list, is quite popular among school movies. What if a woman wrote and directed Superbad? Booksmart is a movie that is the answer to this question. In the film, two girlfriends who spend their school life with books and classes realize that the girls who are constantly partying have also won the same university as themselves. Then, two friends who want to give it up once embark on a relentless adventure on the last day of school.
---
20) Heathers (1988) | IMDb: 7.2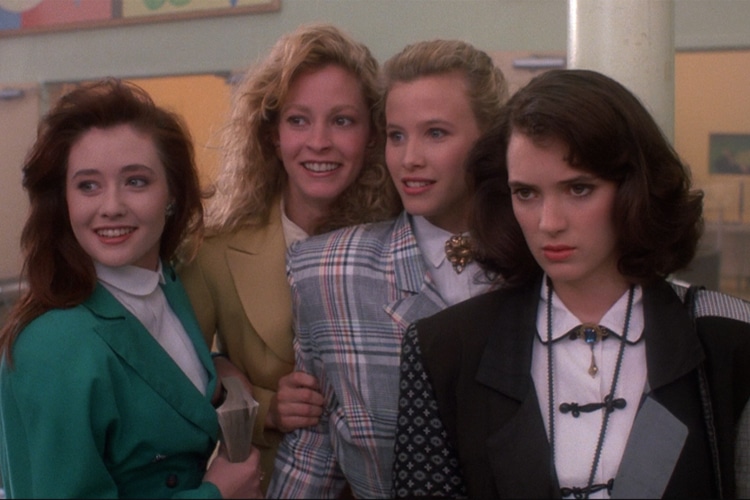 Cast: Winona Ryder, Christian Slater, Shannen Doherty
The first product that comes to mind for the bravest school movies is usually Heathers. Veronica, a genius girl in the movie, actually hates her three friends, all of whom are named Heather. The Heathers, the most popular girls in school, are unaware of what will happen. Because the boy named J.D., who is new to the school, establishes a close relationship with Veronica. They plan to eliminate all Heathers from the school.
---
19) 21 Jump Street (2012) | IMDb: 7.2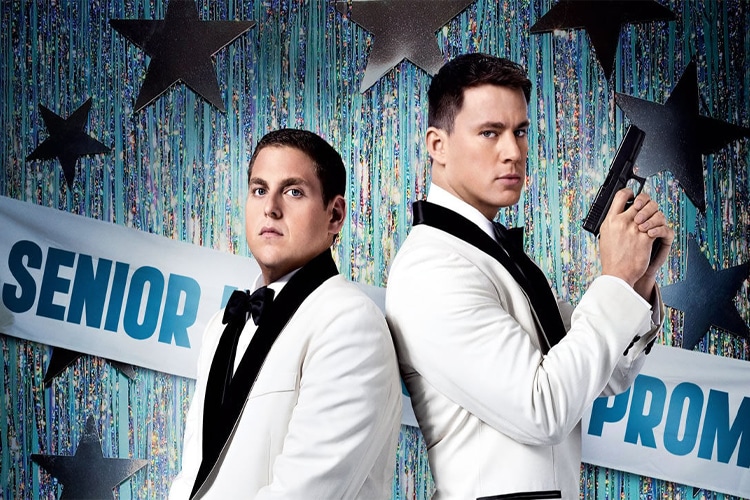 Cast: Jonah Hill, Channing Tatum, Ice Cube
The beloved series of 1980s, 21 Jump Street, was transferred to the white screen in 2012 with the same name. In the movie, we watch two friendly cops infiltrate a high school and stop the drug traffic in this high school. But these two policemen, disguised as high school students, are starting to go back to their high school years as time passes.
---
18) Election (1999) | IMDb: 7.2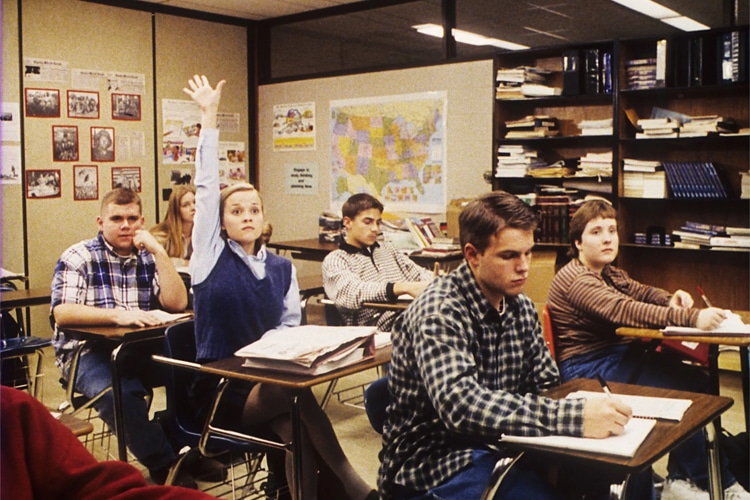 Cast: Matthew Broderick, Reese Witherspoon, Chris Klein
Black humor is one of the essential techniques of the school movies category. The 1999 film Electionalso comes across as a satire of high school life and politics loaded with black humor. Our beautiful, famous, and intelligent girl named Tracy sets out to become student president in the movie. Jim, the school's beloved teacher, pits a rival to teach Tracy a lesson. But as you can imagine, things don't go as Jim, and we expected.
---
17) Fast Times at Ridgemont High (1982) | IMDb: 7.2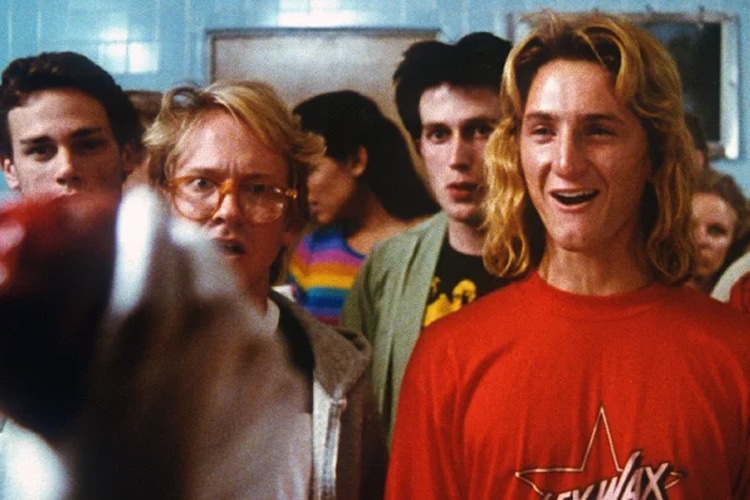 Cast: Sean Penn, Jennifer Jason Leigh, Judge Reinhold
Famous director Cameron Crowe spends a year at Clairemont High School for his book of the same name as the movie. What they encounter during this period is both a movie and a book. Fast Times at Ridgemont High tells us how a group of high school students get to know life. Ridgemont High students have only one purpose in life: to spend their days in a triangle of rock 'n' roll, sex, and drugs. But due to the rapidly passing years, adulthood is also at the door.
---
16) Half Nelson (2006) | IMDb: 7.2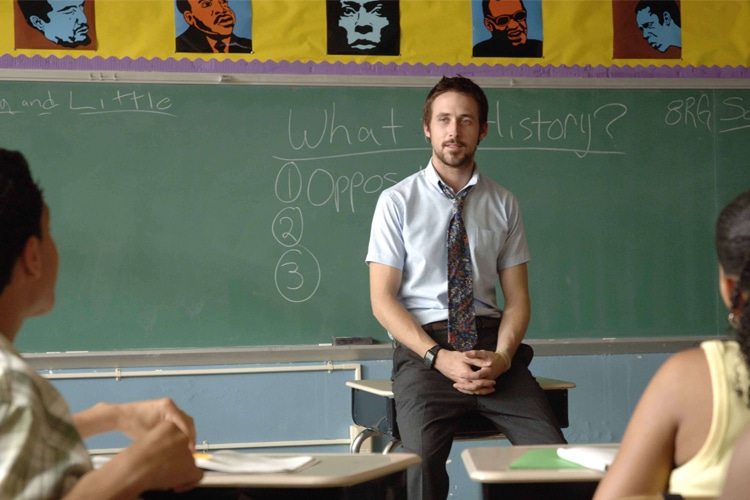 Cast: Ryan Gosling, Anthony Mackie, Shareeka Epps
Half Nelson nevertheless manages to impress the audience deeply, deciphering quite common topics among school films. In the movie, we watch the experiences of Dan, who teaches at the school where the poor go. Dan, who has drug problems in his private life, is a very unusual teacher. Another person at school and another person outside, Dan, is caught by his student Drey one day. Dan and his students bond even more with each other from this point on.
---
15) Scream (1996) | IMDb: 7.3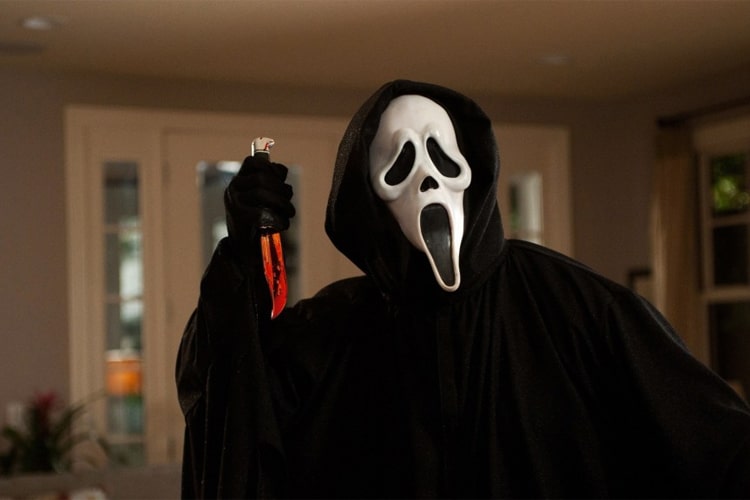 Cast: Neve Campbell, Courteney Cox, David Arquette
Screamis not one of the first productions that come to mind for school movies. But considering that the killer specifically targeted high school students in California, Scream fits nicely on the school movie list. At the same time, while horrific murders are committed, we also witness the famous American high school life of the 90s.
---
14) 10 Things I Hate About You (1999) | IMDb: 7.3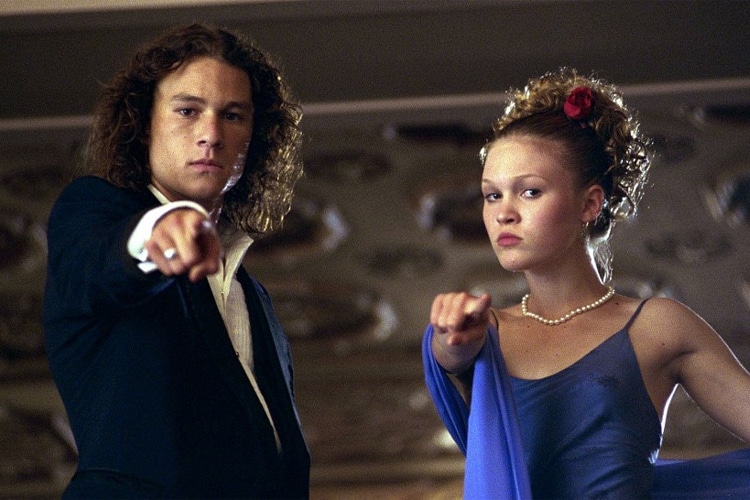 Cast: Heath Ledger, Julia Stiles, Joseph Gordon-Levitt
10 Things I Hate About You is a film in which Heath Ledger, who left us untimely, performed quite decently at a young age. Bianca, a pretty beautiful girl, makes everyone at school admire her in the film.
But Bianca has a family rule. Because unless her sister has a lover, she cannot have a lover herself. Bianca's older sister, on the other hand, is an introverted character with no interest in men. When this is the case, Bianca begins to do her best to make her sister the beloved owner.
---
13) Carrie (1976) | IMDb: 7.4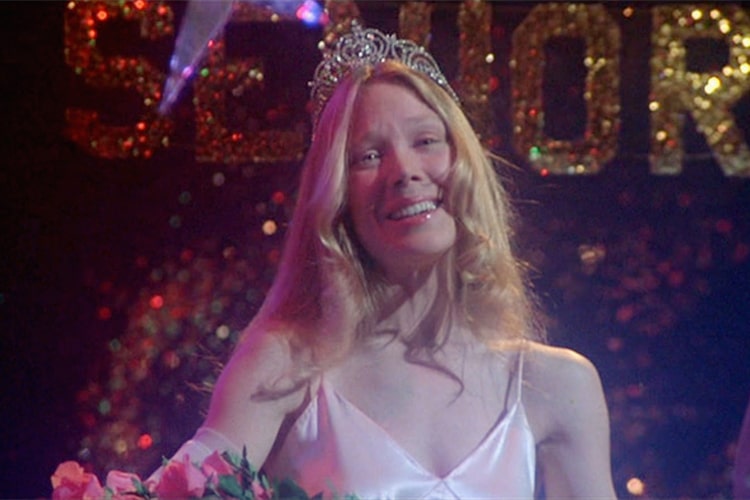 Cast: Sissy Spacek, Piper Laurie, Amy Irving
Carrie, the legendary debut novel by Stephen King, had moved to the screen under the direction of Brian De Palma. Carrie's remarkable success in cinema was the turning point in Stephen King's career. Despite its supernatural elements, Carrie is a high school movie. Constantly humiliated by her high school friends, Carrie discovers her true powers as the last drop falls.
---
12) Lean on Me (1989) | IMDb: 7.4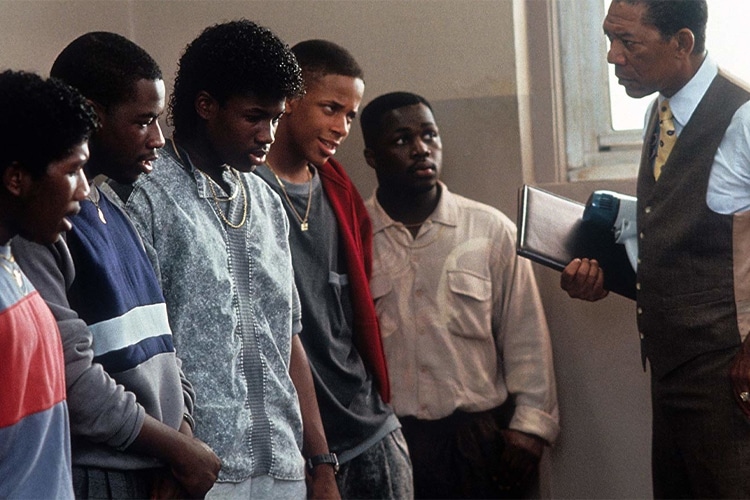 Cast: Morgan Freeman, Beverly Todd, Robert Guillaume
Lean on Me, which is also one of the ideological teacher films, is also very critical of the difficulties experienced by African-Americans. In the movie, the Eastside High School in question has become a lousy school where all kinds of "scumbags" come back. Dedicated to his job, Joe Clark is determined to commit to this high school. The students, who rebelled against the situation at first, slowly start to come to the road under the leadership of Joe.
---
11) Freedom Writers (2007) | IMDb: 7.5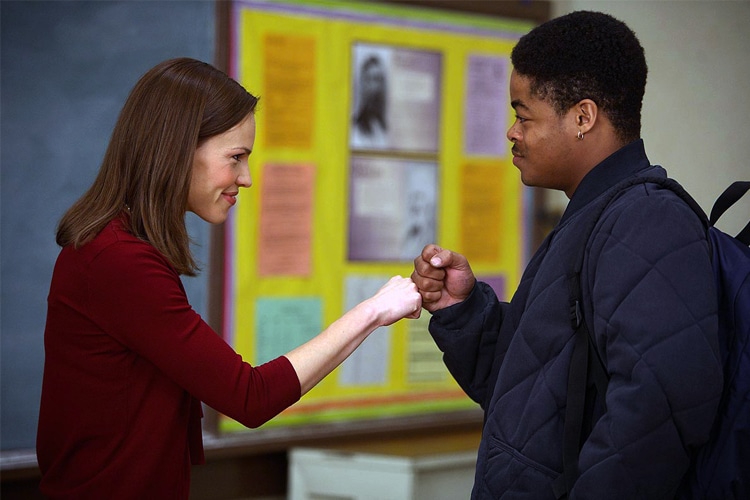 Cast: Hilary Swank, Imelda Staunton, Patrick Dempsey
For students of different ethnic backgrounds, Woodrow Wilson High School is where they have to be there. On the other hand, idealist teacher Erin wants to eliminate ethnic and sociological differences.
But the students, who are exposed to the cruelty of society, do not find Erin's idealistic thoughts sincere. Until Erin asks them to write their own life stories. Adapted from the real-life story of a teacher named Erin Gruwell, Freedom Writers is one of the most successful social criticism productions among school films.
---
10) The Great Debaters (2007) | IMDb: 7.5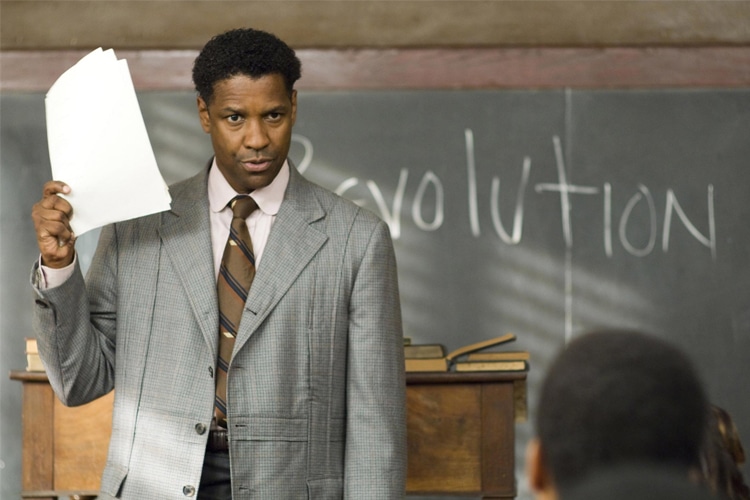 Another real-life story on our list, The Great Debaters, tells us the life story of professor Melvin B. Tolson. Professor Melvin, who is African-American like his students, sets up a discussion group for students who cannot express themselves. Students who have difficulty expressing themselves at first turn into excellent speakers after a while. Increasingly rising in debate competitions, Wiley College has become Harvard's biggest rival.
---
9) Dazed and Confused (1993) | IMDb. 7.6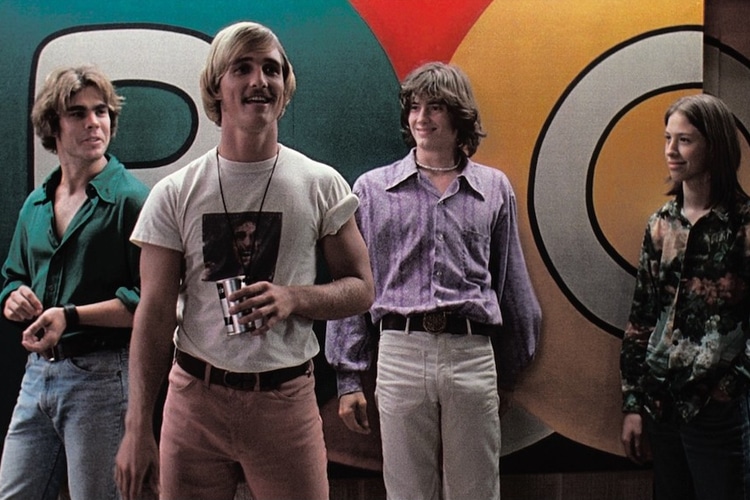 Cast: Jason London, Wiley Wiggins, Matthew McConaughey
Although it crashed at the box office, Dazed and Confused, which critics very much love, is now referred to as a cult youth and high school film. The movie is basically about the fun lives of high school students in Austin, Texas.
Texas is one of the most conservative states in the USA. The high school teenagers in the movie are also the most extensive group that defies this reaction. On the other hand, young people who want to organize a big party on the last day of school, naturally, nothing they plan goes well.
---
8) Superbad (2007) | IMDb: 7.6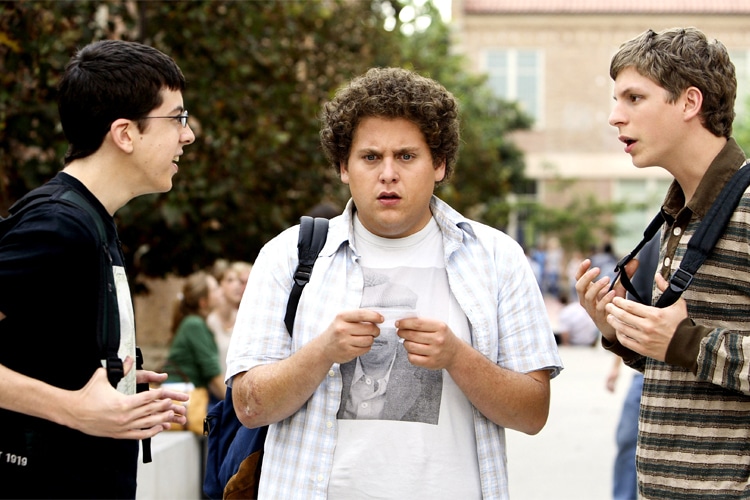 Cast: Michael Cera, Jonah Hill, Christopher Mintz-Plasse
Superbad is one of the most popular productions among school movies. Starring Jonah Hill and Michael Cera, the film follows the breathless adventures of three "nerd" teenagers about to graduate from high school. Evan, Seth, and Fogell, who have spent their high school lives being bullied, embark on a fun adventure to have a sex life before high school ends.
---
7) Rushmore (1998) | IMDb: 7.7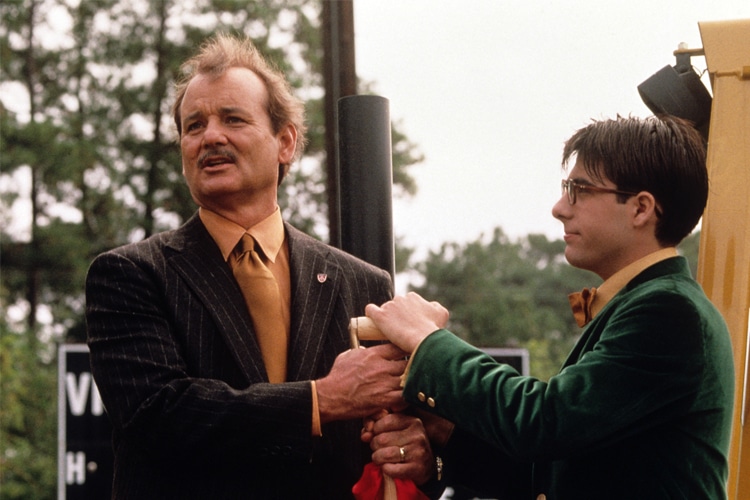 Cast: Jason Schwartzman, Bill Murray, Olivia Williams
Rushmore, signed by Wes Anderson, conveys the funny and absurd events that happened to the popular student Max Fischer. The famous face of Rushmore Academy, Max considers himself a genius. But actually, Max is the worst student in school. And for Max, who is in love with his teacher, Rosemary, things start to get messy.
---
6) Detachment (2011) | IMDb: 7.7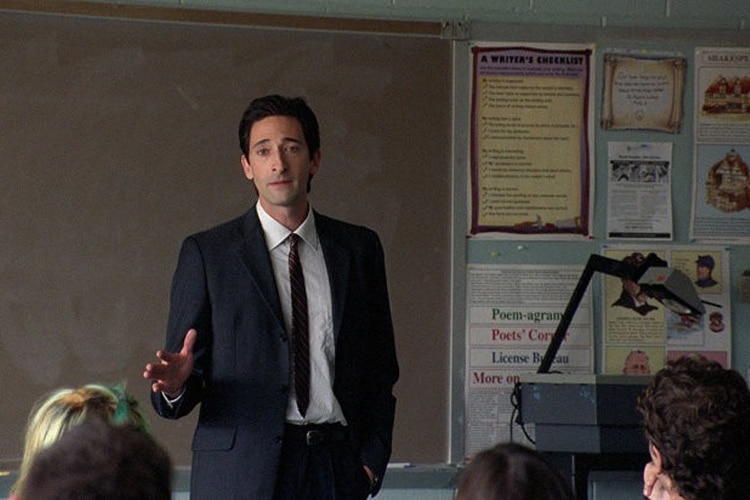 Cast: Adrien Brody, Christina Hendricks, Marcia Gay Harden
We know how vital the idealistic teacher figure is in school movies. Detachment takes this figure to the next level. Henry Barthes, an idealistic teacher, tries to put a high school on the right path because of corruption.
Leaving the students aside, even the teachers find Henry's effort strange, but the idealistic teacher has no intention of backing down. Having managed to establish a bond with the students, Henry does his best to make things right.
---
5) Remember the Titans (2000) | IMDb: 7.8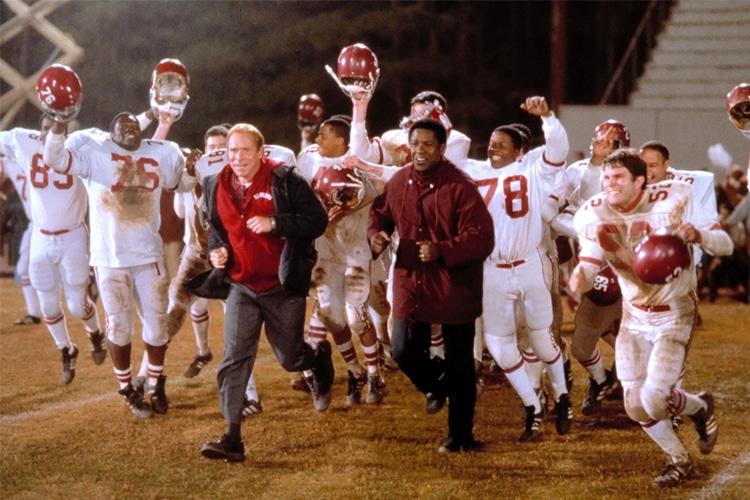 Cast: Denzel Washington, Will Patton, Wood Harris
Another biography of our list, Remember the Titans, tells about the struggle of an African-American football coach with his high school team of different ethnicities. In the film, the high schools of whites and African Americans are merged with the municipality's decision. After this combination, complete chaos ensues. In this chaotic environment, the only hope of the new American football team is the famous coach Herman Boone.
---
4) The Breakfast Club (1985) | IMDb: 7.8
Cast: Emilio Estevez, Judd Nelson, Molly Ringwald
The Breakfast Club is one of the best youth and school-themed films of the 1980s. The movie features five stereotypical characters from the American high school landscape. But the bond of these characters is the most crucial element that makes the movie not a cliché. These five students, who were sentenced in the school library on a Saturday, discover that they have many in common. With this discovery, students start to get to know themselves repeatedly.
---
3) Harry Potter Series (2001-2011) | IMDb: 8.1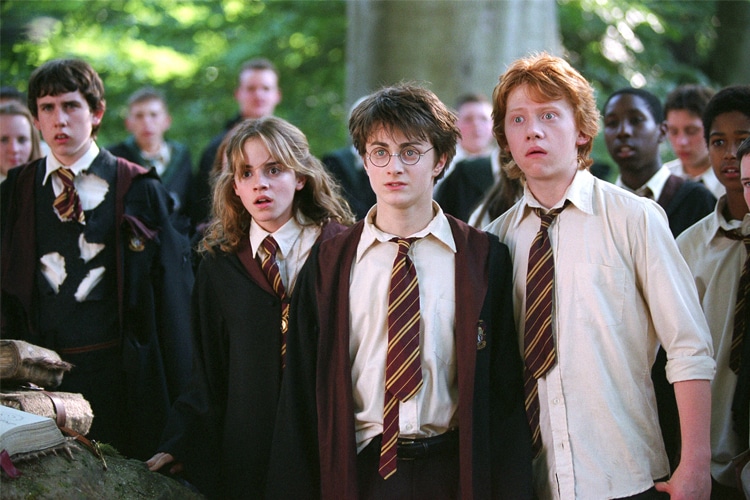 Cast: Daniel Radcliffe, Emma Watson, Rupert Grint
We can say that Harry Potter is the only school-themed series that is so well known worldwide. Although the themes of witchcraft and fantasy stand out, it is a coming-of-age and school film based on Harry Potter. During the adventures of Harry Potter, Ron Weasley, and Hermione Granger in the wizarding world over the years, while these characters were growing up, we almost grew up with them. For this reason alone, the Harry Potter series holds a special place in the hearts of many of us.
---
2) Dead Poets Society (1989) | IMDb. 8.1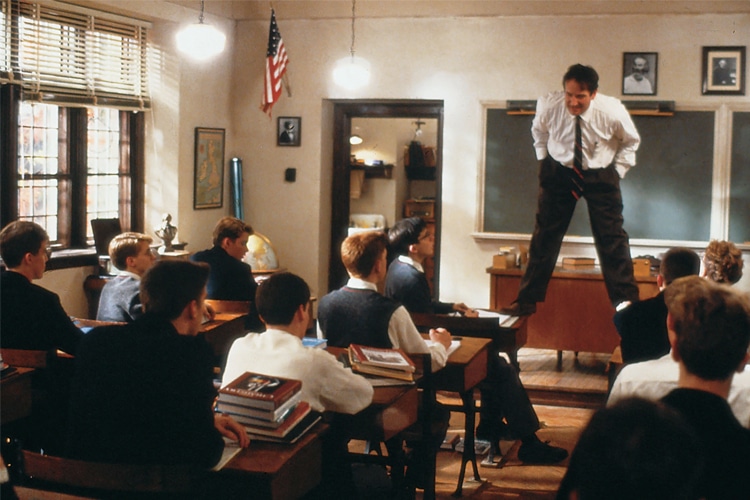 Cast: Robin Williams, Robert Sean Leonard, Ethan Hawke
When it comes to school movies, the first movie that comes to mind for most of us is Dead Poets Society. Although the theme is familiar, Dead Poets Society is a cult movie with its handling and characters. In the film, John Keating, an unorthodox literature teacher, begins working at Welton Academy, a boys' school known for its strict rules.
Introducing young men oppressed by the school's discipline to the magical world of literature, John tries to instill freedom and a different perspective on life in these children. But these themes don't fit with the school's philosophy, as you might guess.
---
1) 3 Idiots (2009) | IMDb: 8.4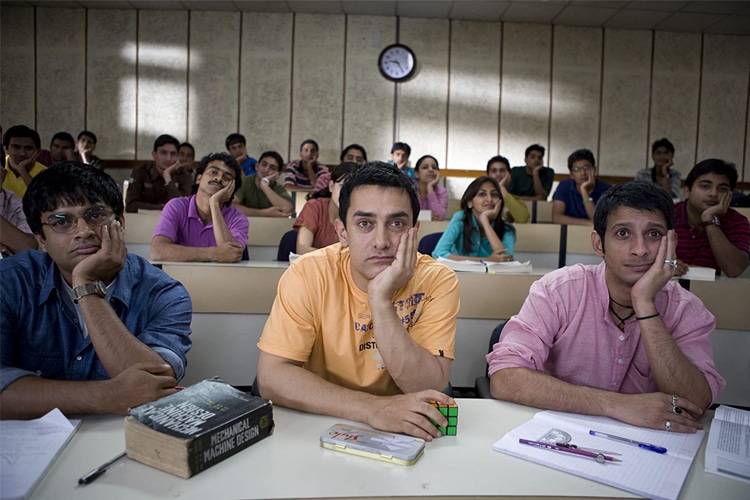 Cast: Aamir Khan, Madhavan, Sharman Joshi
When it comes to it, Aamir Khan's legendary film 3 Idiots makes you laugh and lay down on the floor, and it becomes heartbreaking when it comes to it. The film tells the story of 3 young people studying engineering at one of the most essential schools in India. What happened between these three young people and their professor Viru, on the other hand, transfers the concept of friendship to the cinema in a heartwarming way.
---
Other movie content you might be interested in:
Best Horror Movies of the 21st Century
This post is also available in: Türkçe