Airplane movies are movies that deal with war and adventure at their peak. We have compiled the 25 best airplane movies full of action and adventure for you. We wish you a good time ☺
---
1) Flight of the Phoenix – Phoenix's Awakening (2004) | IMDb: 6.1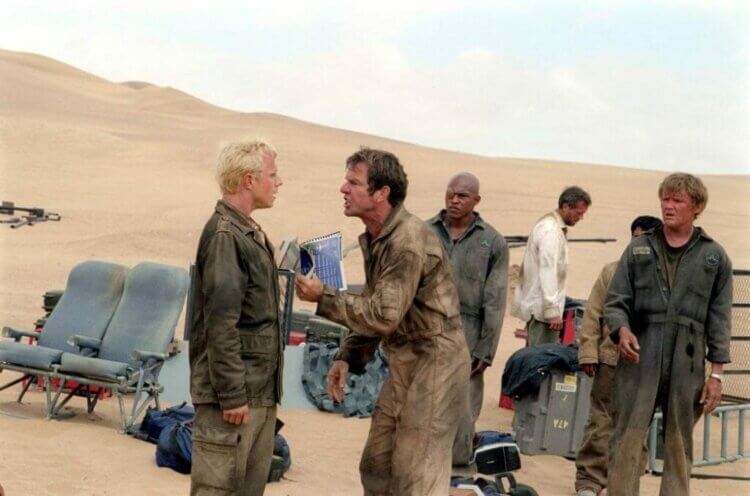 Director: John Moore
Cast: Dennis Quaid, Tyrese Gibson, Giovanni Ribisi
A vintage propeller plane crashes with a group of passengers in a wilderness area on the border with Mongolia. Travelers try to survive by eating what they find from nature in this wild land. However, resources are running out day by day. Passengers need to find another solution. They consider building a new plane with the parts they can salvage from the wreckage of the plane. Because that's the only way out now.
---
2) Airport – Airport (1970) | IMDb: 6.6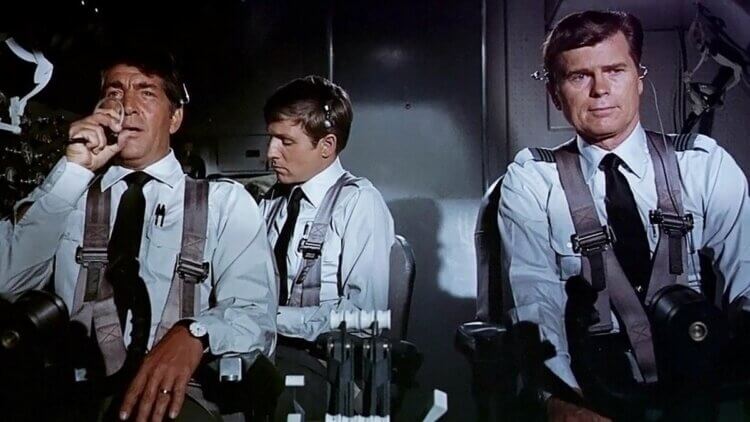 Director: George Seaton
Cast: Burt Lancaster, Dean Martin, Jean Seberg
The screenplay of the movie is based on the novel by Arthur Hailey. The sudden downpour of snow and blizzard stops life in the city. Falling snow paralyzes life at the airport located in the middle of America. Planes have difficulty taking off and landing due to intense weather opposition. As if all these problems were not enough, the presence of an activist with a bomb on one of the planes makes the situation worse.
---
3) Alive – To Live (1993) | IMDb: 7.1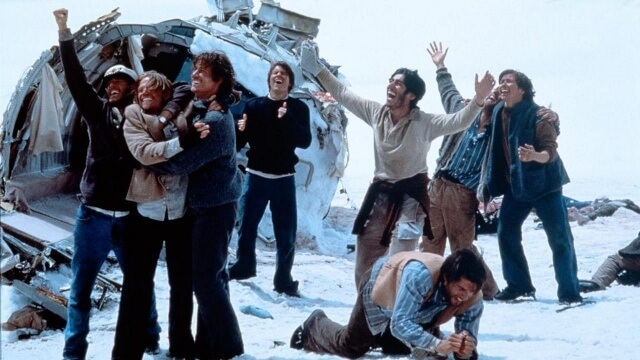 Director: Frank Marshall
Cast: Ethan Hawke, Vincent Spano, Josh Hamilton
One of the must-haves in the list of airplane movies is To Live. The script of the movie is based on a true event. While the Uruguay rugby team is traveling by plane, the plane crashes into the Andes. Passengers who manage to get out of the plane try to escape from the mountain with the instinct of survival. In the course of these efforts, they lose some of them. Their strength decreases day by day. However, in the meantime, they try not to lose their faith in God. Now they have only one wish: to be reunited with their families.
---
4) Airplane! – Airplane (1980) | IMDb: 7.7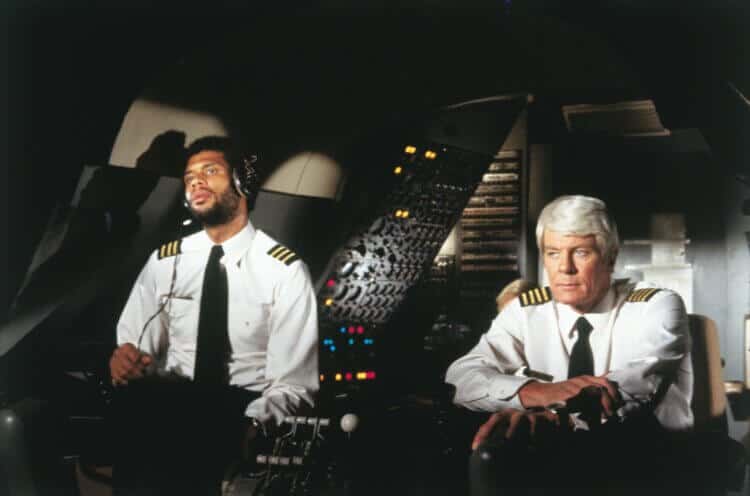 Director: David Zucker, Jim Abrahams, Jerry Zucker
Cast: Robert Hays, Julie Hagerty, Leslie Nielsen
Ted Strike II. He is a man who was a pilot during World War II. One day, he experiences food poisoning on the plane he boards. Among the poisoned was the pilot of the plane. The movie is a parody movie. Love, romance, religion and advertisements are made fun of.
---
5) United 93 – Flight 93 (2006) | IMDb: 7.6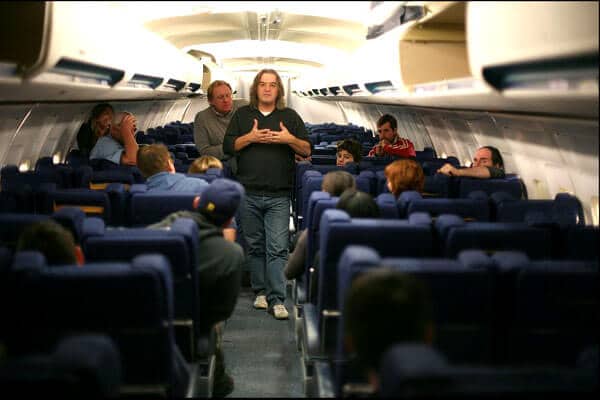 Director: Paul Greengrass
Cast: David Alan Basche, Olivia Thirlby, Liza Colon-Zayas
On September 11, 2001, none of the passengers on Flight 93 were aware that they would be a part of the biggest bloody attack in the history of the country with that flight. 40 people aboard Flight 93 describe their feelings. Would you like to listen to this attack, which shook the whole world and had completely different political consequences, from those on the plane?
---
6) Stealth – Invisible Warrior (2005) | IMDb: 5.1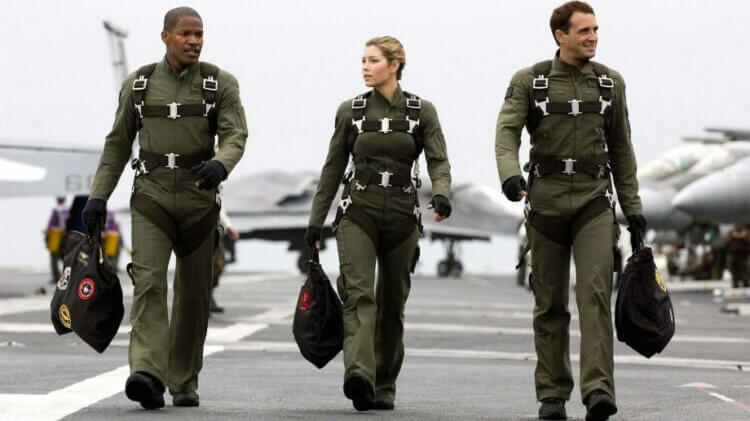 Director: Rob Cohen
Cast: Josh Lucas, Jessica Biel, Jamie Foxx
He develops a jet that can be controlled by the artificial intelligence system called EDI by the US Army. This jet is placed inside an airplane in the Pacific and maneuvers are taught by human pilots. Everything goes pretty well the first time. However, on the second try, the jet makes an unavoidable mistake. This error causes a war to start
---
7) Red Eye – Night Flight (2005) | IMDb: 6.5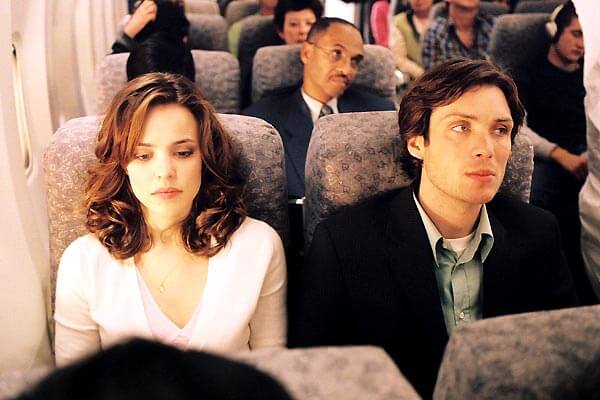 Director: Wes Craven
Cast: Rachel McAdams, Cillian Murphy, Brian Cox
While Lisa Reisert is having a very comfortable flight on the plane to Miami, her journey becomes poisoned when she receives an offer. The person sitting next to him named Jackson is actually an assassin. Jackson asks Lisa to be his collaborator. If Lisa does not accept, she closes all the doors, saying that she will kill her father. Lisa now has only one wish. To prevent the murder before this journey ends.
---
8) Snakes On A Plane – Killer Snakes (2006) | IMDb: 5.4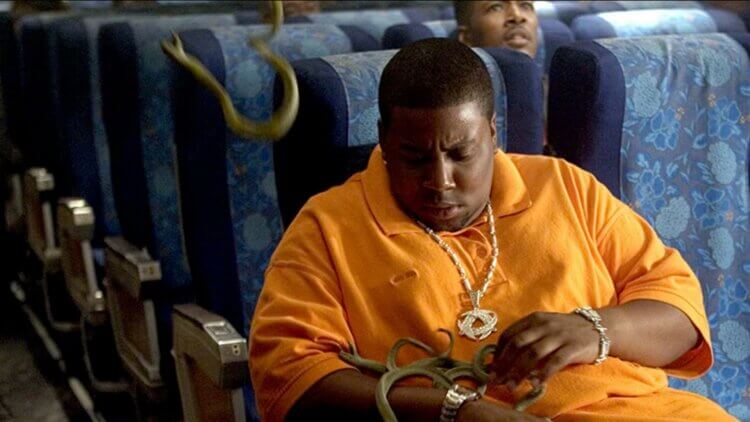 Director: David R. Ellis
Cast: Samuel L. Jackson, Julianna Margulies, Nathan Phillips
Eddie Kim is the leader of a very ruthless criminal organization. He mercilessly kills the district attorney in the unbelievable incident witnessed by a person named Sean Jones. After this incident, the authorities take action to catch the criminal organization as soon as possible. Sean, on the other hand, will take a plane trip to witness this incident. However, this journey should be smooth. A highly experienced security team is mobilized for this. With this mobilization, the journey they thought would be safe turns into a nightmare. Eddie places dozens of venomous snakes on the plane, endangering the lives of all passengers.
---
9) Broken Arrow – Broken Arrow (1996) | IMDb: 6.0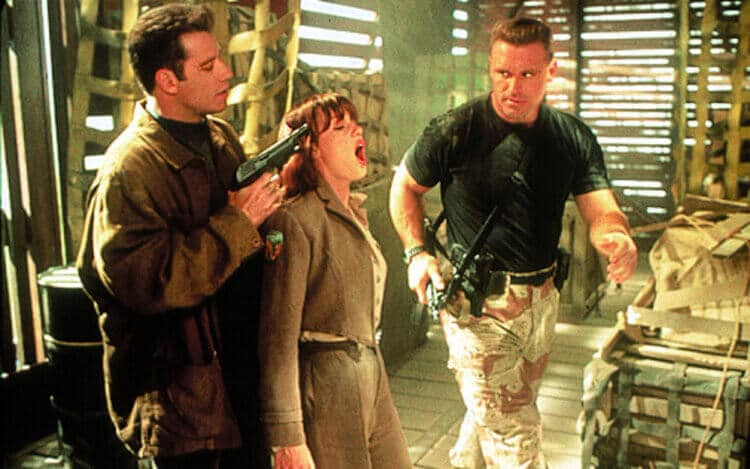 Director: John Woo
Cast: John Travolta, Christian Slater, Samantha Mathis
Vic and Riley are very close friends. One day, they are sent together on a very difficult mission. This mission is to carry two nuclear warheads in the air and is a risky business. There are different purposes behind this job, which seems like a secret mission. Especially Vic wants to fulfill this mission with different aims, but it ends in blood.
---
10) Top Gun (1986) | IMDb: 6.9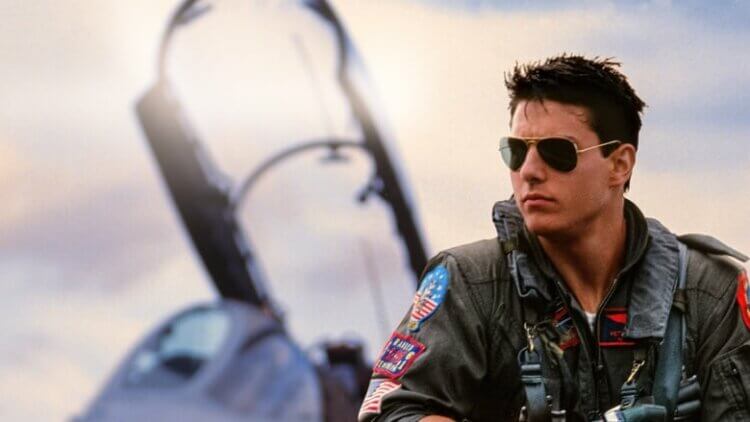 Director: Tony Scott
Cast: Tom Cruise, Kelly McGillis, Tom Skerritt
Another highly acclaimed movie in our list of airplane movies is Top Gun. Top Gun is a reward that requires hard struggles to be obtained. Pete Mitchell, who works at Miramar Naval Air Base, will fight to win this award. but Pete isn't the only one who wants the prize. One of the veteran pilots, Tom Kasansky, is ready to give his all for this award. A great rivalry begins between the two. The pilots do not like Mitchell very much, as Mitchell's father caused an accident years ago. Prepared for the race no matter what, Mitchell falls in love with Charlotte Blackwood. When everything is going well, Mitchell, who receives the news of his friend's death, cannot win the prize he dreamed of.
---
11) Pearl Harbor (2001) | IMDb: 6.2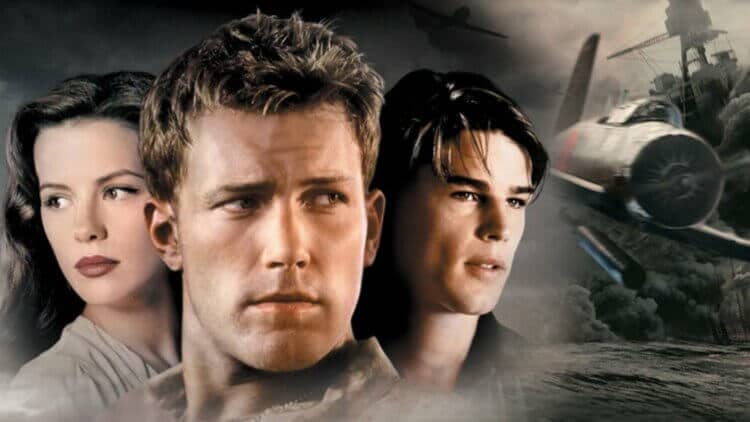 Director: Michael Bay
Cast: Ben Affleck, Josh Hartnett, Kate Beckinsale
Wars never have a winner. Dozens of deaths and lost lives always cloud the victories. II. There are two very close friends among the soldiers chosen to fight on behalf of America, which will determine its own destiny in World War II. These two friends, who love each other very much, their food and drink go into a great unknown world before the war begins. With all its obscurity, the war drags the lives of the two into atrocities.
---
12) Fight Plan – Flight Plan (2005) | IMDb: 6.3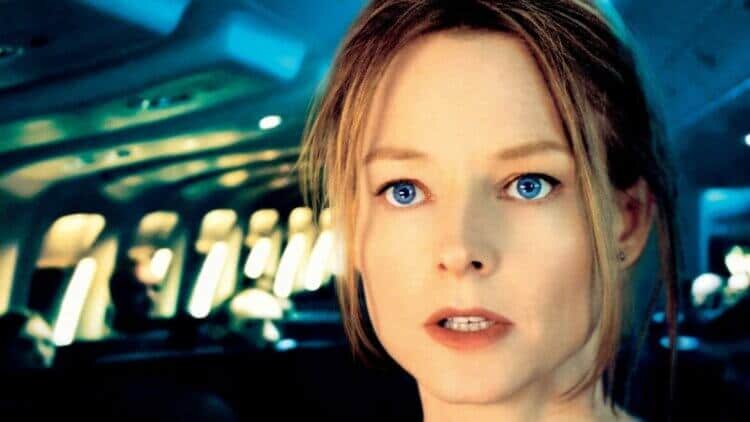 Director: Robert Schwentke
Cast: Jodie Foster, Peter Sarsgaard, Sean Bean
The coffin of Kyle Pratt's deceased wife in Berlin and his daughter Julia are on a grueling flight to New York. After getting on the plane, Kyle falls asleep and wakes up to find his daughter Julia by his side. Trying to figure out what happened, the woman starts searching all over the double-decker plane. While Kyle searches everywhere for his daughter, the stewardesses on the plane say that Julia never actually got on the plane. Unable to understand what the stewardesses are saying, Kyle continues to search for his daughter without leaving any unused space on the plane.
---
13) Sully (2016) | IMDb: 7.4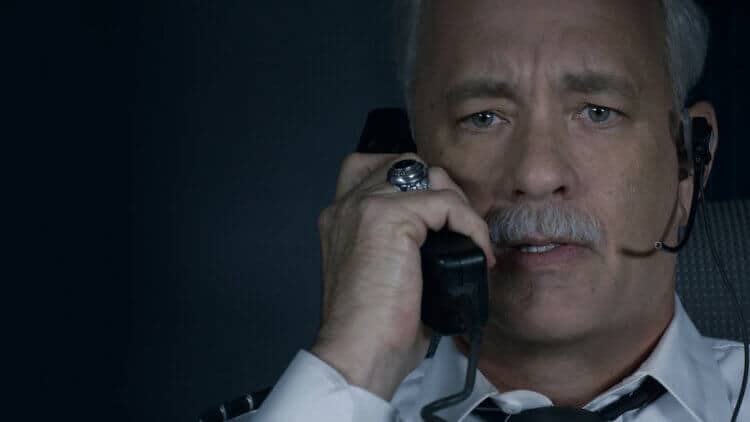 Director: Clint Eastwood
Cast: Tom Hanks , Aaron Eckhart, Laura Linney
Sully is one of the most popular airplane movies. Chesley Sullenberger is a pilot who successfully completed the difficult task of landing a malfunctioning plane in the Hudson River. With this move, Captain Sully saves 155 passengers from death and gets the support of the media. However, an investigation is opened for this flight by some authorities. According to the outcome of this investigation, there is a possibility that Sully will lose his job.
---
14) Non-Stop (2014) | IMDb: 6.9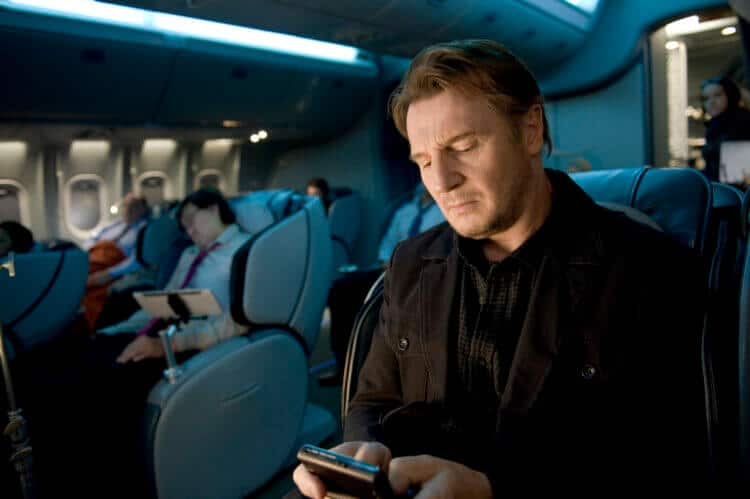 Director: Jaume Collet-Serra
Cast: Liam Neeson, Julianne Moore, Scoot McNairy
The lives of the 200 people on the flying plane depend on a retired Air Force soldier. Bill Marks can save or destroy everything. A mysterious criminal on the plane says he will kill a person every 20 minutes. Marks must both catch the culprit and save the lives of all the passengers.
---
15) Cast Away – New Life (2000) | IMDb: 7.8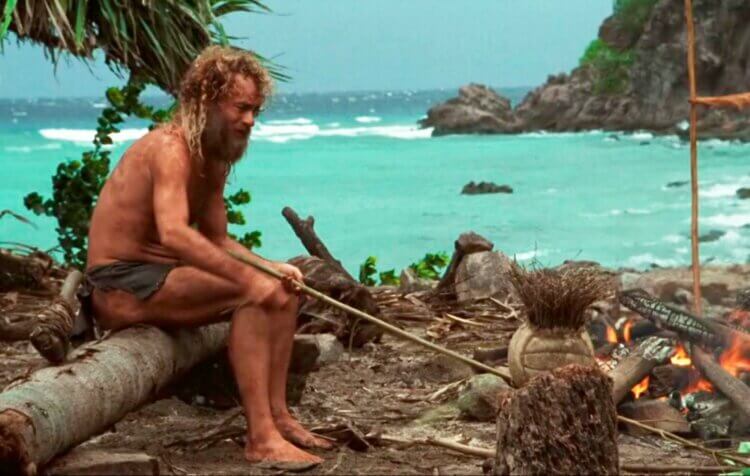 Director: Robert Zemeckis
Cast: Tom Hanks, Helen Hunt, Paul Sanchez
New Life is a must in the list of airplane movies. Chuck Noland begins to travel to various countries as a system analyst for a company called FedEx. Between his busy schedule, he cannot spare enough time for his longtime girlfriend. Not being able to see each other has started to cause problems. Noland receives a phone call about a job he needs to solve urgently. He then sets off for Malaysia on Christmas night. However, the plane journey does not go as expected. The plane malfunctions and crashes for an unknown reason off the South Pacific. Noland, who lost consciousness during this fall, wakes up to an unknown world. He is alone and has to survive.
---
16) The Gray – Gray Wolf (2011) | IMDb: 6.8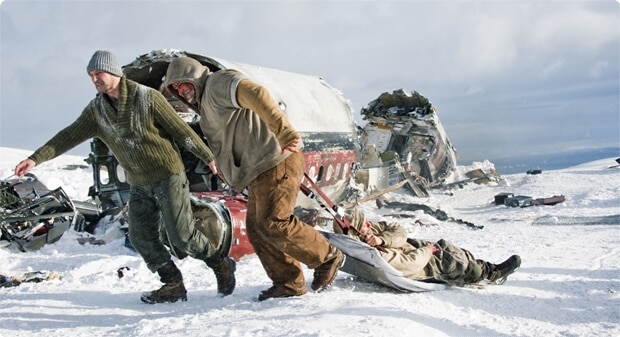 Director: Joe Carnahan
Cast: Liam Neeson, Dermot Multoney, Frank Grillo
A team is assigned to work on oil drilling in Alaska. This crew will take a long flight to Alaska, but the journey will take longer than anticipated. Because the plane malfunctions and crashes into a deserted area. Survivors begin to work to reunite with their loved ones as soon as possible. This will be grueling work. Survival among packs of wolves in the midst of nature and nothingness is hardly possible. Will they be able to fight in the freezing air as the wounds they received in the accident are getting worse day by day?
---
17) Dunkirk (2017) | IMDb: 7.8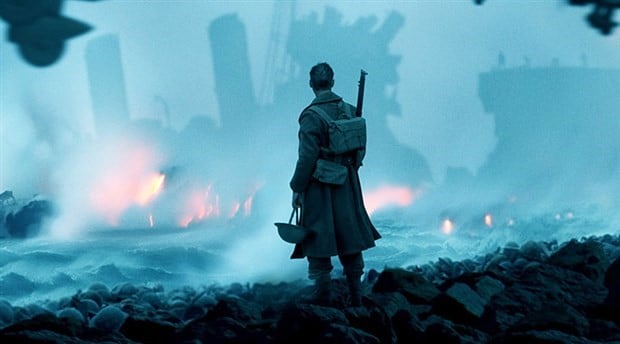 Director: Christopher Nolan
Cast: Fionn Whitehead, Barry Keoghan, Mark Rylance
Another movie on our list of airplane movies is Dunkirk. II. One of the biggest events that changed the course of World War II was the Dunkerque Evacuation. The script of the movie is based on this event. Soldiers get stuck in an area with the sea behind them against enemy attack. They don't know what to do. They will either die or achieve the impossible.
---
18) The Wind Rises – The Wind Rises (2013) | IMDb: 7.8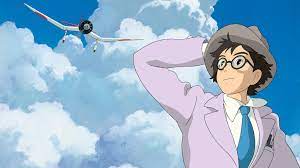 Director: Hayao Miyazaki
Jiro has a great fascination with airplanes since childhood. In line with this admiration, he decides to follow his dreams as an expert aircraft designer. The idol of his dreams is Caproni, who lives far, far away from him. Caproni is truly the best in the field. When Jiro manages to get into the aircraft department of an important institution in the 1930s, his eyes are not fully seen. Seeing the determination and success of Jiro, who works hard, the bosses begin to give him more space. II. When World War II comes, Jiro is called to a mission beyond his dreams.
---
19) Flyboys – Hero Pilots (2006) | IMDb: 6.5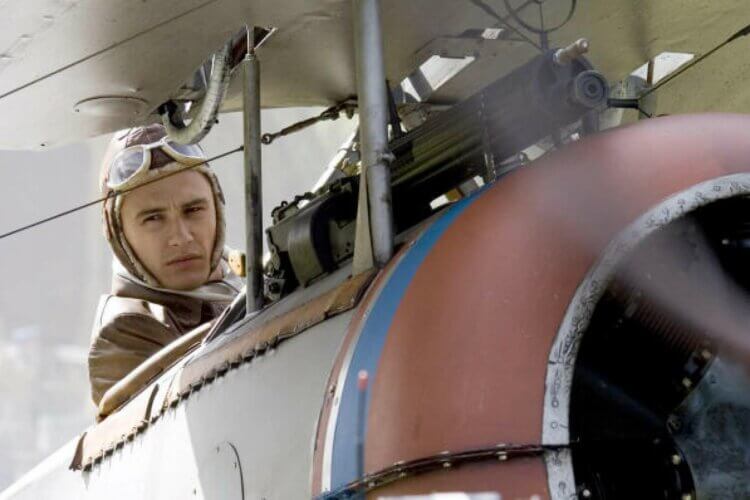 Director: Tony Bill
Cast: James Franco, Jean Reno, Jennifer Decker
American teenagers go to France to study in order to become a good fighter pilot. World War I breaks out and this young team is sent to the hottest parts of the war. There are so many difficult days ahead that young people have no agenda other than war.
---
20) Les Chevaliers Du Ciel – Warriors of the Sky (2005) | IMDb: 5.8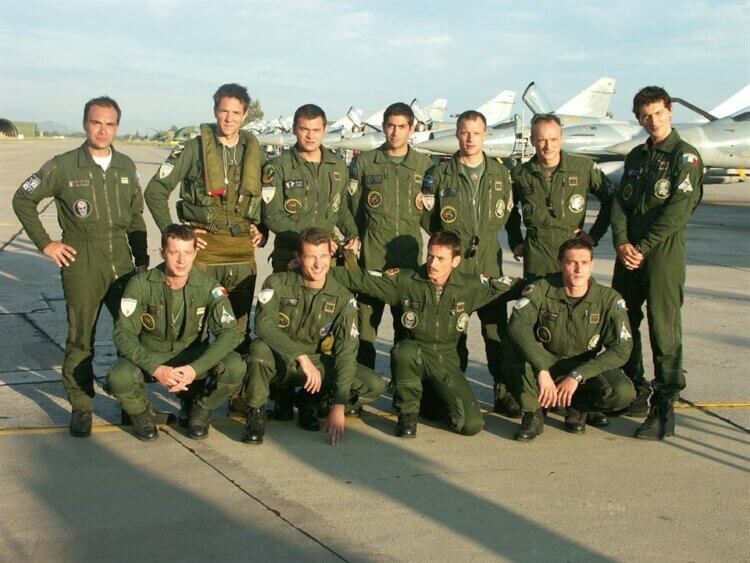 Director: Gérard Pires
Cast: Menoit Magimel, Clovis Cornillac, Geraldine Pailhas
Pylon Antonie and Pilot Sebastian are tasked with finding the missing French Mirage plane at an international air show. When the location of the aircraft is determined, work will be started to return it. However, something unexpected happens. The plane attacks. Antonie is forced to shoot down the plane to save his partner's life. This move is documented by a group called "Special Missions" and Antonie is kicked out of the team.
---
21) Catch Me If You Can – Catch Me If You Can (2002) | IMDb: 8.1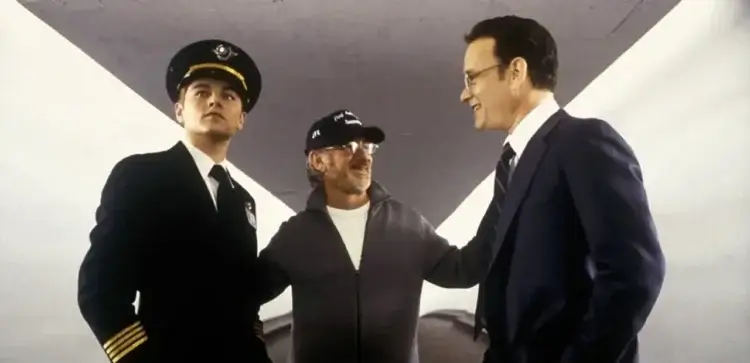 Director: Steven Spielberg
Cast: Leonardo DiCaprio, Tom Hanks, Christopher Walken
What if you don't have Catch If Tight in the list of airplane movies? Of course not. We can say that no one has the confidence in an FBI agent. However, sometimes they come across such criminals that their two feet are in the same shoes. This time, the criminal who confronts the agent is a young man who travels the world in disguise as a child. Sometimes the prosecutor, sometimes the lawyer, sometimes disguised as a doctor, chases FBI agents. Whatever the agent does, he manages to escape criminally.
---
22) Fail Safe – Absolute War (1964) | IMDb: 8.0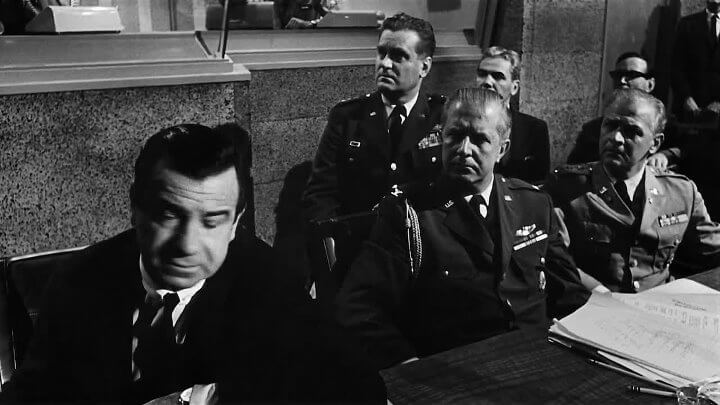 Director: Sydney Lumet
Cast: Henry Fonda, Walter Matthau, Fritz Weaver
II in the movie. After World War II, the cold war years between America and the Soviet Union are taken as the subject. Both America and the Soviet Union are world giants in military technology and are in a race to dominate each other. A nuclear attack order is sent to Moscow as a result of an error. On top of that, human emotions begin to predominate in the race for supremacy.
---
23) The Aviator – Ruler of the Sky (2004) | IMDb: 7.5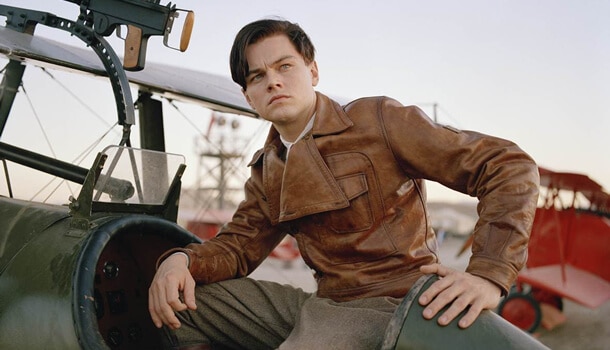 Director: Martin Scorsese
Cast: Leonardo DiCaprio, Cate Blanchett, Kate Beckinsale
The film is based on the life story of Howard Hughes. Hughes is among the unforgettable names of the aviation field. He also works in the field of cinema. Huges, who is versatile, II. During World War II, they adapted their planes to military planes. In this way, he helps his country in the war. In addition to all this success story, there is also a great printing story. Hughes put a lot of pressure on himself. However, this pressure is no longer tolerable.
---
24) Up In The Air – In The Air (2009) | IMDb: 7.4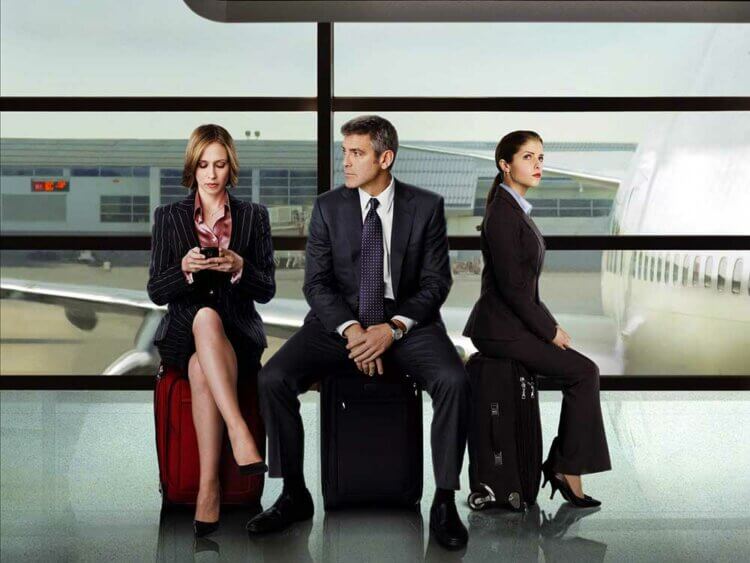 Director: Jason Reitman
Cast: George Clooney, Vera Farmiga, Anna Kendrick
Ryan Bingham packs everything he needs in a suitcase and travels by plane from one end of the country to the other. He spends his life in airports and hotels. Ryan, whose biggest goal is to reach 10 million flight miles, is very close to reaching his goal. His manager threatens to pull Ryan out of the way. This is a terrible threat to Ryan. Along with this threat, he confronts the importance of an orderly life and the existence of a home.
---
25) Dr. Strangelove or: How I Learned to Stop Worrying and Love the Bomb – Dr. Garipask (1964) | IMDb: 8.4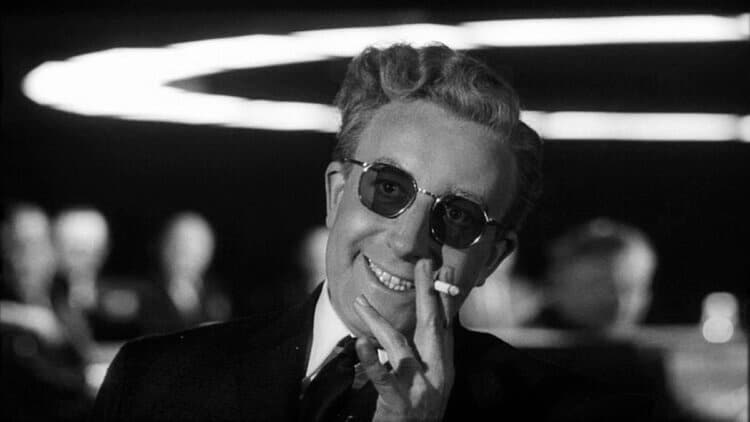 Director: Stanley Kubrick
Cast: Peter Sellers, George C. Scott, Sterling Hayden
One of the most admired airplane movies, Dr. Strange love comes. The Ripper is an American general. The general orders his soldiers to launch nuclear attacks on parts of the Soviet Union. He tells his subordinates that this order is not actually his order, but that his superiors wanted it. The British officer understands the truth. The president of the United States also becomes aware of the incident. No matter how hard he tries to stop it, he can't succeed because no one knows the secret code but Ripper. Senior officials begin to assess the situation. Among these officials, working on behalf of the USA, Dr. There is also strange love. Dr. Garipask begins to manage the process.
This post is also available in: Türkçe