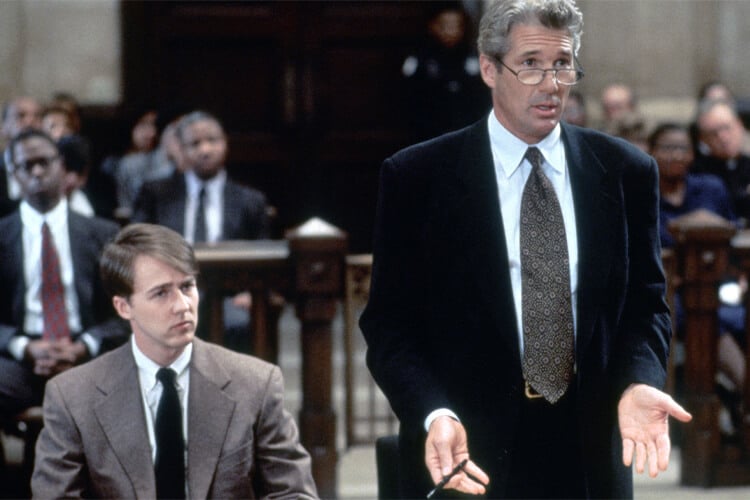 For you, court films that mostly take place in courtrooms, sometimes focusing on the legal struggle of a lawyer, sometimes focusing on the lives of the defendants, and sometimes telling the partnerships that emerged from the unity of all these law wheels, come together. Sometimes you will witness how justice is served through unjust ways, and sometimes how injustice is destroyed with brave defenses.
You can find your cat contemplating justice in the courtroom with the performances of the actors and the wonderful scenarios of the court movies that we have listed according to the IMDb score. You can find many courtroom-based legal films from the black and white cinema era to the present day.
---
31) The Star Chamber – Murder Circle (1983) | IMDb: 6.3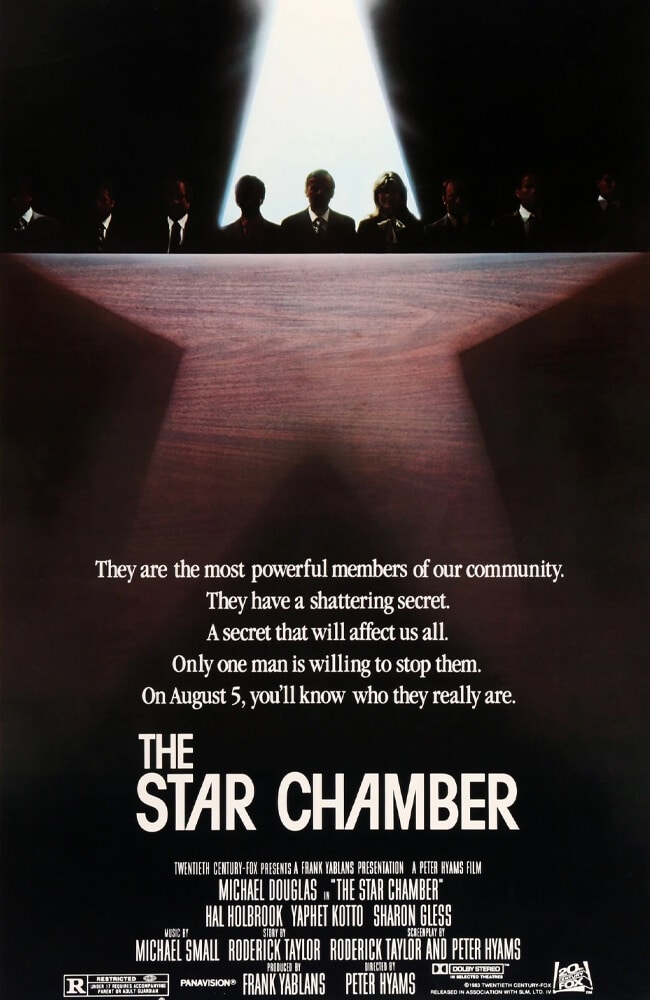 Director: Perter Hyams
Cast: Michael Douglas, Hal Holbrook, Sharon Gless, Yaphet Kotto
Supreme Court Justice Steven Hardin (Michael Douglas) is weary and fed up with criminals escaping their crimes by exploiting technical details and loopholes in existing laws. The idealistic judge begins to question this situation. He wants to find a way to counter this situation. He accepts the invitation of his friend, Judge Caulfield (Hal Holbrook), to join the Star Chamber.
This Chamber consists of nine judges, who set the law themselves and set up an alternative system of punishment. They make decisions to kill released criminals. Over time, Steven Hardin begins to resist this room. And across the Star Room, he finds himself a target. Although the score is low among the court films, the script is quite remarkable.
---
30) The Paradine Case – Opens Session (1947) | IMDb: 6.5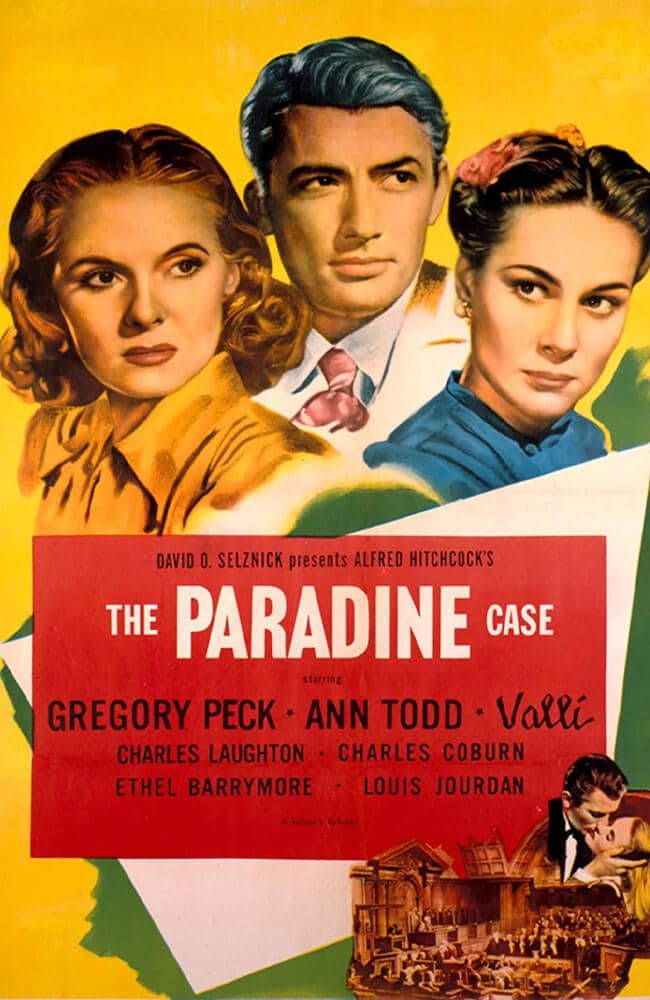 Director: Alfred Hitchcock
Cast: Gregory Peck, Ann Todd, Charles Laughton, Alida Valli
Among the court films, we placed the thirtieth rank on the hearing. The Session Opens is a 1947 film adapted by Ben Hecht from the novel by Robert S. Hichens. It is a court drama film set in England.
In the movie, Keane (Gregory Peck) is a young married lawyer who falls in love with a beautiful woman named Paradine (Alida Valli), who is accused of murdering her blind husband. Although Keane believes in the woman's innocence, could his love be suppressing the legal profession? Keane walks a dangerous line in professional ethics. Is what happened as Paradine described it?
---
29) A Civil Action – The Case (1998) | IMDb: 6.6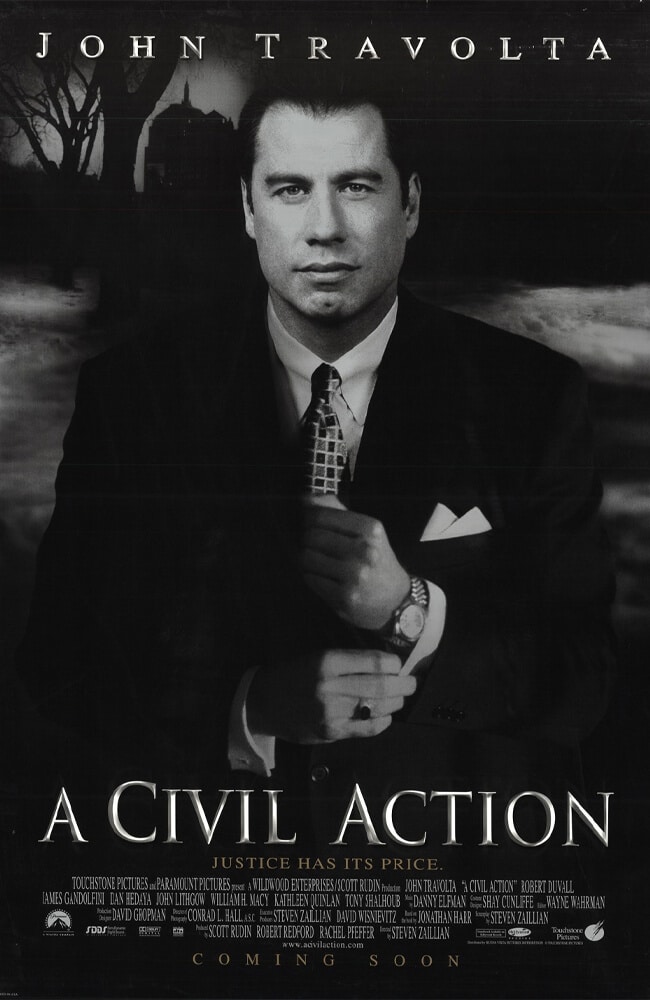 Director: Steven Zaillian
Cast: John Travolta, Robert Duvall, Tony Shalhoub, William H. Macy, Zeljko Ivanek
It is a 1998 film directed by Steven Zaillian, adapting a true story from the novel of the same name by Jonathan Harr. In the lawsuit, a leather manufacturing company is blamed for a fatal case of leukemia. Two companies pollute Woburn, which supplies Massachusetts' drinking water.
For their cases of people with leukemia due to chemical waste, they hire stubborn Lawyer Jan Schlichtmann (John Travolta), who deals with compensation cases. The factory is the main employer company of the region. Jan and his team prepare to file a major lawsuit against the company.
There are two great forces in front of them, together with the main company to which the factory is affiliated. Their job will not be easy. The case becomes complicated for Jan and turns into several legal games. Robert Duvall was nominated for Best Supporting Actor at the Oscars for his great performance in the movie.
---
28) Suspect – Doubt (1987) | IMDb: 6.6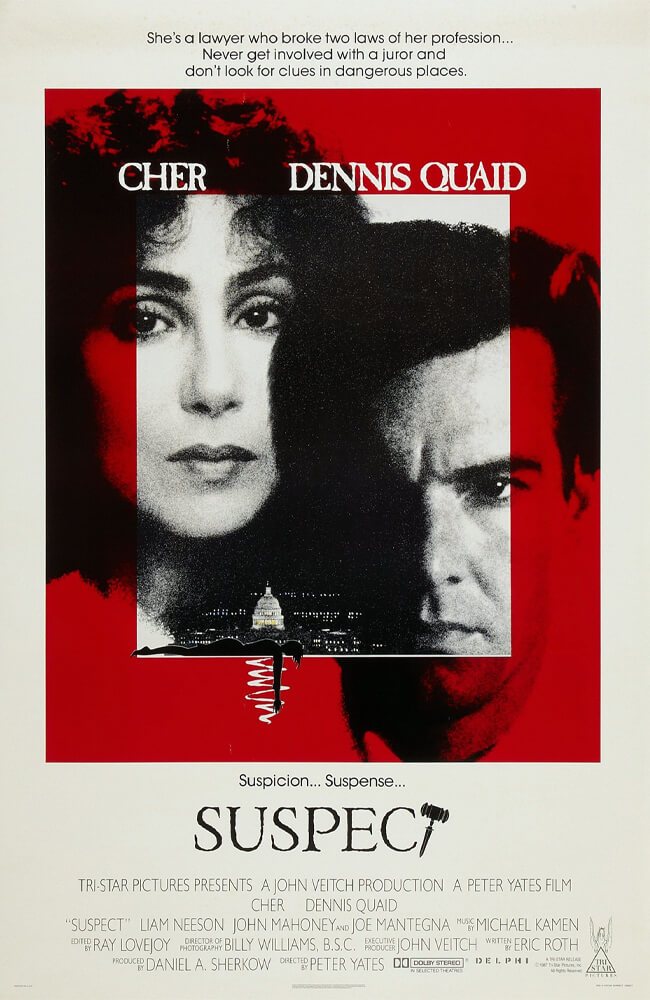 Director: Peter Yates
Cast: Cher, Dennis Quaid, Liam Neeson, John Mahoney
Just before Christmas, Supreme Court Justice Charles Lowell hands his secretary an envelope and commits suicide. A few days later, his secretary's body is found in the river. Poor Carl Anderson, a homeless deaf man, is found guilty.
When he finds the body, he takes the wallet because it has money in it and is caught. Attorney Kathleen (Cher), a public defender and court-appointed to the case, tries to find the real killer. Over time, communication develops between Kathleen and Anderson and Anderson approaches cooperation.
Juror Eddie Sanger also begins to investigate the murder, and he and Kathleen act together illegally. Sanger is also busy with his lobbying work in Congress. They find themselves in a dangerous web of corruption.
---
27) A Cry in the Dark (1988) | IMDb: 6.9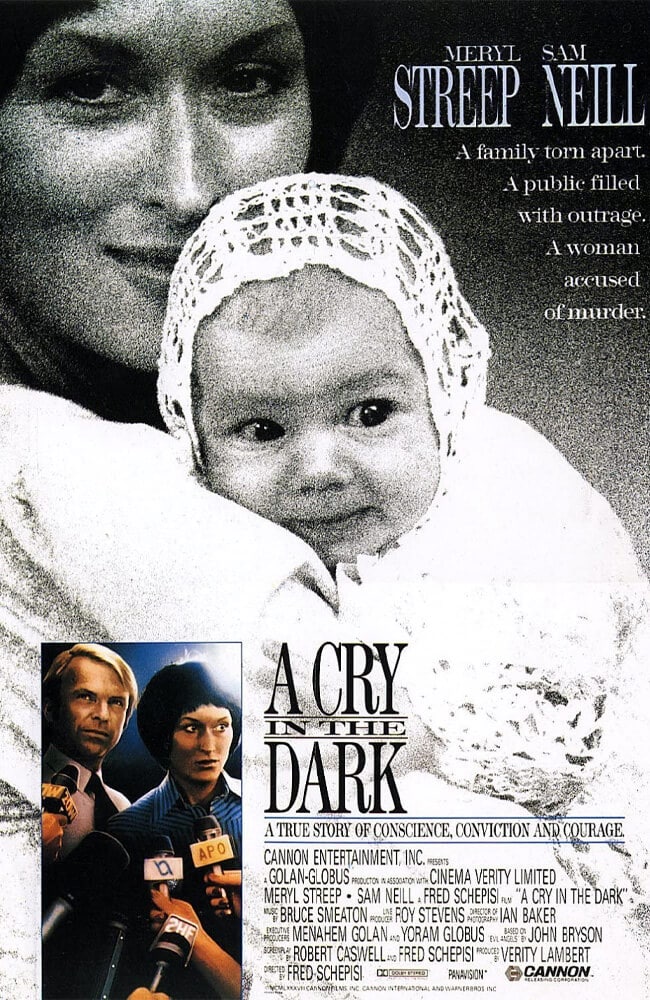 Director: Fred Schepisi
Cast: Meryl Streep, Sam Neill, Dale Reeves
A Scream in the Dark is based on a true story. In 1980 Lindy Chamberlain (Meryl Streep) and her husband go camping with their two sons and nine-week-old daughter to Ayers Cliffs, Australia. Suddenly Lindy can't find her daughter where she left them. Lindy claims her daughter has been abducted by the local animal, the dingo.
A large rigging is started by the police. However, the baby cannot be found and the police accuse Lindy of murder after Lindy's contradictory statements. The little girl has bloody clothes. People start to rave about Lindy's religious beliefs and think they are sacrificing their baby for a ceremony. The litigation process begins and the case becomes the most important agenda of the country. A Scream in the Dark has earned itself a prominent place among court films.
---
26) Find Me Guilty – Find Me Guilty (2006) | IMDb: 7.0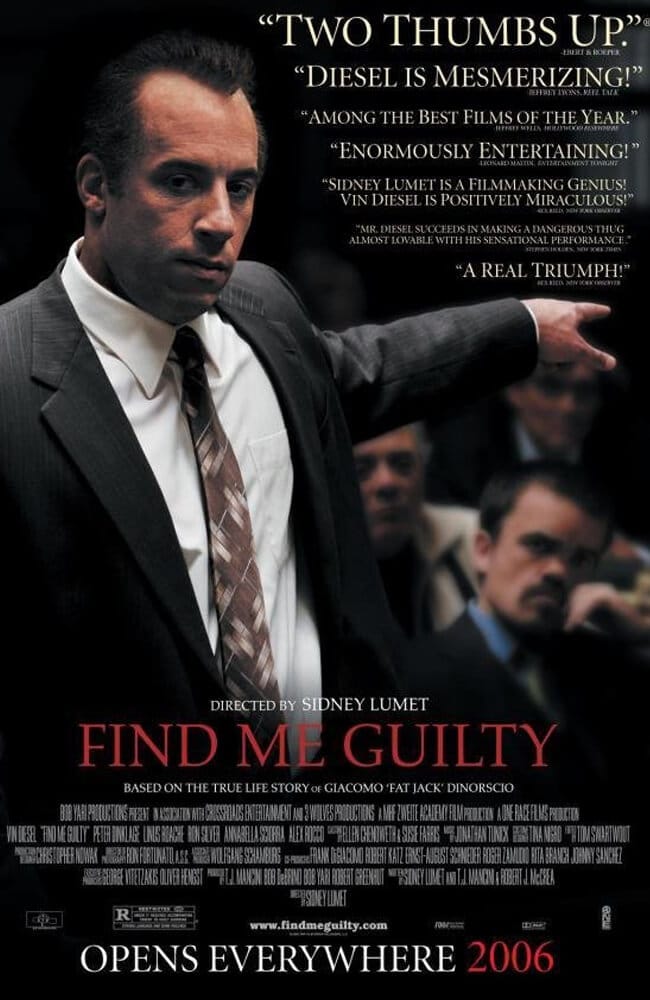 Director: Sydney Lumet
Cast: Vin Diesel, Ron Silver, Alex Rocco, Peter Dinklage , Linus Roache
20 members of New Jersey's notorious Lucchese crime family are brought to trial. Jackie Dinorscio (Vin Diesel), a member of the organization, is sentenced to a heavy sentence of 30 years. The court offers Jackie a reduced sentence in exchange for testifying against the members of the organization. But Jackie never accepts this, denying the betrayal. Jackie then appears in court as both defendant and attorney. Find Me Guilty is a gripping courtroom drama.
---
25) Runaway Jury – Jury (2003) | IMDb: 7.1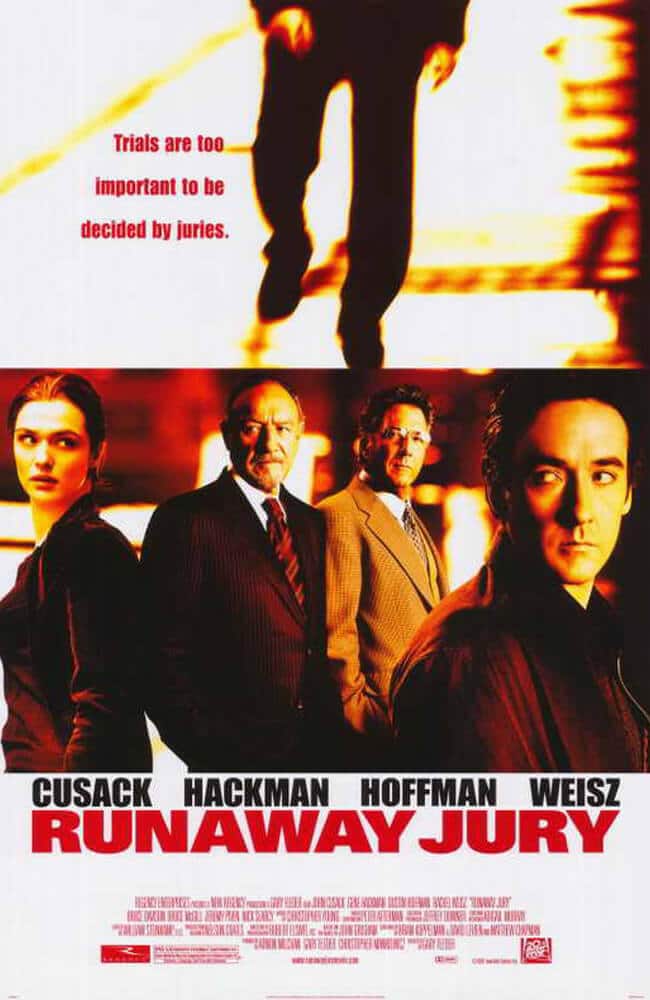 Director: Gary Fleder
Cast: John Cusack, Gene Hackman, Dustin Hoffman, Rachel Weisz, Bruce Davison, Bruce McGill
The wife of Jacob Wood, who was killed in the shooting in New Orleans, blames a multinational arms company for her husband's murder, and Wendal Rohr (Dustin Hoffman) acts as her lawyer. Gun lobbies kick in when you sue an international arms company. Wendal Rohr is faced with a gun lobby that recklessly tries every possible way to win.
Jury consultant Rankin Fitch (Gene Hackman) uses many ways to win the case in selecting the jurors who will decide the outcome of the case. One of the jury members, Nicholas Ester (John Cusack), reaches out to lawyers on both sides. The Jury is a film that proceeds on clever plans that never reduce tension.
---
24) The Accused – The Accused (1988) | IMDb: 7.2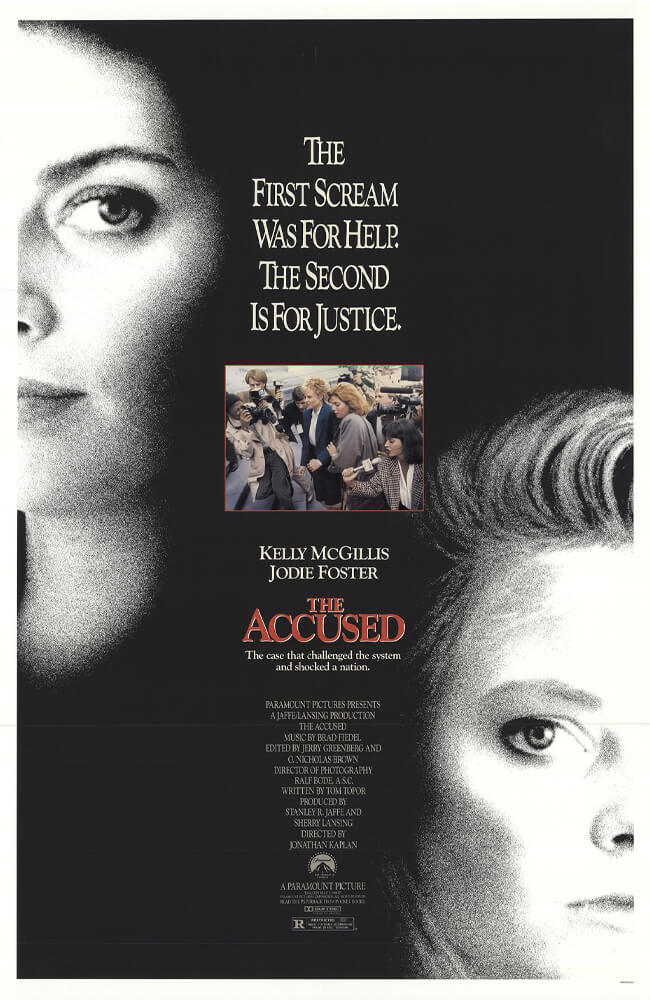 Director: Jonathan Kaplan
Cast: Jodie Foster, Kelly McGills, Bernie Coulson, Ann Hearn
The Defendant is a shocking film with effective court scenes scripted on a true event in court movies. Sarah Tobias (Jodie Foster) goes to a bar and is raped by three men while having fun. Everything from the life of Sarah Tobias, who was raped after the report, to her clothing, is questioned. Like a criminal. Things change when he meets District Attorney Katherine Murphy.
Katherina Murphy wants to question not only the rapists but also the bystanders. But some of Sarah Tobias' past life experiences could be brought to court against her.
Jodie Foster won the Best Actress Oscar for the movie The Accused, starring two actresses.
---
23) The Trials of Cate McCall – The Case of Cate McCall (2013) | IMDb: 7.2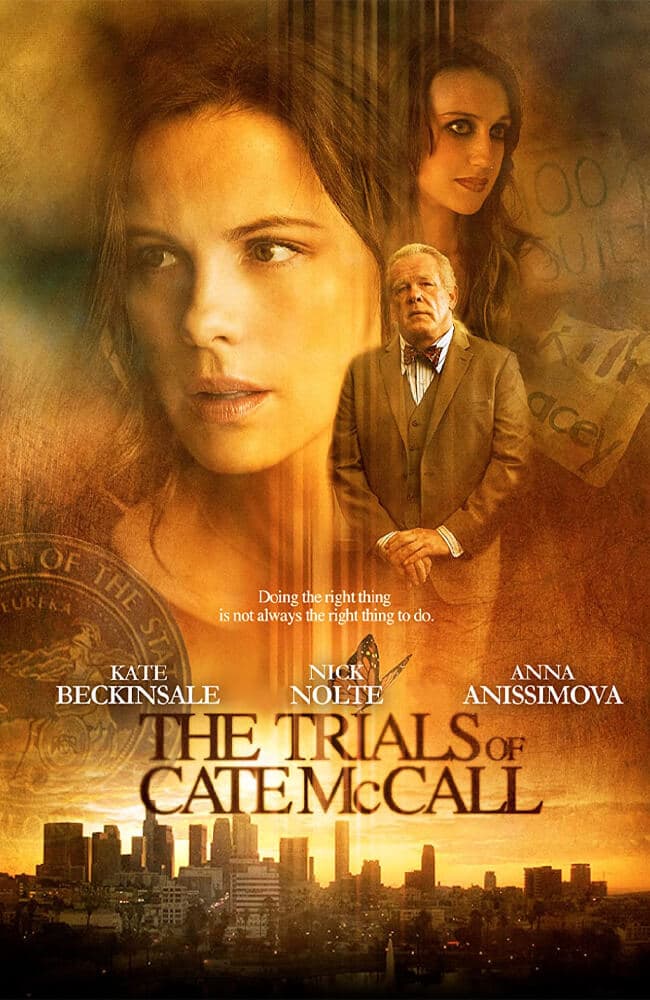 Director: Karen Moncrieff
Cast: Kate Beckinsale, Nick Nolte, James Cromwell, Clancy Brown
Cate McCall, whose psychology was turned upside down due to a lawsuit, sought a solution in alcohol and therefore divorced her husband. The custody of her 5-year-old daughter was given to her father. A difficult process awaits Cate McCall, who both tries to get custody of her daughter and receives an important lawsuit. She takes on the appeal of Lacey, who has been wrongfully accused of a murder.
Although Lacey is found to be innocent in the evidence in the file and crime scene investigations, Cate McCall faces the harsh side of the judiciary. Only Cate believes Lacey's innocence. Cate does her best to ensure that justice and the judiciary work properly. But he takes a dangerous path in the face of corruption and lawlessness he encounters, especially in the police department.
---
22) Fracture – Night of the Murder (2007) | IMDb: 7.2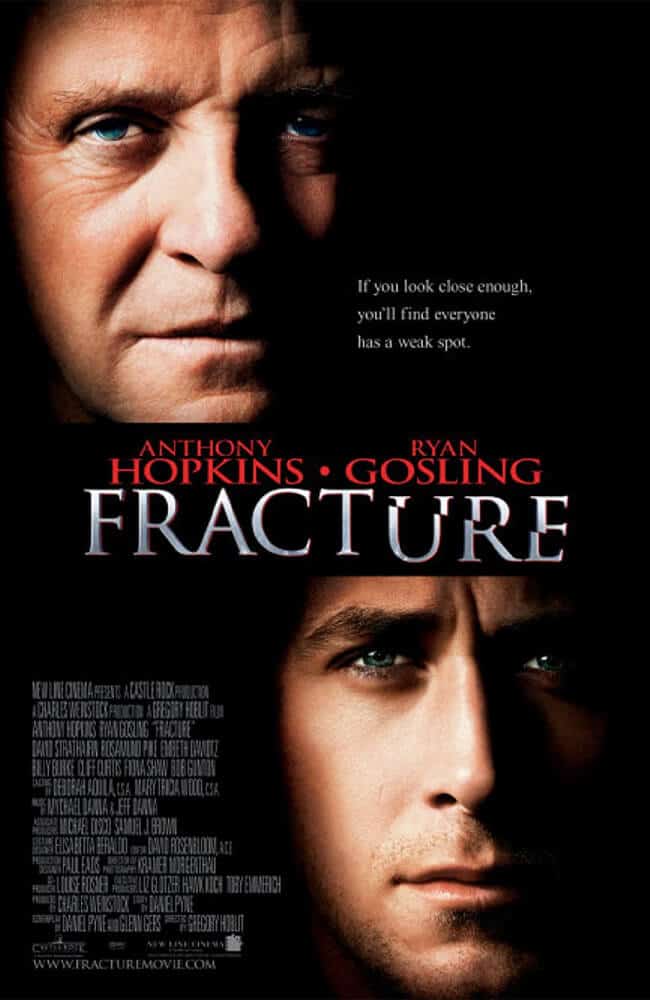 Director: Gregory Hoblit
Cast: Anthony Hopkins, Ryan Gosling, David Strathairn
Murder Night is a 2007 crime, trial, mystery film in which Anthony Hopkins plays the character of Ted Crawford. Ted Crawford shoots his wife who cheated on him with a cop. After committing the murder, he calls the police. Police officer Rob Nunally arrives at the scene and discovers that the dead woman is his girlfriend.
Attorney Willy Beachum takes the case of Ted Crawford, who finds clever answers to the accusations. When it turns out that Ted Crawford's weapon was not the murder weapon, the case that seemed to be short and simple begins to get mixed up.
---
21) The Rainmaker (1997) | IMDb: 7.2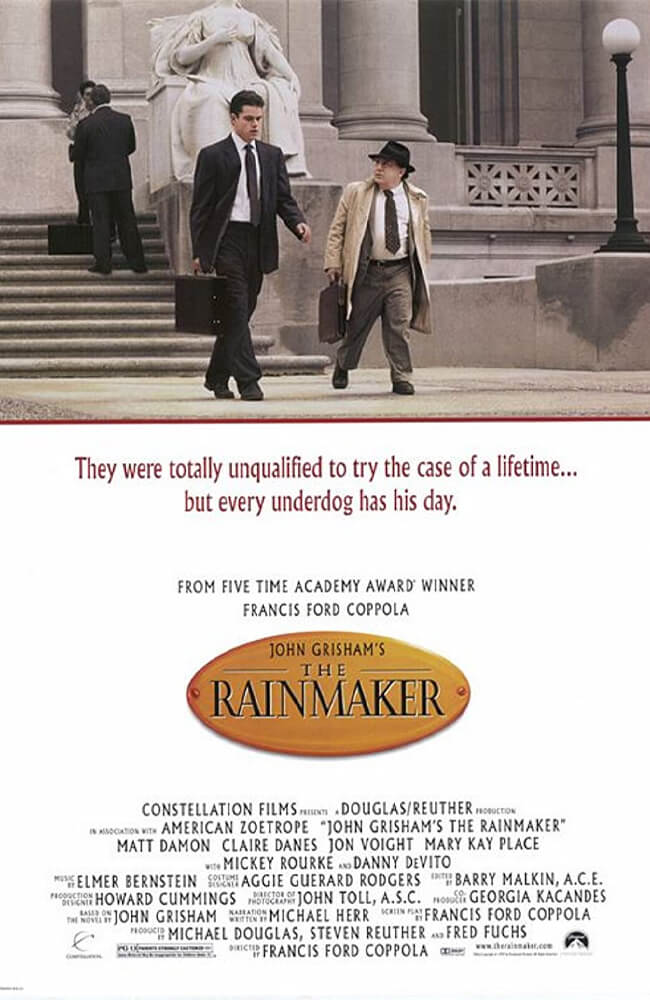 Director: Francis Ford Coppola
Cast: Matt Damon, Danny DeVito, Claire Danes, Jon Voight, Teresa Wright
Rudy Baylor (Matt Damon) has become an educated lawyer despite a bad childhood and an alcoholic father. The first job of this young unemployed lawyer working in bars will be against a large insurance company. A couple whose children are dying must rely on Rudy Baylor for insurance money for the operation.
Never even before a judge and a jury, Rudy suddenly finds himself alone in front of a group of lawyers. In this difficult case, Rudy Baylor also falls in love with a woman. You can find yourself in the courtroom with Matt Damon's acting and speeches in the courtroom. The film received the 1997 Golden Globe nomination for best supporting actor (Jon Voight).
---
20) North Country – Alone (2005) | IMDb: 7.3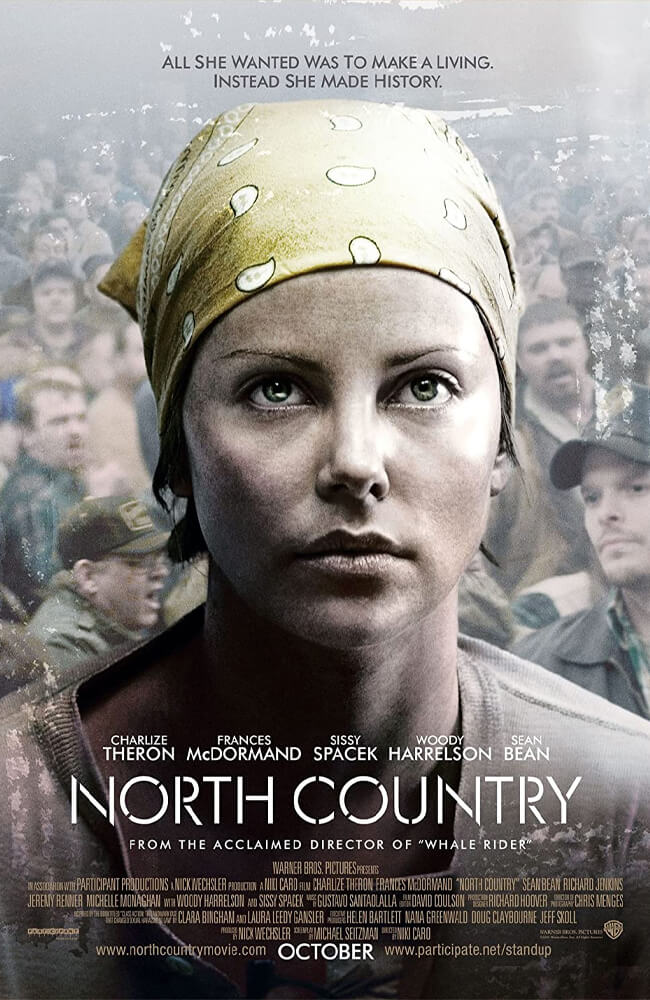 Director: Niki Caro
Cast: Charlize Theron, Frances McDormand, Woody Harrelson, Sissy Spacek, Sean Bean
Alone is a movie based on a true life story. It stars Charlize Theron and was nominated for an Oscar for best actress for her role as Josey Aimes. She has 2 Golden Globe nominations and 2 nominations at the BAFTA Awards for best actress and best supporting actress.
In the movie, the only thing Josey Aimes, mother of two, wants to do is to take care of her children freely by working. He returns to his hometown after an unhappy marriage. He has a bad relationship with his father and there is no communication between them. He needs a job and gets a job at an iron mine alongside his friend Glory (Frances McDormand).
Josey Aimes is one of the few female miners in town. In this challenging job, he faces harassment, rumors and inhumane treatment. Josey files the first sexual harassment lawsuit in his mining city with his lawyer friend Bill White (Woody Harrelson). It will be a difficult litigation process, and the mine workers and local people will not be on their side.
---
19) Compulsion – Edition (1959) | IMDb: 7.4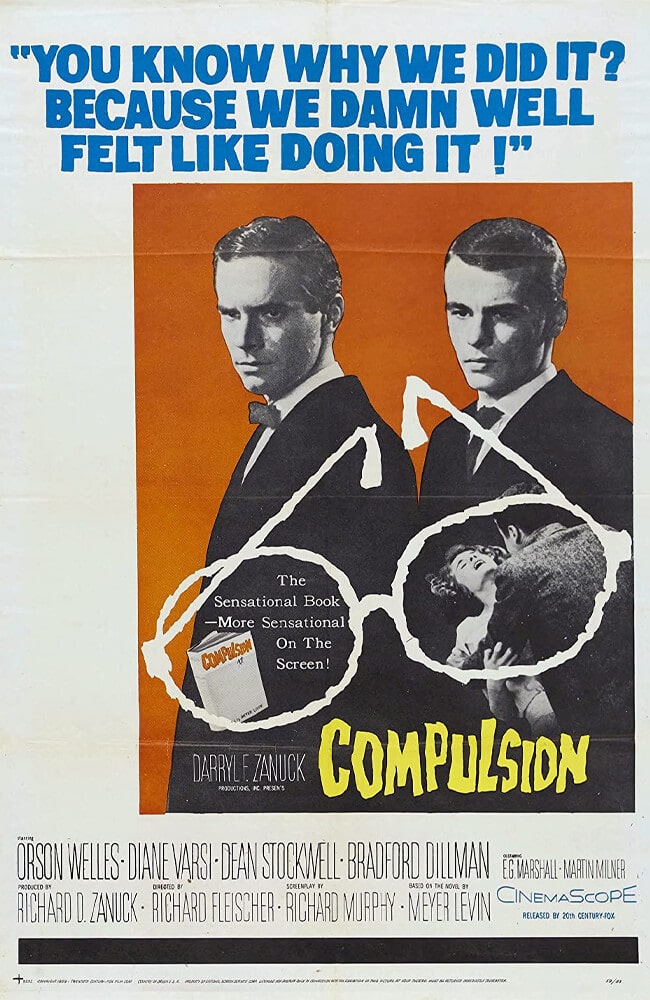 Director: Richard Fleischer
Cast: Orson Welles, Diane Varsi, Dean Stockwell, Bradford Dillman
It is a screenplay based on the novel by Meyer Levin. Written by the influence of the Leopold-Loeb case, this work was later adapted to the cinema. Two wealthy law students act recklessly and commit a murder.
Artie Straus (Bradford Dillman) and Judd Steiner (Dean Stockwell) commit a murder to show what they can do because they see themselves as arrogant and superhuman. As a result of this murder they committed by design, their trial begins.
In The Repression, one of the best court movies, these two young people will be defended by the lawyer Jonathan Wilk (Orson Welles), who is against the death penalty. Orson Welles, Dean Stockwell, Bradford Dillman received the best actor awards at the 1959 Cannes Film Festival for their performances in this film.
---
18) Law Abiding Citizen – In Search of Justice (2009) | IMDb: 7.4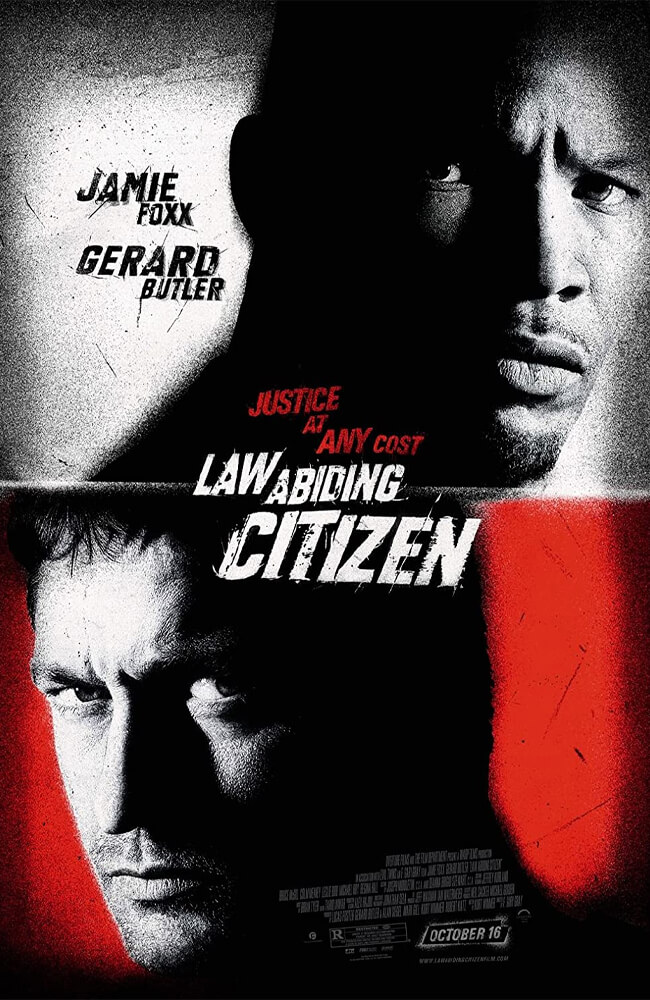 Director: F. Gary Gray
Cast: Gerard Butler, Jamie Foxx, Viola Davis, Leslie Bibb, Colm Meaney
Clyde Shelton (Gerard Butler) is a father whose wife and daughter were brutally murdered in their home one night. When the criminals are caught, Philadelphia prosecutor Nick Rice (Jamie Foxx) is assigned to the case. Nick Rise commutes his sentence in exchange for one of his accomplices testifying against his friend. For Clyde Shelton, only one goal remains – revenge.
Ten years later, the person who made an agreement with the prosecutor and escaped with a light sentence is found dead. Clyde Shelton confesses to committing the crime. Clyde tells Nick that if the corrupt justice system is not fixed, the names involved in the case will die.
These words begin to come true and unpredictable murders are committed in prison. As the murders are committed, the case grows and the only person who can prevent them is Nick Rise. In Search of Justice, he draws audiences to the film with his screenplay and action.
---
17) …and justice for all. – …And Justice for All (1979) | IMDb: 7.4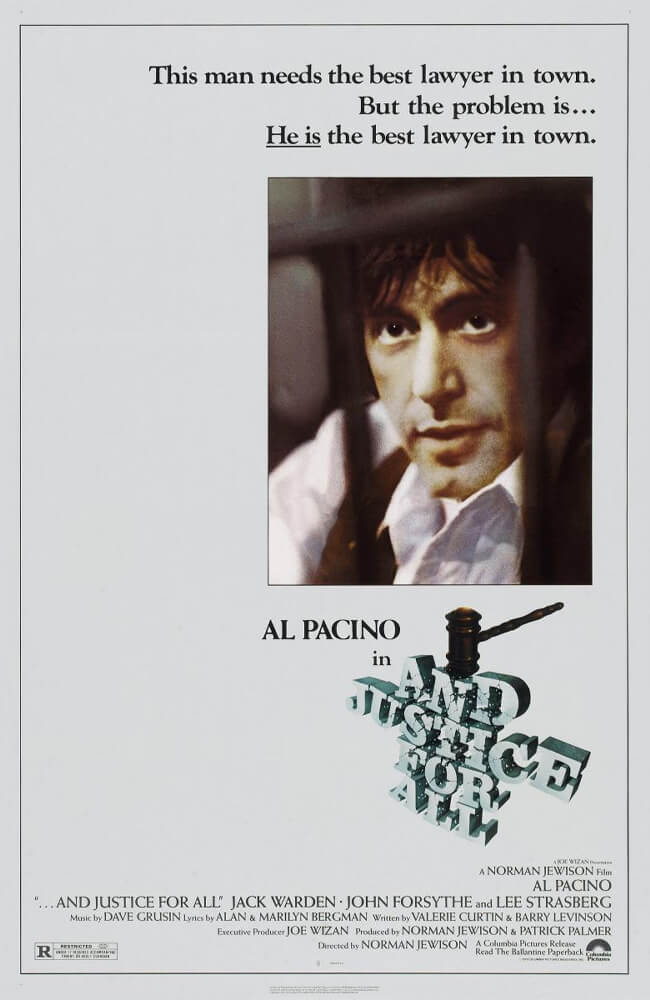 Director: Norman Jewison
Cast: Al Pacino, Jack Warden, John Forsythe, Lee Strasberg
Ranked seventeenth among court films, And Justice for All is an impressive 1979 lawsuit film. Arthur Kirkland (Al Pacino) is an idealistic defense attorney living in Baltimore. He is a lawyer who cares about his clients. He has to defend a prominent judge accused of violence and rape of a young woman.
Arthur Kirkland knows that this crime has indeed been committed, but comes under great pressure to defend the judge (Jack Warden) accused of rape. The judge made a wrong decision about a client of Arthur's in the past.
Will Arthur listen to his conscience or think about his career? It is a powerful film in which the criminals are released, the legal order is destroyed, the treaties made and the order in which innocent people are forced into question are questioned.
---
16) The Trial Of Joan Of Arc – The Trial of Jeanne d'Arc (1962) | IMDb: 7.5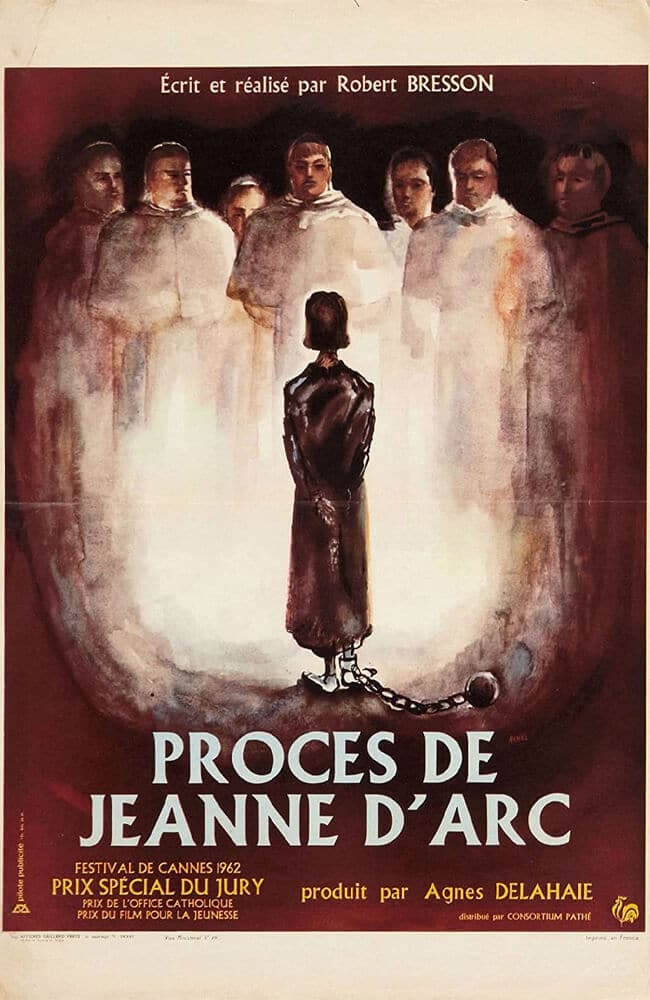 Director: Robert Bresson
Cast: Florence Delay, Jean-Claude Fourneau, Marc Jacquier, Jean Gillibert
In the battle of the French troops against the British, Jeanne d'Arc is captured by the British soldiers. It is decided to be tried by the court. In this process, the guards treat him badly in his cell. He experiences an unreasonable interrogation during the court process. Although Jeanne d'Arc maintains her faith, hope and upright stance until the end, the opinion of the church does not change in this movie where the judges are priests.
Unable to stand what is going on in this captivity, the woman says she has lost her faith and is accused of being a witch and surrenders to the bad ending. One of the most important aspects of the film is that Bresson looks at Jean d'Arc's struggle for life and death from a different window.
---
15) The Devil's Advocate (1997) | IMDb: 7.5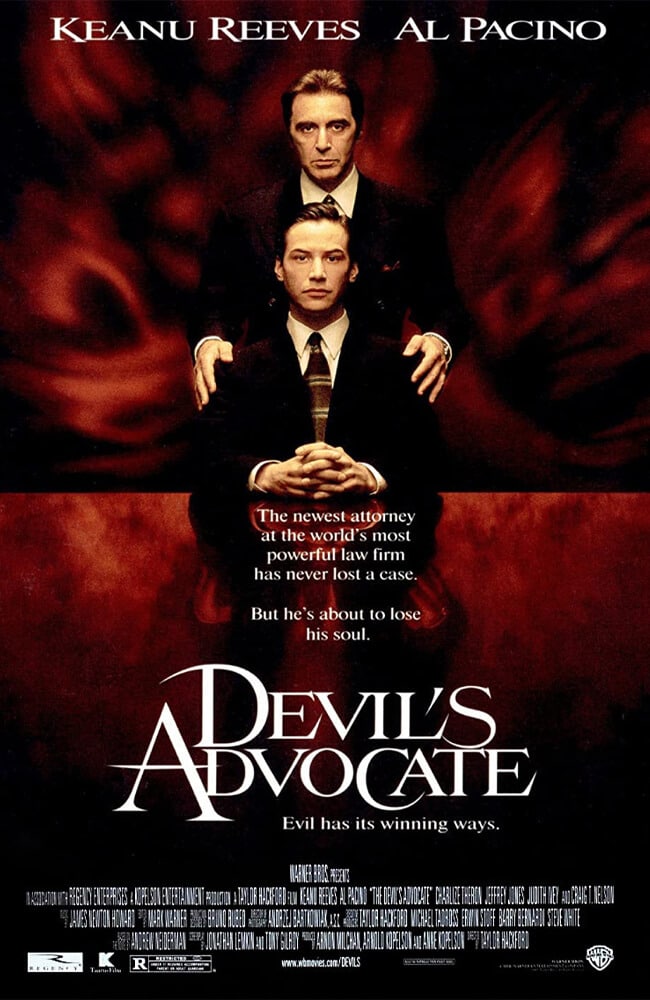 Director: Taylor Hackford
Cast: Keanu Reeves, Al Pacino, Charlize Theron, Connie Nielsen
It is a screenplay adapted from the novel The Devil's Advocate with the same name. The 1997 film created a wide acclaim among court films. Kevin Lomax (Keanu R.) is a successful, hardworking defense attorney. Regardless of the difficulty of the cases he takes, he is a lawyer who finds a way and wins cases even if his clients are guilty.
Regardless, he somehow manages to impress the jury and lower his client's crimes. Kevin, a successful lawyer, is married and happily married. He wins a client's case even though his client is guilty and gets a great offer from a large New York law firm.
The owner of the company that made the offer is John Milton (Al Pacino). By accepting the offer, Kevin' moves to New York. But when everything goes well at first, some problems begin between him and his wife, Mary (Charlize Theron). You can feel yourself in the courtroom with successful acting and carefully selected dialogues.
---
14) Sleepers – They Were Like Brothers (1996) | IMDb: 7.6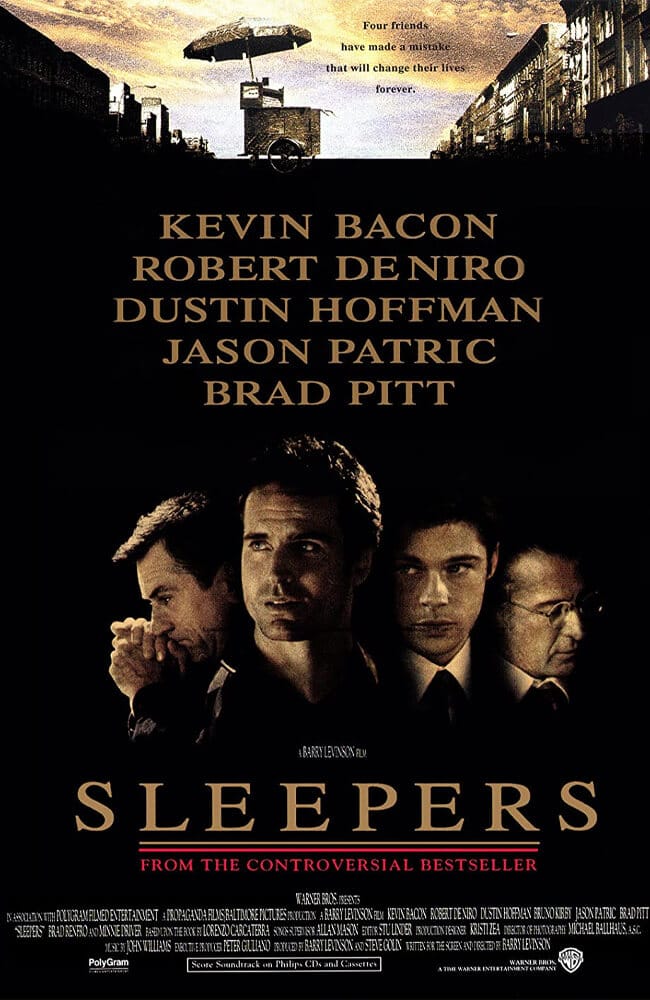 Director: Barry Levinson
Cast: Kevin Bacon, Billy Crudup, Dustin Hoffman, Robert De Niro, Brad Pitt
They Were Like Brothers, childhood friends Lorenzo Carcaterra, Tommy Marcano, Michael Sullivan and John Reilly, who lived in Hell's Kitchen, one of the most dangerous places in 1960s New York. These friends start doing some work for the mafia King Benny.
In a robbery of a hot dog shop, they seriously injure one person. They get a one-year sentence. They are sentenced to the Wilkinson Men's Home, where they are physically assaulted and sexually abused by the guards. Children forgotten by justice experience deep traumas and their lives will never be the same.
---
13) Music Box – Music Box (1989) | IMDb: 7.7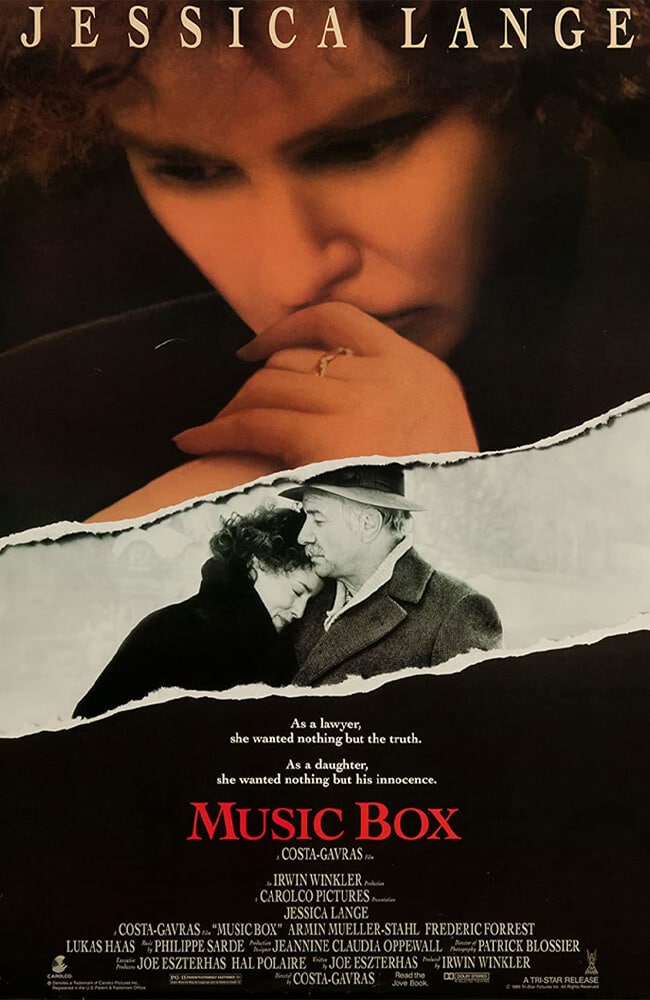 Director: Costa Gavras
Cast: Jessica Lange, Armin Mueller-Stahl, Lukas Haas
Ranking thirteenth in our ranking of court films, Jukebox focuses on the life of Hungarian immigrant Mike Laszo (Armin Mueller-Stah). 2. After World War II, he fled Hungary and settled in America as an immigrant. Wanting to start a new life, Mike is actually a war criminal. His daughter Ann is a successful lawyer and will have to confront her father's past.
He tells his father that this is a communist conspiracy and that he must defend himself. Ann, who is stuck on the fine line between work and family, is waiting for a difficult process. The Music Box was nominated by Jessica Lange for best actress in its 1989 Oscar nomination. She was again nominated for best actress at the 1989 Golden Globe and the 1990 Berlin Film Festival Golden Bear.
---
12) A Few Good Men (1992) | IMDb: 7.7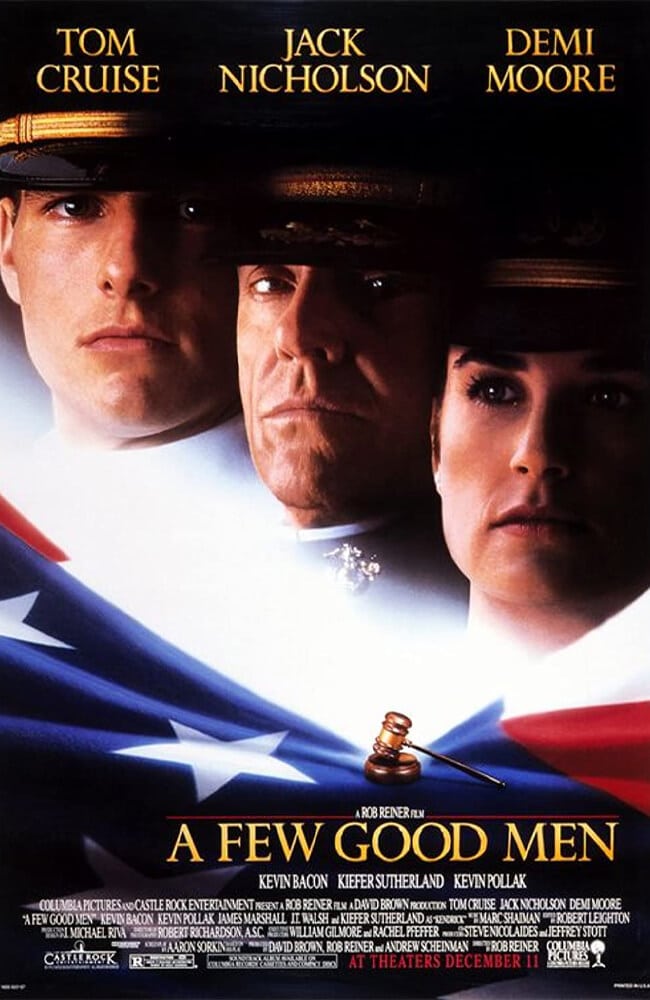 Director: Rob Reiner
Cast: Tom Cruise, Demi Moore, Jack Nicholas, Kevin Bacon, Kevin Pollak
A Few Good Men is about the case over the murder of a sailor soldier. Daniel Kaffe (Tom Cruise) is a navy lawyer and is famous because he resolves issues by reconciling the parties without going into litigation. When the case of the death of the sailor soldier is handed over to him, he realizes that his methods did not lead him to a conclusion.
The defendants do not accept Daniel Kaffe's sentence reduction agreement and say they are innocent. The case becomes more difficult when the defendants' lawyer, JoAnne Galloway (Demi Moore), joins the case and the process is brought to court. Daniel Kaffe and JoAnne Galloway, two navy personnel come face to face.
---
11) Primal Fear – First Fear (1996) | IMDb: 7.7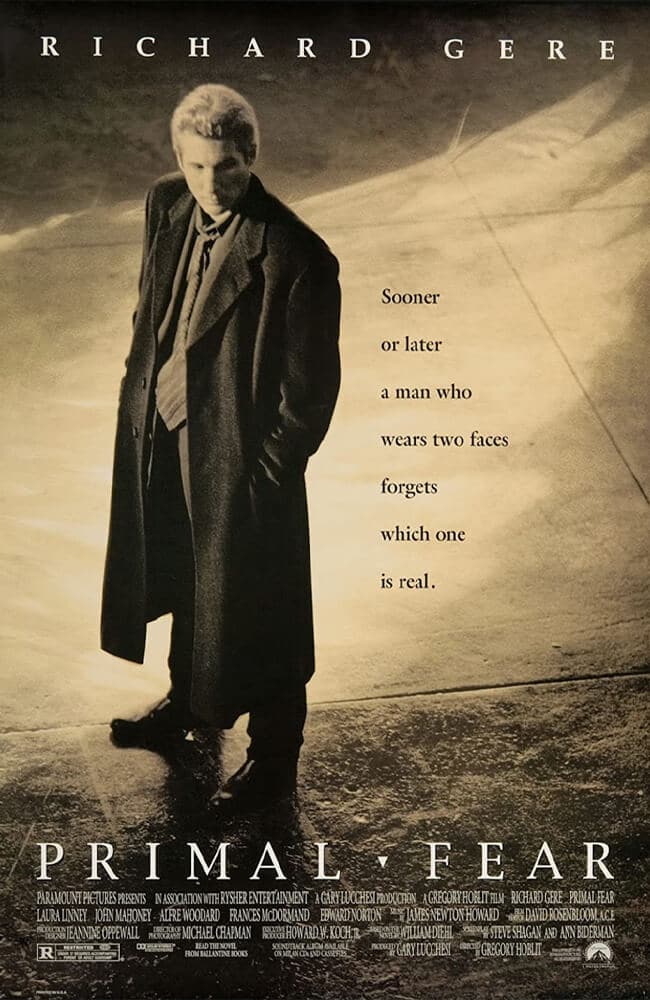 Director: Gregory Hoblit
Cast: Richard Gere, Laura Linney, Edward Norton, Andre Braugher, John Mahoney
It is a 1996 drama, crime, mystery film starring Richard Gere and Edward Norton. It is Edward Norton's first film in his film career and he won the Golden Globe Award for his acting performance in this film. Church officer Aaron (E. Norton) is accused of murdering the church's high priest.
Aaron's defense is handled by experienced Lawyer Martin Vail (R. Gere). The fact that the case made a sound on television and became mediatic is also effective for Martin to take on this case. As time passes, the event evolves to different places.
When Aaron's psychological problems are added to the case, he throws the audience in a completely different direction. First Fear isn't just about a teenager coming out guilty or innocent. He also exhibits a critical view of the functioning of justice and the wheels that make the justice system work.
---
10) Philadelphia (1993) | IMDb: 7.7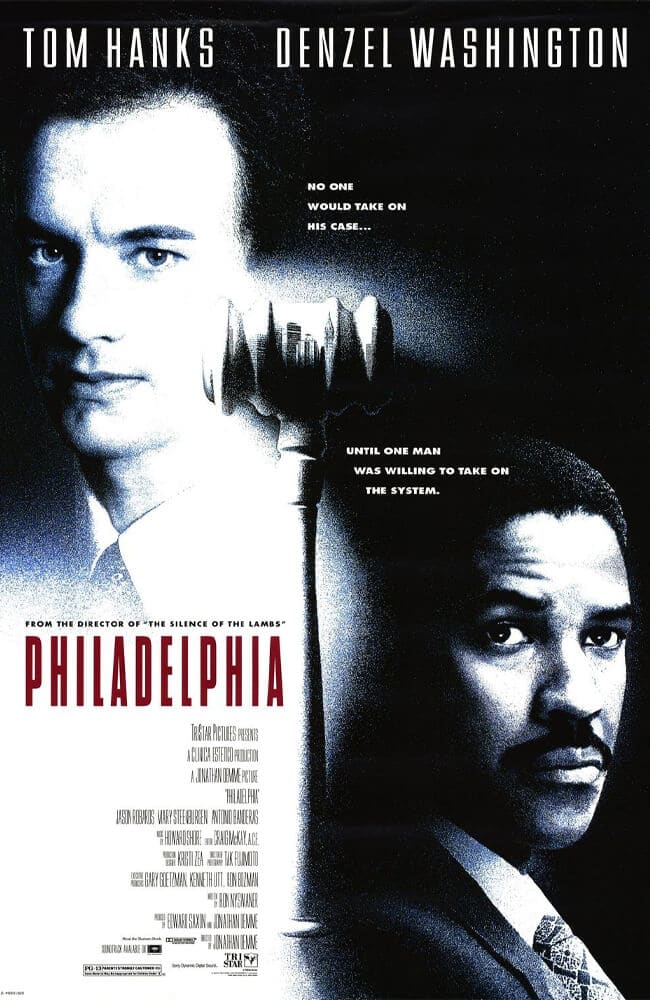 Director: Jonathan Demme
Cast: Tom Hanks, Denzel Washington , Antonio Banderas, Mary Steenburgen, Jason Robards
Philadelphia 1993 film starring Tom Hanks and Denzel Washington with their excellent acting. Gay and good lawyer Andrew Beckett (Tom Hanks) is fired from his law firm when it is discovered that he has the AIDS virus. Andrew sues the company and his boss as a result of his dismissal.
During this case, Andrew is supported by his friend Joe Miller (Denzel Washington). Philadelphia movie that involves social interrogation of someone who is gay and has AIDS. The film, which draws attention to discrimination against homosexuals, is one of the most striking productions in this regard.
---
9) The Verdict – The Verdict (1982) | IMDb: 7.7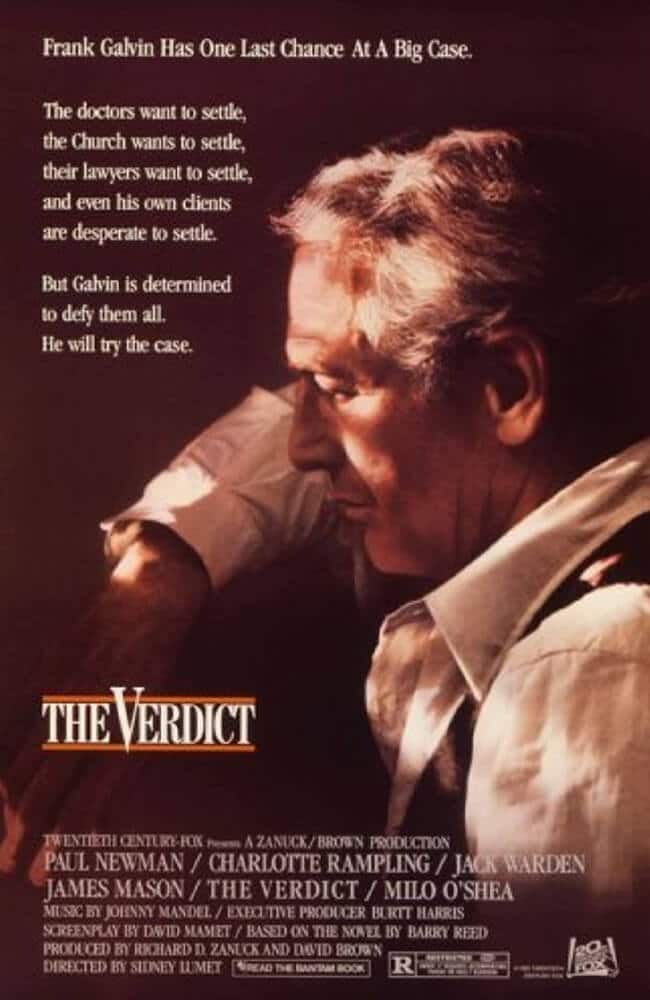 Director: Sydney Lumet
Cast: Paul Newman, James Mason, Charlotte Rampling, Milo O'shea
Judgment is a court movie adapted from Barry Reed's 1980 novel of the same name by David Mamet. Frank Galvin (Paul Newman), shown as a promising and successful lawyer in the past, has become an alcoholic. And he accepts a case for one last chance.
He wants to make an agreement with the hospital for his client, who is bedridden due to the doctor's treatment error, and close the case and relax a little financially. After meeting his client, he decides to abandon this idea and take the case to the courtroom. The case will not be easy. The defense of the hospital is the strongest and most famous law firm.
Galvin's unyielding combative side and the outcome of the case turn the story into a movie that you will watch with interest. The decision was nominated for five Academy Awards. He was nominated for best actor (Paul Newman), best supporting actor (James Mason), best director, best film and best adapted screenplay.
---
8) JFK – JFK: The File That Doesn't Close (1991) | IMDb: 8.0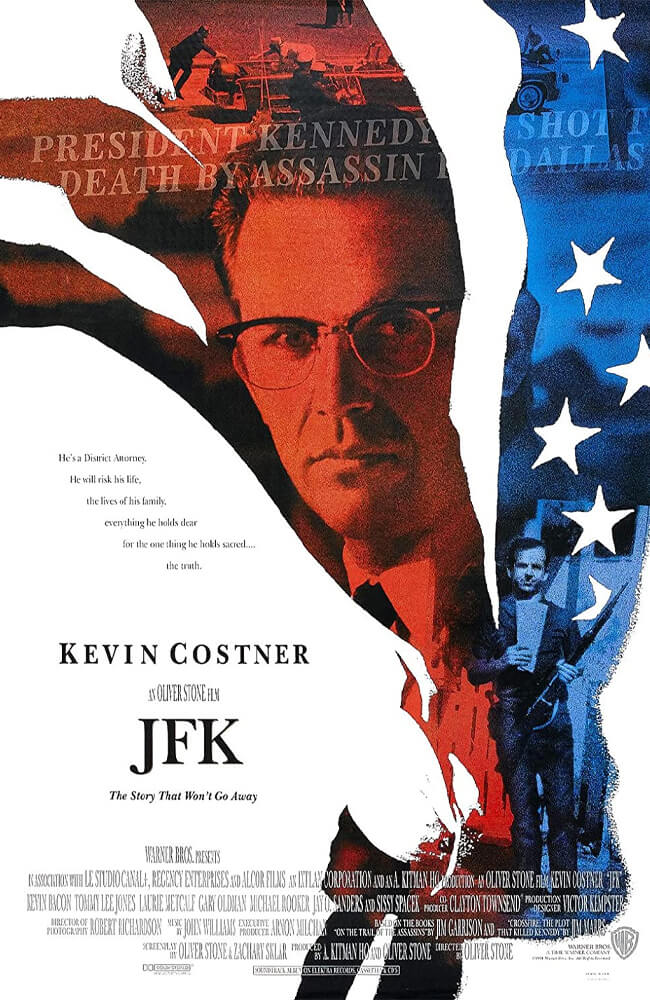 Director: Oliver Stone
Cast: Kevin Costner, Tommy Lee Jones, Gary Oldman, Joe Pesci, Kevin Bacon
New Orleans district attorney Jim Garrison (Kevin Costner) sets out to investigate the assassination of US President John F. Kennedy. Although Lee Harvey Oswald, who claimed to have committed the assassination alone, spoke up, some doubts and possibilities remained.
Although Oliver Stone was criticized for his view of some events differently than the real thing, the film still had a great impact. JFK: The File That Never Closed won two awards at the 1992 Oscars: Best Cinematography and Best Film Editing. He won the best director award at the 1992 Golden Globe.
---
7) Inherit the Wind – Legacy of the Wind (1960) | IMDb: 8.1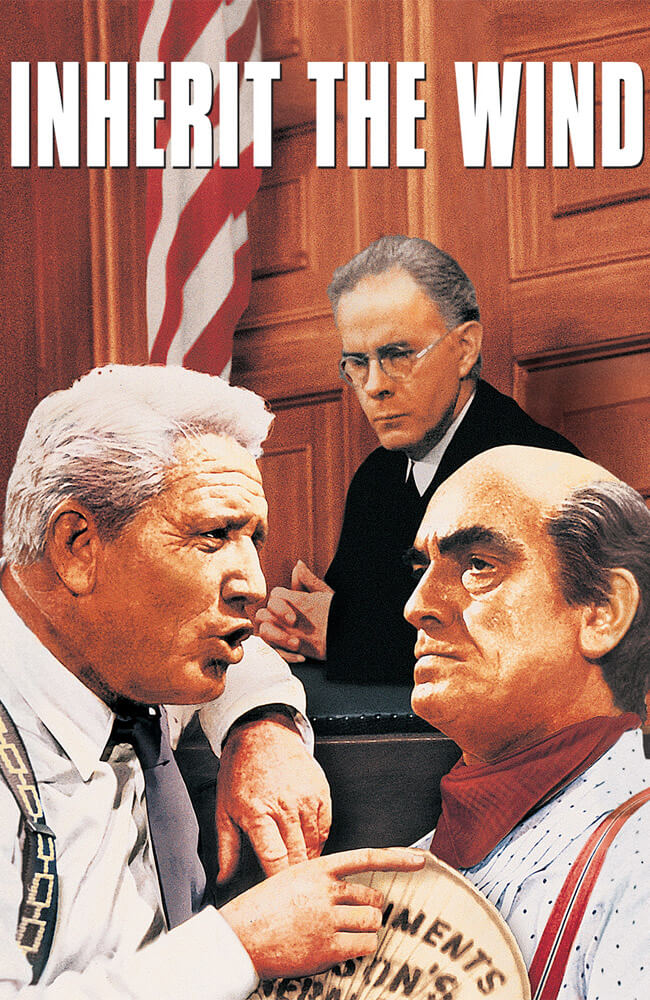 Director: Stanley Kramer
Cast: Spencer Tracy, Fredric March, Gene Kelly, Dick York
Legacy of the Wind is an adaptation of the 1955 play of the same name by Jerome Lawrence and Robert Edwin Lee. Bertram Cates, a teacher, is arrested for studying Darwin's theories in class. The priest and prominent figures in the town condemn Bertram. Matthew Brady is a well-known fundamentalist politician running for president.
Everyone is excited about helping Cates stand trial. Cates' defense will be Henry Drummond (Spencer Tracy). During the trial, the town priest gathers the public against the case and makes all kinds of propaganda against Cates and Drummond.
In addition to the conservatism of the southern states of America, the deficits of the justice system have been dealt with. The Legacy of the Wind received 4 Oscar nominations, a Golden Globe nomination for best film, and the Berlin Film Festival Silver Bear for best actor (Fredric March).
---
6) Judgment at Nuremberg – The Nuremberg Trial (1961) | IMDb: 8.2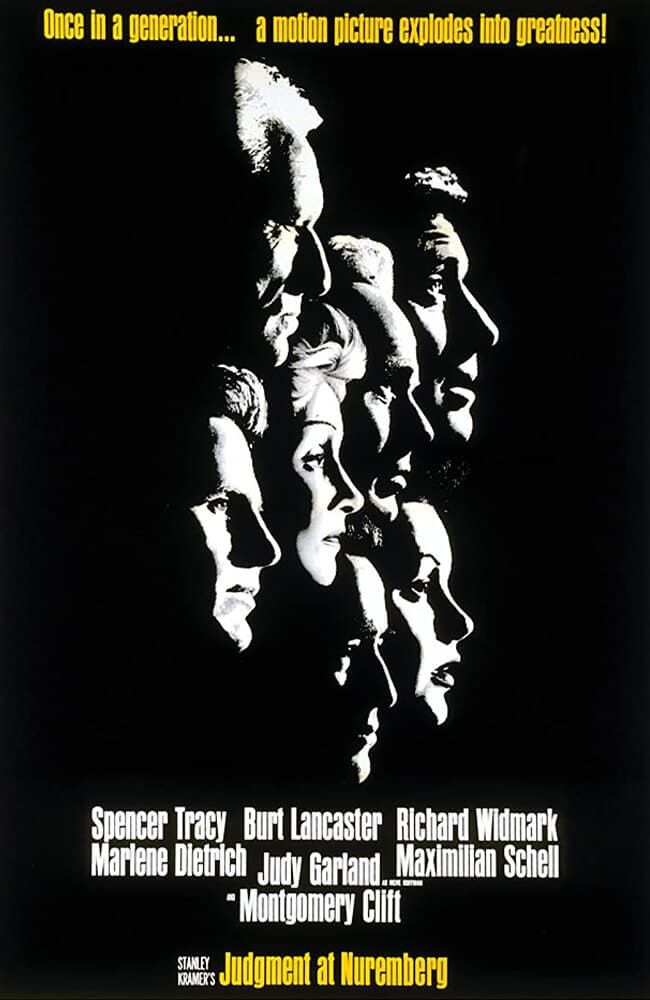 Director: Stanley Kramer
Cast: Spencer Tracy, Burt Lancaster, Richard Widmark, Marlene Dietrich
The Nuremberg Trial is a 1961 film based on true events. The movie was released in 1948. It takes place in Nuremberg, the city where the Nazi Party held parades after World War II. The winner of the war in the city, which was destroyed in a great deal, sends its own judges to the city for the trial of the Nazis, who are considered responsible for the former administration of the USA.
The answer given by all the defendants, except one, to the judge: " I am innocent ". Ernst Janning, on the other hand, protests the court by not answering any questions. Janning served as a judge, wrote law textbooks, and is one of the founders of the democratic constitution. Hans Rolfe (M. Schell) is his attorney.
The film won two awards at the 1962 Oscar Awards. It won the best actor (Maximilian Schell) and best screenplay (Abby Mann) awards. Maximilian Schell won the best actor award at the 1962 Golden Globe Awards. Stanley Kramer also won the Golden Globe Award for Best Film Director.
---
5) Anatomy of a Murder – Analysis of a Murder (1959) | IMDb: 8.0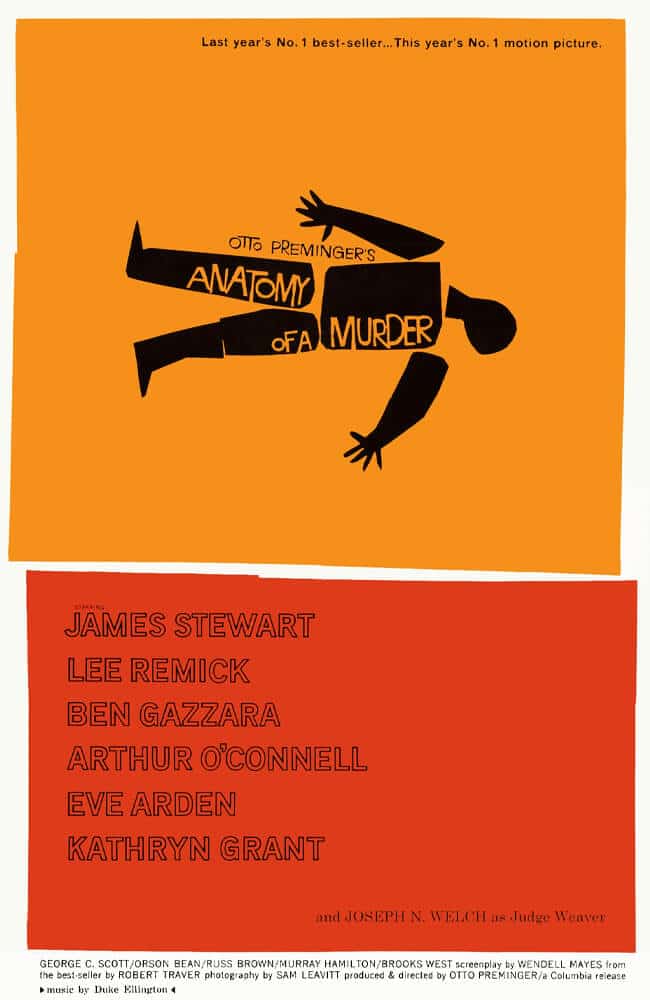 Director: Otto Preminger
Cast: James Stewart, Lee Remick, Ben Gazzara, George C. Scott, Eve Arden
Analysis of a Murder is a 1959 black and white dramatic courtroom film. The film is considered one of the best court films in America. It is an adaptation of John D. Voelker's 1958 novel of the same name. Lieutenant Frederick Manion (Ben Gazzara) is accused of murdering bar owner Barney Quill, who raped his wife, Laura Manion (Lee Remick).
He admits to killing and also mentions the possibility of raping his wife. A film that walks the fine lines of crime. Questions such as how the degree of crime is determined are processed. Manion's lawyer is ex-prosecutor Paul Biegler (James Stewart), who is trying to get along with not much work.
Together with his team, they try to solve the case. Some problems related to the legal system and ethics are covered. It was nominated for seven Oscars. Anatomy of a Murder is #4 in the American Bar Association Magazine's poll of 25 best court films. has found a place for itself.
---
4) In the Name of the Father – For My Father (1993) | IMDb: 8.1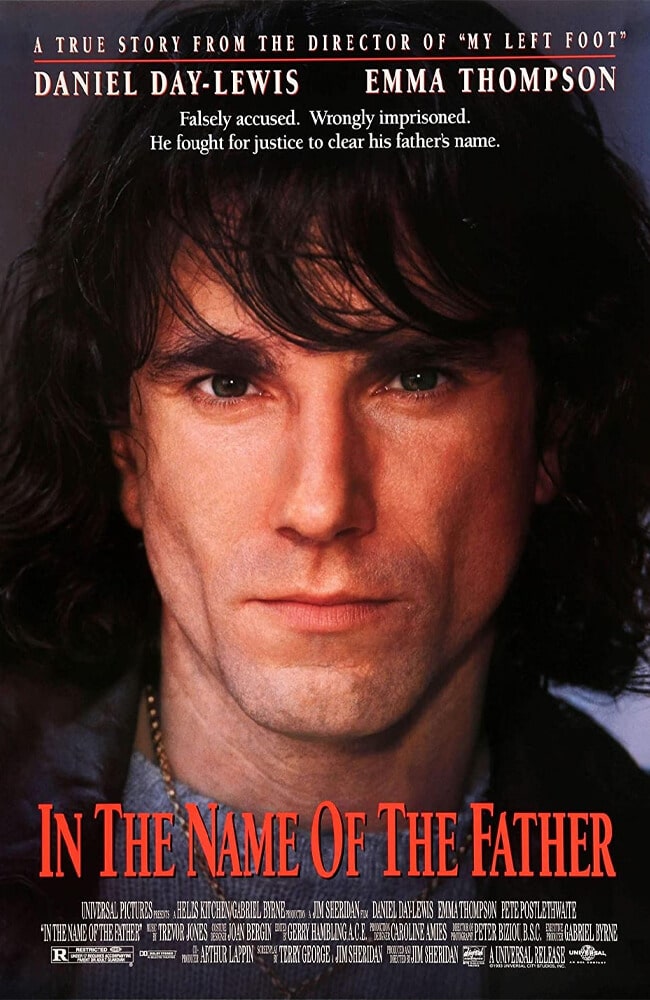 Director: Jim Sheridan
Cast: Daniel Day-Lewis, Emma Thompson, Pete Postlethwaite, John Lynch
For My Father tells the story of a man wrongfully imprisoned in the 1974 London bar bombing. Daniel Day-Lewis stars as Gerry Conlon, who lives in London. He is arrested after being found responsible for the 1974 Gyildford bombing.
Since the British police could not find the culprits in the bar bombing, they asked Gerry Colon to make a false confession after days of torture and threats. His father, Giuseppe Conlon (Pete Postlethwaite), is also imprisoned as an accomplice.
Members of the Conlon family were tortured for being members of the IRA, and they were sentenced to be members of the organization. Attorney Gareth Pierce (Emma Thompson), on the other hand, believed the family, sought clues to prove their innocence, and tried with all their might to have the case appealed years later.
---
3) To Kill a Mockingbird (1962) | IMDb: 8.2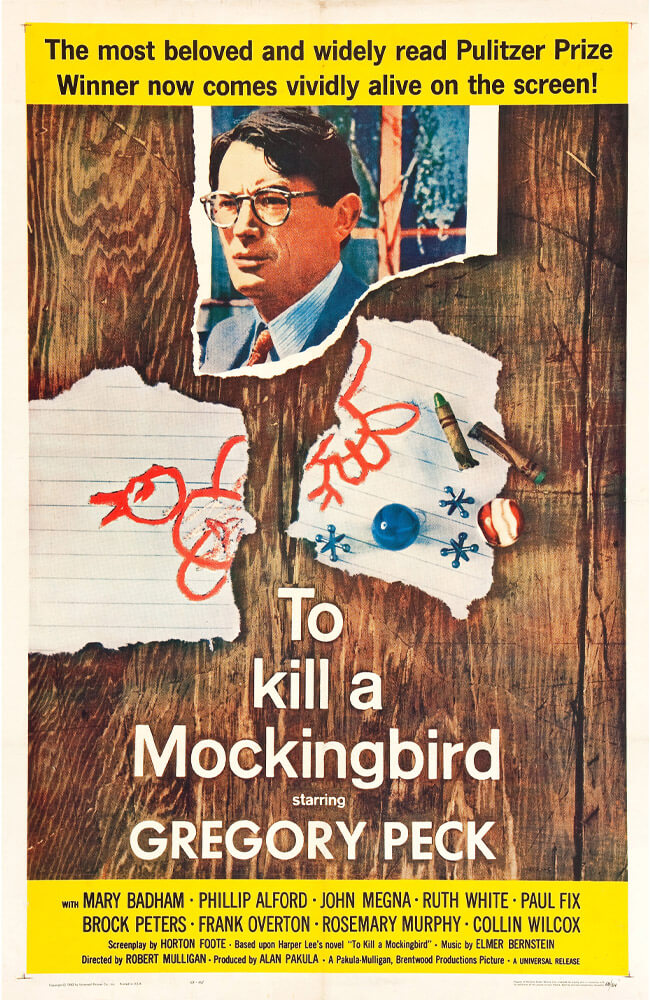 Director: Robert Mulligan
Cast: Gregory Peck, John Megna
Adapted from Harper Lee's Pulitzer Prize-winning novel of the same name, the production has an impressive place among court films. To Kill a Mockingbird takes place in America in the 1930s, the years of the Great Depression. In Alabama, a southern state of the USA, a black man is arrested for rape.
Atticus Finch, a virtuous lawyer with rules and courage at work, takes the case. Atticus Finch not only defends his client, who was arrested on rape charges, but also tells the story of his struggle against the rude, prejudiced and unsympathetic attitudes of the local people. In the movie, we are witnessing a period by unfolding the socioeconomic situation created by the economic depression.
The film won all three awards from the Oscar Awards in the categories of best actor, best art direction, and best adapted screenplay. The soundtrack of the film won the Golden Globe Award. To Kill a Mockingbird is also preserved in the National Film Registry of America.
---
2) Witness for the Prosecution – The Unexpected Witness (1957) | IMDb: 8.4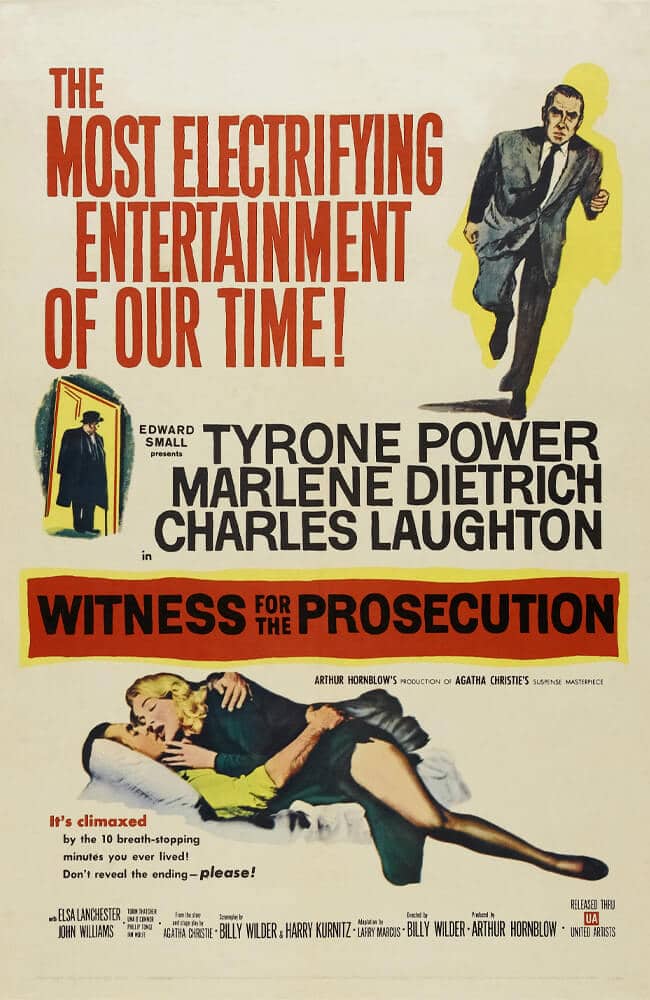 Director: Billy Wilder
Cast: Tyrone Power, Marlene Dietrich, Charles Laughton, Elsa Lanchester
Ranking second in our list of court films, The Unexpected Witness is a court drama film of the same name written in 1925 by Agatha Christie. It is one of the best adapted screenplay films. Leonard Vole (Tyrone Power), a young and charismatic man, is accused of murdering a wealthy old woman, Miss French.
Veteran Wilfred Roberts (Charles Laughton), a London criminal lawyer, takes on the Vole case. It is a different court movie that includes humor elements, arouses curiosity and excitement, and is remembered with the surprise in its finale.
---
1) 12 Angry Men – 12 Angry Men (1957) | IMDb: 9.0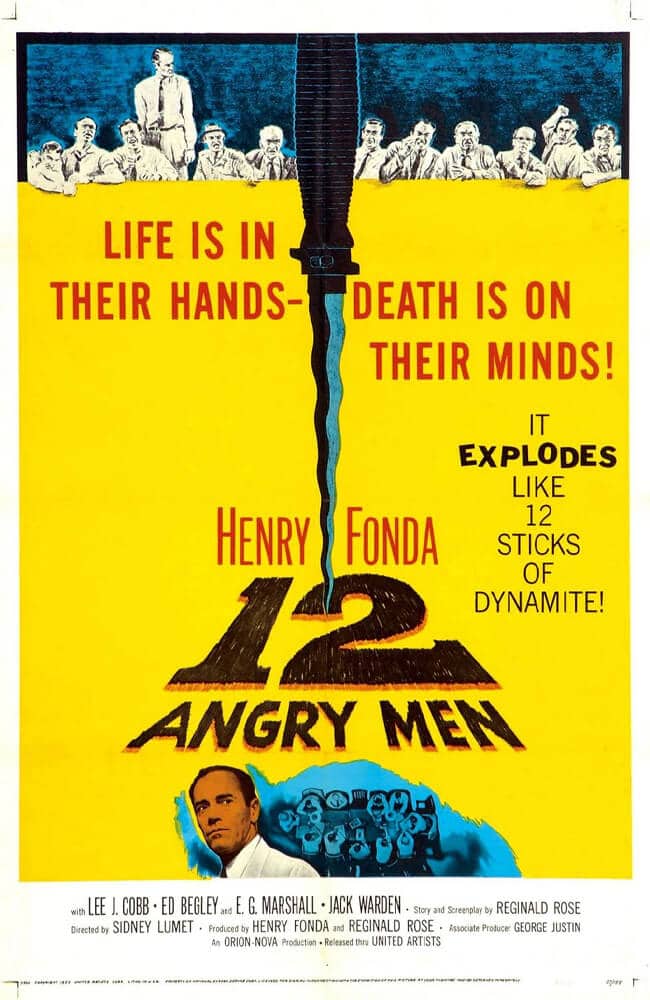 Director: Sydney Lumet
Cast: Henry Fonda, Lee J. Cobb, Jack Klugman, Ed Begley, EG Marshall, John Fiedler
It is a black and white film based on the 1957 play of the same name by Reginald Rose. In a murder case, the decision phase to be taken unanimously by 12 people consisting of 1 jury president and 11 jurors is handled. If they cannot take a unanimous decision, the jury team will be reconstituted and the case will be restarted. The decision they will take is whether the child living in a poor area killed his father or not.
If they decide that the boy killed his father, the boy will be executed in the electric chair. Twelve jurors try to make a decision in the jury room and get to know each other's personalities intimately. It has an important place in the field of court films, which consists of wonderful dialogues in which we will witness the different perspectives of each jury.
This post is also available in: Türkçe