The Molecular Biology and Genetics department was first opened in Turkey in 1977 at Boğaziçi University. Today, this department is within the body of many state and foundation universities. We have brought together all the questions and answers that are curious about the episode in this content.
---
What is the Department of Molecular Biology and Genetics?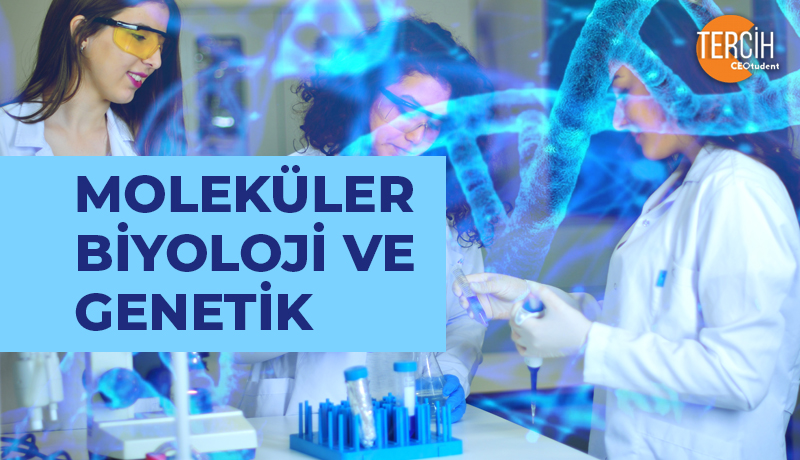 The Department of Molecular Biology and Genetics investigates how the biomolecules that make up living things work and are transferred. It examines the pathological, physiological and developmental states of the molecules that make up life. The department does not only work for medical and basic sciences. At the same time, the area where he works affects public health and social life.
The first two years of the department generally consist of courses such as basic mathematics, physics, chemistry and biology. In the third grade, they can head to the field they want. Areas that they can focus on include molecular genetics, biochemistry, physiology, cancer, immunology and biotechnology. The partition is also known as MBG for short.
---
How Many Years is the Education Period of the Department of Molecular Biology and Genetics?
The education period of this department, which is an undergraduate program, is 4 years.
---
What are the Department of Molecular Biology and Genetics Courses?
The basic courses taught in the department are:
● General Biology
● General Chemistry
● Genetics
● Microbiology
● Introduction to Bioinformatics
● Organic Chemistry
● Physiology
● Biochemistry
● Biotechnology
● Molecular Cell Biology
● Immunology
● Bioethics
● Cellular and Molecular Biology
● Evolution and Biodiversity
● Research Techniques in Biology
---
What Do Molecular Biology and Genetics Graduates Do?
"What does Molecular Biology and Genetics do?" We can count the fields of study for the question. His fields of study include training and research hospitals, pharmaceutical companies, stem cell centers, organizations related to biotechnology, environment and wildlife protection, agricultural industry, food industry, and IVF centers.
---
How Much Salary Do Molecular Biology and Genetics Graduates Get?
Salaries of department graduates vary according to the field they choose. Department graduates who are new to the profession receive a salary between 3.500-4000 TL. Those who gain experience can earn up to 10,000 TL.
---
What are the Challenges of the Department of Molecular Biology and Genetics?
New techniques and approaches evolve and change very quickly. Therefore, students are expected to be able to keep up with this rapid change. Information accumulates very quickly and this information must be mastered.
---
Who Can Be Successful in Molecular Biology and Genetics?
People with these characteristics can be successful in this department:
● Open-minded
● Curiosity and Patience
● Have
analytical thinking
skills
● Interested in science and mathematics disciplines
● Prone to group work
● Loves to do research
---
Molecular Biology and Genetics Job Opportunities
The department is a relatively young department. It hosts a lot of information that has not yet been discovered. These days, when we are in a pandemic that affects the whole world, the importance of this section has started to increase even more. In addition to health workers working in the field to treat people, department graduates working to produce vaccines in laboratories also worked to end the pandemic.
Although the field of study is wide and important, unfortunately, the process of finding a job for the graduates of this department is somewhat painful due to the increasing number of universities and graduates in our country. Unless the allowances given to the number of laboratories and working areas are increased, job opportunities for department graduates are limited.
---
What are the Foreign Opportunities of the Molecular Biology and Genetics Department?
The foreign opportunities of the department are generally about doing research. Graduates of the department can start working as a researcher by taking postgraduate and doctorate education abroad. At the same time, you can find a job abroad in fields where you can work in Turkey. However, for this, you need to improve yourself in your field and have a good level of foreign language.
---
In Which Fields Can Graduates of Molecular Biology and Genetics Specialize?
Department graduates can specialize in hereditary and complex diseases, developmental biology, plant genetics, cancer and biotechnology. Graduates who want to specialize in these areas after their undergraduate education should take a graduate education.
---
What is the Future of the Department of Molecular Biology and Genetics?
The chapter briefly studies the biomolecules that make up living things. Although it seems that much is known about living things, there is an ocean that has not yet been discovered in the study areas of the department. So the future of the department is pretty clear worldwide.
All other university departments can be
found here
.
This post is also available in: Türkçe Français Español Deutsch