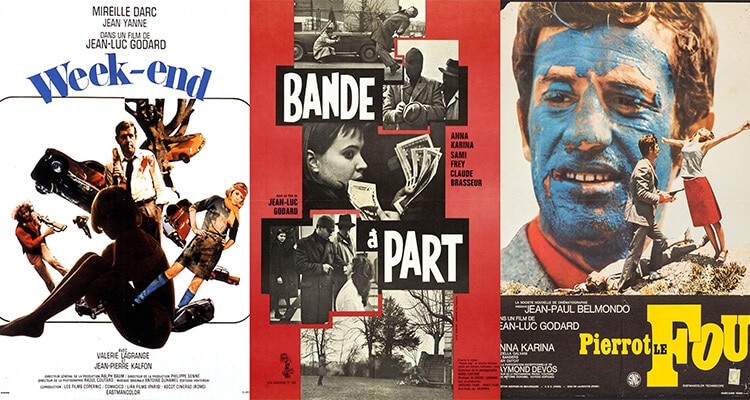 Jean-Luc Godard was born in France in 1930. He is one of the pioneers of the cinema movement known as the New Wave, which emerged in the 1960s. The New Wave movement, which ignored the traditional-classical cinema dynamics that had prevailed until that day, had a great impact on the world. That's why when we talk about Jean-Luc Godard films, we are faced with a very wide portfolio.
Godard has produced some of the most important productions in cinema history with his films that have inspired many filmmakers. He played a major role in the cinema's descent from the studio environment to the streets, to the streets, in short, to real life. The iconic name, who carries the understanding of cinema to a completely different point with his existential and critical stories, is considered one of the most influential directors in the history of cinema both in France and in the world.
We have compiled for you the ten films of the author-director Jean-Luc Godard, one of the first names that come to mind when the French New Wave is mentioned.
---
1) À bout de souffle (1960) | IMDb: 7.8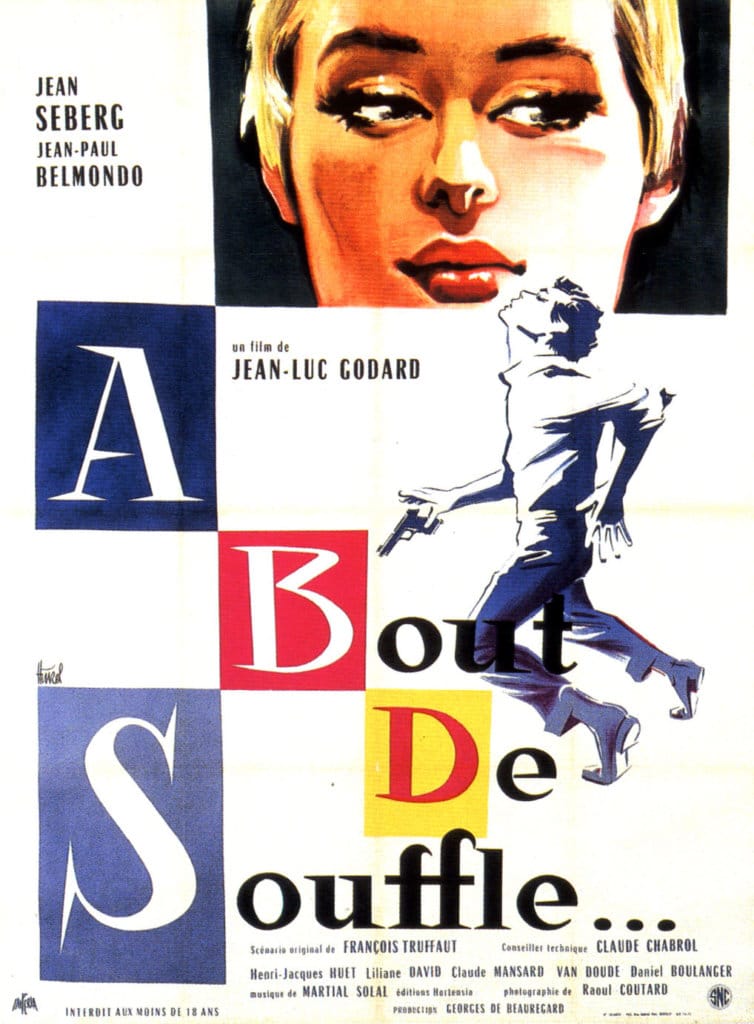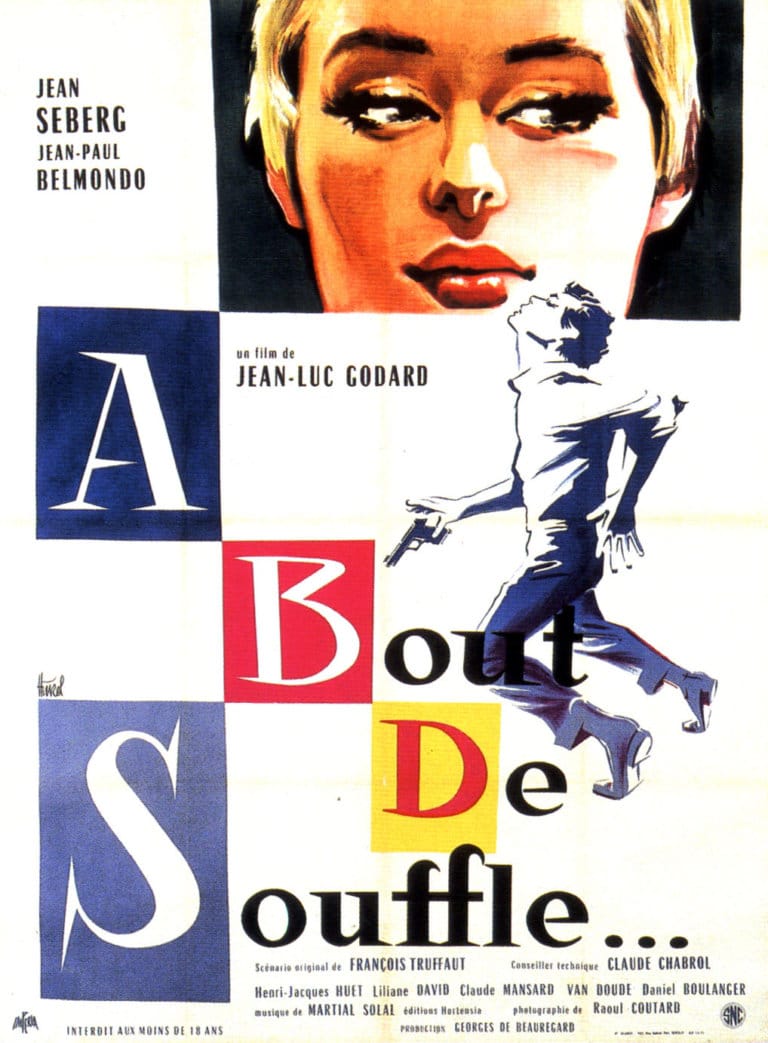 Cast: Jean-Paul Belmondo, Jean Seberg, Daniel Boulanger
Genre: Crime, Drama
The first film on our list of Jean-Luc Godard films, À bout de souffle, is also the director's first feature film. In addition to being one of the most influential films of the New Wave movement, it is considered one of the pioneering films of modern cinema as it goes beyond the classical cinema narrative.
A man named Michel steals a car in Marseille. While escaping, he kills a cop on the way. While searching for a place to hide, he thinks of Patricia, whom he had been with before. Patricia is an intern at the New York Harold Tribune on the Champs Elysées, Paris.
Michel tells Patricia about his situation. His goal is to find the money somewhere and go to Rome. Patricia, overcome by her feelings at first, agrees to help Michel, but on the other hand, she doesn't want her to get in trouble. On top of that, Michel says he wants to go to Rome with Patricia. While Michel is preparing to go to Rome, Patricia is in a big dilemma.
---
2) Une femme est une femme (1961) | IMDb: 7.5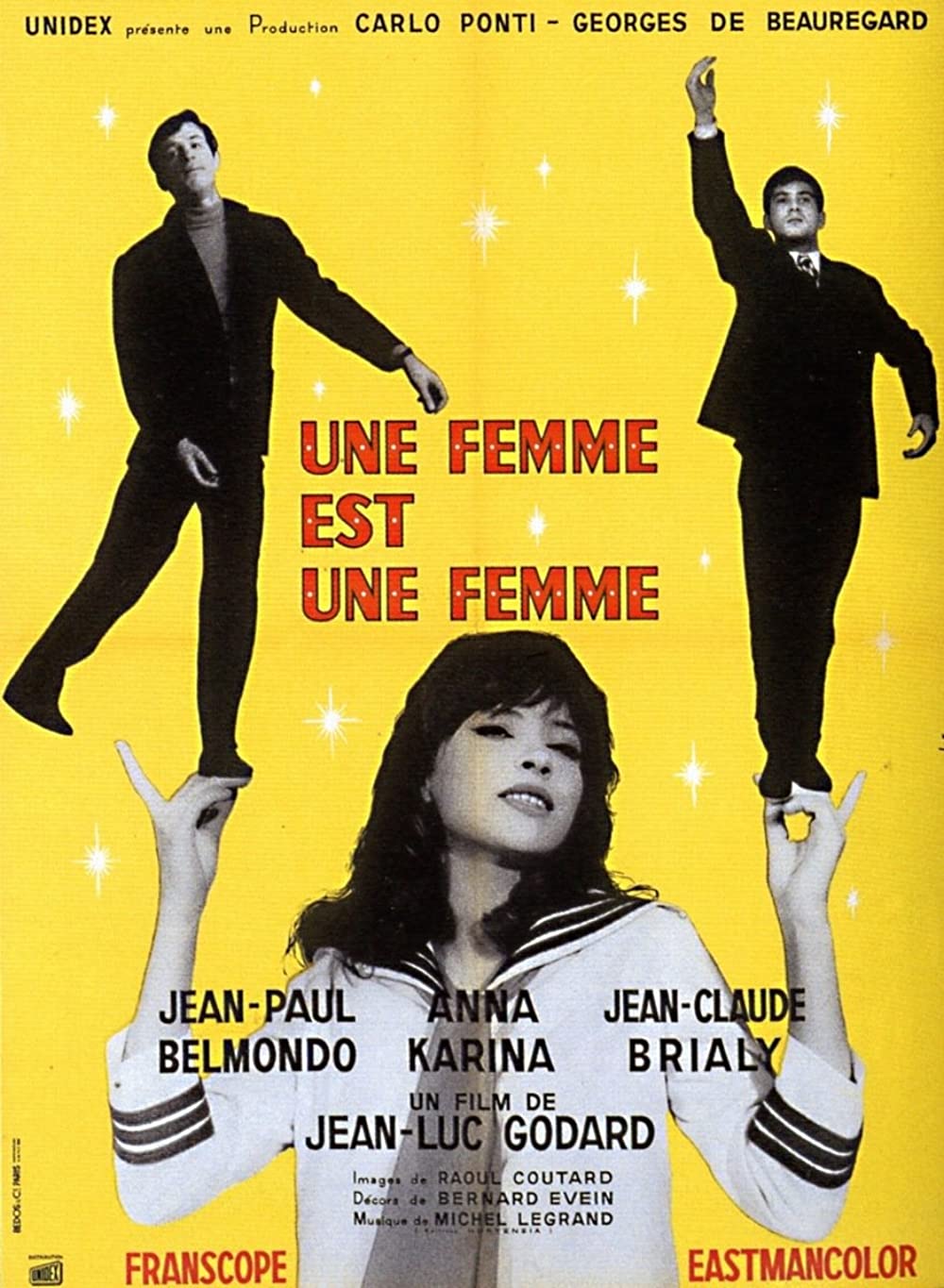 Cast: Anna Karina, Jean-Claude Brialy, Jean-Paul Belmondo
Genre: Comedy, Drama, Romance
The second film in our list of Jean-Luc Godard films, Une femme est une femme, also is the first color film in the director's filmography. Angela works as a stripper in a nightclub. Angela, whose biggest dream is to have a child, tells this wish to her lover Emile, but Emile does not take kindly to this request. Angela is very persistent. Emile is also overwhelmed by this insistence and advises Angela to be with Alfred's close friend.
Emile actually jokes, but Angela takes the suggestion seriously and spends a night with Alfred. Alfred is very impressed with Angela and tells him that he loves her. Everything gets mixed up in an instant. Jealousy, misunderstandings, fights, and arguments begin between Emile, Angela, and Alfred. On the other hand, Angela has achieved her biggest dream of having a child.
---
3) Vivre sa vie: Film en douze tableaux (1962) | IMDb: 8.0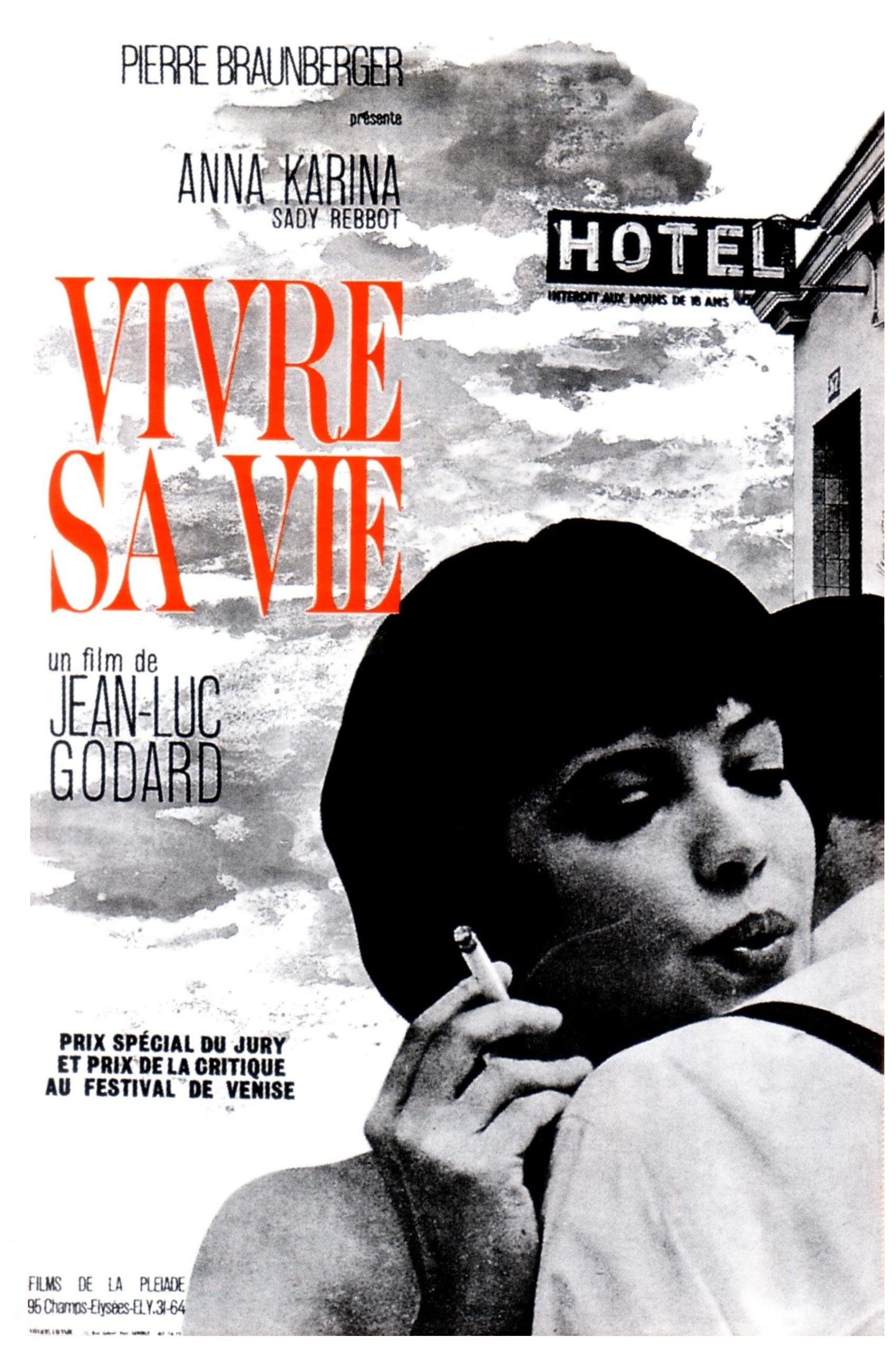 Cast: Anna Karina, Sady Rebbot, Andre S. Labarthe
Genre: Drama
Vivre sa vie: Film en douze tableaux is the movie with the highest IMDb score on our list of Jean-Luc Godard movies. Nana Kleinfrankenheim is a 22-year-old married woman with children. Her biggest dream is to be an actress. Nothing goes well for Nana, who leaves her home and family to follow her dreams. On her way to becoming an actress, ridiculous events happen to her, and she suddenly finds herself engaged in prostitution.
Jean-Luc Godard divides Nana's life into 12 episodes for the audience. The director, who determined a different theme in each episode, also narrated the documentary genre in some episodes. Along with the sensation it created at that time, the film also has the distinction of being one of the most remarkable films of the director.
---
4) Le mépris (1963) | IMDb: 7.6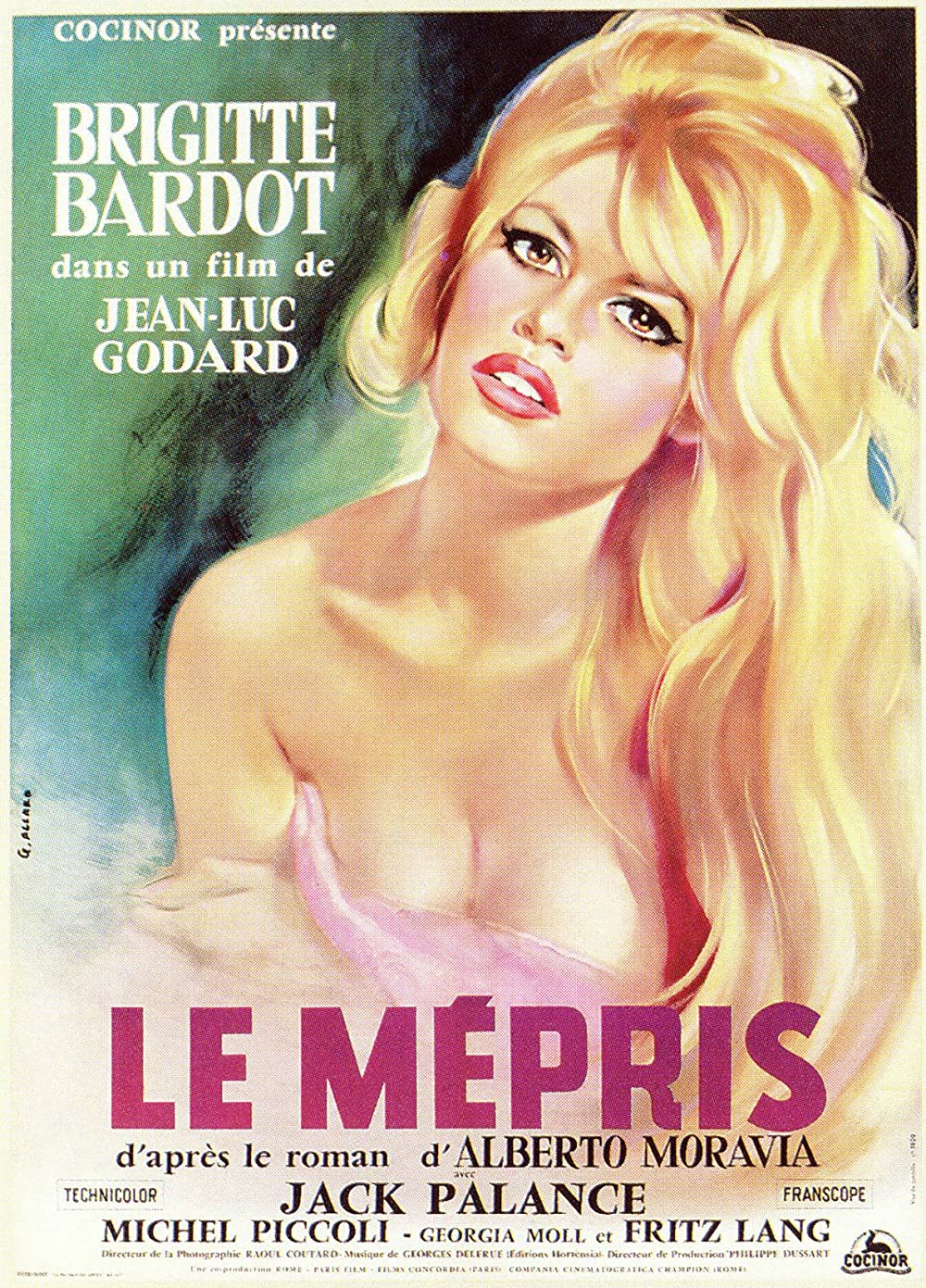 Cast: Brigitte Bardot, Michel Piccoli, Fritz Lang
Genre: Drama, Romance
The film is adapted from the 1954 novel Il Disprezzo by Italian poet and writer Alberto Moravia. Fritz Lang, one of the iconic directors of German cinema, and Brigitte Bardot, one of the iconic names of French cinema, take the lead roles. Paul, a screenwriter, is working on a script that will adapt the Odyssey Epic to the cinema. Although Paul loves his wife, Camille, he can't show her the attention she deserves during the scriptwriting process. Then, things start to fall apart.
The producer of the movie begins to seduce Camille. Paul is aware of everything, but he prefers to be a spectator instead of preventing it. Camille responds to the producer's interest in the face of this attitude. With each passing day, things start to get out of hand. A happy marriage, shaken by the screenwriting process, has now turned into a game of power, love, and jealousy between the characters.
---
5) Bande à part (1964) | IMDb: 7.7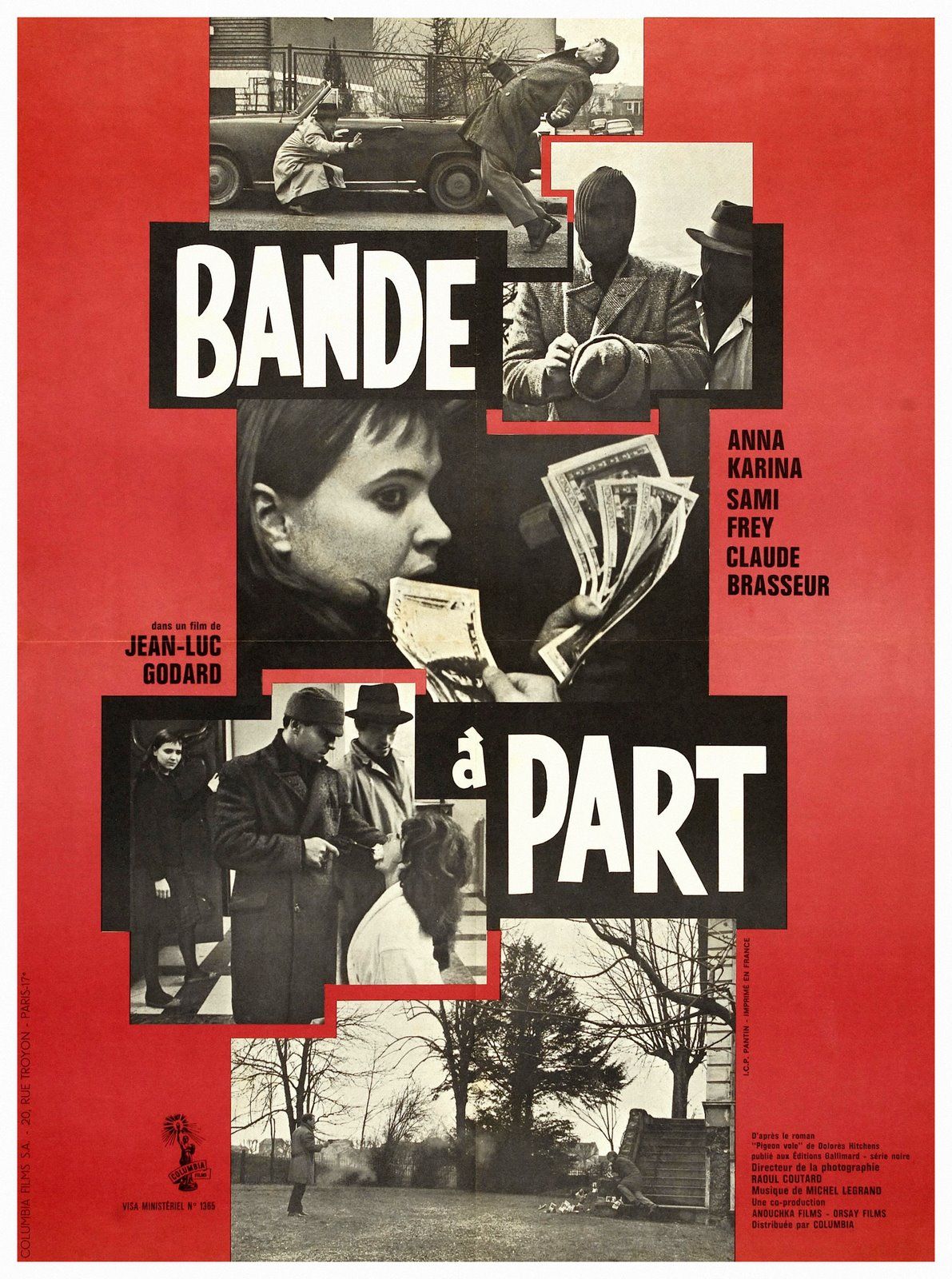 Cast: Anna Karina, Claude Brasseur, Sami Frey
Genre: Comedy, Crime, Drama
Arthur and Franz, two very close friends, live with the dream of committing a significant theft and becoming rich one day. They risked everything for this. One day, Franz meets a beautiful young woman named Odile. Odile has a grandmother. By chance, Franz learns that Odile's grandmother has a large amount of money in her house and immediately informs Arthur.
Arthur and Franz set to work on their dream heist. Their first goal is to convince Odile. After their long efforts, they convince Odile and plan to carry out the robbery. Although the plan seems flawless, some things will not go well. Arthur, Franz, and Odile will face some very dire consequences that they never expected.
---
6) Alphaville, une étrange aventure de Lemmy Caution (1965) | IMDb: 7.1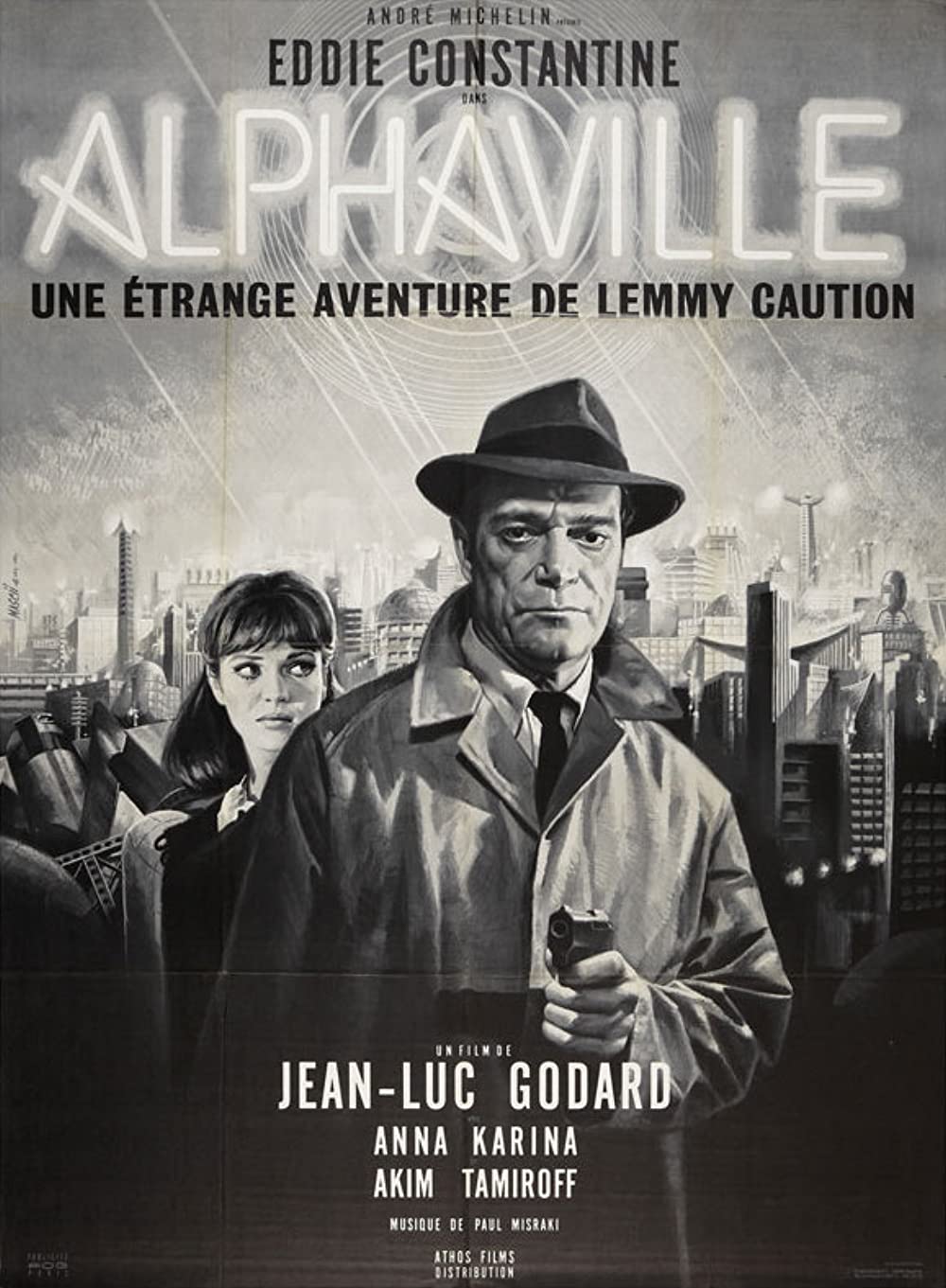 Cast: Eddie Constantine, Anna Karina, Akim Tamiroff
Genre: Drama, Mystery, Sci-Fi, Thriller
Next up in one of the most remarkable films of our list of Jean-Luc Godard films. Lemmy Caution is an American private detective. On a given mission, he goes to Alphaville, the capital of another planet. The country's president is someone named Alpha 60, who rules the country by coercion. Alpha 60 is actually a robot, but with human appearance. Lemmy's mission is to kill Alpha 60. While preparing for the assassination day, Lemmy meets a woman named Natacha and soon falls in love. However, Natacha is the daughter of the scientist who designed Alpha 60.
Lemmy is a principled detective and therefore wants to complete his mission. But on the other side is Natacha, whom he is very, very much in love with. Moreover, there is no room for emotions on this planet. Lemmy can't decide what to do in all the chaos she lives in. Blending the film noir genre with dystopian science fiction, Jean-Luc Godard creates one of the most notable works of film noir and science fiction genre and cinema history.
---
7) Pierrot le Fou (1965) | IMDb: 7.6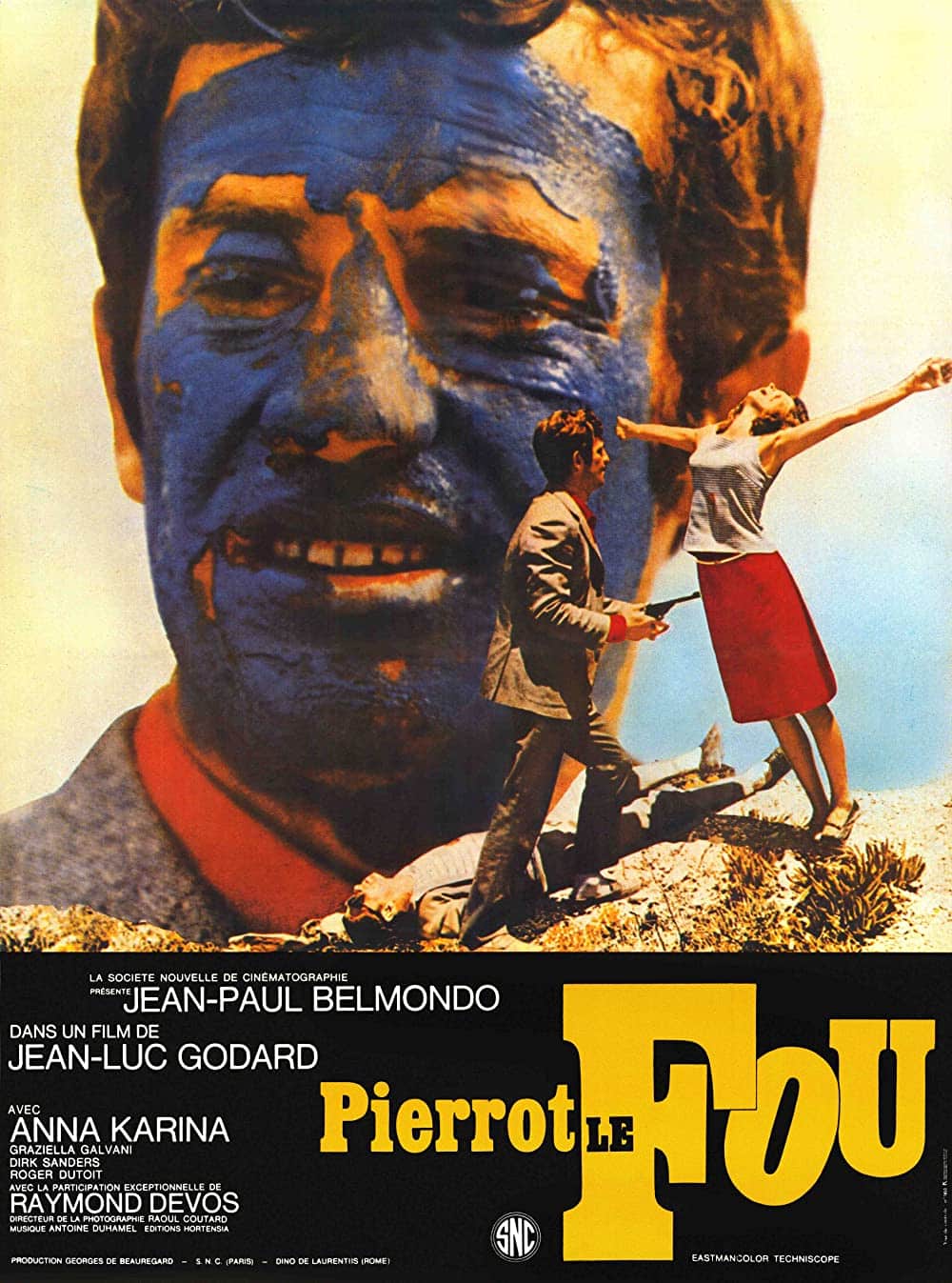 Cast: Jean-Paul Belmondo, Anna Karina, Graziella Galvani
Genre: Crime, Drama, Romance
The novel Obsession inspires Jean-Luc Godard by the American writer Lionel White. Ferdinand Griffon is a married man with children. The family, whose financial situation is excellent, literally lives a high society life. However, Ferdinand is very bored with this social life. On top of that, Ferdinand, who is fired from his job, runs away with a woman named Marianne after a family party and leaves his wife and children.
Together they go to Marianne's house, but there is a body in the place. Marianne realizes a group of Algerian gangsters is following her, and the two get in a car and set off from Paris to the Mediterranean coast. Ferdinand and Marianne, who have a great time during their journey, sing songs and recite poems to each other. They even commit some crimes. They are caught after a while, but Marianne somehow manages to escape. Ferdinand also runs after Marianne and immediately sets out to look for her. But it takes a long time to find it. When he finds it, the world falls apart. Marianne has been with someone else for a while.
---
8) Masculin féminin (1966) | IMDb: 7.5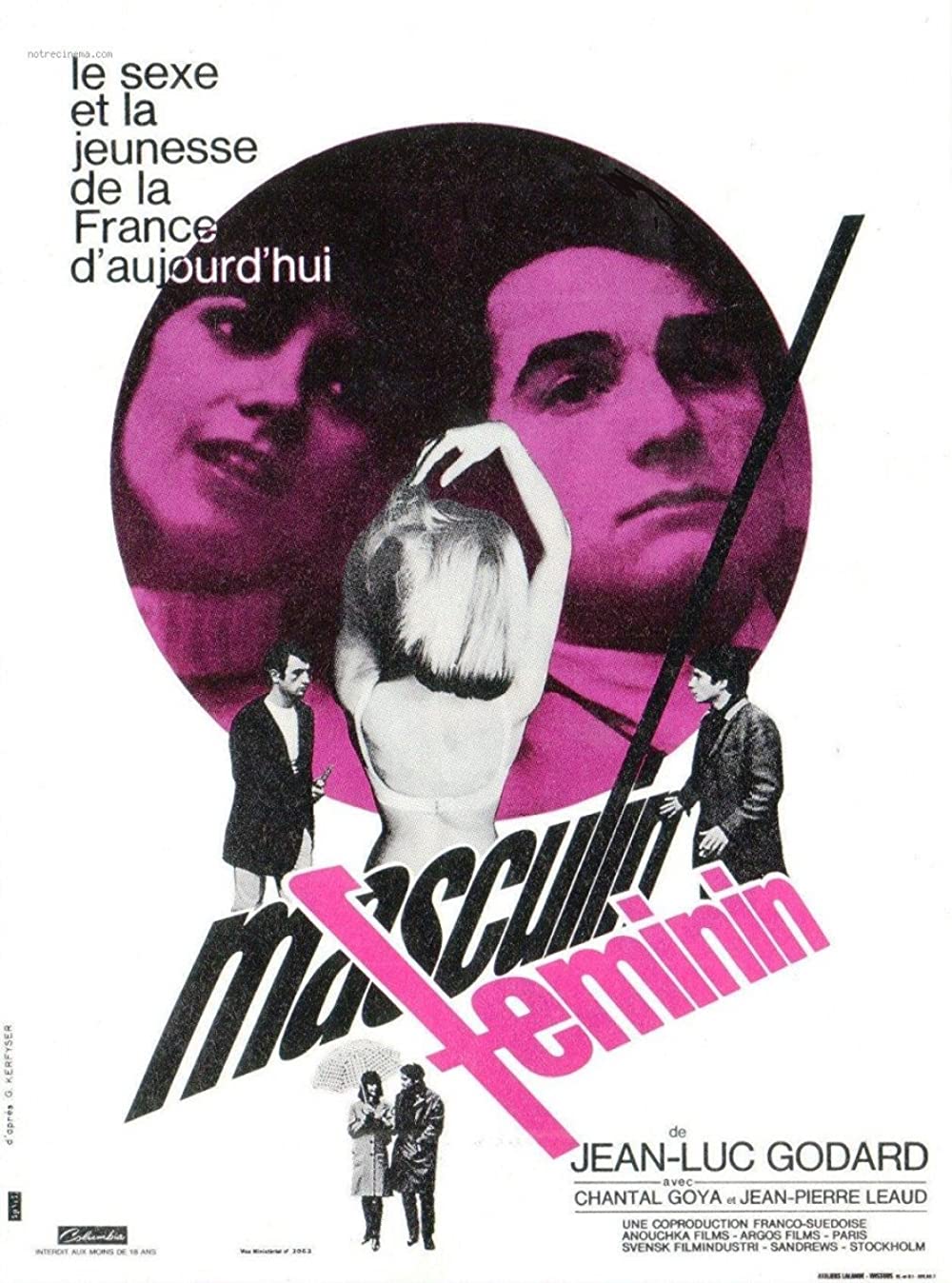 Cast: Jean-Pierre Léaud, Chantal Goya, Marlene Jobert
Genre: Drama, Romance
Jean-Luc Godard deals with male-female relations through politics and pop culture in this movie. Paul is a journalist. On the one hand, he conducts interviews on the streets and, on the other hand, participates in the protests against the Vietnam War. In all this rush, he meets a woman named Madeleine one day. Unlike Paul, Madeleine is a non-political person. Madeleine's biggest dream is to become a very famous pop singer.
Paul and Madeleine fall in love with each other, even though their outlook on life and their ideals are vastly different. Paul moves into Madeleine's house, but Madeleine does not live alone. She has two roommates, Catherine and Elisabeth, and they both begin to like Paul. This tense process that begins between Paul, Madeleine, Catherine, and Elisabeth will cause an event that will change their lives.
Jean-Luc Godard tries to combine the positive aspects of both worlds in the film, which deals with the masculine side of politics and the feminine side of pop culture as a man's dilemma.
---
9) Week End (1967) | IMDb: 7.2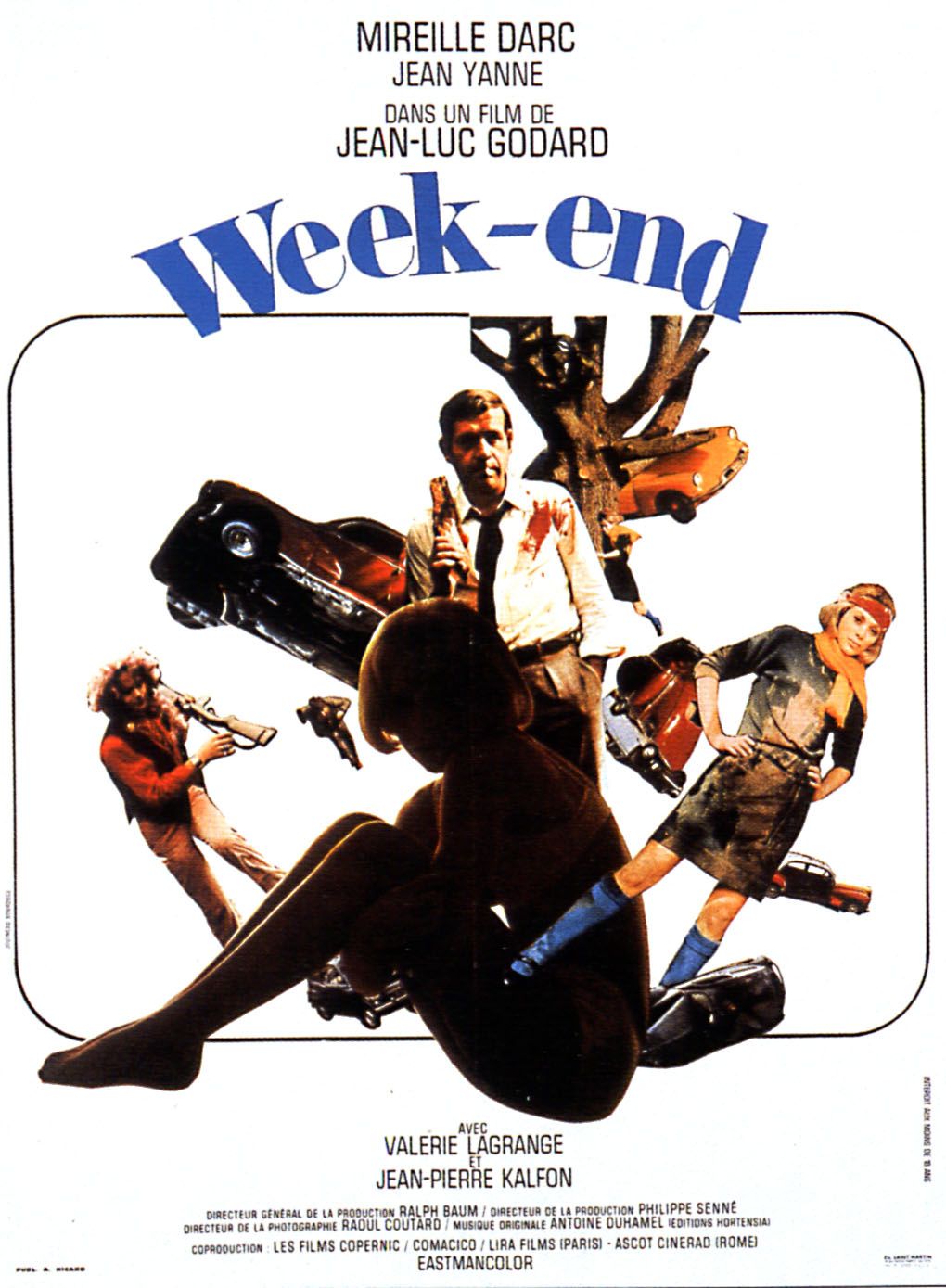 Cast: Mireille Darc, Jean Yanne, Jean-Pierre Kalfon
Genre: Adventure, Comedy, Drama
A couple of the bourgeois class embark on a journey to visit the woman's family for their legacy. But this is not just a visit. The couple plans to kill the woman's family to get the inheritance. However, from the moment they set off, nothing goes right. A traffic jam has never happened before, revolutionary demonstrators, civil war, people who left their mark in history, even cannibals. With this film, Jean-Luc Godard takes the audience on a surreal journey.
---
10) La chinoise (1967) | IMDb: 7.1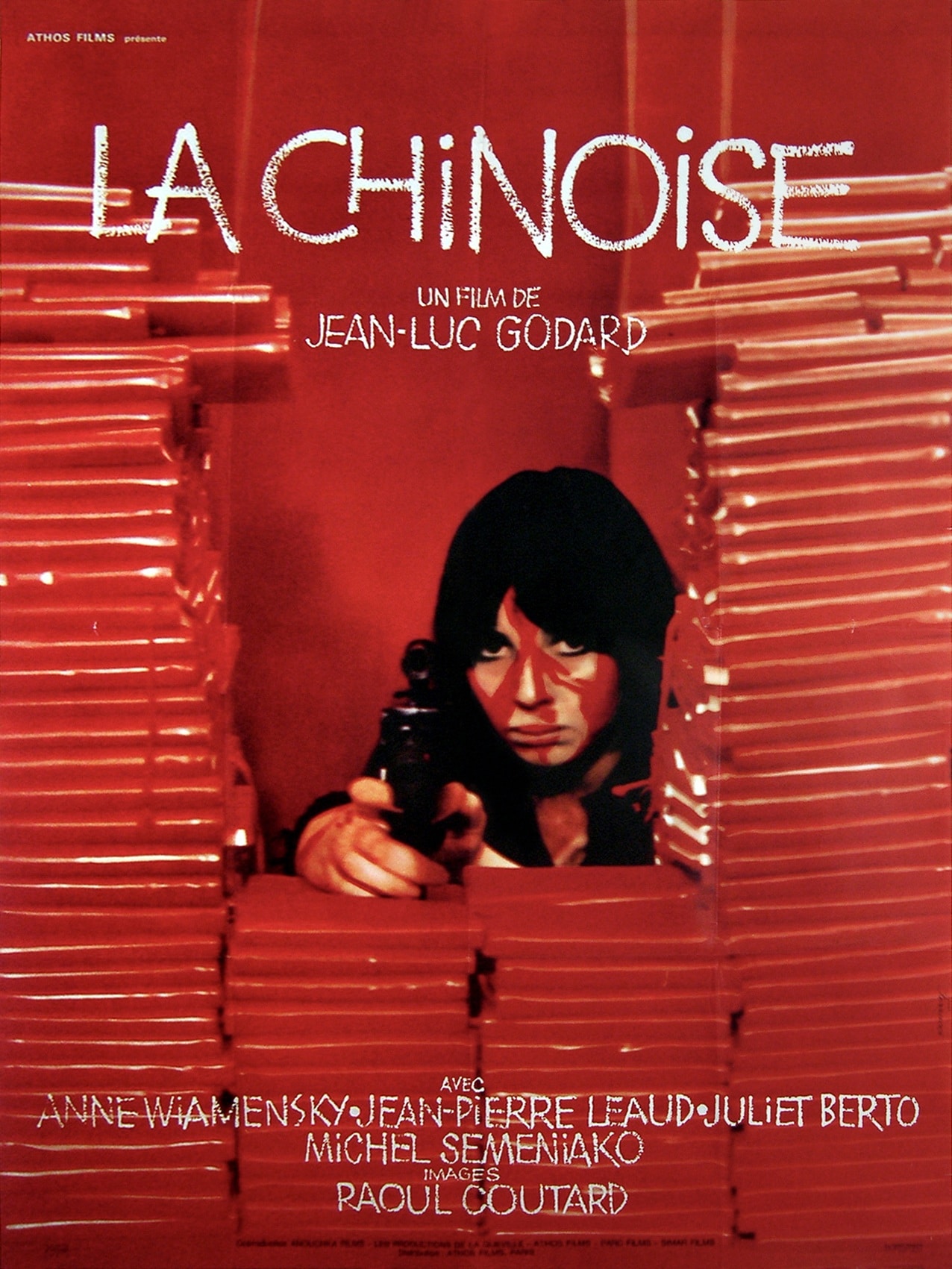 Cast: Anne Wiazemsky, Juliet Berto, Jean-Pierre Léaud
Genre: Comedy, Drama
It's time for the last movie on our list of Jean-Luc Godard movies that you must watch. The film tells the story of five French students who consider themselves Maoists. Although these five friends introduce themselves as Maoists, they each have different political stances. Veronique is both the leader of the group and its most active activist. Henri has more humanistic views than the others and is therefore constantly misunderstood. Guillaume sometimes listens to his logic and sometimes to his feelings and finds himself in this dilemma all the time. Kirilov is the person most prone to violence in the group. This tendency has even progressed to the level of self-destructive. Yvonne is the only person in the group who has little or no interest in politics.
Jean-Luc Godard makes some inferences about the understanding and practice of the revolution of the period through this group of five friends. When talking about differing views and diverging paths even within a small group of friends, Godard makes a symbolic representation of politics through five students and deals with the separation of people who set out together during the revolution process.
---
Here are our lists of movies that might interest you:
Best Horror Movies of the 21st Century
This post is also available in: Türkçe