The act of writing and the passion for writing can mean too much for some people. The passion for writing can even become an obsession for some. Our author movies content; It focuses on the lives of people with a strong passion for writing, the lives of famous writers, and the lives of people for whom writing is the most important thing in their lives. Here are 17 films about writers and their experiences, each more valuable than the other, about writing.
---
1) The Words – Stolen Life (2012) | IMDb: 7.0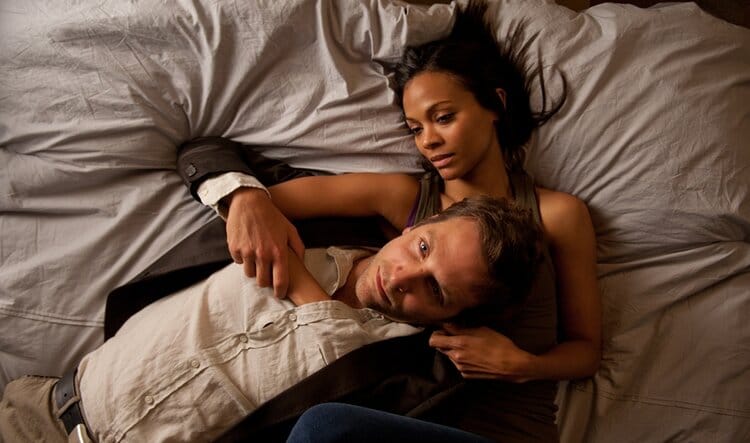 Director: Brian Klugman, Lee Sternthal
Cast: Bradley Cooper, Dennis Quaid, Olivia Wilde
Rory Jansen is a young writer who became famous with her first book. The writer, who shines with his unique language and original style, succeeds in becoming one of the important writers of his time. The book he wrote is a masterpiece that is recognized not only in his country but also all over the world, and even received full marks from critics.
He enjoys this great success and fame with his wife, whom he falls in love with and loves very much. But a mysterious old man who comes into his life at a time when everything is perfect will also make a claim for the novel written by Jansen.
---
2) The Hours ( 2002) | IMDb: 7.5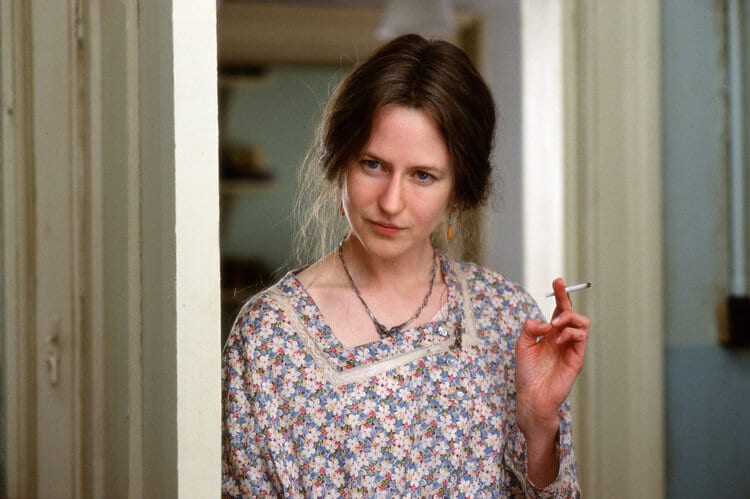 Director: Stephen Daldry
Cast: Merly Streep, Nicole Kidman, Julianne Moore, Stephen Dillane, Miranda Richardson
This movie, which touches on the life and tragic death of Virginia Woolf, one of the famous names in English Literature, is about one of Woolf's important novels, "Mrs. Dalloway". On the one hand, Virginia Woolf, who is in a very difficult depression period and trying to complete her novel, on the one hand, and on the other hand, housewife Laura Brown, who bought the novel years after it was written and read it with enthusiasm, and editor Clarissa Vaughan, who lives in New York. The film brings together the events of the lives of three women in three different time periods with the audience. Mrs. This movie, which is narrated on the axis of Dalloway, was nominated for 9 Oscars.
---
3) Adaptation – Inside Out (2002) | IMDb: 7.7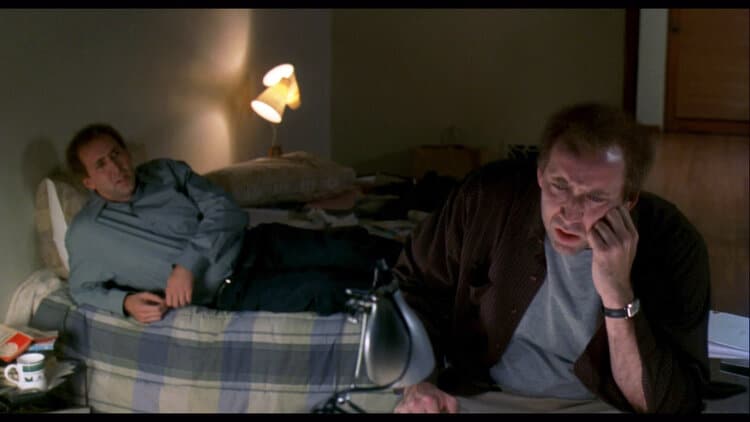 Director: Spike Jonze
Cast: Nicholes Cage, Tilda Swinton, Merly Streep, Chris Cooper, Jay Tavare
They demand that Charlie Kaufman write the screenplay for the most famous book of the time, The Orchid Thief. Kaufman tries hard to write the screenplay, but he can't get ahead of the script. His inability to advance begins to regress more and more every minute he tries.
Among all these troubles, Kaufman also deals with his twin brother Charlie, who is trying to write an extremely unsuccessful thriller screenplay. Charlie, who decides to reflect the depression he is in, will affect everyone's life.
---
4) Stranger Than Fiction – Please Don't Kill Me (2006) | IMDb: 7.5
Director: March Forster
Cast: Will Ferrell, Emma Thompson, Maggie Gyllenhaal, Dustin Hoffman, Queen Latifah, Tony Hale
It tells the story of IRS agent Harold Crick, who has an ordinary and boring life. A writer named Karen Eiffel is about to finish her years-long novel. While Karen is planning how to kill Harold Crick, the main character of her book, Harold, an IRS agent, is unaware that he is actually living every sentence that comes out of the author's pen.
But one day, Harold begins to hear the voice of the writer who wrote his life in his head and realizes the events. In order to save himself from death, he plans to find the author who tells his story and persuade him not to kill him.
---
5) Ghost Writer – Ghost Writer ( 2010) | IMDb: 7.2
Director: Roman Polanski
Cast: Ewan McGregor, John Bernthal, Tim Preece, Jim Belushi, Timothy Hutton, Anna Botting
Based on Robert Harris' bestselling book "Ghost Writer," this film chronicles a writer tasked with writing the memoirs of a former British Prime Minister. While researching and revealing the truth, the author suddenly falls into a frightening web that stretches from the CIA to the White House and from there to Downing Street 10.
The former Prime Minister, for whom he wrote his memoirs, also approves the secret surrender of many British citizens he marked to the CIA, as part of the fight against terrorism, and is accused of allowing these captured British citizens to be tortured.
---
6) In the House – At Home ( 2012) | IMDb: 7.4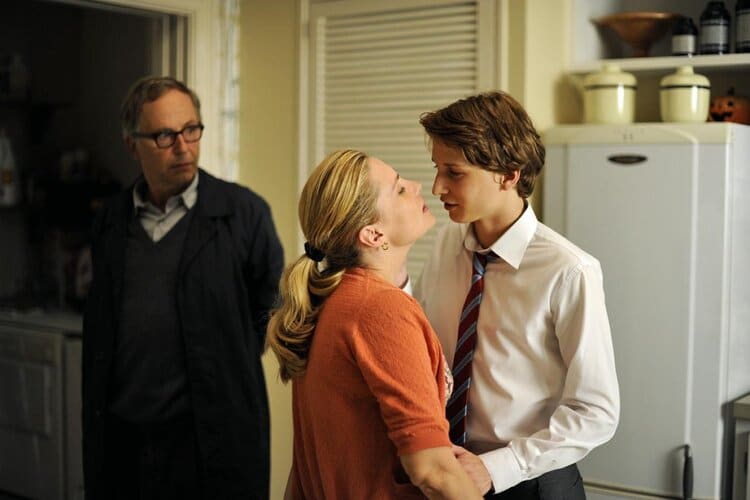 Director: François Ozon
Cast: Fabrice Luchini, Vincent Schmitt, Ernst Umhauer, Kristin Scott Thomas, Emmanuelle Seigner, Bastien Ughetto
Claude, a sixteen-year-old boy, is an unnoticed student who always sits in the back row of school; but compared to his friends and peers of his own age, he has an incredible ability to observe and write. In French class, Claude, who has to write an essay, tackles a secret topic about a friend's family named Ralph.
When he delivers this composition to his French teacher, his teacher has ethical doubts, but he decides to enjoy the writings of this interesting and quick-witted student. He does not tell anyone about the events written in the composition. But this decision made by the teacher will create a lot of problems.
---
7) Midnight in Paris – Midnight in Paris (2011) | IMDb: 7.7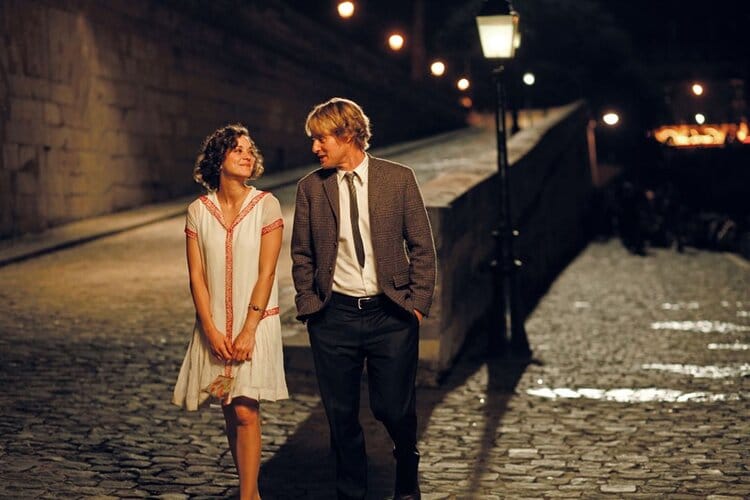 Director: Woody Allen
Cast: Owen Wilson, Rachel McAdams, Kathy Bates, Kurt Fuller, Mimi Kennedy, Michael Sheen, Nina Arianda
Gill and Inez, the American couple who will get married in the fall, want to create a short vacation opportunity for themselves by using the excuse that Inez will be in Paris for her father's job; They set out for Paris, the fascinating city of love.
Gill, whose passion for Paris increases as he wanders around the city, and therefore his desire to write is triggered, throws himself on the streets of Paris in the middle of the night and finds himself in a fascinating world, as he thinks it will inspire the novel he will write.
Gill suddenly goes to 1920s Paris. In this unreal environment, Scott Fitzgerald, TS Eliot, Ernest Hemingway etc. He meets many famous people. Things get complicated when he meets an attractive woman named Adriana.
---
Director: David Koepp
Cast: Johnny Depp, John Turturro, Maria Bello, Timothy Hutton, Charles S. Dutton, Len Cariou
Inspired by the story of Stephen King, famous for his thriller and horror novels, the film features successful thriller writer Mort Rainey. Mort Rainey falls into a deep depression after his wife cheats on him. Rainey, who divorced his wife and lost his inspiration due to the psychological crisis he experienced, moves to Tashmore Lake, New York's calm and quiet rough country, in order to focus on his new book and to get rid of the depression he is in.
One day, a strange man, John Shooter, knocks on Rainey's door, who is in difficult times, and accuses her of stealing her own stories. Rainey, who didn't care much for this man at first, realizes that the event is drifting to a very dangerous place as time passes.
---
9) Becoming Jane – The Book of Love (2007) | IMDb: 7.0
Director: Julian Jarrold
Cast: Anne Hathaway, James McAvoy, Julie Walters, James Cromwell, Maggie Smith, Anna Maxwell Martin
Becoming Jane tells the story of a passionate love affair with Jane Austen, whose books have been adapted many times, before she became a famous writer.
Austen was brought up in a poor family. Despite this, he also has many talents that can influence people in writing and authorship. But she is told that her writing abilities are of no value, as she is a woman. Austen, whose abilities are not accepted by the society because she is a woman, opposes the idea that the only way to save herself and show her talents comfortably is to marry Wisley, who is financially well off.
Resisting all the bullying of her family, Jane will meet Tom Lefroy, a confident young lawyer; she will fall in love with him. This love for each other will be a spark for them to ignore everything and start a new life.
---
10) Capote (2005) | IMDb: 7.3
Director: Bennett Miller
Cast: Allie Mickelson, Kelci Stephenson, Philip Seymour Hoffman, Craig Archibald, Bronwen Coleman, Kate Shindle
Capote chronicles the events before the publication of his most valuable work in the history of American literature, In Cold Blood .
Truman Capote, who works for a magazine, is so moved by the murder news in a newspaper that he reads one day, and sets off to Kansas with Harper Lee, the author of the book To Kill a Mockingbird , to investigate. The author conducts research from the beginning of this case, which will go down in history as the most brutal murder, to the resolution process.
Impressed by years of negotiations and what the prisoners said, the author sets his mind to write a book on this subject. This book occupies an important place in American literature as it is the first work inspired by a true story.
---
11) Quills – Lord of Dreams (2000) | IMDb: 7.3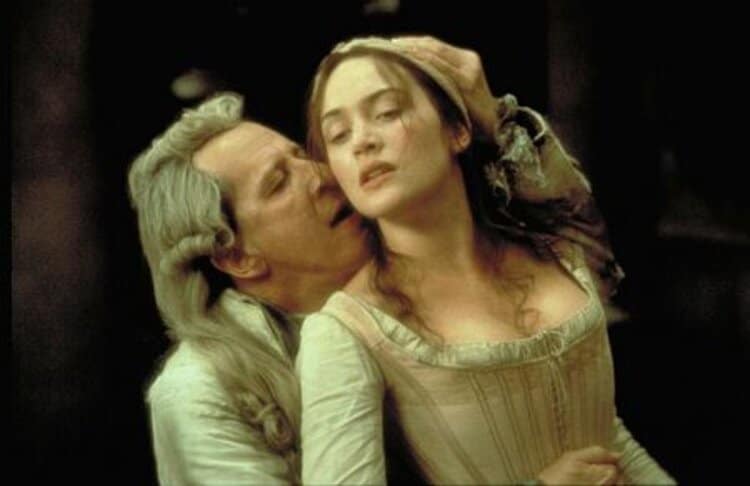 Director: Philip Kaufman
Cast: Geoffrey Rush, Kate Winslet , Joaquin Phoenix, Michael Caine, Billie Whitelaw, Patrick Malahide
Describing a play by Doug Wright, Quills tells the experiences of Marquis de Sade, who spent the last ten years of his life in a mental hospital that was like a prison.
De Sade, who was criticized by the society for his writings on sadism, continues to write in the hospital. The laundress Madeleine, who works at the mental hospital who desires De Sade, begins to secretly distribute De Sade's stories outside the hospital. Reading one of these articles, Napoleon has a nervous breakdown and directs conservative doctor Royer Collar to a mental institution to cure De Sade.
---
12) Anonymous – Anonymous (2011) | IMDb: 6.9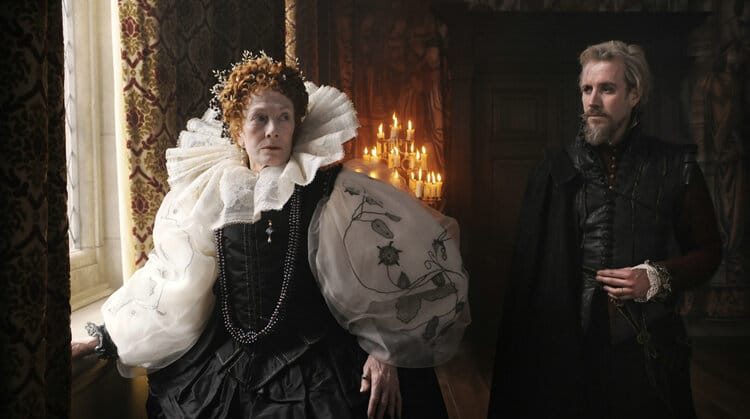 Director: Roland Emmerich
Cast: David Thewlis, Rhys Ifans, Venessa Redgrave, Joely Richardson, Edward Hogg
This story, which takes place in England during the reign of Queen Elizabeth, touches on a crucial question: Who owned the works of William Shakespeare, one of the most famous names in the history of English literature? Could those precious works he wrote belong to someone else?
With this film, the director touches on the unanswered problem of the history of English Literature, after experts who do research on the subject, thousands of articles, thousands of books and many theories put forward.
---
13) Ruby Sparks – My Dream Love (2012) | IMDb: 7.2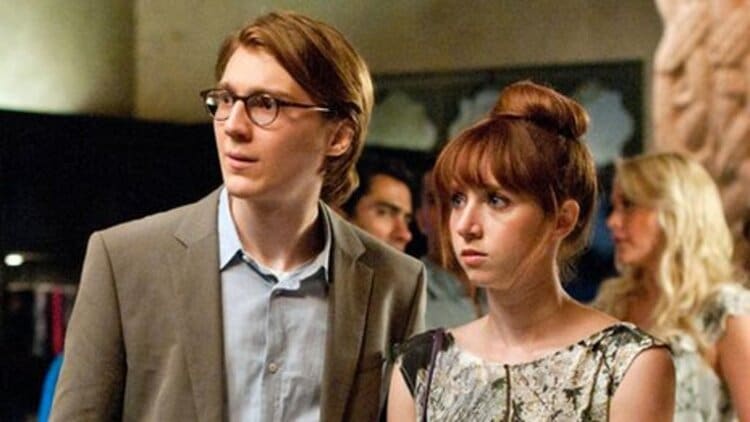 Director: Jonathan Dayton, Valerie Faris
Cast: Paul Dano, Zoe Kazan, Annette Bening, Chris Messina, Antonio Banderas, Aasif Mandvi
Calvin is a famous young writer. But the fast-rising Calvin began to stumble in his career. To regain his inspiration, he comes up with a very interesting idea. He makes up his mind to immerse himself in a story he has created, and creates a woman whom he imagines will fall in love with him.
The woman's name is Ruby. The funny thing is, exactly one week later, Calvin finds Ruby on the living room couch, alive! Calvin doesn't know what to do when he sees his writing turn into a real person.
---
14) Deconstructing Harry – Naughty Harry (1997) | IMDb: 7.4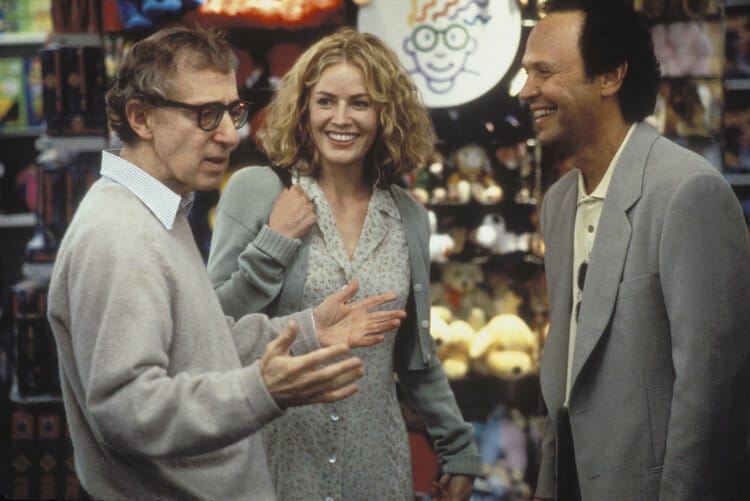 Director: Woody Allen
Cast: Woody Allen, Judy Davis, Julia Louis – Drefus, Stephanie Roth News, Dan Frazer
This movie is about a writer's life full of creativity and sexuality. Harry Block is now an oriental writer, but still young in spirit. He asked the publisher, who will publish his book, for the money for the next book he will write, as an advance, and he spent this money well. But he also does not feel in the mood to write a new book.
Harry has 3 ex-wives and many girlfriends; For this reason, he thinks that he is a "sex patient". One day, Harry, who has to go somewhere else to get an award, is looking for someone to travel and accompany him on his way out of town; but cannot find it. And this search will cause him to have some arguments with his friends, children, lovers and ex-wives.
---
15) Sylvia (2003) | IMDb: 6.3
Director: Christine Jeffs
Cast: David Birkin, Alison Bruce, Amira Casar, Daniel Craig, Blythe Danner, Lucy Davenport
Sylvia Plath, who is not more famous but would become a well-known poet and writer, meets poet Ted Hughes in 1956 in England. Sylvia was greatly influenced by his poems and fell in love before getting to know her personally. And when she gets the chance to meet him one day, she reciprocates her feelings and marries Ted. But Slyvia later realizes something. She sees that there are other women who are impressed by her husband's poems, charisma, handsomeness and intelligence.
Sylvia begins to feel like nothing in her husband's shadow and tries to bring herself to the fore; however, she realizes that she is not as naturally successful as her husband in matters related to writing. In addition to all these thoughts, he also makes some paranoia by thinking that Ted is with other women. As a result of these psychological dilemmas, Sylvia tries to commit suicide as she cannot cope with her frayed feelings…
---
16) Barton Fink (1991) | IMDb: 7.7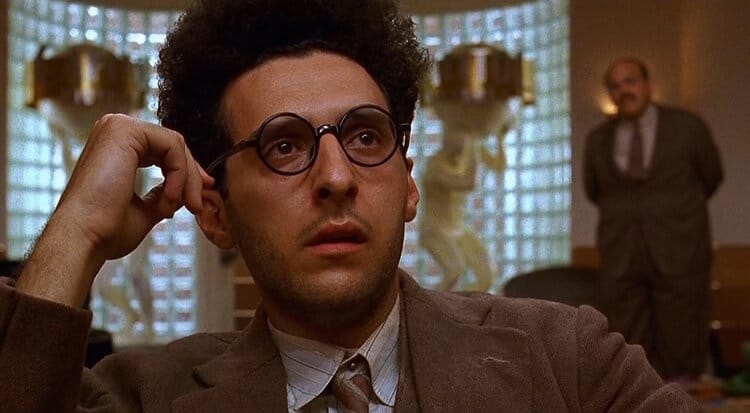 Director: Joel Coen, Ethan Coen
Cast: John Turturro, John Goodman, Judy Davis, Michael Lerner, John Mahoney
Barton Fink, a famous New York playwright, comes across an unexpected proposal that he hadn't even thought of. He is asked to leave New York, come to Los Angeles and write a screenplay there. Although he welcomes this at first, as the interviews take place, he realizes that the script he is asked to write is quite vulgar and corrupt.
Since this type of script is very far from his own style, he has difficulties while writing it. He meets Charlie Meadows at his hotel. Charlie is an incredibly low salesman. Many people come into Fink's life apart from Charlie, but none of them give him the inspiration he needs. Fink finds himself in some unexpected events during this period when all his troubles are up.
---
17) Chinese Coffee (2000) | IMDb: 7.1
Director: Al Pacino
Cast: Al Pacino, Jerry Orbach, Susan Floyd, Ellen McElduff
Harry is a writer and makes his living as a janitor. He also writes his books with difficulty. To alleviate his financial troubles, he goes to his old friend Jake, who owes him money. Jake is an art photographer; he has no money. Later, these two friends have a night talk about their profession, love and life.
---
This post is also available in: Türkçe Deutsch