Serial killer movies are what most movie lovers enjoy, with gripping stories that increase the tension and themes that examine criminal psychology in depth. Serial killer movies, as well as fictional horror movies, are more realistic movies. In fact, many of these movies are based on real events. According to their IMDb scores, we have listed the best serial killer movies for you. Have fun watching!
You can take a look at our list of best horror movies. those who say "it's not good enough."
---
1) Ted Bundy (2002) | IMDb: 5.8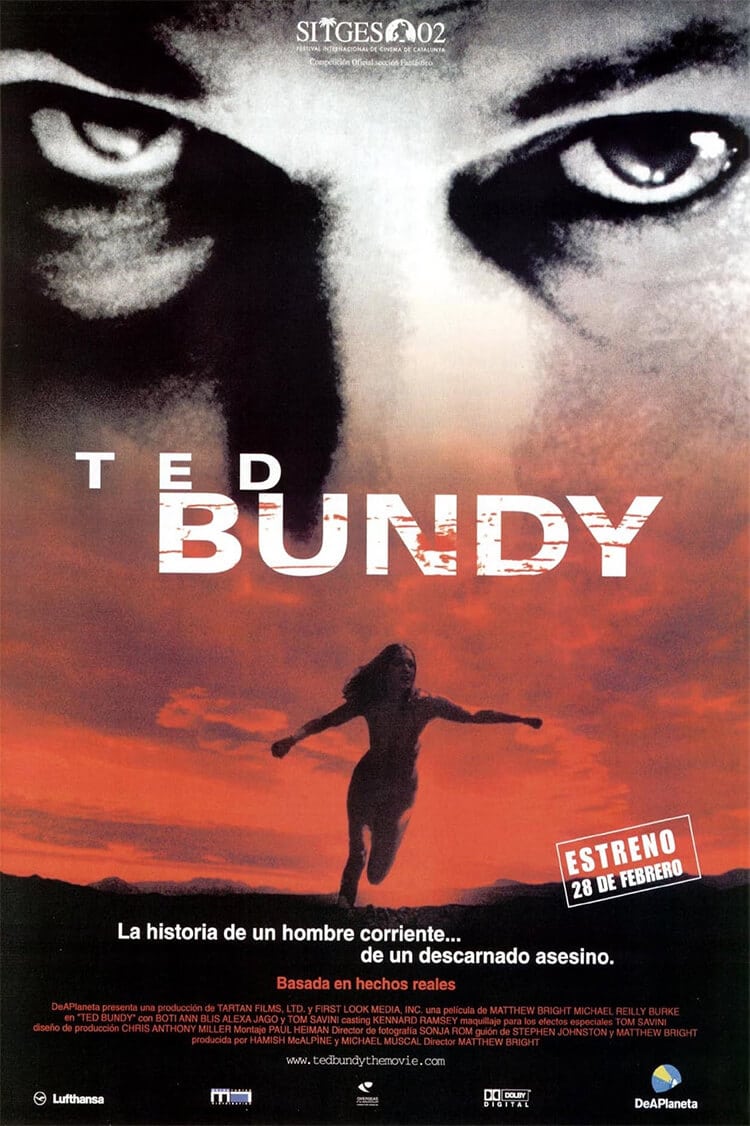 Director: Matthew Bright
Cast: Michael Reilly Burke, Boti Bliss, Steffani Brass
We start with the lowest-rated production on our accurate serial killer movies list. The film, which is about the life and murders of Ted Bundy, one of the most known serial killers in America, reveals the fear and horror experienced at that time. Ted Bundy, the country's most hated and feared man, raped and killed many young women in the 1970s. Despite being caught and imprisoned once, the ruthless murderer somehow escaped from prison was tried and executed the second time he was caught.
---
2) The Golden Glove (2019) | IMDb: 6.7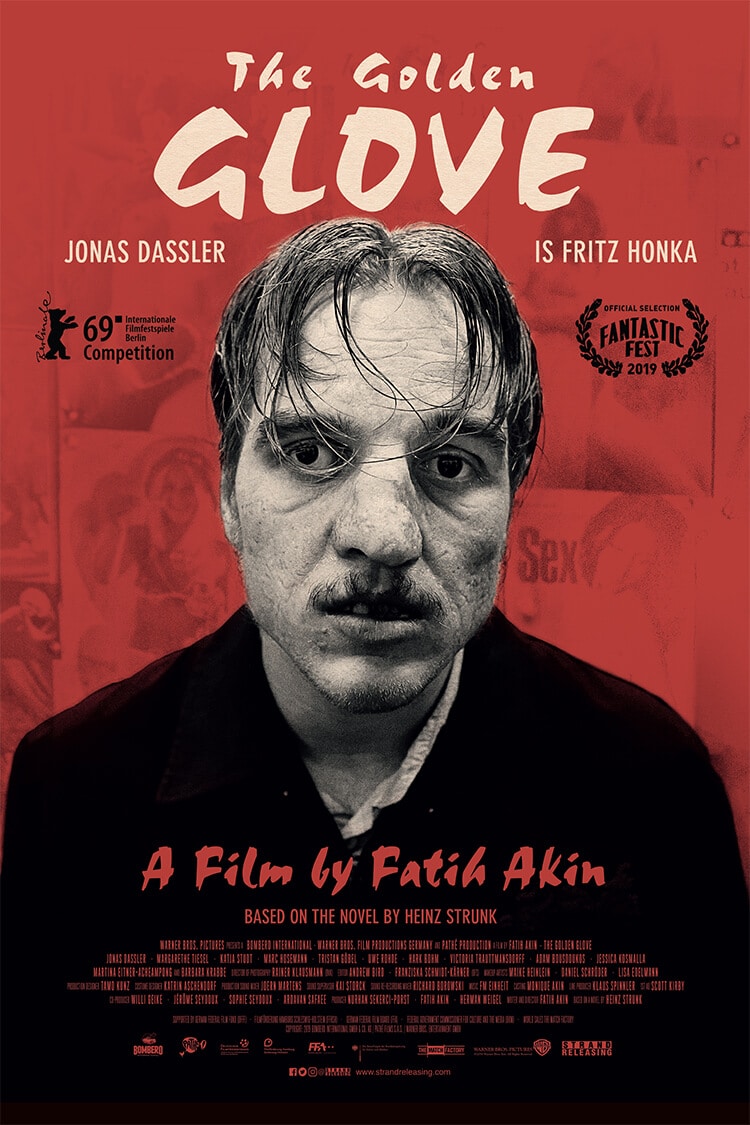 Director: Fatih Akin
Cast: Jonas Dassler, Margarete Tiesel, Hark Bohm
We continue our list of serial killer movies with a Turkish director. The film, which focuses on the story of serial killer Fritz Honka, who terrorized Hamburg in the 1970s, is based on Heinz Strun's novel. Killer Fritz Honka goes to a bar called Golden Gloves, where depressed people hang out all the time, communicates with these people, and chooses his victims from among them. Although Fritz stopped murdering for a while, he couldn't get rid of the habit of going to the Golden Gloves.
---
3) The House That Jack Built (2018) | IMDb: 6.8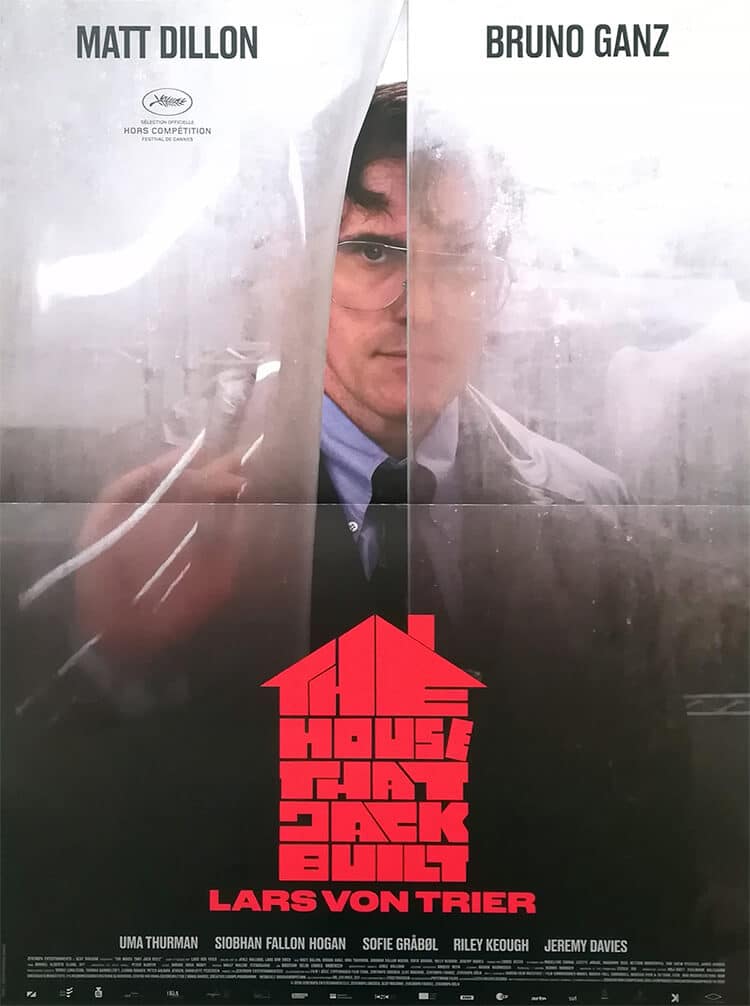 Director: Lars von Trier
Cast: Matt Dillon, Bruno Ganz, Uma Thurman
The House That Jack Built is about serial killer Jack, who committed murders in Washington state, USA, for 12 years in the 1980s. We follow Jack's murders in flashback as Jack tells the murders he committed and why he committed the murders to the Roman poet Virgil, who accompanied him on his journey to hell. Danish director Lars von Trier returns to the Cannes Film Festival after a 6-year hiatus with the film, in which he delves into the psychology of an obsessive serial killer.
---
4) Henry: Portrait of a Serial Killer (1986) | IMDb: 7.0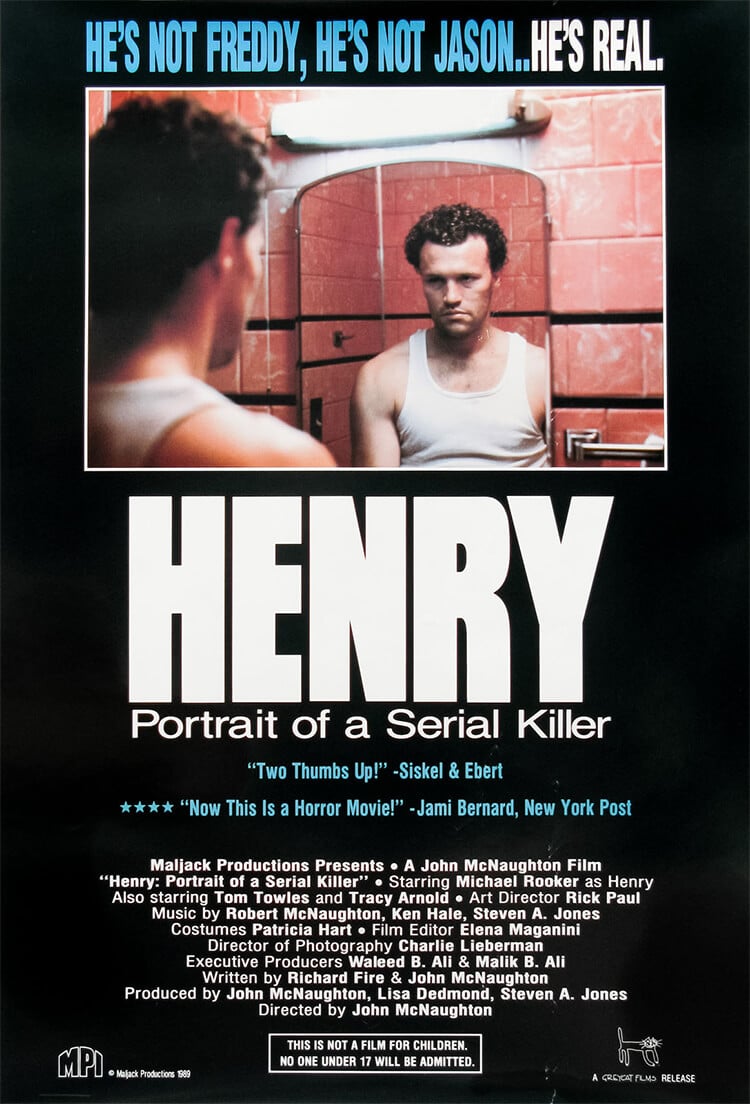 Director: John McNaughton
Cast: Michael Rooker, Tom Towles, Tracy Arnold
The murderer named Henry, who has just been released from prison, begins to live with his friend Otis, whom he met while in prison. One day, when Henry commits murder in the presence of Otis for no reason, Otis begins to see Henry's dark side. Henry begins to describe to his friend the horrors of what he calls the "art of serial killer," and this becomes the first step in the brutal murders they will commit together for pleasure.
---
5) Natural Born Killers (1994) | IMDb: 7.3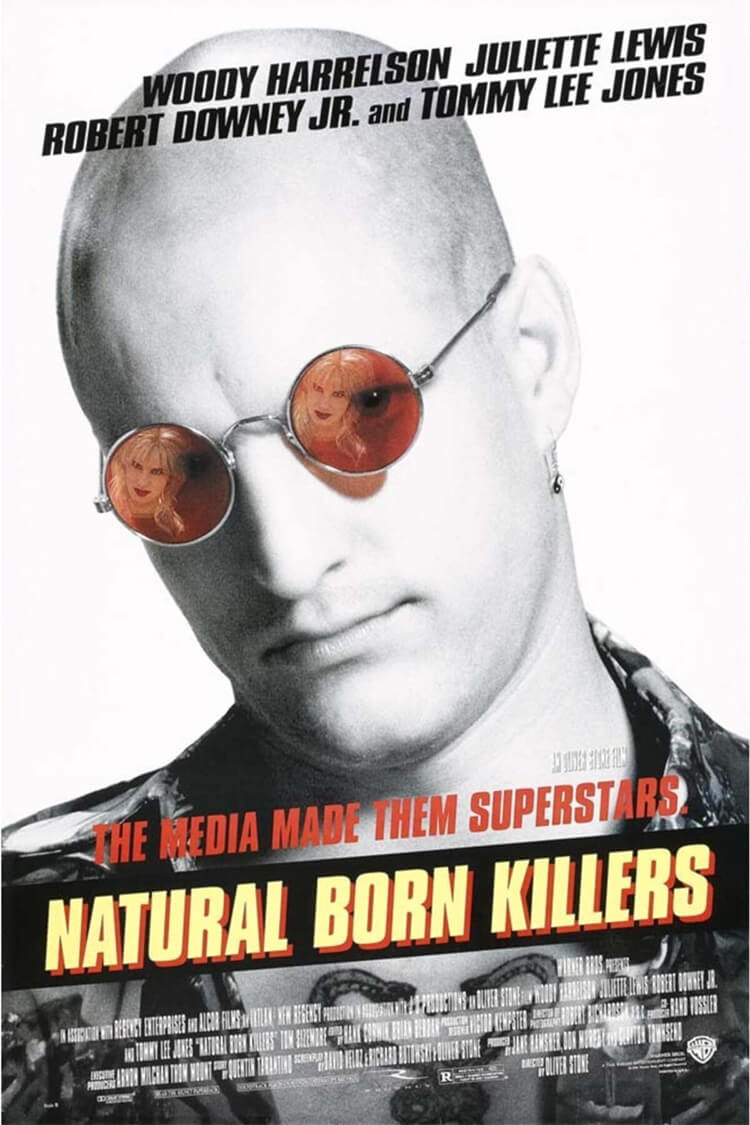 Director: Oliver Stone
Cast: Juliette Lewis, Robert Downey Jr., Woody Harrelson
Micky and Mallory are a couple in love. They are passionately connected because they have the same murderous spirit. The couple, who set off together and commit random murders, spreads terror. Micky and Mallory are no longer just outlaws, but also a public and media concern. The press and the police want to learn something by going after the murderous couple.
---
6) Sweeney Todd: The Demon Barber of Fleet Street (2007) | IMDb: 7.3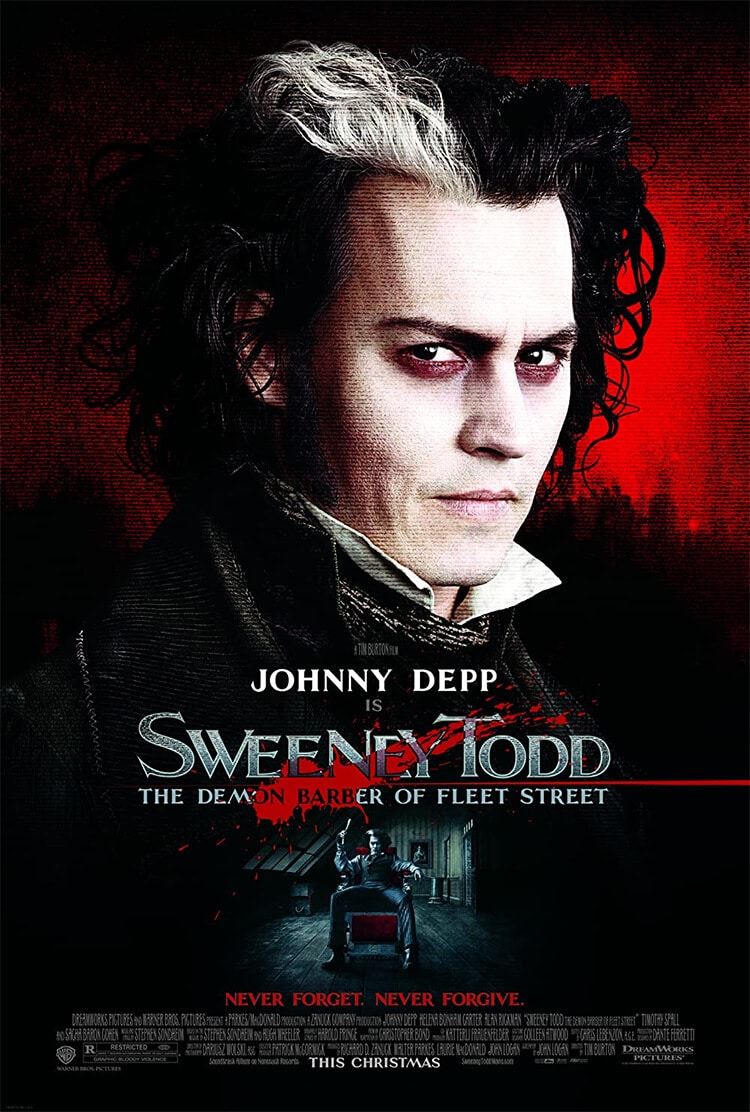 Director: Tim Burton
Cast: Johnny Depp, Alan Rickman, Helena Bonham Carter
Sweeney Todd lives a happy life as a barber in England with his beautiful wife, Mrs. Lovett. Later, one of the town's elders who has his eye on Mrs. Lovett has Sweeney Todd imprisoned on a groundless charge. Sweeney, who has been away from town and his wife for years, vows to take revenge on those who did this to him when he returns. Returning to town years later, Sweeney finds that everything has changed, except for Mrs. Lovett, who has been patiently waiting for him. Demon Barber Sweeney Todd, with the help of his wife, Mrs. Lovett, turns into a ruthless killer until he finds the culprit for the revenge he has been waiting for years. Famous director Tim Burton made a viral production by adapting the Broadway musical Sweeney Todd: The Demon Barber of Fleet Street, which was first shown in 1936, to the cinema in 2007.
---
7) Monster (2003) | IMDb: 7.3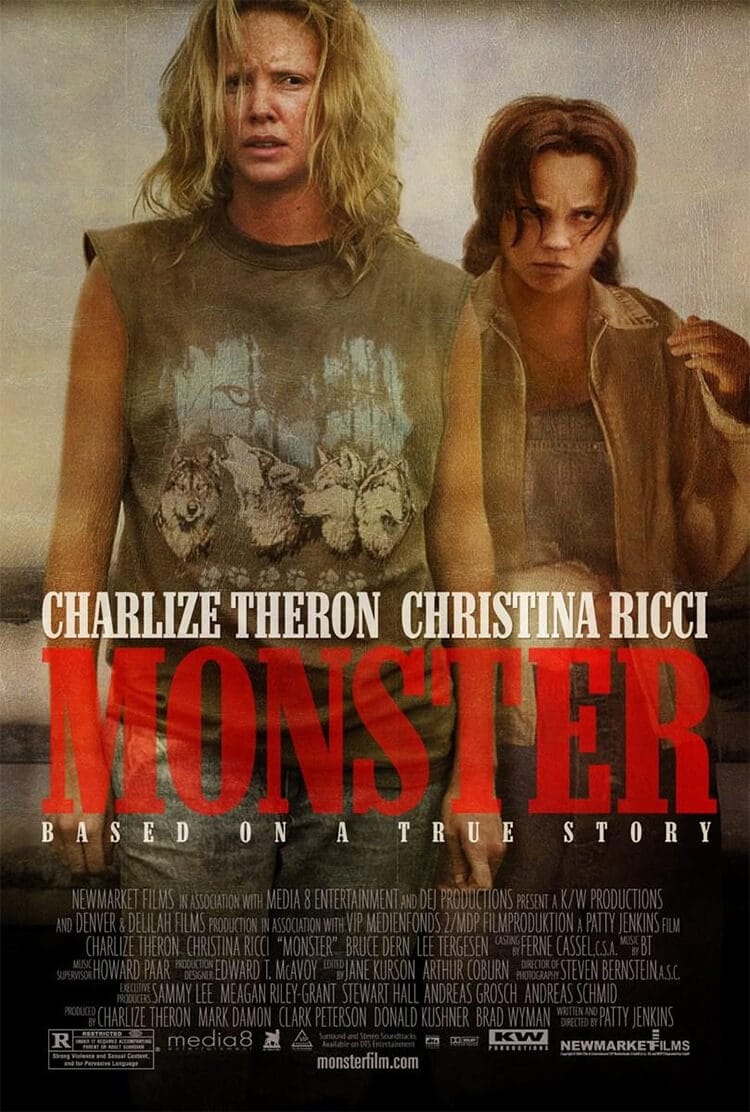 Director: Patty Jenkins
Cast: Charlize Theron, Christina Ricci, Bruce Dern
Monster focuses on the real-life story of Aileen Wuornos, America's first female serial killer. During his difficult childhood, Wuornos was abused and became addicted to drugs. When she was 13, she became a prostitute and became pregnant. Later, Wuornos comes to Florida and becomes a prostitute who makes a living by satisfying truckers on the road. The movie focuses on nine months in the 90s. In this process, Wuornos, who wants to make a living without being a prostitute, starts to murder and realizes the cold-blooded killer inside.
---
8) Frenzy (1972) | IMDb: 7.4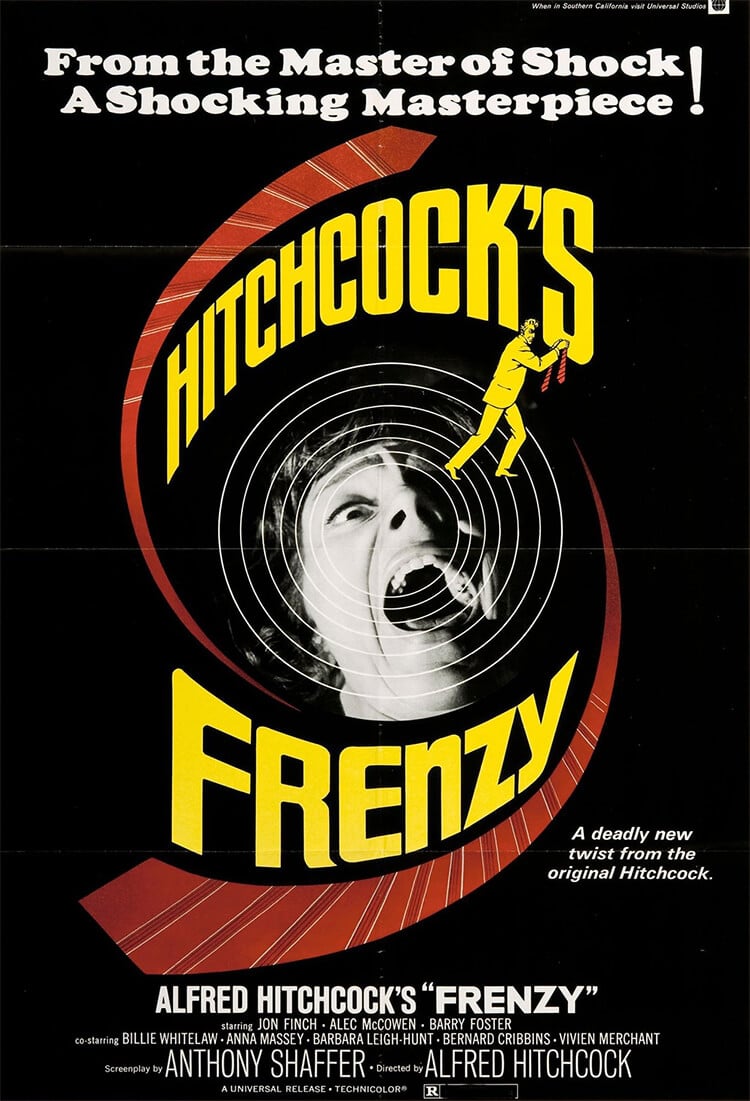 Director: Alfred Hitchcock
Cast: Barry Foster, Jon Finch, Anna Massey
One of the most cult productions on the serial killer movies list! One of the late works of Alfred Hitchcock, the master director of thrillers, Insanity, deals with the story of a serial killer who rapes and murders his victims in London. Introducing the murderer to the audience at the beginning of the movie, the movie manages to escalate the tension throughout the movie as the police chase the wrong person.
---
9) Perfume: The Story of a Murderer (2006) | IMDb: 7.5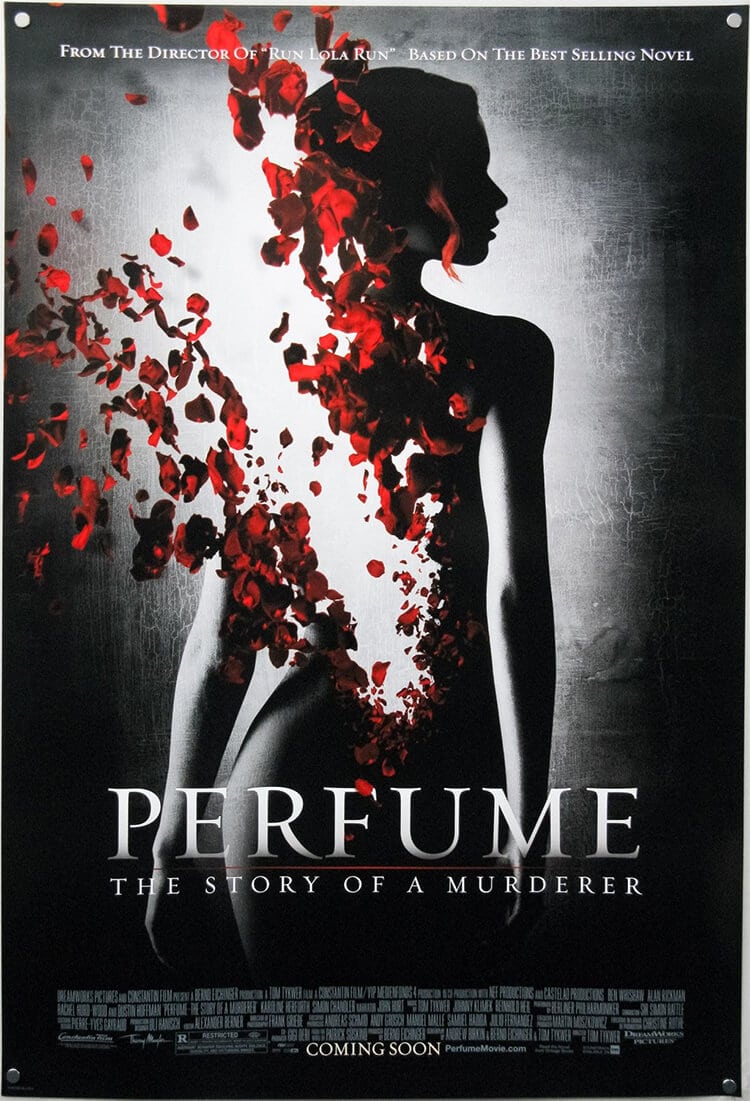 Director: Tom Tykwer
Cast: Ben Whishaw, Rachel Hurd-Wood, Alan Rickman
The film is based on Patrick Süskind's novel Perfume. It tells the story of Jean Baptiste Grenouille, who was born in Paris in the 19th century. Jean Baptiste has a solid sense of smell. Other senses are not sufficiently developed. Jean Baptiste, who can exist with scent, is ready to do anything to have the scents he desires. Including killing people. One day, realizing that he does not have a skin smell of his own, Jean Baptiste needs a human scent to create anew. People to get it.
---
10) A Nightmare on Elm Street (1984) | IMDb: 7.5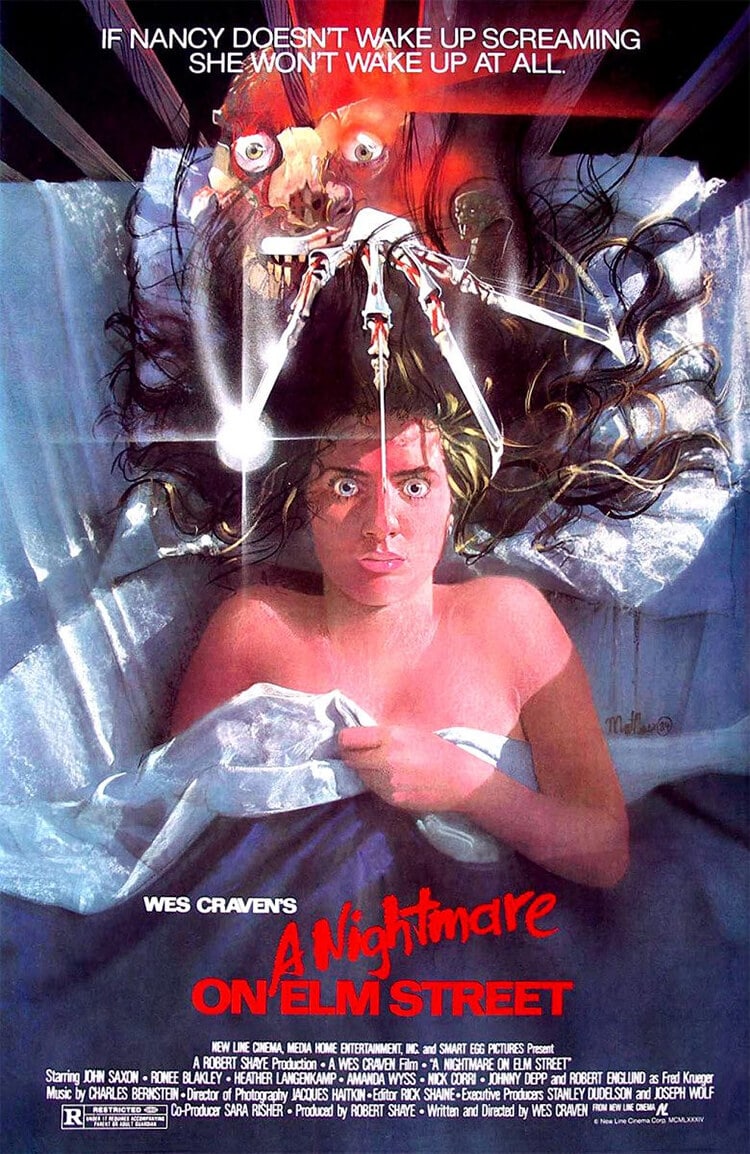 Director: Wes Kraven
Cast: Robert Englund, Heather Langenkamp, Johnny Depp
Young people begin to die on Elm Street in Los Angeles one by one. The perverted Freddy Krueger, who was burned to death by the families whose children he killed years ago, is responsible for these notable deaths. With the knives in his fingers, Freddy enters the nightmares of the young people and takes their lives in their sleep. Realizing this, the young people of Elm Street look for ways to get rid of Freddy.
---
11) The Texas Chain Saw Massacre (1974) | IMDb: 7.5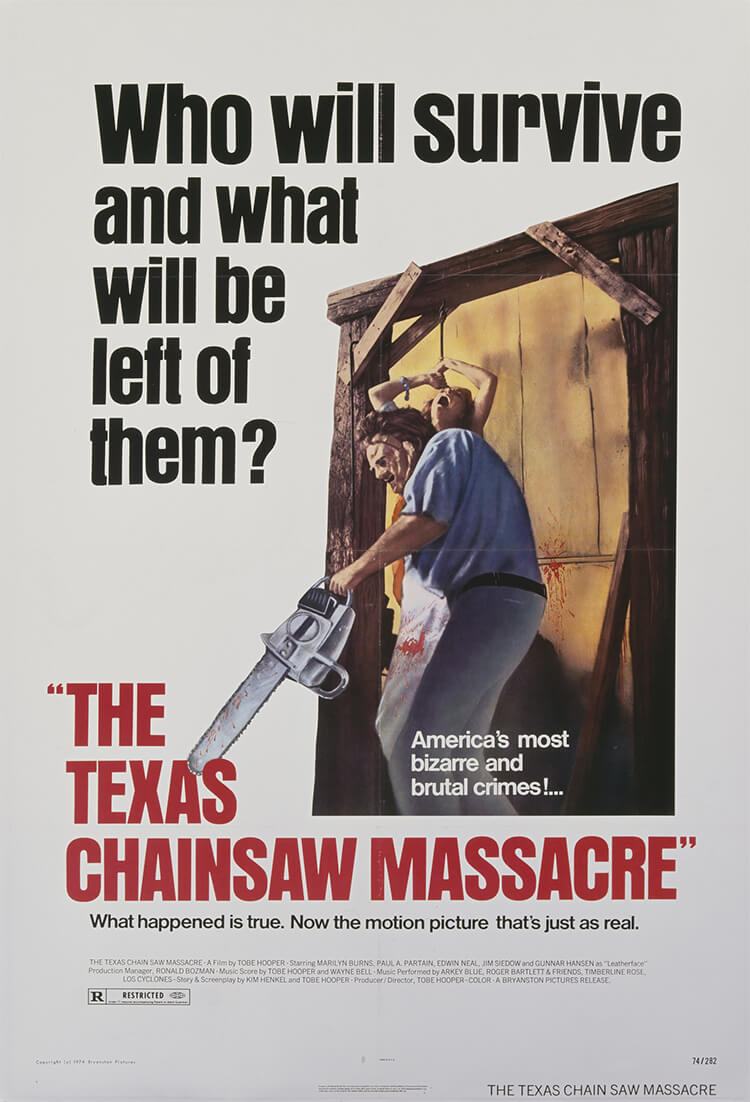 Director: Tobe Hooper
Cast: Marilyn Burns, Edwin Neal, Allen Danziger
Sally and her sister Franklin want to visit their grandfather's grave. They take their friends with them and start the journey. On the way, they pick up a hitchhiker. However, the unseen hitchhiker injures Frank, desperately throwing him out of the car. This event will be just the beginning of the nightmare they can't even imagine. Inspired by the Wisconsin serial killer Ed Gein in the character of Leather Face, the film managed to become one of the most popular productions of its time.
---
12) American Psycho (2000) | IMDb: 7.6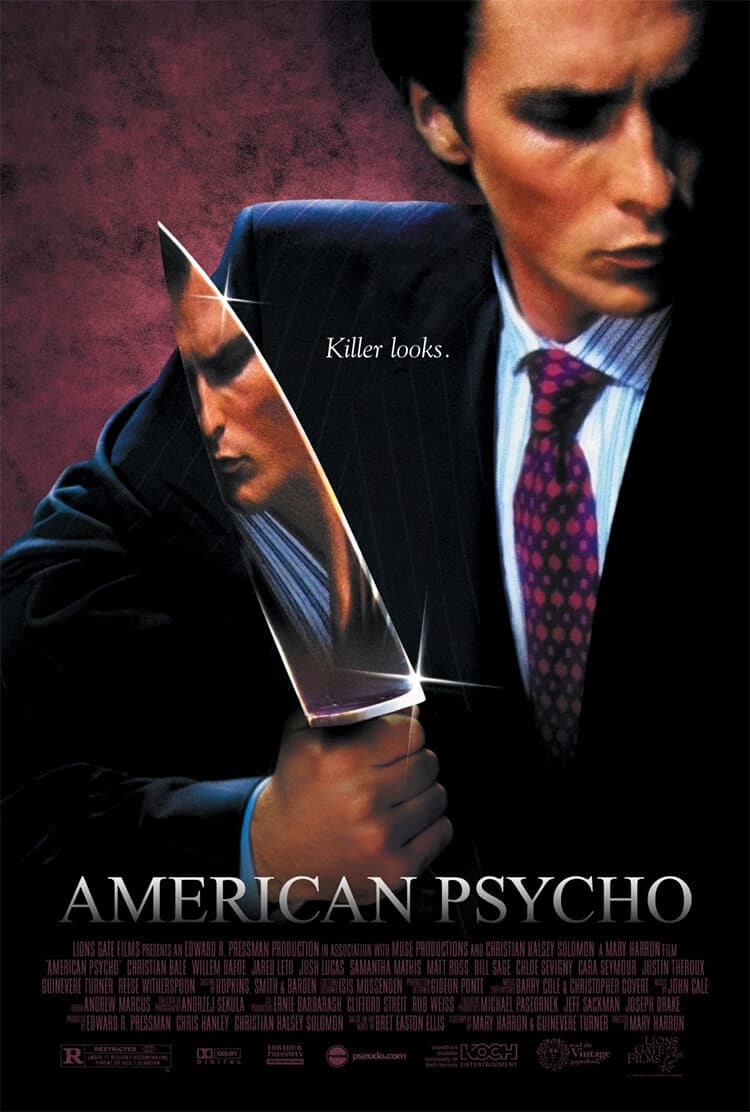 Director: Mary Harron
Cast: Christian Bale, Jared Leto, Chloe Sevigny
Patrick Bateman is a wealthy, young, and handsome man from the family. Bateman, who seems to have an ordinary and decent life from the outside, hides the dark side of his life from everyone. Bateman likes to kill people randomly and for no reason. He is a mentally ill serial killer who takes parts of the bodies of the people he kills as souvenirs and keeps them in his home.
---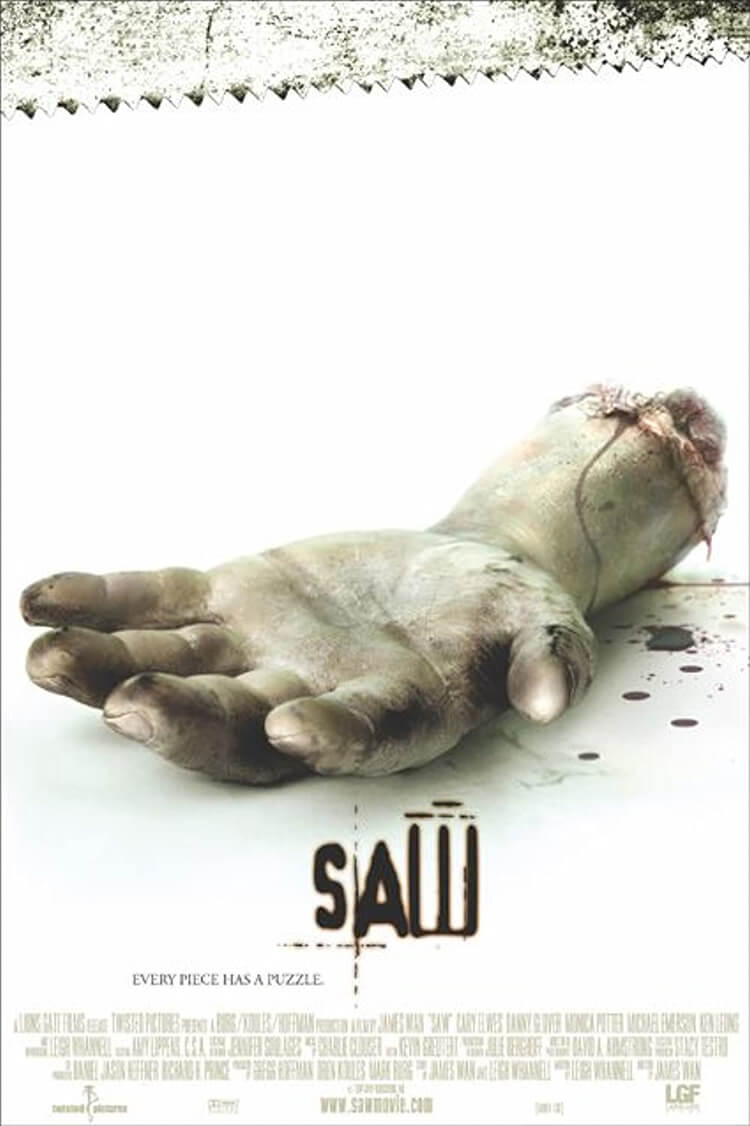 Director: James Wan
Cast: Tobin Bell, Shawnee Smith, Cary Elwes
On the brink of death from his illness, John Kramer, in his way, tells his victims the value of their lives. It gives its victims the chance to survive with near impossible choices by playing deadly games. Victims who do their best to survive also realize what they can do to survive without realizing it. In the first movie of the 9-film series, which garnered significant attention worldwide, two men who never knew each other wake up in a room with a corpse lying on the ground. They have eight hours to break free from their chains and survive.
---
14) Zodiac (2007) | IMDb: 7.7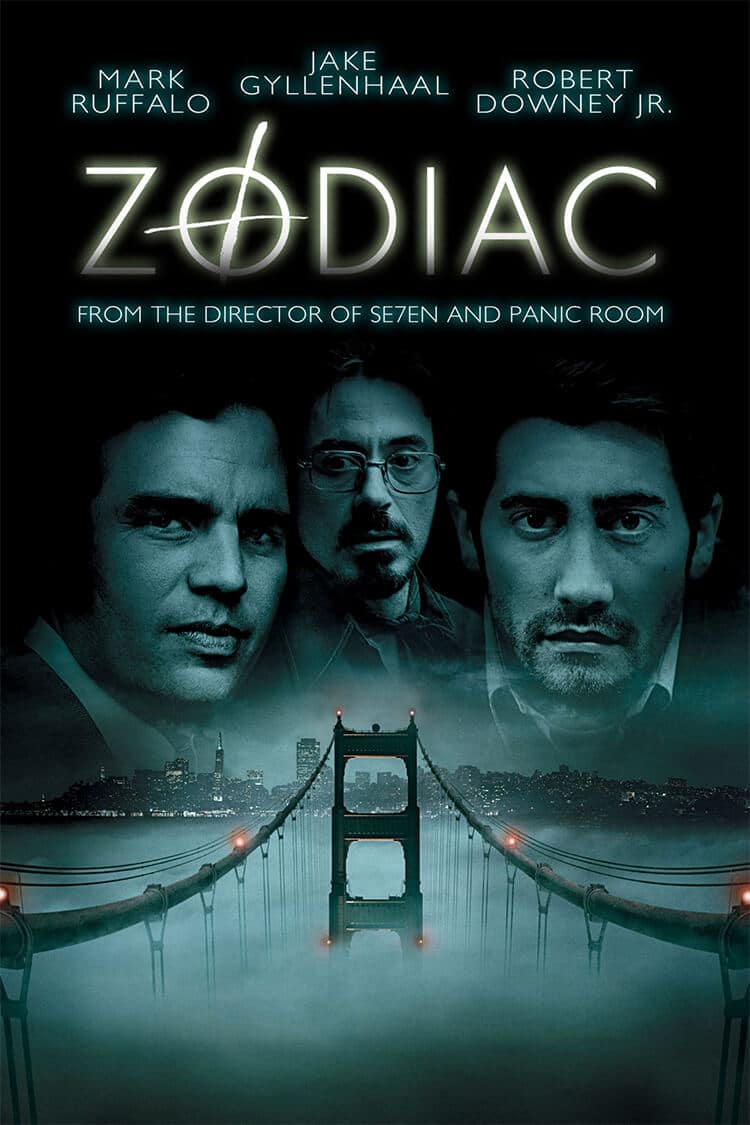 Director: David Fincher
Cast: Mark Ruffalo, Robert Downey Jr., Jake Gyllenhaal
The movie Zodiac tells the true story of a serial killer who committed serial murders on the west coast of America in the 1960s and nicknamed himself the Zodiac. The movie begins with the killer committing his second murder in San Francisco. The police can't find any clues against the Zodiac, who continues his murders by choosing random victims. After a while, letters with the signature of Zodiac begin to arrive in the newspapers and the chase flares up. Director David Fincher, who has proven his success in psychological thrillers with films such as Seven, Fight Club and The Game, was also highly appreciated with the movie Zodiac. It is one of the first productions that come to mind for real serial killer movies!
---
15) The Girl With The Dragon Tattoo (2011) | IMDb: 7.8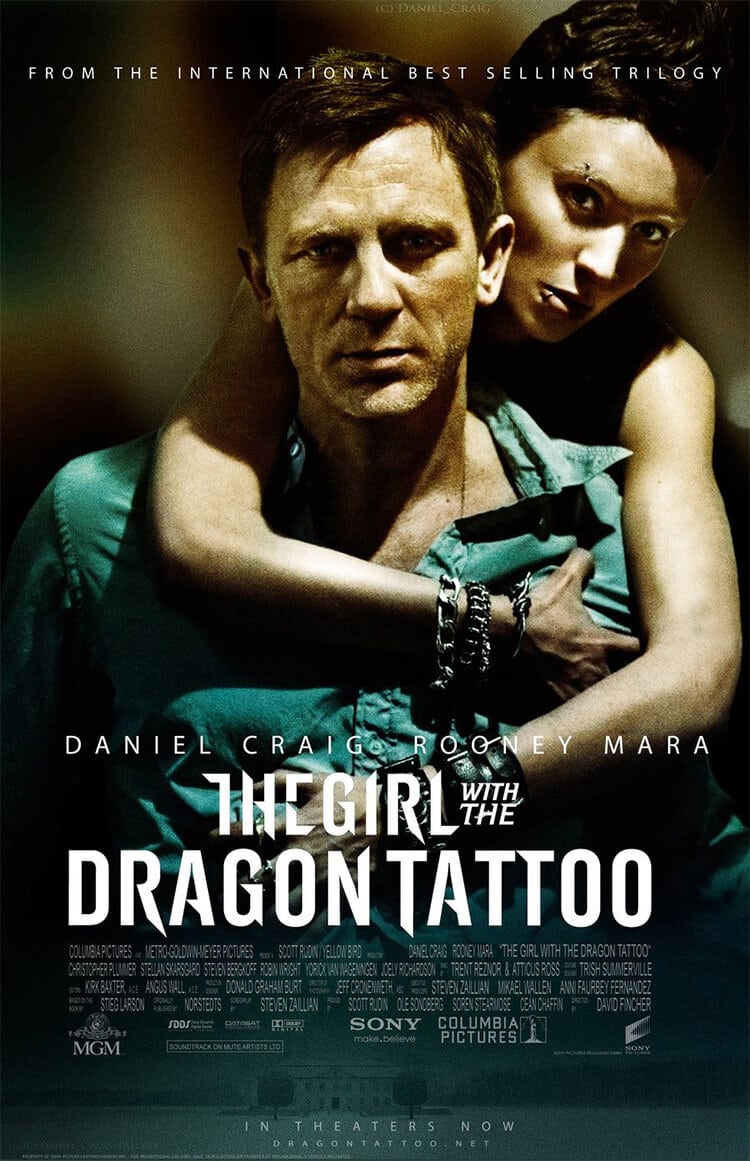 Director: David Fincher
Cast: Rooney Mara, Daniel Craig, Christopher Plummer
Mikael Blomkvist, who has been wrongfully accused, begins to do his best to clean up the mud thrown on him. Swedish industrial tycoon Henrik Vanger enlists journalist Blomkvist to investigate the disappearance of his niece, Harriet. Meanwhile, hacker Lisbeth Salander, who works for Milton Security, investigates Blomkvist's life. The two, whose paths cross, begin to trust each other over time as they try to solve a murder chain that goes back a long time. Adapted from the novel of the same name by Stieg Larsson, "Man som hatar kvinnor" was very popular in Sweden and was adapted again under the direction of David Fincher.
---
16) No Country For Old Men (2007) | IMDb: 8.1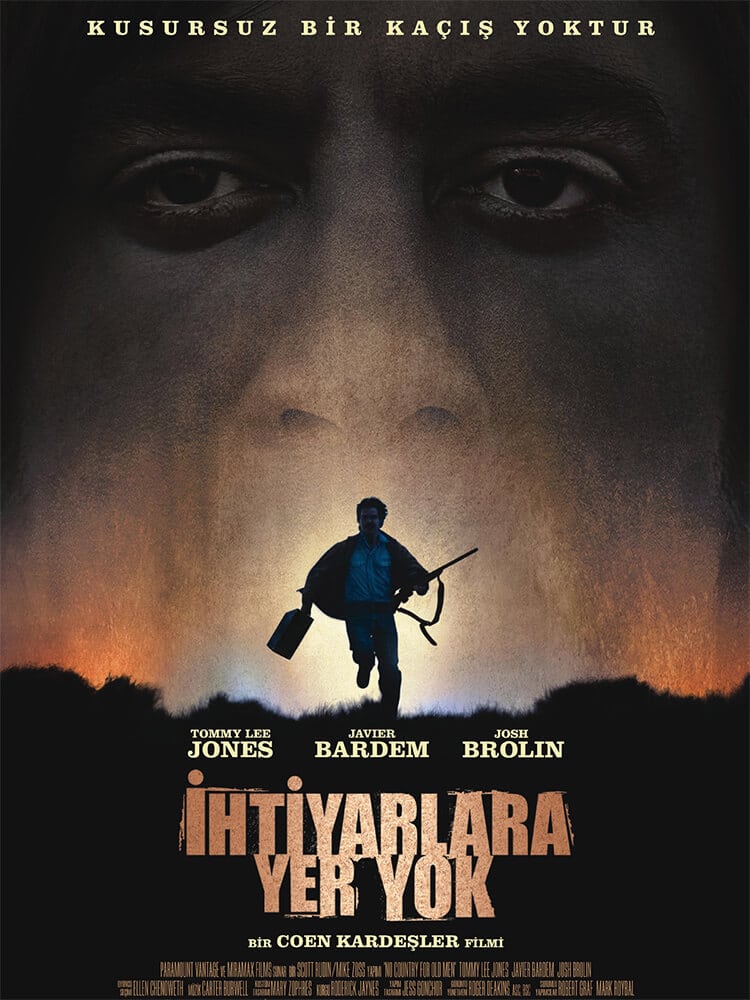 Director: Ethan Coen, Joel Coen
Cast: Javier Bardem, Tommy Lee Jones, Josh Brolin
Vietnam veteran Llewelyn Moss takes the bag full of money she found in a conflict zone, and the process that will cause great trouble begins. Contract killer Anton Chigurh is after him now and has no intention of returning until he's finished. A relentless pursuit begins, in which many people will be involved. The Coen Brothers' Oscar-winning masterpiece also earned Javier Bardem an Oscar for best supporting actor for his performance as a serial killer. The character of Anton Chigurh is, according to many authorities, one of the best villains in the history of cinema.
---
17) Memories of Murder (2003) | IMDb: 8.1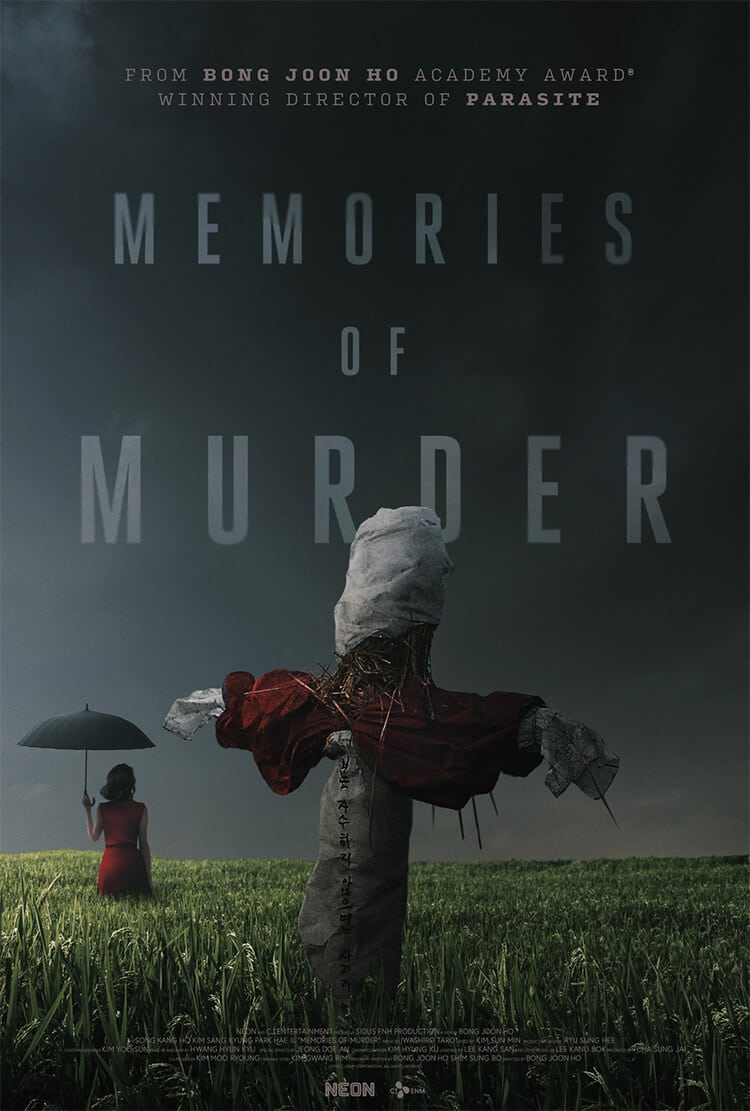 Director: Bong Joon Ho
Cast: Song Kang-Ho, Kim Sang-kyung, Hie-bong Byeon
We continue our list of serial killer movies with a South Korean film. Murder Diary, one of the prominent films of South Korean cinema, is about the true story of a serial killer who committed a series of rape and murder crimes in the 90s but could not be caught. The film focuses on a local police officer and a detective from the city, trying to find the serial killer by solving murders together during the military dictatorship of South Korea. Memories of Murder is one of the most successful films of South Korean director Bong Joon Ho, who won an Oscar for Parasite.
---
18) Psycho (1960) | IMDb: 8.5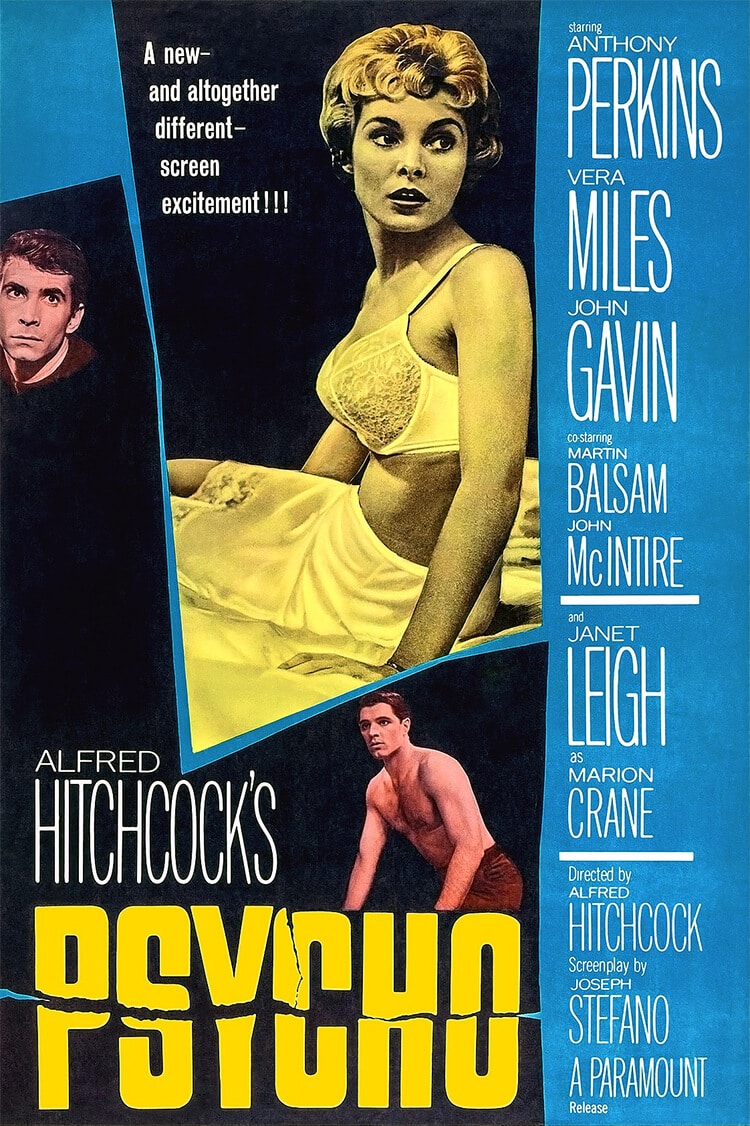 Director: Alfred Hitchcock
Cast: Anthony Perkins, Janet Leigh, Vera Miles
Marion and Sam are a couple who can't get married because they don't have money. One day, Marion steals money from her boss and sets off to meet Sam. Entering a motel to spend the night, Marion chats with the motel owner, Norman Bates. Feeling that something is wrong with Norman, Marion wants to go to her room and take a shower, unaware of what will happen to her. Psyhco is considered the masterpiece of master director Alfred Hitchcock.
---
19) Se7en (1995) | IMDb: 8.6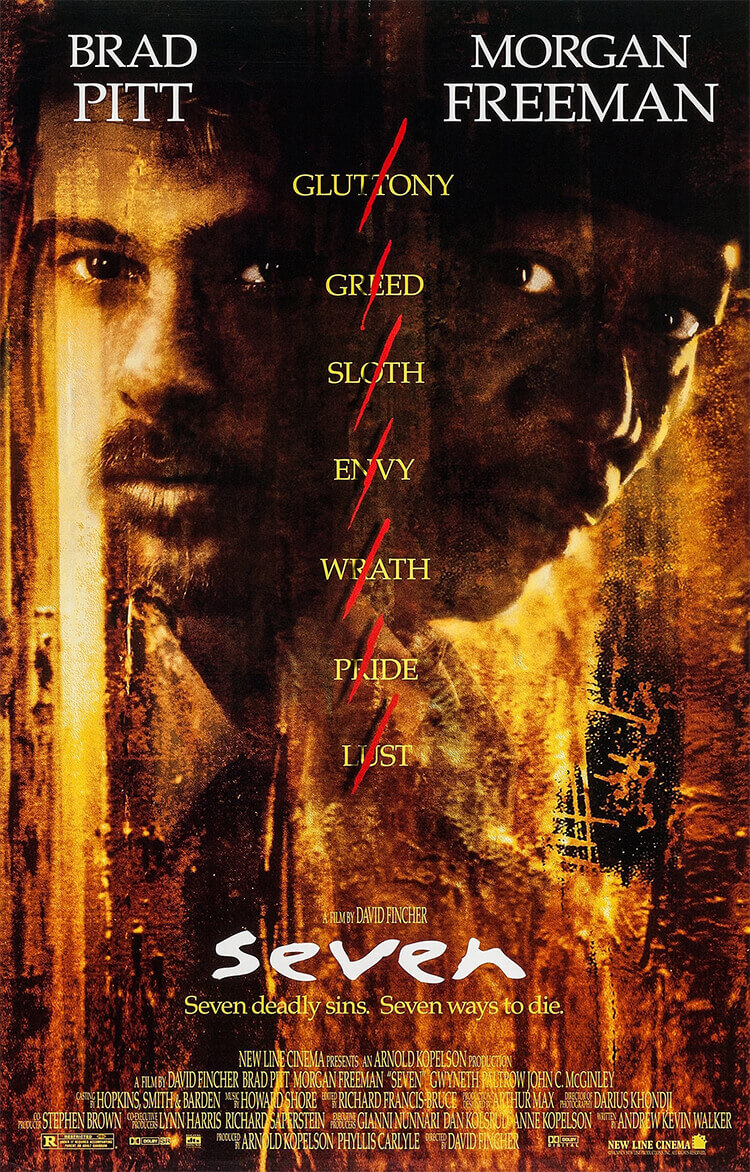 Director: David Fincher
Cast: Brad Pitt , Morgan Freeman, Kevin Spacey
Detective William Somerset, who is approaching retirement, and Detective David Mills, who has just arrived in town with his wife, work together on a murder case. But the body they found is just the beginning of a series of murders. A serial killer kills those who commit the seven major sins of the Christian faith in his way. The film, which has achieved great success at the box office all over the world since its release, quickly became one of the classics of the history of cinema.
---
20) The Silence of The Lambs (1991) | IMDb: 8.6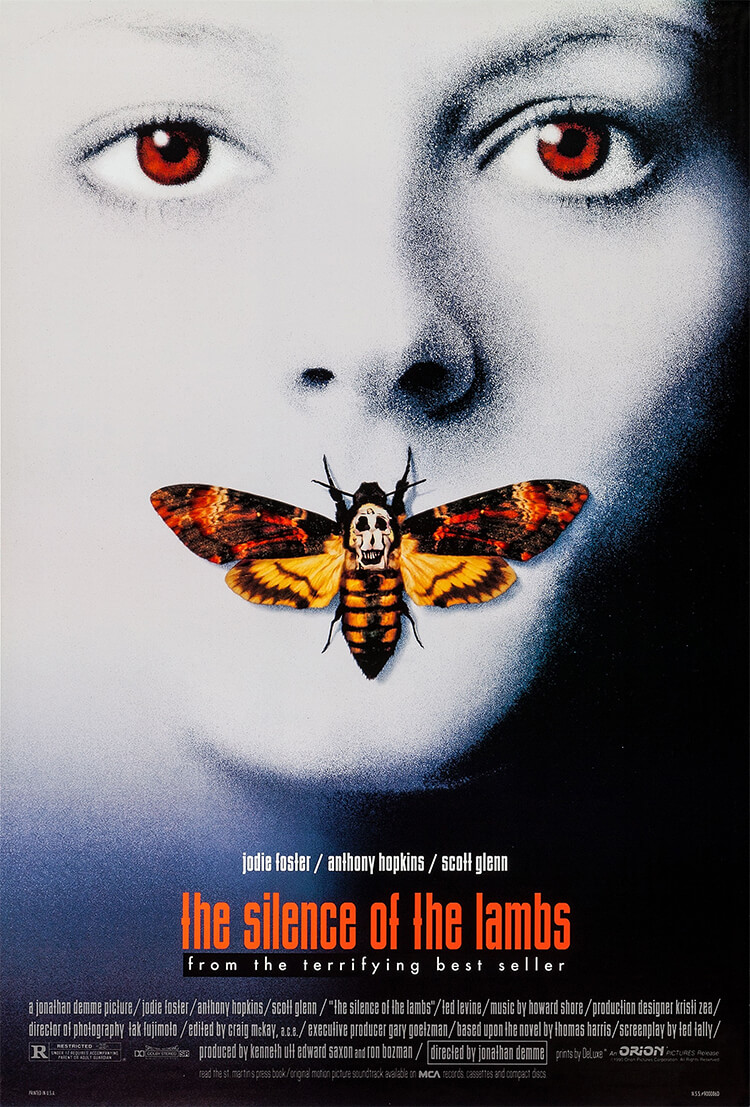 Director: Jonathan Demme
Cast: Anthony Hopkins, Jodie Foster, Ted Levine
And the best on our list of serial killer movies! The film, nominated for 7 Oscars in 1992, won golden statues for its director and leading actors and was awarded in the best film and best screenplay categories. It is one of the classic serial killer films. FBI agent Clarice Starling tries to save a woman from the clutches of a perverted killer who is killing FBI agents. To catch the serial killer, Clarice contacts another psychopath, the famous doctor Hannibal Lecter, but must gain her trust before she can get information from Lecter.
This post is also available in: Türkçe