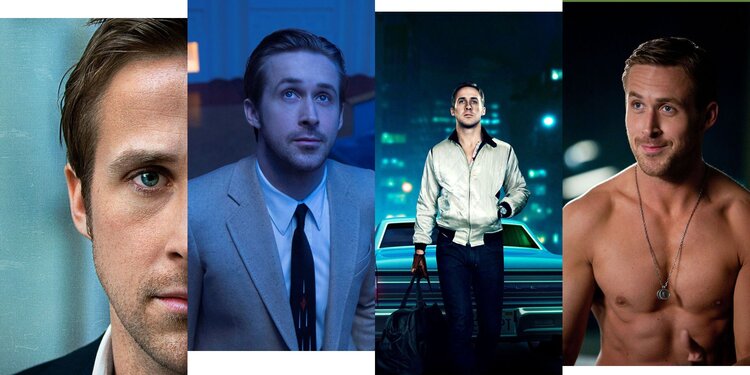 For someone who doesn't know Ryan Gosling's acting abilities, when Ryan Gosling movies are mentioned, ordinary romantic comedy movies will probably come to mind. Because at first glance, Ryan Gosling stands out with his handsomeness and charisma, but it is an undeniable fact that he is one of the most talented actors of recent years.
The dull looks that are synonymous with him and his acting skills in a wide range from comedy to action, from musical to thriller, when combined with quality scenarios, result in very good films. So much so that he could act in ordinary movies and build his career in this direction, using only his body, handsomeness and charisma. However, Ryan Gosling, by displaying a selective behavior, chose to prove his talents every time and succeeded.
We have compiled for you the best 10 films of the actor, whose filmography includes valuable films, according to IMDb scores. Let's take a look at our list of Ryan Gosling movies together.
---
Best Ryan Gosling movies according to IMDb ratings:
La La Land (City of Lovers)
Blade Runner 2049
The Big Short
Drive
The Notebook
Crazy, Stupid, Love. (Crazy Stupid Lover)
The Nice Guys
First Man (First Man on the Moon)
Lars and the Real Girl
Blue Valentine (Love and Ashes)
---
10) Blue Valentine – Love and Ashes (2010) | IMDb: 7.3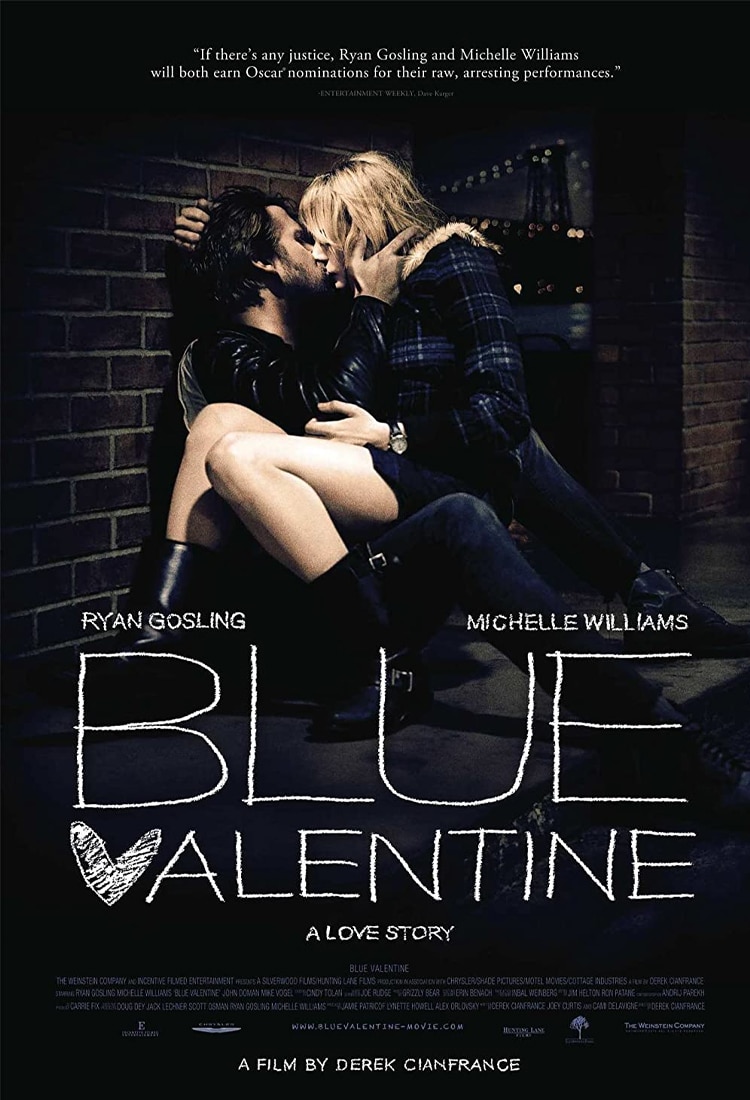 Genre: Drama, Romance
Director: Derek Cianfrance
Cast: Ryan Gosling, Michelle Williams, John Doman
The first on our list of Ryan Gosling movies is Blue Valentine . The movie is one of the most striking love stories of recent years. The marriage between Dean and Cindy is in great turmoil, and as a result of this shaking, the marriage ends in a huge failure. The couple actually loves each other very much, but they could not continue the marriage.
Both go through this process very difficult. After a while, both Dean and Cindy begin to think about their teenage years, when they fell in love with each other. The main motivation of the movie makes itself felt at this point. Youth is against old age, the past is against the present, man against woman, woman against man, love against hate, fantasy against reality. We witness a very touching story through the conflict of these opposite concepts.
---
9) Lars and the Real Girl – True Lover (2007) | IMDb: 7.3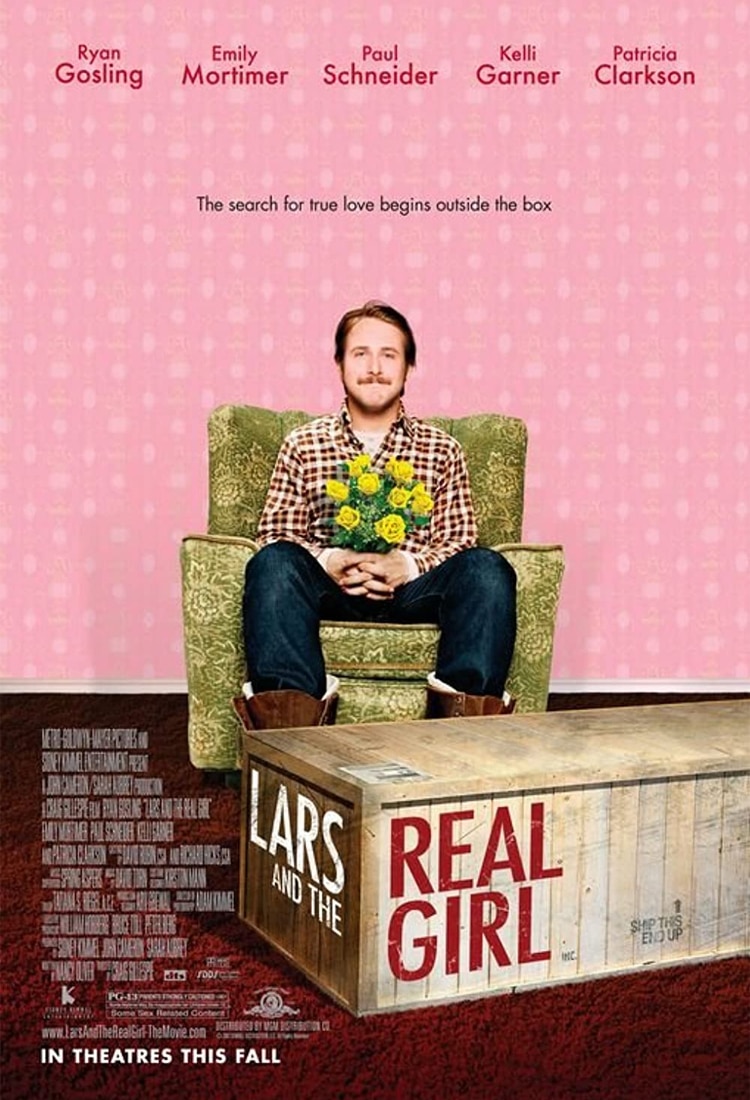 Genre: Comedy, Drama, Romance
Director: Craig Gillespie
Cast: Ryan Gosling, Emily Mortimer, Paul Schneider
Lars lives in the garage of his older brother Gus and wife Karin's house. After the death of his father, Lars became more withdrawn day by day, and his communication with people became more limited with each passing day. Gus and Karin are very worried about Lars. However, one day Lars says he will introduce them to his girlfriend. Gus and Karin are very happy with this news, but they will experience an event that they never expected.
Gus and Karin organize a dinner to meet Lars' girlfriend. When Lars brings the person he calls his girlfriend to dinner, the atmosphere literally turns cold. Because the person Lars calls my girlfriend is a doll. Shocked by this situation, Gus and Karin begin to doubt Lars' sanity. However, they treat the doll as if it were a real person so that Lars wouldn't get hurt.
Unsure of what to do for a while, Gus and Karin finally decide to take Lars to their family doctor, Dagmar Berman. The film embellishes such a psychology-based story with humorous elements and sometimes sad touches. The result is a very successful independent production that must be watched.
---
8) First Man – First Man on the Moon (2018) | IMDb: 7.3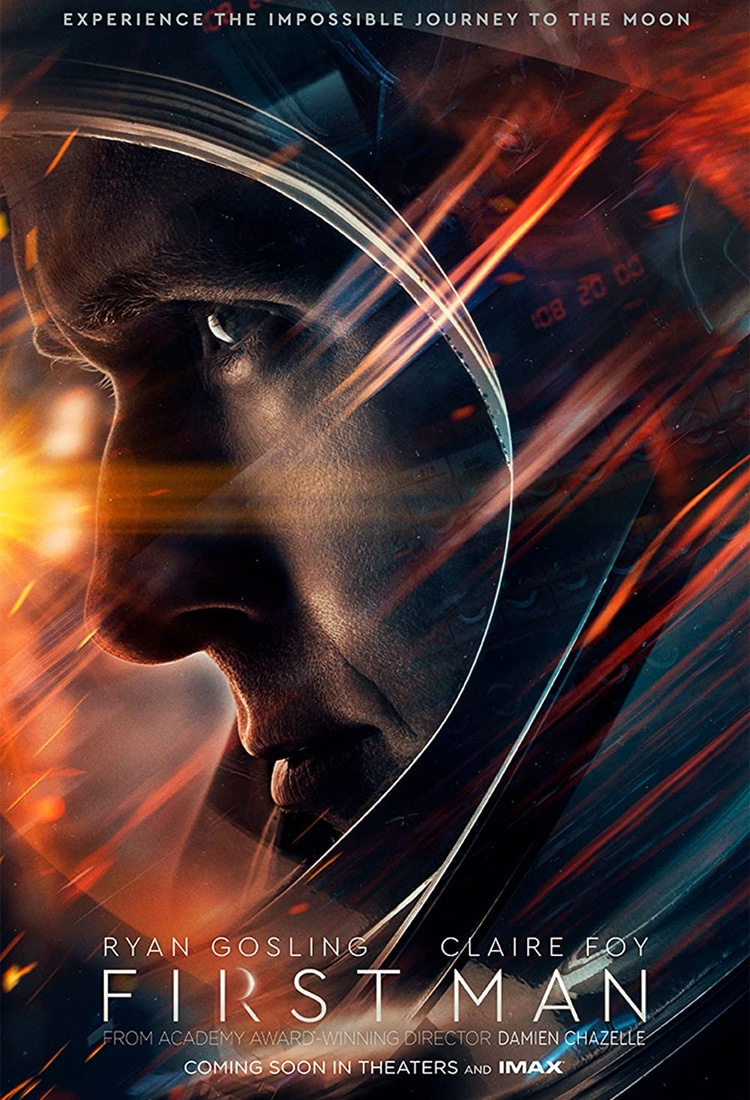 Genre: Biography, Drama, History
Director: Damien Chazelle
Cast: Ryan Gosling, Claire Foy, Jason Clarke
The film is based on James R. Hansen's book First Man: The Life of Neil A. Armstrong . Directed by Damien Chazelle, who previously directed the films Whiplash and La La Land, which we will talk about later in the list, First Man is one of Ryan Gosling's most striking works in recent times. Playing Neil Armstrong, the first man to set foot on the moon, Ryan Gosling gives a truly impressive performance.
One of the most iconic moments in history, NASA's Apollo 11 landing on the Moon, and the story of Neil Armstrong, the first man to set foot on the Moon. Although Apollo 11's Moon landing mission is in the center, this mission is thrown into the background a little more compared to similar movies. The focus is on the personal process Neil Armstrong went through before taking this job. We are witnessing what Neil Armstrong went through until he set foot on the Moon, when he lost his daughter, the problems he had with his wife, and the psychological dilemmas.
---
7) The Nice Guys (2016) | IMDb: 7.4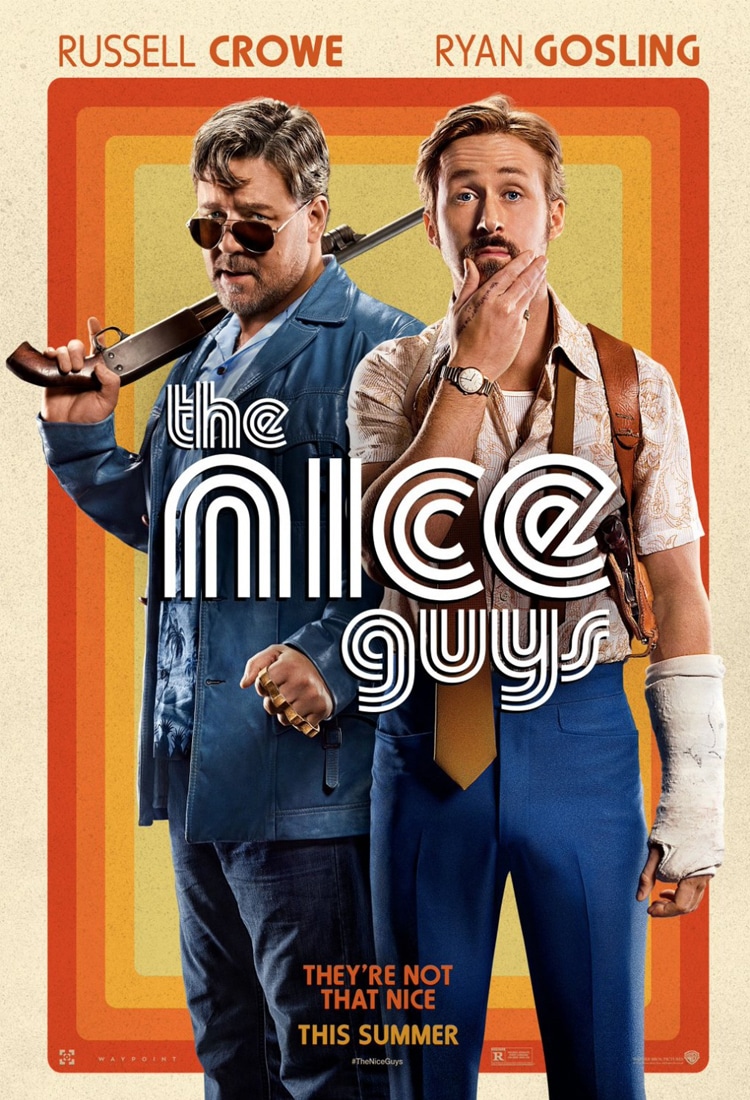 Genre: Action, Crime, Comedy, Thriller
Director: Shane Black
Cast: Ryan Gosling, Russell Crowe, Angourie Rice
We are in 1970's Los Angeles. Attention-getting investigator Jackson Healy and clumsy but lucky private detective Holland March team up to solve a mysterious case. Their job is to lead the investigation of a former porn star who committed suicide. As soon as the two begin their investigation, they become a target. They are subject to harsh warnings, even threats, especially from high-status state officials.
There is a secret that will lead to the conclusion of the investigation, and to find out this secret, a missing girl must be found. The only person who knows the secret, this girl will reveal the death of the porn star who committed suicide. Jackson Healy and Holland March will experience moments of action, tension and comedy throughout this entire process.
---
6) Crazy, Stupid, Love. – Crazy Stupid Love (2011) | IMDb: 7.4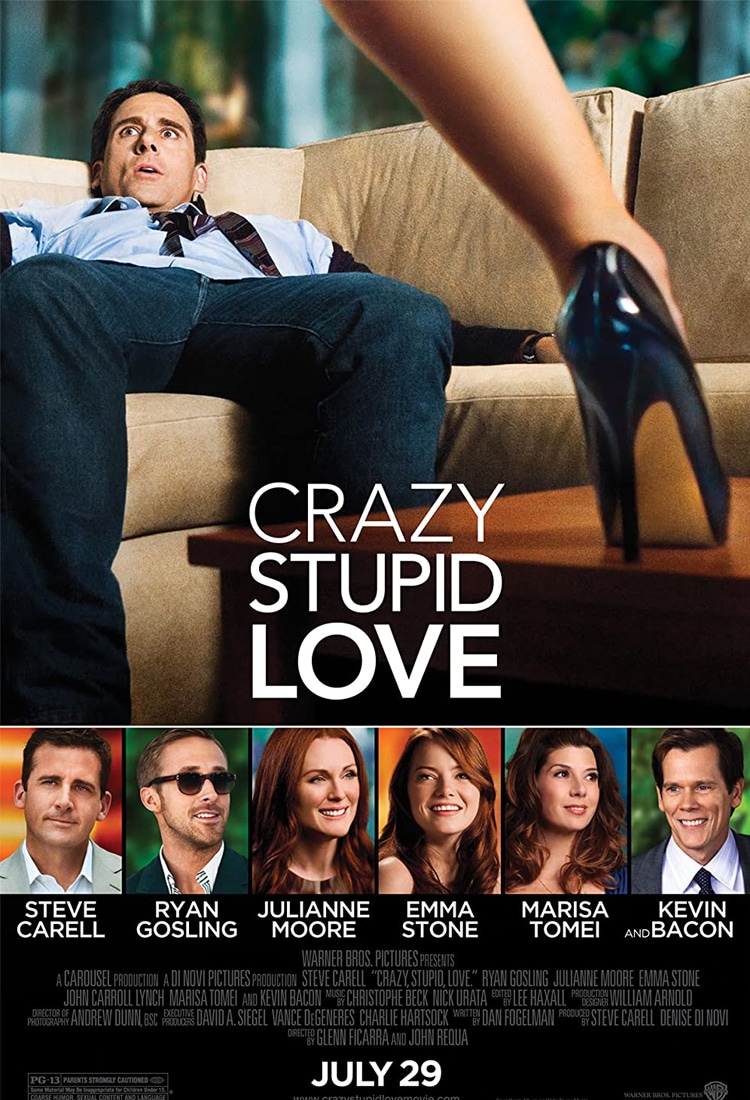 Genre: Comedy, Drama, Romance
Director: Glenn Ficarra, John Requa
Cast: Ryan Gosling, Steve Carell, Julianne Moore
Cal Weaver is a man in his 40s with what can be described as the perfect life. Married to his high school sweetheart, Cal also has wonderful kids, a nice house, and a good job. However, one day he learns that he has been cheated on by his wife Emily and that Emily wants a divorce. This whole process turns Cal's life upside down.
Cal, who has been married for a long time and stays away from social life, turns into a fish out of water, so to speak. In the evenings, he does nothing but sullenly drink in a bar near his house. Another day, while he was at the bar, he met a man named Jacob. In contrast to Cal, Jacob is a lecherous, date-loving man who has devoted his life entirely to picking up women.
After learning of Cal's condition, Jacob takes him under his protection. He begins to teach lessons on how to live a single life. To get Cal to forget his ex-wife, she tells him about dating addicts, masculine drinks, and a sense of style that will make him stand out from everyone else.
While continuing to teach Cal everything he knows, Jacob meets a woman named Hannah. He uses his usual classic tactics to pick up Hannah, but these tactics don't work. This situation causes Jacob to be unable to get Hannah out of his mind. On the other hand, Jessica, the caretaker of Cal's son, is madly in love with Cal. Jacob and Cal suddenly find themselves in a dead-end love story.
---
5) The Notebook – Notepad (2004) | IMDb: 7.8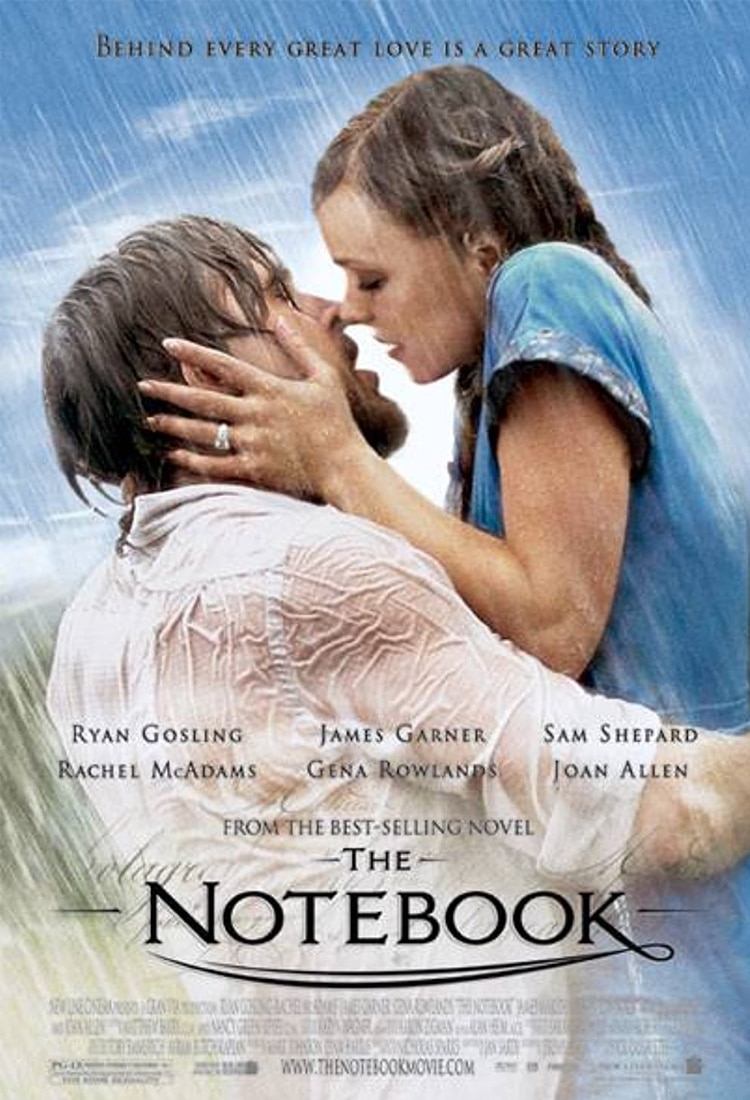 Genre: Drama, Romance
Director: Nick Cassavetes
Cast: Ryan Gosling, Rachel McAdams, James Garner
Next up for one of the most special films on our list of Ryan Gosling movies . We continue with The Notebook , which is considered one of the most special romantic productions not only of Ryan Gosling's filmography but also of world cinema history. The film, which introduced Ryan Gosling to the world in a sense, tells the love story of the couple named Noah and Allie.
1940's… Noah, who lives on Seabrook Island in South Carolina, USA, works as a worker in a mill. Allie, on the other hand, came to the island with her family to spend the summer vacation. Meeting at a carnival, Noah and Allie fall in love the same way they met. They spend a dream-like summer without caring about the class difference between them.
When everything seems to be going well. The footsteps of World War II begin to be heard. Noah is forced to join the army and go to war. He can't get Allie out of his mind for a second. Allie voluntarily starts working at a military hospital. Years pass and these two never hear from each other. Until that day! Noah returns from the war, but Allie is about to marry Lon, whom she met at the hospital where she works. Will their passionate love be able to bring them back together?
---
4) Drive – Drive (2011) | IMDb: 7.8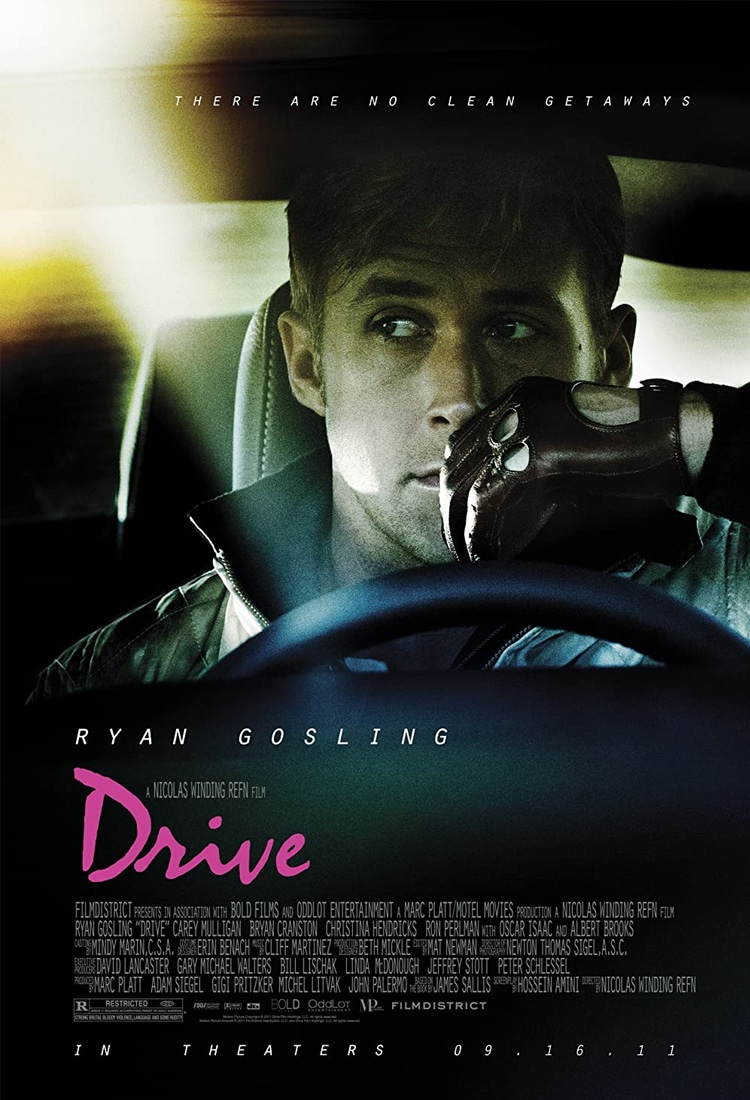 Genre: Crime, Drama
Director: Nicolas Winding Refn
Cast: Ryan Gosling, Carey Mulligan, Bryan Cranston
Drive is one of the most distinctive of our Ryan Gosling movies list. The film tells the story of a character nicknamed "The Driver ", who is a stuntman in Hollywood during the day and becomes a chauffeur by participating in robberies at night because of his superior driving skills. The driver meets his neighbor Irene by chance one day. Irene is a beautiful young woman whose husband is in prison and lives with her only child. The driver is very fond of Irene and does not refuse her request to help her husband.
The Driver's move to help Irene's husband gets him, and Irene, and their child in big trouble. First of all, Driver, Irene and her child are suddenly on the hunt for the most dangerous men in Los Angeles. The driver puts his entire career aside to do what he knows best to save himself, Irene, and their child: driving!
Movie, 64. It won the Best Director Award at the Cannes Film Festival. In addition, the opening scene of the movie has been remembered as one of the best opening scenes of recent years. Likewise, the soundtrack selection is also identified with the movie, and it is a must-listen piece.
---
3) The Big Short (2015) | IMDb: 7.8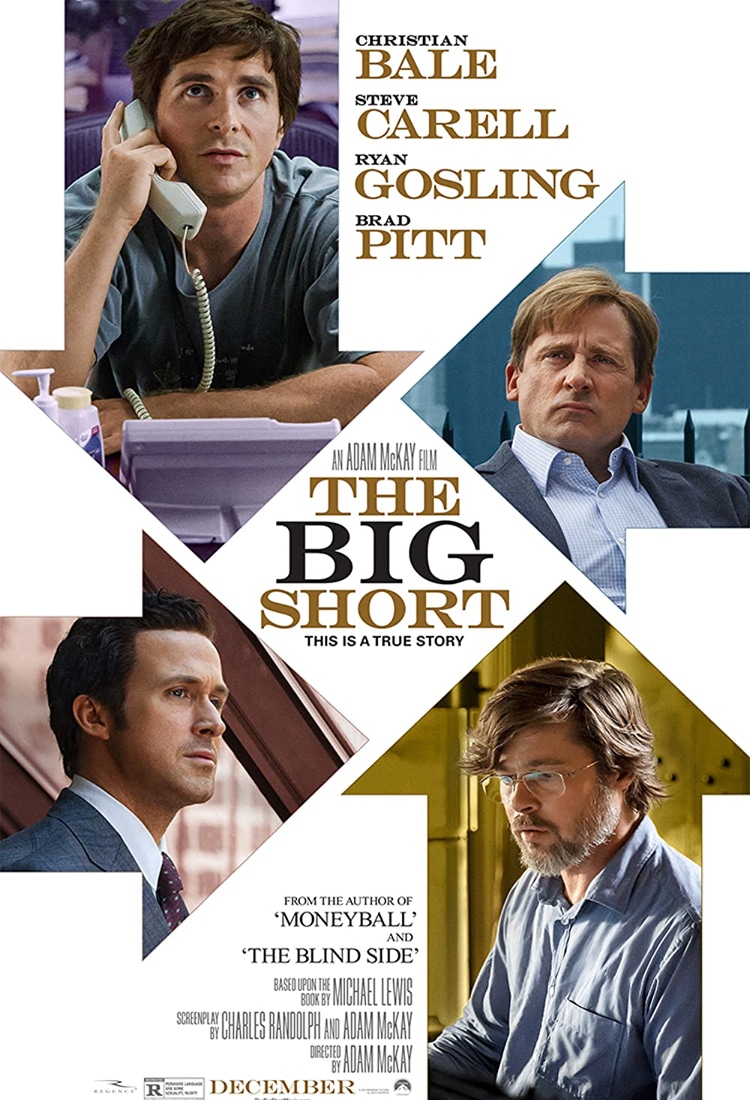 Genre: Biography, Comedy, Drama, History
Director: Adam McKay
Cast: Ryan Gosling, Christian Bale, Steve Carell
It tells the stories of 4 people who have considerable knowledge of the economy, although they are not involved in the banking sector. Foreseeing the great economic crisis in the mid-2000s, these 4 people come up with an idea they call the " Big Deficit ". In fact, it is obvious that the crisis is approaching, but neither banks nor governments ignore it.
These 4 people, after weighing the current situation thoroughly, see this gap, which they call the "Big Deficit", as an opportunity and decide to make use of it. However, this is very dangerous. They will either lose everything or make incredible money. Taking risks is just right for times like these. While The Big Short puts his finger on the dark spots of modern banking, he questions the system through these 4 people.
---
2) Blade Runner 2049 – Blade Runner 2049: Blade Runner (2017) | IMDb: 8.0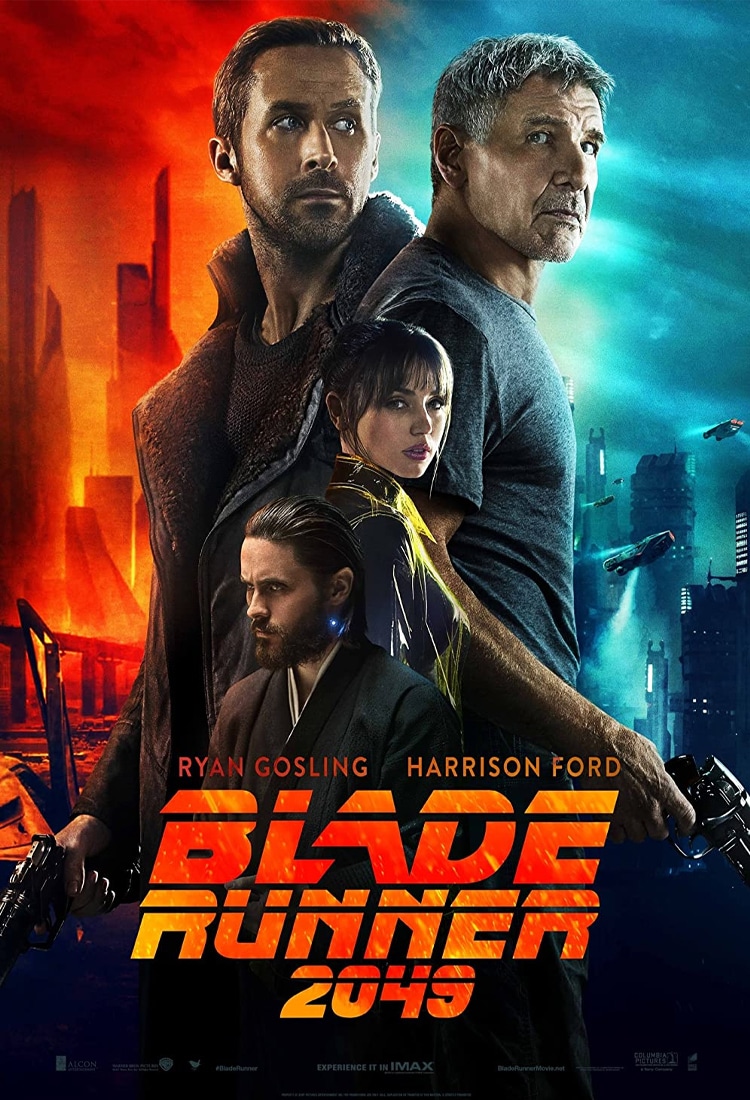 Genre: Action, Drama, Mystery, Sci-Fi, Thriller
Director: Denis Villeneuve
Cast: Ryan Gosling, Harrison Ford, Ana de Armas
Blade Runner , which was first shot by Ridley Scott in 1982, is considered one of the most special productions in the history of cinema. So much so that it is one of the first films that come to mind when it comes to science fiction cinema. In the sequel, which was shot in 2017, Denis Villeneuve, one of the most respected directors of recent years, sits in the director's chair this time.
More than 30 years have passed since the events of the first movie. Officer K with the Los Angeles Police Department uncovers a secret. This secret drags humanity into a great chaos. In fact, the end of humanity may even come due to the revelation of this secret. To prevent disaster, Officer K must find a former bounty hunter named Rick Deckard. But finding it is not enough. It is imperative that he gets answers to the questions he will ask Rick Deckard.
---
1) La La Land – City of Lovers (2016) | IMDb: 8.0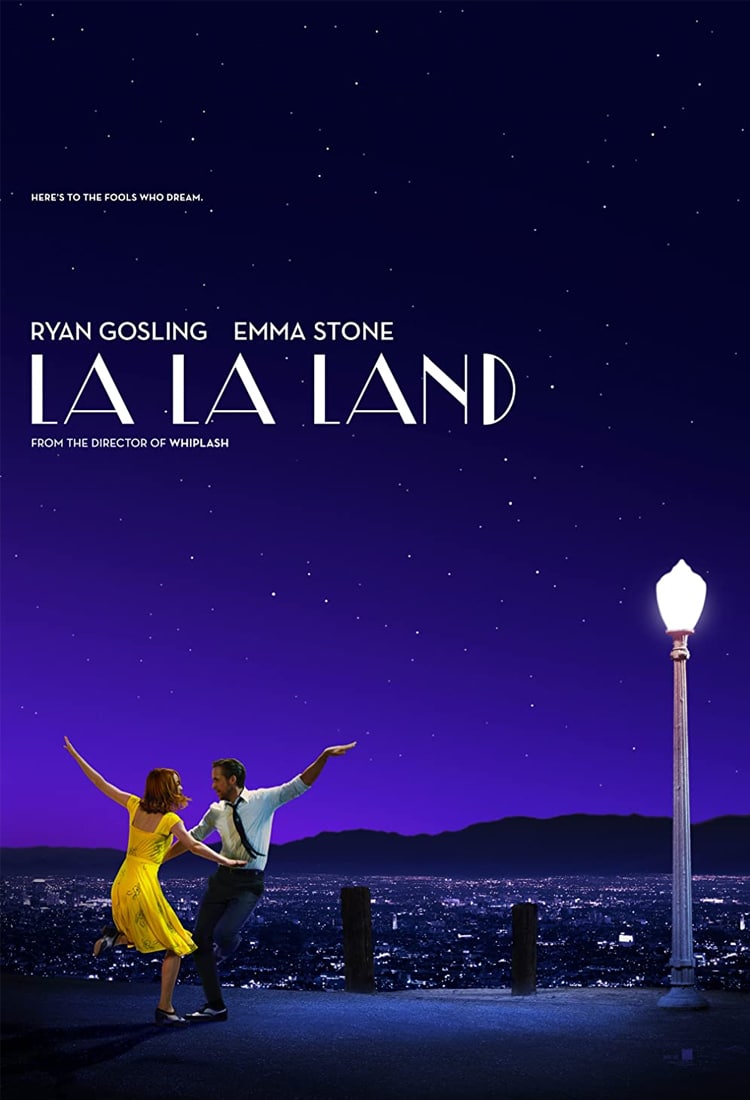 Genre: Comedy, Drama, Music, Musical, Romance
Director: Damien Chazelle
Cast: Ryan Gosling, Emma Stone, Rosemarie DeWitt
We've come to the top of our Ryan Gosling movies list. One of the most influential films of recent years, La La Land has managed to become one of the most special productions in the history of musical cinema. The love story between Sebastian and Mia, who are trying to put their lives in order, on the other hand, are trying to find a new way for themselves.
Sebastian is trying to maintain classical jazz music even today, while Mia dreams of becoming an actress. However, both are at the very beginning of the road. Mia works as a waitress in a cafe, while Sebastian earns his living by making music that is never his style and that he doesn't like.
The two meet on a day when traffic is very congested. Although they do not like each other at first, as time passes, a great love begins to sprout between them. Sebastian and Mia both have a passionate love and support each other in achieving their dreams. In other words, they literally opened up a magical world to each other.
As everything is going well for Sebastian and Mia, the paths slowly part ways. Their passion for their dreams gets in the way of their love. Arguments turn into fights, sometimes dreams take the place of love, sometimes love takes the place of dreams. Life has prepared a completely different scenario for them.
---
This post is also available in: Türkçe