Do you know which animated movies released in 2021? We guess that there are not many of us who do not enjoy watching animation. Although many of us say that they watch it with their little brother, niece, cousin or child, we enjoy watching animated films at least as much as they do. Let's see, let's list together the adventures of cute heroes in 2021!
---
1) Arlo the Alligator Boy – Crocodile Kids Arlo (2021) | IMDb: 6.7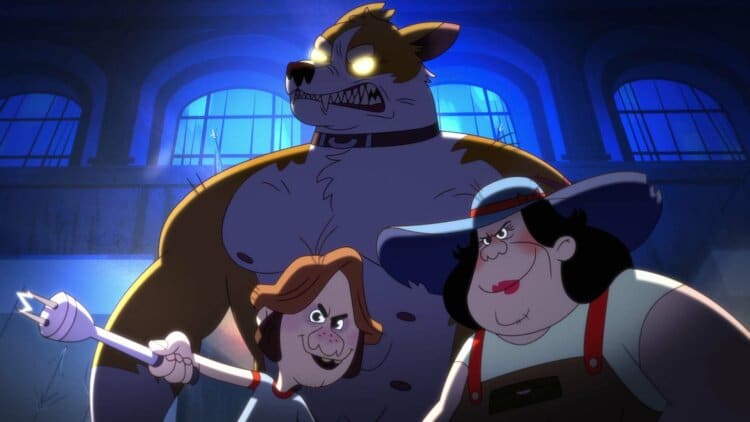 The Crocodile Boy Arlo animated film is Ryan Crego's directorial debut. The genre of this movie, which is the first of our list of animated movies released in 2021, is referred to as a 2D animation, adventure and musical movie. The main character in the movie is "Arlo" as the name of the movie suggests. Arlo was brought to life by Michael J. Woodward with his voice. The actors who voice the characters of Bertie, Furlecia, Alia, Ansel, Teeny Tiny, Stucky, Marcellus, Edmee, Ruf respectively; Mary Lambert, Jonathan Van Ness, Haley Tju, Vincent Rodriguez, Tony Hale, Jennifer Coodlidge, Brett Gelman, Annie Poots, Flea.
What it's about : Left alone as a baby by his own family, Arlo, a half-human, half-crocodile, is raised by a riverside woman named Edmee. Arlo is a very lively, smiling and good boy.
Edmee gives Arlo a very special gift on his birthday. Thanks to this, Arlo learns that his birthplace is New York and that his surname is Beauregard. The next day she sets out alone to find her father, whom she has never met, and her true identity. And the story begins.
---
2) Raya and the Last Dragon – Raya and the Last Dragon (2021) | IMDb: 7.4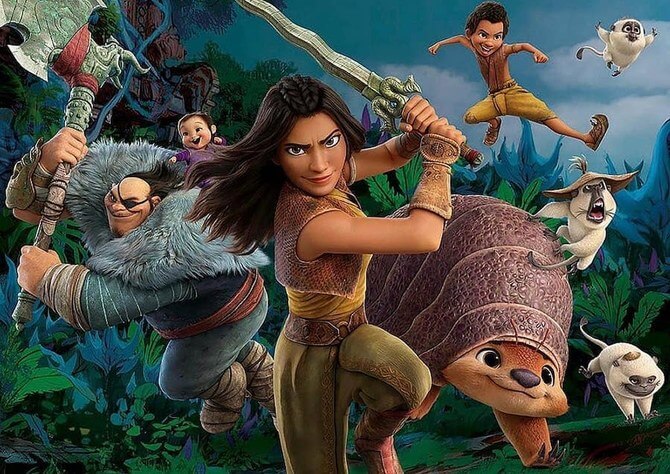 The animated movie Raya and the Last Dragon is directed by Carlos Lopez Estrada and Don Hall. This movie, shot at Walt Disney, is an American production. This animated movie, whose genre is animation and adventure, takes 1 hour and 47 minutes. Its screenwriters are Adele Lim and Qui Nguyen. The main character, Raya, is voiced by Kelly Marie Tran. Awkwafina, Gemma Chan, Benedict Wong, Sandra Oh, Alan Tudyk, Izaac Wang, Thalia Tran, Patti Harrison is .
Synopsis: The movie Raya and the Last Dragon tells the story of the last dragon left on earth and Raya, who tries to find him, to stop the monsters named Druun, who threaten Lumandra again 500 years later.
In the fantastic world called Lumandra, humans and dragons lived together in harmony. However, when monsters named Druun put this world in danger, the dragons sacrificed themselves to save the people they lived with.
Now again, 500 years later, the same monsters named Druun have returned, and it's up to the main character, Raya, to track down the last dragon to banish them forever from this fantasy world. In this adventure, Raya learns that she must find much more than dragon magic to stop the Druun.
---
3) Luca (2021) | IMDb: 7.5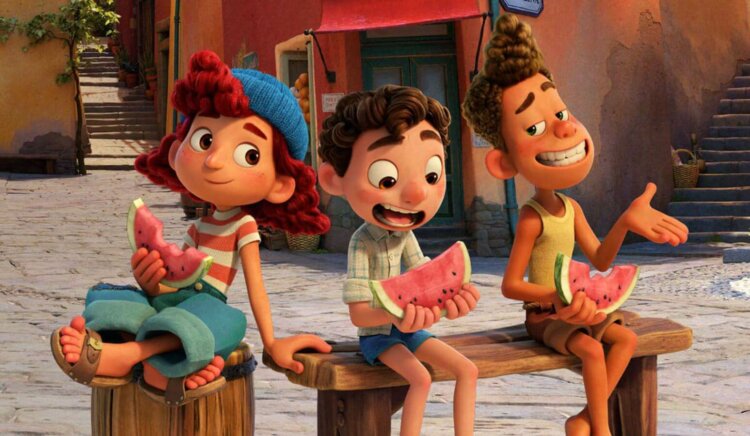 The screenwriter of the movie, which was released on October 3, 2021, is Jesse Andrew and Mike Jones. Luca, an American production, is an animated movie produced by Pixar and Disney that peaked in the animation genre.
Luca, consisting of 1 hour and 35 minutes; It is a movie that has been processed in the genres of animation, fantasy, comedy. The original voice cast is one of Italy's well-known dubbing artists; Jacob Tremblay, Maya Rudolph, Jack Dylan Grazer, Jim Gaffigan, Emma Berman.
Synopsis: It tells the story of Luca's summer adventures with his friend Alberto. Luca, a young boy who spends the summer months eating pasta on the Italian Riviera and riding a scooter all day, shares these adventures with his new friend Alberto. The newly met duo soon discover an important secret.
This secret is otherworldly sea monsters found under the ocean.
---
4) Space Jam: A New Legacy – Space Jam: New Legend (2021) | IMDb: 4.4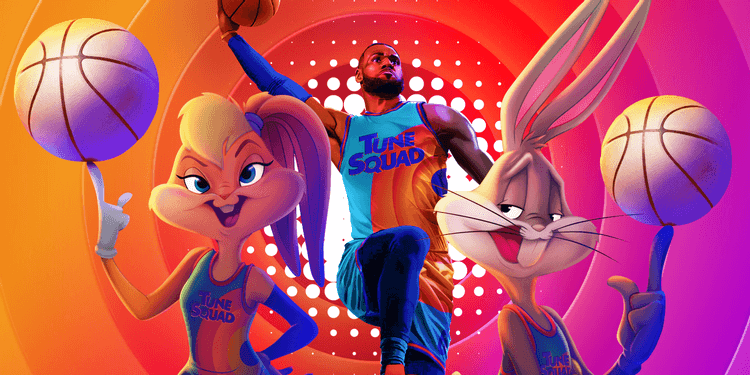 The genre of the movie Space Jam: A New Legacy, which was released on July 16, 2021, is animation, comedy and adventure. Written by Willie Ebersol, Andrew Dodge, Alfredo Botello, Justin Lin. The American and British film director is Malcom D. Lee. Maverick Carter, Justin Lin, Ryan Coogler and famous basketball player LeBron James are the producers of the film.
Actors featured in this movie are: LeBron James, Zendaya, Micheal B. Jordan, Cedric Joe, Don Cheadle, Sonequa Martin-Green, Cassandra Starr, Kyrie Irving, Ceyair Wright, Anthony Davis, Jeff Bergman, Gabriel Iglesias, Klay Thompson.
Synopsis: The story of LeBron's work to bring the Looney Tunes gang to victory over the very strong team.
LeBron and his son Dom are imprisoned in a digital space by a corrupt AI. The only way for them to get out of the digital realm is for Looney Tunes to beat the AI's digitized roster of champions.
Will LeBron, the leader of the Looney Tunes gang, be able to win the most important fight of his life?
---
5) Paw Patrol: The Movie – The Paw Patrol Movie (2021) | IMDb: 6.2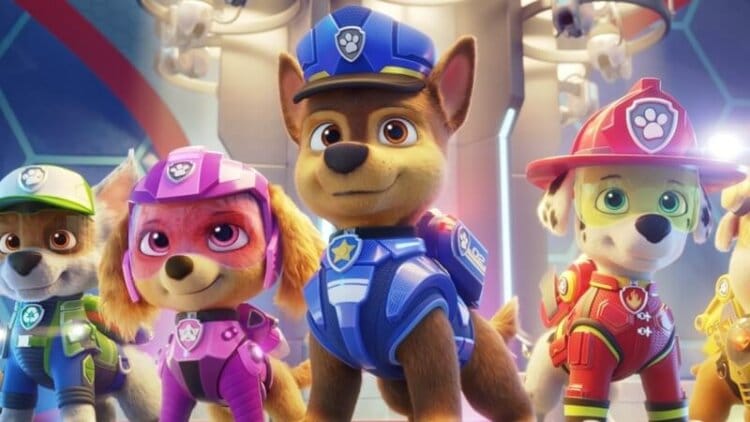 Another movie on our list of animated movies released in 2021 is Cal Brunker with Bob Barlen, the scriptwriter of Paw Patrol. Cal Brunker also directed the movie. The cast of this 1 hour and 26 minute movie; Kim Kardashian, Lily Bartlam, Iain Armitage, Will Brisbin, Marsai Martin, Ron Pardo, Tyler Perry, Randall Park, Dax Shepard, Jimmy Kimmel, Keegan Hedley and Callum Shoniker.
Synopsis: In the movie Paw Patrol, the hero dog Ryder and his friends struggle against the mayor who is throwing Adventure City into chaos. The heroic puppies face an uphill battle as Humdinger plunges everything into disaster after becoming mayor of Adventure City. Ryder and the puppy dog fight to prevent Humdinger from destroying the metropolis.
---
6) The Boss Baby 2: Family Business – The Boss Baby 2: Family Business (2021) | IMDb: 5.9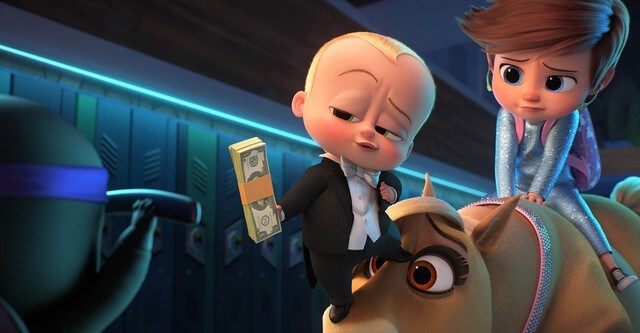 The Boss Baby 2 animated movie, which was released on September 17, 2021, is a cute or cute production of 1 hour and 48 minutes. The screenwriter of this comedy movie is Micheal McCullers. Except for Alec Baldwin, who gives life to the boss baby with his voice; Names such as Amy Sedaris, Jeff Goldblum, Arina Greenblatt, Eva Longoria are also included.
What it's about : Tim and Ted, two brothers who have drifted apart over time, are now adults. Tim, one of the brothers whose lives went in different directions, got married and Ted became the CEO of the hedge fund.
Tim's wife, super mom Carol, lives in the suburbs with her super smart daughter Tabitha and her adorable niece Tina. Tabitha follows her uncle Ted as an example. She is top of her class at the prestigious "Acorn Center for Advanced Childhood" she attended. But Tim isn't too happy to have his daughter come first. Because he thinks that he missed his childhood by working.
Meanwhile, baby Tina meets Dr. He discovers that Armstrong has dark secrets. Tina takes a secret mission with BabyCorp to uncover these dark secrets. With her explaining this, brothers Tim and Ted are reunited.
---
7) The Addams Family 2 – The Addams Family 2 (2021) | IMDb: 5.4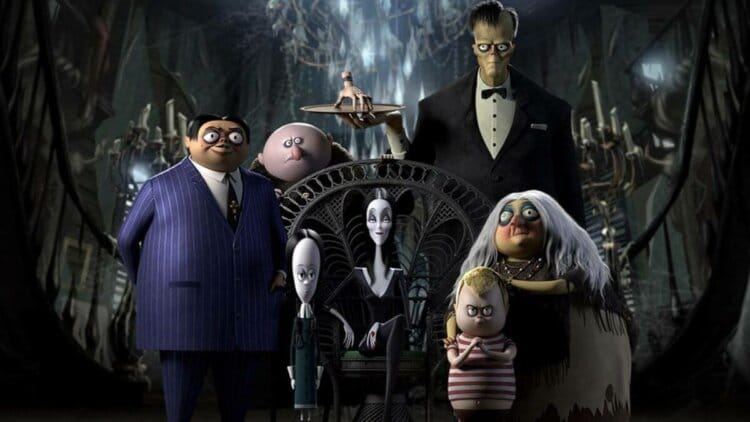 This movie, which was released in November, is 1 hour and 33 minutes. It has found its place in the list of animated movies that can be watched as a family.
There are many famous names such as Charlize Theron , Chloe Grace Moretz, Snoop Dog, and Wallace Shawn in the cast of the movie Addams Family 2, written by Dan Hernandez and Benji Samit.
Synopsis: The film is about the Addams Family going on an adventurous vacation to strengthen their family bonds.
Morticia and Gomez's children are no longer small. As they grow up, they feel that the bond between the family is weakening day by day, so they decide to take a vacation. On their journey from one end of America to the other by jumping into their haunted trailer, they begin to distance themselves from their own reality. Our team encounters different events along the way!
---
8) Extinct – Last Two of Its Kind | IMDb: 5.4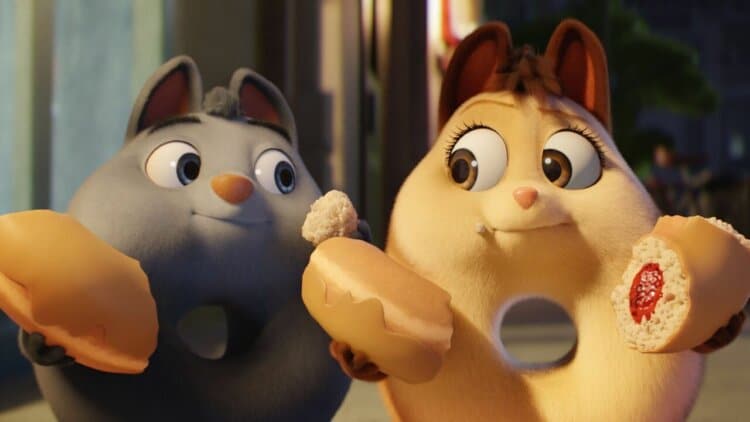 The movie called "The Last Two Examples of Its Kind", which was released on October 3, 2021, takes a total of 1 hour and 24 minutes. The directors of the film, which made its mark in the category of animation, adventure and family movies, are David Silverman and Raymond S. Persi. DeVine with his voice, Rachel Bloom, Ken Jeong, Richard Kind, Zazie Beetz, Raymond S. Persi, David Silverman, Jim Jefferies, Catherine O'Hara, Henry Winkler, Steve Aoki in this animated film.
Synopsis: The main characters of the story, brothers Op and Ed, are feathered creatures called "flummers", which attract attention with their simit-like physical appearance with a hole in the middle of their bodies. These two brothers, who live on an island in the 1800s, cause a big mistake with their clumsiness and unsteady mood. They have to be punished by the community captain for the mistake they caused. The flower they come across during the punishment causes them to take a surprise time travel.
Traveling in time, they come to today's history, and when they arrive, they realize that their species has long since disappeared. With this chance information, they take action to save their species. These brothers, who will experience a thousand and one adventures on their journey, will be in the middle of sometimes funny and sometimes strange situations.
---
9) Wish Dragon – Magic Dragon | IMDb: 7.2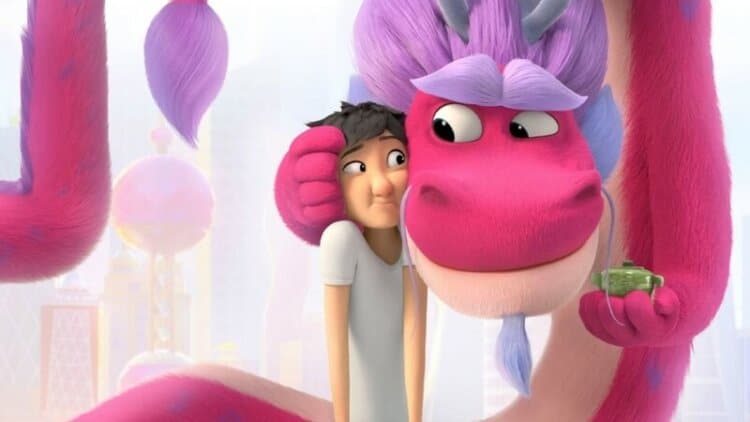 The Magic Dragon, the last movie of our list of animated movies released in 2021, is 1 hour and 38 minutes in total. Chris Appelhans is the director and screenwriter of the film.
The cast with their voices in Magic Dragon consists of Jimmy O. Yang, Jimmy Wong, John Cho, Natasha Bordizzo, Constance Wu, Ian Chen, Nico Santos, Ronny Chieng, Will Yun Lee and Max Charles.
Synopsis: Din, a member of a working-class family, is a college student with big dreams. One day, Din meets a dragon who can make all wishes come true. Dragon Long and Din embark on an adventure together to find Din's childhood friend, Lina, who has not been found for a long time. Embarking on an exciting adventure in the streets of Shanghai, these two try to solve the secrets of life together.
Related content that might interest you:
https://ceotudent.com/netflix-animasyon-filmleri
This post is also available in: Türkçe