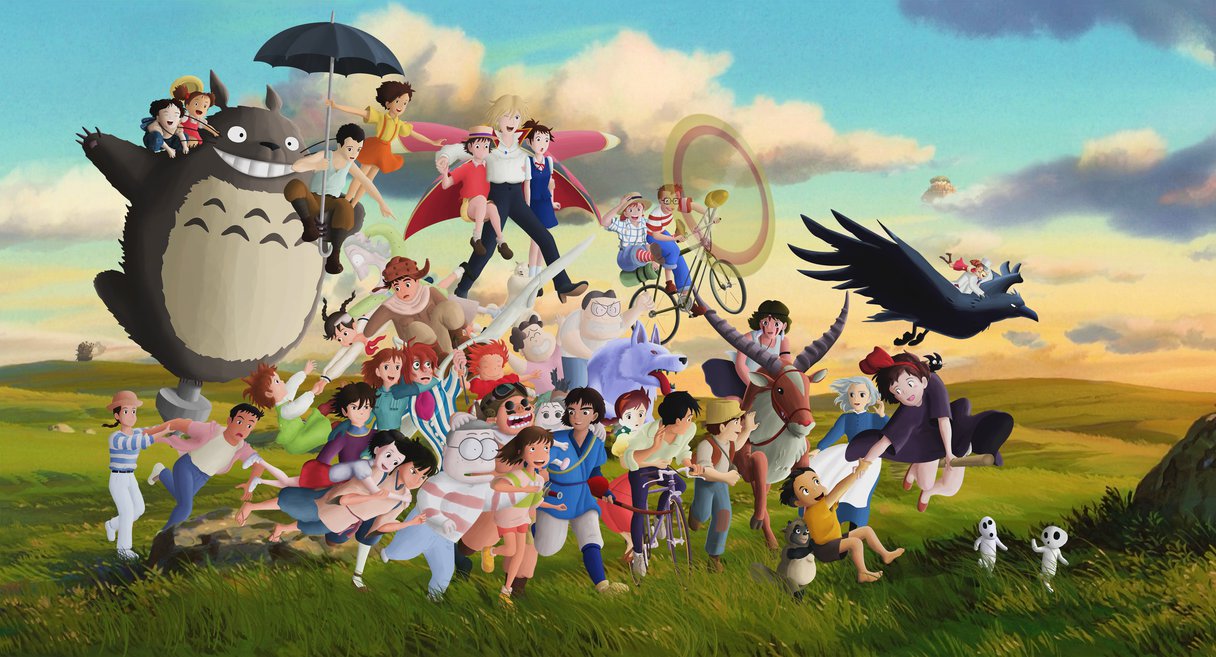 Hayao Miyazaki was born in Tokyo in 1941. He is one of the most important directors not only of Japanese cinema, but also of world cinema history. In addition to his directing, he is among the world's leading names as a screenwriter and illustrator. When it comes to Hayao Miyazaki movies , of course, anime will come to mind.
Intertwined with anime and manga from a very young age, Hayao Miyazaki has devoted most of his life to animation. So much so that he is shown as one of the greatest animation artists of all time. The films he wrote, drew and directed in the anime genre won awards at the most important cinema festivals in the world.
Miyazaki, who carried the animation cinema to a completely different point in the history of cinema, has undoubtedly been a great source of inspiration for the next generations. In particular, the animation studio called Studio Ghibli, which he founded with another close friend of anime artist Isao Takahata, is one of the symbol studios.
We have compiled for you the films of the master, who is one of the first names that come to mind when anime and animation are mentioned.
---
1) Rupan Sansei: Kariosutoro No Shiro – Kagliostro's Castle (1979) | IMDb: 7.6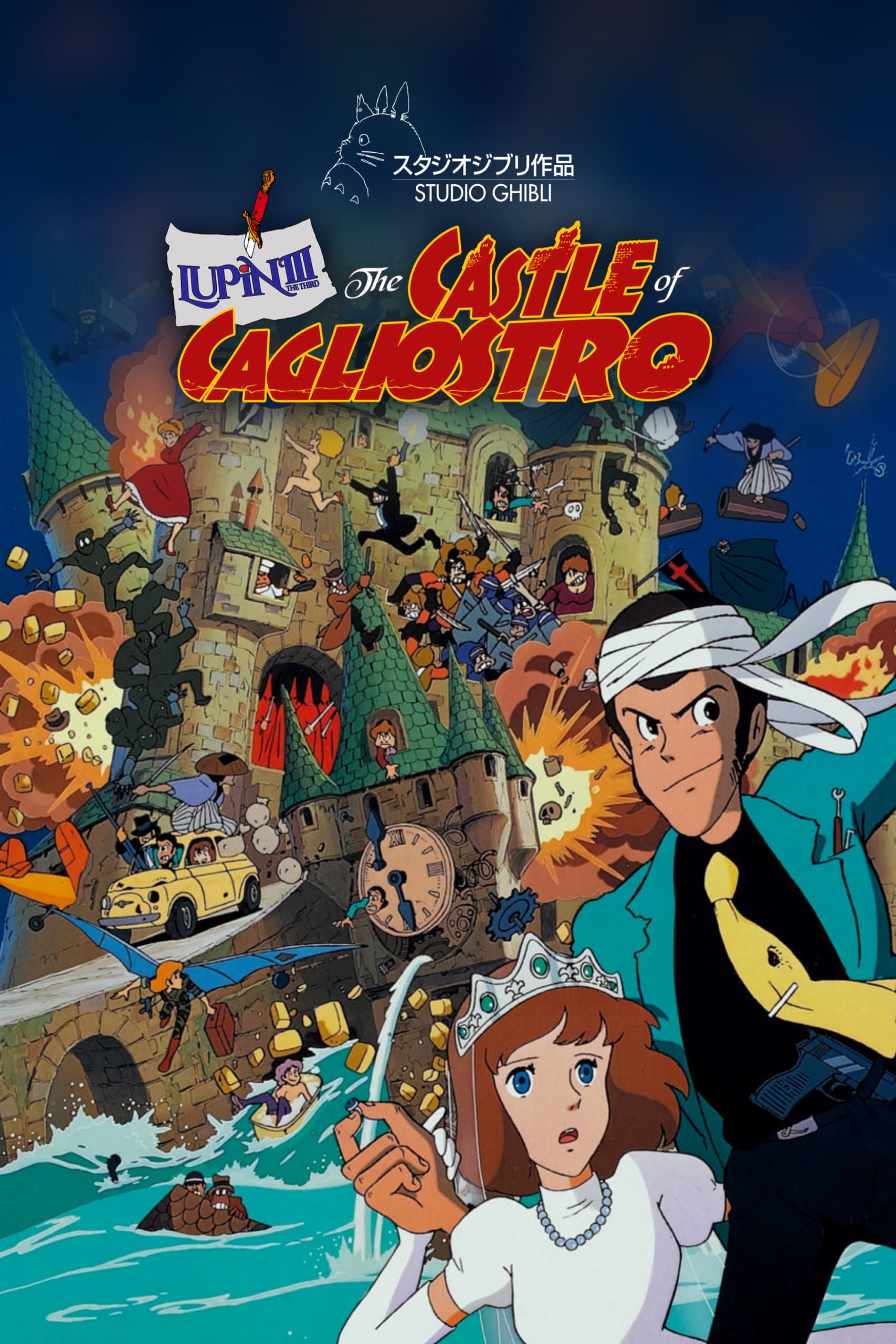 Voiced by: Yasuo Yamada, Eiko Masuyama, Kiyoshi Kobayashi
Genre: Animation, Action, Adventure, Fantasy
The first of our Hayao Miyazaki movies list, Kagliostro's Castle tells the story of the legendary thief Lupin, whose fame has spread all over the world. Lupine and his accomplice Daisuke Jigen commit a robbery. However, the money they seized from this robbery is fake. Disappointed, the duo later realize something. The counterfeit money they stole is very, very valuable. Thereupon, Lupine and Daisuke Jigen set off to the Duchy of Cagliostro to investigate the source of the money.
Lupine and Daisuke Jigen get involved as soon as they arrive at the duchy. They see a young girl being chased by a rogue group and immediately intervene to save her. This girl named Clarice is the daughter of Count Cagliostro, whose heart is full of evil. They soon learn that Clarice will be forcibly married to another earl. On top of that, the count she will marry wants to seize the hidden treasure of Cagliastro. On top of all this, Lupine and his team roll up their sleeves to foil the Count's plans.
---
2) Kaze No Tani No Naushika – Windy Valley (1984) | IMDb: 8.1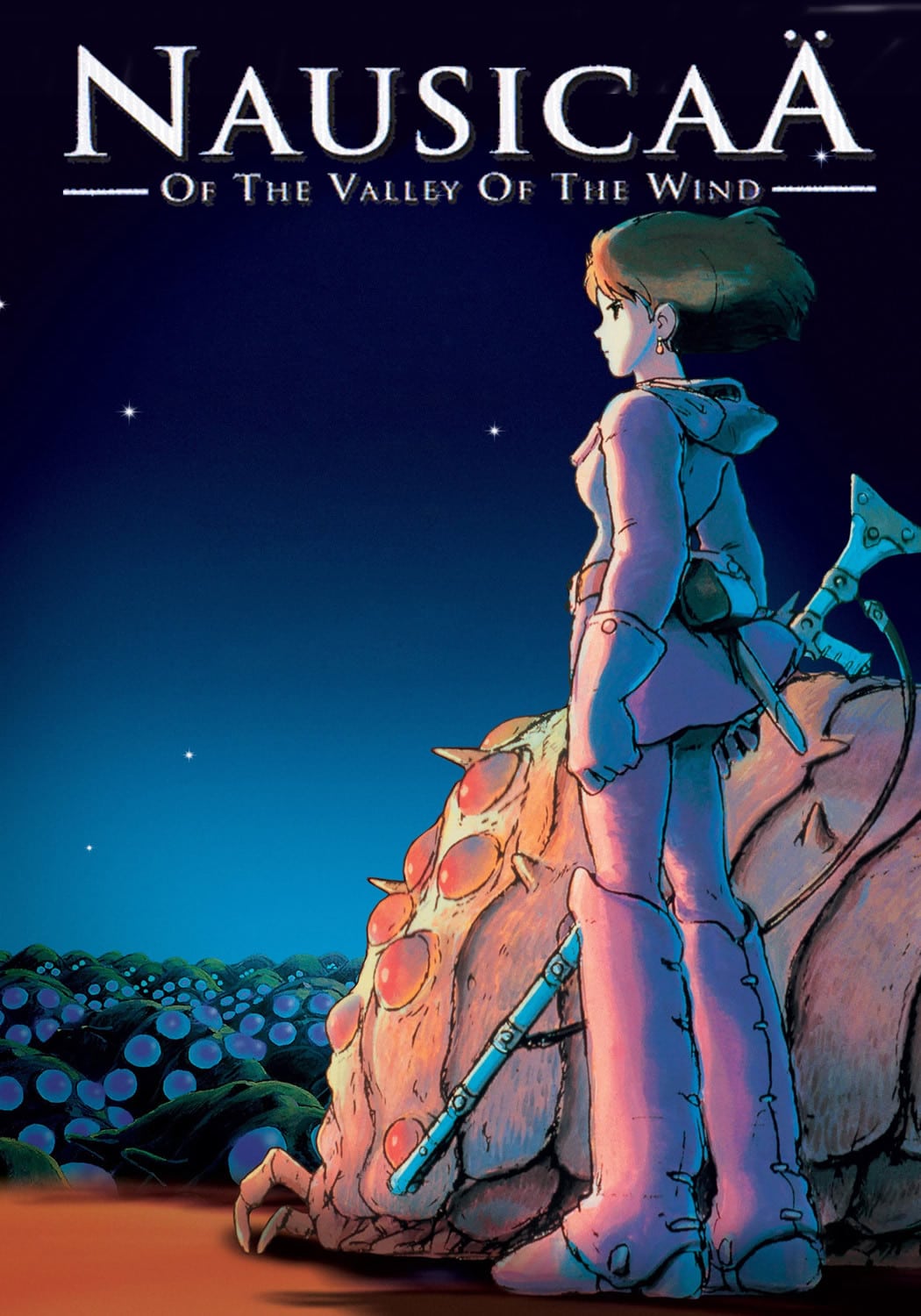 Voiced by: Sumi Shimamoto, Mahito Tsujimura, Hisako Kyōda
Genre: Animation, Adventure, Fantasy, Sci-Fi
Adapted from the manga series of the same name, the film is cited as one of the most important films in Miyazaki's filmography. After a war that destroyed everything, the world has become uninhabitable. A poisonous gas that emerged as one of the effects of the war destroyed the natural life. If nothing is done, the human race will soon be extinct. In the midst of all this destruction and despair, Princess Nausicaa appears. Nausicaa has supernatural powers. Thanks to these powers, he can communicate with all living beings.
While the whole world has lost hope and is waiting to die in a sense, Princess Nausicaa wants to spread hope to the whole world, especially her own people. So he decides to go to the forests full of poison gas and use his special powers.
---
3) Tenkû No Shiro Rapyuta – Castle in the Sky (1986) | IMDb: 8.0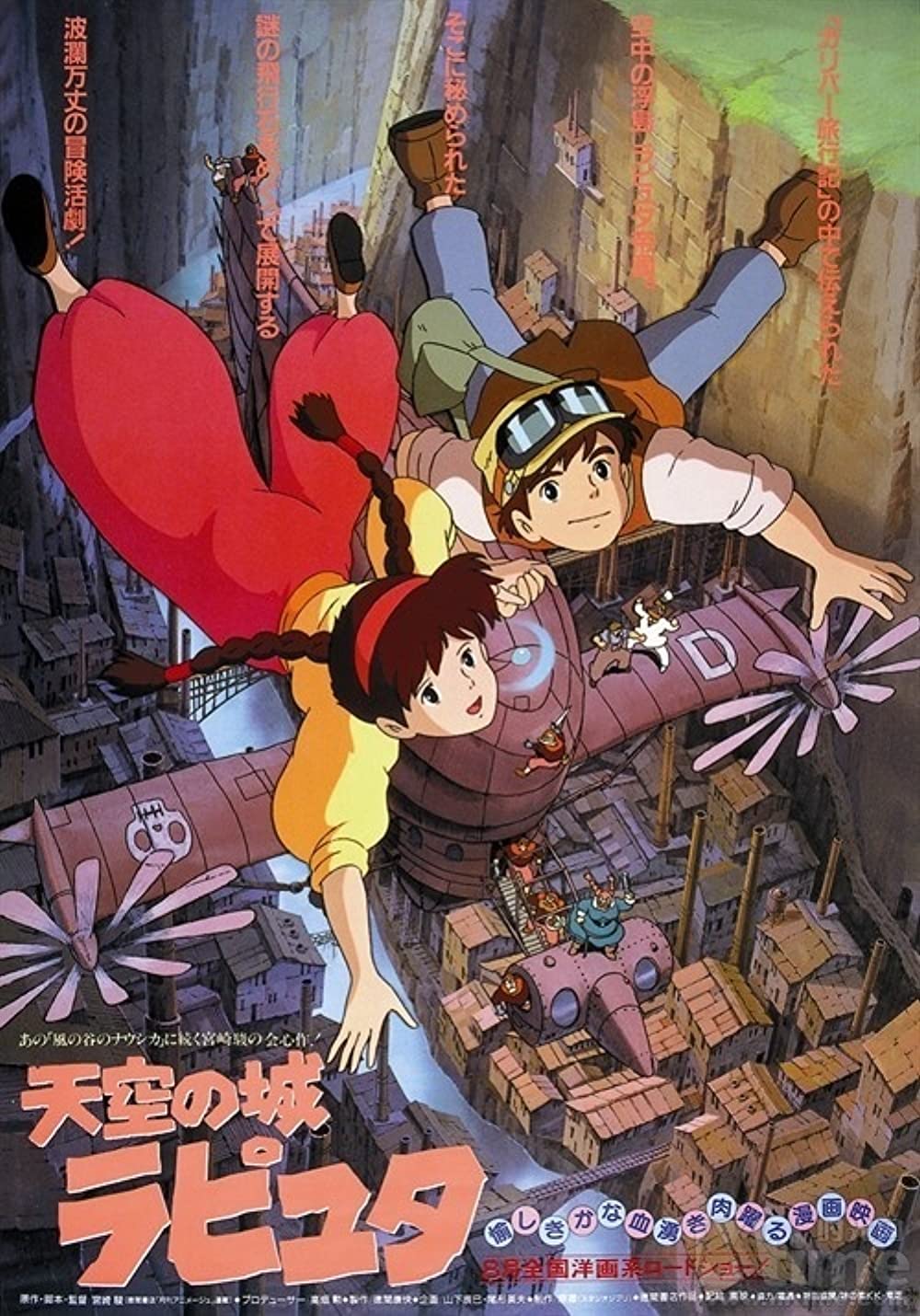 Voiced by: Mayumi Tanaka, Keiko Yokozawa, Kotoe Hatsui
Genre: Animation, Adventure, Drama, Family, Fantasy, Sci-Fi
We are in a very, very distant future. The human race has built cities that fly in the sky. However, a great disaster occurs and these sky cities are destroyed. People also go on a journey to the earth again in order to continue their lives. A young girl named Sheeta is also one of those trying to return to earth and has a blue stone next to her. This blue stone is very precious but Sheeta is unaware of it. Some dark people are aware of this stone and Sheeta is kidnapped by these forces.
Sheeta is imprisoned on a flying ship. While the voyage continues, pirates attack the ship and Sheeta falls from the plane during the chaos. However, thanks to the blue stone he is holding, he suddenly finds himself floating in the air. After escaping death at the last moment, Sheeta faints. When he comes to himself, there is a person named Pazu next to him. Pazu wants to help Sheeta and the two start to run away together.
---
4) Tonari No Totoro – My Neighbor Totoro (1988) | IMDb: 8.2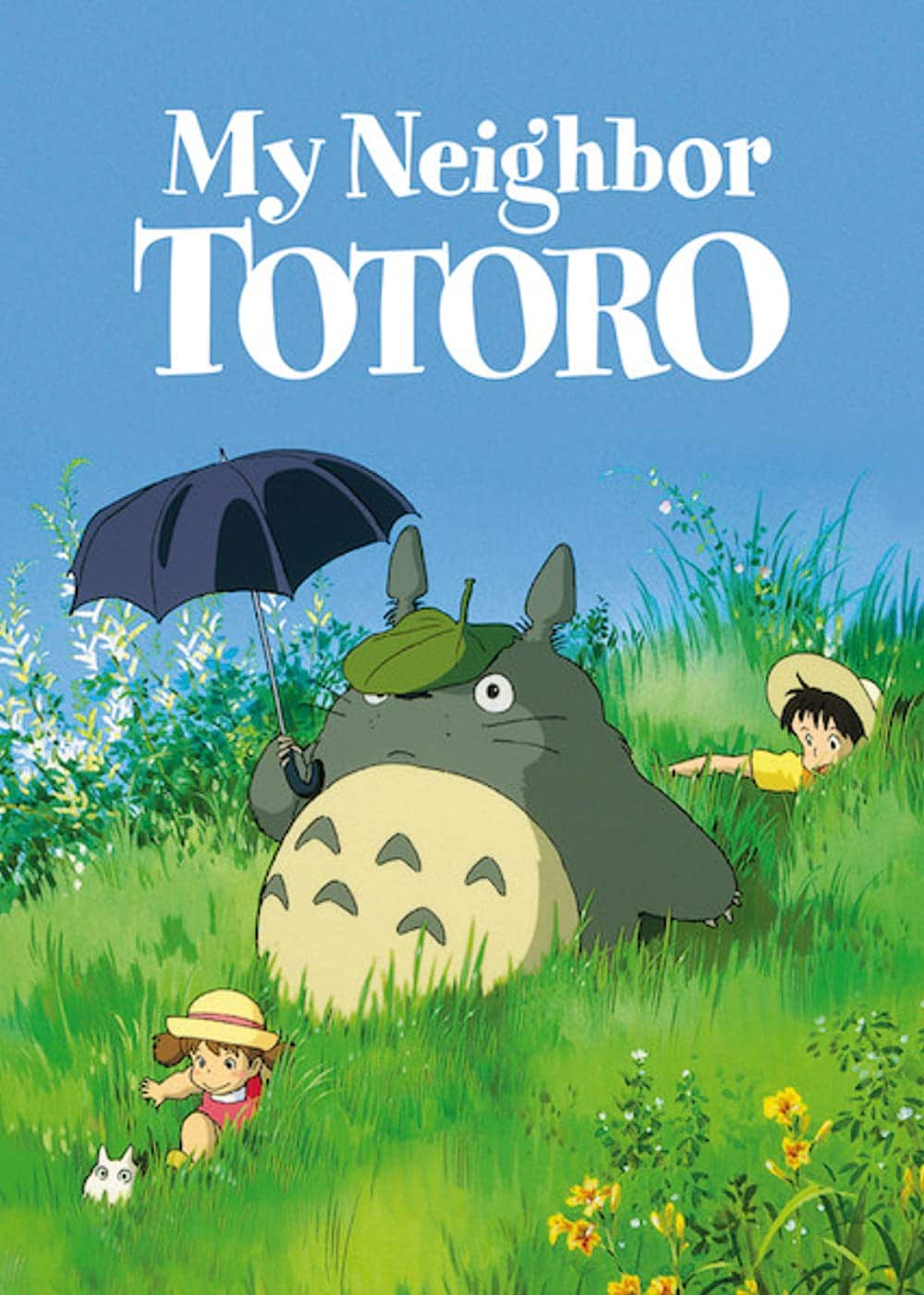 Voiced by: Hitoshi Takagi, Noriko Hidaka, Chika Sakamoto
Genre: Animation, Family, Fantasy
Next up in one of the most special films on our list of Hayao Miyazaki movies. Totoro, the character that gives the movie its name, is also the mascot of Studio Ghibli. Mei and Satsuki are two younger sisters. The sisters, whose mother is very ill and is being treated in hospital, move with their father to a village to be closer to their mother. The story begins exactly here.
Mei sees spirits in the forest. One of these spirits, Totoro, first meets Mei and then Satsuki. Although Mei and Satsuki are very scared at first, they soon get used to Totoro. The two sisters dive deep into the forest with Totoro, where they encounter other beings in the magical world. Mei and Satsuki are now immersed in a fantasy world full of fascinating beings, far from reality.
---
5) Majo No Takkyûbin – Little Witch Kiki (1989) | IMDb: 7.9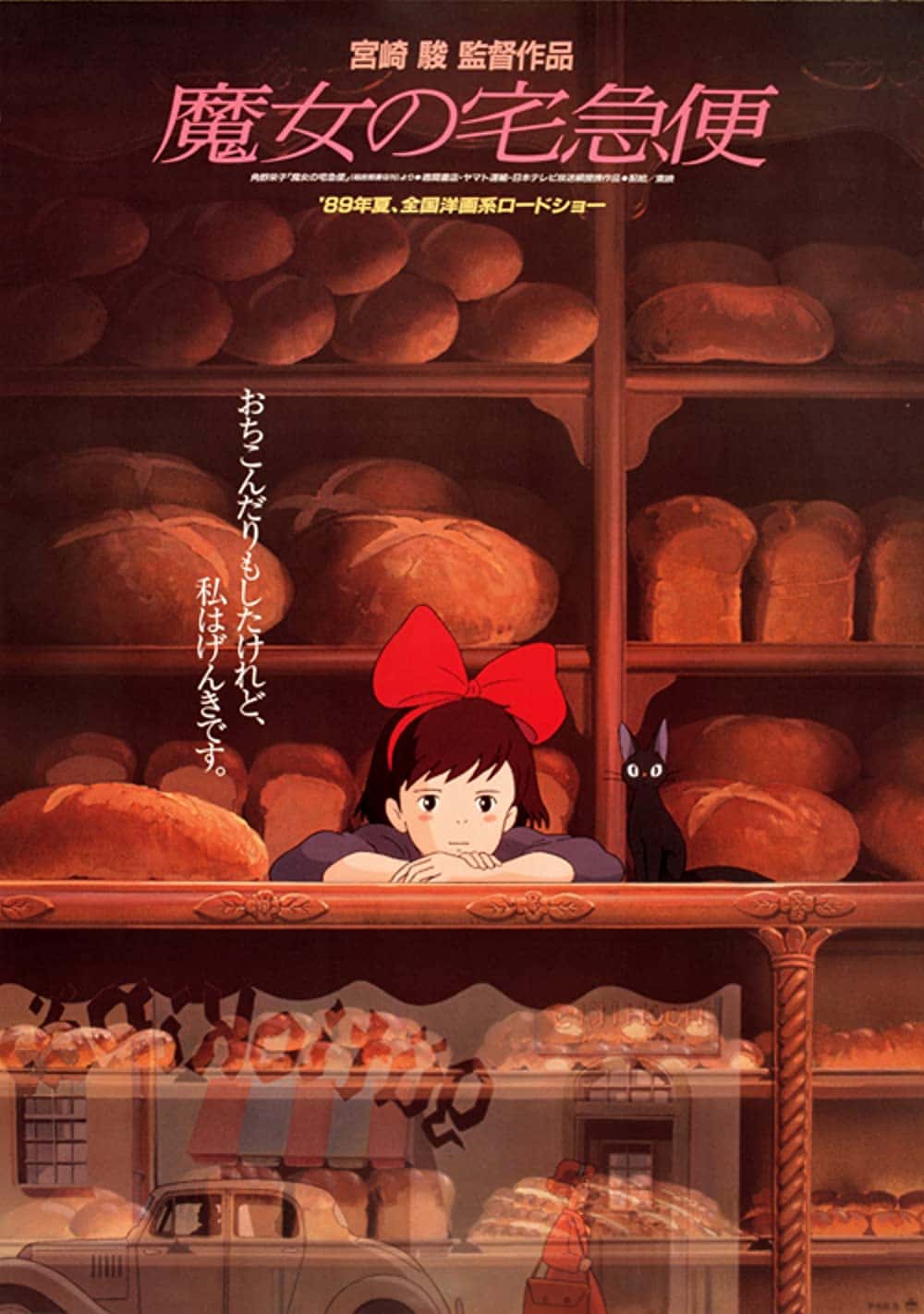 Voiced by: Minami Takayama, Rei Sakuma, Kôichi Yamadera
Genre: Animation, Adventure, Drama, Family, Fantasy
Kiki is a 13-year-old girl. Kiki, who is about to complete her witchcraft training, has to live away from her family for a year as per the rules in order to become a true witch. Kiki chooses a city and starts living there. The city he chose is a very charming place on its own, located by the sea. Kiki wants to open a shipping company in the city. Thus, he will also benefit from his ability to fly. However, things do not turn out as he imagined.
She opens the shipping company and starts working as a courier, but she realizes that she is losing her witchcraft abilities day by day. Thereupon, he begins to struggle to regain his abilities. Moreover, she will make this effort not only to regain her witchcraft abilities, but also to save the life of a dear friend.
---
6) Kurenai No Buta – Red Wings (1992) | IMDb: 7.7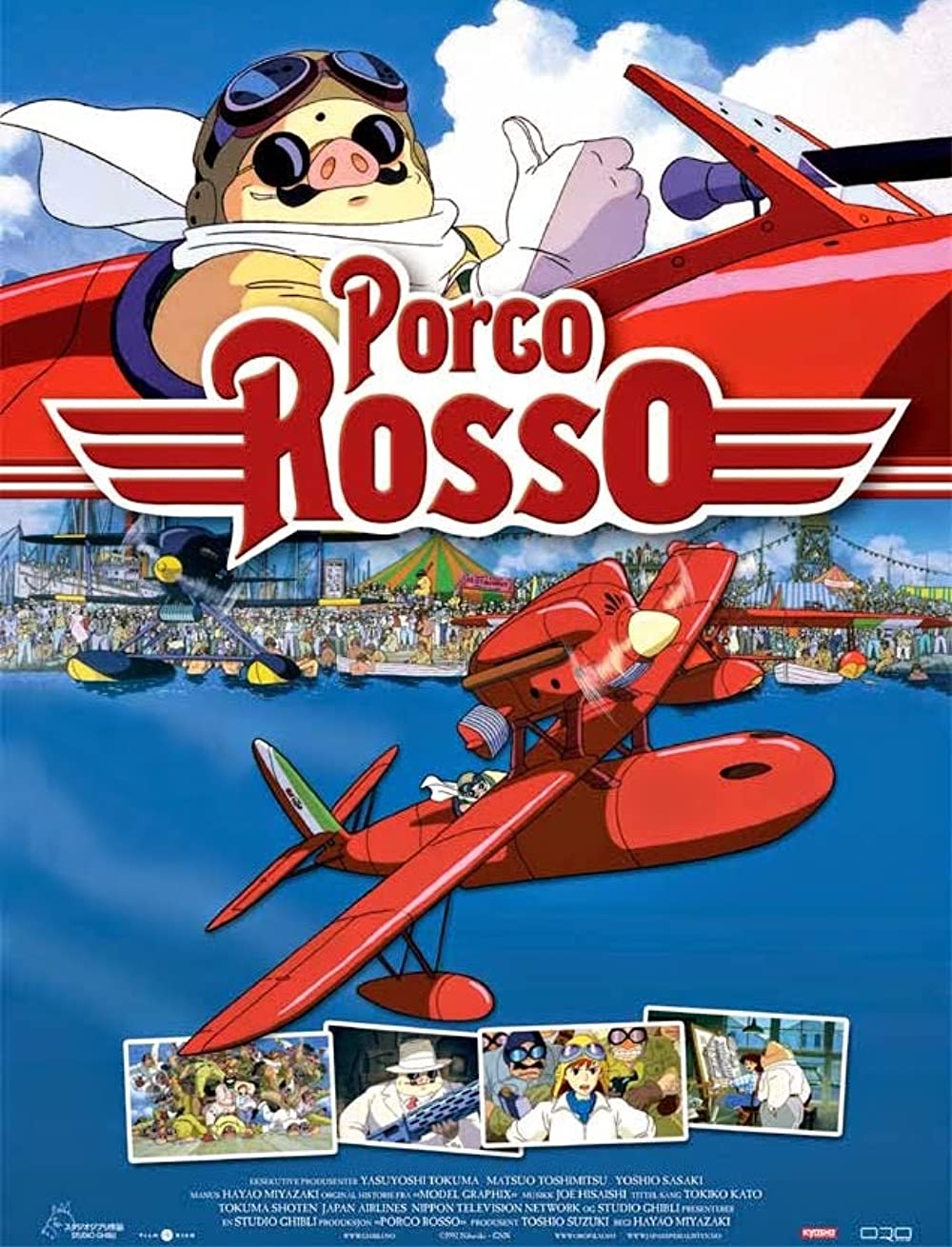 Voiced by: Shuichirô Moriyama, Tokiko Katō, Bunshi Katsura Vi
Genre: Animation, Adventure, Comedy, Fantasy, Romance
Porco Rosso is a talented pilot. 1. During World War II, he was turned into a pig by some magical powers. However, there was no better pilot than him in the Adriatic Sea in the 1920s. After returning to the pig, he leaves the air force and begins to live on an island of his own. Porco Rosso, who spends his days flying his plane, protecting other planes in the sky from gang planes, and visiting his friend Gina, one day encounters the American hijacker Curtis. Curtis crashes Porco Rosso's plane.
From now on, Porco Rosso will not only protect itself and the other planes, but also fight Curtis. That's why he starts preparations for the big war he will enter with Curtis.
---
7) Mononoke-Hime – Princess Mononoke (1997) | IMDb: 8.4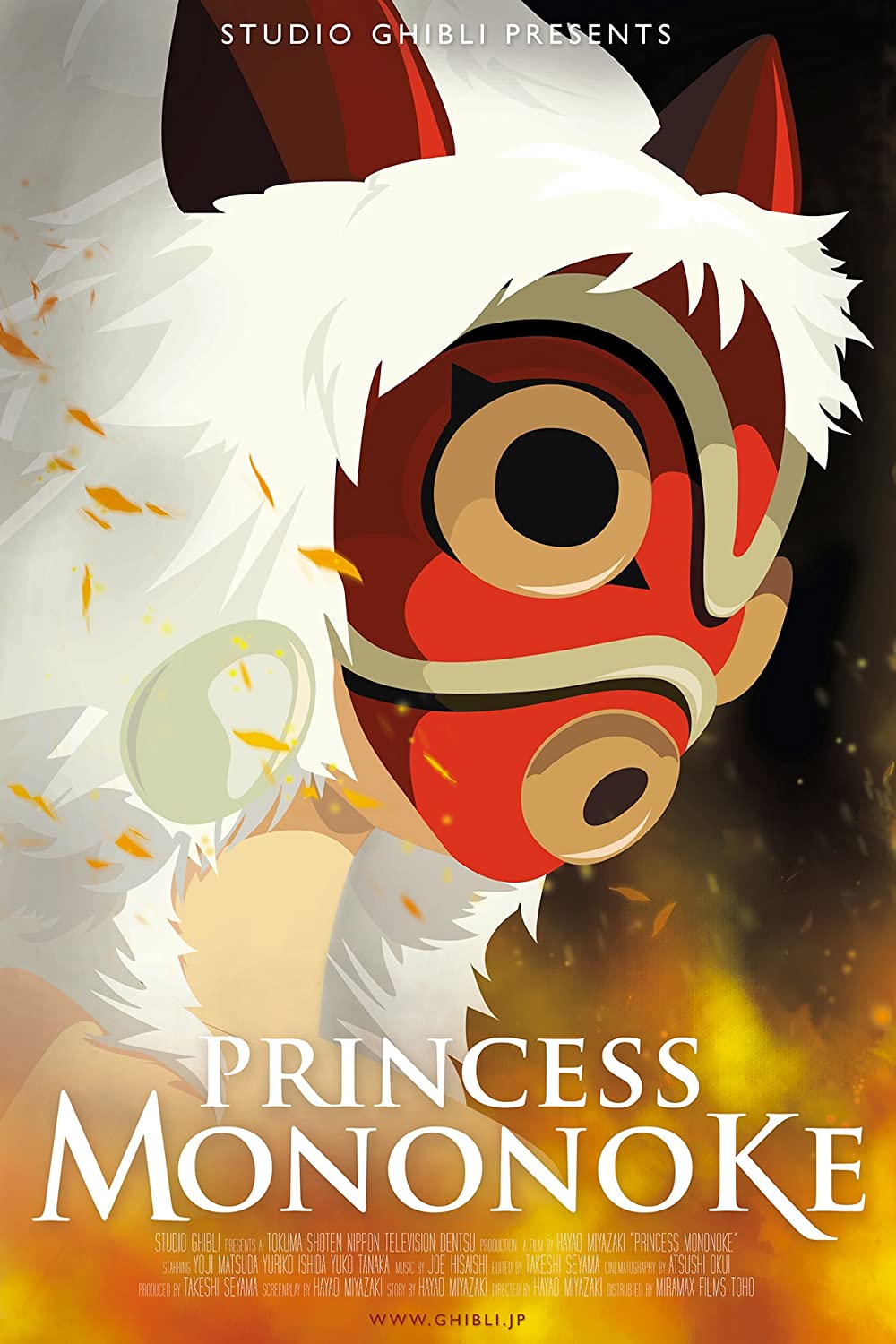 Voiced by: Yôji Matsuda, Yuriko Ishida, Yûko Tanaka
Genre: Animation, Action, Adventure, Fantasy
Princess Mononoke, one of the most special films of our list of Hayao Miyazaki films, is about the struggle between some supernatural creatures that protect the forest and people who exploit nature. Ashitaka is a man living in his own village, on his own. One day, the evil Forest God begins to destroy everything that comes his way. Ashitaka resists and kills a little girl living in his village to save him from the wrath of the Forest God. However, Ashitaka falls under a deadly curse.
The only way for Ashitaka to escape the curse is to find the Spirit of the Forest. He too sets off without wasting any time, but this journey will not be easy for him. On the one hand, he confronts his own fears and on the other, witnesses the war between the two sides. Ashitaka realizes that there will be no winners in the war, that only innocent people and nature suffer from the war. Will Ashitaka be able to stop the war?
---
8) Sen To Chihiro No Kamikakushi – Spirited Away (2001) | IMDb: 8.6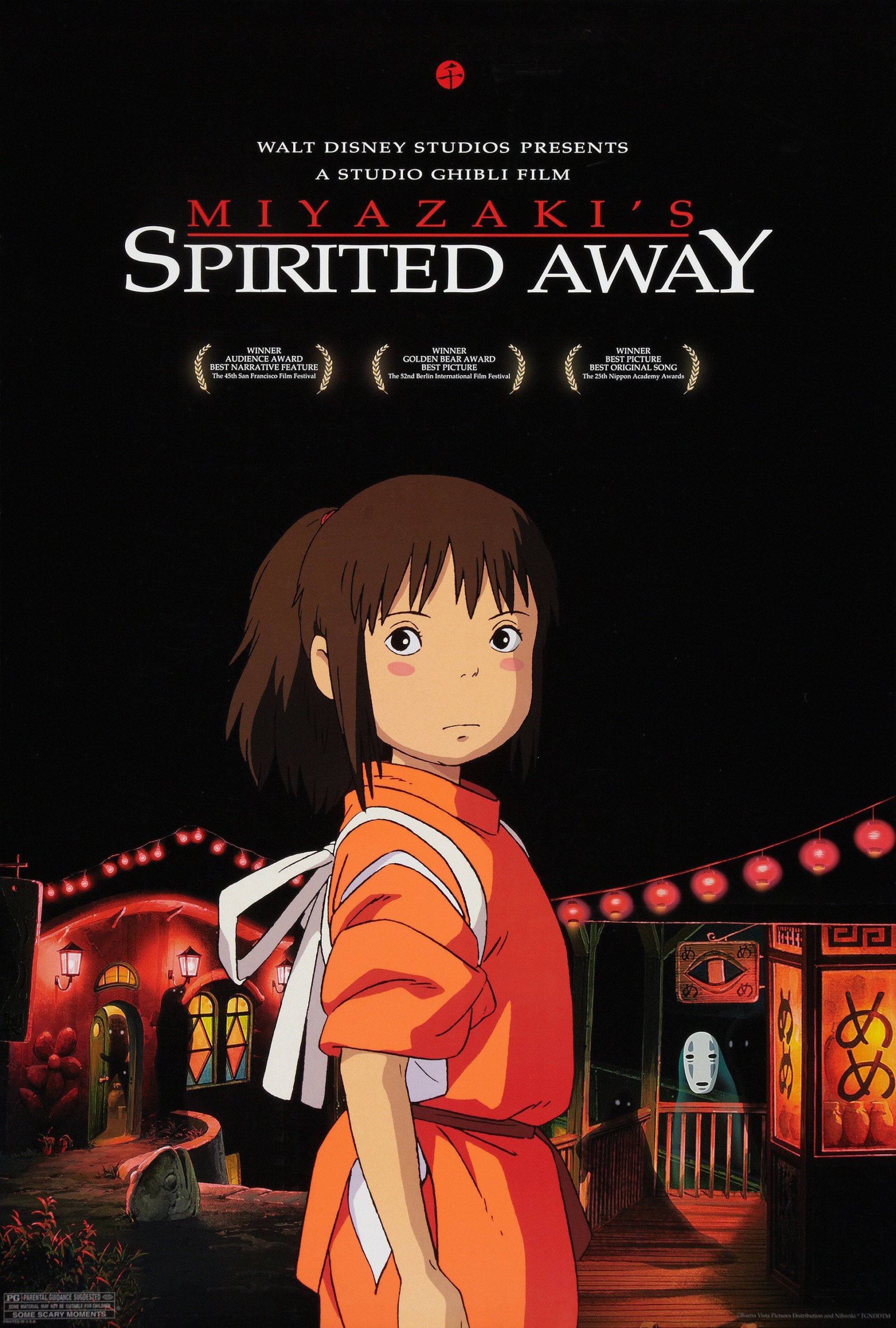 Voiced by: Rumi Hiiragi, Miyu Irino, Mari Natsuki
Genre: Animation, Adventure, Family, Fantasy, Mystery
Spirited Away is one of the most successful and important films in the history of Japanese cinema, not just on our list of Hayao Miyazaki films. 75. The film, which won the Best Animated Oscar at the Academy Awards, also became the 52nd. It won the Golden Bear award at the Berlin Film Festival. The film has achieved such a great success around the world that it has become one of the cornerstones of world cinema history as well as Japanese cinema history.
Chihiro, a 10-year-old little girl, moves with her family to a new town due to her father's job. As the family travels into town, a tunnel catches their attention. As they pass through the tunnel, they encounter a fantastic world. On top of that, while they are eating at their break, Chihiro's parents turn into pigs because of the food they eat. Unsure of what to do, Chihiro tries to help her family, but is suddenly surrounded by ghosts.
Chihiro, who is very afraid but does not give up on saving his family, enters a building that is the resting place of ghosts, where he tries to impose himself on the ghosts. Chihiro will now try to solve the mystery of the ghosts and the town and save her family.
---
9) Hauru No Ugoku Shiro – The Walking Castle (2004) | IMDb: 8.2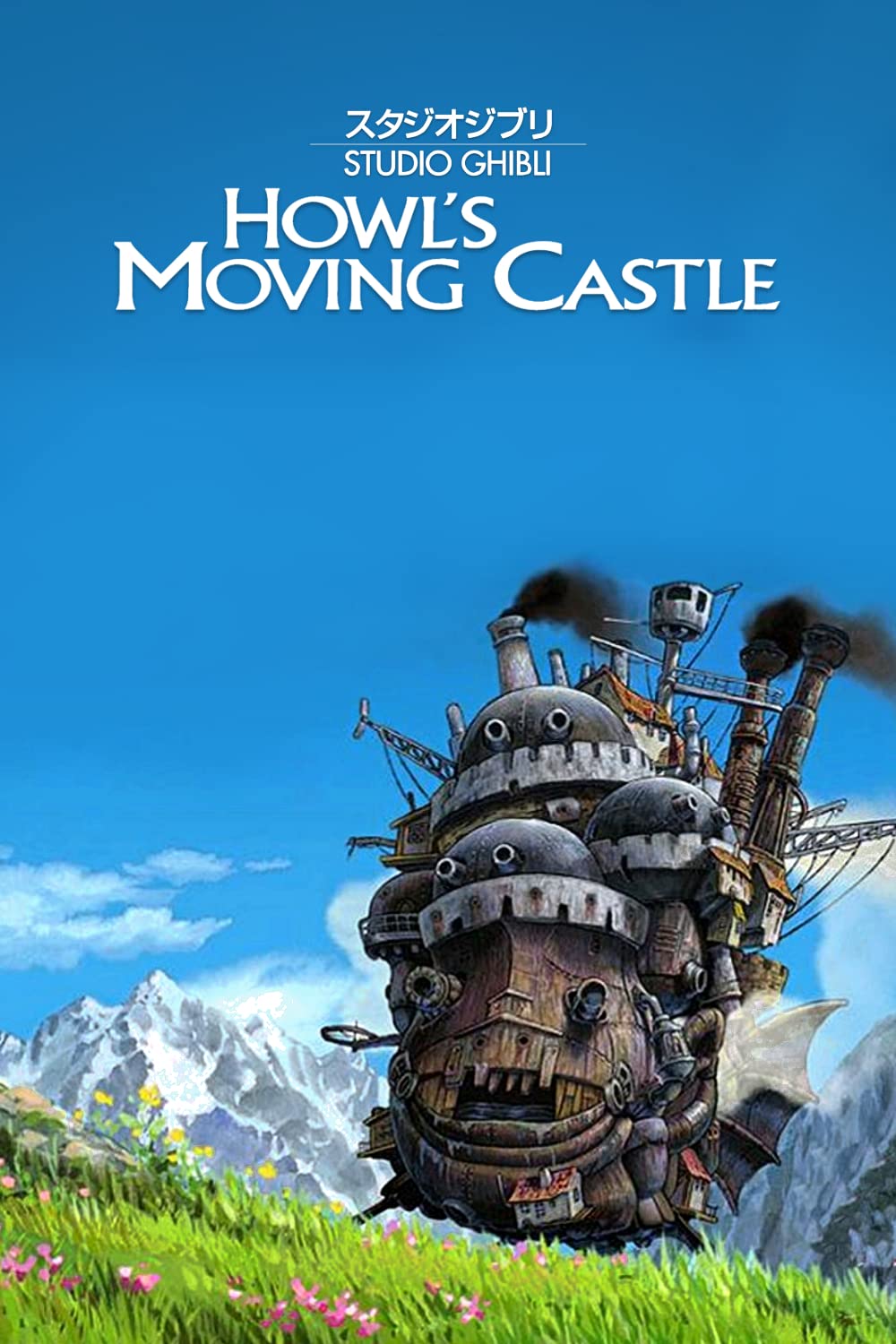 Voiced by: Chieko Baishô, Takuya Kimura, Tatsuya Gashûin
Genre: Animation, Adventure, Family, Fantasy
Sophie is a very young girl, only 18 years old. One day, an evil witch casts a spell on Sophie, and Sophie suddenly transforms into a 90-year-old woman. The film is about Sophie's story of trying to destroy this spell that was cast on her. Sophie, who has become very old after the spell she has been exposed to and is not known by anyone around her, falls into great despair and decides to leave the place where she lives.
His journey takes him to a walking castle called Howl. Sophie, who settled next to the wizard living in this castle, meets a genie who has been subjected to the same spell as her. Sophie and the genie, who soon become friends, decide to act together to destroy the spell cast on them. But magic isn't the only thing they'll struggle with. A war broke out outside the castle. Sharing the same fate, the duo will fight not only for themselves but also for their country.
---
10) Gake No Ue No Ponyo – The Little Mermaid Ponyo (2008) | IMDb: 7.7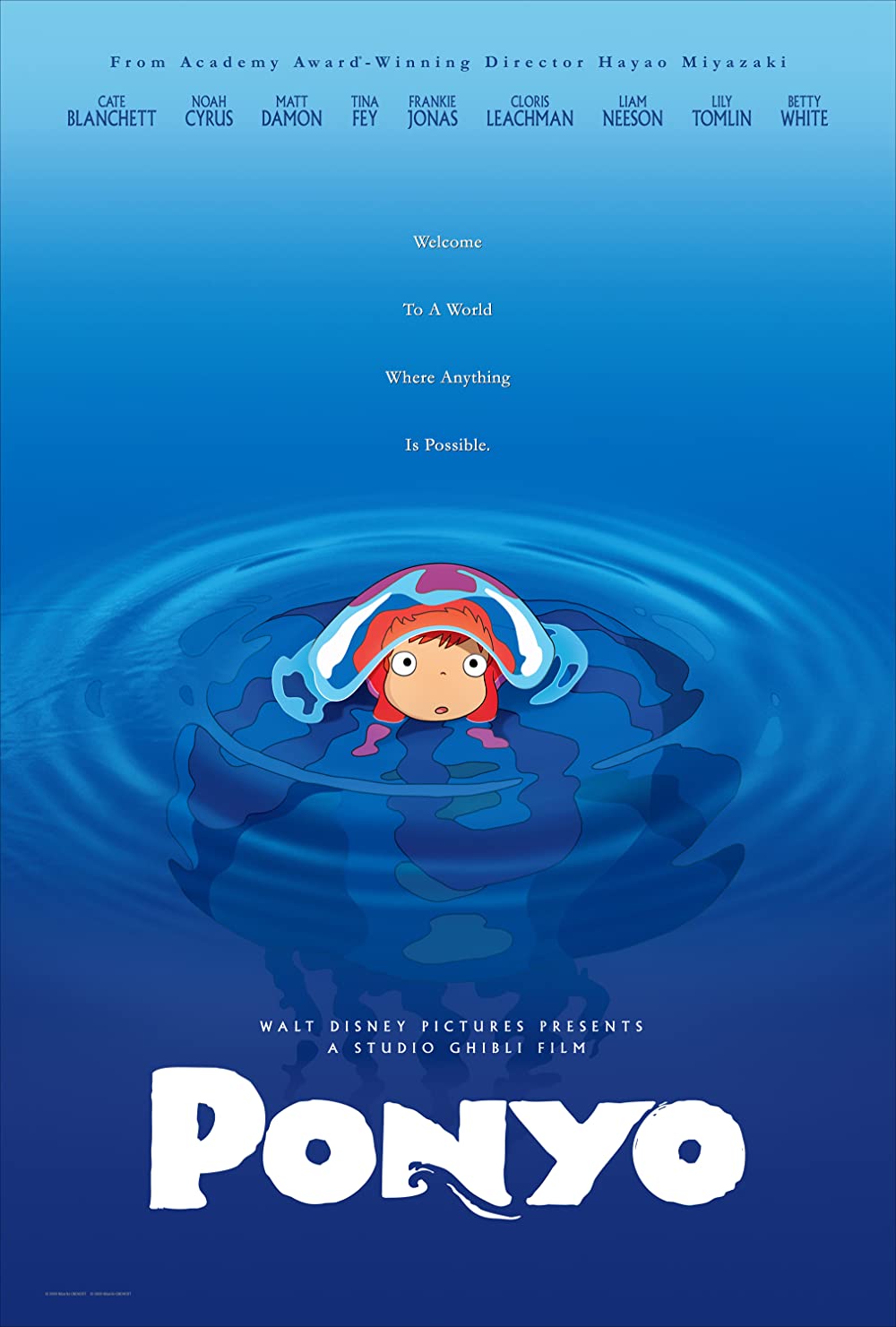 Voiced by: Tomoko Yamaguchi, Hiroki Doi, Kazushige Nagashima
Genre: Animation, Adventure, Comedy, Family, Fantasy
The film is inspired by Hans Christian Andersen's story The Little Mermaid. Ponyo is a cute little goldfish. Ponyo, whose biggest dream is to become a human, befriends a five-year-old boy named Sosuke to make this dream come true. Both Ponyo and Sosuke are very happy with this friendship and a very good friendship is formed between them in a short time.
Sosuke lives with his mother. Ponyo's father, on the other hand, was once human and pressured Ponyo to return to the ocean. Ponyo is determined to be human, but his determination begins to disrupt the ecological balance of the world after a while. On top of that, she used her father's magic to transform herself into a young girl and fell in love with Sosuke. In addition to its fascinating and fairy-tale atmosphere, the film also deals with sea and environmental pollution.
---
11) Kaze Tachinu – The Wind Rises (2013) | IMDb: 7.8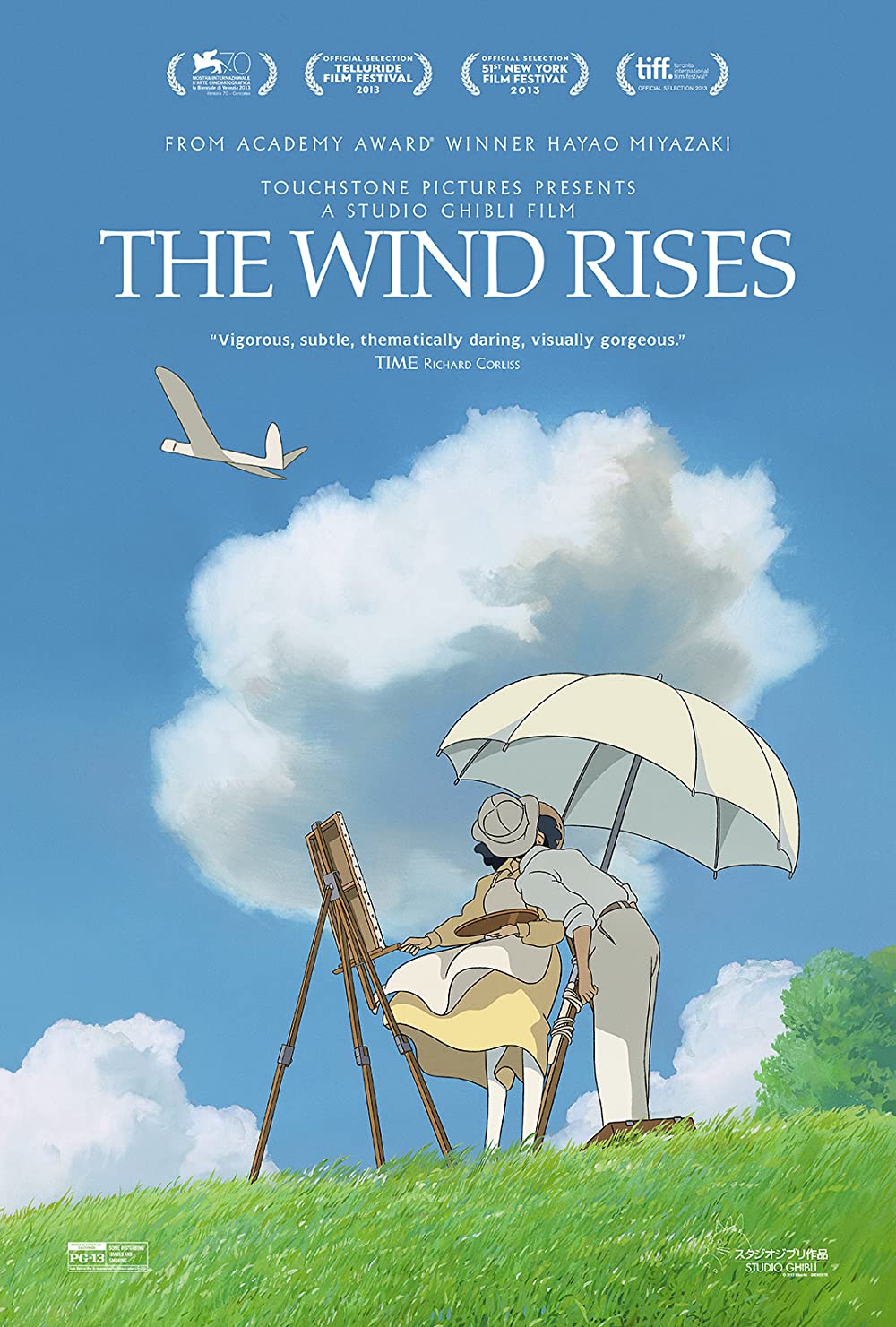 Voiced by: Hideaki Anno, Hidetoshi Nishijima, Miori Takimoto
Genre: Animation, Biography, Drama, History, War, Romance
We came to the last movie of our list of Hayao Miyazaki movies. Adapted from Tatsuo Hori's manga of the same name, the film tells the story of Jiro, who wants to become an aircraft designer. Jiro's biggest idol is a man named Caproni, who lives beyond the Alps. Caproni is respected worldwide in this field with its aesthetic and superior technical skills in its designs.
Taking the first step towards realizing this dream in the 1930s, Jiro starts working in the aircraft department of an institution. When his determination and success are noticed by his bosses in a short time, his bosses release him to make freer designs. Jiro designs an airplane called the Mitsubishi A6M Zero. This plane is the 2nd plane that shook the whole world. It is actively used in World War II.
This is the key point of the movie. With the start of the war, Jiro's life begins to change in an instant. We don't just watch Jiro's story with Miyazaki's unique narration; at the same time, we make impressions about the historical past of Japan in those years.
This post is also available in: Türkçe