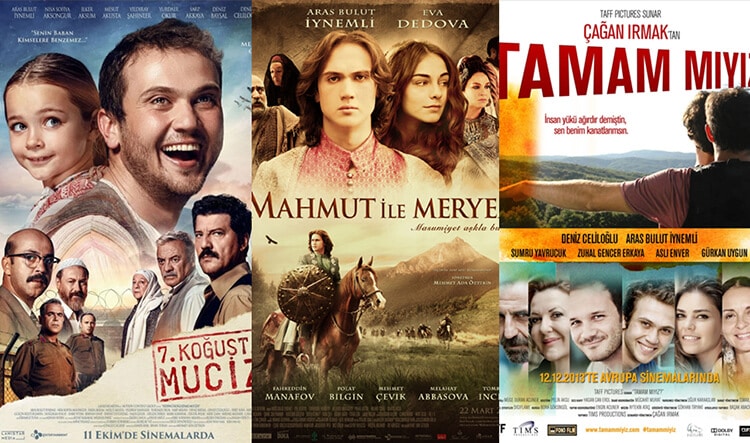 Aras Bulut Iynemli was born on August 25, 1990 in Istanbul. Growing up in an artist family, Iynemli's older brother is a theater actor, and his sister is a successful vocal artist. Aras Bulut İynemli, who started his acting career by acting in commercials, changes his life when director Zeynep Günay Tan discovers him. Tan invites İynemli to the shooting of the TV series "A Passing Time", which many of us know there. Iynemli, who gained great acclaim with her acting in the series, begins to climb the career ladder rapidly. In this content, Aras Bulut Iynemli movies have been brought together for you.
---
1) 7. Miracle in the Ward (2019) | IMDb: 8.3
Director: Mehmet Ada Oztekin
Other actors: Deniz Baysal, Yurdaer Okur, Nisa Sofiya Aksungur
Memo is a mentally handicapped teenager living with his grandmother and 7-year-old daughter in a town in the Aegean. One day, while walking in the mountains, he meets a little girl. The girl is the daughter of the martial law commander. They came to the picnic as a large group. But the picnic ends bitterly. The father of the girl who died while Memo was with him blames Memo for this death and Memo is sentenced to death. Although he tries to explain himself, to prove that he is not guilty at all, no one listens to him. Memo now has only one request; to be able to reunite with his daughter Ova. Will Memo, who does his best, escape the death penalty and be able to reunite with his daughter Ova?
---
2) Lord of Seagulls (2017) | IMDb: 6.2
Director: Mehmet Ada Oztekin
Other actors: Mehmet Günsür, Bilge Önal, Timuçin Esen
Known as the Master of Seagulls, the young man builds a quiet living space on the seaside in Istanbul. While enjoying the calm, a guest awaits at the same time. One day, the guest he was waiting for suddenly appears in front of him. A woman appears on the shore in a white dress. In that woman, the Lord of Seagulls sees his hopes. The woman is fascinated by the world of the Lord of Seagulls. Although this world, which is pure, clean, quiet and calm, is liked by women, the real world is not like this. The Master of Seagulls goes out of his world and meets the scary, noisy real world. This is not at all what he expected.
---
3) Are We OK? (2013) | IMDb: 7.0
Directed by: Cagan Irmak
Other actors: Deniz Celiloğlu, Asli Enver, Zuhal Gencer
Ihsan, who leads a life dependent on his mother due to his physical disability, is embittered day by day. The world he thought he was trapped in is now more oppressive than before. He constantly thinks that he is a burden to his mother, and he is even more crushed under this burden. He also has dreams that he wants to realize, but the thought that he will not be able to realize is gnawing at him day by day.
The sculptor July, who left his father's house to realize his dreams, is a young man struggling to stand on his own feet. While she is barely living her life, she is abandoned by her lover and loses her job. In an instant, his life is turned upside down.
The paths of İhsan and July cross by chance. These two young people with different life stories come to important places in each other's lives. As soon as they think they have sunk to the bottom, they strive to be reborn hand in hand.
---
4) Mahmut and Meryem (2013) | IMDb: 5.6
Director: Mehmet Ada Oztekin
Other actors: Eva Dedova, Fahreddin Manafov, Melahat Abbasova
Mahmut and Meryem is the latest production of our list of Aras Bulut İynemli movies. Love does not distinguish between religion, language, race, color. In the movie, the story of two young people from different religions who are madly in love with each other is the subject. In the 1500s, Meryem, the daughter of a monk, and Mahmut, the son of Han, cross paths. They fall head over heels in love with each other. However, Mahmut's entourage neither accepts Meryem, nor does Meryem's family accept Mahmut. However, the disapproval of their environment does not cause them to leave. Young people, who are even more connected to each other, bring the solution in a bloody way.