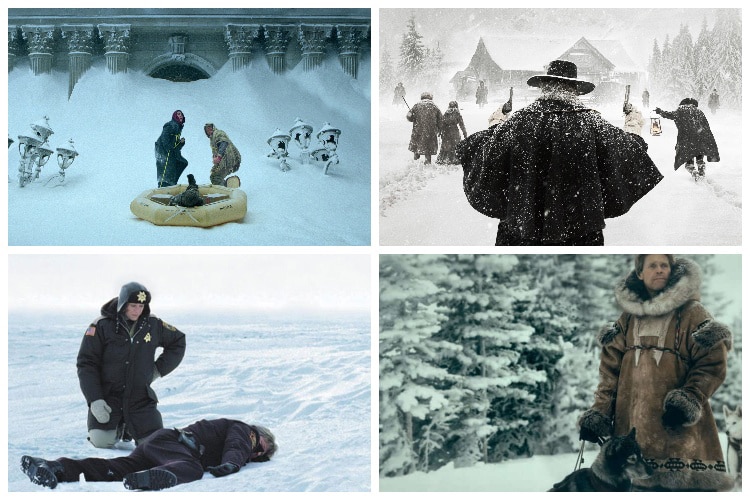 While some love the snowy and stormy winter months, others yearn for the hot summer days. But the winter movies , where the snow is flaky, manage to bring almost everyone together on a common ground. Winter movies come to our rescue on winter days when we are closed to our homes due to cold weather or when we try to get away from the burning sun of summer. Of course, the new year and snow are concepts that go hand in hand with each other. That's why we also have many different New Year/Christmas themed movies on our list. In this content, we take a closer look at the best winter movies where snow is everywhere as far as your eye can see.
---
30) How the Grinch Stole Christmas – The Grinch (2000) | IMDb: 6.2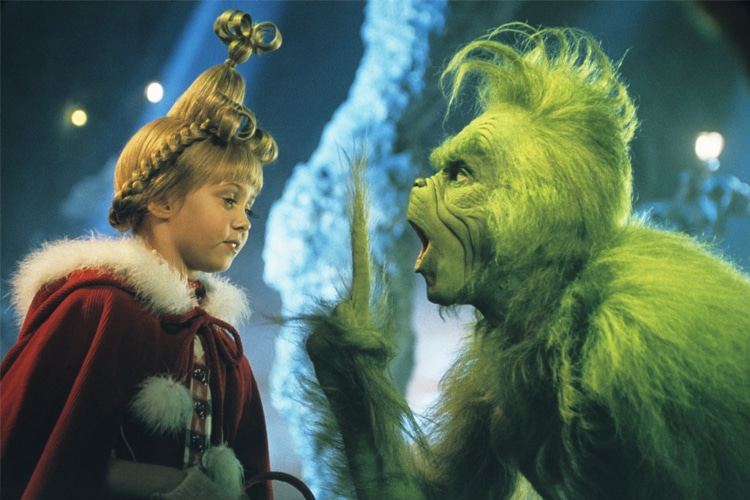 Director: Ron Howard
Cast: Jim Carrey, Taylor Momsen, Kelley
This movie, in which we watched Jim Carrey as the green furry creature Grinch , was one of our childhood holiday essentials. With a dislike for people and Christmas, the Grinch is determined to ruin the people of Whoville's Christmas. Going out of his way for his evil plans, this strange creature steals Christmas and tries to frustrate people's expectations.
---
29) The Day After Tomorrow (2004) | IMDb: 6.4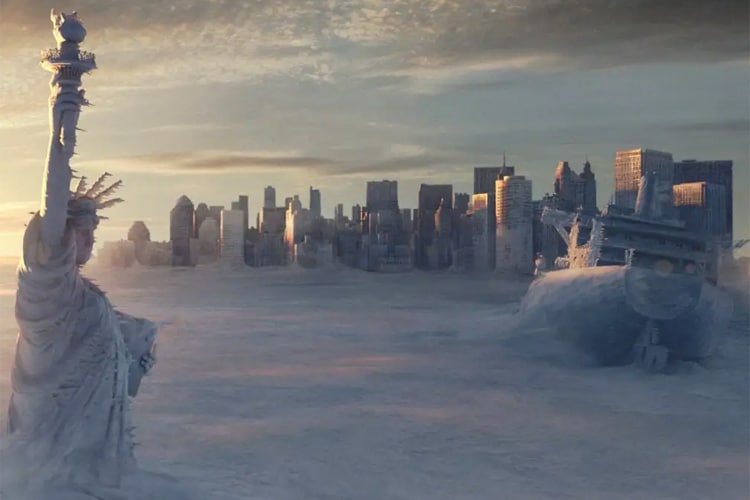 Director: Roland Emmerich
Cast: Dennis Quaid, Jake Gyllenhaal, Emmy Rossum
After Tomorrow, one of the most popular of the apocalypse/natural disaster movies, welcomes us to a New York covered in snow and ice. In the movie, as a result of global warming, the climatic balance of the world is turned upside down and a large piece of ice breaks off from Antarctica. Two scientists realize the danger posed by this glacier, but these two cannot make their voices heard. As a result, the world is faced with a new ice age.
---
28) 30 Days of Night – 30 Days of Night (2007) | IMDb: 6.6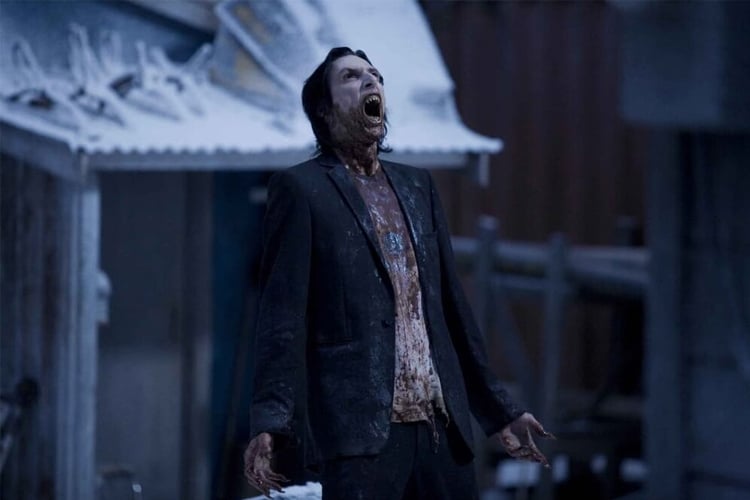 Director: David Slade
Cast: Josh Hartnett, Melissa George, Danny Huston
As you know, as you go north, in some regions, it is completely night for a while during the winter months. In the town of Barrow, Alaska, there is night time for 1 month in winter. But this 30-day night is not something to be romanticized at all. Because a bloodthirsty group of vampires, who want to take advantage of these special moments of the town of Barrow, is standing by to terrorize the town's inhabitants.
---
27) The Polar Express – Polar Express (2004) | IMDb: 6.6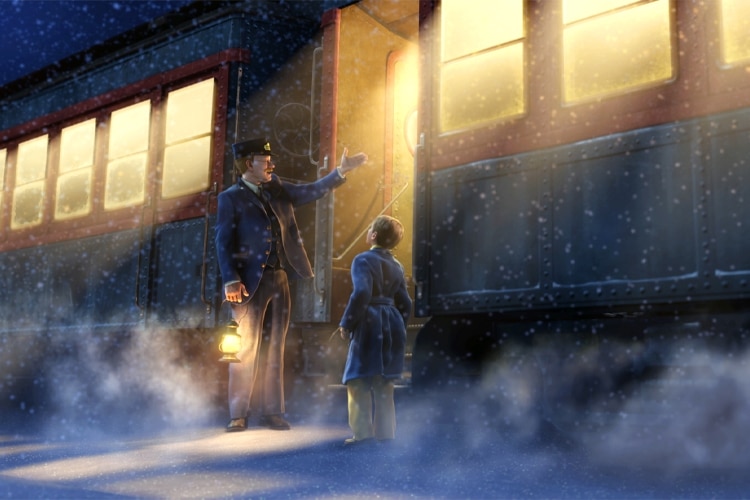 Director: Robert Zemeckis
Cast: Tom Hanks , Chris Coppola, Michael Jeter (Voice)
The Polar Express , a heartwarming Christmas-themed road story, is signed by the famous director Robert Zemeckis, known for Forrest Gump. In this animated movie, mostly voiced by Tom Hanks, the journey of a little boy on the train called The Polar Express to the land where Santa Claus lives is handled. In the Polar Express, where many things about life are rediscovered, the spirit of the new year gains a different meaning.
---
26) The Gray – Gray Wolf (2011) | IMDb: 6.8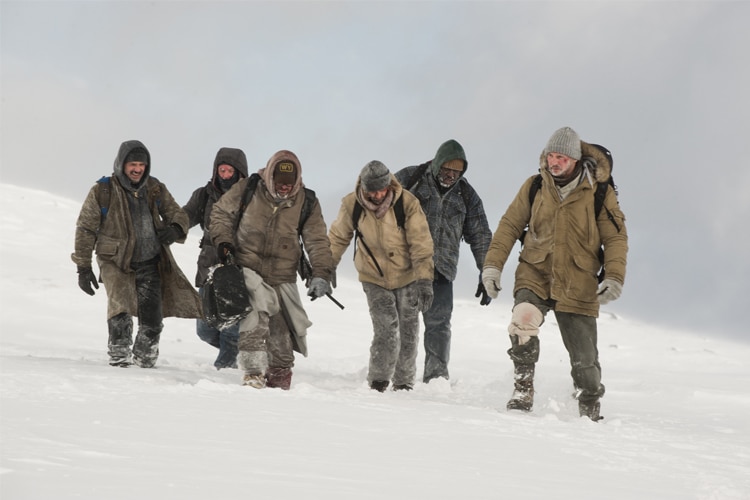 Director: Joe Carnahan
Cast: Liam Neeson, Dermot Mulroney, Frank Grillo
The Gray , one of the winter films that handles the theme of " man against nature " well, tells the struggle for survival of a team of 6 oil drilling workers. The team of 6 people, whose plane crashed into the snow-covered region of Alaska, is trying to escape from this desolate place and not to become prey to the wolf pack after them.
---
25) A Christmas Carol (2009) | IMDb: 6.8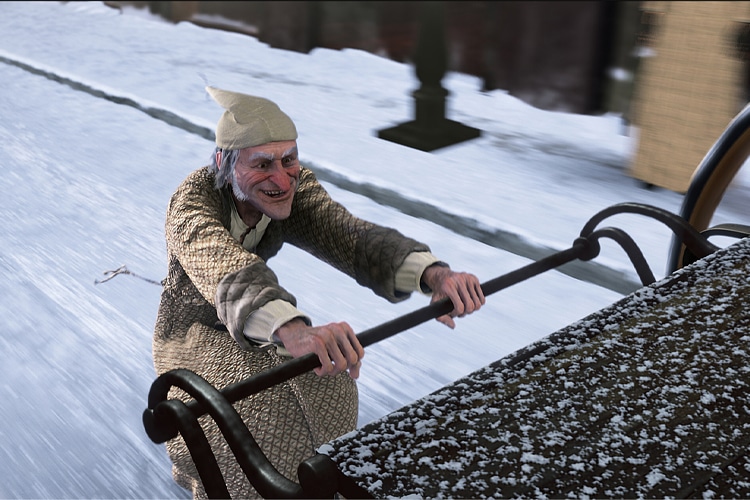 Director: Robert Zemeckis
Cast: Jim Carrey, Gary Oldman, Colin Firth
Another Christmas movie by Robert Zemeckis on our list, A Christmas Carol is adapted from Charles Dickens' novella of the same name. In the story set in the Magical Victorian Era, we watch an old man named Ebenezer Scrooge come to terms with his past. Although this story may sound boring at first, this man's reckoning with himself will bring many ghosts from his past.
---
24) The Chronicles of Narnia: The Lion, the Witch and the Wardrobe – The Chronicles of Narnia: The Lion, the Witch and the Wardrobe (2005) | IMDb: 6.9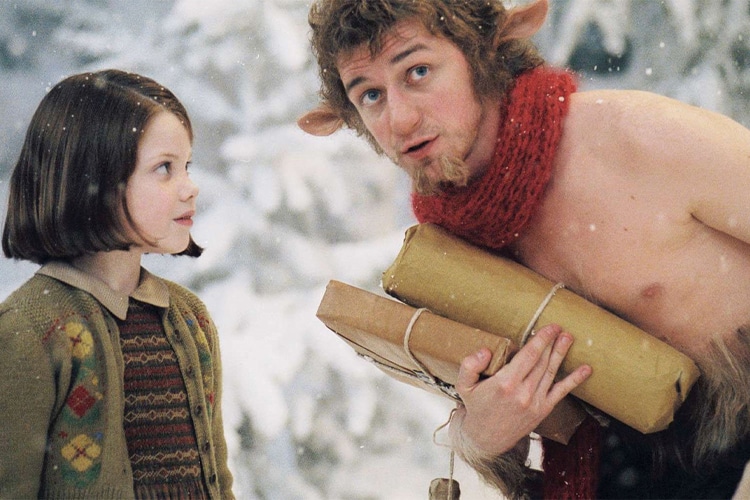 Director: Andrew Adamson
Cast: Tilda Swinton, Georgie Henley, William Moseley
The Lion, the Witch and the Wardrobe, the first movie to bring the famous Chronicles of Narnia series to the big screen; we can say that it is a winter tale that will warm you up no matter what age you are. Transitioning from a closet to a magical parallel world, four siblings find themselves in a relentless adventure in this snow-covered world where winter never ends. Because the end of this eternal winter in Narnia depends on the fate of these four brothers.
---
23) The Christmas Chronicles (2018) | IMDb: 7.0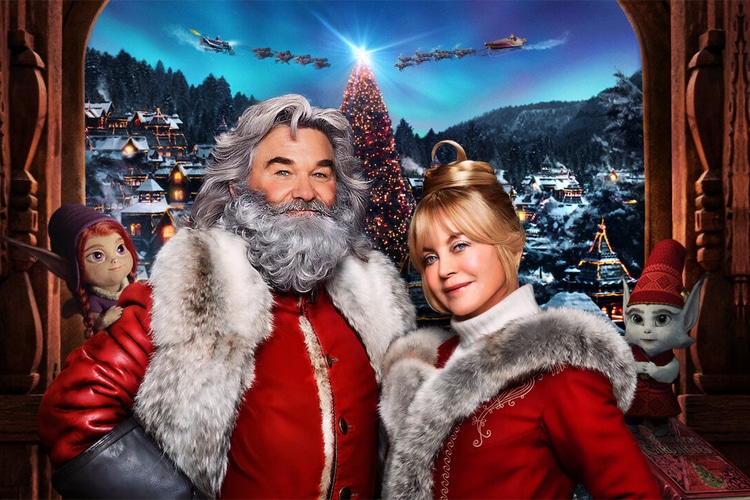 Director: Clay Kaytis
Cast: Kurt Russell, Darby Camp, Judah Lewis
The Christmas Chronicles, in which Kurt Russell appears as a different Santa Claus, tells us the adventure of two brothers riding on Santa's sleigh. Kate and Teddy, whose only dream is to meet Santa Claus and record him on camera, sneak into Santa's sleigh and cause an accident. This accident brings Christmas almost to a standstill.
---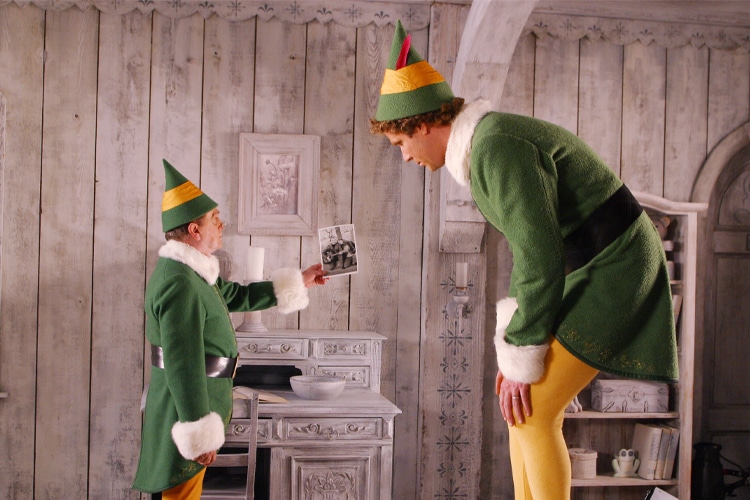 Director: Jon Favreau
Cast: Will Ferrell, James Caan, Bob Newhart
It wouldn't have been possible without making a list of winter movies where the snow is flaking and putting Elf on the list. In fact, we follow the adventures of Buddy, who does not look like an elf but was raised as an elf. Buddy the Elf , who came to New York from the North Pole to find his biological father, is thus reunited with his human family.
---
21) Grumpy Old Men – Two Wicked Men (1993) | IMDb: 7.0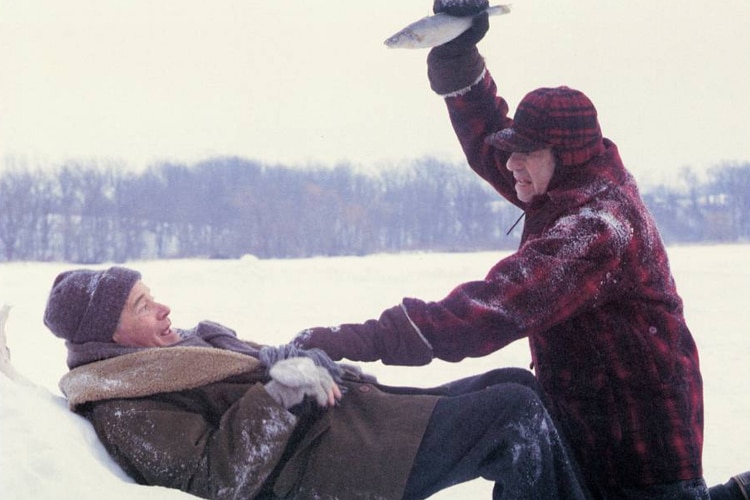 Director: Donald Petrie
Cast: Jack Lemmon, Walter Matthau, Ann-Margret
Grumpy Old Men , starring Jack Lemmon and Walter Matthau, tells the story of two old men who have been bickering with each other for 50 years. Although nothing has happened since childhood, John and Max, who have been enemies to each other, have a reason to fight more thanks to Ariel who moves to their streets. In the movie; We witness the sweet story between these two old men and Ariel in the cold winter days when the snow is falling non-stop.
---
20) Snowpiercer (2013) | IMDb: 7.1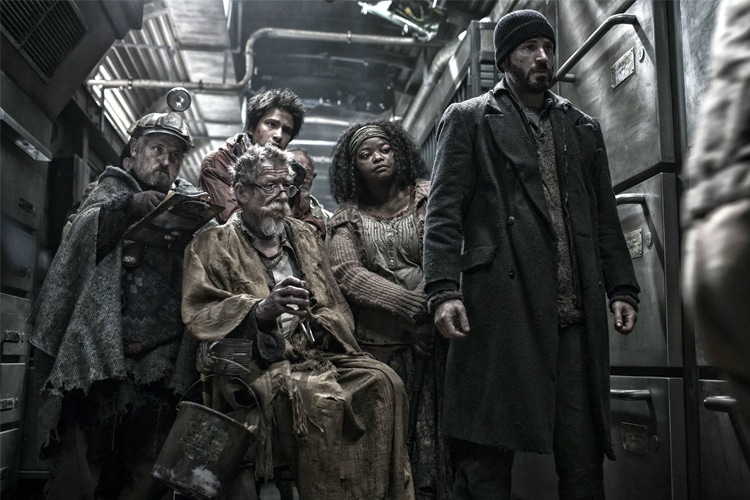 Director: Bong Joon Ho
Cast: Chris Evans, Jamie Bell, Tilda Swinton
Snowpiercer , which takes place in the dystopian period when the world entered a new ice age as a result of global warming, brings together an apocalyptic scenario that will make us shudder with an equally creepy world. In the movie, which is the dystopian star of the winter movies category; Coolants sprinkled into the atmosphere to fight global warming have destroyed almost all life on Earth. The remaining handful of people are struggling to survive in the train that revolves around the world called Snowpiercer.
---
19) Frozen River – Frozen River (2008) | IMDb: 7.1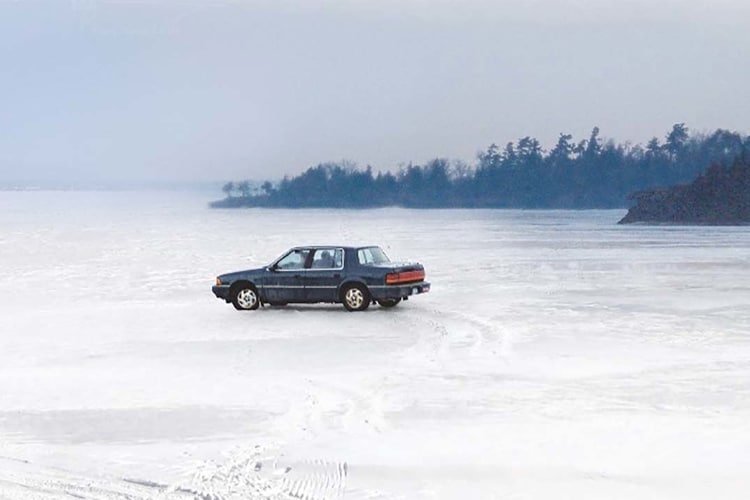 Director: Courtney Hunt
Cast: Melissa Leo, Misty Upham, Charlie McDermott
Frozen River, which debuted at the Sundance Film Festival and took home the Grand Jury Prize , is a film with a very social message set around the US-Canada border. The film tells the story of two women living on the border and struggling for a livelihood. These two women, who carry illegal immigrants to Canada during the winter months as a result of the freezing of the river on the border, have to go back to the road they set out for this last job over and over again due to financial difficulties.
---
18) Alive – To Live (1993) | IMDb: 7.1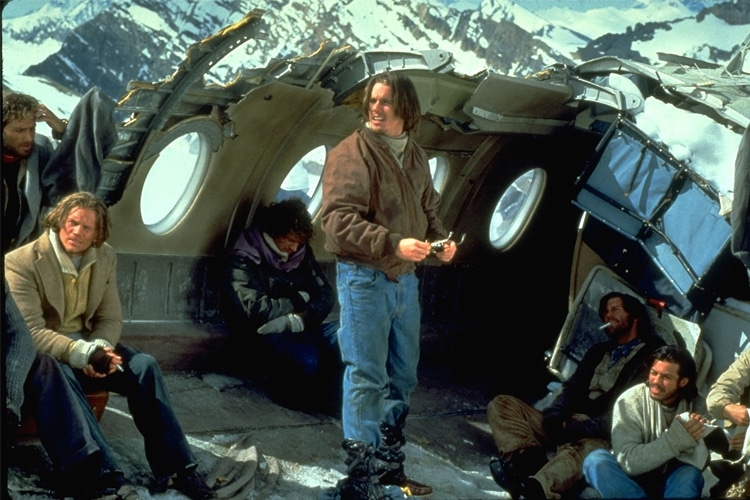 Director: Frank Marshall
Cast: Ethan Hawke, Vincent Spano, Josh Hamilton
Taking its subject from real events, Alive brings the tragic accident that happened to the Uruguay rugby team to the big screen. In 1972, the Uruguay rugby team's plane crashes into the Andes due to weather conditions, and the team is caught in the middle of a snowstorm. The story of the team trying to escape from the mountains captured by this snowstorm in order to survive is based on the biographical novel of the same name by Piers Paul Read.
---
17) Into the White (2012) | IMDb: 7.2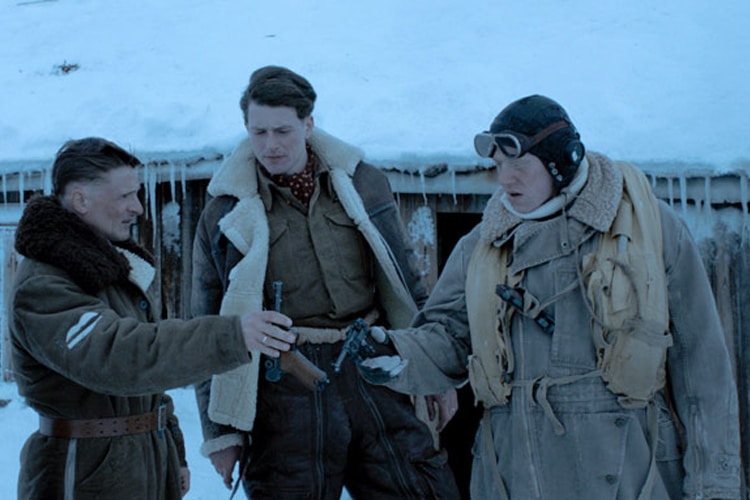 Director: Petter Naess
Cast: Florian Lukas, Rupert Grint, David Kross
Into the White is another of our winter movies list inspired by real events. The movie takes us back to the Second World War. In the film, a group of British and German soldiers fall into the snow-covered vast countryside of Norway as a result of a clash in the air. Taking refuge in the same barracks to survive the freezing cold of Norway, two groups of enemy soldiers are forced to abandon the rules of war to survive this deadly winter.
---
16) Insomnia – Sleepless (2002) | IMDb: 7.2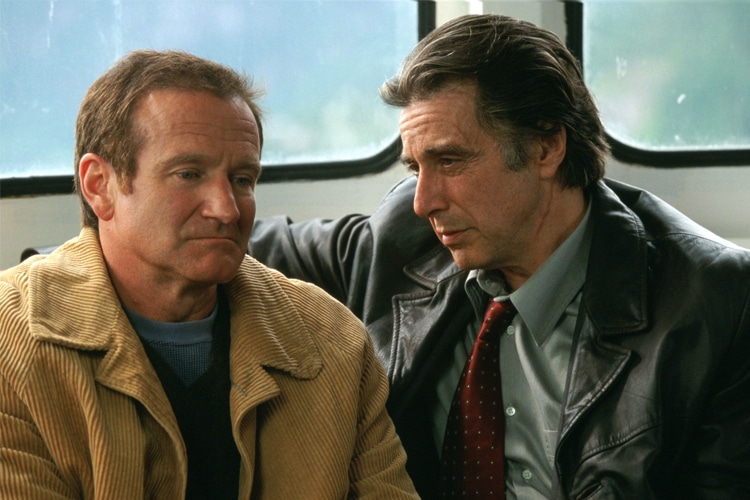 Director: Christopher Nolan
Cast: Al Pacino, Robin Williams, Hilary Swank
Two homicide detectives working in Los Angeles are sent to this town when a small Alaskan city where people lead a quiet life begins to be shaken by the news of murder. But Will Dormer and his partner Walter Finch are having trouble adjusting to this town. Because the sun never sets in the town during the winter. The decision-making abilities of the two partners, who try to illuminate the murder without ever seeing the night and sleep under the white snow cover that stretches as far as the eye can see, begin to atrophy due to the Insomnia disease they suffer from.
---
15) The Snow Walker – Walkers in the Snow (2003) | IMDb: 7.3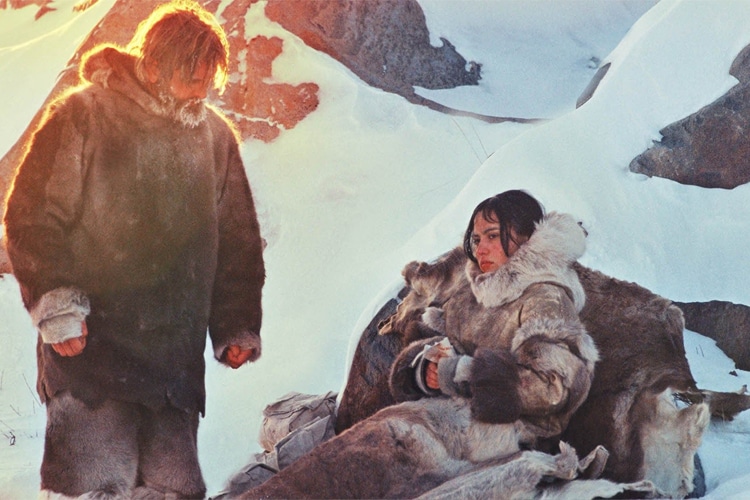 Director: Charles Martin Smith
Cast: Barry Pepper, Annabella Piugattuk, James Cromwell
The Snow Walker , where people from different ethnic backgrounds fight with nature by uniting on a common ground, is a drama-loaded survival movie. One day, his way to the Eskimo region, Charlie agrees to take the local girl named Kanaalaq to the hospital for a certain fee. When Charlie's plane crashes, these two are left alone in the middle of the wilderness where meters of snow reign.
---
14) Eight Below – Polar Adventure (2006) | IMDb: 7.3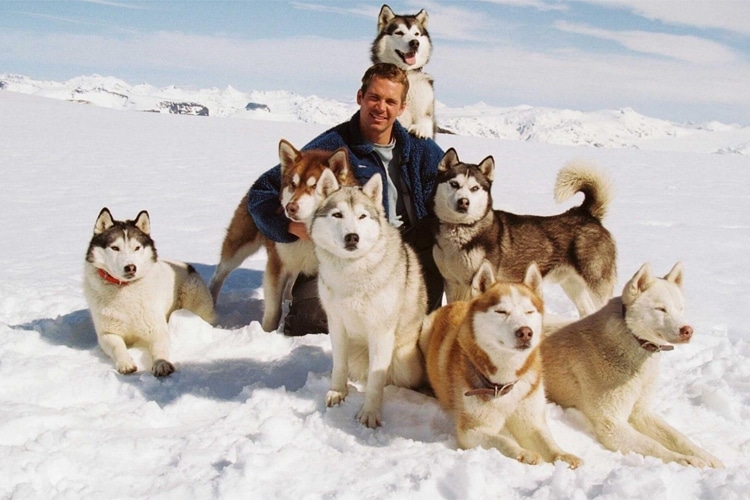 Director: Frank Marshall
Cast: Paul Walker, Jason Biggs, Bruce Greenwood
Eight Below, which warms us with its story despite being set in the cold of Antarctica, is about the adventures of sled dogs left behind due to the snowstorm. The research team in Antarctica has to leave the area and their sled dogs due to the heavy snowstorm. Jerry Shepard and his friend, who later returned to save the dogs, track their friends who were left behind for 6 months.
---
13) Frozen – Frozen (2013) | IMDb: 7.4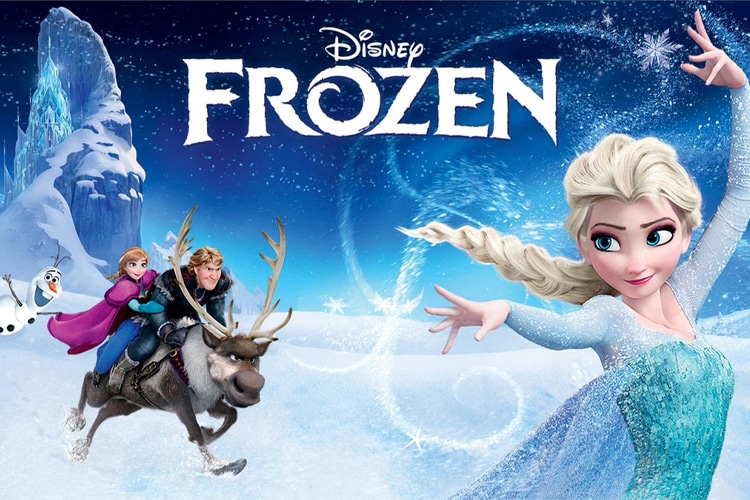 Director: Chris Buck, Jennifer Lee
Cast: Kristen Bell, Idina Menzel, Jonathan Groff (Voice)
Another Disney animation of our winter movies list, Frozen is a very popular production in our country. Frozen, which won Oscars for Best Animated Feature and Best Soundtrack, takes place in the kingdom of Arendelle, which is doomed to eternal winter because of the Snow Queen Elsa. Elsa's sister Anna embarks on a perilous adventure to end the eternal winter and lift her sister's curse.
---
12) Nordwand – North Slope (2008) | IMDb: 7.4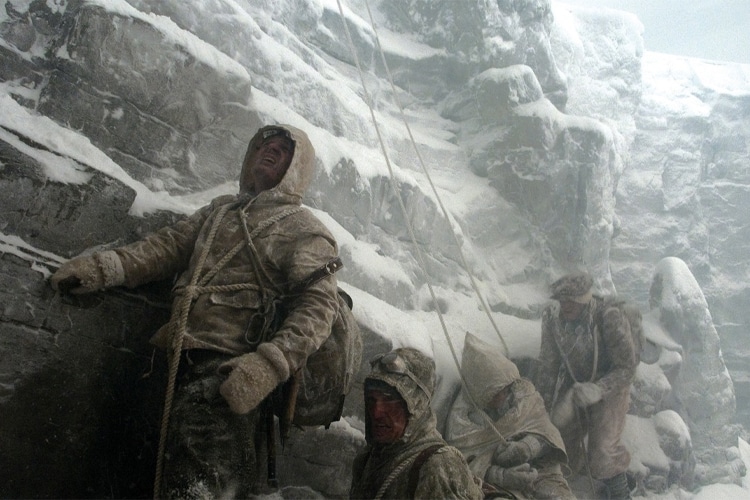 Director: Philipp Stölzl
Cast: Benno Furmann, Florian Lukas, Johanna Wokalek
Taking its subject from a story that took place in 1936, Nordwand tells the experiences of mountaineers trying to discover the Eigar Mountain, one of the highest mountains in Europe. Set in Nazi Germany, Toni and Andi are childhood friends working in the army. Luise, who works for one of the biggest newspapers in Germany, knows Toni and thinks she can climb the famous northern slope of the Eiger Mountain.
---
11) Home Alone – Home Alone (1990) | IMDb: 7.6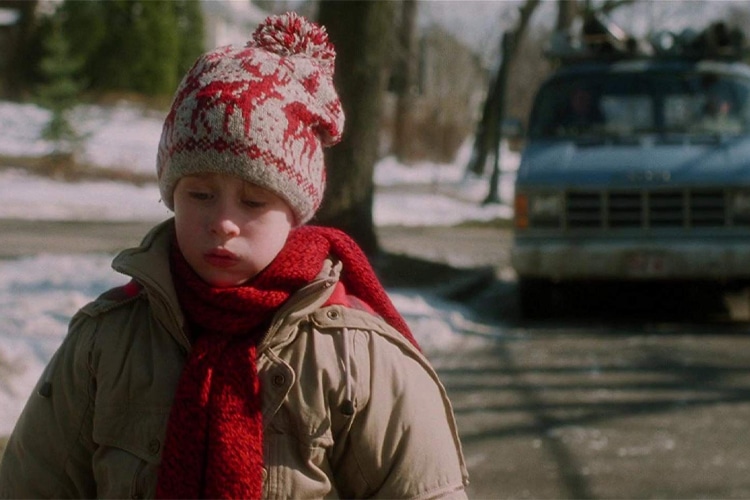 Director: Chris Columbus
Cast: Macaulay Culkin, Joe Pesci, Daniel Stern
Home Alone is one of the first productions that come to mind when talking about winter movies, which many of us watched in childhood. Home Alone, which was broadcast on televisions every New Year's holiday or when there was heavy snowfall, managed to warm us up despite the flaky snow. In the movie, we witness the cartoon-like adventure of Kevin, who is left behind by accident while his family is on vacation and struggling alone with the thieves trying to enter the house.
---
10) Misery – Book of Death (1990) | IMDb: 7.8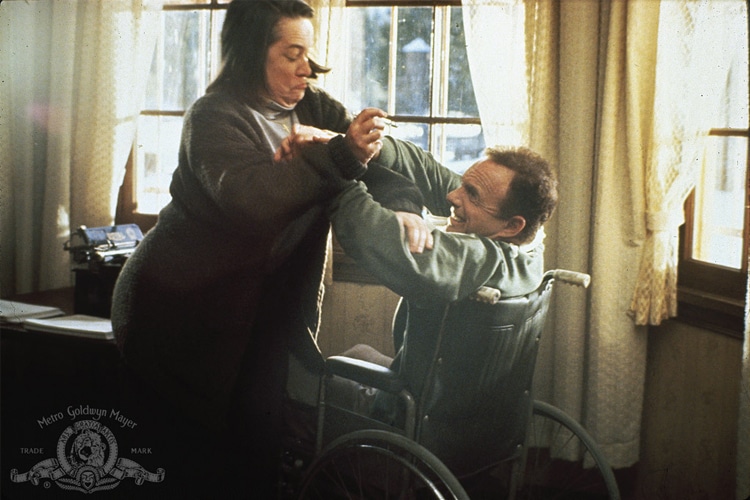 Director: Rob Reiner
Cast: James Caan, Kathy Bates, Richard Farnsworth
Adapted from Stephen King's novel of the same name, Misery tells the story of the author's nightmarish days, trapped with a fan in the middle of a snowstorm. After an accident on a snowy mountain road, writer Paul Sheldon is rescued by Annie Wilkes, who is obsessed with him.
Annie, a former nurse, begins to treat Paul in her own home. Although everything seems fine at first, Paul soon begins to realize that Annie Wilkes is actually a psychopath.
---
9) The Hateful Eight (2015) | IMDb: 7.8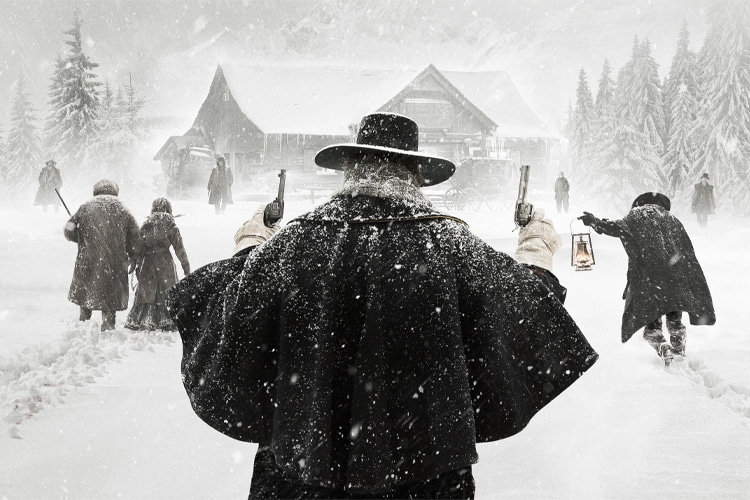 Director: Quentin Tarantino
Cast: Samuel L. Jackson, Kurt Russell, Jennifer Jason Leigh
Quentin Tarantino likes to bring together maniacal and absurd characters and leave them in complex situations that seem simple. The Hateful Eight is one of those movies where Tarantino does exactly that. In the movie, 8 strangers take shelter in an inn at the top of a mountain in the middle of a terrible snowstorm. Between this group, which includes all kinds of people, a conflict begins that will end in blood in a short time.
---
8) Låt den rätte komma in – Enter My Blood (2008) | IMDb: 7.9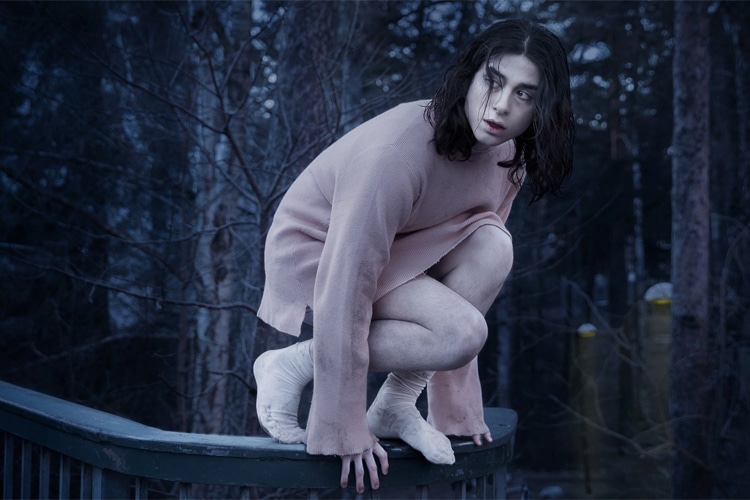 Director: Tomas Alfredson
Cast: Kåre Hedebrant, Lina Leandersson, Per Ragnar
A Hollywood adaptation of Let Me In has also been made, and is based on the novel of the same name by John Ajvide Lindqvist. The movie, whose script was written by the author himself, leaves us with a very interesting vampire story. In the film, which takes place in the snow-covered winter months of Sweden; The interesting friendship of a little boy named Oskar with another little boy vampire named Eli is handled.
---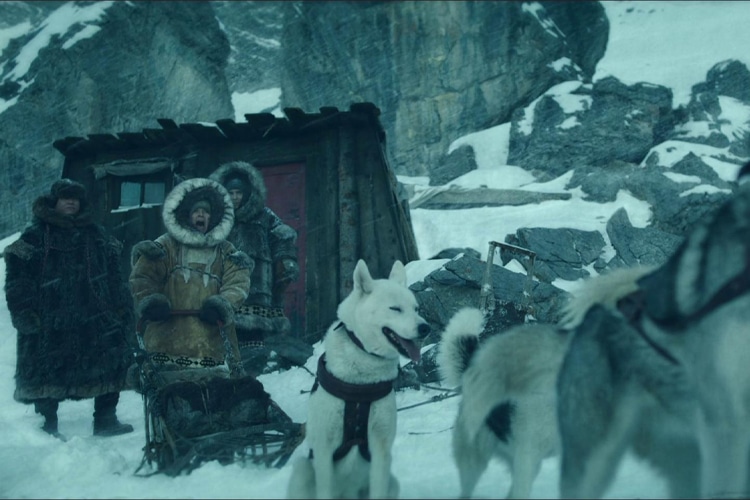 Director: Ericson Core
Cast: Willem Dafoe, Julianne Nicholson, Christopher Heyerdahl
Togo , which deals with an event that actually happened in 1925, tells the story of a sled dog named Togo, who was famous for his heroism at that time. The teams helping to fight the epidemic that affected the town of Nome, Alaska, are trying to carry serum to the town with their sled dogs under the heavy snow. Dog trainer Leonhard Seppala, on the other hand, carries out heroic deeds engraved in history with his dog Togo in this period.
---
6) The Revenant – Resurrection (2015) | IMDb: 8.0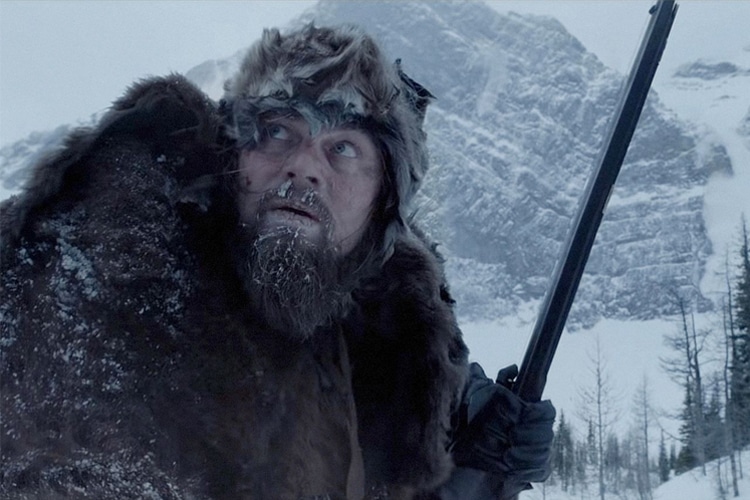 Director: Alejandro G. Iñárritu
Cast: Leonardo DiCaprio, Tom Hardy , Will Poulter
The Revenant had been quite the event, winning 3 Oscars, notably Leonardo DiCaprio's Oscar for Best Actor. Winning Oscars in cinematography and directorial categories, The Revenant is about hunter Hugh Glass's determination to hold on to life and take revenge, who was left to die by his own team in the middle of winter as a result of a bear attack.
---
5) Into the Wild (2007) | IMDb: 8.1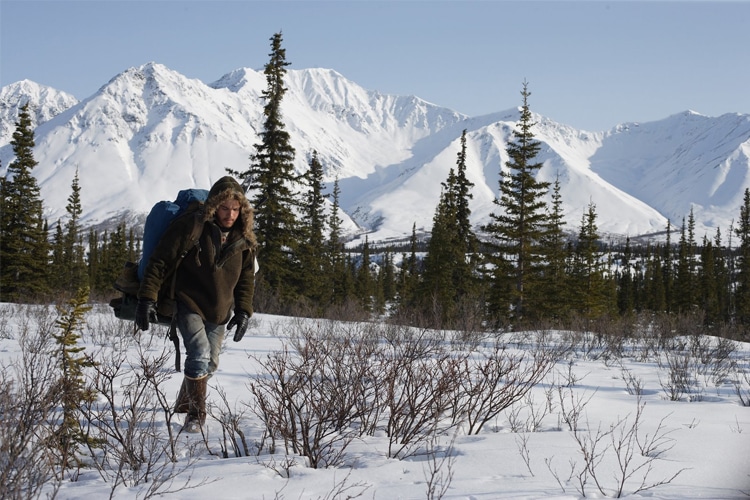 Director: Sean Penn
Cast: Emile Hirsch, Vince Vaughn, Catherine Keener
Although Into the Wild is not actually a winter movie, it deserves to be on this list because of its final scenes, which is the main point of resolution of the movie. Inspired by real-life events, Into the Wild tells the story of Chris McCandless, who sets out to explore Alaska as soon as he graduates from college. After arriving in Alaska, Chris is stranded in the middle of an unexpected snowstorm; It has been the subject of many books, documentaries and movies.
---
4) The Thing – The Thing (1982) | IMDb: 8.1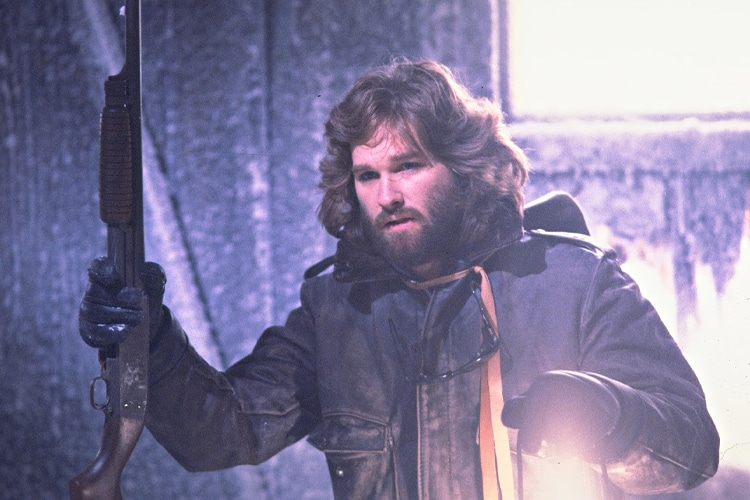 Director: John Carpenter
Cast: Kurt Russell, Wilford Brimley, Keith David
Many theories about Antarctica still occupy conspiracy theorists today. The most famous of these are the theories put forward that there may be alien life in Antarctica. The Thing, directed by John Carpenter, is a movie that will not look for conspiracy theories. Groundbreaking with its practical effects at that time, The Thing tells the story of a shape-shifting alien that turns the life of the research team working in Antarctica into a nightmare.
---
3) Winter Sleep (2014) | IMDb: 8.1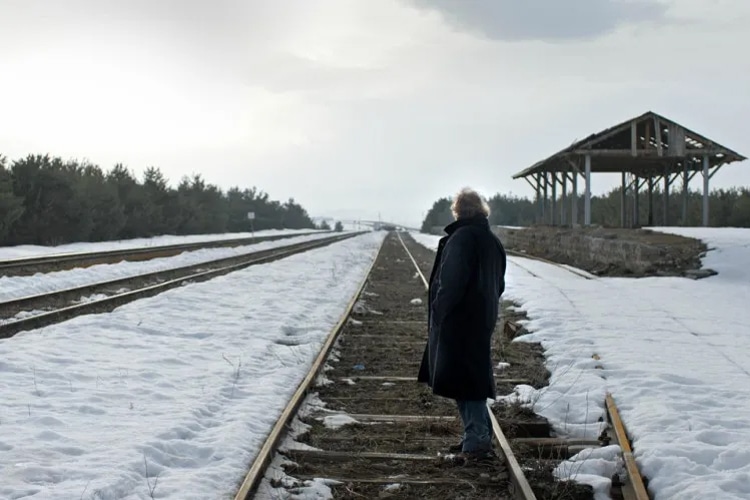 Director: Nuri Bilge Ceylan
Cast: Haluk Bilginer, Melisa Sözen, Demet Akbağ
Winter Sleep , some parts of which are based on Anton Chekhov's story My Wife and Good People, is one of Nuri Bilge Ceylan's most appreciated films in the international arena. Winter Sleep, which is indispensable for winter movie lists and brought the Golden Palm to our country, is about the retired actor Aydın's return to Cappadocia to run the boutique hotel inherited from his father. Tired of his wife, who treats him coldly, and his wife's brother, who moved with them, Aydın is also trapped in a trap that he cannot get out of with the onset of winter.
---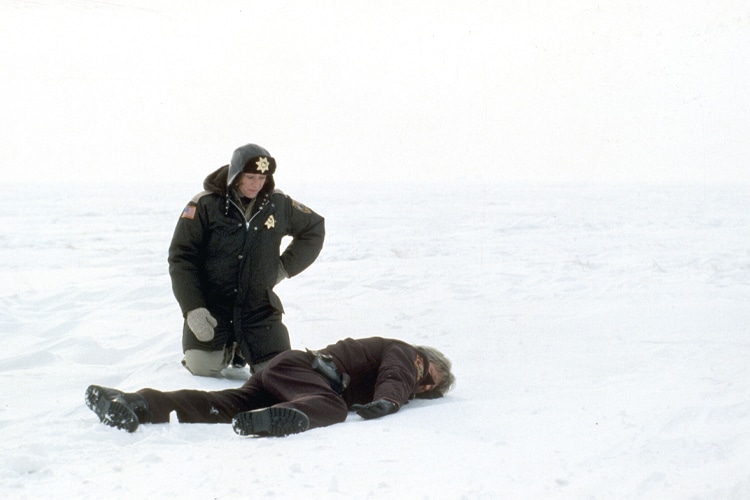 Director: Joel Coen, Ethan Coen
Cast: William H. Marcy, Frances McDormand, Steve Buscemi
Fargo , which is one of the most important films that brought the Coen Brothers to their current positions, also became very popular with its series shot in the 2010s. Fargo, which brought Frances McDormand the first of her 3 Best Actress Oscars, briefly; It's about a man named Jerry kidnapping his own wife to steal money from his father-in-law and pay off his debts.
---
1) The Shining – Madness (1980) | IMDb: 8.4
Director: Stanley Kubrick
Cast: Jack Nicholson, Shelley Duvall, Danny Lloyd
The Shining is based on Stephen King's novel of the same name, which deals with a tale of madness and winter like Misery. Jack Torrance, who took the maintenance job of the huge Overlook Hotel, which was closed during the winter season, is moving to this hotel with his family. While the abilities of Jack's son, Danny, who can see the past and the future, are at the top of this hotel, Jack is slowly starting to go crazy due to the supernatural events in the hotel they are trapped in with the snowstorm.
---
Our other movie content you can browse after the winter movies list:
Natural Disaster Themed Movies
Best Horror Movies of the 21st Century
This post is also available in: Türkçe