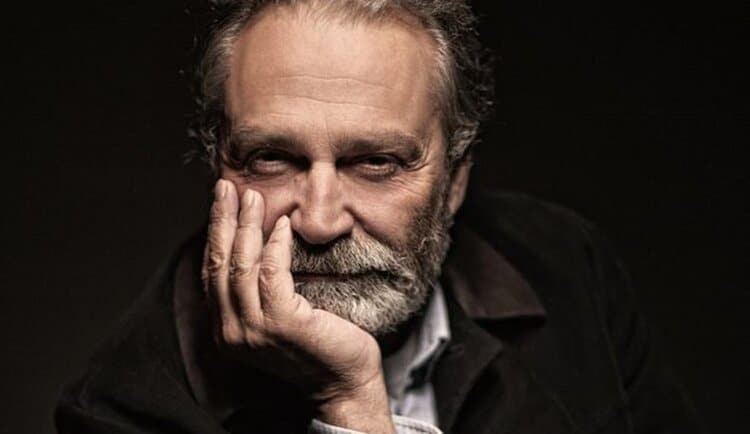 Haluk Bilginer is undoubtedly one of the most memorable actors in the history of Turkish cinema, theater and TV series. And yet, when one thinks of Haluk Bilginer films , another unique film comes to mind. The 67-year-old actor has appeared in dozens of films throughout his career and has given life to memorable characters in almost all of them.
Haluk Bilginer, who has acted in various films and theaters not only in Turkey but also abroad, is one of the honors of Turkish cinema and theater in this respect. Likewise, the master artist, who has won many awards both in Turkey and abroad, continues to excite the audience in every new project he takes part in.
We wanted to make a compilation of the films in which the master actor played. Let's take a closer look at the unforgettable films starring Haluk Bilginer according to the IMDb score ranking.
---
15) Two Women (1992) | IMDb: 6.1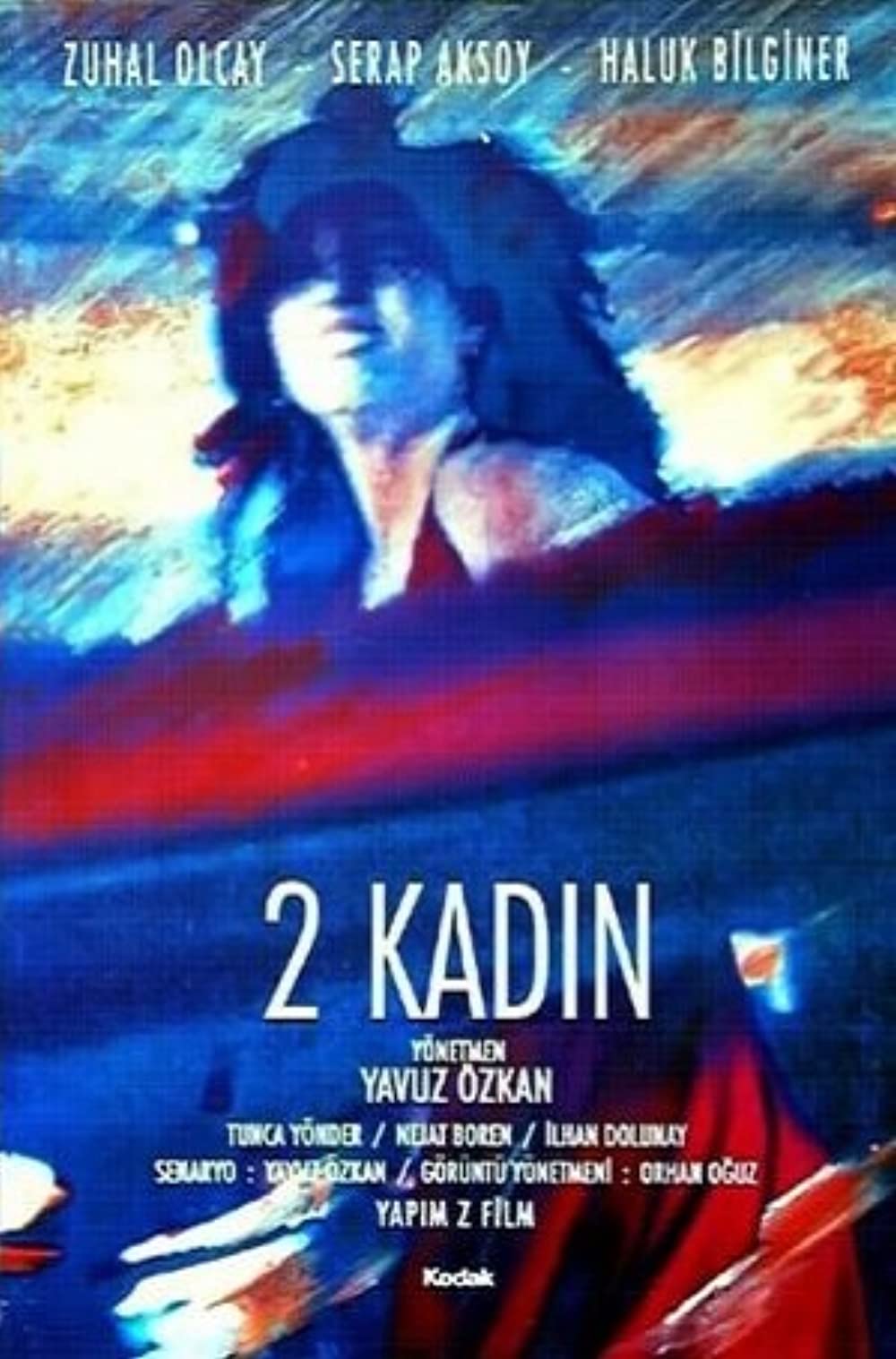 Two Women, the first of our Haluk Bilginer movies list, created a sensation especially when it was released. Metin, a married minister, invites a prostitute to the hotel one day. Metin is a very smug person and when the prostitute comes to her room, he treats her with his usual smug manner. However, the prostitute does not stand in the way of the minister's behavior and soon a conflict begins between them. After a while, the minister rapes the prostitute.
The prostitute wants to sue the minister. Of course, the news immediately starts to be broadcast in all media organs and the country is shaken. Although the minister's wife initially believes that her husband is innocent, she has a suspicion. To clear his doubts, he pretends to be a customer and invites the same prostitute to a mountain house. An unexpected friendship develops between the two women. The minister is acquitted as not guilty of the trial, but the relationship between the two women is getting deeper with each passing day.
Let's also say that the film bears the signature of master director and screenwriter Yavuz Özkan, known for films such as Maden and Crab Sepeti.
Director: Yavuz Ozkan
Other actors: Zuhal Olcay, Serap Aksoy
---
14) 15 Minutes on Low Fire (2006) | IMDb: 6.1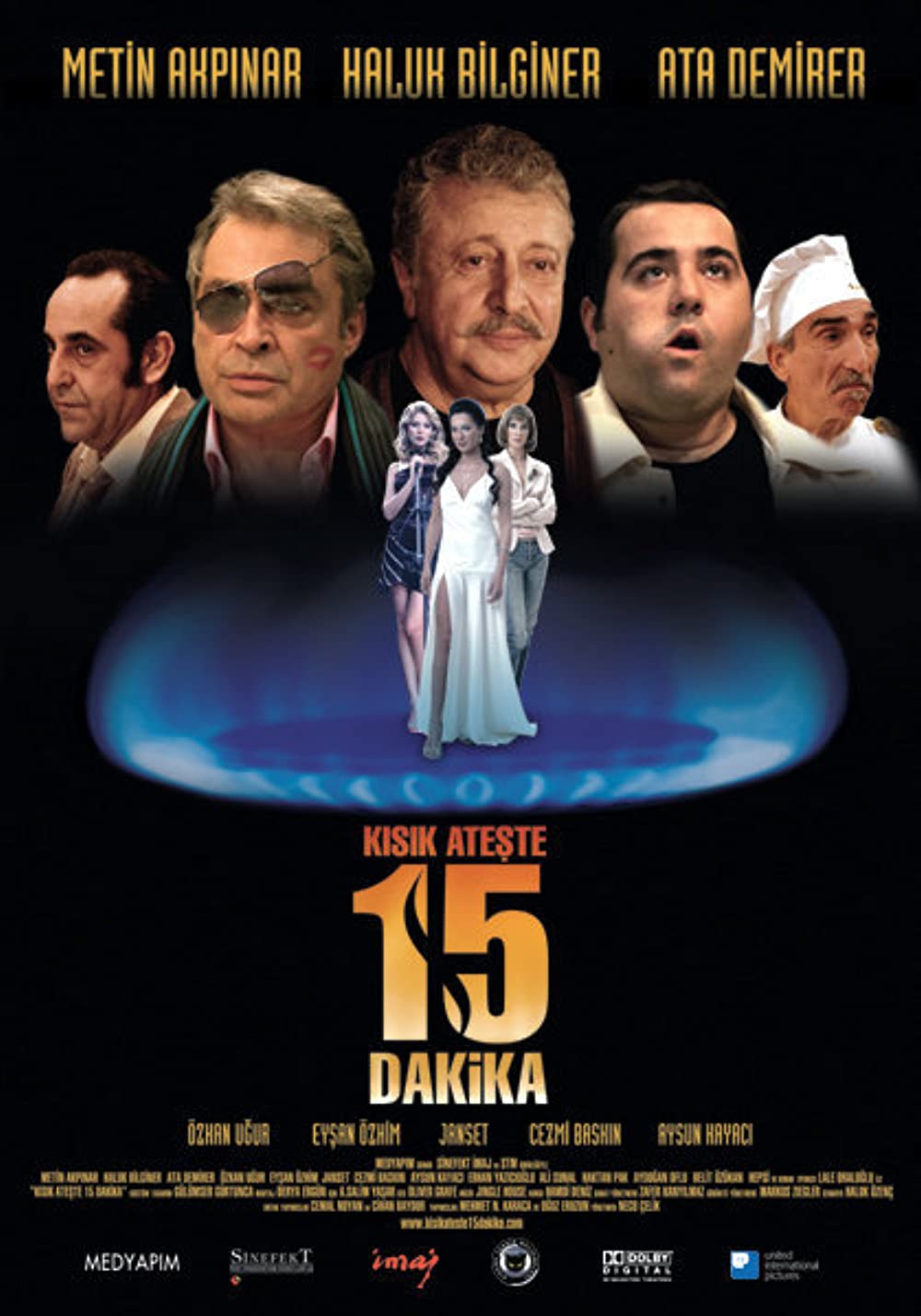 The film, which takes place in a French restaurant called Le Chic, narrates a series of events that develop and conclude in just 15 minutes. Resul is a blind sculptor who was imprisoned for his murder and is hired at a restaurant. Fazil is a director and the restaurant partner wants to play Kader, who is also a famous actor, in his movie. So he arranges a meeting with her at the restaurant, albeit forcedly. On the other hand, Güngör, who plays classical music, and his manager Muhtar come to the restaurant together and Muhtar tries to get Güngör to perform at the restaurant.
The stories, which develop separately in a few minutes, suddenly begin to intersect. All the characters go beyond their intended purpose at the restaurant and things take an unexpected turn. In addition to the director Neco Çelik, who has done a very successful job in a small space and in a short time, his master cast puts 15 Minutes in a Thin Fire as a finely crafted comedy in Turkish cinema.
Director: Neco Celik
Other actors: Metin Akpınar, Ata Demirer, Eyşan Özhim
---
13) Sawdust Tales – Master Kill Me (1997) | IMDb: 6.2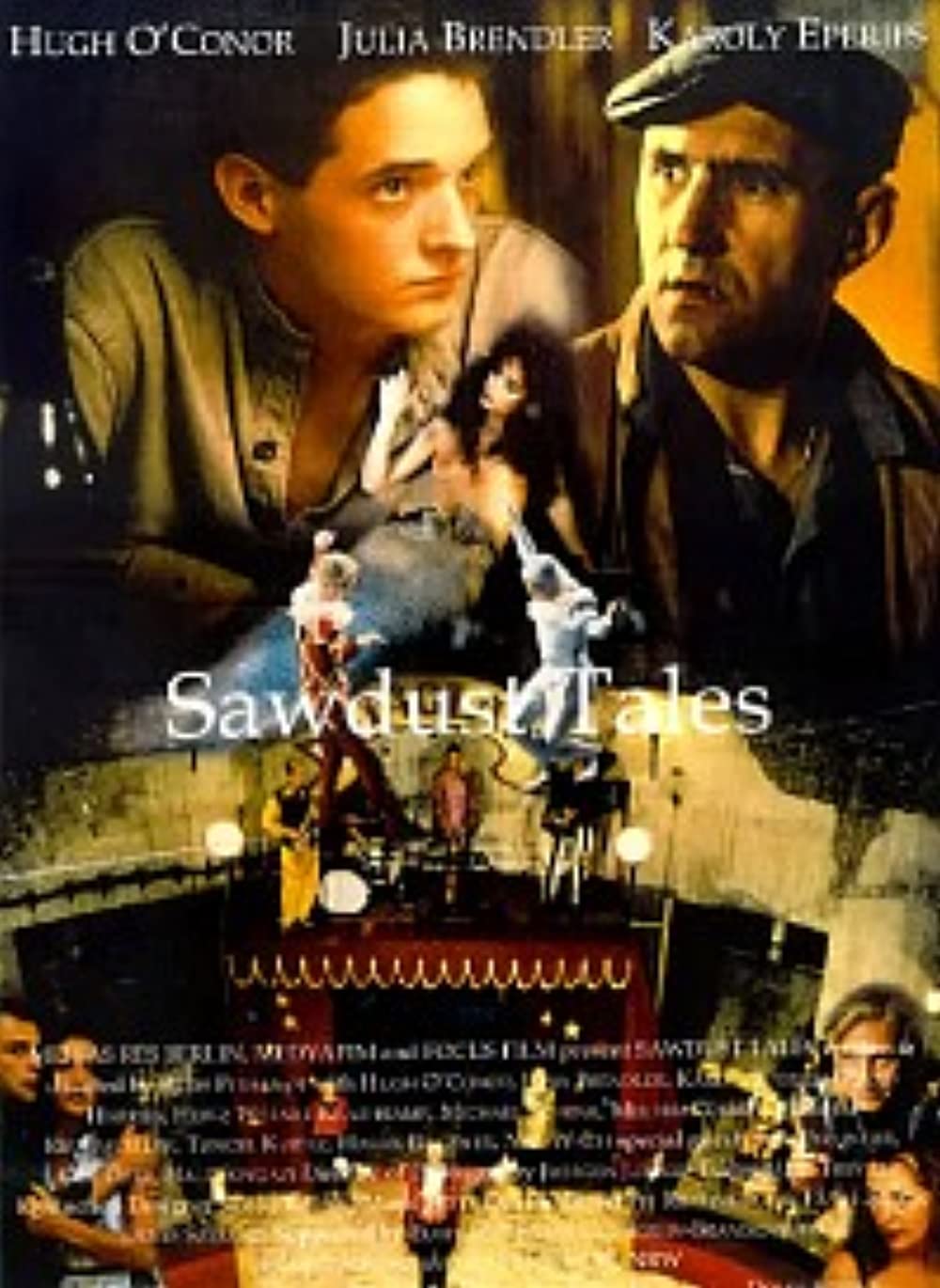 A French-Turkish co-production, Master Kill Me, is about a circus troupe in a European country on the brink of war. The Ioala Circus is a small circus society. Circus workers settled in a gas station in a small town in the country, where they wait to meet their manager. Their aim is to escape from this war-torn country through their managers and go to the new world.
Abib, who is in his 50s, and his adopted son, Isaac, are among the main characters of the film. Both characters are tightrope walkers. The only purpose of Abib, who is both the master and kind of father of Isaac, is to take his apprentice, Isaac, whom he loves like his son, to the new world by abducting him from the war.
The film bears the signature of Barış Pirhasan, one of the master screenwriters and directors of Turkish cinema.
Director: Baris Pirhasan
Other actors: Hugh O'Conor, Károly Eperjes, Julia Brendler
---
12) Harem Soiree (1999) | IMDb: 6.2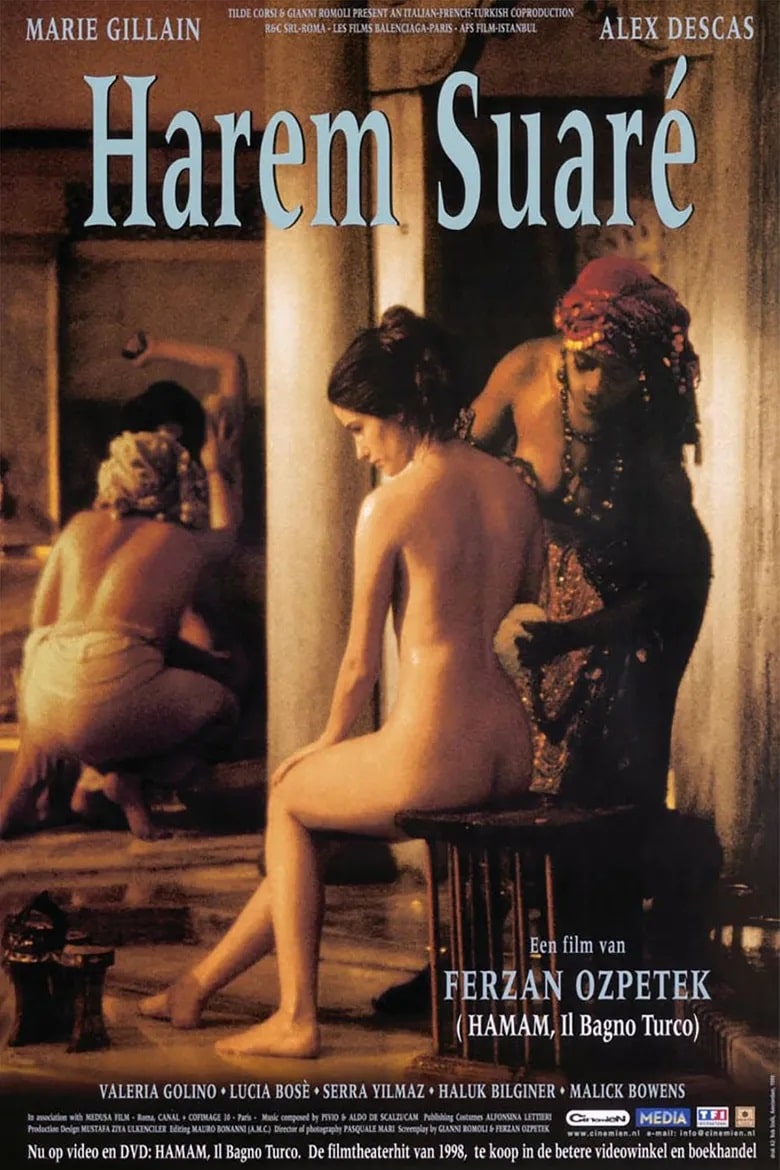 It's time for one of the unforgettable films in the filmography of the famous Turkish-Italian director Ferzan Özpetek. Haluk Bilginer's II. In the movie in which he plays Abdulhamid, we go to the year 1908. movie, II. It is about the love between Abdülhamid's favorite concubine Safiye and his eunuch Nadir. Safiye is a concubine with high eyes. Safiye, who convinced Nadir, the eunuch, with his help, II. She is Abdülhamid's favorite concubine and wants to give birth to a child. Thus, as a partner in power, she will turn into a strong woman.
Everything goes according to plan, but there is something unexpected. A forbidden love begins to sprout between Nadir and Safiye. This will upset all plans. The Italian-France-Turkish co-production, the film was screened at the Cannes Film Festival and garnered great praise.
Director: Ferzan Ozpetek
Other actors: Marie Gillain, Alex Descas, Lucia Bosè
---
11) Hormuz with 7 Husbands (2009) | IMDb: 6.3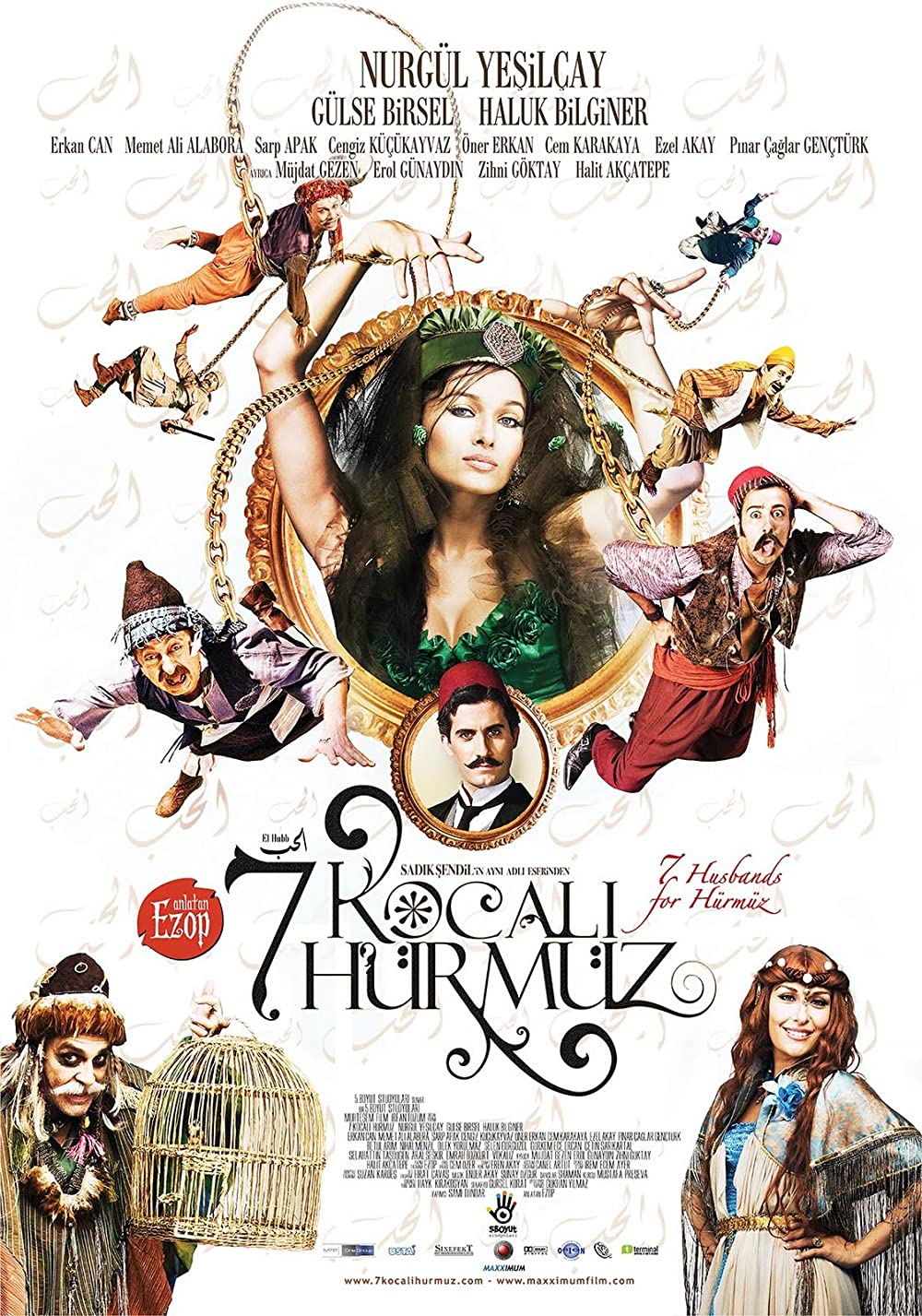 Set in the Ottoman Empire of the 1800s, the film is essentially a story of the Turkish comedy tradition. Hormuz is a very beautiful woman living in Taşkasap, Istanbul. He marries 6 people from different professions, but none of these marriages are legal. Hormuz hosts a husband every day of the week. However, things get out of hand when the days when their husbands come home start to overlap.
As if all this were not enough, Hormuz fell in love with the young doctor who had just arrived in town. He invents a disease to reach her and soon makes the doctor fall in love with him. Hormuz tries to hide both their husbands from the doctor and the doctor from their husbands. Although she wants to somehow get rid of her husband and be with the doctor, things get more complicated with each passing day. With its music, comedy and a fairy-tale story, Hormuz with 7 Husbands is one of the most enjoyable films of recent years.
Director: Ezel Akay
Other actors: Nurgül Yeşilçay, Gülse Birsel, Memet Ali Alabora
---
10) Police (2007) | IMDb: 6.7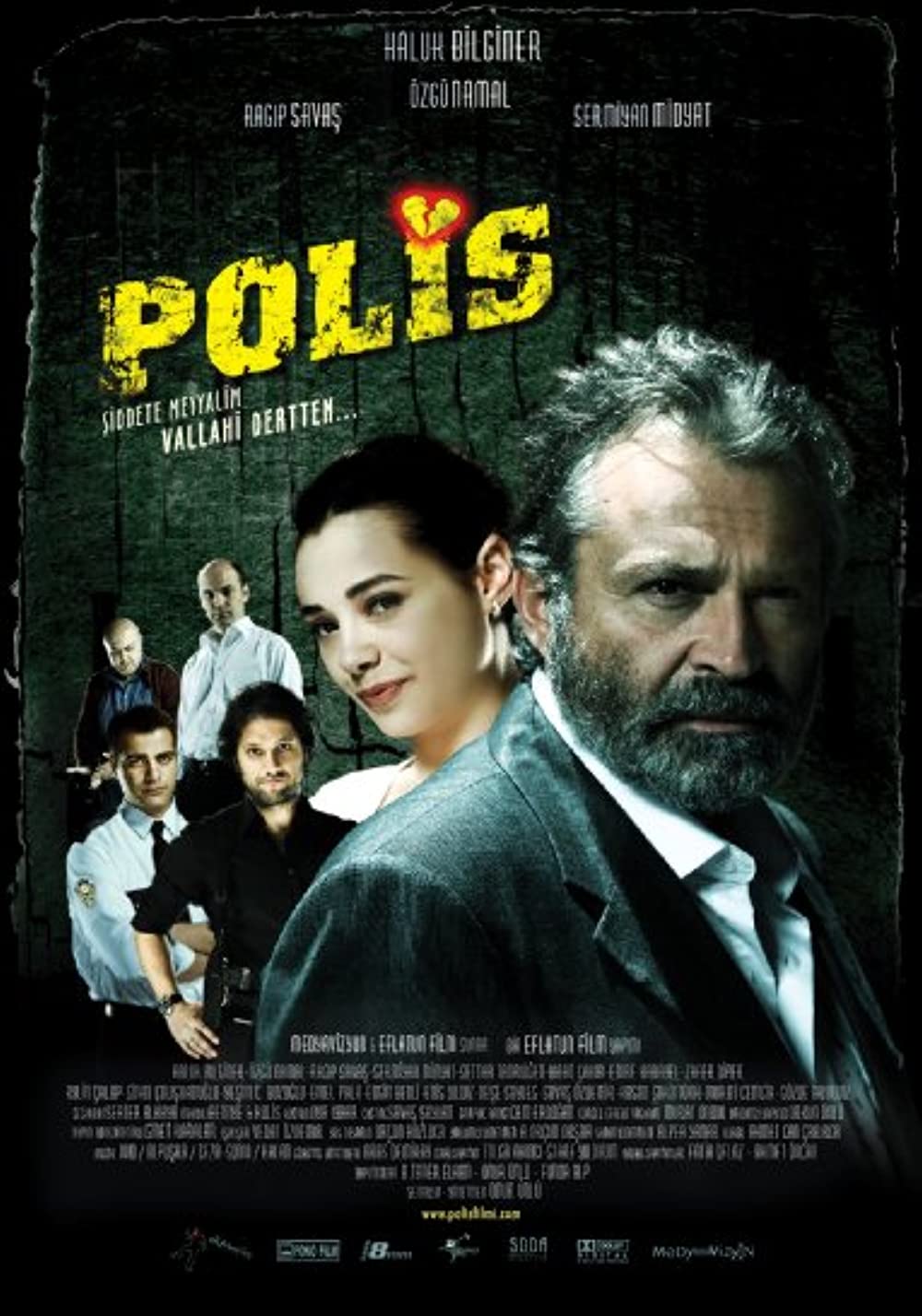 Musa Rami is a homicide cop who is highly respected in the agency and one of the best in his profession. 63. Musa Rami, who is preparing to celebrate his birthday, is slowly considering retiring, while the course of his life is slowly changing. On the one hand, the mafia organization he has been fighting for years and the threats he has made to both himself and his family, on the other hand, he has a love for Funda, a university student 40 years younger than him.
Musa Rami tries to protect his family from the threat of the mafia and tries to tell her about his love for Funda. Musa Rami, who is stuck between his profession, family and love day by day, learns that he has cancer as if all of this is not enough. Since his days are numbered, he sets his mind to do whatever he has to do before he dies. Police, one of the most groundbreaking films of Turkish cinema in recent years, also features Haluk Bilginer's acting that will be remembered for a long time.
Haluk Bilginer, with his role in the movie 18th. He won the Best Actor Award at the Ankara International Film Festival.
Director: Onur Ünlü
Other actors: Ozgu Namal, Ragip Savas, Sermiyan Midyat
---
9) Noah's Hill (2019) | IMDb: 7.1
Noah Tepesi, the newest movie of our Haluk Bilginer movies list, is about the relationship between Ömer and his father İbrahim, who are in midlife crisis. Ömer goes to the village with him at the insistence of his father İbrahim. Since it was his father's last wish to go to the village, Ömer takes him to the village, albeit reluctantly. However, there is a purpose behind the main reason why İbrahim wants to go to the village. When İbrahim dies, he wants to be buried under the tree at the top of the village. Moreover, he claims that he planted this tree in his own time. Ömer accepts this request, but the villager believes that this tree was planted by Prophet Noah. That's why Ömer and İbrahim enter into a relentless struggle with the villagers.
On the other hand, Ömer is about to divorce his pregnant wife. She is already depressed because of the divorce. On top of that, her falling into such an affair with her father, whom she never got along with, turns her into an angry person with each passing day. During all this time in the village, Ömer and İbrahim start to confront each other. Things get worse when Ömer's wife suddenly comes to the village. When talking about superstition, father-son and husband-wife relationship, bureaucracy, faith trade, Noah Tepesi stands out as one of the most successful films of Turkish cinema in recent years.
Director: Cenk Erturk
Other actors: Ali Atay, Hande Doğandemir, Arın Kuşaksızoğlu
---
8) Son of the Sun (2008) | IMDb: 7.1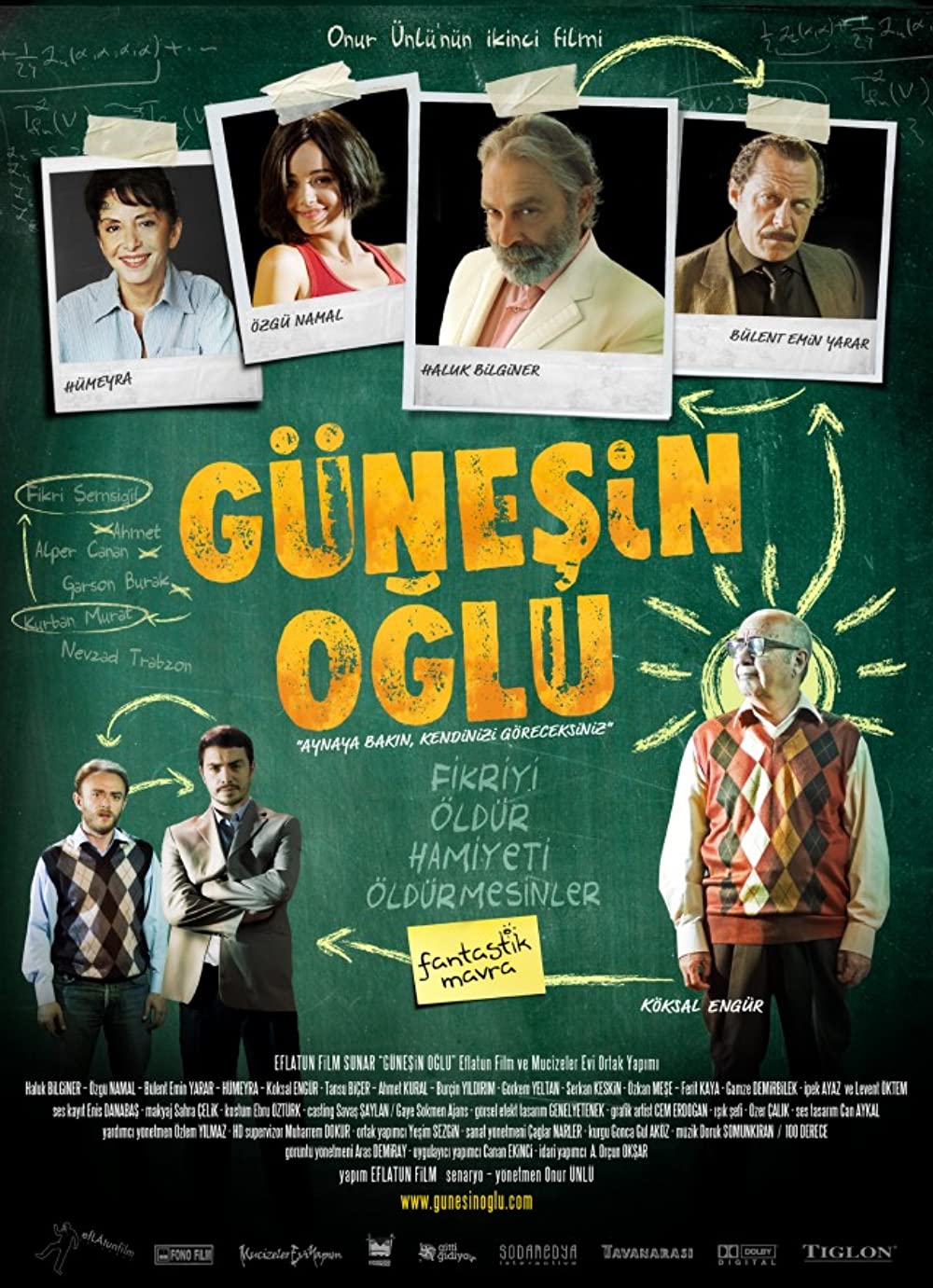 Güneşinoğulları, Haluk Bilginer's second meeting with Onur Ünlü, has one of the most extraordinary stories of Turkish cinema in recent years, just like Polis. Fikri Şemsigil is someone who spends his life waiting for miracles. One day, this miracle will happen, but contrary to what he expected, his life will be turned upside down. Fikri Şemsigil has become the Son of the Sun! His soul begins to enter and exit the bodies of the people around him.
Although Fikri Şemsigil has been waiting for this miracle all his life, he can't stand it anymore and wants to get rid of it. But he has no idea how to get rid of it. Fikri Şemsigil, who somehow started to investigate what happened, tries to reach the source of the miracle. Throughout his journey, he is exposed to various absurdities and absurdities. Things get out of hand with every passing minute.
The movie itself makes a big impression, but the scene where Haluk Bilginer recites poetry takes its place in the history of Turkish cinema as a very special scene that will not be forgotten for many years.
Director: Onur Ünlü
Other actors: Ozgu Namal, Köksal Engur, Bulent Emin Yarar
---
7) Istanbul Under My Wings (1996) | IMDb: 7.1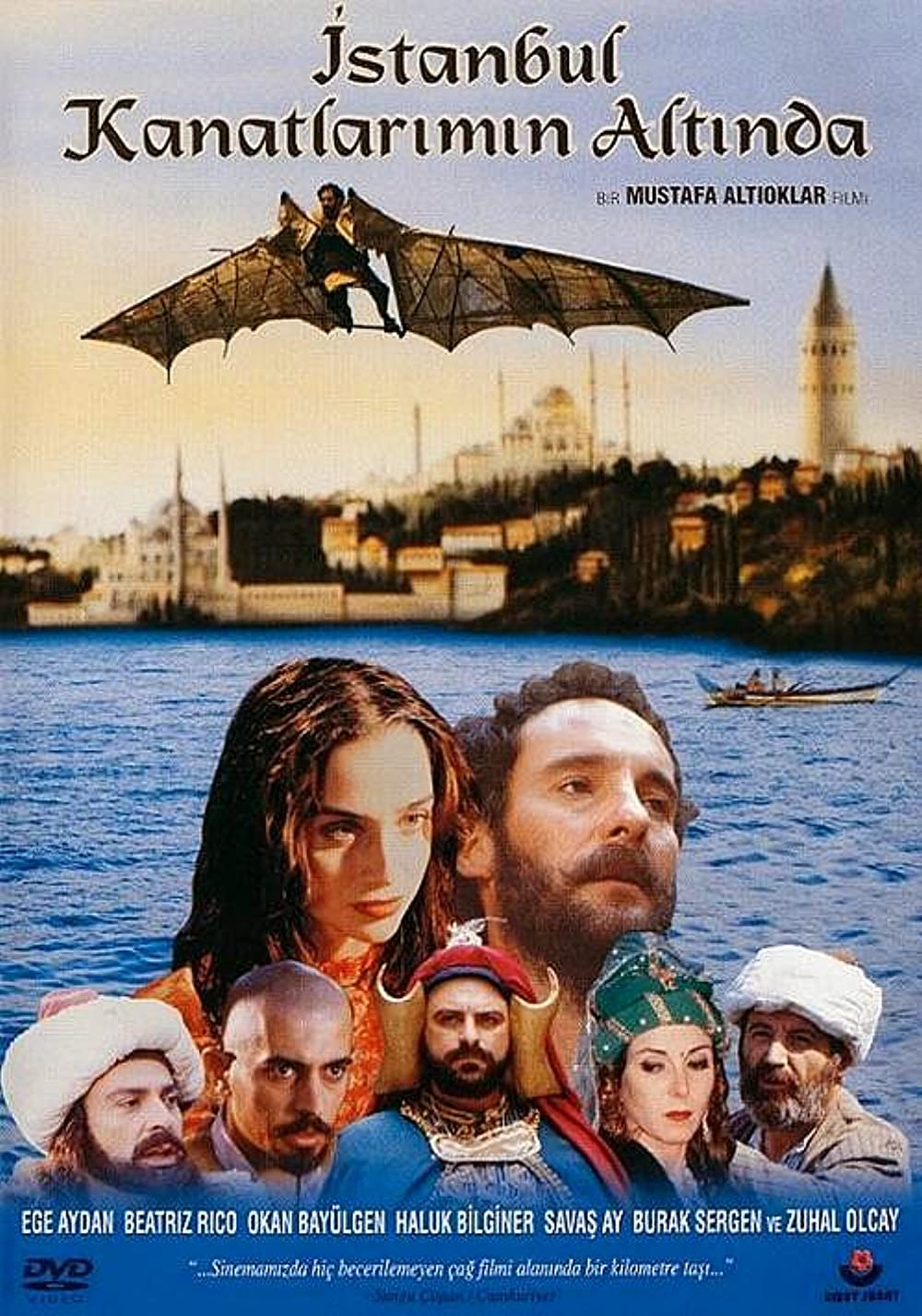 Istanbul Under My Wings is not only one of our Haluk Bilginer movies list, but one of the most special films in the history of Turkish cinema. The film, which is a milestone in itself in the field of age film, which is not very good in Turkish cinema, brings us to the 4th century. It takes me back to the Murat period. The film, which is about the life of Hezarfen Ahmet Çelebi, who was the first person in the history of the world to attempt to fly, had a great impact when it was released. 4. Istanbul, which is under the historical bans of Murat, is going through hard times. Two famous inventors, Hezarfen Ahmet Çelebi and Lagari Hasan Çelebi, are two very close friends. These two names, whose biggest dream is to fly, wonder how much they can push the limits of humanity.
While Hezarfen Ahmet Çelebi and Lagari Hasan Çelebi are making efforts to realize their dreams, an Italian woman named Franceska appears. Francesca first becomes the slave of Hezarfen Ahmet Çelebi, but soon a love affair begins between them. Francesca also supports Hezarfen Ahmet Çelebi and Lagari Hasan Çelebi by being a partner in their dreams. 4. Murat, on the other hand, gets very angry when he learns all this.
Bekri Mustafa and Evliya Çelebi, who are prominent figures of the period and have extraordinary characters like Hezarfen Ahmet Çelebi and Lagari Hasan Çelebi, are among the remarkable characters of the film.
Director: Mustafa Altioklar
Other actors: Okan Bayülgen, Ege Aydan, Beatriz Rico
---
6) Elephants and Grass (2000) | IMDb: 7.1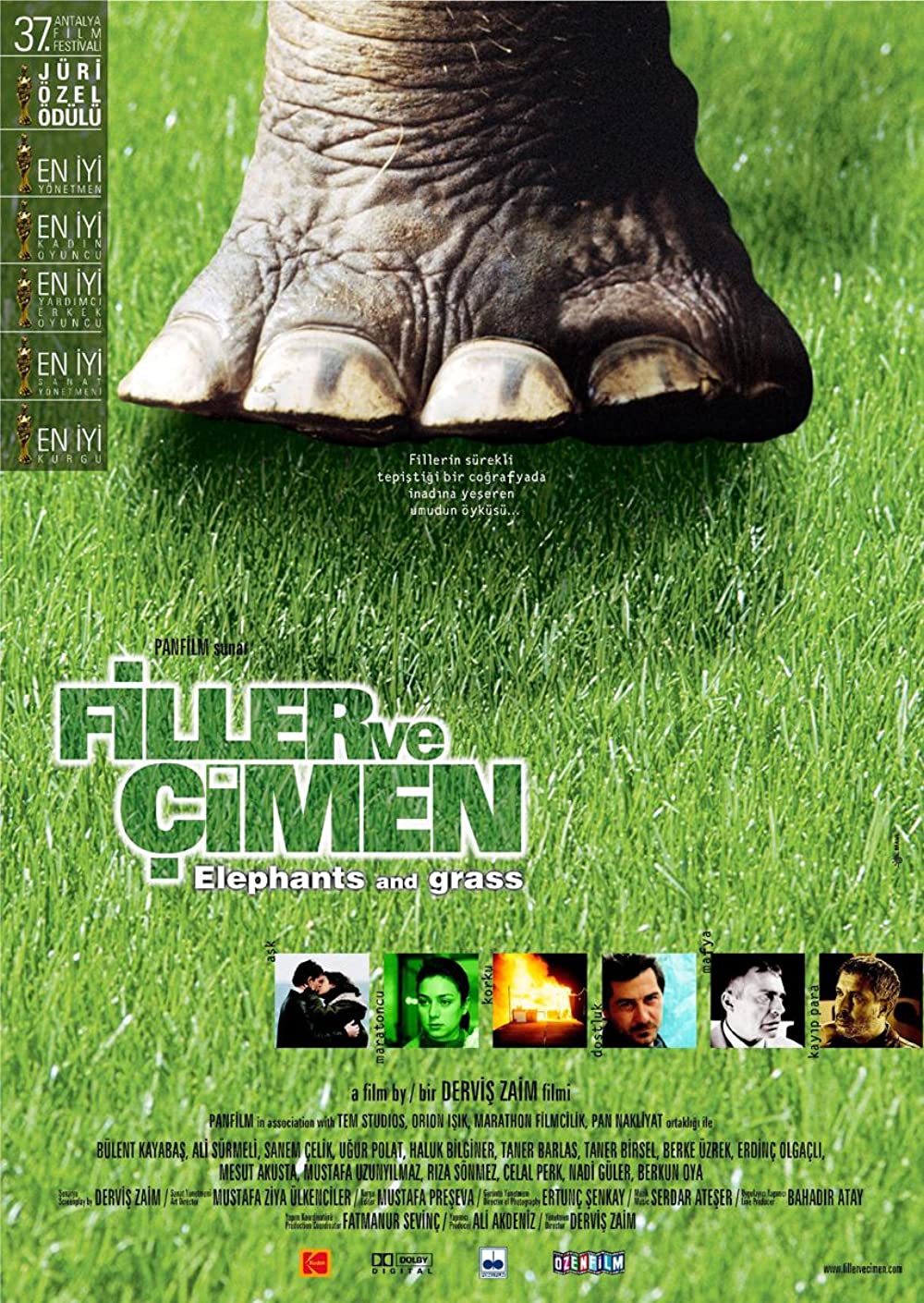 Eve is a successful athlete and her only dream is to win the Eurasian Marathon. In addition, he wants to have his brother treated, who stepped on a mine and became disabled while he was in the military. For this, he saves the money he earns from the eraser factory where he works. Havva, who continues her training and saves money by working, receives food support from a luxury hotel when she least expects it. But there is a reason why this support came so suddenly.
The hotel is a hotel that is wanted to be acquired by the mafia. Moreover, nothing is that limited. Intelligence service, minister, gang, casino, illegal organization, bribery, drug trafficking… The dirty games that develop among all these elements take place in the hotel in question. Among these dirty games, Eve tries to focus only on her own goal and try to win the marathon and get her sister treated.
Director: Derviş Zaim
Other actors: Ali Sürmeli, Sanem Çelik, Bülent Kayabaş
---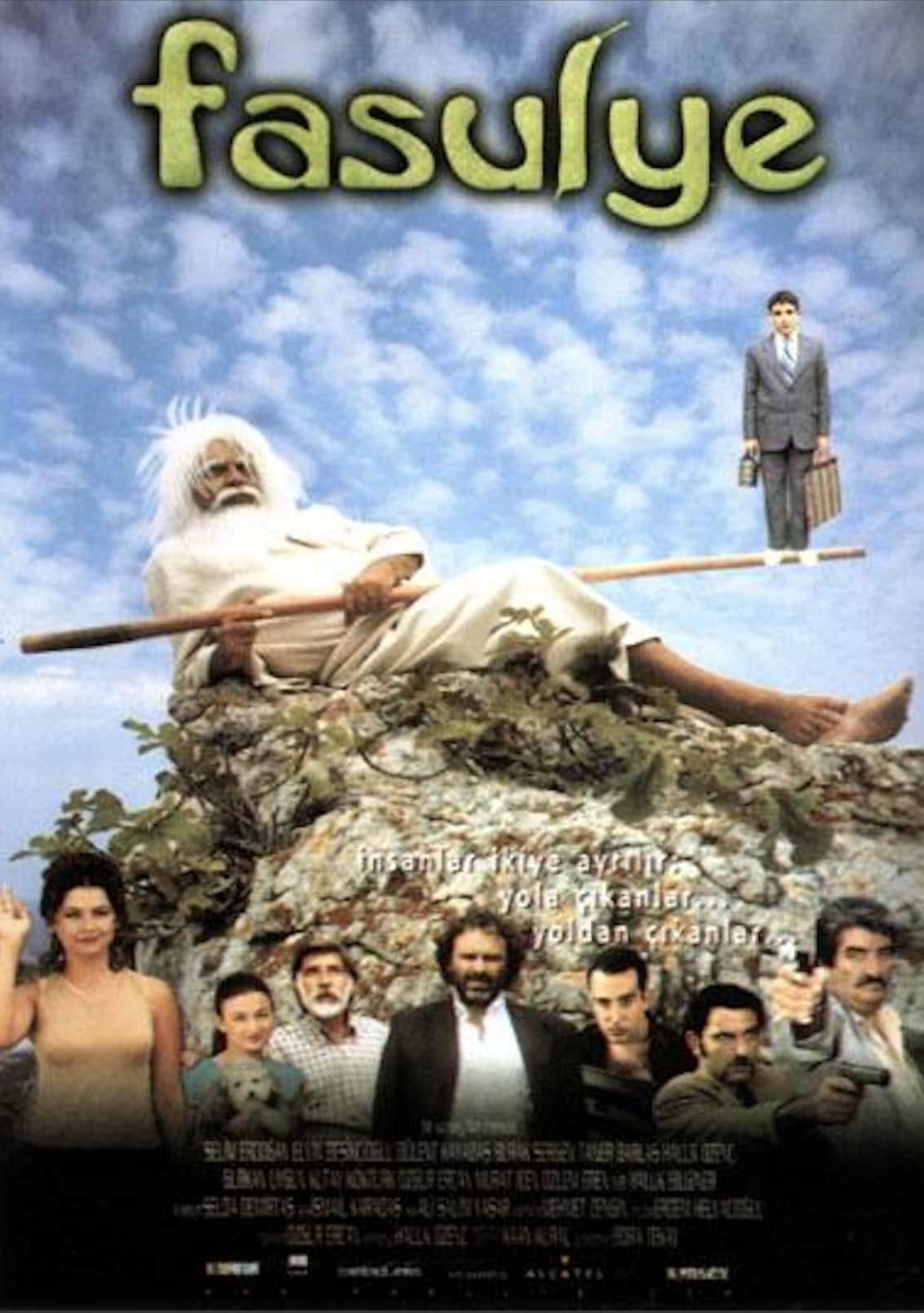 Villagers assign a youth in the village to deliver their tax returns to the big city. The young villager, who is trusted by the villagers, puts his tax returns in his bag and takes the lunch bowl full of beans prepared by his mother with him. Along the way, he starts to meet some strange people. These people include a famous hit man, businessman, a teenager on vacation, a TV reporter girl, her father, sister, and courier.
The hitman who killed someone for the businessman waits for the courier to get his payment, but the courier doesn't come to the meeting. The village youth suddenly finds himself in the middle of the conflict between the assassin and the businessman. The young man starts to run away to save himself from the situation he is in. However, events take an unbearable turn right after this point.
The characters all come together in a chalet. In a very tense environment, everyone starts to face each other. This confrontation brings with it misunderstandings, chases and absurd comedy. Bean has the distinction of being one of the first films that come to mind in the history of Turkish cinema when it comes to absurd film.
Director: Bora Tekay
Other actors: Selim Erdogan, Elvin Beşikçioğlu, Bülent Kayabaş
---
4) Where are you Firuze (2004) | IMDb: 7.3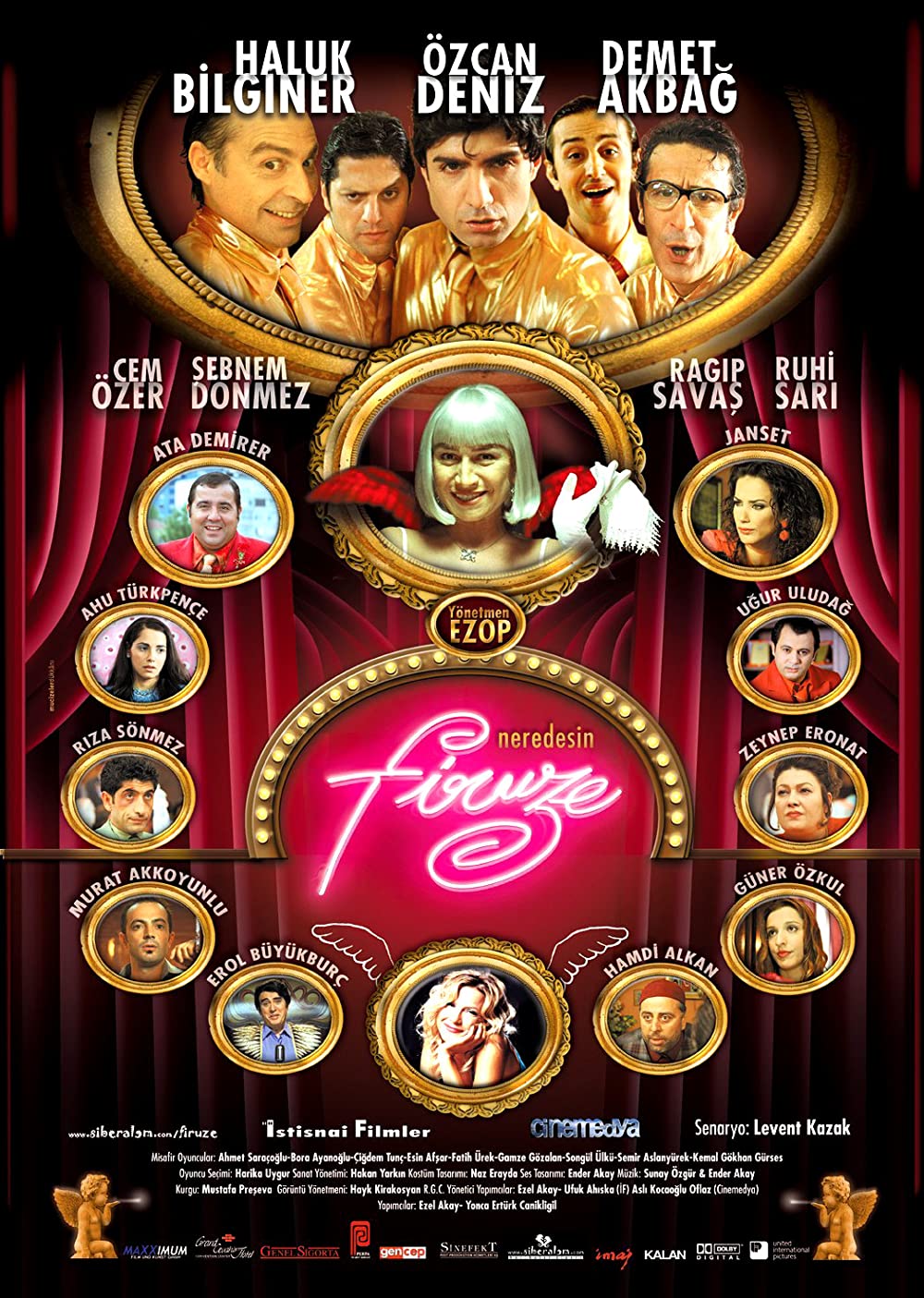 Another Ezel Akay movie on our list of Haluk Bilginer movies, Where Are You Firuze is also called an Unkapanı story. The story takes place in Unkapanı Records Market, which was once the heart of the music market. The legendary bazaar has started to leave behind its golden age. Two music producers, Hayri and Osman, who have been in a shop in the bazaar for many years, have not been successful for a long time with their team. When none of the records and cassettes they released could reach the desired sales figures, they fell into debt.
Looking for a way out, the team reaches a young talent named Ferhat, who lives in Germany. Ferhat is the last way out for the team. Likewise, Ferhat is bored of singing at weddings in Germany and wants to make an album in Istanbul. As soon as Ferhat arrives in Istanbul, songs are started to be recorded, but the desired success cannot be achieved. The team then puts Ferhat on a television show and everyone's life changes at this very point.
A woman named Firuze, who sees Ferhat on TV, instantly gets in touch with Ferhat. Firuze is a mysterious, beautiful and rich woman. He says he wants to invest in Ferhat. Everyone on the team thinks they broke the devil's leg this time. However, things continue to go wrong. Both their personal relationships and their passion for music slowly begin to break down.
Haluk Bilginer, with his role in the movie 9. He won the Best Actor Award at the Sadri Alışık Awards.
Director: Ezel Akay
Other actors: Demet Akbağ, Cem Özer, Özcan Deniz
---
3) Why Was Hacivat Karagöz Killed? (2006) | IMDb: 7.5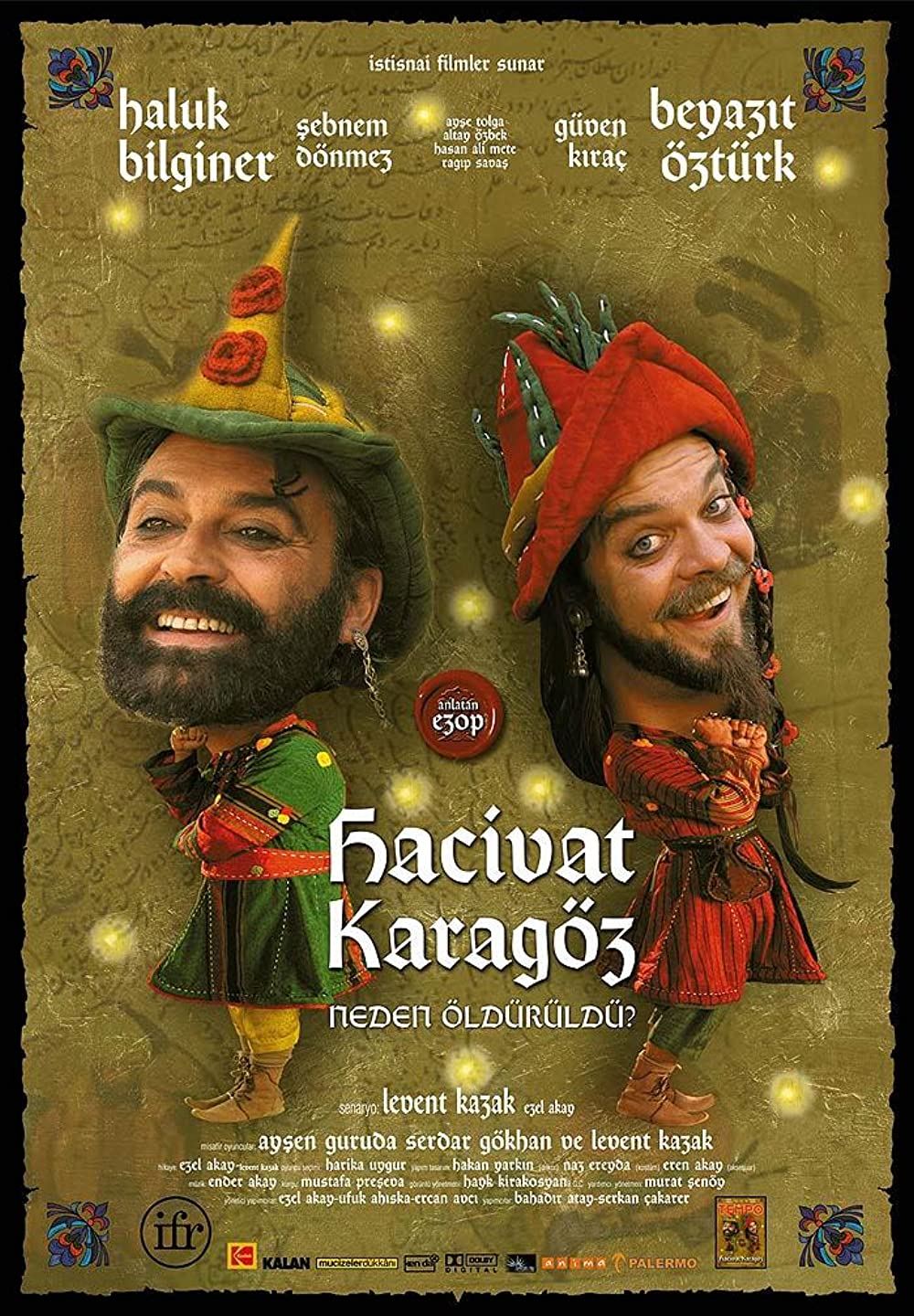 We are once again together with an Ezel Akay movie on our list of Haluk Bilginer movies. Centering two iconic figures in Turkish comedy history, Hacivat and Karagöz, the film offers an entertaining and fairy-tale-like spectacle in the truest sense of the word. 14. In the story, which takes place in Bursa in the 19th century, Hacivat and Karagöz are two workers working in the construction of the mosque built in the name of Orhan Gazi. These two are funny characters who are constantly bickering with each other. Moreover, their amusing demeanor attracted the attention of the people around, especially the other workers working in the construction.
Hacivat and Karagöz, whose fame spread to wider circles in a short time, began to perform in some meetings and entertainments. Everything seems to be fine, but in fact, this fame is the beginning of their disaster. Bursa was a city of critical importance at that time. It is also dangerous to make humor in the city where power struggles are fierce. Because Hacivat and Karagöz's humor is not only entertaining, but also contains satire and ridicule. This satire and sarcasm begin to create disturbances over time.
Hacivat and Karagöz, who are loved by everyone and whose performances are watched with laughter, soon become people whom no one likes. The duo, who are in more and more danger to become the victims of the political and religious interests in the city, do not hesitate to speak their words no matter what. This leads them to a tragic end.
Director: Ezel Akay
Other actors: Beyazıt Öztürk, Sebnem Dönmez, Güven Kıraç
---
2) Hibernation (2014) | IMDb: 8.1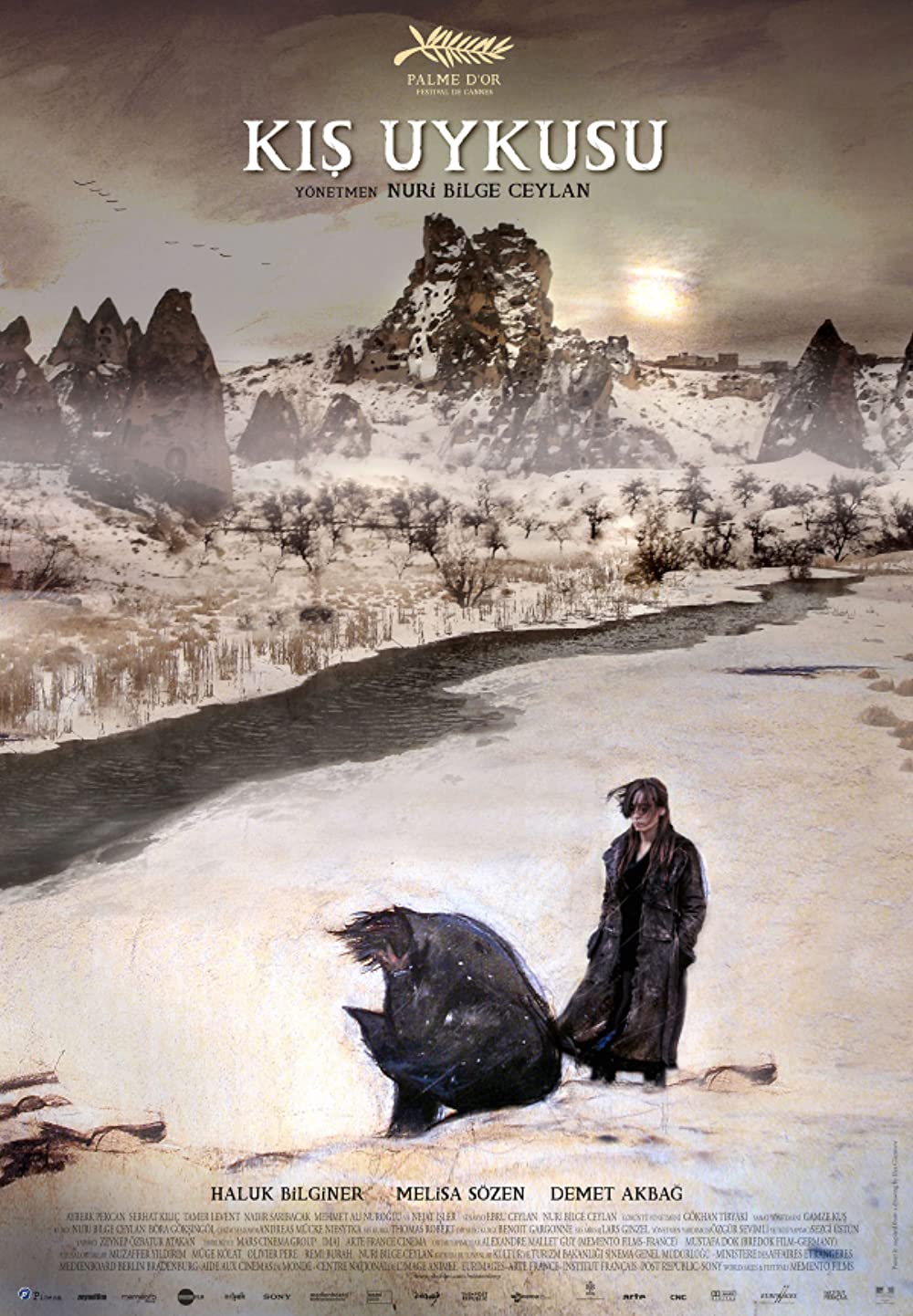 It's time for one of the most special films of our Haluk Bilginer movies list. The film, which made Turkey proud by winning the Palme d'Or at the 2014 Cannes Film Festival, also hosts one of Haluk Bilginer's most special performances. A retired theater actor, Aydın moves to Cappadocia to retire. Here he starts to run a hotel inherited from his father.
At first everything is going well. Aydın has created a life routine for himself in the hotel. Sometimes he writes a column for the newspaper, and sometimes he works to write the theater history book he has always dreamed of. However, as time progresses, this order and peace begin to deteriorate. Winter has started to make its effects felt. Aydın has to spend more time with his wife Nihal and sister Necla.
Nihal is much younger than Aydın and has been cold to Aydın for a long time. Necla, on the other hand, moved in with Aydın and Nihal after her divorce from her husband. At the same time, he is depressed with the effect of this divorce and falling into a void. Aydın wants to get away from the problems he has with his wife and sister, and from his relations with the other inhabitants of the town he is in contact with.
Haluk Bilginer, 47th with his role in the movie. He was awarded the Best Actor Award at the Cinema Writers Association Awards.
Director: Nuri Bilge Ceylan
Other actors: Demet Akbağ, Melisa Sözen, Nejat İşler
---
1) Innocence (1997) | IMDb: 8.2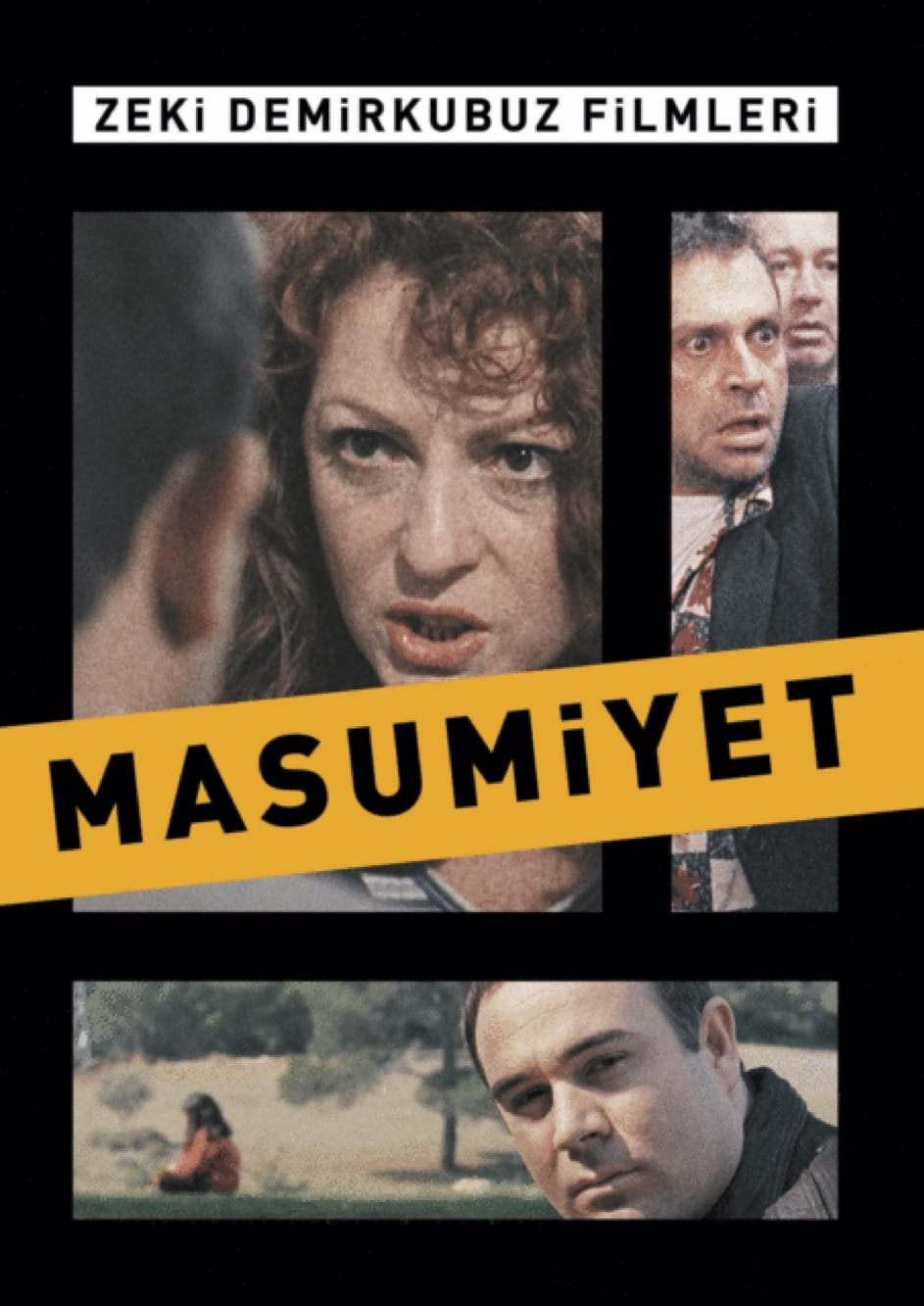 "Why is the boy crippled brother?"
We have come to number 1 of our list of Haluk Bilginer movies. Innocence, which is remembered with the above line, is still considered by most of the authorities and moviegoers as the best film of successful director Zeki Demirkubuz. Haluk Bilginer's tirade scene, which lasts for about 10 minutes, still presents a performance that can be watched over and over again. Yusuf is a prisoner. It has no purpose in life. His path crosses with Bekir and Uğur in a hostel where he stays. This intersection will be traumatic for all three of them.
Uğur is a prostitute. He also has a little daughter. Bekir, on the other hand, has been obsessed with Uğur for years. In pursuit of this obsession, he goes everywhere with Uğur. However, the man Uğur falls in love with is Zagor. Zagor has also been in prison for years and is unlikely to get out. When Yusuf is included in the obsessive love triangle between Uğur, Bekir and Zagor, all the characters enter an irreversible path.
Haluk Bilginer played the character of Bekir in the 10th. He won the Best Actor Award at the Ankara International Film Festival.
Director: Zeki Demirkubuz
Other actors: Güven Kıraç, Derya Alabora
This post is also available in: Türkçe