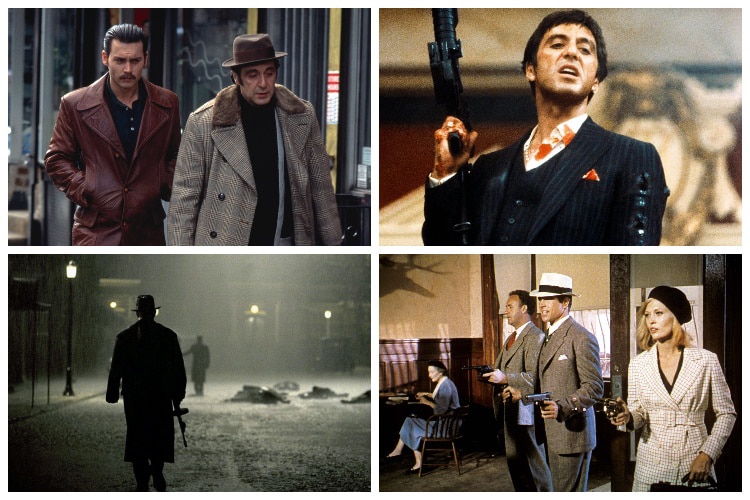 Gangster movies were the genre that Hollywood cinema fell for the most from the 1950s to the '90s. Due to the heavy mafia wars, the crime families running the cities and the abundance of gangsters in general, everyone wanted to take advantage of this situation. Hundreds of books have been written and dozens of movies have been made about notorious gangsters. In this content, we bring together our list of the best gangster movies with popular gangster movies. If you are ready, let's go on a journey together towards the criminal world.
---
23) Gomorrah (2008) | IMDb: 7.0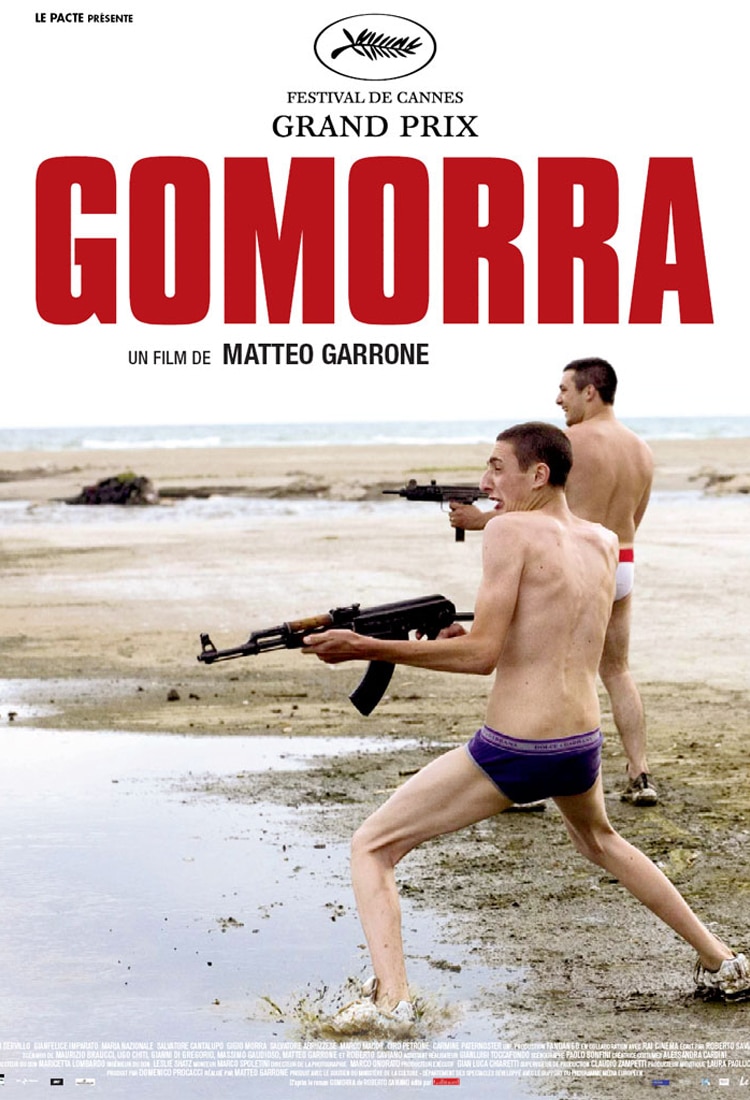 Director: Matteo Garrone
Cast: Gianfelice Imparato, Salvatore Abbruzzese, Toni Servillo
Gomorrah is based on Roberto Saviano's novel of the same name, in which he exposes all the violent dirty work of the Italian mafia. 61. The film, which won the second grand prize at the Cannes Film Festival, does not romanticize events like Hollywood gangster movies. Gomorrah, where blood and violence flow together, is our recommendation to those who are tired of classic Hollywood gangster movies.
---
22) Mean Streets – Back Streets (1973) | IMDb: 7.2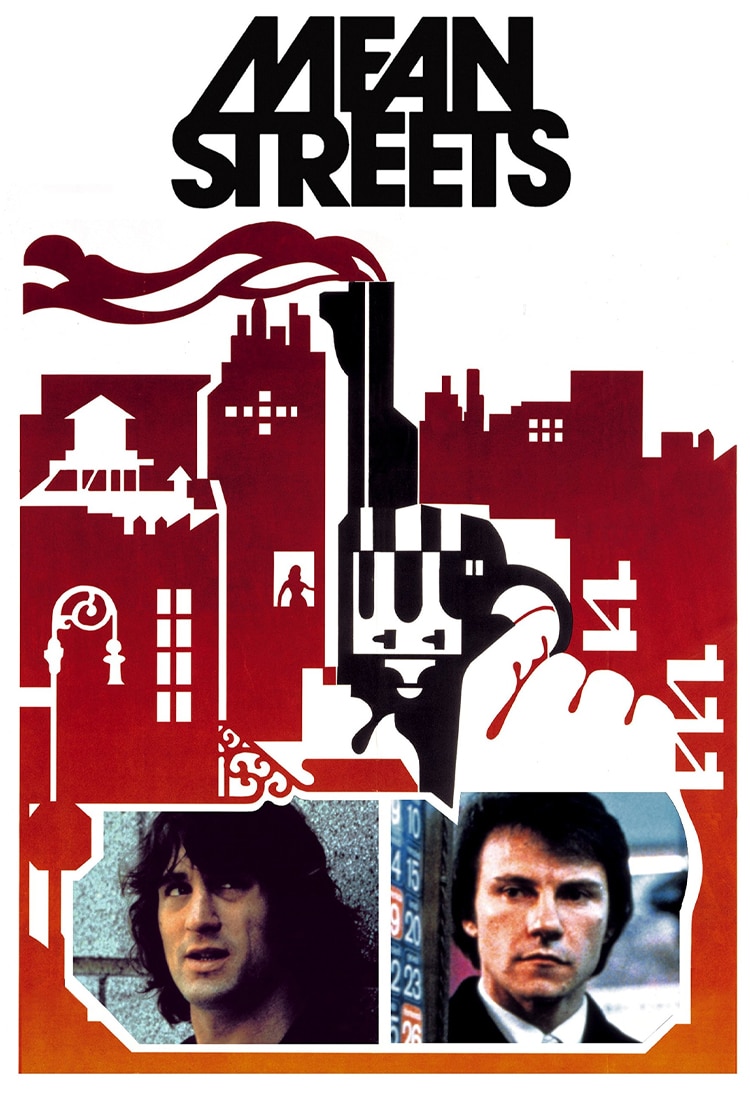 Director: Martin Scorsese
Cast: Robert De Niro, Harvey Keitel, David Proval
Mean Streets , which can be considered the debut film of Martin Scorsese and Robert De Niro, contains pieces of Scorsese's youth. Set in the Little Italy district of New York, where he grew up, the film tells the story of two street gangsters who want to establish themselves in the mafia.
---
21) RockNRolla (2008) | IMDb: 7.3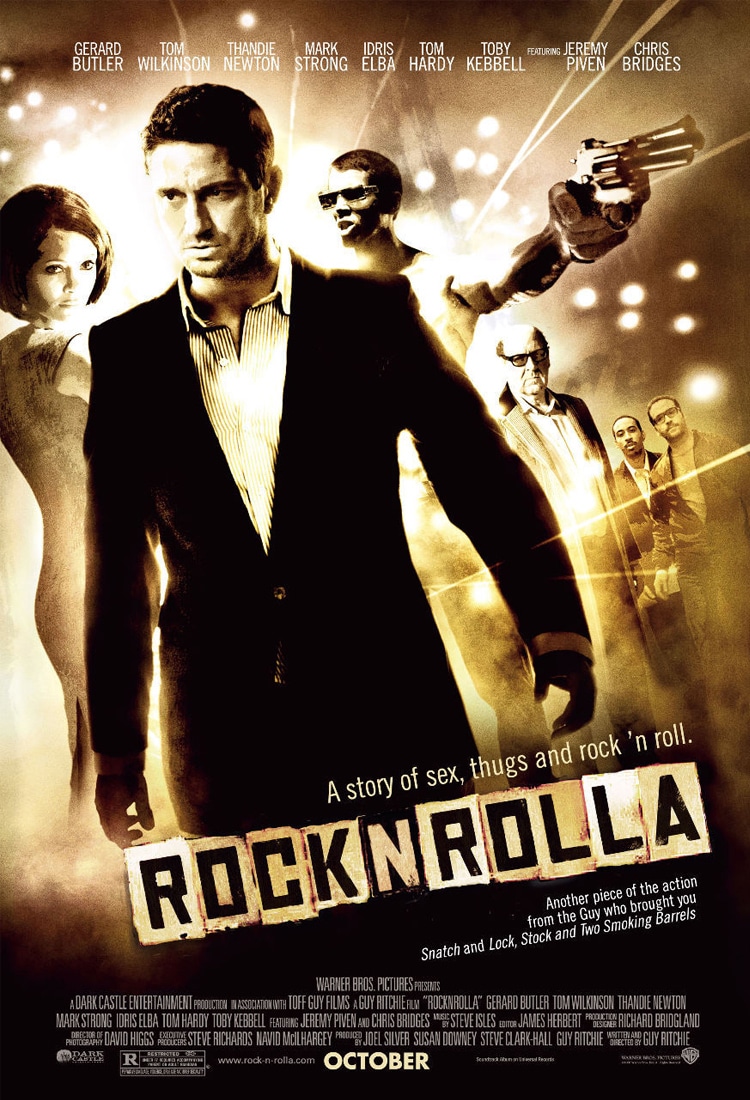 Director: Guy Ritchie
Cast: Gerard Butler, Tom Wilkinson, Idris Elba
When Guy Ritchie is mentioned, the first thing that comes to our mind is the excellent gangster movies he shot. RockNRolla is one of the most popular modern gangster movies, which is quite entertaining when appropriate and serious when appropriate. RockNRolla, directed by the master director of crime films Guy Ritchie, takes us to the criminal underworld of London. This underground crime world is ruled by an old school bully named Lenny Cole.
---
20) Sexy Beast – Sexy Animal (2000) | IMDb: 7.3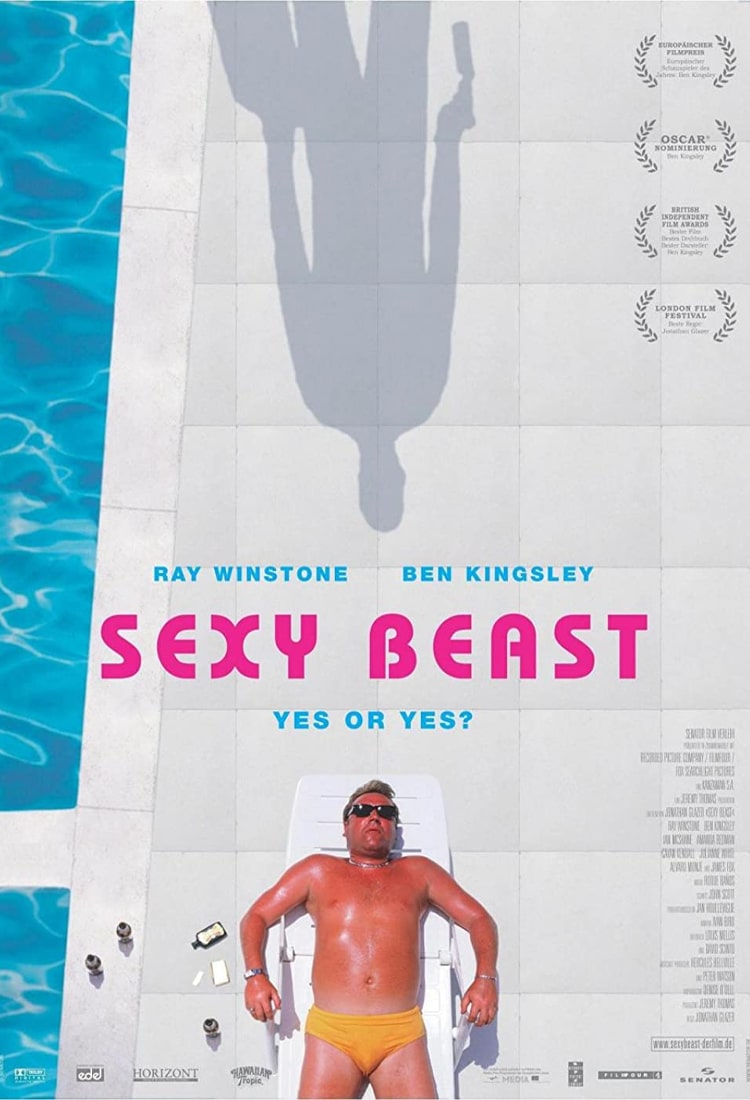 Director: Jonathan Glazer
Cast: Ray Winstone, Ben Kingsley, Ian McShane
Another British gangster movie, Sexy Beast , deals with the story of Gary Dove, who retired from his gangster years. Continuing his life away from sight in Spain, Gary's peace does not last long. Because his old gang mate Don Logan shows up at Gary's door with a new heist idea and isn't quite willing to take no for an answer.
---
19) Gangs of New York – Gangs of New York (2002) | IMDb: 7.5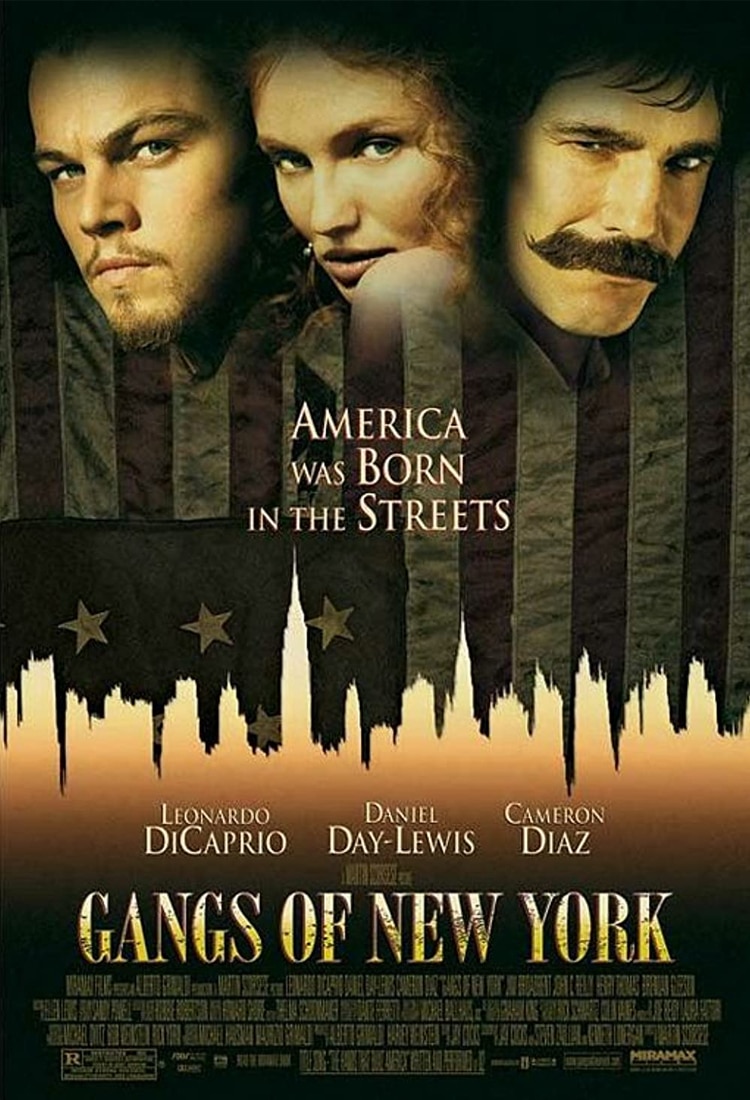 Director: Martin Scorsese
Cast: Leonardo DiCaprio, Cameron Diaz, Daniel Day-Lewis
Set in New York in the 1800s, Gangs of New York takes its subject from the war of the gangs who really lived at that time. The film tells the story of a war between a gang who came to the United States a few generations ago and consider themselves New York natives, and Irish newcomers to New York. Also in the movie is the famous gangster of the time, Bill the Butcher.
---
18) Blow – White Devil (2001) | IMDb: 7.6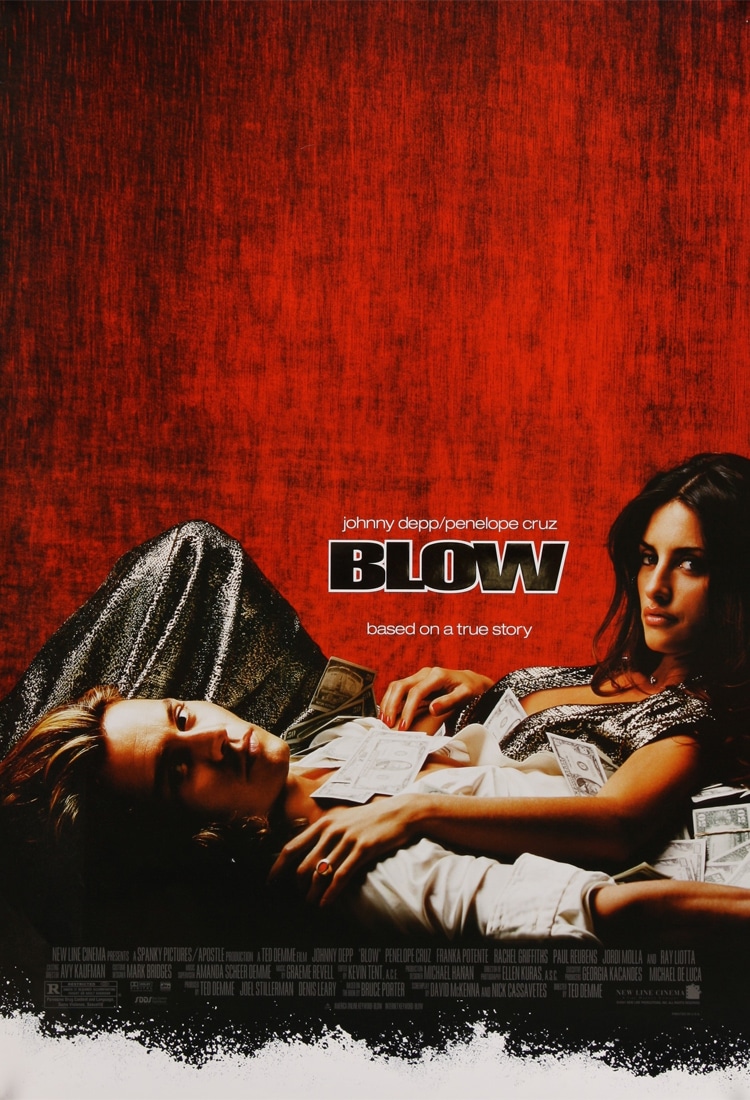 Director: Ted Demme
Cast: Johnny Depp, Penelope Cruz, Franka Potente
Processing the true story of the famous US cocaine smuggler, George Jung, Blow takes us to the 1970s drug world in Los Angeles. Moving to Los Angeles to get rich, Jung first smuggled marijuana; then he gets into the cocaine business thanks to Carlos Lehder, a member of the notorious Medellín Cartel, whom he met in prison.
---
17) Miller's Crossing – Miller Junction (1990) | IMDb: 7.7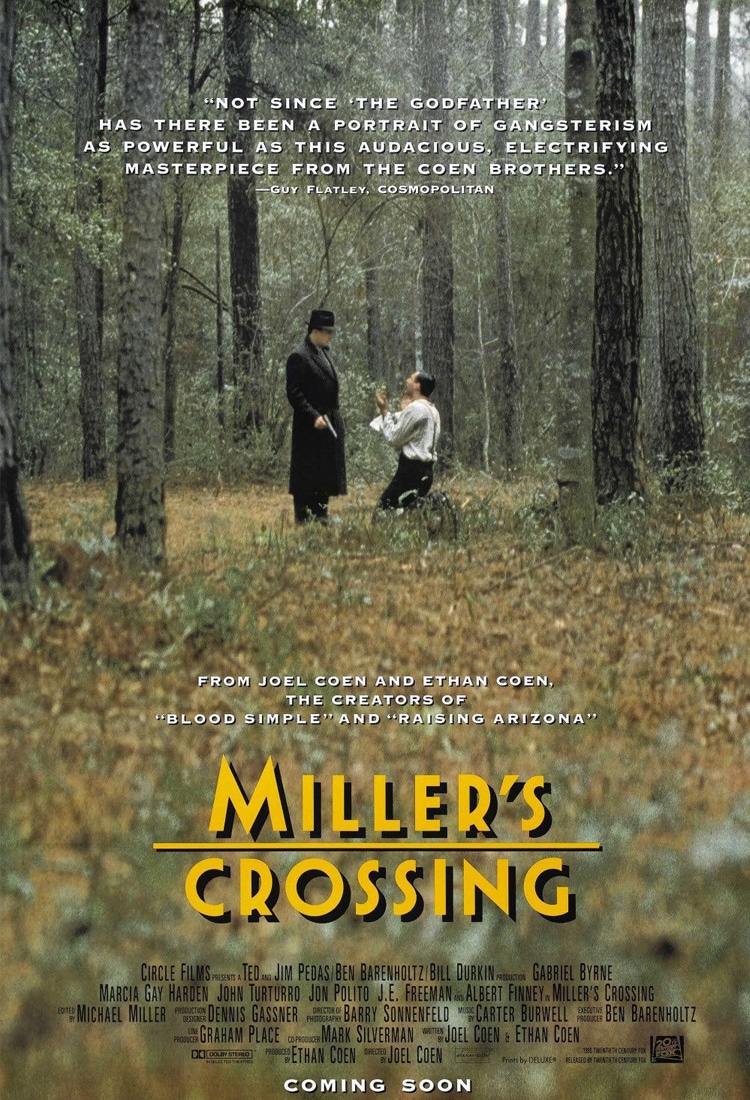 Director: Joel Coen, Ethan Coen
Cast: Gabriel Byrne, Albert Finney, John Turturro
Based on Dashiell Hammett's novels Red Harvest and Glass Key, Miller's Crossing is adapted and directed by the famous Coen brothers. Set in the 1930s, when the gang wars were at their peak, the film deals with the gangster war between the two most important gangs of the city.
---
16) Donnie Brasco – The Mole (1997) | IMDb: 7.7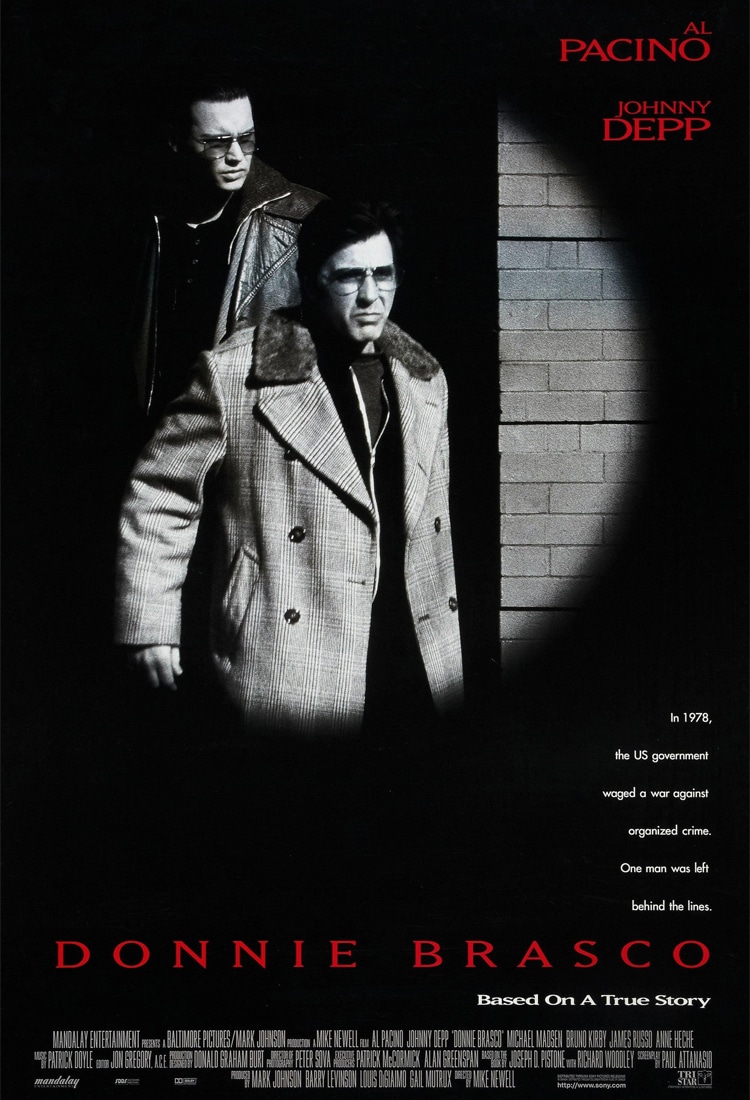 Director: Mike Newell
Cast: Al Pacino , Johnny Depp, Michael Madsen
Inspired by the true story of an FBI agent named Joseph D. Pistone, Donnie Brasco deals with Pistone's infiltration into the Bonanno crime family. Infiltrating the mafia under the pseudonym Donnie Brasco, Pistone begins to immerse himself in the character he plays day by day. As a result, he finds himself in the middle of a very difficult situation to get out of.
---
15) Road to Perdition – Road to Perdition (2002) | IMDb: 7.7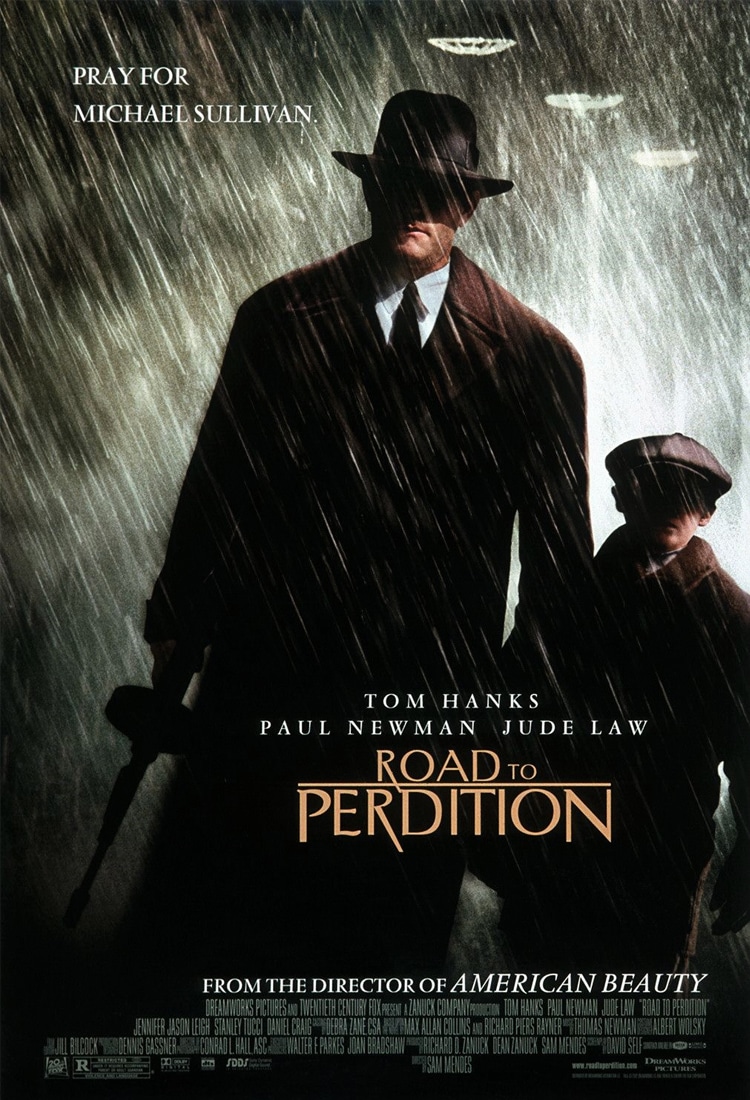 Director: Sam Mendes
Cast: Tom Hanks , Tyler Hoechlin, Rob Maxey
Slightly inspired by true events, Road to Perdition is based on the comic book of the same name created by Max Allan Collins and Richard Piers Rayner. In the movie, which takes place in 1931 during the Great Depression, a mafia boss; As a result of his son's plotting, he goes after his hitman, who is closer to him than his son.
---
14) A Bronx Tale – An Invitation to Temptation (1993) | IMDb: 7.8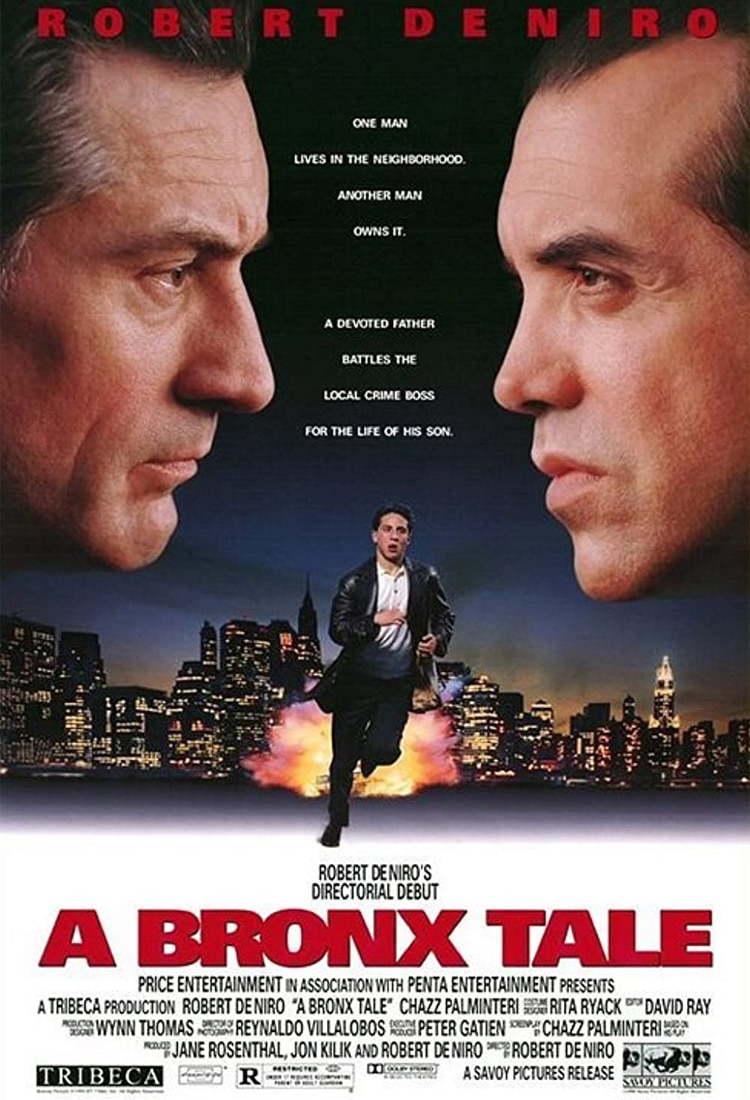 Director: Robert DeNiro
Cast: Chazz Palminteri, Robert De Niro, Lillo Brancato
A Bronx Tale , Robert De Niro's directorial debut, became one of the popular gangster films of the era, along with films such as Goodfellas. In the movie set in New York/Bronx, we watch the story of a boy named Calogero getting involved in the Italian mafia. Calogero's father is doing his best to reverse this situation.
---
13) Bonnie and Clyde – Bonnie and Clyde (1967) | IMDb: 7.8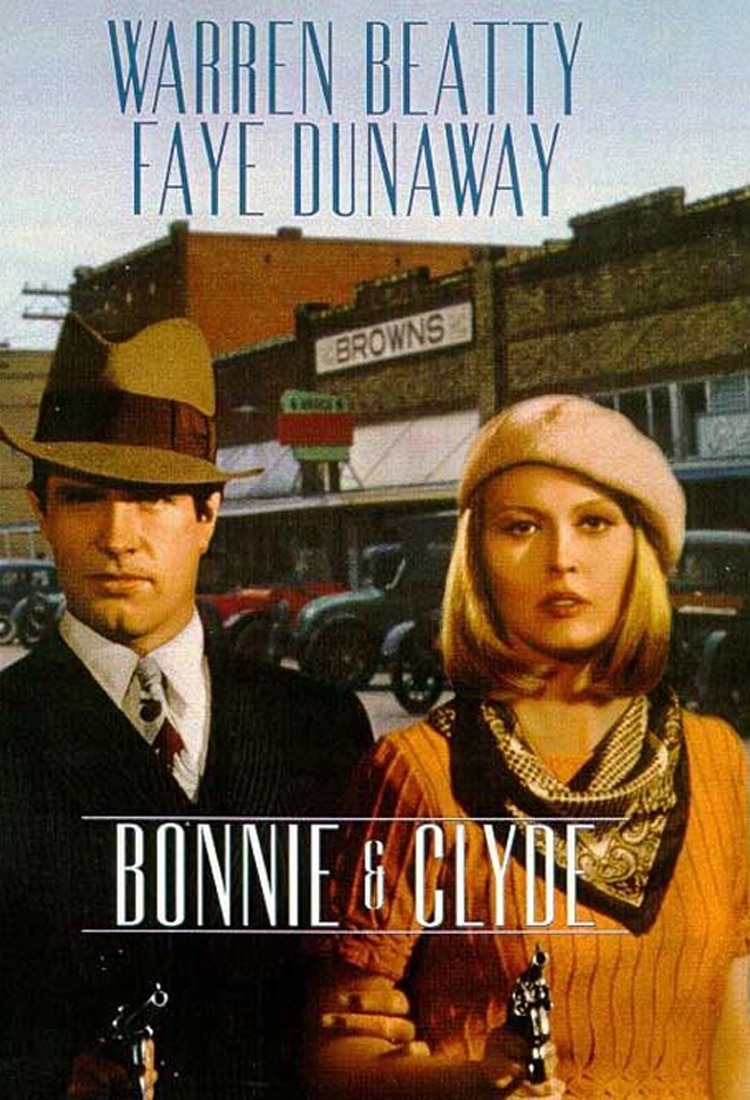 Director: Arthur Penn
Cast: Warren Beatty, Faye Dunaway, Michael J. Pollard
Bonnie and Clyde , the most famous and must-see gangster movie in the history of cinema, tells the story of these two crazy gangsters who really lived. Bonnie and Clyde, who were involved in many robberies and murders during their active years, were killed by shooting their vehicles in the trap set by the police in 1934.
---
12) American Gangster – American Gangster (2007) | IMDb: 7.8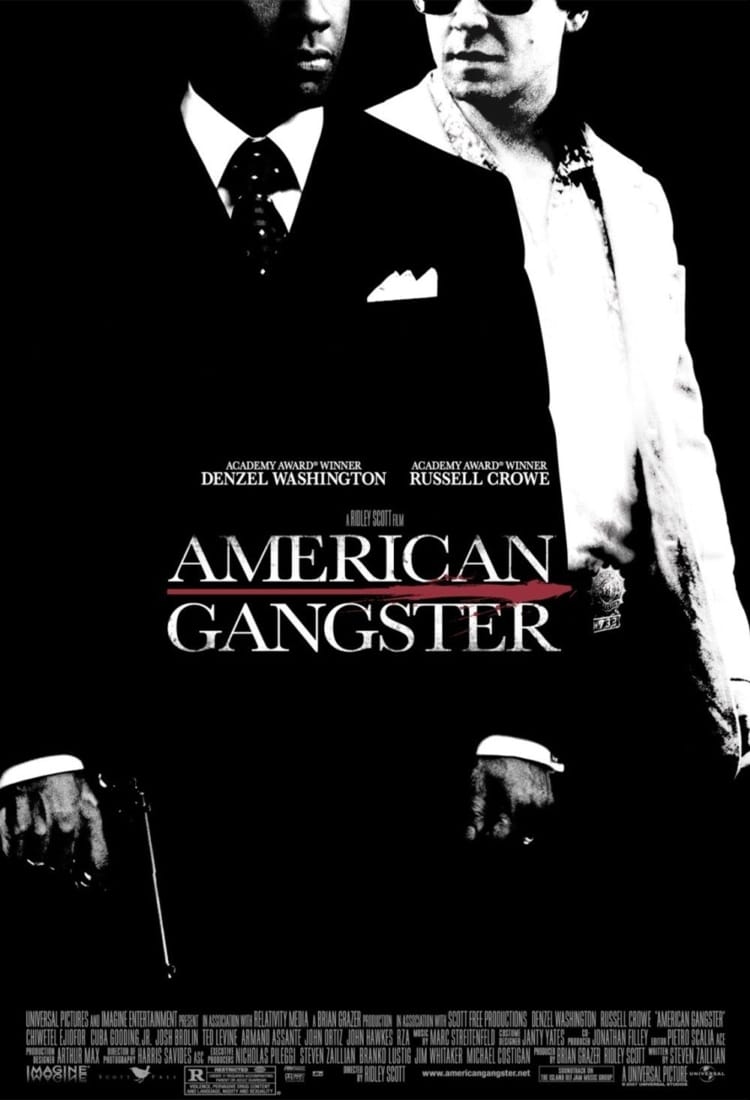 American Gangster , which is about the life of the famous drug lord Frank Lucas, who thought to smuggle heroin into the USA in the coffins of soldiers, bears the signature of the famous director Ridley Scott. The movie is about the cat-and-mouse chase between Frank Lucas, who once controlled all the drug trafficking in New York, and police detective Richie Roberts.
---
11) The Untouchables – The Untouchables (1987) | IMDb: 7.9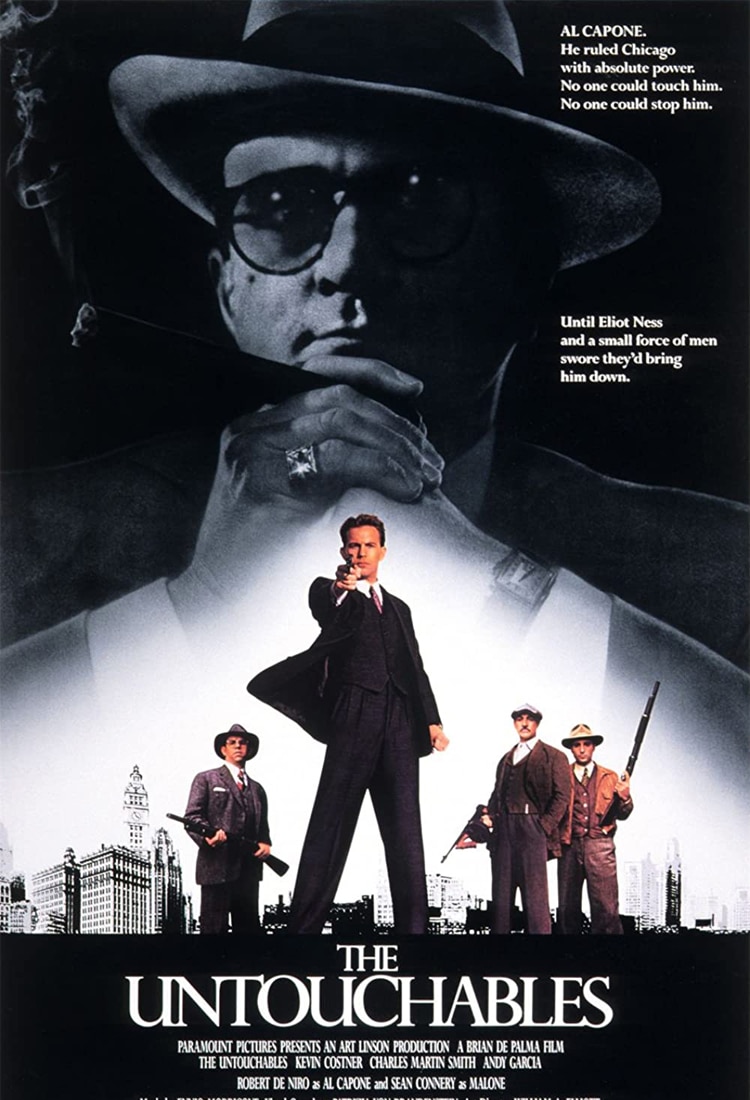 Director: Brian De Palma
Cast: Kevin Costner, Sean Connery, Robert De Niro
Al Capone , one of the world's most famous mafia bosses, was active in Chicago during the US prohibition era. It can even be said that Al Capone was the owner of Chicago. This kingdom survived until the newly appointed FBI agent Eliot Ness arrived in Chicago. In The Untouchables, Al Capone's life and his struggle with FBI agent Elio Ness are told.
---
10) The Killing – Final Impact (1956) | IMDb: 8.0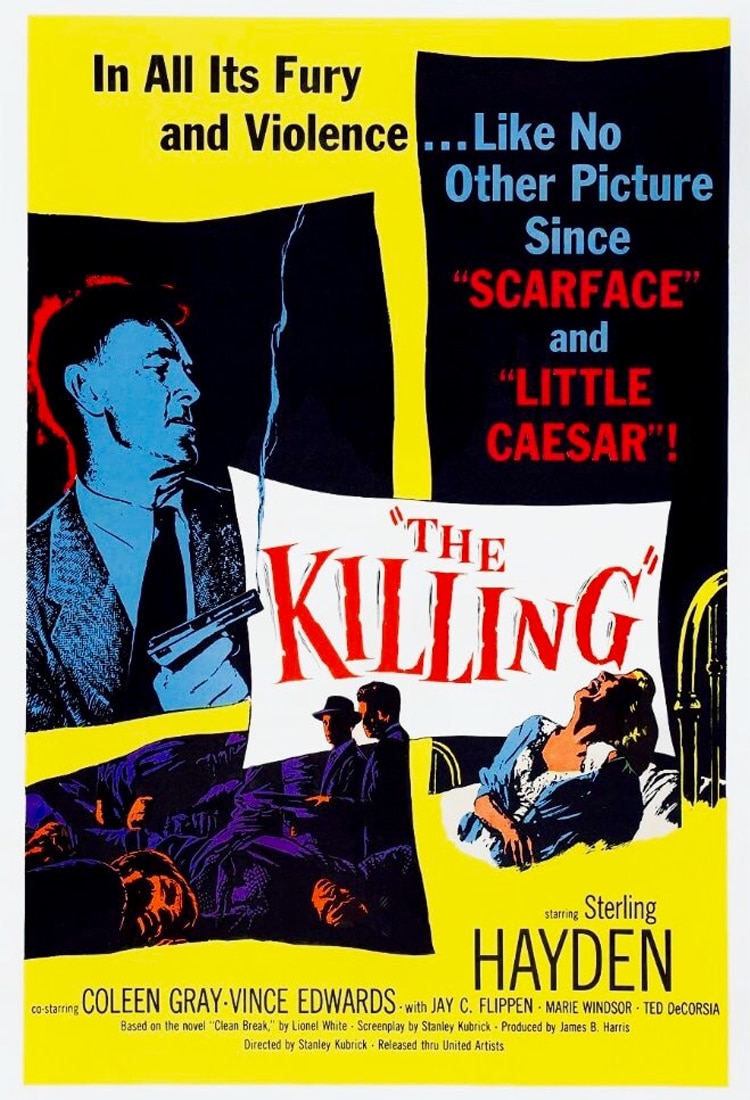 Director: Stanley Kubrick
Cast: Sterling Hayden, Coleen Gray, Vince Edwards
The Killing , which introduced Stanley Kubrick to Hollywood and was his first studio film, deals with an old-school heist story. Coming out of Alcatraz prison, Johnny Clay wants to make one last hit and end his days of gangsterism. Clay's plan, who tries to rob the hippodrome's money counter during the horse race, is not very bright, but he opens up a lot of work for himself.
---
9) Lock, Stock and Two Smoking Barrels – From Fire to Heart, From Mind to Smoke (1998) | IMDb: 8.2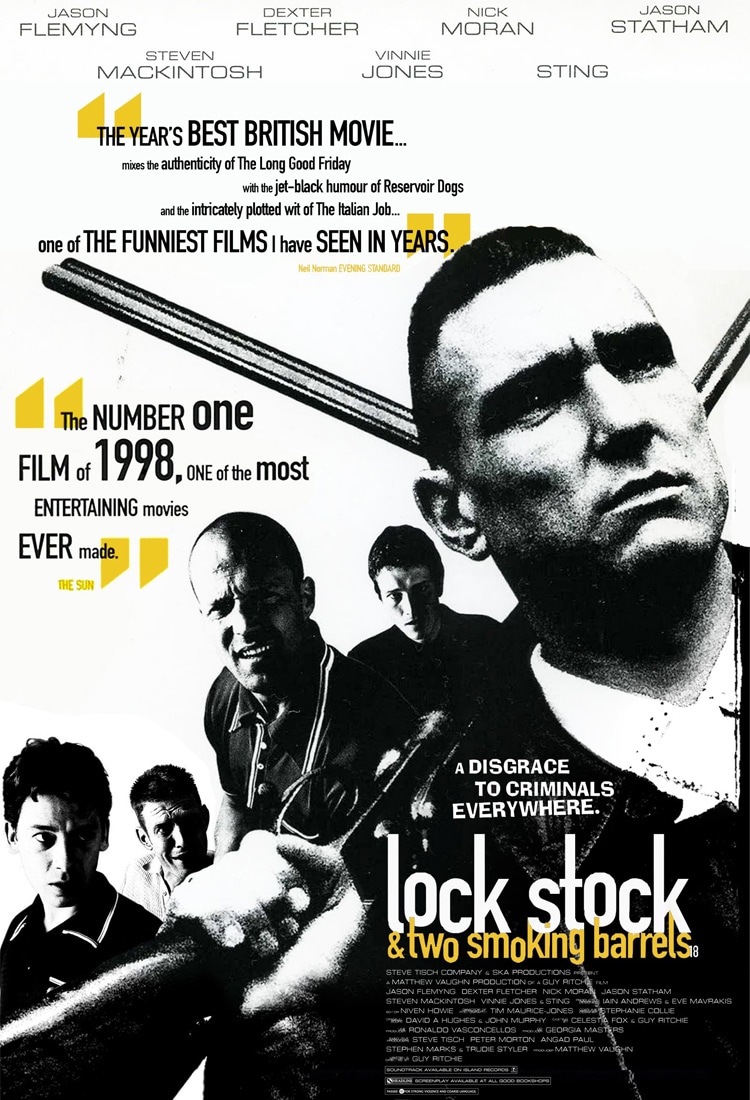 Director: Guy Ritchie
Cast: Jason Flemyng, Dexter Fletcher, Jason Statham
Four gambler friends, who grew up together, are constantly trying to make money by getting involved in illegal business. Four friends, who come across Harry, nicknamed The Baptist, with their hard-earned 20 thousand pounds, want to play poker with him. Eddie, the most skilled at poker, sits at the table but loses as a result of Harry's trick. The four friends have a full week to repay their debts.
---
8) Snatch – Battle (2000) | IMDb: 8.3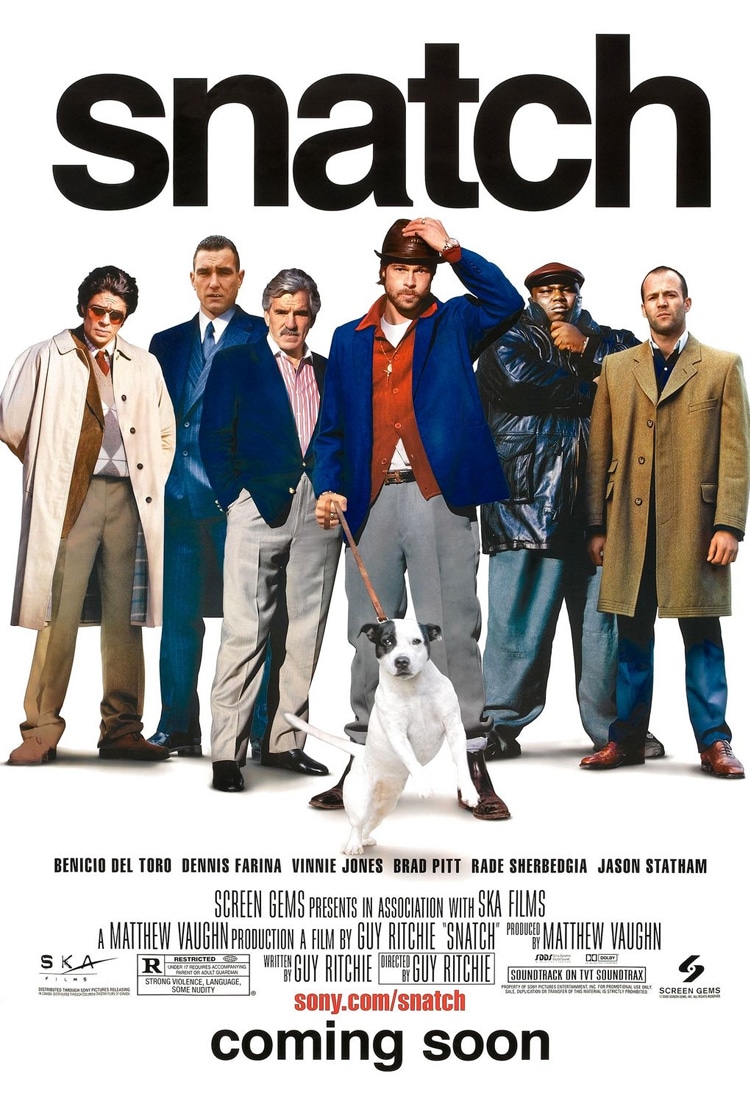 Director: Guy Ritchie
Cast: Brad Pitt , Jason Statham, Stephen Graham
After watching Lock, Stock and Two Smoking Barrels, Brad Pitt calls Guy Ritchie and asks for a role in Snatch , which opens the doors to London's criminal underworld. In the movie; The story of various small-time gangsters chasing a stolen diamond is on one side, and the story of illegal boxing punters on the other. It is also worth noting that the name of Jason Statham's character in the movie is interestingly Turkish.
---
7) Scarface – Scarface (1983) | IMDb: 8.3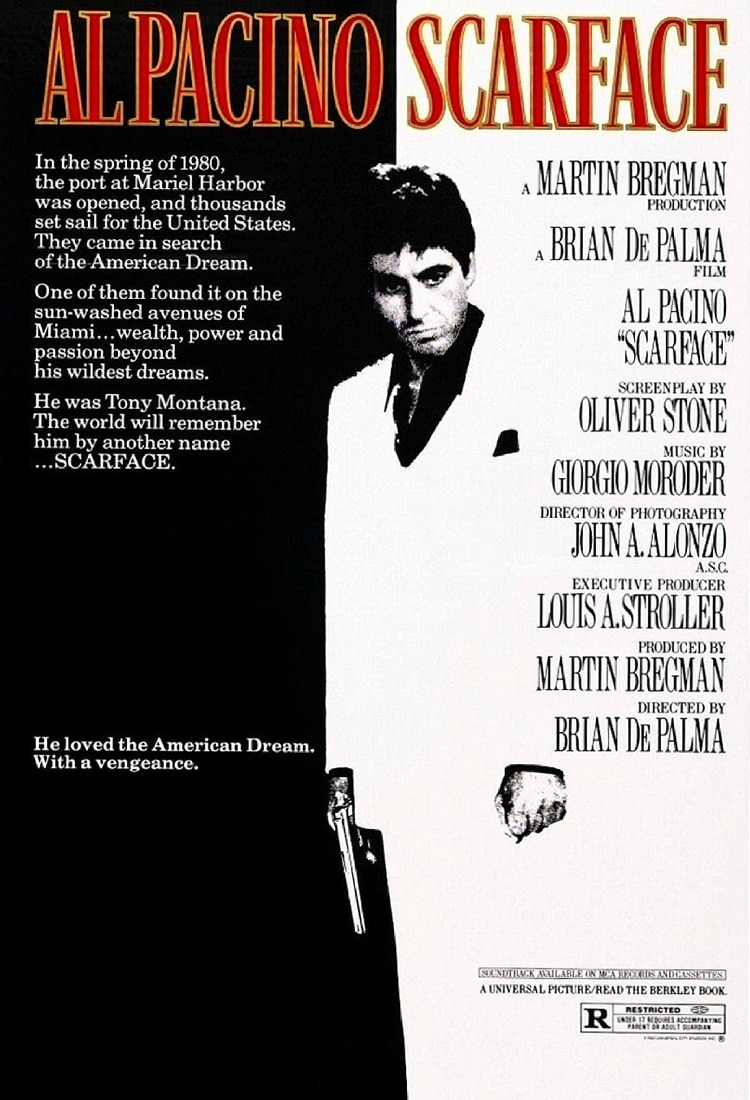 Director: Brian De Palma
Cast: Al Pacino, Michelle Pfeiffer, Steven Bauer
Although it is not well known, Scarface , inspired by Miami's famous drug lord and gangster Mario Tabraure, is Brian De Palma's most famous film. Scarface tells the story of Cuban refugee Tony Montana, from small-time gangster to mafia boss.
---
6) Once Upon a Time in America (1984) | IMDb: 8.4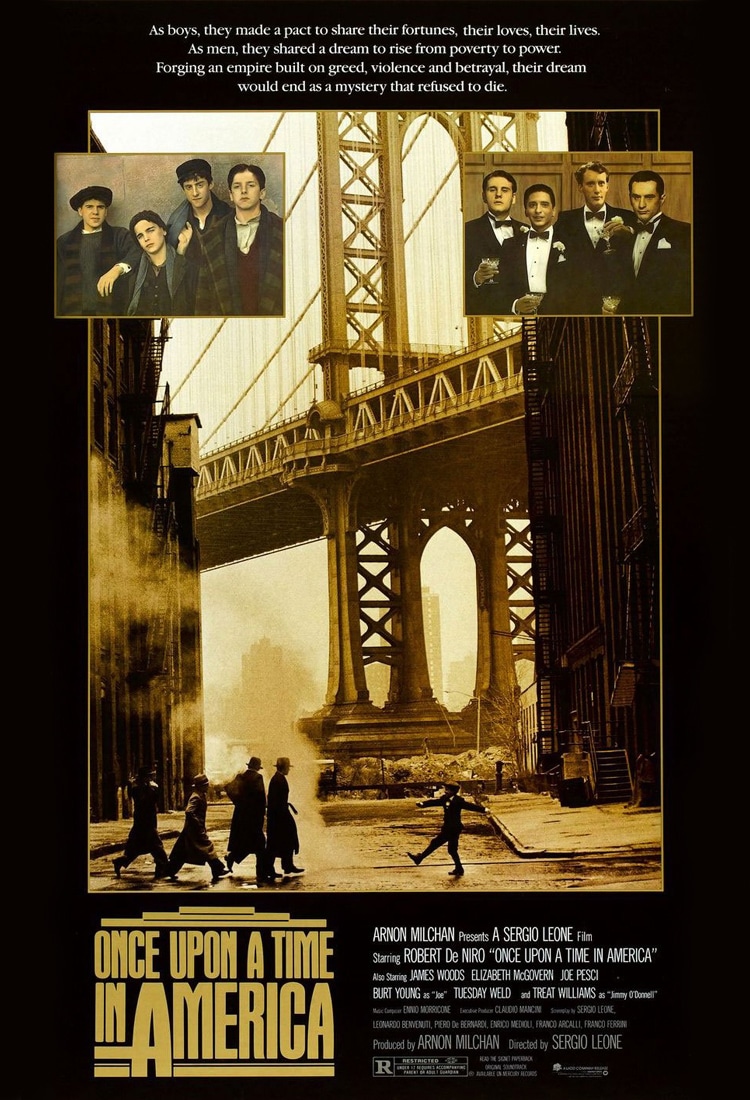 Director: Sergio Leone
Cast: Robert De Niro, James Woods, Elizabeth McGovern
Once Upon a Time in America by Sergio Leono tells the story of the gangster David 'Noodles' Aaronson and his gang of close friends. The movie, in which we watched the time periods of many characters from their youth to their adulthood, was chosen as the worst movie of the year because the producer cut the footage for more than half an hour. The film, which was later re-released with cut scenes, was selected as the best film of the last 10 years in the year it was released.
---
5) The Usual Suspects – The Usual Suspects (1995) | IMDb: 8.5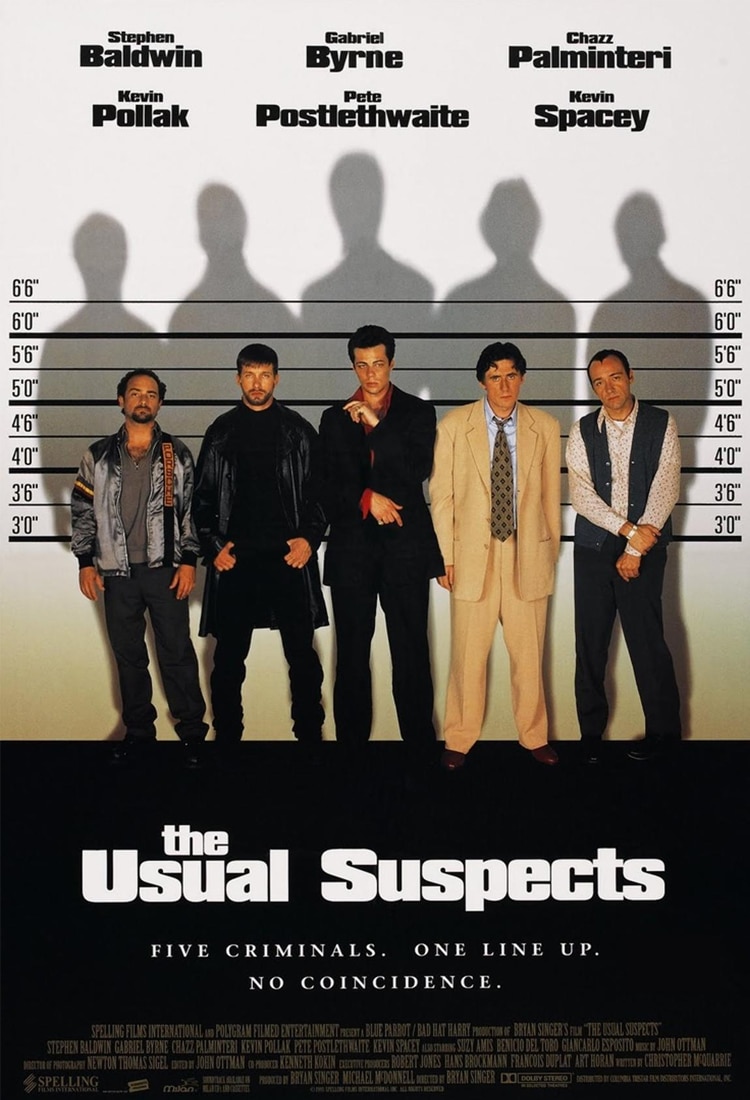 Director: Bryan Singer
Cast: Kevin Spacey, Gabriel Byrne, Benicio Del Toro
The Usual Suspects is one of the most important and most famous crime films ever made in the neo-noir genre. In the movie, cops find 27 bodies and $91 million in an exploding boat. A Hungarian terrorist with burns and a man named Verbal Kint survived on the boat. Kint, who was interrogated by the police, begins to explain how the events developed, starting from 6 weeks ago.
---
4) Cidade de Deus – City of God (2002) | IMDb: 8.6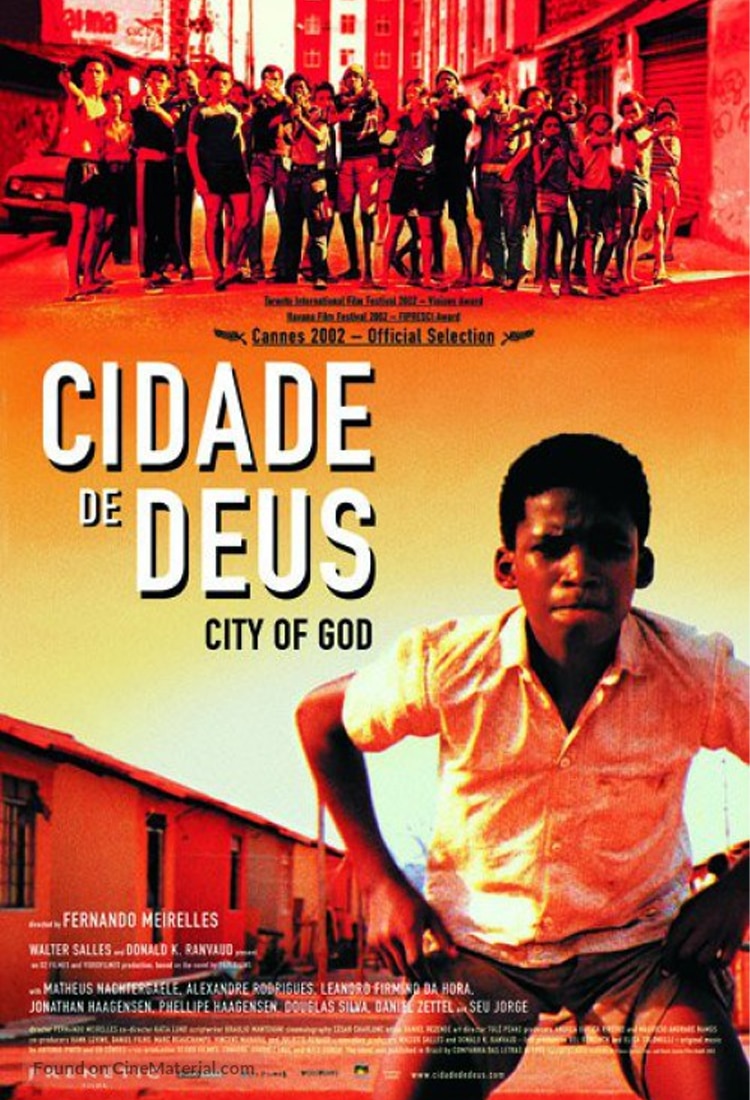 Director: Fernando Meirelles, Katia Lund
Cast: Alexandre Rodrigues, Leandro Firmino, Matheus Nachtergaele
When we move away from Hollywood cinema, Cidade de Deus is one of the best gangster movies that catches the eye. The film, which won 49 awards, including the BAFTA award for Best Screenplay, takes place in Brazil's slum called City of God . The film tells the story of two friends living in this neighborhood where drug use, carrying and using guns are normal even among primary school children.
---
3) Goodfellas – Best Friends (1990) | IMDb: 8.7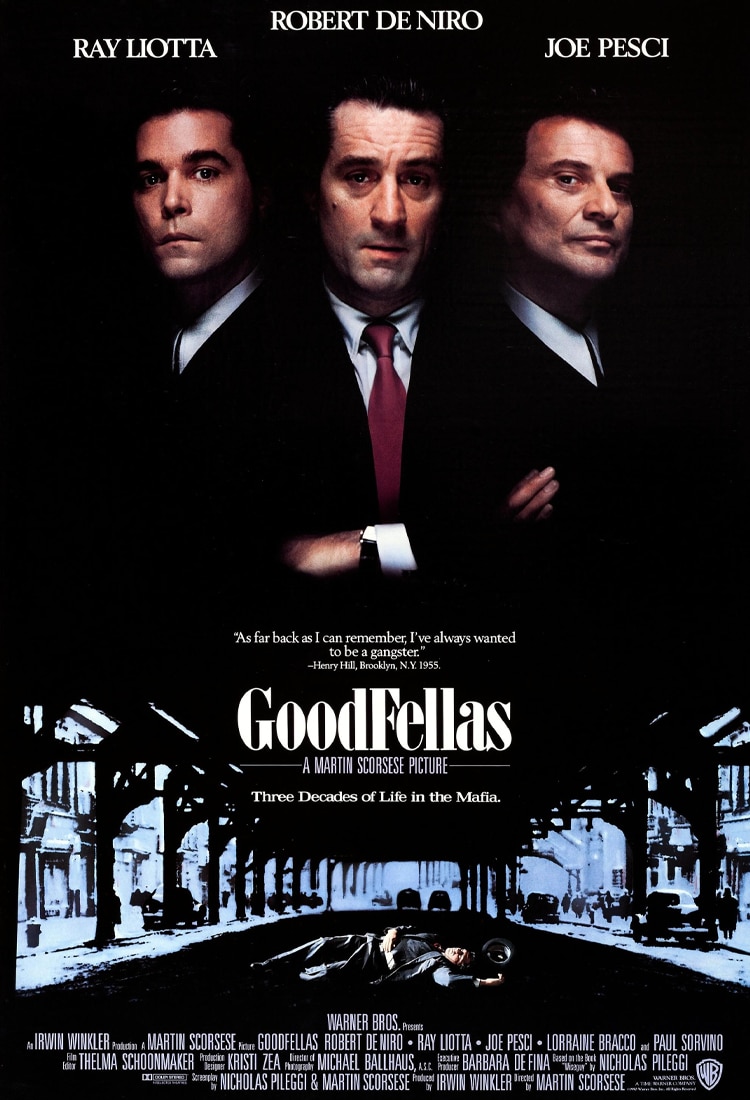 Director: Martin Scorsese
Cast: Robert De Niro, Ray Liotta, Joe Pesci
Adapted from Nicholas Pileggi's novel named Wiseguy, Goodfellas is one of the most famous productions in the gangster movies frenzy. The film tells the story of a gangster named Henry Hill, who took part in the Lucchese crime family. That's why Goodfellas is mostly based on real-life events.
---
2) Pulp Fiction – Pulp Fiction (1994) | IMDb: 8.9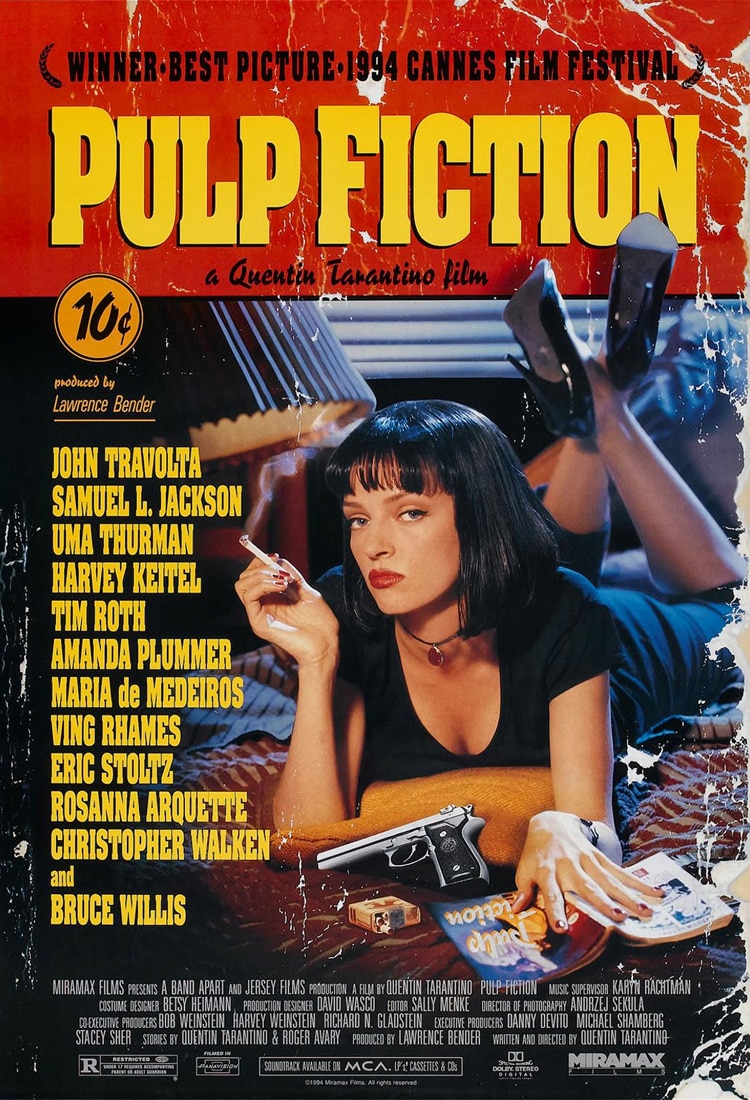 Director: Quentin Tarantino
Cast: John Travolta, Samuel L. Jackson, Uma Thurman
If you are looking for a fun gangster movie, Tarantino's cult movie Pulp Fiction will be your first stop. Although Pulp Fiction, which includes all kinds of small and large-scale gangsters, may seem like another "soup" for the first time, we can't help being amazed when the stories of all the characters come together.
---
1) The Godfather Trilogy (1972, 1974, 1990) | IMDb: 9.2 , 9.0 , 7.6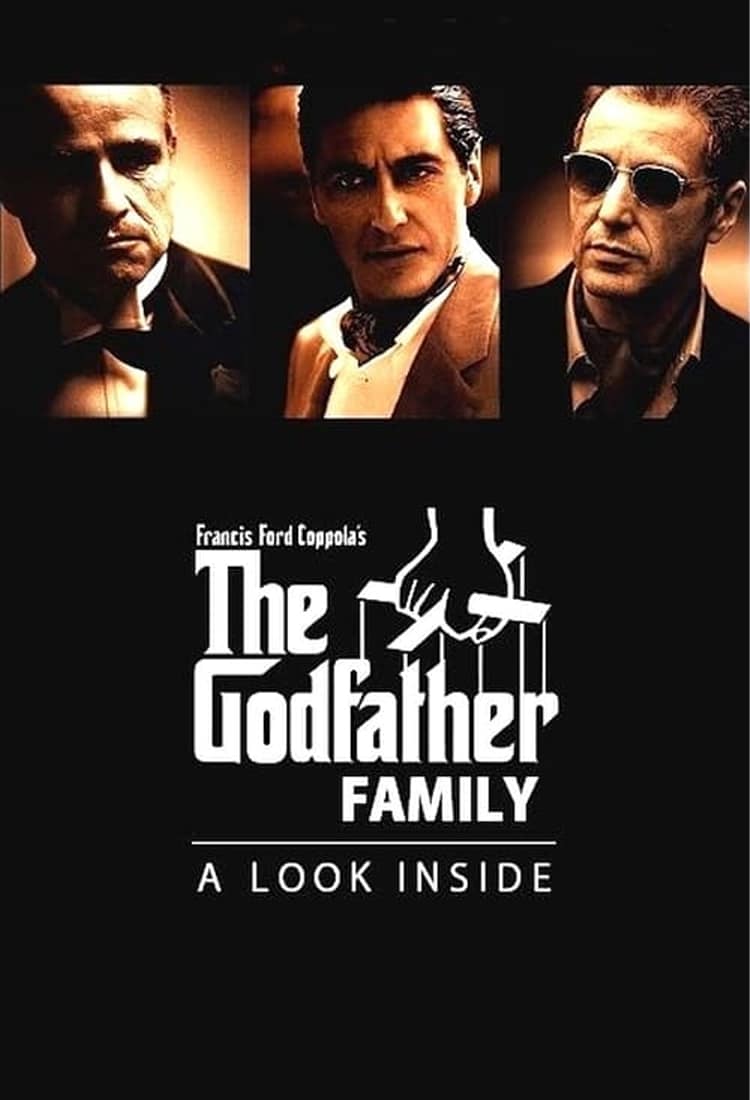 Director: Francis Ford Coppola
Cast: Marlon Brando, Al Pacino, Diane Keaton, John Cazale, Robert De Niro
We all know the Baba trilogy, and maybe we've watched it many times. But it should be noted that; There's no wrong time to rewatch the Daddy trilogy. The most famous mafia-gangster movie series of all time, The Father brings the story of 5 crime families that once ruled New York.
---
Other movie lists you can browse after our list of gangster movies:
This post is also available in: Türkçe