10  – Coach Carter  (2005)
          IMDb Rating: 7.3
       Basketball player Ken Carter, whose past career was full of success, comes to Richmond High School this time as a coach. He sets the rules and signs a contract with the players, such as the players coming to the matches in suits and wanting the school average above 2.3. This contract is not welcomed by the parents and the school and causes events. However, Coach Carter is determined and continues his struggle.
Starring Samuel L. Jackson and Channing Tatum.
9-  The Theory of Everything (2015)
     IMDb Rating : 7.7
        British physicist and famous scientist Stephen
hawking
In the first years of his career, he suffers from ALS, which gradually reduces his physical capacity. Despite everything, Hawking is prepared and knows what to do. He does not give up and will not give up. The film, which focuses on his relationship with Stephen Hawking, who surprised everyone with his intelligence, and his wife Jane Wilde, won many awards. Eddie Readmayne in the lead role. mesmerizes us with its incredible performance.
8- October Sky (2000)
     IMDb Rating: 7.8
       The future profession of a young man named Homer Hickam, who lives in the town of Coalwood, is clear; "mining". Homer, who has no other choice, does not think so. The Sputnik satellite launched into space in 1957 activates Homer. Homer, who started working with his three friends, does not care about those who do not believe in them and has no intention of giving up despite the events that happen to them.
7- 
Men Of Honor – A Man of Honor (2001)
    IMDb Rating: 7.2
Carl, the son of a farmer from Kentucky, is a boy with big dreams and therefore leaves Kentucky. His last words to his father before leaving, "Never give up and be the best" is now a philosophy of life for Carl. Carl who joined the navy is here He will not be left alone by the sergeant.        
In the movie inspired by a true story, a giant name like
Robert De Niro
welcomes us.
6-
The Pursuit Of Happyness (2007)    IMDb Rating: 8.0
Chris Gardner
, ready to do anything for his family He is abandoned by his wife after his business goes wrong. His 5-year-old son, Christopher, is left behind. Chris, who is talented in sales and marketing, pursues a job that pays well. Difficulties do not leave him and he does not even have a place to stay. Despite all these difficulties, Chris clings to life until the end. and with the support of his son, he begins to overcome the problems.
5- 
 Whiplash 
      IMDb Score : 8.5
     The Shaffer School of Music is the most prestigious school in the region. The young 19-year-old Andrew Neiman is a first-year student and a successful drummer. One day, while working alone, he catches the attention of the conductor Terrence Fletcher and jumps to the top and starts playing in the conductor's class. Terrence Fletcher, on the other hand, is very strict, Despite his disciplined, angry personality, he is a respected name. Getting Fletcher's favor will show a superhuman effort for Neiman. Despite the problems he has with his family and girlfriend, Neiman has no intention of giving up.
The leading cast of the movie includes master actor JKSimmons and successful name Miles Teller.
3-  42 (Jackie Robinson) – 2013
    IMDb Score: 7.5 
 The film, which is about the life of legendary baseball player Jackie Robinson, is almost a lesson on fascism. The boss of the team is determined to recruit Jackie Robinson despite all the criticism and risks. Robinson joins the Brooklyn Dodgers and justifies the boss with his performance. Despite all this, the pitch The outbursts do not end in him, and he shows everyone that he will not give up by getting the support of his teammates.

In the lead roles, there are master names such as Harrison Ford, Lucas Black and Alan Tudyk.
2-

Remember The Titans (2000)

    IMDb Rating: 7.8
In 1971, in Alexandria, Virginia, American football has become an indispensable sport among the people. When the state gets dark, blacks and whites high school are combined. This decision draws a lot of reaction and causes events.  and it reflects on sports. In this mixed team made of blacks and whites, the debates do not end in terms of both players and coaches. However, the black coach of the team, Herman Boone, makes the necessary plans and instills brotherhood in the team. Success will be inevitable in these friendships in love.
The cast includes giant names such as Denzel Washington and
Ryan Gosling
.
      1-  Glory Road – Towards Glory (2006)
           IMDb Rating: 7.2
Don Haskins is a basketball coach and one day he suddenly receives a phone call and becomes the coach of Texas Western University. The coach encounters great difficulties in Texas, where he comes with great hopes, but does not give up the struggle. Despite this, he hunts for talent and manages to recruit 7 talented black players. Racism and fascism are very common in 1965-66 America. These players are not welcomed and are subjected to many attacks. These attacks lock the team together and a great team emerges.
The movie is inspired by a true story and stars Josh Lucas.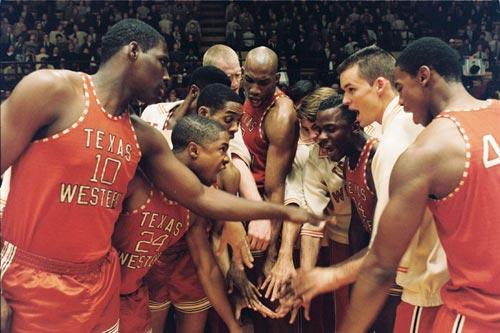 This post is also available in: Türkçe