The Department of Anthropology is the department that is based on the science of Anthropology, which literally means "anthropology" and investigates the lifestyles, cultures and physical structures of people living both in the present and in the past, thus leading to the illumination of the dark periods of history. Eric Wolf, one of the well-known anthropologists, used the following words when describing anthropology: "Anthropology is the most scientific of the humanities and the most humane of the sciences." Let's go into more details about the department for university candidates who are interested in the Department of Anthropology and want to learn about the department.
---
What is the Department of Anthropology?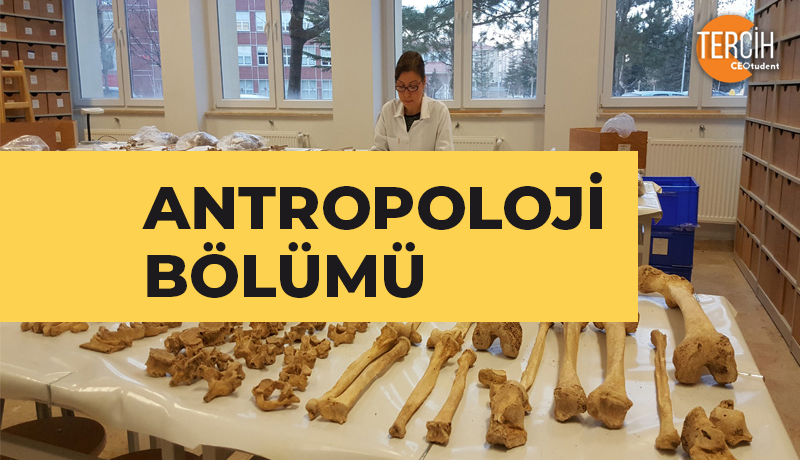 The discipline of anthropology, which was seen as a part of natural history at first, developed rapidly in the following stages and separated from natural history and was positioned as a discipline in its own right. 19. By the end of the century, it had become the current modern discipline of anthropology.
The Department of Anthropology continues its studies by using modern technological opportunities while examining people's lives, works of art, cultures, physical structures and changes over time. In the Department of Anthropology, the human being is tried to be understood both socially and biologically. It investigates how people have adapted to various changes that have occurred throughout history and in prehistoric times, and in what ways they have changed biologically and culturally during this adaptation, and tries to prove it using scientific methods.
---
How Many Years is the Education Period of the Department of Anthropology?
The Department of Anthropology is a 4-year undergraduate program. In order to choose any Anthropology Department, it is necessary to get enough points from the Equal Weight score type. Those who graduate from the Department of Anthropology in the Faculties of Language, History and Geography and the Faculties of Science and Letters in universities receive the title of "Anthropologist". The first institution to carry out anthropological studies in Turkey was the Turkish Anthropology Study Center, which was established in 1925 under the roof of Istanbul Darülfünunu Faculty of Medicine.
---
What are the Anthropology Department Courses?
The department offers many courses to students during the 4-year undergraduate period. These are as follows:
● Primatology
● Evolution and History of Evolution
● Principles of Genetics
● Ecology and Culture
● Races
● Genetic Foundations of Evolution
● Biological Anthropology
● Anthropology of Handprints
● Paleoanthropology
● Family Anthropology
● Biological Change
● Human from Past to Present
● Psychological Anthropology
● Statistics
● Photometry
● Roentgenometry
Universities with Anthropology Departments in Turkey are as follows:
Yeditepe University
Istanbul University
Hacettepe University
Ankara university
Van Yüzüncü Yıl University
Mardin Artuklu University
Burdur Mehmet Akif Ersoy University
Kirsehir Ahi Evran University
Hittite University
Hatay Mustafa Kemal University
---
What Do Anthropology Graduates Do?
Graduates of the Department of Anthropology who receive the title of "Anthropologist" can find employment in both the private and public sectors. Anthropologists who show the expected success in KPSS are employed in the Ministry of Forestry, Agriculture and Rural Affairs. One of the career paths frequently preferred by the graduates of the Department of Anthropology, who have career opportunities in private and public museums, is academics. However, Anthropologists can work in
museums
, magazines, various special projects.
---
How Much Salary Do Anthropology Graduates Get?
In our country, the salary that anthropologists will receive if they work in their field varies between 3.300 TL and 4.500 TL. Of course, there is a difference between private and public salaries. Salary will vary depending on the institution and position.
---
What are the Challenges of the Department of Anthropology?
The Department of Anthropology, as a science, is one of the most important branches of science that has a role in illuminating the lost past of humanity. However, the fields in which the graduates of the Department of Anthropology can work as a scientist are limited in our country. The biggest problem of Anthropology, which is a department that is not appointed every year with KPSS, is the limited work area. Continuing as scientists It would make sense for anthropologists to continue as academics.
---
Who Can Succeed in Anthropology?
Anthropology Department is recommended to be preferred by candidates who are interested in different cultures, evolution theory, human biology and history. People who want to study Anthropology as one of the disciplines at the junction of humanities and positive sciences should be interested in research, have developed
analytical thinking
skills, and be interested in social sciences.
---
What are the Job Opportunities of the Anthropology Department?
Graduates of the Department of Anthropology can work in many public institutions with KPSS, as well as in institutions such as museums and magazines in the private sector, or they can follow a completely different career path. Because anthropologists specialize in anthropology, they can also be successful in industries such as marketing, human resources, and advertising. It is worth mentioning that there are few institutions recruiting Anthropologists with KPSS. We can also say that there will be a need for academicians since it has started to be taught in many universities in Turkey.
---
What are the Foreign Opportunities of the Anthropology Department?
Since the Department of Anthropology is only 50% taught in English at Yeditepe University in Turkey, candidates who dream of a career abroad should definitely improve themselves in English.
---
In Which Fields Can Anthropology Graduates Specialize?
We talked about in which fields anthropologists can find job opportunities. Anthropologists who want to continue their academic life and turn it into a career have many different areas they can specialize in. It will be beneficial for them to take their elective courses on the subjects they want to specialize in, taking into account the guidance of their advisors during their student years. These can be programs such as Paleoanthropology, Social Anthropology, Physical Anthropology.
---
What is the Future of the Department of Anthropology?
The science of anthropology will continue to remain on the scene of science in order to reveal important information, secrets and lives as long as humanity exists. Anthropologists will continue to be needed both in the field of science and in different areas of business life thanks to their anthropology skills. Candidates who want to study this section for their future, as in every other section, must work meticulously on their wishes.
All other university departments can be
found here
.
This post is also available in: Türkçe