How can the habit of preparing a daily schedule change my life? How to make a daily plan ? Why is day planning important? These are often the first questions to be answered for those who want to lead a planned life. The answers to these valuable questions are, "I don't have time for anything", "I have a ton of work to do", "I'm overwhelmed." It allows us to put aside their excuses. In addition, it prevents confusion by guiding you during the transition to a planned life.
We know that even Leonardo Da Vinci prepared daily programs in the 1490s and made an effort to follow these programs. One of the things that da Vinci was very sensitive about was always carrying a notebook with him. Thanks to this habit of da Vinci, he was able to jot down any bright ideas that came to his mind at any moment, and he could stick to his daily plan list. Leonardo Da Vinci's bond with his notebooks was so strong that the famous genius was buried with his notebook. We have shared
Da Vinci's to-do list
with you before.
Especially the 21st. You can settle into a more organized form with small tips from the inability to catch up with anything and plan your day, which is shown as one of the biggest problems of the century.
---
How to prepare a daily plan? What should the daily schedule be like?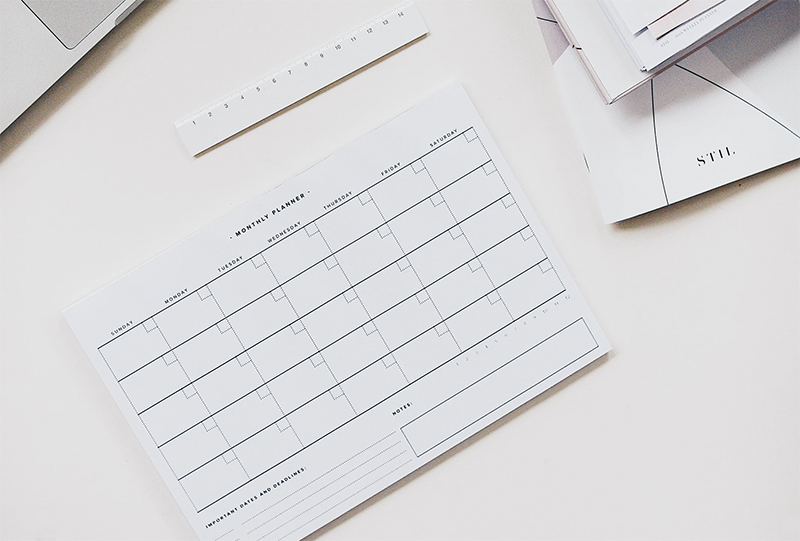 Are you ready to start a planned life? Now we explain everything step by step. Get out the pencils!
1) The first step in preparing a daily schedule: See everything together
Before sitting down at the table to prepare a daily schedule, writing down all the work, homework, and tasks you need to do in small items will guide you how to create a flow when you come to the stage of daily planning.
Being able to predict how your intensity will be during the day will allow you to know how to distribute this intensity throughout the day and to start one step ahead in preparing a daily schedule.
2) Keep the daily schedule in a certain order: Categorize all your responsibilities
You took the first step in preparing a daily schedule and noted all your work, homework, duties and responsibilities in one place. Now it's time to categorize your interrelated tasks. Your daily plan categories may include: Home, Work, Personal Care, Sports, Homework… You can diversify these categories according to your own daily schedule, or you can divide each category into groups within itself if you wish.
Categorizing your responsibilities while preparing a daily plan at home will help you be more conscious and save your time and energy when switching between different tasks.
3) Let the daily plan work in partnership with time: Allocate certain hours to certain activities
The third step in the daily planning process will be to divide your hours. When we start a brand new day, we feel like there is a lot of work to be done and sometimes we don't know where to start. Don't worry, the third step of creating a daily plan is there to save you from this confusion.
In our third step in preparing a daily plan, we will space the times we will work. For example, if you have set aside 08:00 – 09:00 for personal care and breakfast, try not to deal with other things during this time. Devote yourself only to self-care and preparing a delicious breakfast. Enjoy every moment. If you spent between 14:00 – 15:00 to write 2000 more words for your homework, try to keep your brain busy with this task alone.
4) The daily schedule is not always active: Set your breaks
Making a daily plan doesn't have to mean keeping yourself busy all the time. Being constantly alert while dealing with a job is very tiring for our body, even if we are not aware of it. Taking small breaks for every 30 minutes or 45 minutes you set will allow you to work more effectively for the next task, both to gather energy and to start the next task more motivated.
By trying the different time management methods we mentioned, you can establish the most suitable work-break balance for yourself. Getting away from the tasks that await you during the breaks as much as possible and getting rid of the stress of the daily plan will refresh your brain and attention, allowing you to be more effective in other daily tasks that await you. During breaks, you can also try the
micro-sleep
method used by names such as Salvador Dali and Albert Einstein.
5) Preparing a daily schedule does not mean that you will finish all your work: Know what you will not do
The most critical mistake made in the process of preparing a daily schedule is to fall into the misconception that you can magically finish all your work in a few days/weeks or months. Along with the tasks we say "Yes" to complete, we automatically say "No" for other tasks as well.
The best way to target efficiency by deciding what you really want and don't want is to make a list. By preparing a to-do list as well as a not-to-do list, you avoid occupied with things you don't want to do. In this process, we recommend that you take a look at Warren Buffet's
25/5
formula.
---
Digital Tools You Can Use to Make a Daily Plan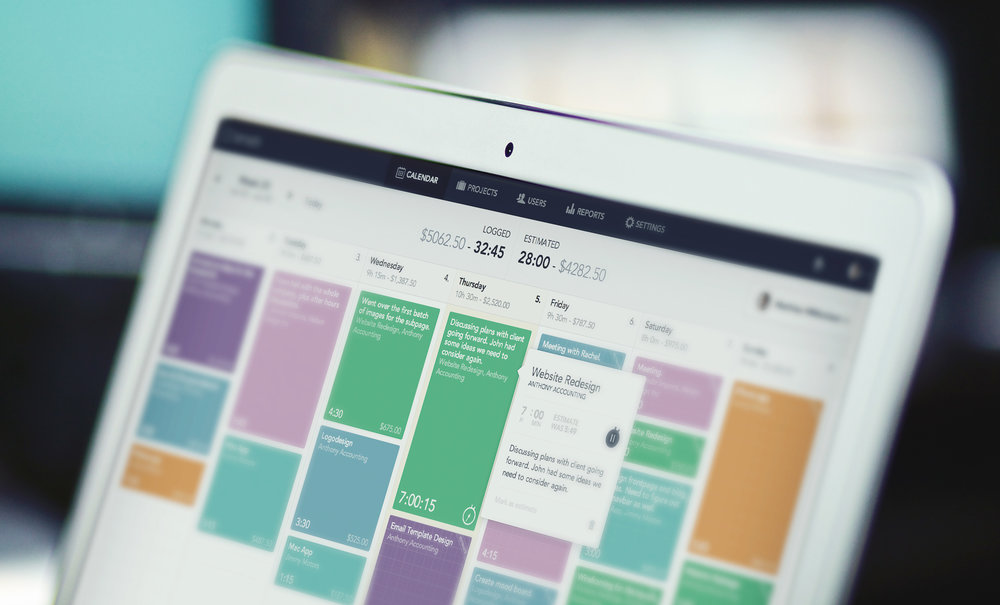 We are all very used to making our plans with pen and paper. Along with the digitalizing world, our daily schedule preparation habits are gradually changing. But it looks like we still have a ways to go. There are many useful applications that can support you digitally for your daily plans.
If you say that short notes and images can always be saved, we recommend that you create your account in Evernote and use Evernote, which allows you to view and edit all your notes, all photos you add, screenshots, PDF files, etc.
Carrying our agendas or notebooks with us at all times can negatively affect our mobility. It's also a nice convenience not to have to tear paper from the corners of the notebook every time to add new items to your daily to-do list. Using tools like Wunderlist, Any.do, Todoist, and Google Keep, you can always have your list close at hand.
One of the most difficult situations, both as a student and as an employee, is to keep the schedule of the determined deadlines, to check this schedule regularly, and not to miss the deadline.
---
One-Day Plan Example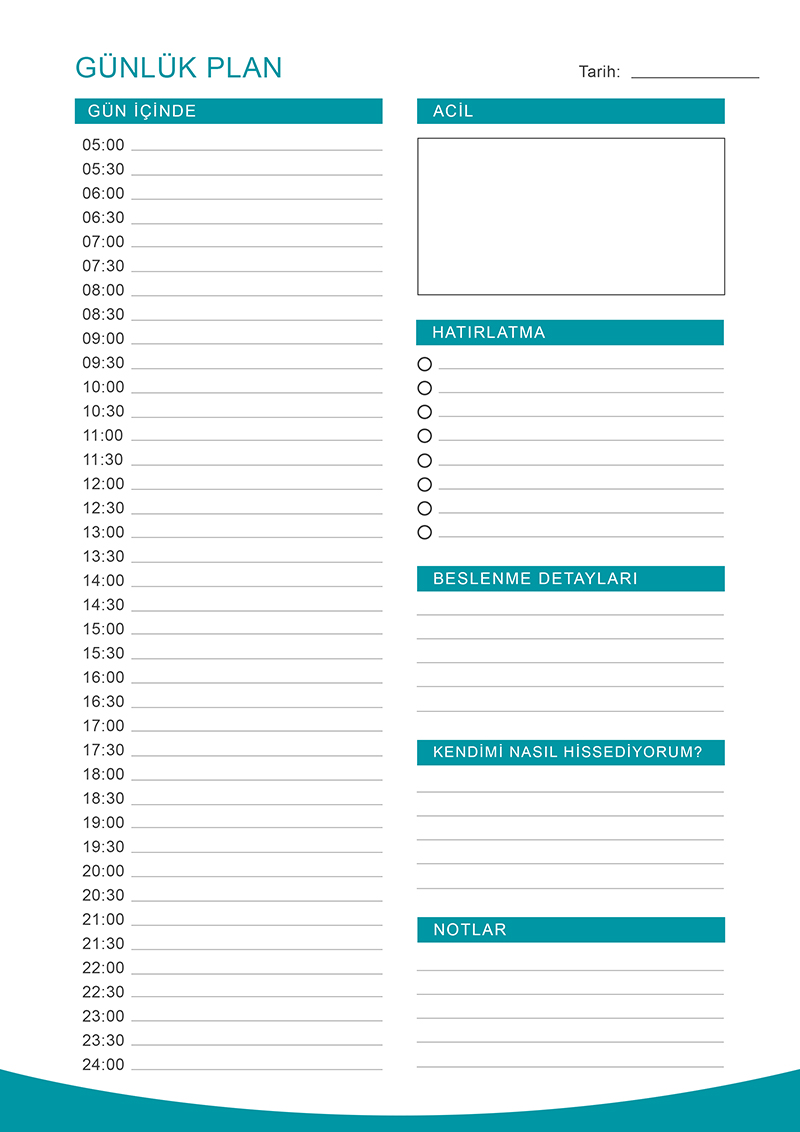 As an example of a daily plan, we might suggest you use some sketches. You can find drafts that you can customize for yourself, especially by searching Pinterest. You can also browse sites that offer drafts for a daily plan or weekly/monthly plans. You can print out what you will choose from these drafts, customize them according to your notebook, or use them directly with the online tools, examples of which we have given in the previous topic.
We have prepared a daily plan sample for you. You can download
it here
.
This post is also available in: Türkçe