Brad Pitt Movies Most of them are cult films and are of great interest to the audience. With his successful acting in films, Brad Pitt was deemed worthy of many major awards such as Academy Awards, Primetime Emmy Awards. We have compiled the 30 most popular films of Brad Pitt for you. We wish you a good time ☺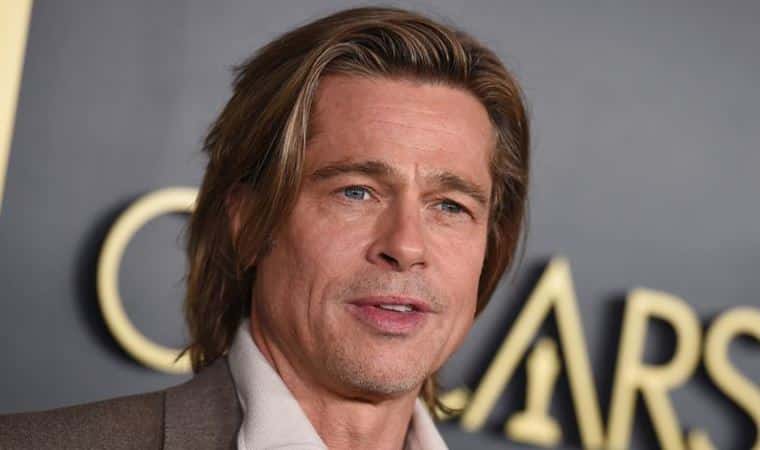 ---
one) Fight Club – Fight Club (1999) | IMDb: 8.8
Director: David Fincher
Other players: Edward Norton, Meat Loaf, Helena Bonham Carter
Fight Club may be one of the first movies that comes to mind when Brad Pitt movies are mentioned. While working as an insurance clerk, overwhelmed by the monotony of life, Jack suffers from insomnia called insomnia. Trying to overcome his illness by going to therapy, Jack meets a girl named Marla. Meanwhile, Jack's life changes when he meets the man named Tyler Durden, who lives the life that Jack dreams of. Durden introduces Jack to Fight Club. However, this club has some rules. The first of these rules is not to talk about Fight Club, and the second is to never, ever talk about fight club.
---
2nd) Se7en – Seven (1995) | IMDb: 8.6
Director: David Fincher
Other players: Morgan Freeman, Kevin Spacey, Gwyneth Patrow
Seven is one of the most acclaimed of Brad Pitt movies. Two police detectives go after the mysterious killer who has committed serial murders. This serial killer punishes people who commit the 7 deadly sins in his own way. These 7 deadly sins are: arrogance, greed, lust, envy, gluttony, destructiveness, and sloth. The only desire of the detectives is to catch this notorious serial killer. Murdered victims are turned into works of art with their bodies.
---
3) Inglourious Basterds – Inglourious Basterds (2009) | IMDb: 8.3
Director: Quentin Tarantino
Other players: Diane Kruger, Eli Roth, Christoph Waltz
Inglourious Basterds, directed and written by Quentin Tarantino, is Tarantino's highest-grossing film. In 1941, Hans Landa pursues the unknown Jewish Dreyfus family. Hans, who searches the house of farmer Perrier LaPadite, suspects that the hiding family is in that house and applies intense psychological violence. Then LaPadite tells the truth to leave her family alone. One person manages to escape while the entire family is shot. In 1944, the Inglourious Gang, consisting of Jewish American soldiers led by Lieutenant Aldo Raine, begins to spread fear by killing German soldiers. Inglourious Bastards is quite high in the ranking of the most acclaimed Brad Pitt movies.
---
4) Snatch – Battle (2000) | IMDb: 8.3
Director: Guy Ritchie
Other players: Jason Statham, Vinnie Jones, Stephen Graham
The life of boxing promoter Turkish and his partner Tommy in the underground world is discussed. An 85-carat diamond is stolen from Antwerp and the adventure begins. The paths of the dark types chasing the diamond cross at one point. With the intersecting road, a non-stop action begins.
---
5) 12 Years a Slave – 12 Years a Slave (2013) | IMDb: 8.1
Director: Steve McQueen
Other players: Chiwetel Ejiofor, Michael Kenneth Williams, Michael Fassbender
In 1841, Solomon Northup, a black citizen devoted to music, struggles to regain his freedom. Solomon, who has a happy life with his family and is also a free man, hires 2 men for a job in Washington. Thinking he's got a good deal, Solomon finds himself a slave on a farm in the South instead of Washington. He begins to fight for his freedom again, without hearing from his family and not being able to inform his family. However, this is quite a challenge. Here he will learn again about pain, violence, humiliation. No matter what, he never gives up the fight.
---
6) 12 Monkeys – 12 Monkeys (1995) | IMDb: 8.0
Director: Terry Gilliam
Other players: Bruce Williams, Madeleine Stowe, Christopher Plummer
In order to be protected from the virus that caused the death of 5 billion people, the remaining few people built shelters underground and took shelter there. They are looking for a solution for the virus. The solution they find is to go back in time and seize the situation. The first volunteer to try this solution was ex-con James Cole. He finds himself in a mental hospital 7 years ago. Here he tries to explain why he came from the future and why. But everyone thinks he is crazy. Now the fight is even more difficult. Will he be able to escape from the mental hospital to destroy the virus?
---
7) The Big Short – The Big Short (2015) | IMDb: 7.8
Director: Adam Mckay
Other players: Christian Bale, Steve Carell, Ryan Gosling
The screenplay of the movie is adapted from the book by Adam Mckay. Four people see a gap that the banks, the media, and the government fail to notice. Seeing this gap with the global collapse of the economy, four people concentrate on the dark and sensitive side of banking.
---
8) The Curious Case of Benjamin Button – The Curious Case of Benjamin Button (2008) | IMDb: 7.8
Director: David Fincher
Other players: Cate Blanchett, Tilda Swinton, Taraji P. Henson
Daisy Williams is a woman living her last days on her deathbed in New Orleans. His companion is his daughter, Caroline. His mother asks Caroline to read him a diary. This everyday belongs to his lifelong friend Benjamin Button. A blind watchmaker loses his son in World War I and makes a watch that runs backwards. This showpiece clock changes the life of Benjamin Button, who was born on the day of World War I. Button begins to live life in reverse. Button, who looked like an 80-year-old when he was born, starts to get younger as the years go by. Although Button gets used to this situation, it makes things awkward when love knocks on his door. Benjamin Button, who has become a baby instead of aging day by day, is facing a difficult life struggle. The Curious Case of Benjamin Button, It is one of the most admired movies of Brad Pitt movies.
---
9) Ocean's Eleven (2001) | IMDb: 7.7
Director: Steven Soderbergh
Other Cast: George Clooney, Julia Roberts , Matt Damon
Danny Ocean is a convict in prison in New Jersey. The day before his parole, he spends the day plotting the biggest heist in his history. Danny will lead this elaborate heist. Danny and 11 carefully selected men will steal a total of $150 million from Terry Benedict's three casinos in Los Angeles. For Danny, this heist is very important. Because he started dating his ex-wife Tess Terry.
---
10) Once Upon a Time … In Hollywood – Once Upon a Time … in Hollywood (2019) | IMDb: 7.6
Director: Quentin Tarantino
Other players: Leonardo DiCaprioMargot RobbieSharon Tate
Rick Dalton is a television series actor and his aim is to break into the film industry. His stunt double, Cliff Booth, also supports Dalton's request. However, both Dalton and Booth are too old to find a place for themselves in Hollywood. Yet they continue to follow their dreams. Sharon Tate, Dalton's neighbor, is a Hollywood actress and her favorite. Tate and his four friends are killed one day by the Charles Manson cult. Faced with this aspect of Hollywood, a difficult period begins for Dalton.
---
11th) Fury (2014) | IMDb: 7.6
Director: David Ayer
Other players: Shia LaBeouf, Logan Lerman, Jon Bernthal
Fury is one of the first movies that comes to mind when Brad Pitt movies are mentioned. In some wars, events that are called impossible happen. Fury also talks about such an event. II. During World War II, in April 1945, Commander Wardaddy, gunner Body Swan, loader Grady Travis, driver Trini Garcia and co-driver Norman engage in a major battle against 300 enemy soldiers. Access to ammunition is difficult for the team of American soldiers who are in the middle of the war in Germany. Sergeant Warwaddy's task is to get his soldiers out of this area, which is in the hands of Nazi troops.
---
12) Sleepers – They Were Like Brothers (1996) | IMDb:7.6
Director: Barry Levinson
Other players: Robert DeNiro, Kevin Bacon, Jason Patric
Four teenagers living in one of New York's dangerous districts unwittingly cause an accident that puts an old man's life in danger. As a result of the accident, young people receive a one-year prison sentence. This punishment inflicts severe trauma on all of them. Young people who are beaten and harassed by guards carry the effects of their time in prison for years. Years later, they encounter a guard who tortures them. This time they are the strong side.
---
13) Moneyball – The Art of Winning (2011) | IMDb: 7.6
Director: Bennett Miller
Other players: Robin Wright, Jonah Hill, Philip Seymour Hoffman
Billy Beane tries to raise the Oakland A baseball team with a limited budget. He tries to challenge rich teams. In doing so, he comes into conflict with the accepted core beliefs of baseball. Billy tries his best, even though the people around him tell him he can't do it.
---
14) The Assassination of Jesse James by the Coward Robert Ford – The Assassination of Jesse James by the Coward Robert Ford (2007) | IMDb: 7.5
Director: Andrew Dominik
Other players: Casey AffleckSam ShepardSam Rockwell
Robert Ford considers JesseJames an idol. One day, when he meets his idol, he finds himself in a great happiness, unaware of the bad days to come. Cash prizes will be awarded to anyone who catches Jesse James. At the same time, James plans a heist to earn a large amount of money. While making this plan, he does not know who to trust and whom not to trust. That's why he tries not to let go of his precautions.
---
15) Interview with the Vampire – Interview with the Vampire (1994) | IMDb: 7.5
Director: Neil Jordan
Other players: Tom Cruise, Antonio Banderas, Kirsten Dunst
One of the oldest Brad Pitt movies is Interview with the Vampire. The movie is based on the novel by acclaimed author Anne Rice. Lestat is a very charismatic and attractive vampire. They go from adventure to adventure together with the noble young Louis, whom he bites into a vampire. However, Louis can't get used to being a vampire. It still seems impossible for him to kill a person to satisfy his hunger. Then Lestat turns a little girl into a vampire in order to help Louis.
---
16) Legends of the Fall – Winds of Ambition (1994) | IMDb: 7.5
Director: Edward Zwick
Other Director: Anthony Hopkins, Aidan Quinn, Julia Ormond
Colonel William raises his three sons on a farm in rural Montana. Raising his children alone, William is also a war veteran. Children, on the other hand, have an adventurous spirit thanks to the people around them. Life in the countryside begins to change with Susannah, who comes from the city. Change is not just in the countryside. In the same period, the voice of World War I began to be heard all over the world.
---
17) Babel – Babel (2006) | IMDb: 7.4
Director: Alejandro G. Inarritu
Other players: Cate Blanchett, Gael Garcia Bernal, Rinko Kikuchi
The film consists of a set of events in different parts of the world, unaware of each other, but somehow connected. Two brothers, who are shepherds in Morocco, go to the top of a mountain to test their father's rifle. Since the seller of the rifle says that he can shoot 3 km ahead, the children want to try it and aim at a bus passing by. While they think they can't hit, the bullet hits Susan, who is sitting on the bus, in the neck. Susan and her husband, Richard, are a married couple visiting Morocco. They entrusted their children to their Mexican caregivers in America. After the injury, their children are forced to go to Mexico with their Mexican caregivers, as their return to their country is delayed. For kids hearing about crime rates in Mexico, this journey is pretty scary. While this was happening, Yasojiro lost his wife in Japan and was left alone with his deaf and dumb daughter Chieko. Affected by her mother's suicide, Chieko goes on a quest to communicate with people. In the middle of this search, he is wanted for committing a crime with a rifle registered to his father.
---
18) A River Runs Though It – The River That Separates Us (1992) | NS MDb: 7.2
Director: Robert Redford
Other players: Craigh Sheffer, Tom Skerritt, Brenda Blethyn
The screenplay is based on the novel by Norman Maclean. Norman and Paul are two brothers who grew up in Montana. The common passion of the two brothers, who live in the middle of nature, in an area quite far from the center, is fishing. There is constant argument and contention between Paul and his father.
---
19) Troy – Troy (2004) | IMDb: 7.2
Director: Wolfgang Petersen
Other players: Eric Bana, Orlando Bloom, Diane Kruger
Troy is one of the most popular Brad Pitt movies. A great war breaks out between the two countries because of the love between the Trojan Prince Paris and the Spartan Queen Helen. The purpose of King Agamemnon of Mycenae is to establish sovereignty over the Aegean Sea. However, invading Troy is not that easy. Breaking the Trojan Walls is not easy. Achilles, on the other hand, is a warrior who fights for his own honor without taking orders from anyone. He, on the other hand, enters the war in order to write his name in history with golden letters.
---
20) Mett Joe Black – Joe Black (1998) | IMDb: 7.2
Director: Martin Brest
Other players: Anthony Hopkins, Claire Forlani, Marcia Gay Harden
William Parrish, one of the biggest and most important media bosses of the age, is a very wealthy person. Parrish is on the eve of making an important decision regarding his company. He realizes that he has started to hear different voices in his head in his busy work tempo. Can't figure out where these sounds are coming from. Parrish's daughter is about to get into a marriage she never wanted. She will marry one of the company employees, Drew. But everything turns upside down when a man named Josh enters their lives.
---
21) Seven Years in Tibet – 7 Years in Tibet (1997) | IMDb: 7.1
Director: Jean-Jacques Annaud
Other players: David Thewlis, BD Wong, Jamyang Jamtsho Wagchuk
During World War I, in 1939, famous mountaineer Heinrich Harrer and Peter Auschnaiter set out to climb Nanga Parbat. Climbing Nanga Parbat, one of the highest peaks of the Himalayas, is not easy. In addition to the difficulty of climbing the mountain, the war continues at full speed. While trying to return to their camp, two mountaineers are captured by British soldiers.
---
22) Allied – Allied (2016) | IMDb: 7.1
Director: Robert Zemeckis
Other players: Marion Cotillard, Jared Harris, Lizzy Caplan
Max is an intelligence officer on duty in North Africa in 1942. French Marianne Beausejour is a resistance fighter. The two fall in love as soon as they see each other. They meet again when they return to London. They want to live their love, but the war and resistance continues at full speed. Will the great love between the two survive the pressures of the war?
---
23) Spy Game – Spy Game (2001) | IMDb: 7.1
Director: Tony Scott
Other players: Robert Redford, Catherine McCormack, Stephen Dillane
Nathan Muir and his partner Tom Bishop are CIA agents who take on all the difficult missions. Where an agent is supposed to be, he has been on the ground and has improved himself. A bond of trust is formed between the two, who work side by side on all kinds of tasks. Muir has now completed his term of employment and is preparing to retire. In retirement, he learns that Bishop has been subjected to a serious accusation. If Muir does not act within 24 hours, his friend will be killed. A difficult task awaits Muir, whose last mission will be the mission of his life.
---
24) Burn After Reading – The Spy Among Us (2008) | IMDb: 7.0
Director: Etan Coen, Joel Coen
Other players: Frances McDorman, George Clooney, John Malkovich
Ozzie Cox is fired from the CIA for alcohol problems. However, he wants to avenge this dismissal and collects confidential information on a CD. Cox is also in the process of divorcing his wife. His divorced wife Kate steals this CD from Cox. However, he forgets the CD he played in the gym he went to. Two people who find the CD in the gym begin to blackmail Cox. And then there's the federal agent Harry, with whom Kate is with. Chaos begins to grow day by day. A tough fight awaits Cox.
---
25) World War Z – World War Z (2013) | IMDb: 7.0
Director: Marc Foster
Other players: Mireille Enos, Daniella Kertesz, Matthew Fox
Gerry Lane is a United Nations employee. He has a happy life with his two children and wife. On a car journey where everything seems normal, they witness an unexpected event. In an instant, chaos and fear cover the whole world. They call Gerry to work to sort out the situation. Gerry's time is limited when he sets out to save the world after leaving his wife and children in a safe place. A tough fight awaits Gerry, who is trying to save the world and ensure the safety of his family.
---
26) The Tree of Life (2011) | IMDb: 6.8
Director: Terrence Malick
Other players: Sean Penn, Jessica Chastain, Hunter McCracken
The subject is the change that a child goes through as he goes from childhood to adulthood. Jack has a turbulent relationship with his father. A child who lost his innocence while growing up, a father with clear rules for raising his child…
---
27) California (1993) | IMDb: 6.7
Director: Dominic Sena
Other players: Juliette Lewis, Kathy Larson, Michelle Forbes
A newly graduated journalist and his girlfriend begin a study on why all serial killers originate in America. Their aim is to travel every inch of the country and prepare a book with the information they find. However, this is a very difficult process. The couple, who go to the favorite places of the murderers, meet a mysterious woman named Early Grace. Grace's boyfriend is a very strange young man. The journalist couple begins to investigate this strange couple they met.
---
28) Mr. & Mrs. Smith – Mr. and Mrs. Smith (2005) | IMDb: 6.5
Director: Doug Port
Other players: Angeline Jolie, Adam Brody, Vince Vaughn
Mr. and Mrs. Smith is one of the Brad Pitt films, where the adventure is at its peak and is highly appreciated by the audience. John and Jane are a normal married couple who love each other. But a couple that looks normal from the outside. Both John and Jane are hitmen. However, neither knows anything about each other's secret missions. While their lives are going well, they each get a job. As a result of their job, Jane is asked to kill Josh and Josh to kill Jane. When they take action to get the job done, they encounter each other's hidden sides.
---
29) Ad Astra – Towards the Stars (2019) | IMDb: 6.5
Director: James Gray
Other players: Tommy Lee JonesRuth NeggaLiv Tyler
Roy McBride pursues his father, who disappeared years ago while investigating the existence of life in outer space. He is tasked with not only searching for his father, but also solving a mystery that threatens our planet. Through this mission, Roy will both uncover a great mystery and change his perspective on human nature and the cosmos.
---
30) The Devil's Own – The Silent Enemy (1997) | IMDb: 6.2
Director: Alan J. Pakula
Other players: Harrison Ford, Margaret Colin, Natashe McElhone
Life comes with different tests for everyone. While it makes life easier for some, it prepares challenging tracks for others. But there is only one life for everyone. The film is about the story of two different men. Someone is a man trying to live in difficulties, trapped by fate. The other is passionately committed to his task. The two have a common feature. There is an obscurity for which they fight and even accept death. They go after this unknown in their own way.
Related content that might interest you:
İzlerken İçinde Kaybolmak İsteyeceğiniz En İyi 23 Doğa Temalı Film
Etkisinden Uzun Süre Çıkamayacağınız En İyi Psikolojik Filmler
En İyi 50 Aksiyon Filmi: Adrenalin Seviyenizi Tavan Yaptıracak Aksiyon Filmleri
This post is also available in: Türkçe