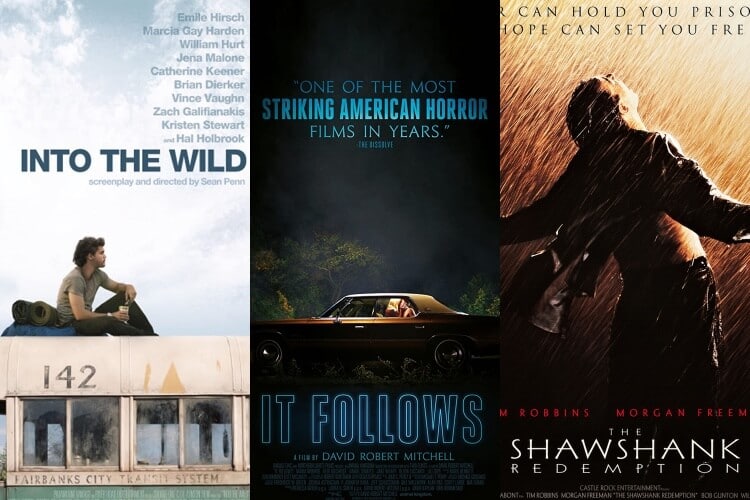 We all want to escape from bad situations and some problems that we think we can't handle from time to time. In real life, although this is not an easy option as said, at least we have a way to relieve us a little: escape movies .
We may not be able to escape from the difficulties in our lives by jumping in a car or sometimes even barefoot, but the cinema still interprets our feelings and comes to our aid. In fact, the theme of escape can be handled in many different ways in cinema.
Sometimes escape from prison, sometimes escape from inner problems and city. We've compiled a list of quality escape movies for you, with lots of different genres and experiences.
---
1) Into The Wild – Freedom Trail (2007) | IMDb: 8.1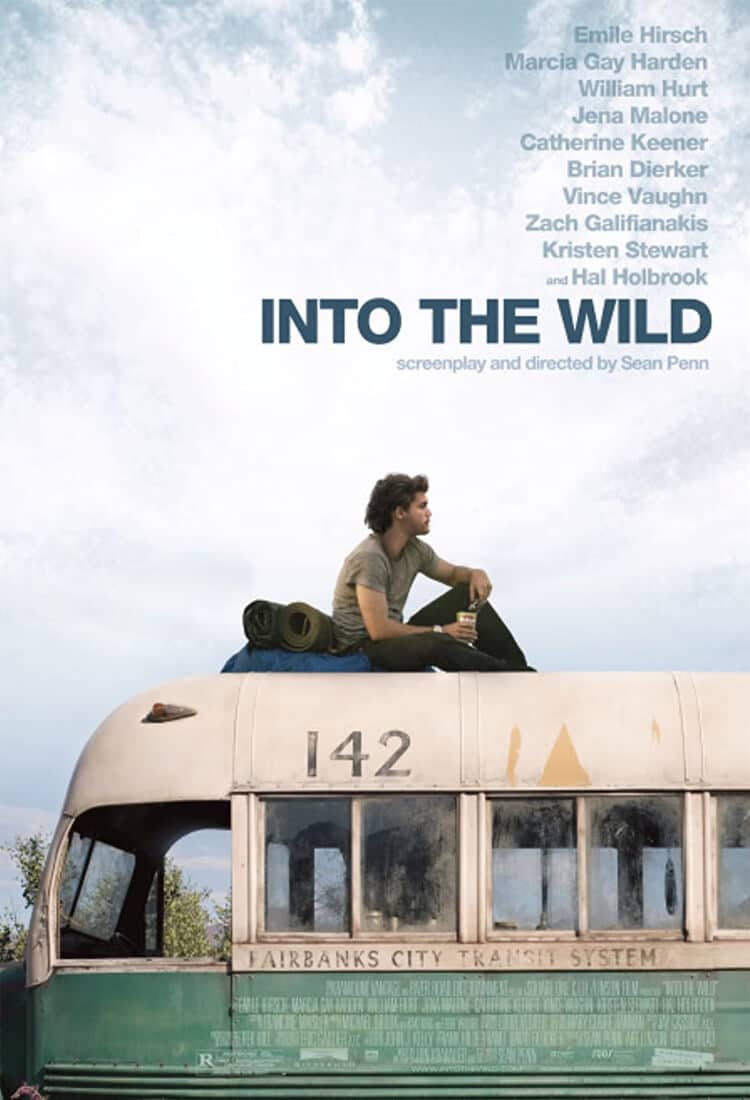 Director: Sean Penn
Cast: Emile Hirsch, Vince Vaughn, Catherine Keener
When it comes to escape movies, for some reason, prison escape movies or car escape movies, in other words chase movies, come to mind. But there is another type of escape that is popular with Into The Wild and includes many other movies: escaping to nature. Into The Wild is a movie that advises us to move away from all materialistic attitudes, leave everything behind and become free.
The impressive thing about the movie is that it is based on a true story. The main subject of our movie is about the road map that a successful student wants to draw for himself afterwards. Christopher McCandless graduated from Emory University in 1992 as a top student. With no intention of going into business, Christopher abandons his assets, gives his entire $24,000 savings account to charity, and hitchhikes to Alaska to live in the wilderness. At the same time, it is possible to come across the young version of the famous actress Kristen Stewart in the movie.
---
2) Bonnie and Clyde – Bonnie and Clyde (1967) | IMDb: 7.8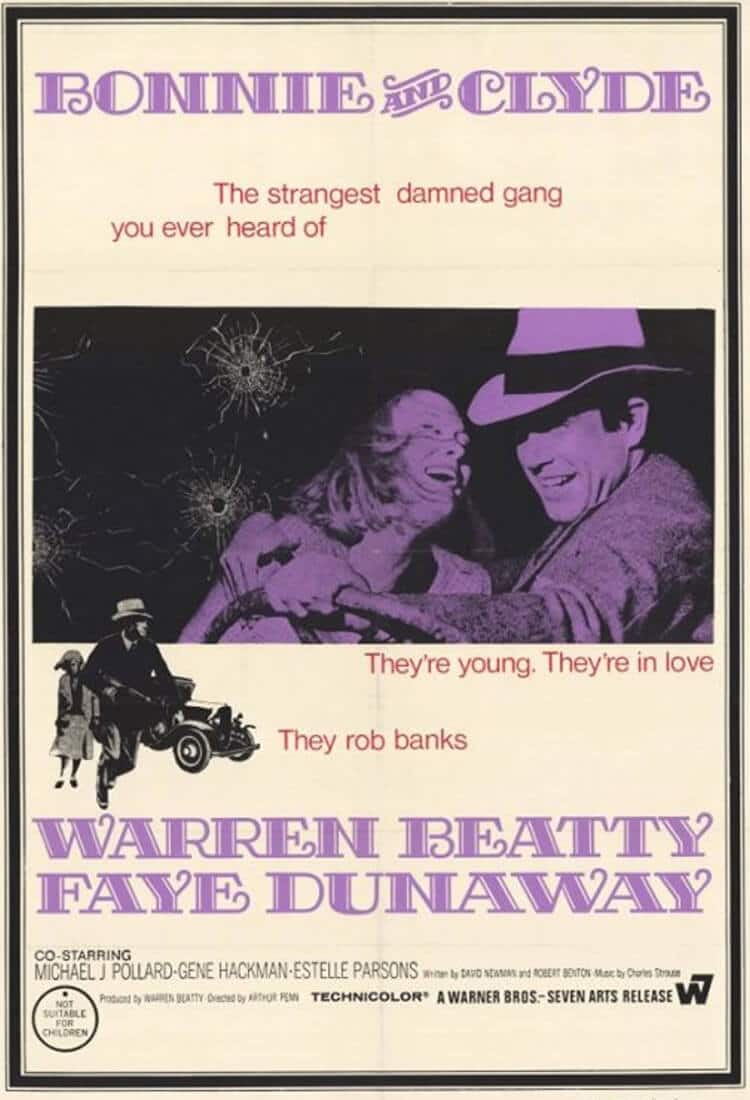 Director: Arthur Penn
Cast: Warren Beatty, Faye Dunaway, Michael J. Pollard
One of the most well-known productions among cult escape films is undoubtedly Bonnie and Clyde . Bonnie and Clyde may seem like a movie that you are not familiar with at first, as it is made in 1967 and is black and white, but as you watch it, you will realize that the origin of this cliché escape story is this old cult movie.
In the 1930s, bored waitress Bonnie Parker falls in love with an ex-con named Clyde Barrow, and together they start a violent crime spree across the country, stealing cars and robbing banks. Afterwards, a great escape story awaits these crazy lovers.
---
3) Thelma and Louise – Thelma and Louise (1991) | IMDb: 7.5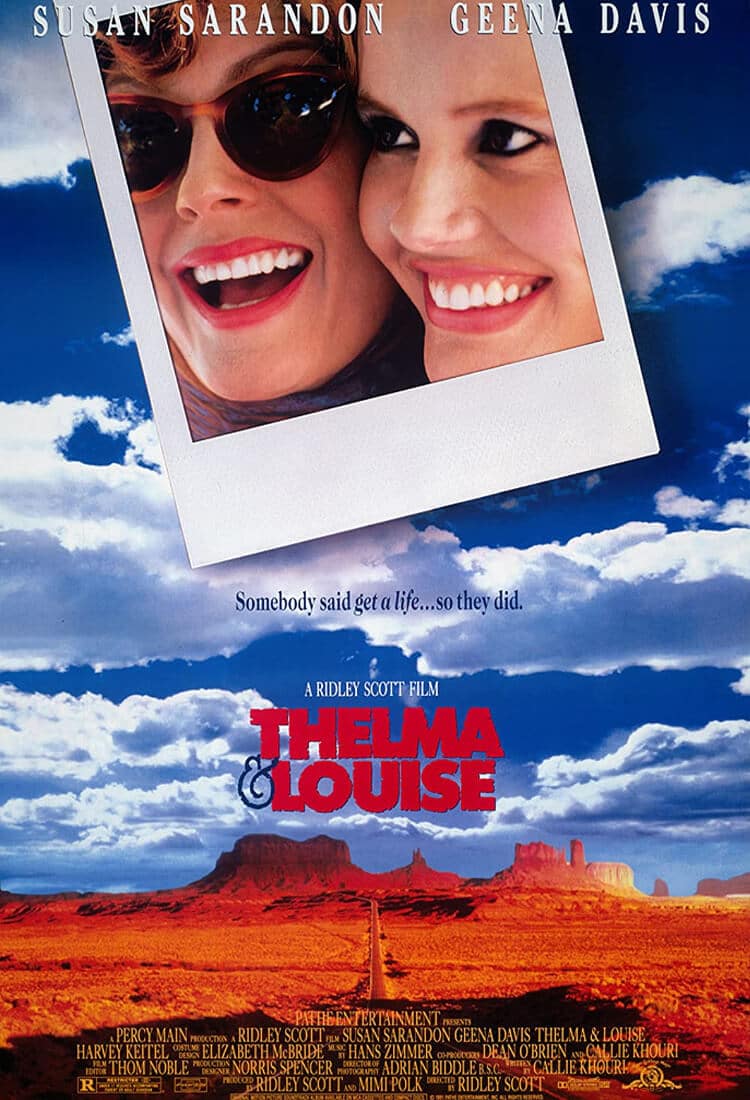 Director: Ridley Scott
Cast: Susan Sarandon, Harvey Keitel, Geena Davis
Thelma and Louise , one of the productions inspired by the story of Bonnie and Clyde, the movie we mentioned earlier, has an important place in the history of cinema. Although the two films are very similar in terms of story, Thelma and Louise have a more fluent narrative thanks to the shooting year and developing cinematic techniques.
One of the most striking features of the film is that it has become one of the pioneering productions on feminism. It is also possible for you to come across the young version of a very famous and well-known actor in the movie, the best is to learn by watching. During a short weekend getaway, Louise shoots a man who is trying to rape Thelma.
Due to incriminating circumstances, they decide to flee from the cops and thus begins a nationwide chase for the two fugitives. Along the way, both women rediscover the strength of their friendship during tough times, but also surprising aspects of their personalities and their own strengths.
---
4) The Shawshank Redemption – The Price of Bondage (1994) | IMDb: 9.3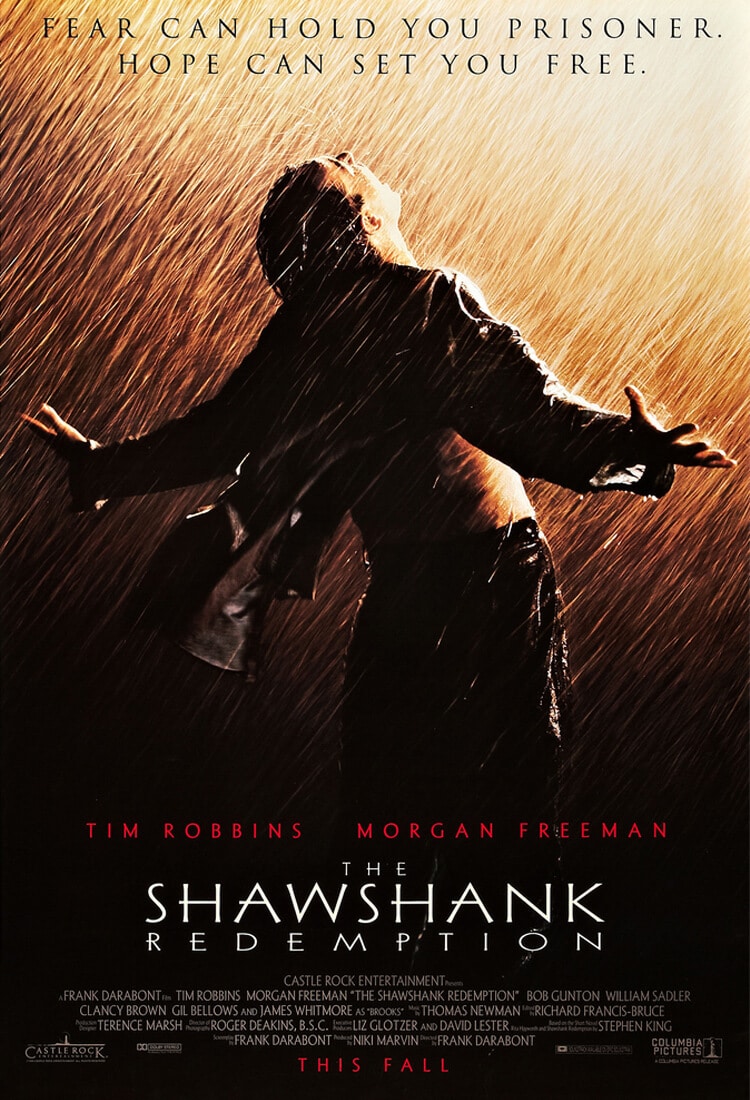 Director: Frank Darabont
Cast: Tim Robbins, Morgan Freeman , Bob Gunton
The Shawshank Redemption , one of the most controversial films in the history of film, can be said to be the exact definition of the escape movie discourse. Known for having the highest rating ever on IMDb, the movie was criticized by most movie critics for this reason.
After all, The Shawshank Redemption certainly deserves to be called a good escape movie, even if it's not the best movie in the world. Framed by the double murder of his wife and lover in the 1940s, honest banker Andy Dufresne starts a new life in Shawshank prison, where he uses his accounting skills for a corrupt guard.
During her stay in prison, Dufresne is admired by the other inmates – including an elderly prisoner named Red – for her honesty and her never-ending sense of hope, and it's there that Andy's grand escape plan begins. One of the most famous phrases of the movie is " Fear holds you captive, hope sets you free. has been.
---
5) Escape From Alcatraz – Escape From Alcatraz (1979) | IMDb: 7.6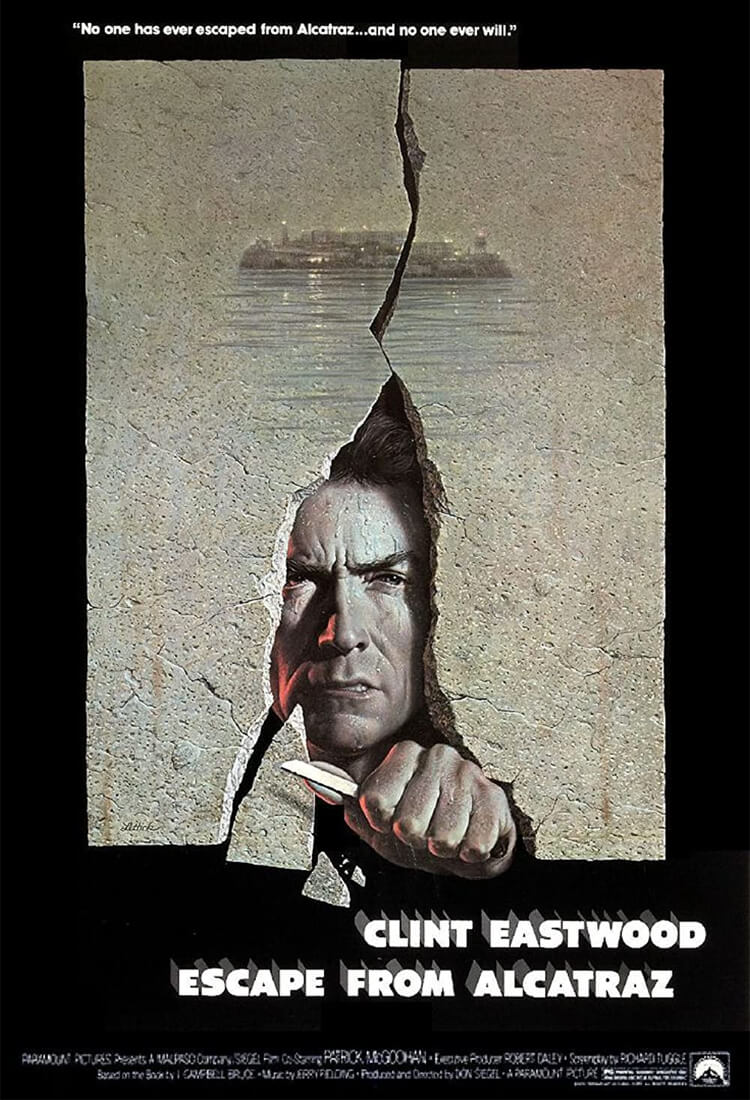 Director: Don Siegel
Cast: Clint Eastwood, Patrick McGoohan, Roberts Blossom
There is no one left who has not heard the name of Alcatraz prison. Alcatraz, which is said to be the hardest prison in the world to escape from, is actually an island that contains only a prison. It will not be easy to get out of this floating hell.
This movie, which has inspired many prison escape movies such as The Price of Bondage, also shows a lot of Western style inspirations as of this year. Exactly one of those escape movies to watch with dad on Sunday.
San Francisco Bay, January 18, 1960. Frank Lee Morris is transferred to Alcatraz, a maximum security prison located on a rocky island. Although no one has managed to escape, Frank and the other inmates carefully begin to devise an escape plan.
---
6) The Maze Runner – Maze: Deadly Escape (2014) | IMDb: 6.8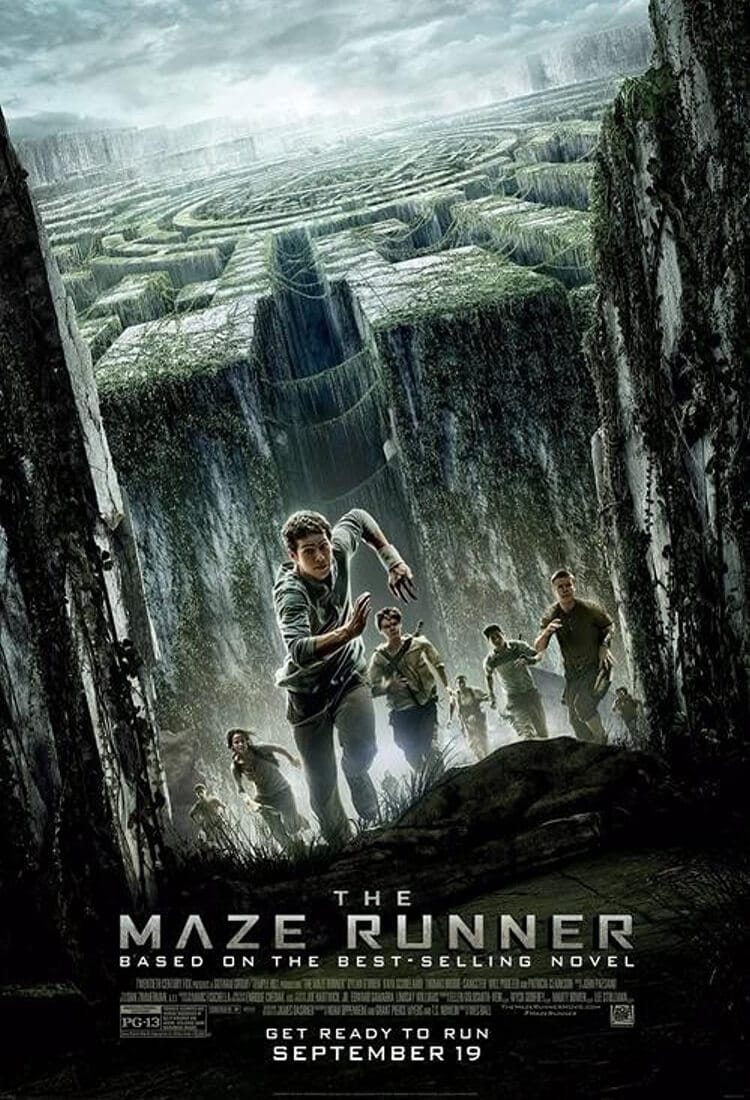 Director: Wes Ball
Cast: Dylan O'Brien, Kaya Scodelario, Will Poulter
The Maze Runner is actually a production that has turned into a series. Currently, this popular series has three movies, and Maze: Fatal Escape is the first movie in the series. The Maze Runner is actually a book adaptation. The dystopian science fiction works of the North American writer named James Dashner have been turned into a movie series. In the movie, our heroes are escaping from a labyrinth, as the name suggests.
In terms of style, we can say that it is similar to Hunger Games, which is a dystopian novel adaptation. Living in a post-apocalyptic world, young Thomas is left with a group of boys after his memory is wiped, and he soon learns that they are all trapped in a maze that will require them all to join forces with other "runners" for a chance at escape.
---
7) Chicken Run – The Chickens Run (2000) | IMDb: 7.0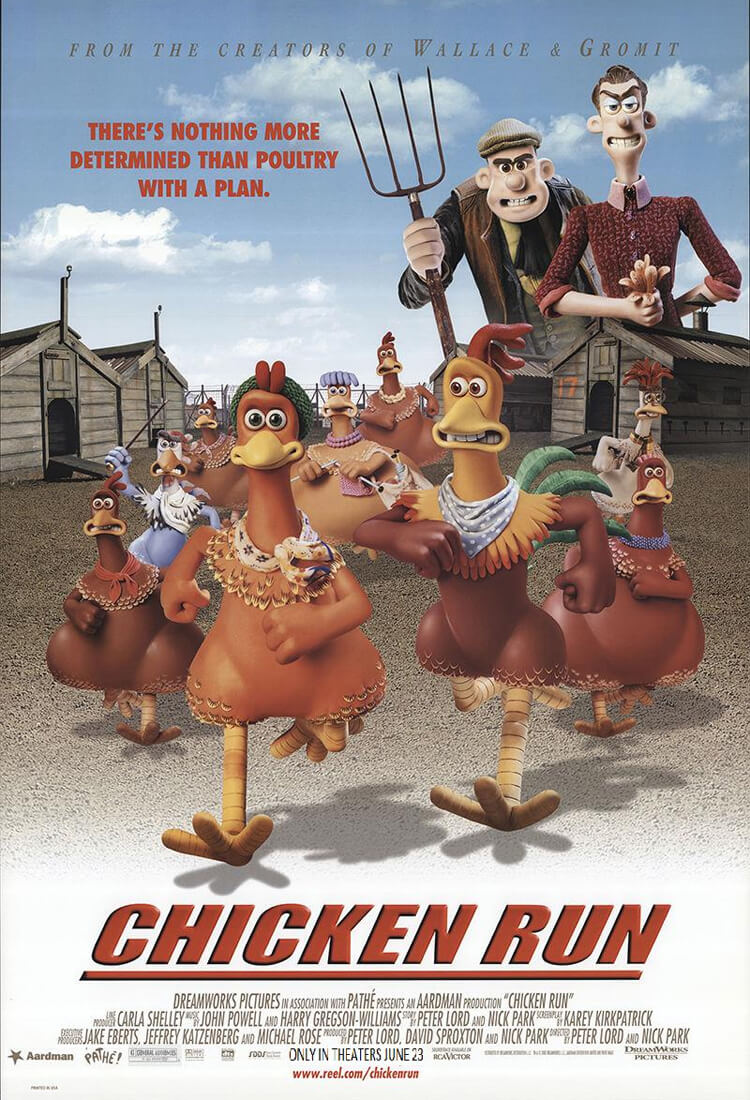 Director: Peter Lord, Nick Park
Cast: Mel Gibson, Julia Sawalha, Phil Daniels
We wouldn't be able to add an animated movie to the list. Although there are not many escape films in the animation genre, Chickens Escape more than fills this need. The only subject of the movie is the constant efforts of our cute chickens to escape. One of the things that makes the movie special is that it was made with a technique known as Claymation, that is, " Clay Animation ".
In this type of animation, characters are created from clay, and each scene is photographed by playing these characters and then combined into a flowing image. I mean, there's a tremendous amount of effort and dedication in movies like this. Don't forget to watch it with this eye while watching Chicken Run.
Desperately suppressed and facing eventual death at the English poultry farm where they are being held, Ginger decides to rebel with the help of the American rooster, Rocky, and begins plotting an escape from the murderous farmer Mr. and Mrs. Tweedy and their doomsday farm.
---
8) O Brother, Where Art Thou – Where Are You Brother? (2000) | IMDb: 7.7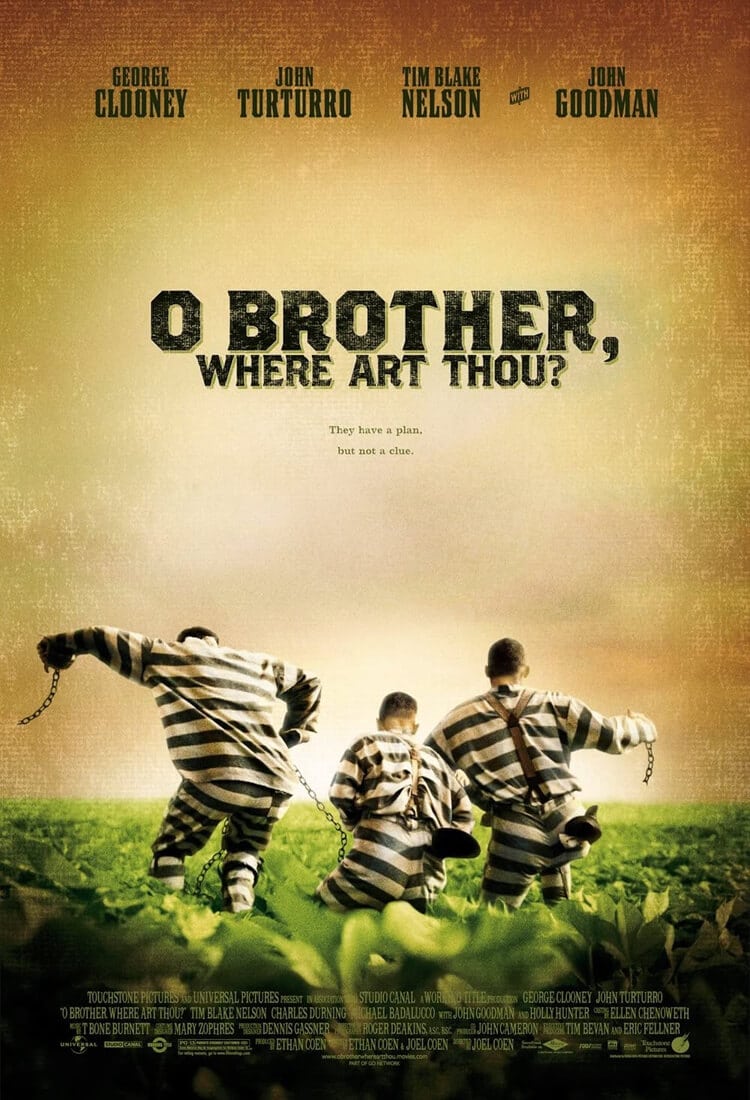 Director: Joel Coen, Ethan Coen
Cast: George Clooney, John Turturro, Tim Blake Nelson
O Brother, Where Art Thou is an escape movie by the movie geniuses of the Coen brothers. If you say that I want to satisfy my artistic side, but also want to watch an entertaining movie blended with black humor, this movie is just for you. It is possible to observe the humorous performances of star actors such as George Clooney in the film. The movie takes place in the 1930s in a rural city called Mississippi in the south of America.
As three escaped prisoners search for hidden treasure, a ruthless lawman follows them. On their journey, they encounter many funny characters and incredible situations. O Brother Where Art Thou is based on the Ancient Greek legends of Homer's Odyssey and contains many references to the original story.
---
9) It Follows – The Devil After Me (2014) | IMDb: 6.8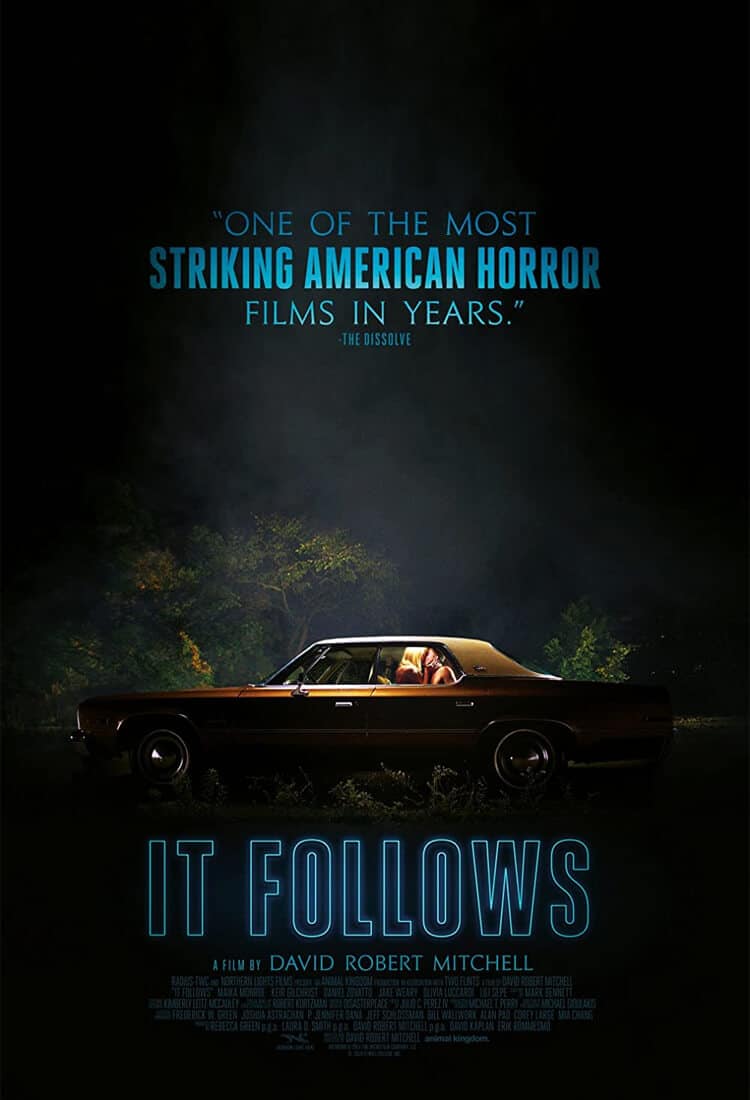 Director: David Robert Mitchell
Cast: Maika Monroe, Keir Gilchrist, Olivia Luccardi
So far, we've touched on prisons and outlaws in our list of escape movies. But one of the biggest stakeholders of this genre is horror cinema. We're all familiar with the cliché " Teen Slasher " movies, which often feature teen boys and girls running away from a perverted killer. It Follows , on the other hand, promises us a slightly different storyline than all these cliché scenarios.
After first being with Hugh, whom he just met, Jay learns that he is the latest recipient of a deadly curse that is passed from person to person through sexual intercourse. Jay learns that death will inexorably approach him as a friend or a stranger.
Jay's friends don't believe the story, which they think is Jay's paranoid bullshit, until they spot the ghost killers and band together to help him escape and defend himself.
---
10) Mad Max: Fury Road – Mad Max: Furious Roads (2015) | IMDb: 8.1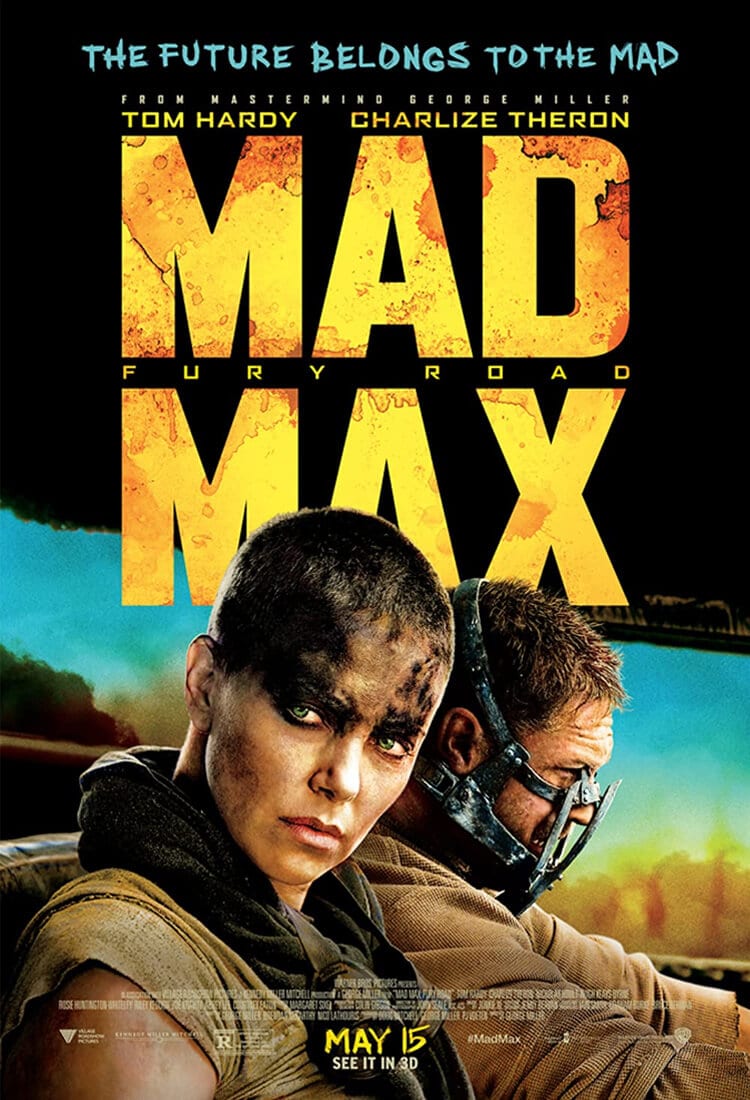 Director: George Miller
Cast: Tom Hardy , Charlize Theron, Nicholas Hoult
Pure action, cutthroat chases and characters' battles against each other in a post-apocalyptic " steampunk " universe filled with chaos. If these things appeal to you, Mad Max is definitely one of the movie series you should watch. Fury Road is actually the fourth film in the Mad Max series, which had three legendary films in the eighties, and is a sequel coming years later.
While Mel Gibson is playing in the eighties version of the series, this time Tom Hardy plays the character of "Mad" Max Rockatansky. An apocalyptic story set in the remotest corners of our planet, in a desolate desert landscape where humanity is torn apart and most people are going crazy fighting for the necessities of life. In this post-apocalyptic world, there are two fugitive rebels who can restore order.
---
11) Minority Report – Minority Report (2002) | IMDb: 7.6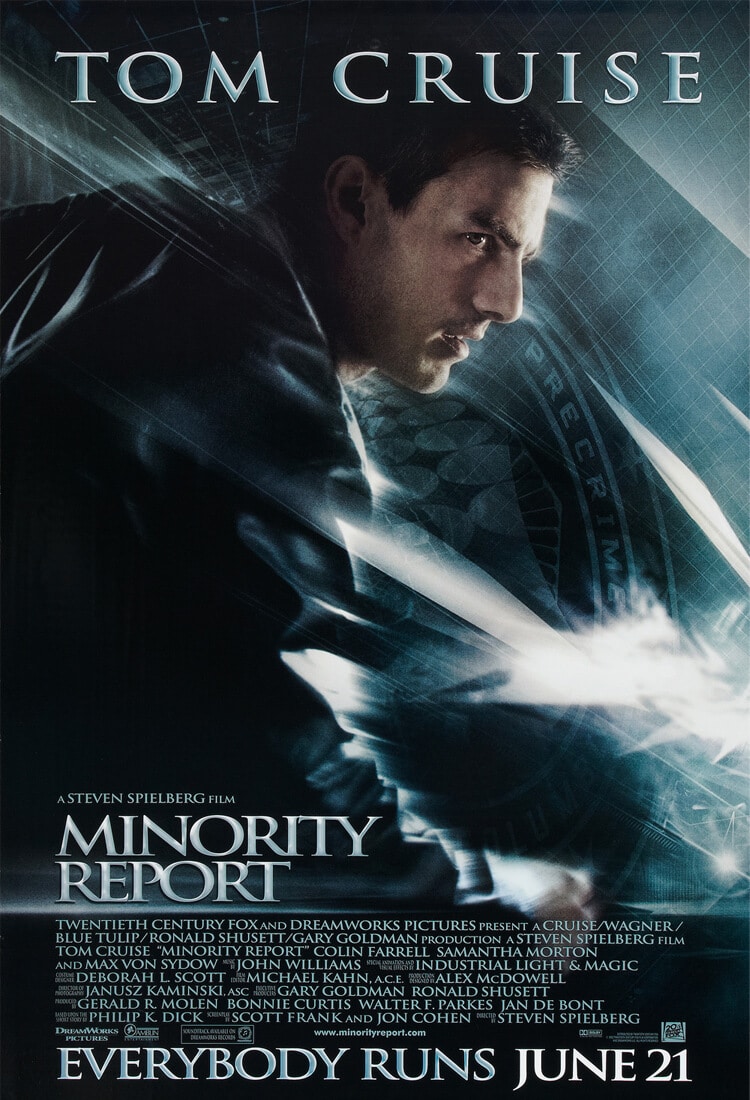 Director: Steven Spielberg
Cast: Tom Cruise, Colin Farrell, Samantha Morton
Although it was shot only twenty years ago, Minority Report , which is now considered a cult movie by science fiction lovers, also takes its place on our escape list. In addition to being a successful science fiction movie, Minority Report creates a different atmosphere by blending genres such as " tech-noir " and thriller within itself.
The film constantly triggers a sense of curiosity and locks the audience to the screens. The movie was actually adapted from a short story written by the famous writer Philip K. Dick in 1956, and was adapted for the big screen.
John Anderton is a 21st century student, where technology can predict crimes before they happen. He is one of the best " pre-crime " cops of the late 20th century. But Anderton becomes the target of the arrows himself this time, when another detective targets him on a murder charge.
---
12) Run Lola Run – Run Lola Run (1998) | IMDb: 7.7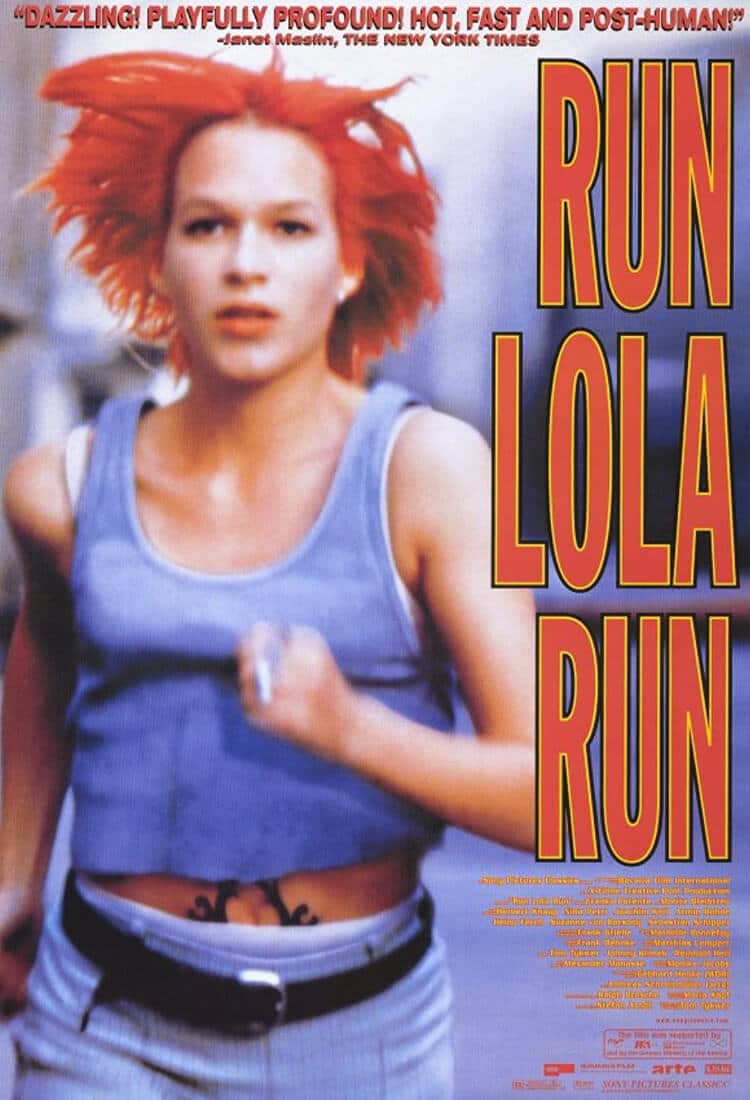 Director: Tom Tykwer
Cast: Franka Potente, Moritz Bleibtreu, Herbert Knaup
The German film, originally called Lola Rennt , chose to call itself an experimental thriller as a genre. The film is a work that can be finished in a snap with its short 81-minute duration and moving plot. In addition, there are scenes that question different philosophical issues such as determinism and free will.
The story follows the story of a woman named Lola, who must buy 100,000 Deutsche Marks in twenty minutes to save the life of her boyfriend Manni. During Lola's run, different alternatives begin to emerge, depending on some minor events.
Whether or not Lola's boyfriend Manni can save her life, which of these alternatives is the real and happy ending, creates great pressure on the audience throughout the movie.
---
13) Drive – Drive (2011) | IMDb: 7.8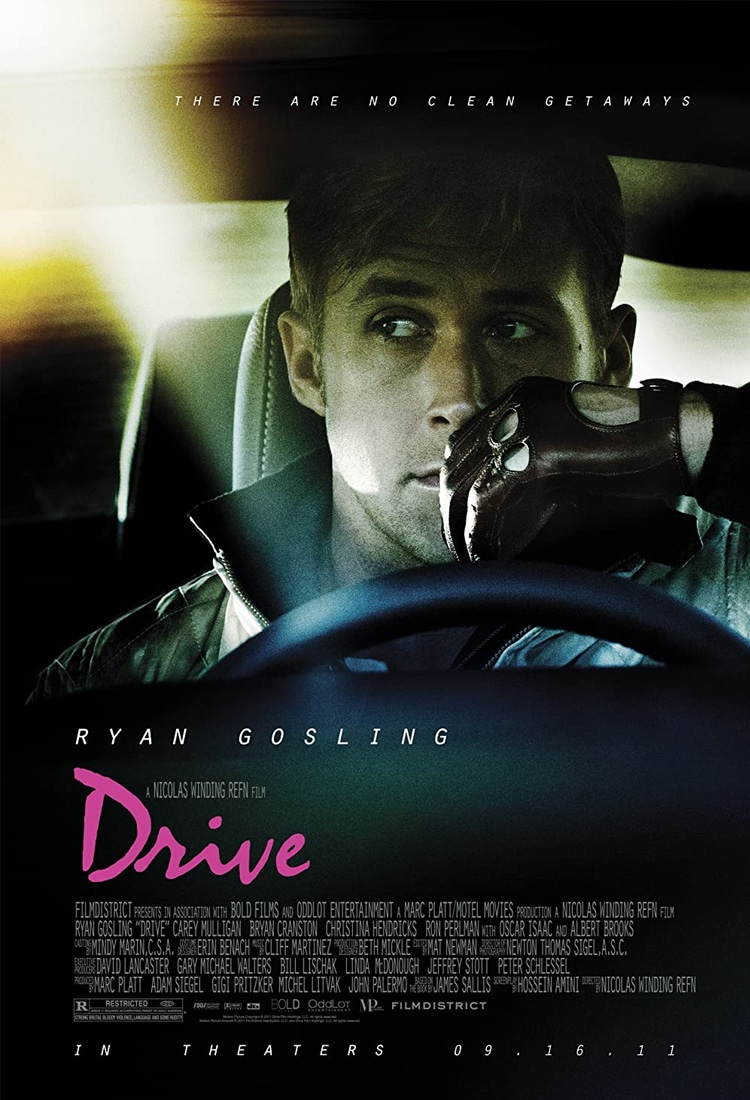 Director: Nicolas Winding Refn
Cast: Ryan Gosling , Carey Mulligan, Bryan Cranston
Known for his neon worlds and powerful cinematography, Danish film director Nicolas Winding Refn brings his own style together with an escape movie this time. The music playing throughout the piece and the feeling of night driving will make you more connected to the movie. The driver is a talented Hollywood stuntman who stands out as a getaway driver for criminals.
Despite her icy exterior, she has recently warmed up to a beautiful neighbor named Irene and her young son Benicio. When Irene's husband is released from prison, he enlists the Driver's help in a million-dollar heist. Things go horribly wrong, and Driver is forced to risk his life to protect Irene and Benicio from the vengeful minds behind the heist.
---
14) Catch Me If You Can – Catch Me If You Can (2002) | IMDb: 8.1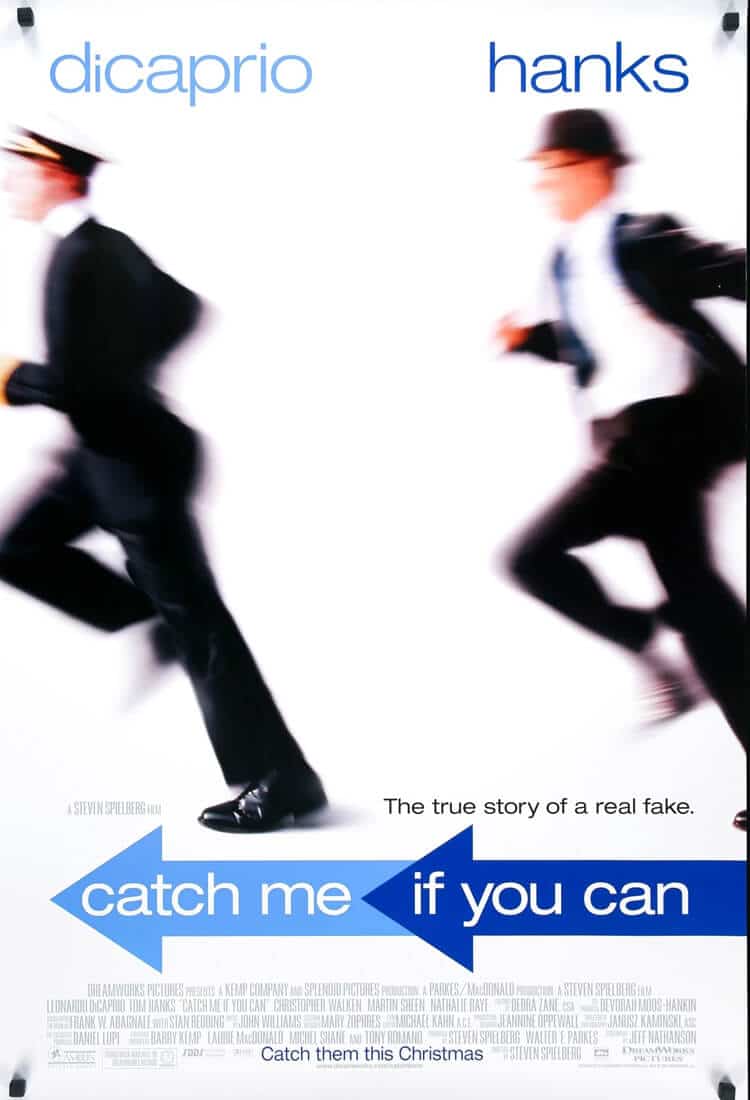 Director: Steven Spielberg
Cast: Leonardo DiCaprio, Tom Hanks , Christopher Walken
Catch Me If You Can , which has become one of the most famous movies of the 2000s, will give you a perfect escape movie experience with its star cast and never-ending action. The movie that we can count in comedy and adventure genres is actually Frank Abagnale Jr. A screenplay inspired by the life story of a check swindler.
Frank Abagnale Jr., who successfully defrauded checks for millions of dollars before his 19th birthday, posing as a Pan Am pilot, doctor, and legal prosecutor. a true story about An FBI agent takes it upon himself to put him behind bars. However, Frank not only escapes capture, but also takes great pleasure in dragging the agent who has become his nemesis, and the event turns into a cat and mouse story.
---
15) Smokey and the Bandit – Crazy (1997) | IMDb: 7.0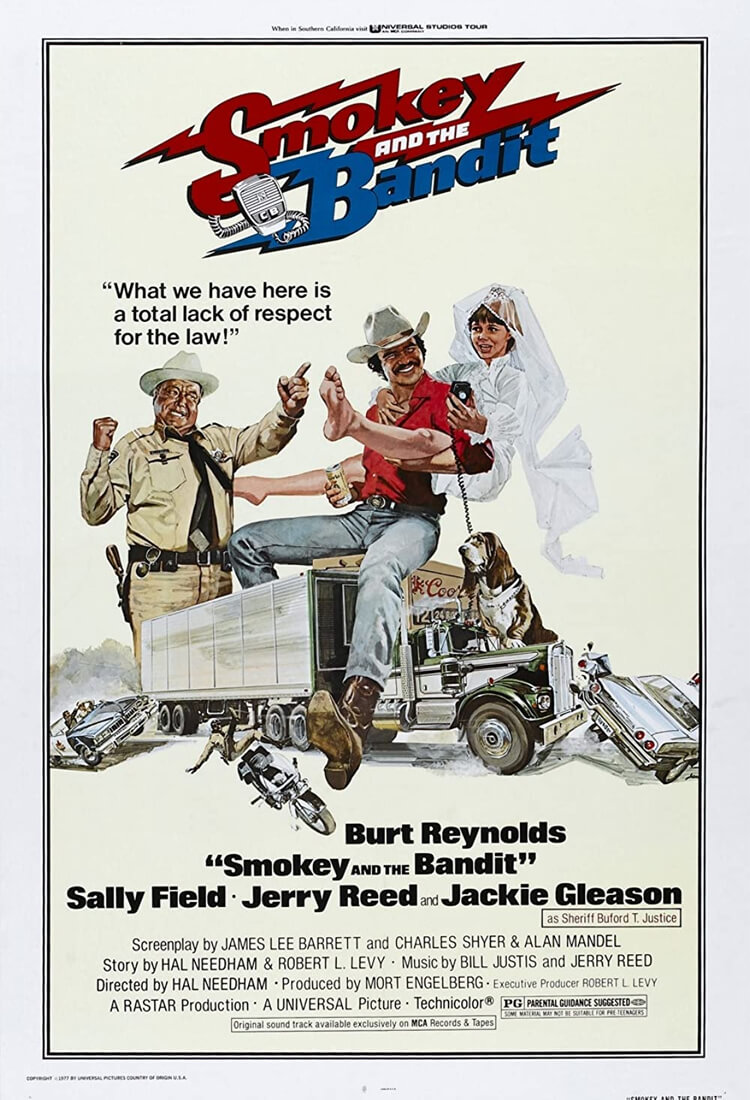 Director: Hal Needham
Cast: Burt Reynolds, Sally Field, Jerry Reed
Smokey and The Bandit is one of the most famous American road action and comedy films of all time. This movie, which we can easily add to our list of escape movies, was also highly influenced by the Western movements of the 1970s. It has a narrative that does not bore the audience with its short 1.5-hour duration. A racecar driver takes a reluctant bride-to-be on the road as he tries to transport an illegal beer shipment from Texas to Atlanta in less than 28 hours.
---
This post is also available in: Türkçe