16:40 Startup Istanbul Challenge Finals
Moderator: Prof. Erhan Erkut
Jury: Matt Spence, Andrew Romans, Adora Cheung, Omar Syed, Rina Onur
The first start-up which makes the presentation is Urbanhire from Indonesia. The start-up which introduces itself as the simplest way to find and search a job has ended, now the jury is asking questions and making comments.
The second presentation is from Turkey. FigPii is on the stage. This startup which gathers everything together and a growth hacking device has ended. Now the question and answer part began.
Let us revolutionize the relationship between citizens and the govermentsin all developing countries.
The 4th start up is coming from Indonesia a social entrepreneurship project. They are on the stage for final. Kitabisa.com which is a crowd-funding platform has ended and now the jury is making their comments.
For the 5th presentation is MASS from Canada on the stage. They are preparing softwares for marketing and now their presentation has ended. The jury is on the charge.
The next presentation from OTSIMO from Turkey. They said that they created the OTSIMO to give children with autism a good and full of with quality education and they provide it with a mobile app on the tablets. Now their presentation has ended and the jury is asking their questions.
For the 7th presentation Mydoctor.ok from Pakistan is on the stage. Their aim is to gather the patients and doctors in one platform and make them meet.Now their presentation has ended and the jury is asking questions and making their comments.
The next startup is Pickpack from Poland. They introduce us a safe and non-pricy courier service.After their presentation now the jury is asking questions.
The next presentation belongs to Qirtas from Suudi Arabia. Qirtas is putting itself to the front with the modern perspective to old stuffs. Their presentation is now ended and they are answering the jury's questions.
Another startup is Skycryptor from Armenia. They are developing a safe cloud system and now their presentation has ended. The jury is making their comments.
Another startup from Pakistan! Treble is a moble app which has focused on increasing the emotional relationship between the humans with music. Now they are answering the jury's questions.
The 10th startup is Kostoom from Indonesia.The founders aim is to connect with fashion and social media. Now their presentation has ended and the jury is on charge.
The next presentation is coming from Turkey again! Innoveralabs is a startup which provides a cyber security system.After their presentation, the jury is asking questions and making their comments.
The next startup is CashBasha from Urdun.It's an online shopping platform and now their presentation has ended.The next step is jury.
The last finalist is Pobua from Greece, online solution for sharing business contacts and information with colleague.
While the jury is leaving to decide who the winner is Özgür Denir Onur is telling Invidyo which is one of the finalist startup
The third startup is Pobuca from Greece!
The second startup is Innoveralabs from Turkey!
And the winner is CashBasha from Urdun!!
Moderator: Prof. Erhan Erkut
Panelists: Ozan Sonmez, Rina Onur, Bill Kenney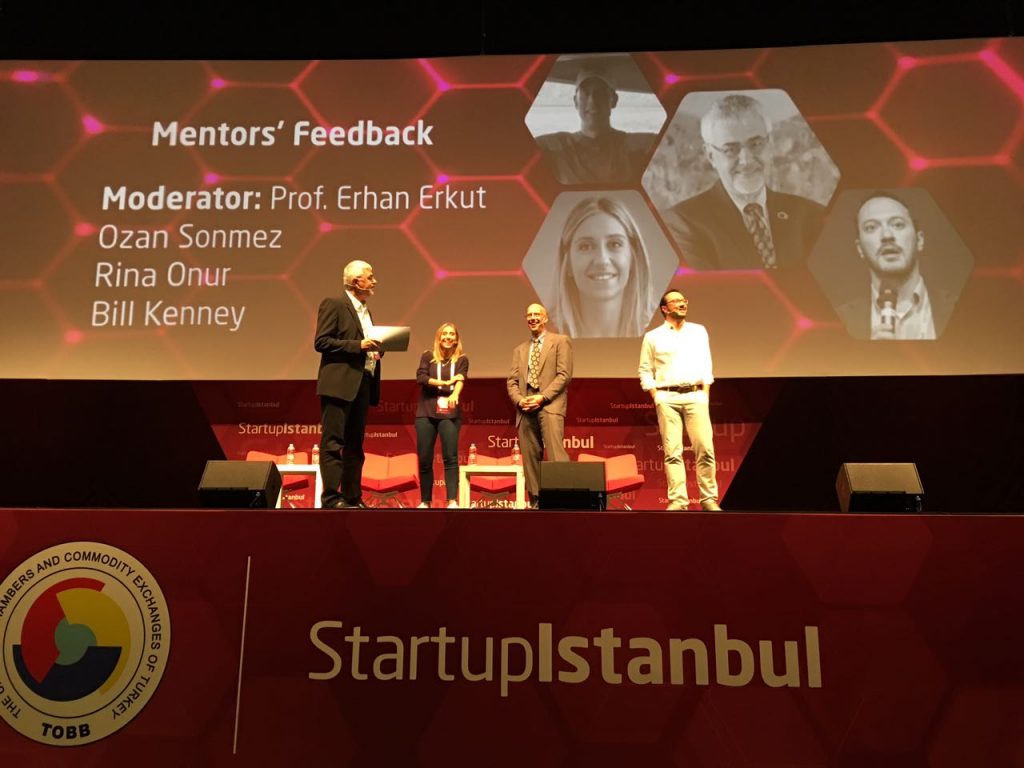 Nobody takes note. They are just listening and watching your face and mimmicks even though they have got only 2 and a half minutes for introduce themselves and ask questions. Bring a piece of paper and pen . Have some respect to the investors.
16:10 Fireside Chat: Ali Sabancı – Elmira Bayrasli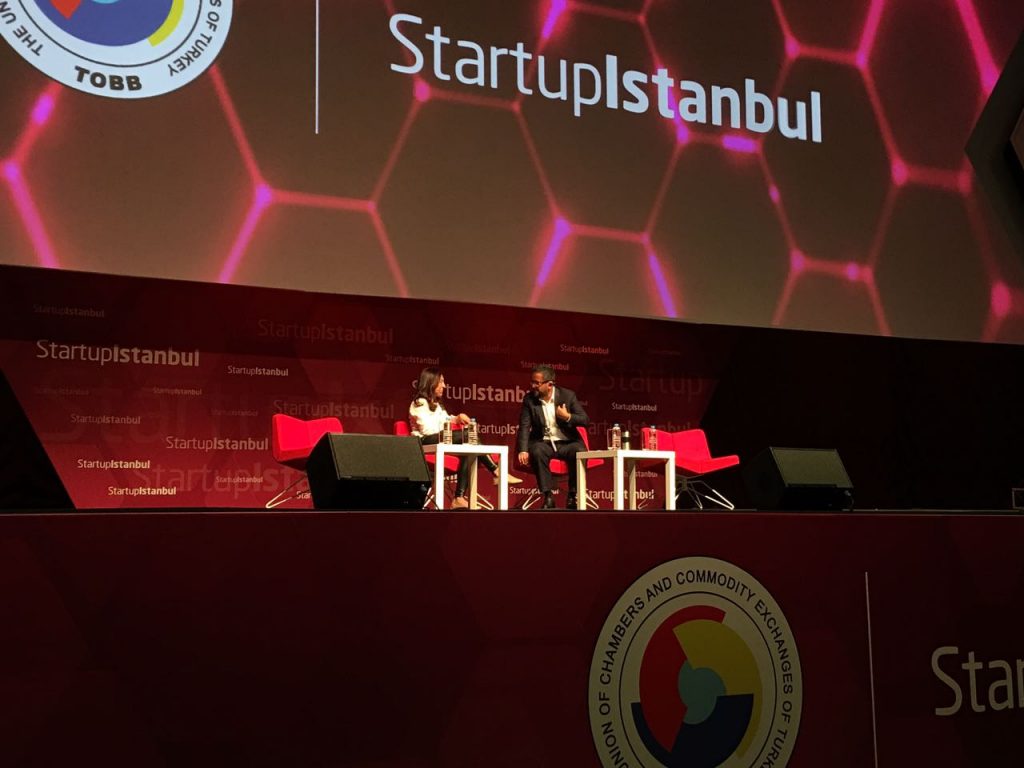 "No matter what happens politically, this country is the sector of the startups."
"Psychologically we have to be more open to make investments."
15:50 Another panel at Startup Istanbul: The Good, the Bad and the Ugly.      
Silicon Valley Culture
Moderator: Bill Kenney
Panelists: Allen Taylor, Kyra Davis, Anil Advani
15:10  Now It's panel time at Startup Istanbul! Our moderator Fatoş Karahasan is welcoming the panelists Omar Syed, Ruzgar Barışık, Torsten Kolind to talk about Main Trends Chan1ging the Future of Investment
"Optimism is the new trend"
" You can do whatever you want, but if you can't find funding, there is always a problem waiting there. So money is important too."
Do you expect growing in e-commerence espicially in Turkey?
Yes, transportation is the key. Hepsiburada is good example for this. You can deliver a package from West to the East in 1-2 days.
Idea will always be important.
"Startup life is changing . Fast."
Being an investor is not easy. Enterpreneur Work only with one work, but investor works and looks for new enterpreneurs.
There is no better time no be an enterpreneur. There is no better time to build  a brand.
"Solutions not come from government alone , they all come from enterpreneurs"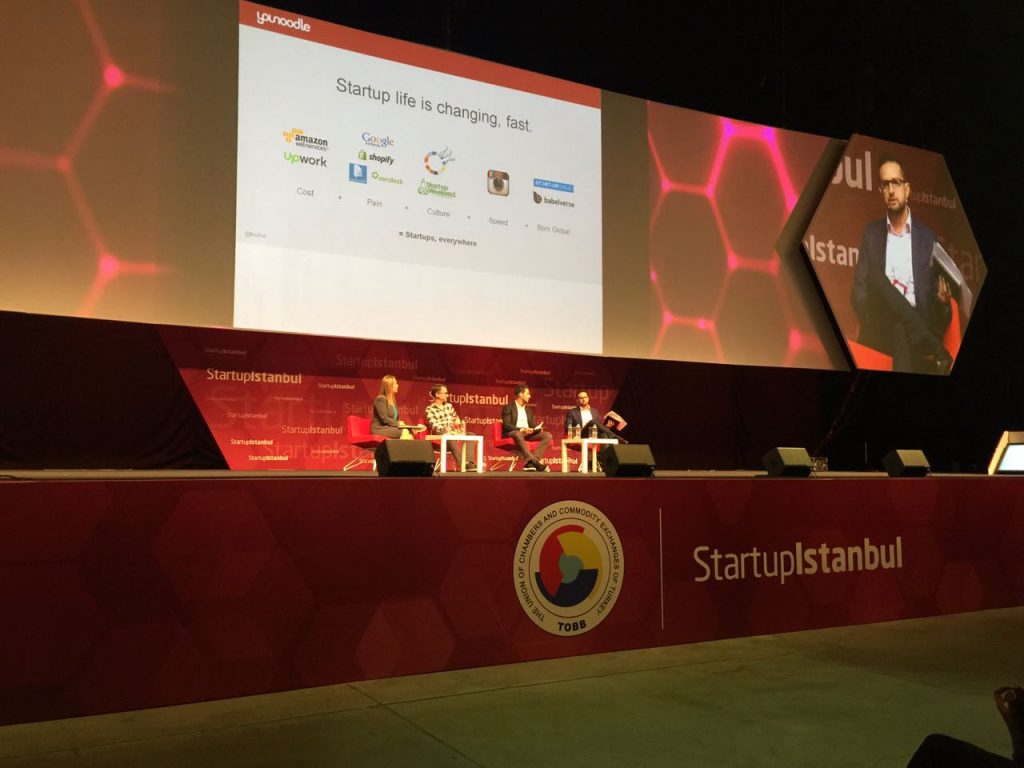 14:50  Elmira Bayasli will answer our questions on all of our minds with her speech:" Why you're better than Silicon Valley, but why you have a hard time beating them"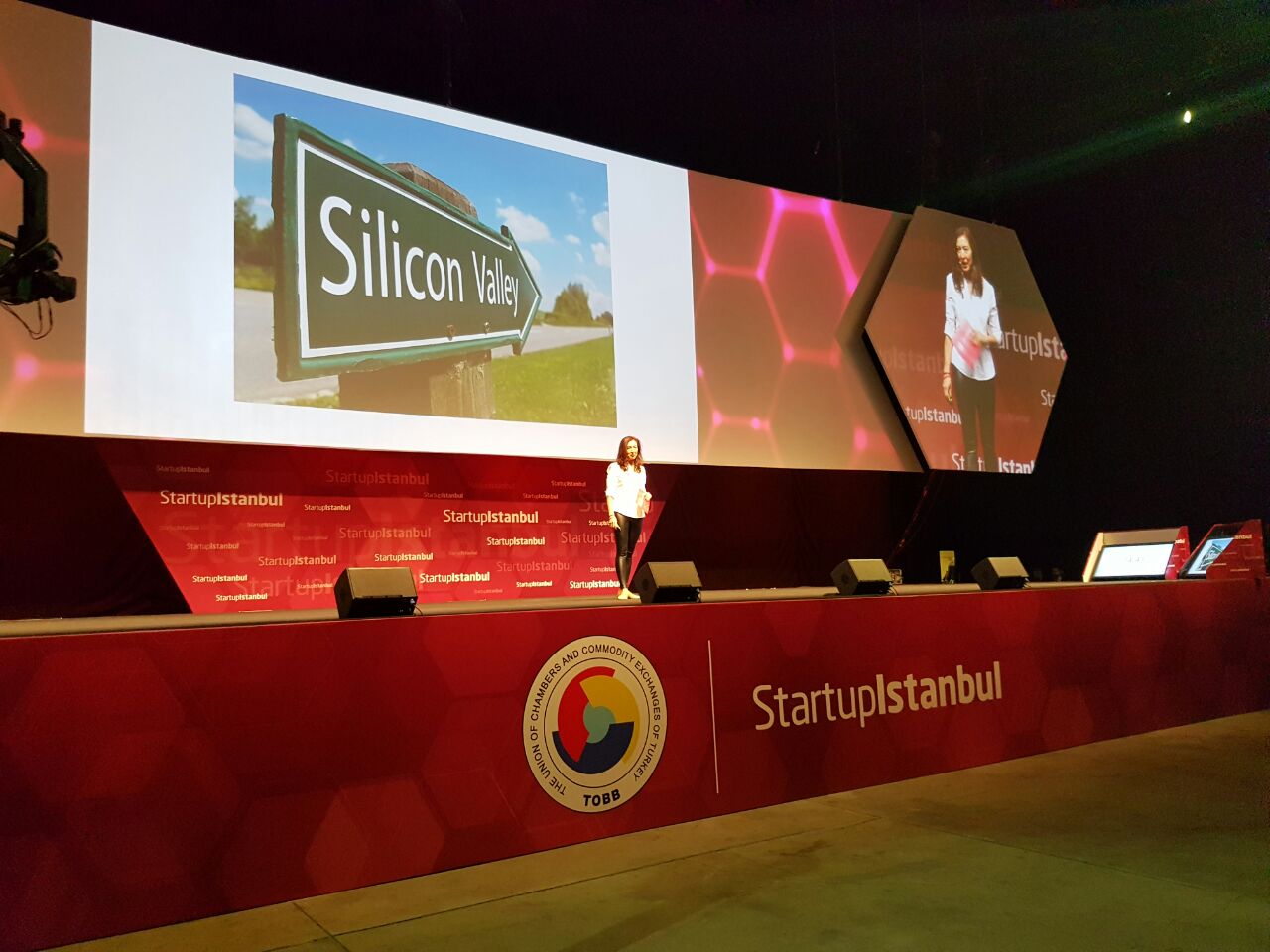 We all use credit cards in America but exactly it first came out from Kenya. Because money was moving really fast in Kenya. But money is moving also fast in Latin America,Asia etc. So I call it an innovative idea.
You never get a capital if you don't trust anyone.
Don't expect to create innovation by living comfortable, Innovation borns from discomfort.
Do better with less.
Stop making execuses and take responsibility.
14:40  Next we are listening The Unexpected Couchsurfing Story by Casey Fenton at Startup Istanbul!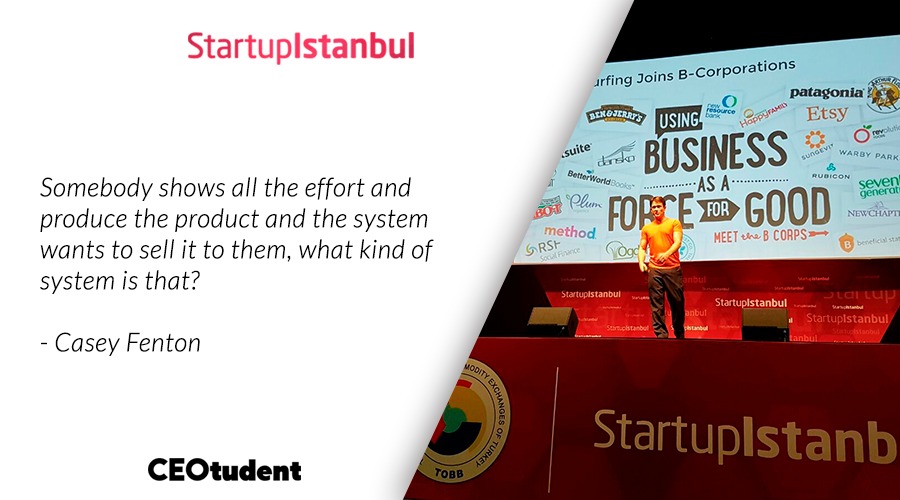 Somebody shows all the effort and produce the product and the system wants to sell it to them,what kind of system is that?
When people come together around common vision, they can accomplish great things. We need the instruments that pull our people together, not apart. –Nainoa Thompson
In this new world, our "trust score" will be the only metric that people need in order to make decisions on how to do business, and with whom. It effectively becomes the new credit score. For someone with VC funding, the opportunity in the next year to find a single metric of trust is huge.
14:25  Ussal Şahbaz is now on stage and his topic is GE Approach to Digital Industrial and Innovation!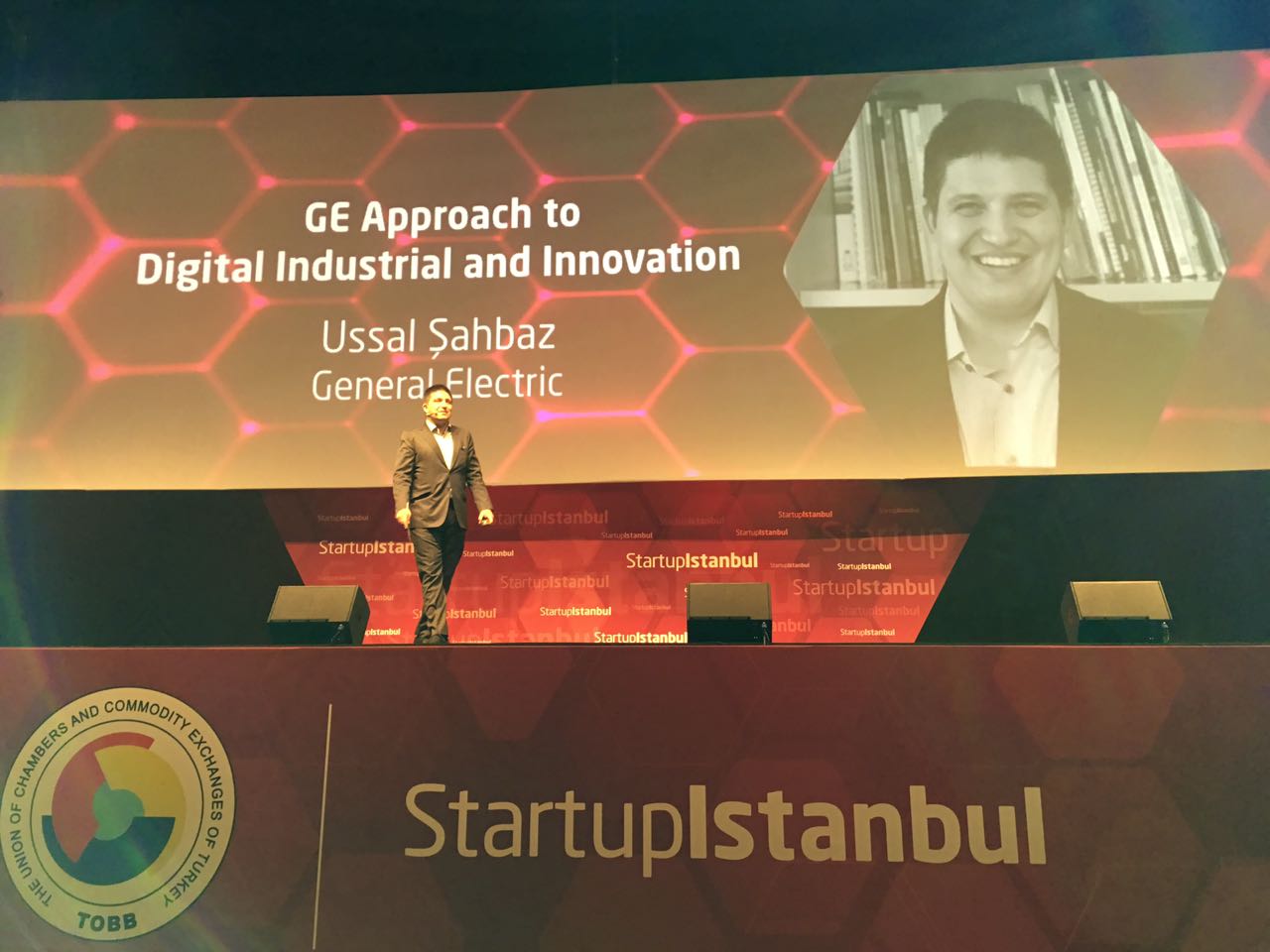 If you increase the velocity of working even at very little percents you can save many money.
13:50  After some dancing, we threw away all the stress and now we have the Onur Bucukoglu on the stage for his Digital Innovation with Cloud speech!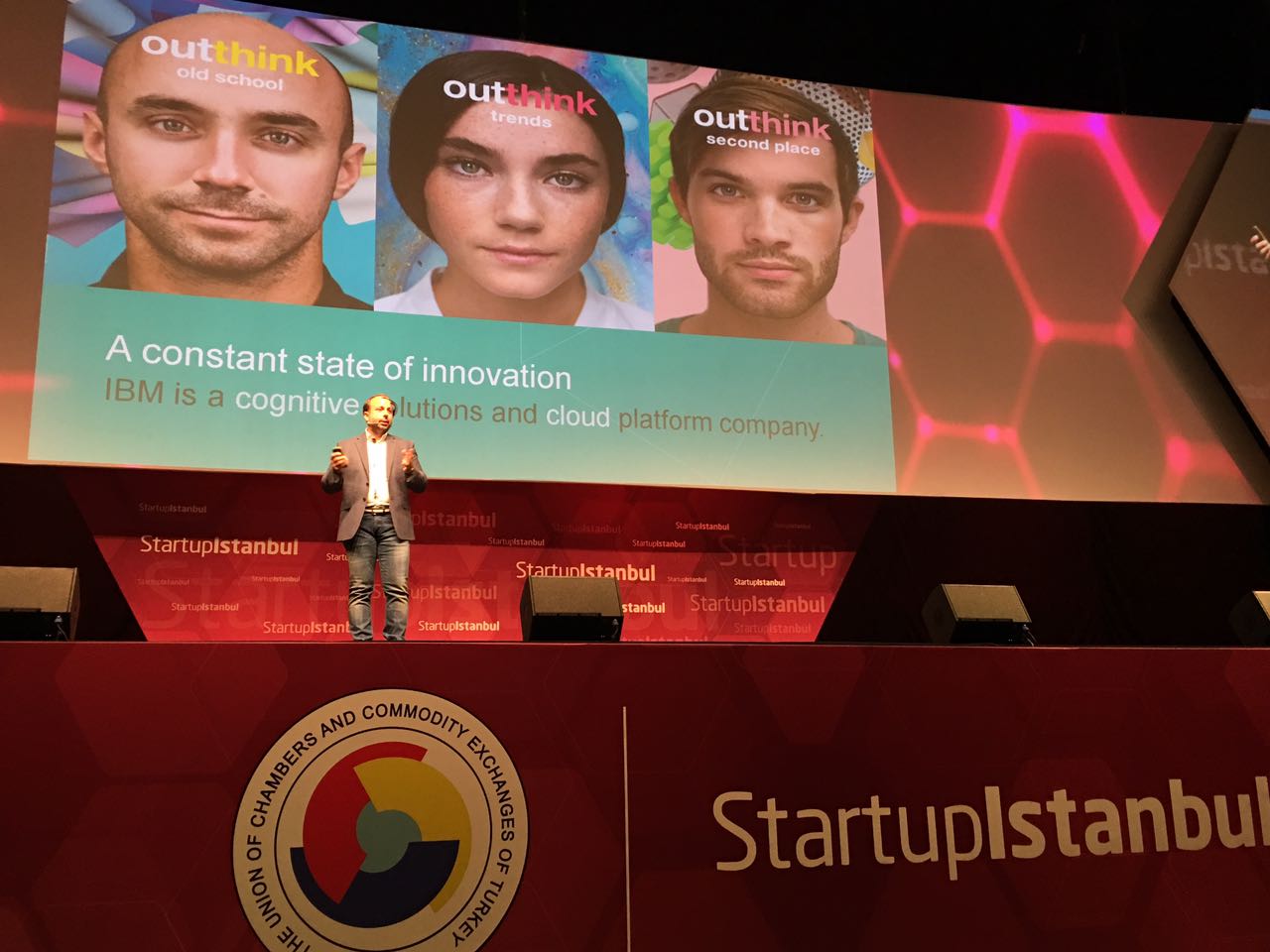 Bucukoglu tried to move BB-8 which he brought to the stage with the device on his head and he succeeded. So he proved us that people can move things with their brain waves. With another words,he proved us that "The Force" is real.
Entrepreneurial Spirit has got the stage with dancing !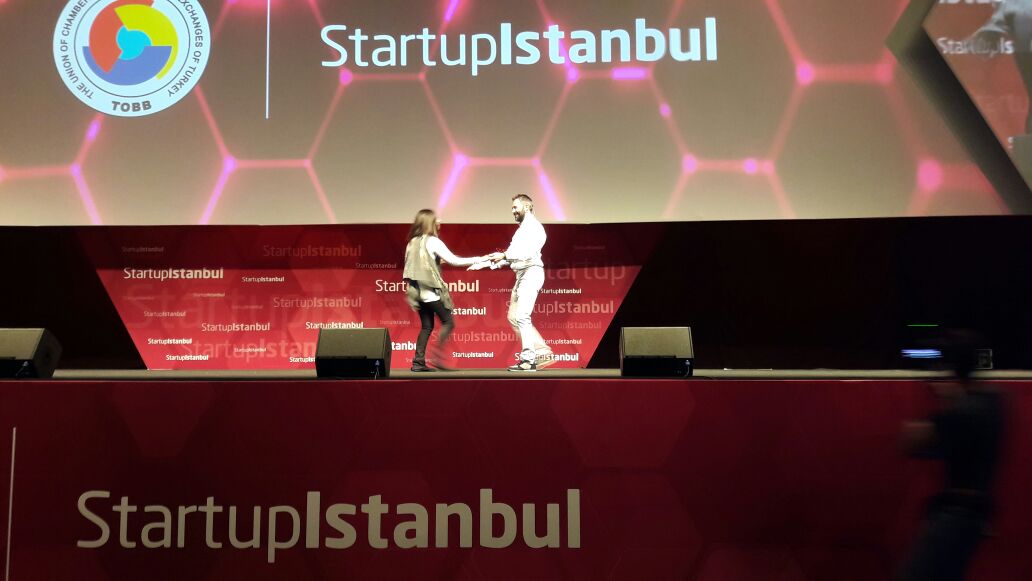 13:30  Next speaker is Marcos Eguillor at Startup Istanbul and he will tell us the IE Business School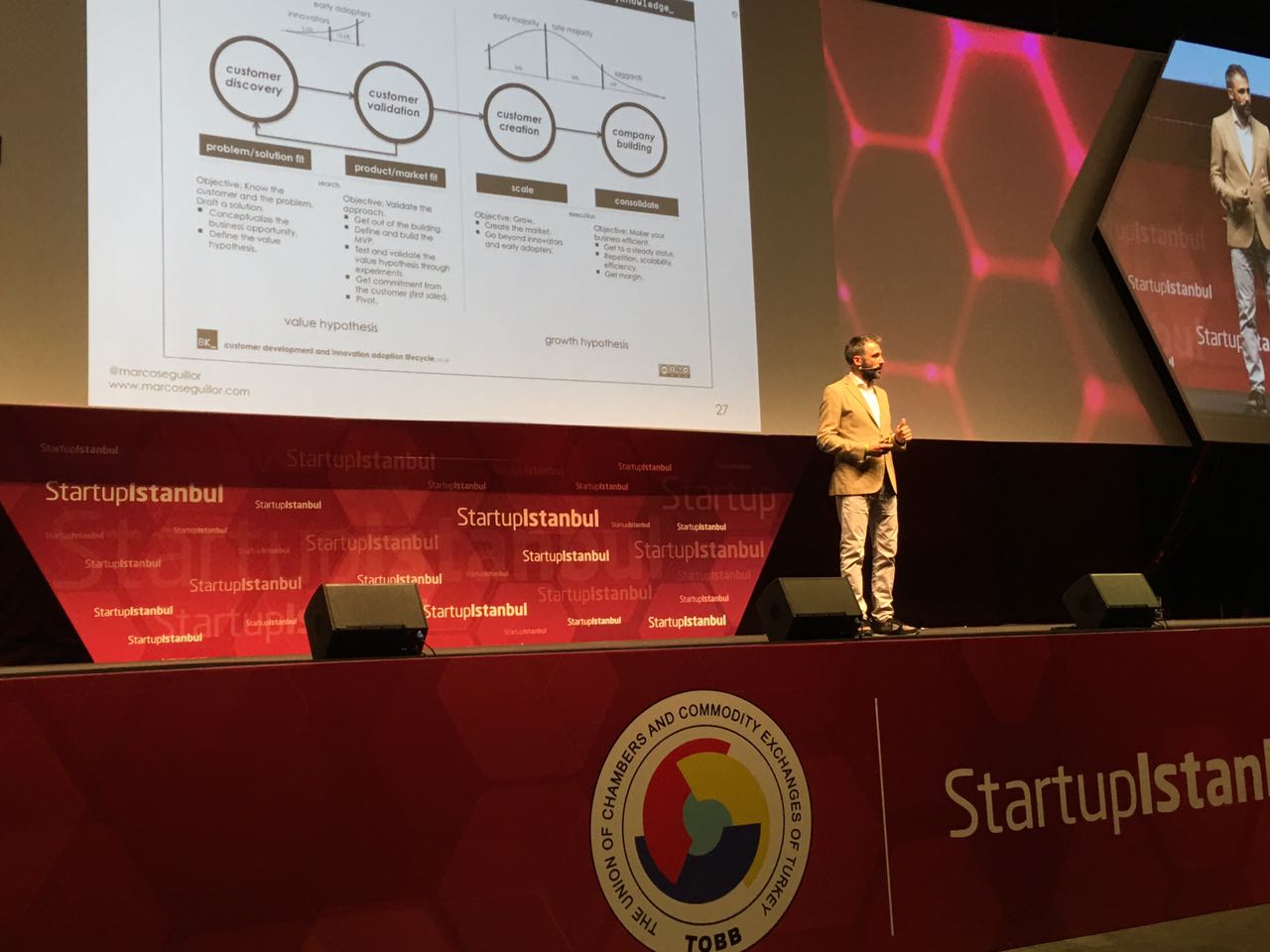 It's not about money itself,it's about what do you want to do with it.
We have to discover our customers, who they are, how are they and how can we solve their problems.
You have to ask yourself:
What do I want to achieve and when?
How much Money do I want to earn?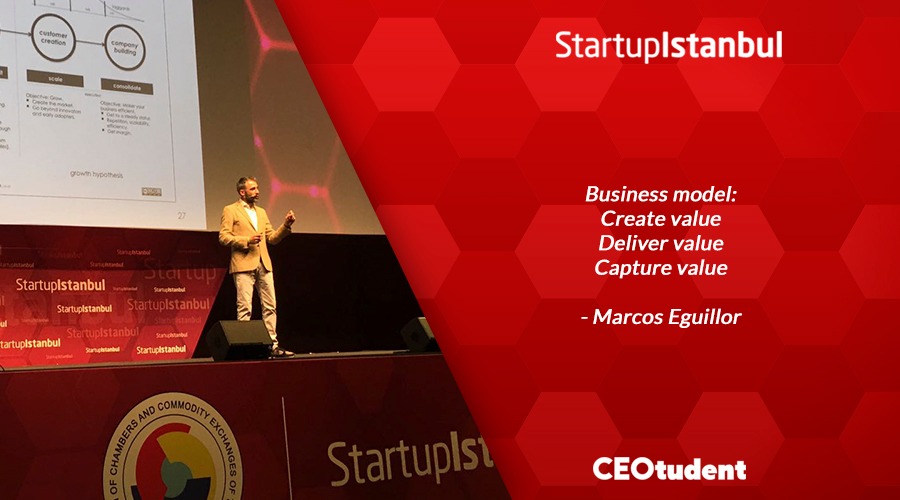 You are the entrepreneurs who invest effort, time, work and now you have to find who invests you money.
13:00  R.Michael Anderson is on stage to talk about the entrepreneruial mindset with us! Keep following us!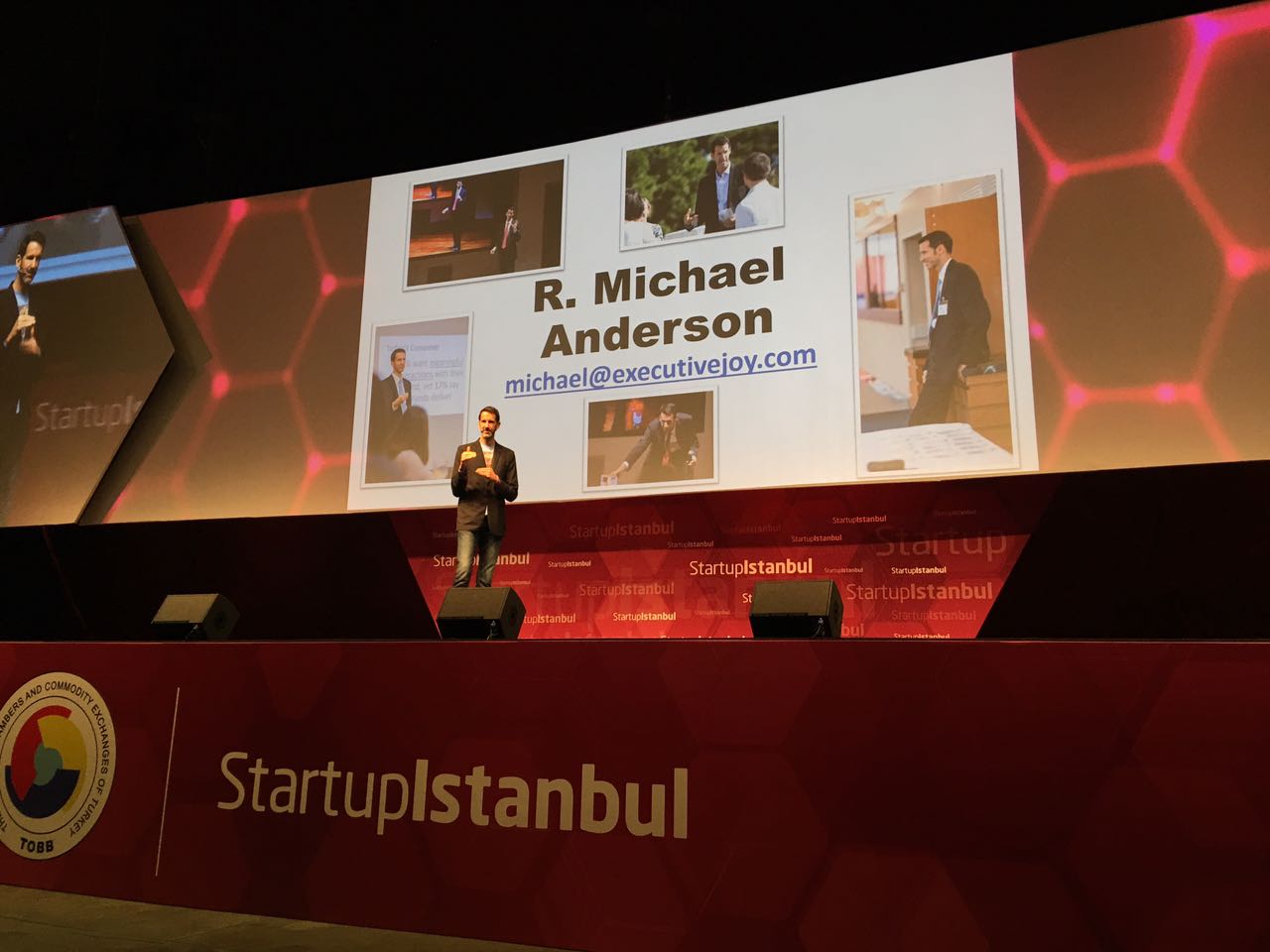 There is only one reason why you want to be an entrepreneur, it's bring value to the world and change it.
I made the realization that me just being me and not worrying about what other's thinking.
I made the connection with love equals winning when I was a child.
12:36  Jeremiah Gardner is on the stage to tell The Art & Science of Value: 3 Traits of Great Value Creators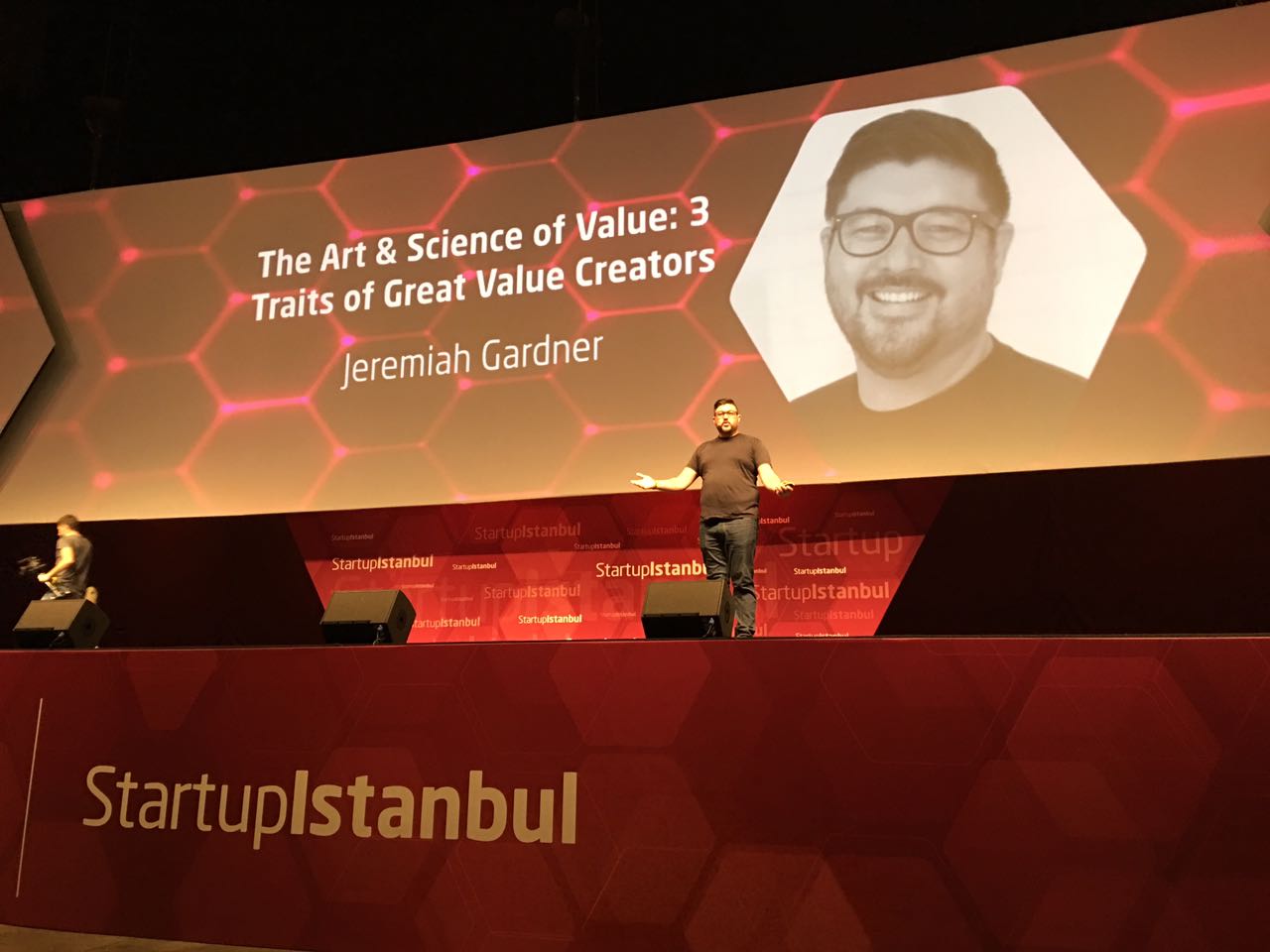 Great value creators, see the world differently.
Lead with emphaty, experience another's perspective.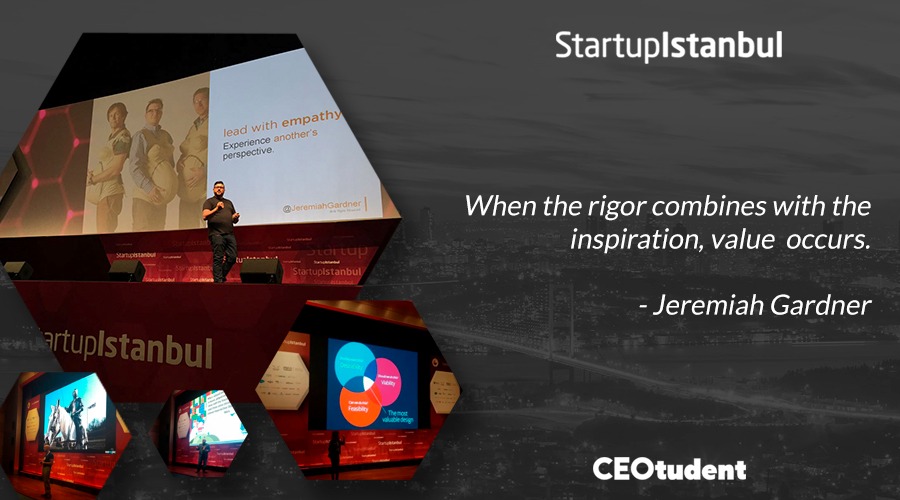 Great value-creators choose to take action, decide to act and embrace the unknown discover value.
12:10 Now we have another investor from Silicon Valley and Partner at Lumia Capital Christopher Rogers.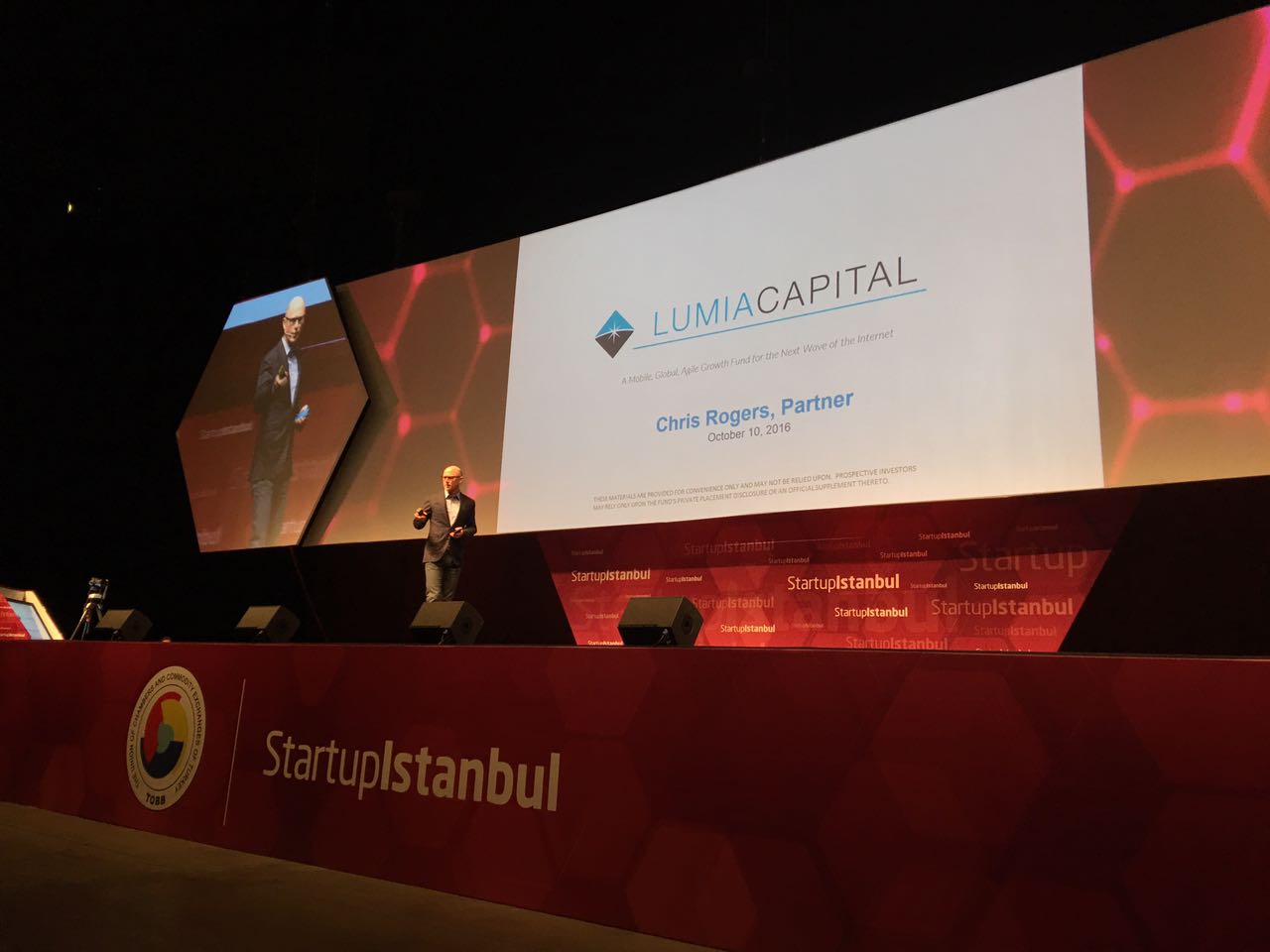 Therefore, startups should be thinking abut their own telecom/carrier strategy.
There is no escape from failing, we have to chase it.
You can not rely on one path in, you may start with it but you always triangulate.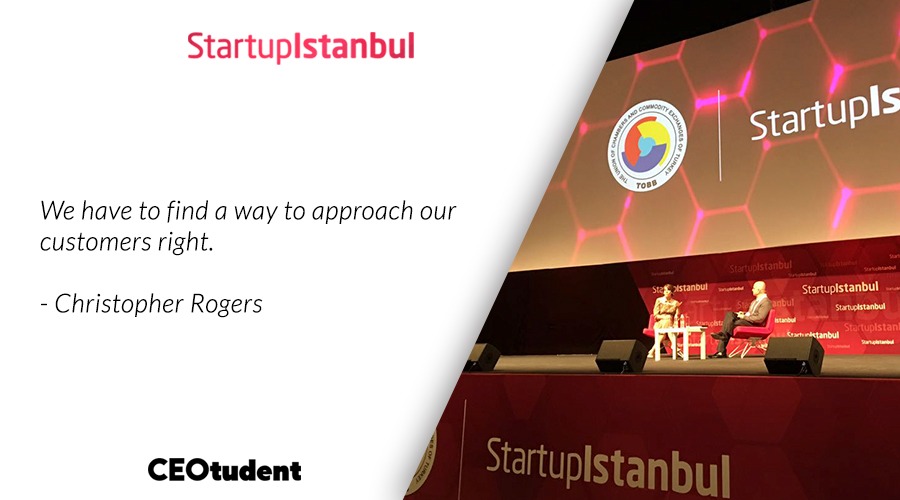 You can not rely on one path in, you may start with it but you always triangulate.
11:50   We have Sam Malikarjunan on stage again at Startup Istanbul! He will talk about Agile Strategy for Startups.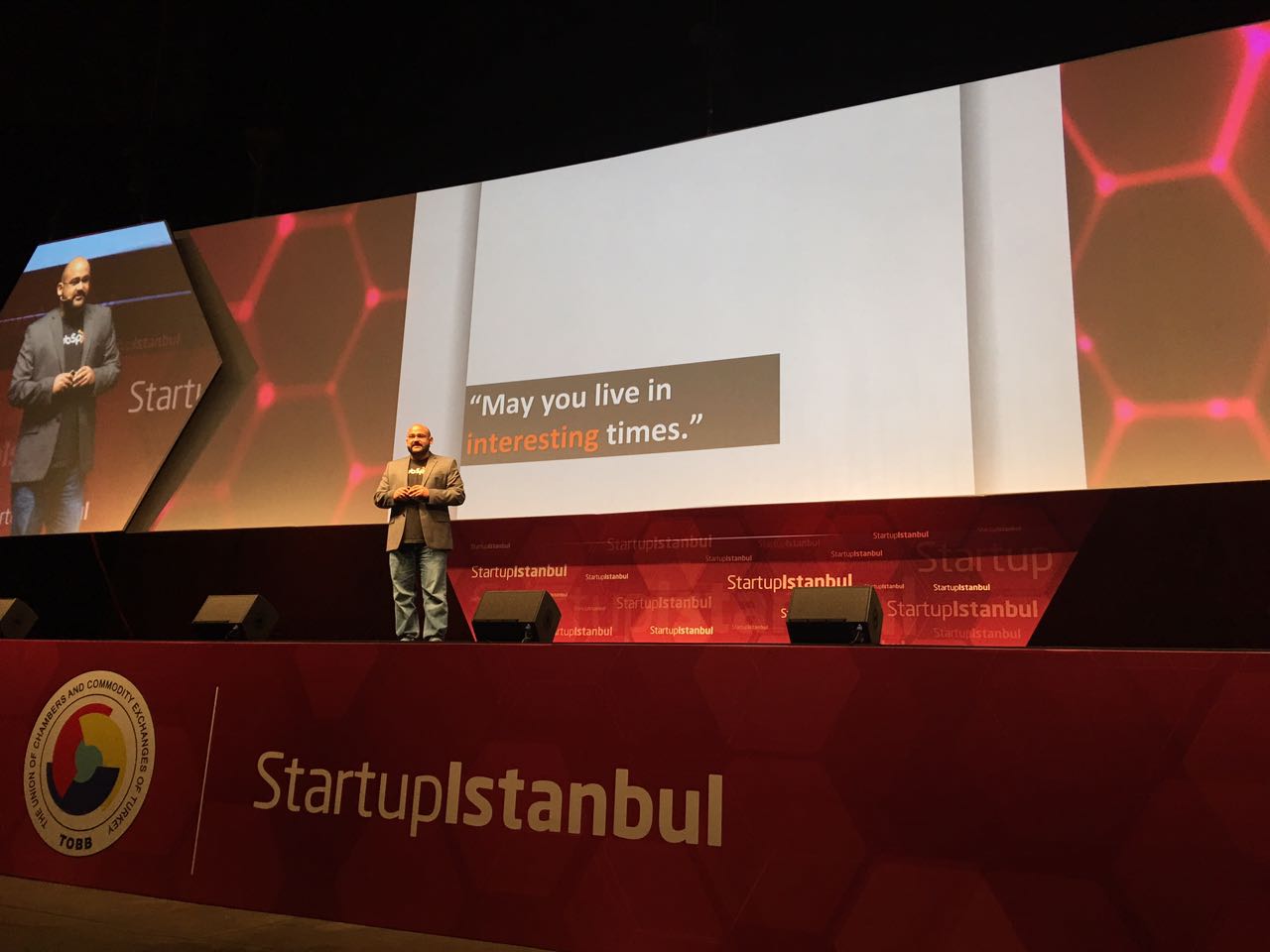 Mass extinction brings opportunities for new species to flourish.
As a start for a startup you have got to get the market fit.
Start with the customer, and work your way back.
The right thing to do of this forget about the billions of opportunities around you and only focus on one thing.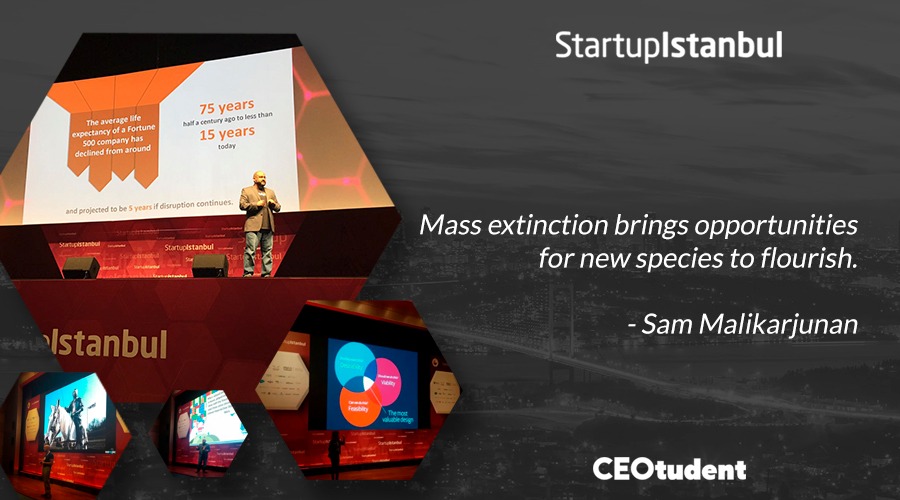 11:20  Hanzade Doğan Boyner will be hosting another Fireside Chat on stage with Christopher Schroeder now!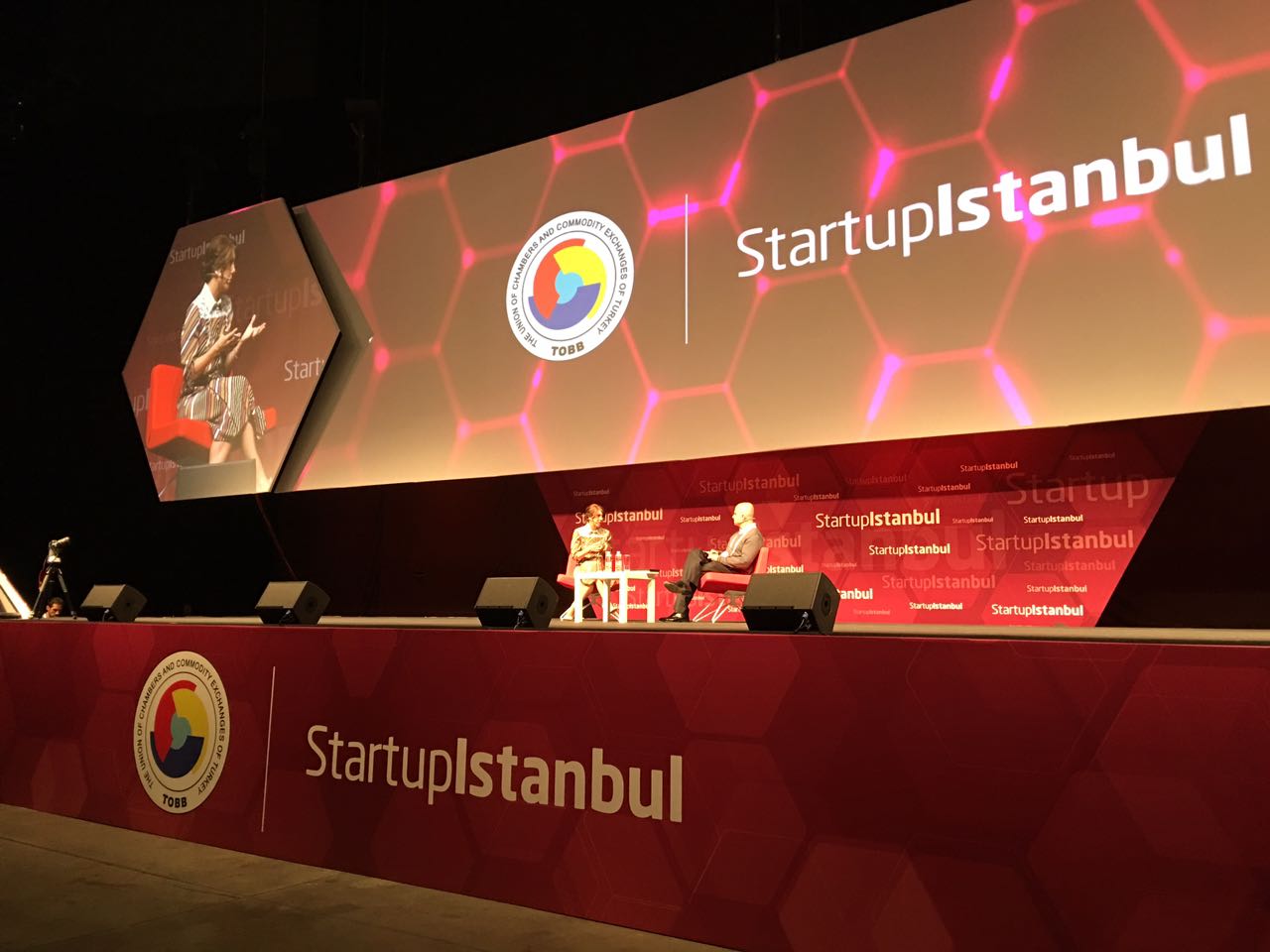 Anything that make our customers unhappy, we immediately detract from us.
Trust is the most important value in our company.
Whatever decision we make, we choose the customer satisfaction over everything.
My most important advice to the entrepreneurs is start from your customer, not from your product.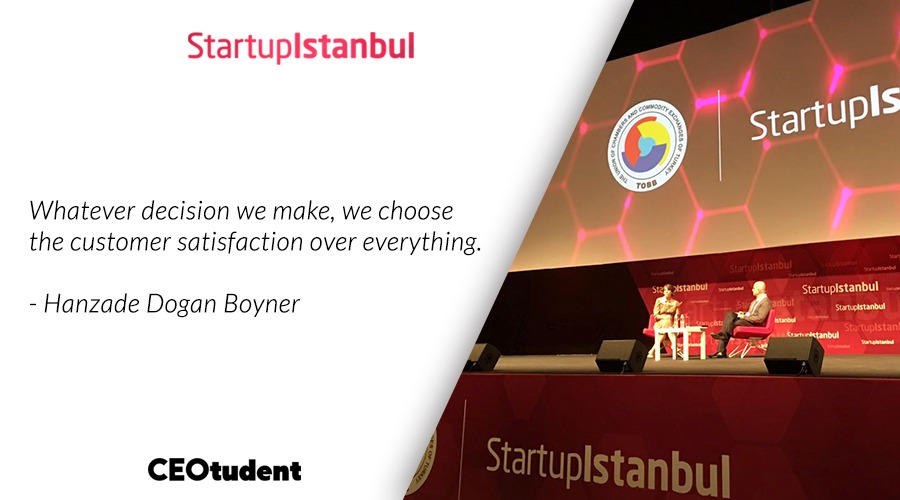 There are difficulties to keep innovation in large company like hepsiburada, we really have to work hard.
We want to lounge hepsiburada as a space to sell all your startup products.
It needs to be more women on business and technology.
11:00  Now we have Andrew Romans on stage to talk about the future of VC!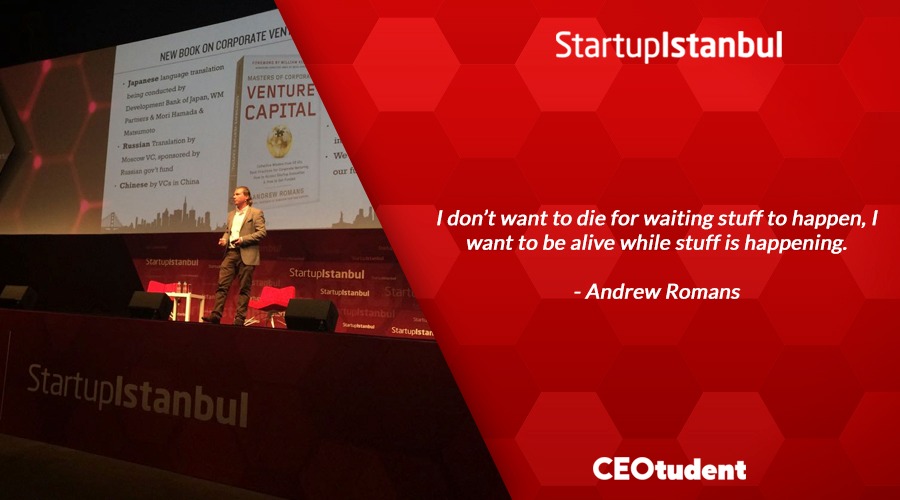 I don't want to die for waiting stuff to happen, I want to be alive while stuff is happening.
If you perfectly drive m&a, you can have billion dollars value company.
10:35  The one and only Cuneyt Ozdemir is with us on stage at Startup Istanbul! Keep following us for his speech. Cüneyt Özdemir's talk who was with us on live minutes ago.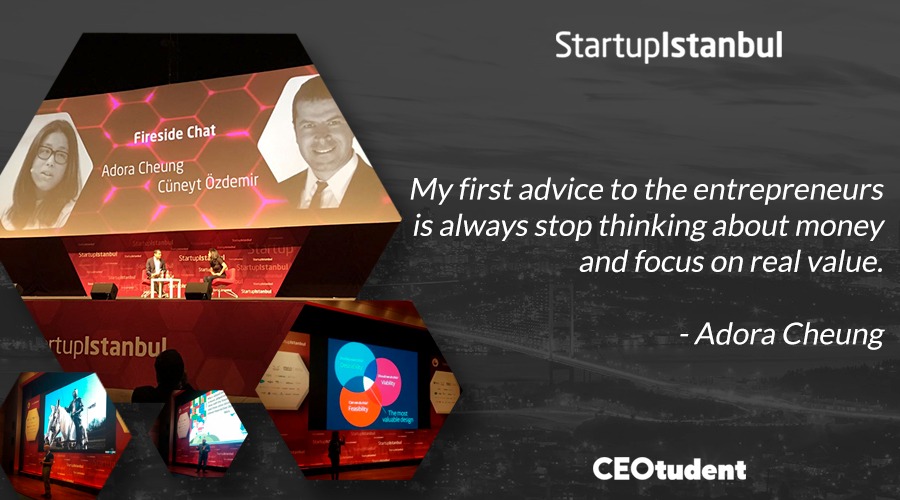 Cuneyt Ozdemir is welcoming Adora Cheung on stage for Fireside Chat.
My advice to the students;
If you have an idea, start doing it immediately,
If you don't have an idea, firstly work on a fast growing startup.
My first advice to the entrepreneurs is always stop thinking about money and focus on real value.
And another advice is find a investor who found a startup before and failed.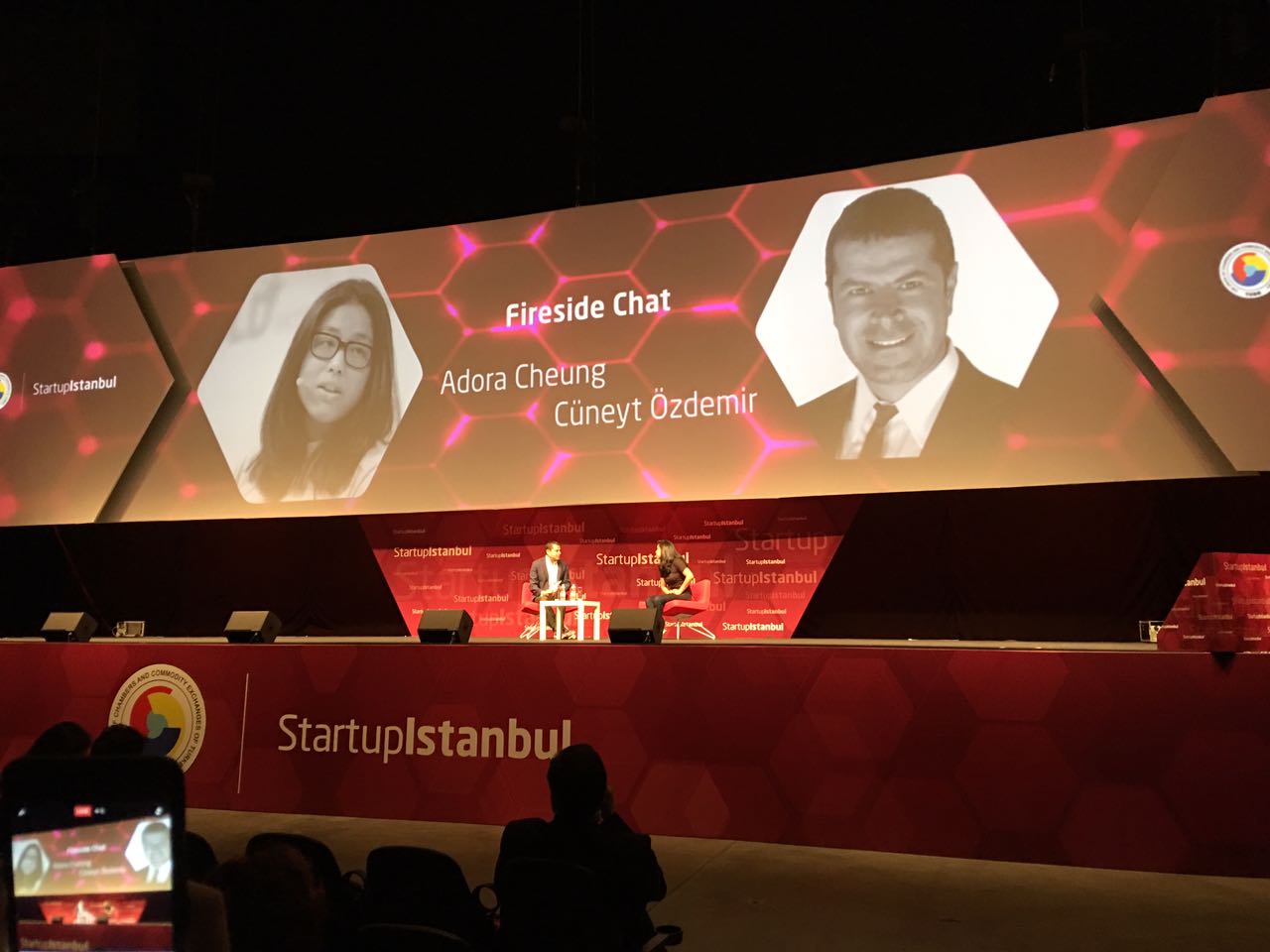 10:20  Now for an opening speech we have the Rıfat Hisacıklıoğlu on stage!
You are here to raise you ideas, increase and find an investor.
Hisarcıklıoğlu ended his speech with Marter Luther King's words:
If you don't fly, then run. If you don't run, then walk. If you dont walk, then crawl but keep moving. Keep moving on to the future.
We see what a great event is this by looking at the participants coming from all around the world.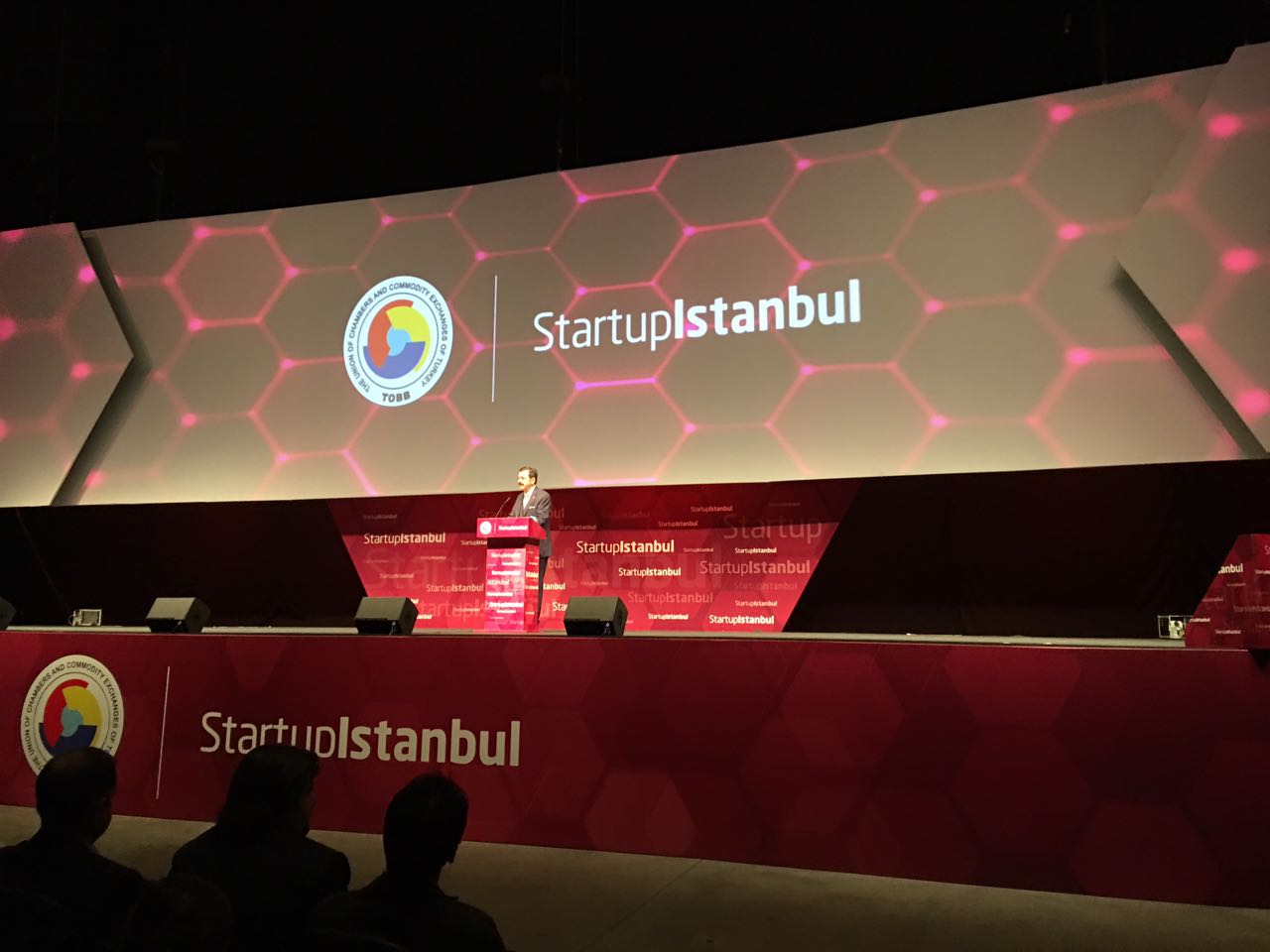 10:00  Erhan Erkut will make the first speech! Stay tuned for a great day!
They always ask me why entrpreneurship and I tell them It's about wealth and growth.
I want you to be entrepreneurs because I dont want you to be corporate slaves.
 Entreprenership is not an individual sport it needs a team!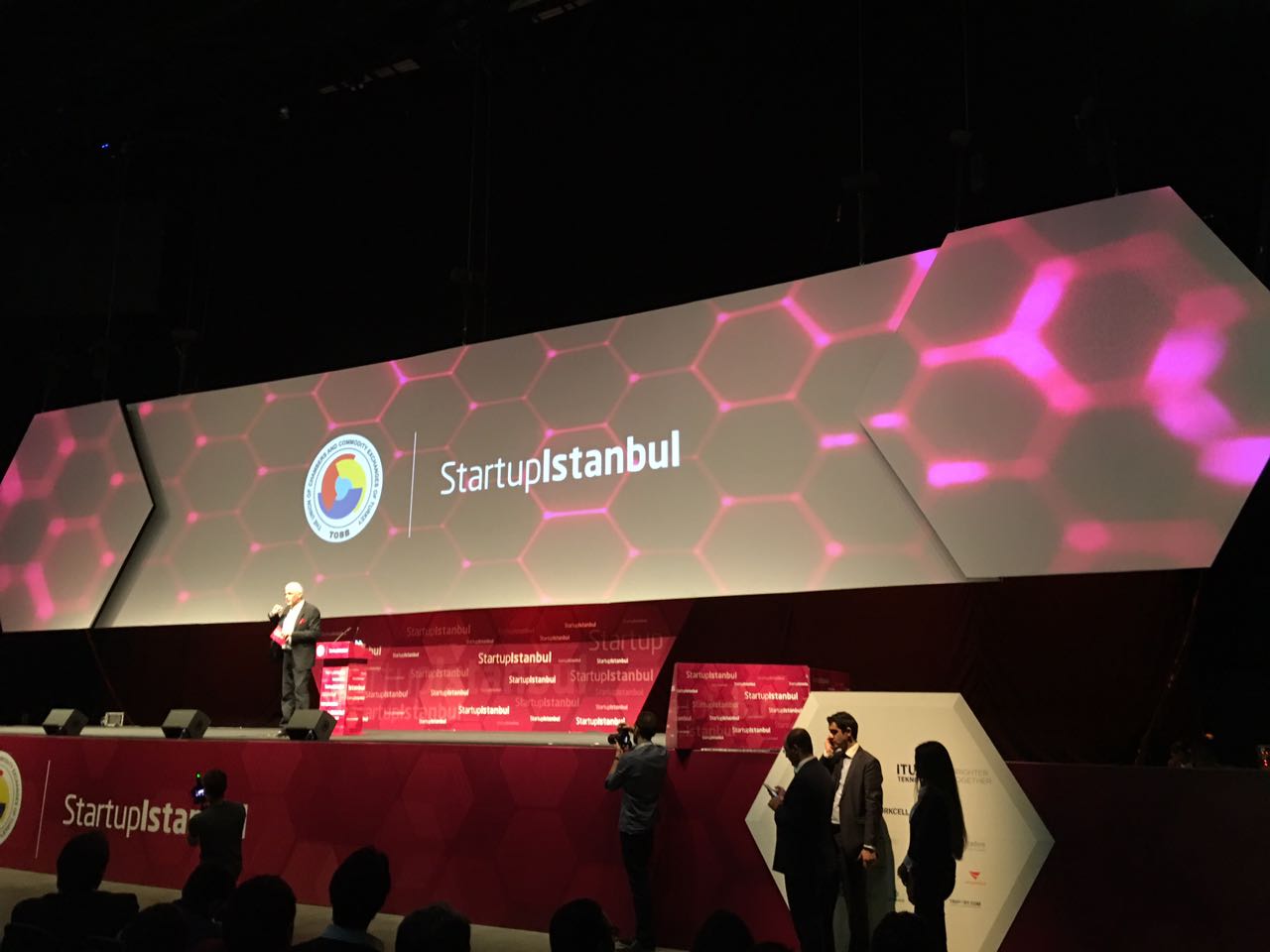 Startup Istanbul Final Day has begun at Volkswagen Arena! Erhan Erkut will make the first speech! Stay tuned for a great day!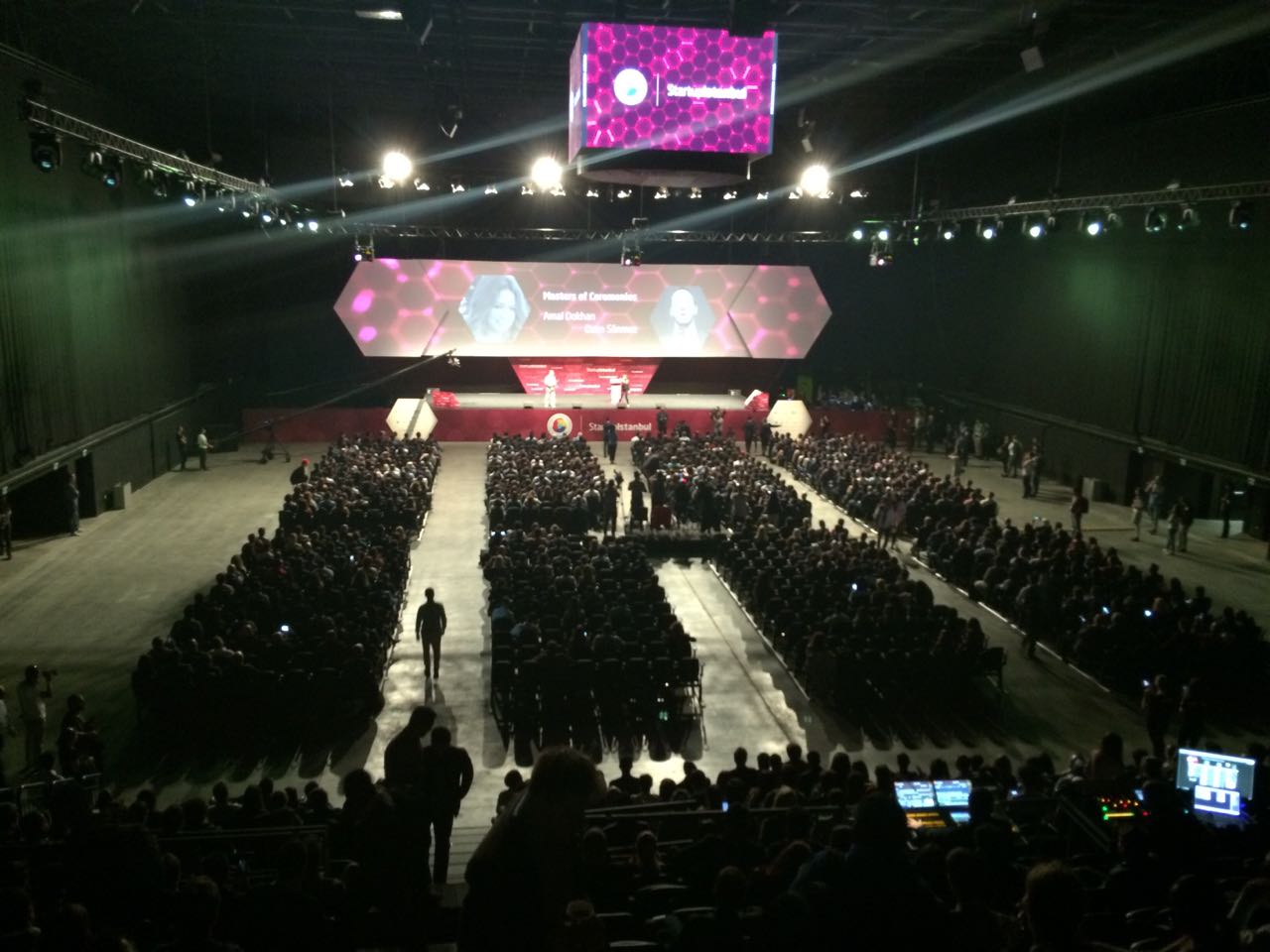 10th October 2016
---
Startup Istanbul's second day has ended! We will see you on Monday at Uniq Istanbul! You can spend your weekend on our website ceotudent.com!
17:00  It's another panel time in Startup Istanbul! Benefits of Social Entrepreneurship is the next panel topic and our guests are Joshua Burke, Niels van der Linden!
They are talking about the most devastating humanitarian crises in our times.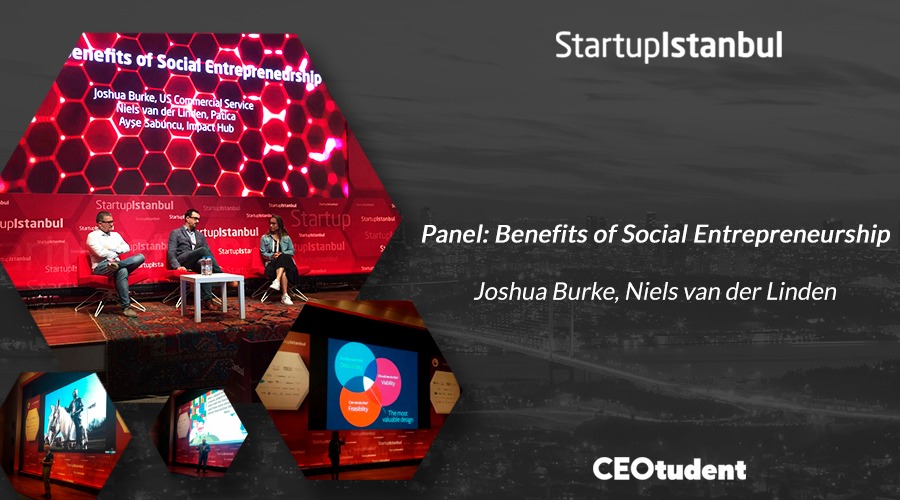 16:45  Betül Genç is on stage now and she wil be presenting "How to Choose the Best Workspace for Your Startup."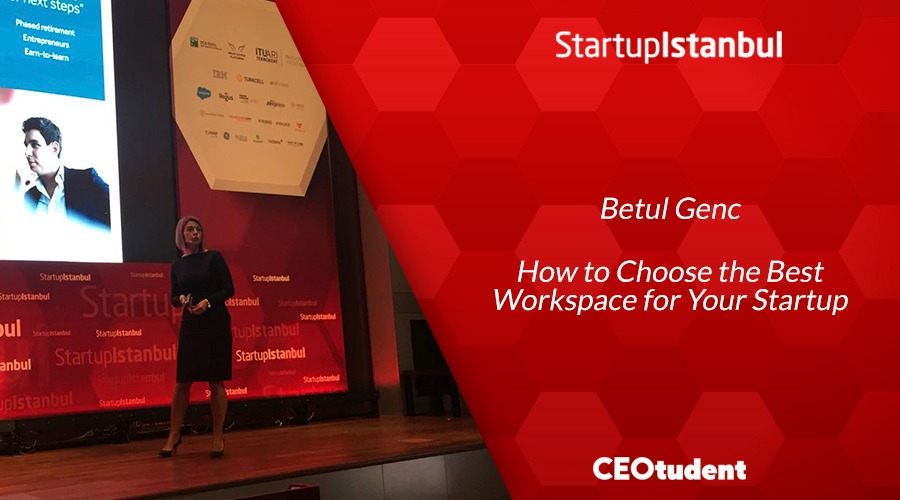 16:15 Now we are with Arjun Arora to talk about how to run a tight early stage fundraising process that gets you done quickly. Keep following us!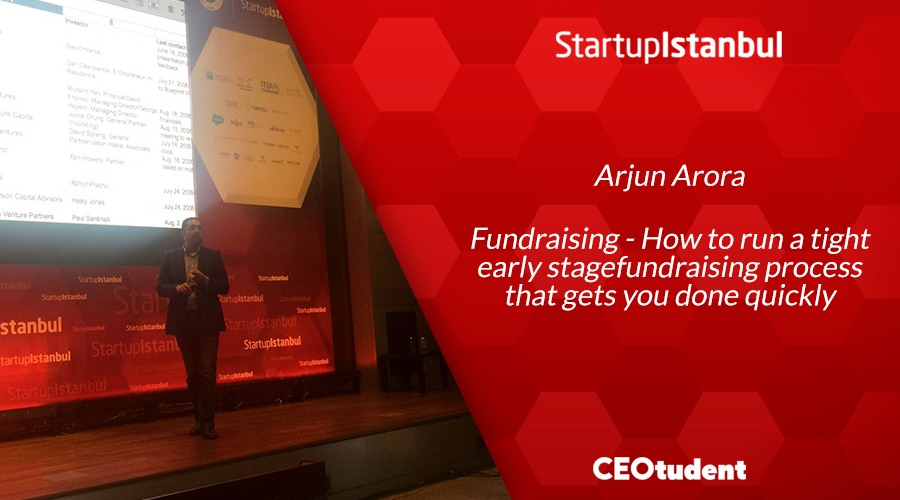 Spend the time to get prepared and then run a tight process.
Create momentum by going deep first and then board.
Create fomo by letting potential investors know who else is in.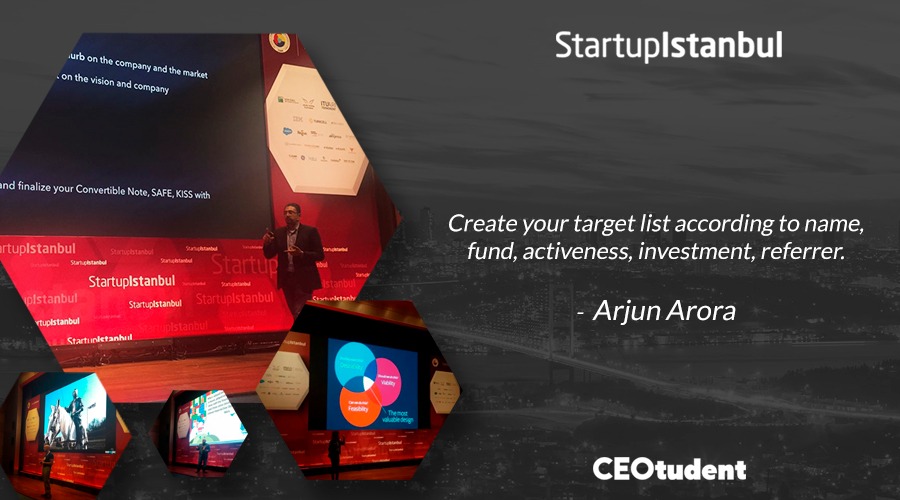 15:45 Mark Little , Vice President of Twitter Media Partnerships in Europe, is here with us now after a small coffee break!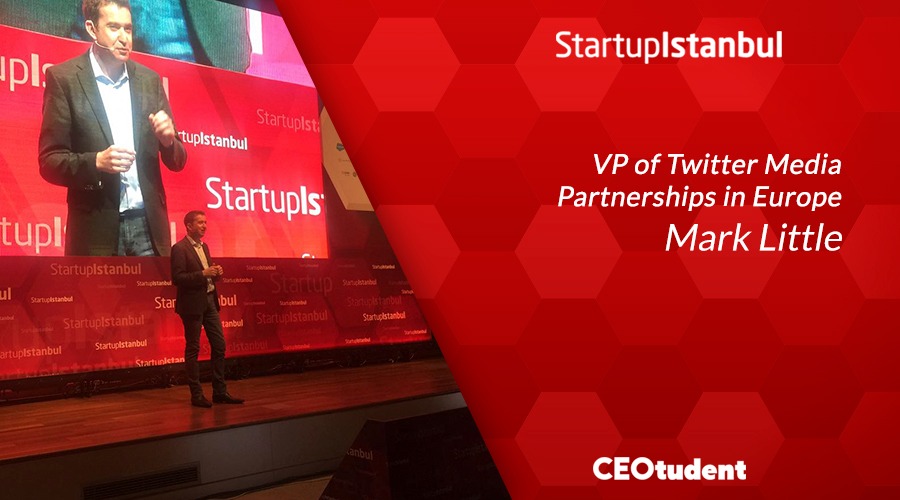 I lost my fear but I do know worst things still happen.
I failed, I tried again, failed again, and failed better. The key point: Fail fast!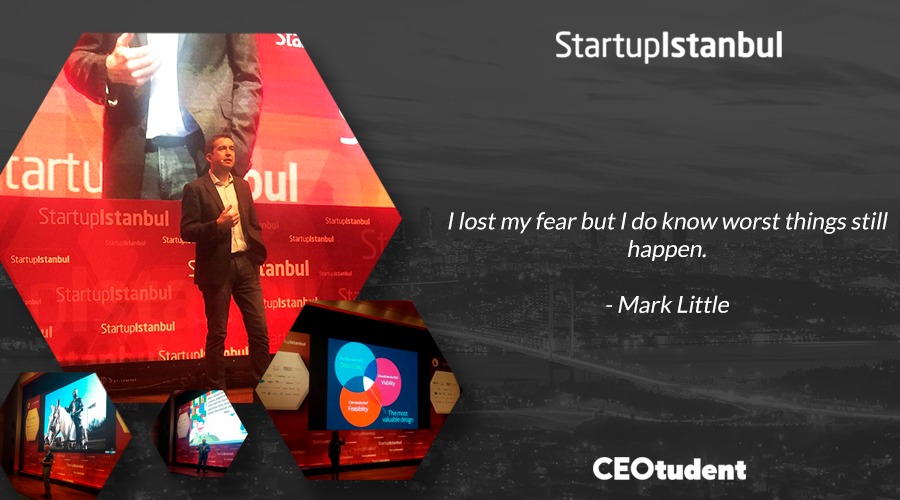 15:00  Coffee Break
13:30   Startup Istanbul is going on with Bora Kızıl's topic:"Why Startups should stop focusing on growth?"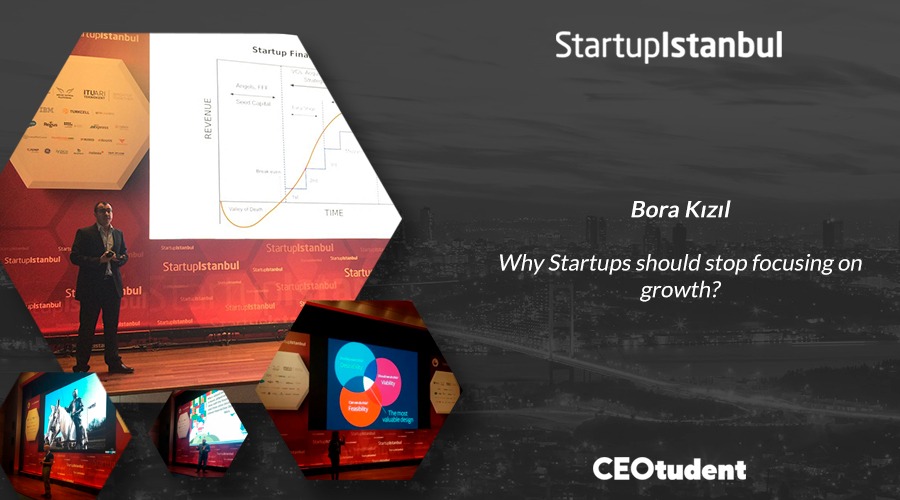 You have 1% of chance to make 10 B dollar and 100% of chance to make 10 M. dollar. Which one you choose?
50% of new companies will fail in the first 5 years .
75% venture-backed firms fail in the first 5 years .
95% venture-backed firms fail to ever return initial investments .
It is all about making your investors happy .
Ultra fast growth can be dangerous.
Growth = traction = market validation
Get smart, be inventive,  automate!
13:10  Startup Istanbul is back after lunch! Now we have Utku Azman on stage to talk about things entrepreneurs need to unlearn.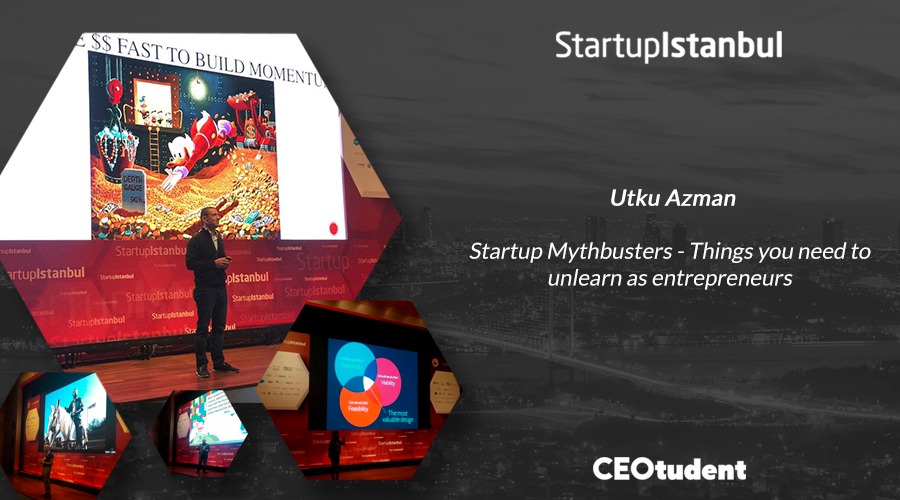 Myth 1:  Raise money fast build momentum. -> busted
Myth 2: Attend lots of events, workshops for xp. -> busted
Attend lots events for networking, practice pitching, hearing lots of feedback and learning.
Myth 3: Have specific goals and plans. (vs. reactive)  -> confirmed
Myth 4 : Build specific partnership with enterprises  -> busted
Enterprises make you slower.
Most of the time you can do better when you are alone.
 Myth 5 : Hire slowly, fire fast  ->  confirmed
If it is a wrong person as a worker, you will lose a lot of time.
Myth 6:  Find an idea everyone likes. ->  busted
Do not be discouraged if you are the only one who likes your idea, and do not be encouraged if everyone likes your idea.
Myth 7:  Listen to expert, mentor advice.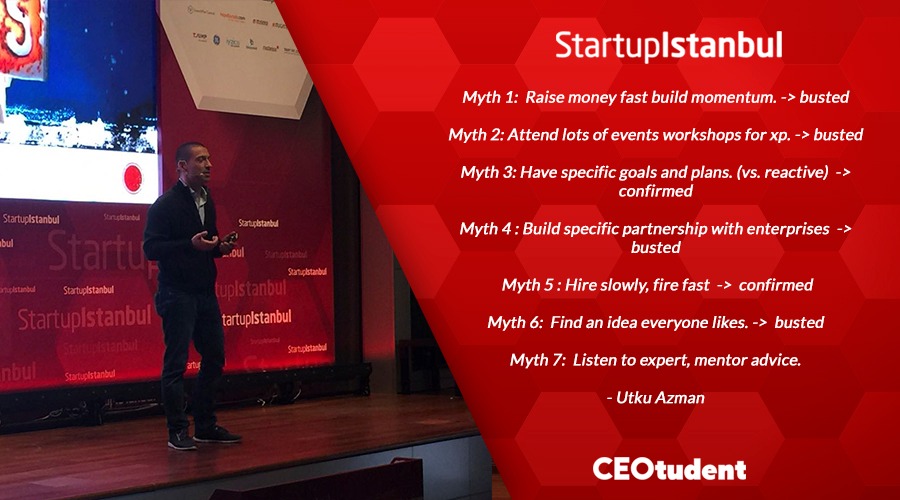 12:50  Lunch
12:10   It's panel time in Startup Istanbul! Yousef M. Hamidaddin, Khaled Talhouni, Sharif El-Badawi, Fares Ghandour are discussing the reasons of why investors will hate entrepreneurs' ideas. And our moderator is Ozan Sonmez!
Yousef M. Hamidaddin: "We want to see more diverse minds to come up with business."
"Focus on building awareness is the fundamental belief."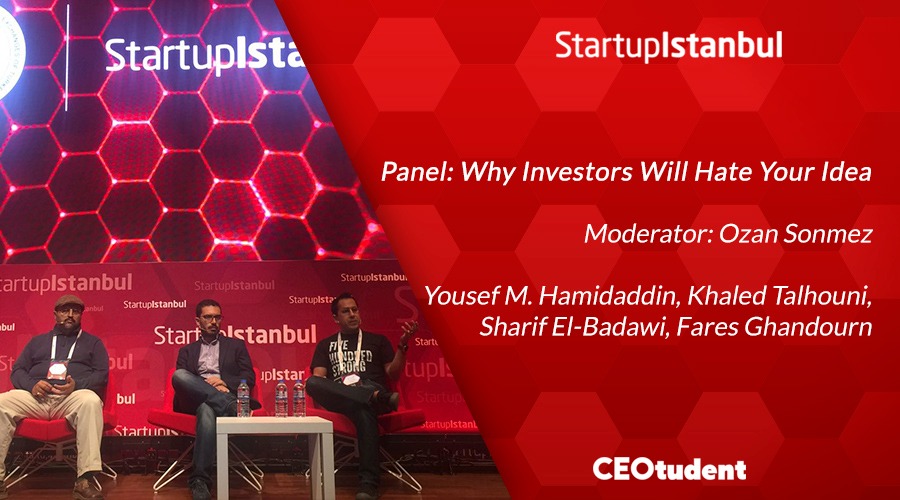 11:30  After the first coffee break, Yousef M. Hamidaddin will talk about how to go global if you're not coming from Silicon Valley.
" Startups need to aim globally from the get-go. It's not enough to settle for an Ipo of a few billion yen. We need them to aim for Ipos that are 50 or 100 billion yen."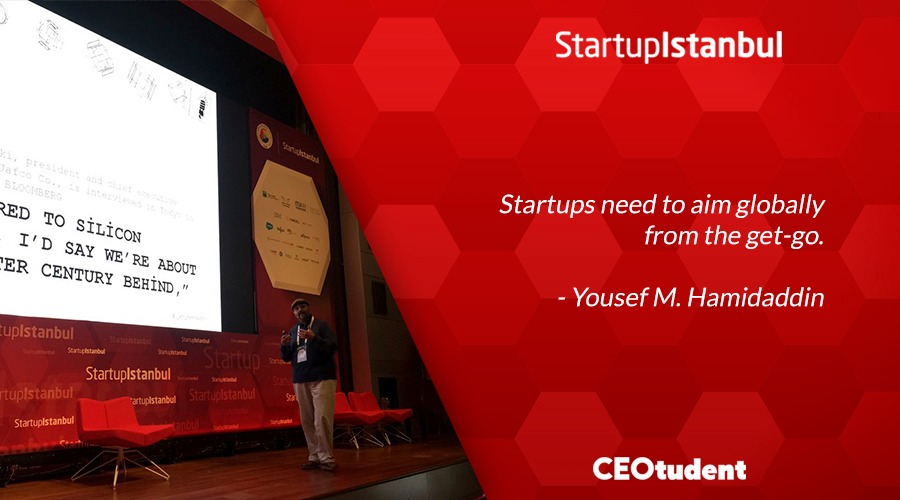 Problems are massive, future reconstruction requires billions, funding is still sticky.
In social dynamics, critical mass is a sufficient number of adopters of an innovation in a social system so that the rate of adoption becomes self-sustaining and creates further growth.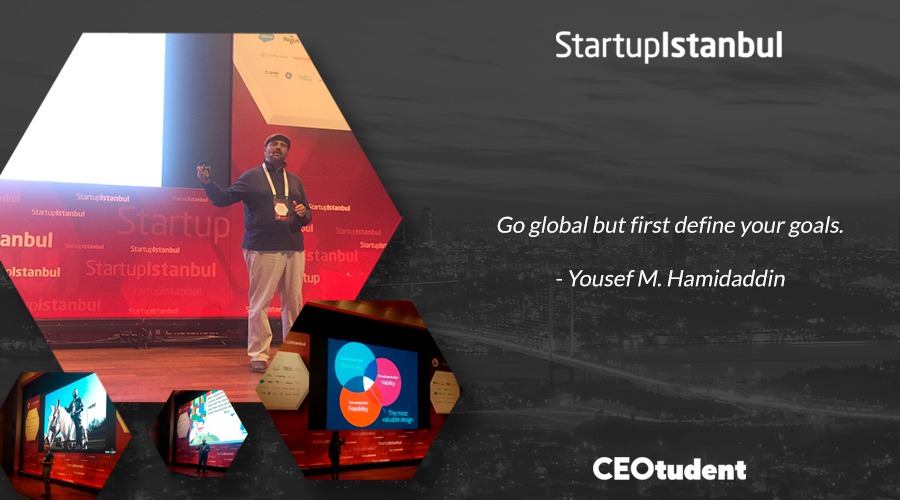 Be global while you're local at the same time.
Do you ask the right questions to apprehend strategic operations?
Do your thoughts interest your Target market?
Build the answer, and şmbed şn your forecast, build your exit market.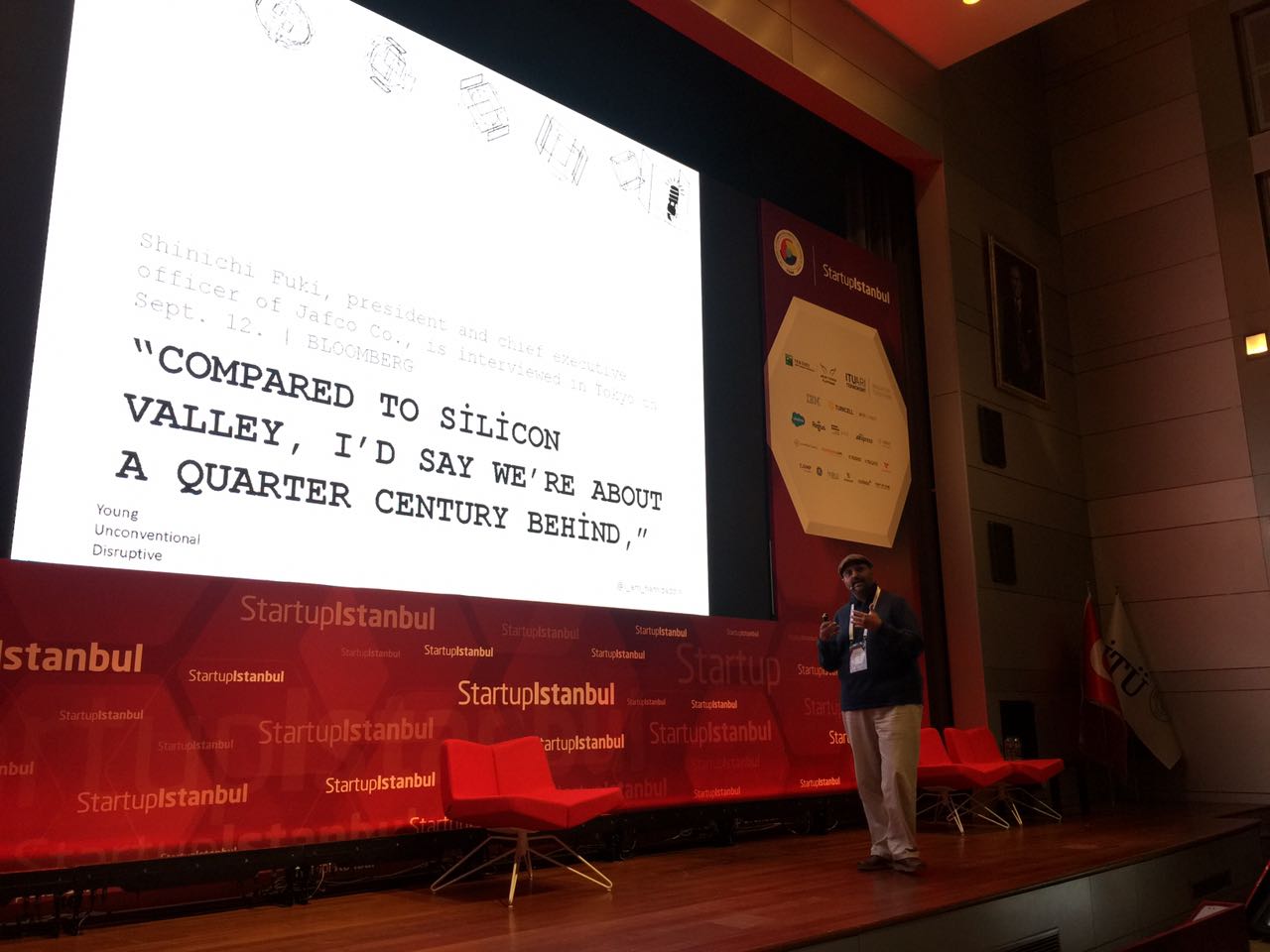 11:00   Coffee Break
10:20   Next session starts with Anil Advani and he will tell us about why, how and the pros and cons of setting up a startup coming in Silicon Valley.
Start-ups legal problems:
-incorporation process
-employment issue
-equality
-financial options
-strategic operations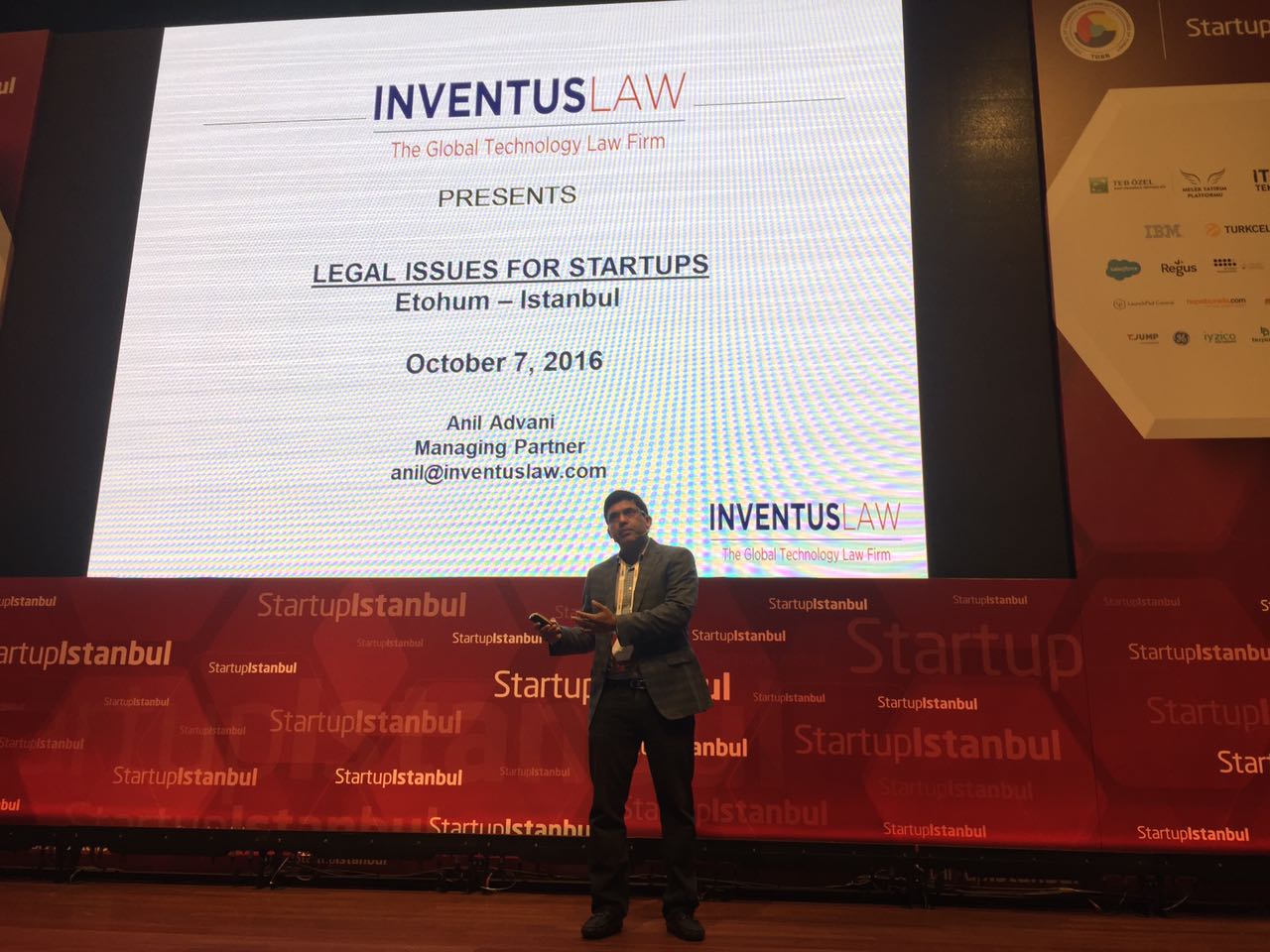 09:20    Now Jeremiah Gardner is on the stage for his workshop " How Rapid Experimantation for Validation".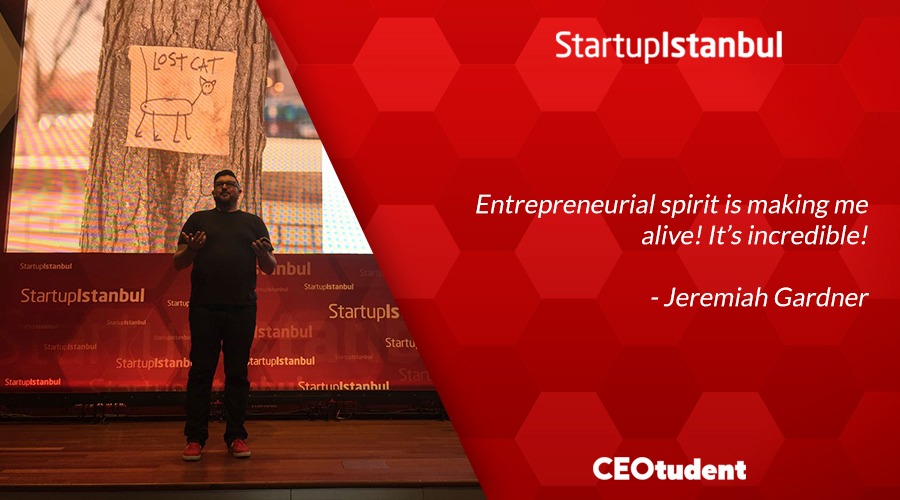 rapid experiment loop
Riskiest Assumption
Customer Behavior
Target Metric
Experiment
Hypothesis
Results
Observations
Insights
Evidence- based Decision
One Loop = One Experiment
Jeremiah Gardner took 2 volunteer entrpreneurs to stage and brainstorming game is strong.
" What you get by achieving your goals is not as important as what you become by achieving your goals."  – Zig Ziglar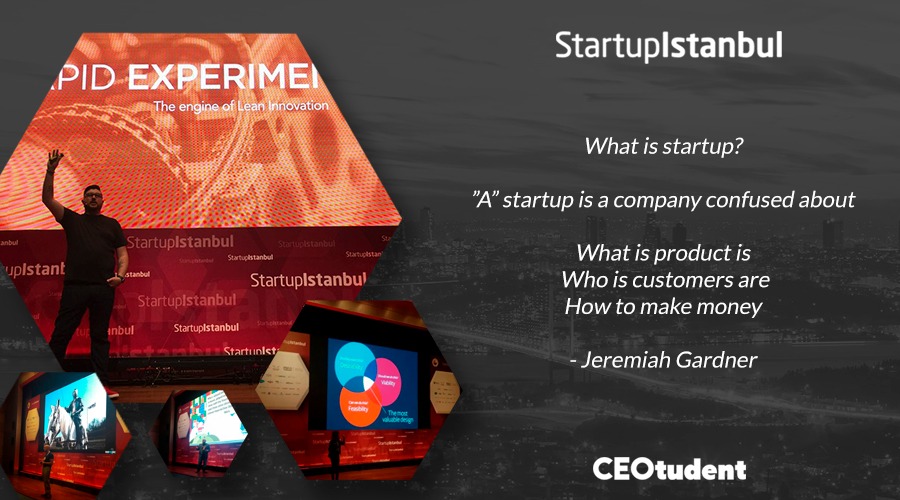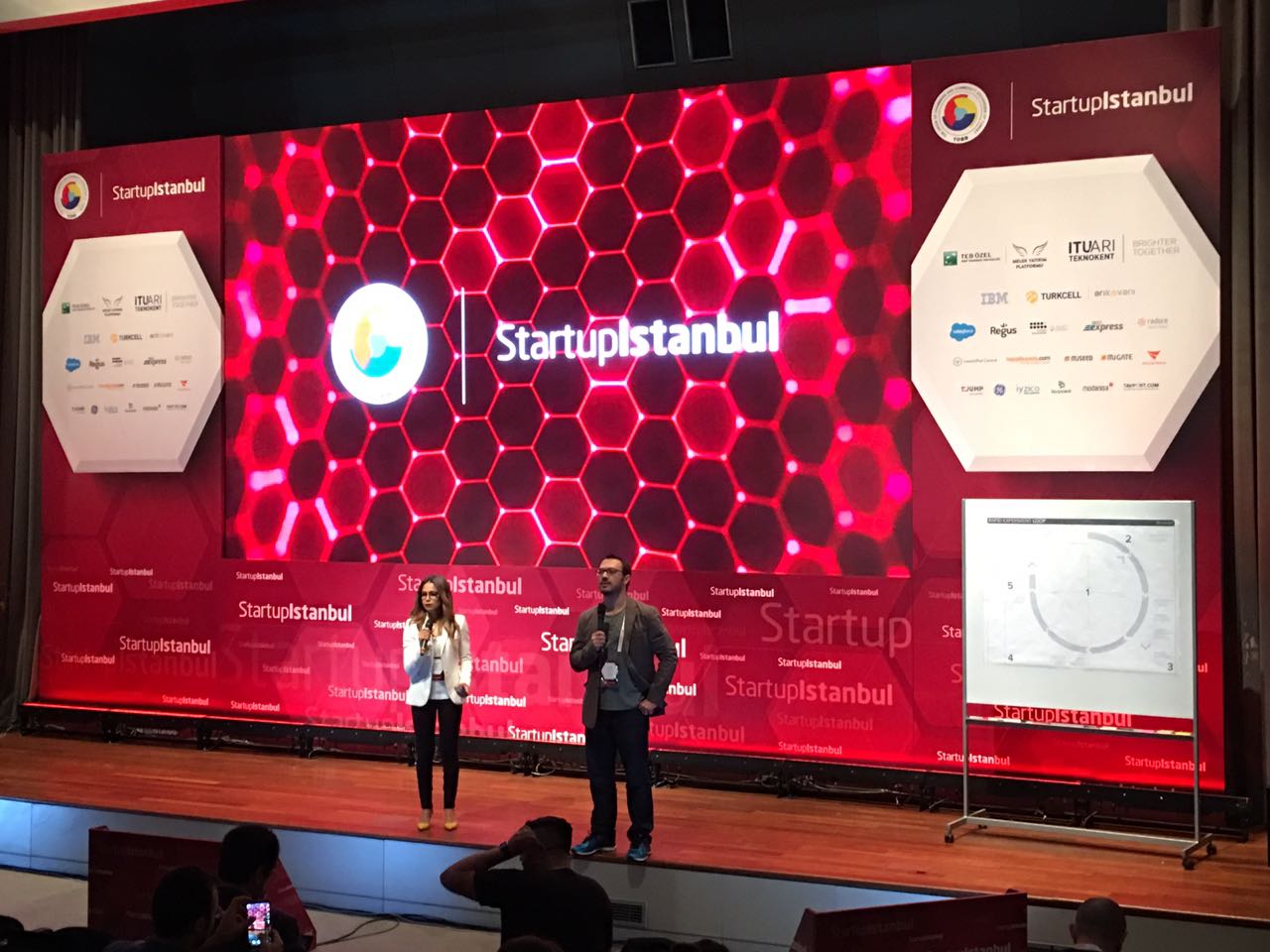 Startup Istanbul 2016 has started its second day with Amal Dokhan's opening speech!
7 October 2016 Friday
---
18:00  The first day of Startup Istanbul has ended! Hope to see you again tomorrow at 9 A.M. for more conferences about the valuable entrepreneurs,investors and speakers at SDKM!
5 Best practices for Customer Interviews
1 ) Identify your goals and important assumptions to test in advance.
2) Ask open ended questions and five whys
3) Get psyched to hear things you don't want to hear.
4) Search for behaviors and patterns,not feelings
5) Never pitch; be aware of confirmation bias.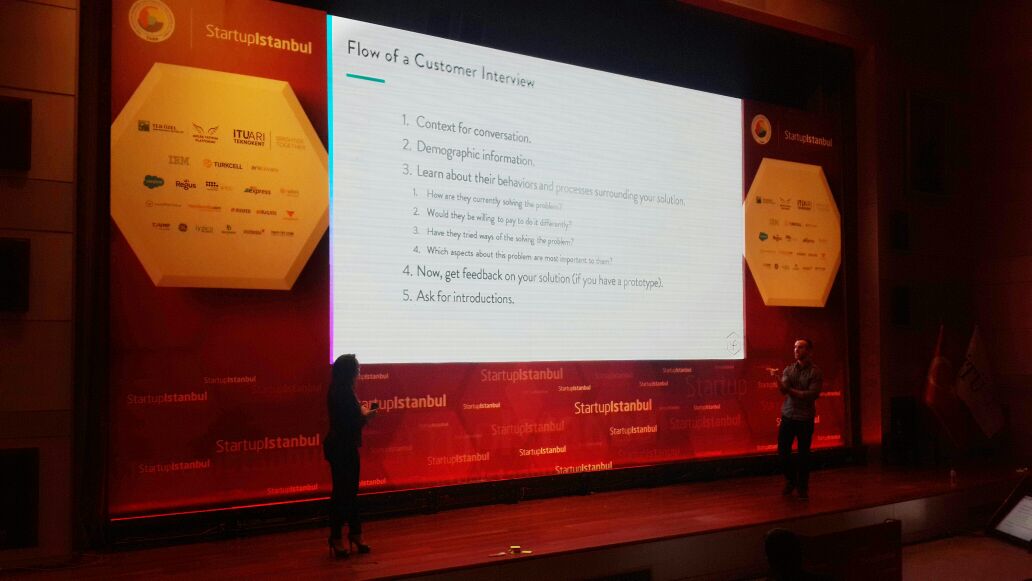 Changing the Rules of Information
Business Plans -> Business Model Canvas
Customer Development during Product Development
Linear Execution -> Pivot, Iterate and Validate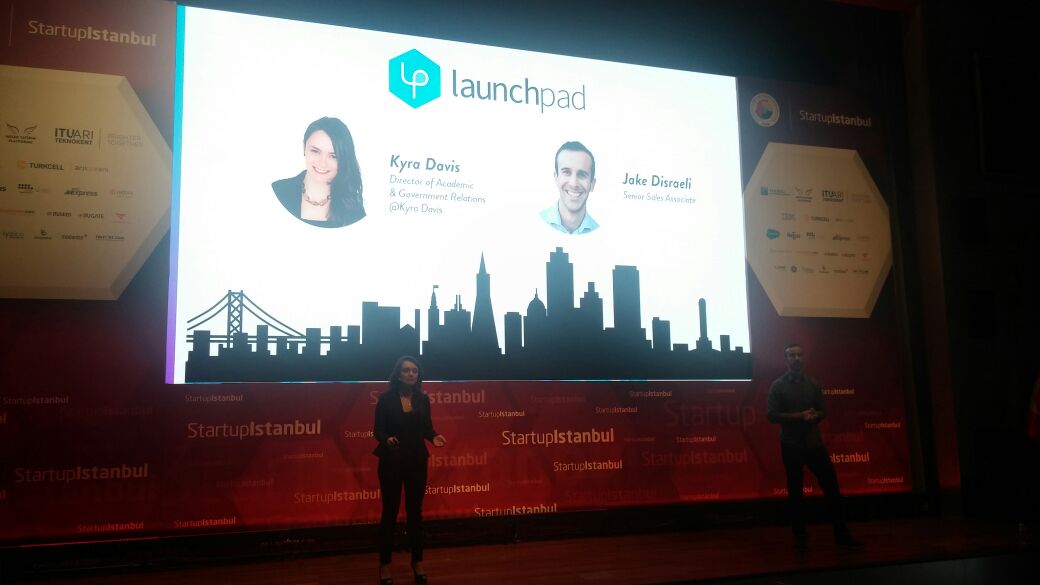 17:00   Kyra Davis and Jake Disraeli are now on stage. Next topic is Lean Startup Methodology.
When a great team meets a lousy market, market wins.
When lousy team meets a great market,market wins.
When a great team meets a great market, something special happens.   –Andy Rachleff
What do VCs want?
3 T's:
• Team   • Traction  • Target Market
Domain expertise , successful track-record, resourceful&fast&focused, Passionate&Resilient.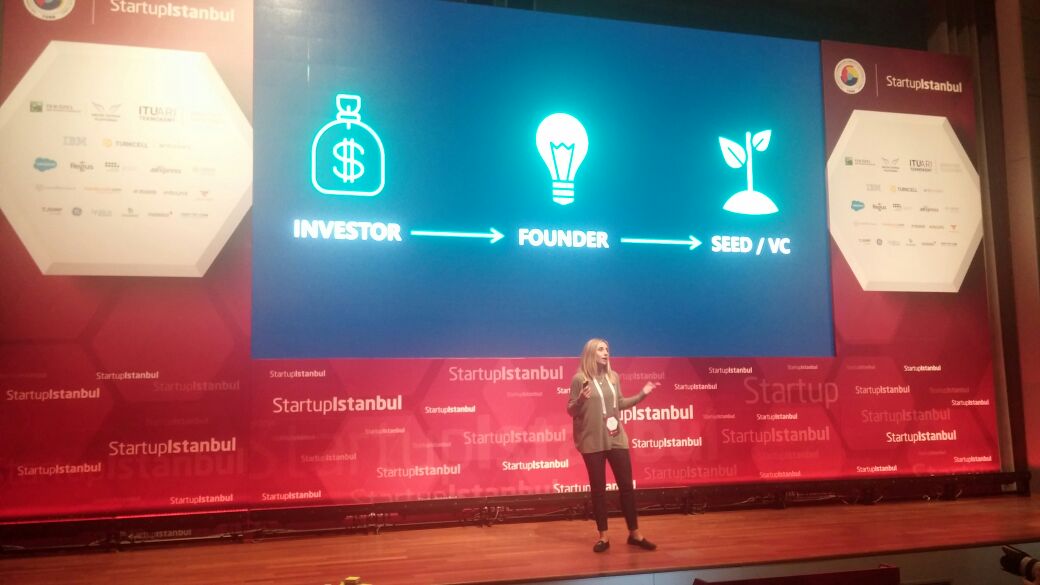 16:30   Rina Onur-  Demystifying Fundraising: 3 Key Elements VCs Look For While Investing 
If you're incumbent, don't focus on why something is impossible, ask yourself what would happen to your business if it was possible.
Nintendo didn't need to go build something that they weren't good at. They let someone else bear the burdens of cost and risk to try something new, while still profiting greatly.
Pokemon GO is eaitng people's time and money.
Measure everything.Never forget that you can see youself disrupted not by someone with a new technology or business model innovation, but by someone who does the exact same thing you do but measures it better for continual improvement.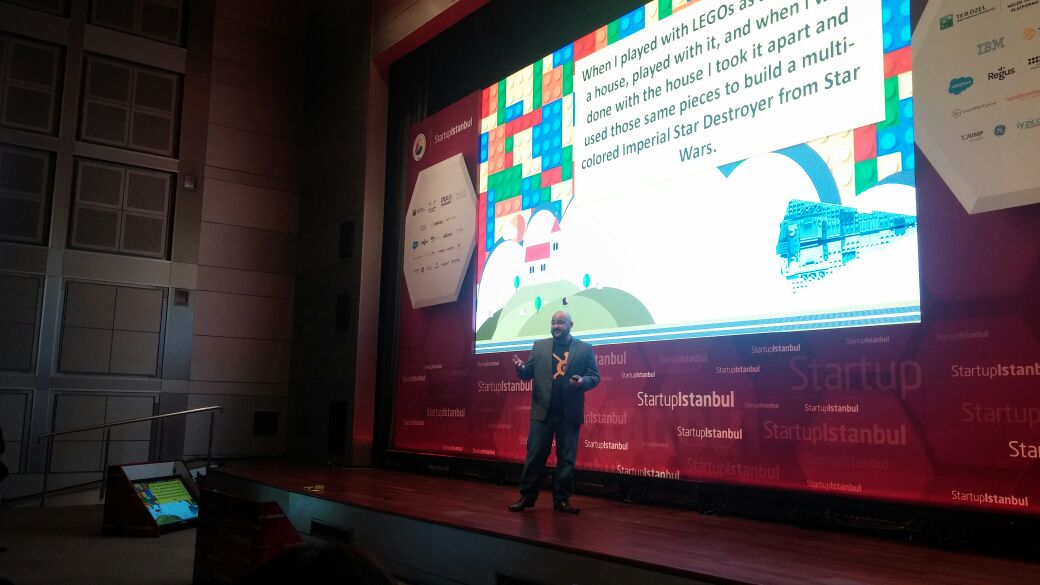 16:15   The session is keep going on with Sam Mallikarjunan.
British Trade Minister Mr.Greg Hands has came to Turkey for the first time. He firstly became the Trade Minister of United Kingdom in 15th July 2016. Mr.Greg Hands has really active political history such as he was in service as undersecretariat for the treasury between the years of 2011-2013 and undersecretariat for the kingdom and government between the years of 2013-2015. He also took an active role in trade market in New York and London before his political career. For more detailed information:        https://en.wikipedia.org/wiki/Greg_Hands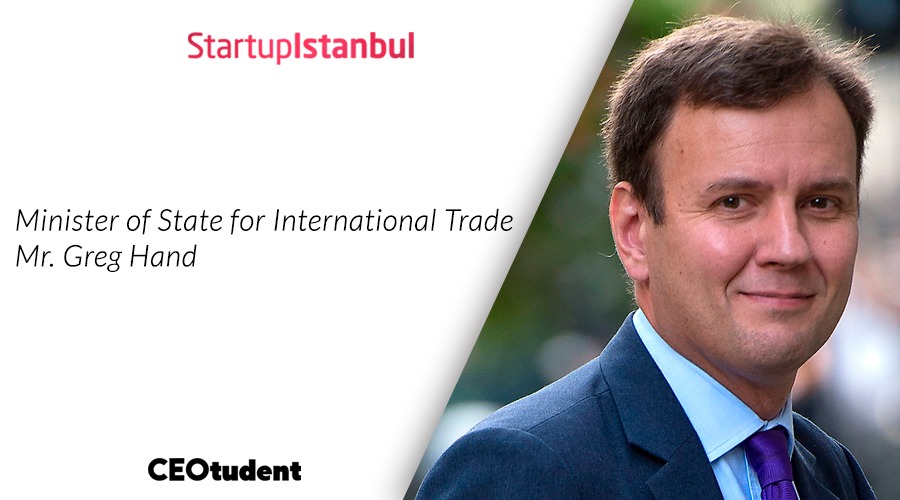 16:00   Minister of State for International Trade is in the conference hall now for the Startup Istanbul!
"In business, as in life, the toughest barrier to enduring greatnes is moderate success."
We live in the one of the most interesting periods in the history of commerce.
You expect to win, they expect to win too.
" It ain't about how hard you can hit, its about how hard you can get hit and keep moving forward." Rocky Balboa
Now Sam Mallikarjunan is on the stage to tell participants the secrets of IBM, LEGO, Pokemon companies. Stay tuned!
15:30   Now Sam Mallikarjunan is on the stage to tell participants the secrets of IBM,LEGO,Pokemon companies. Stay tuned!
15:10  Coffee Break
The session is going on well with the question&answer part.
Never ask a question to a salesman, if you don't know the answer.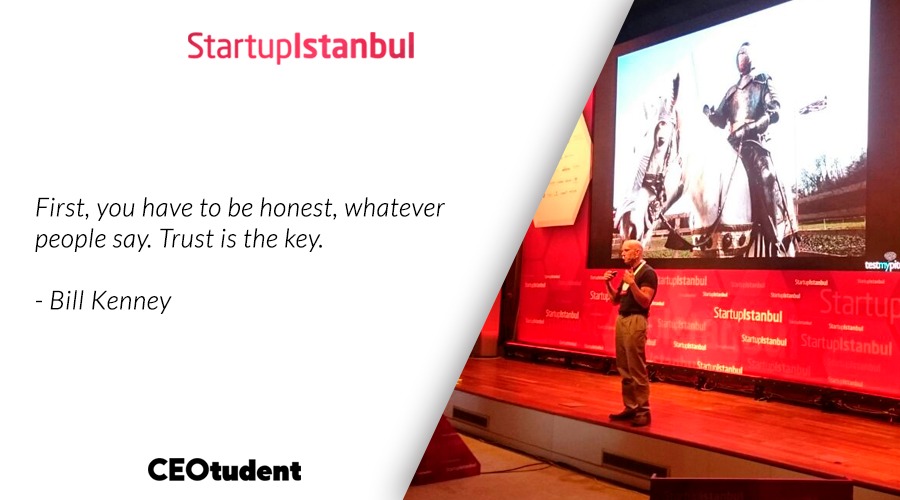 If you use less slides on your presentation you can have more live connection with the investors.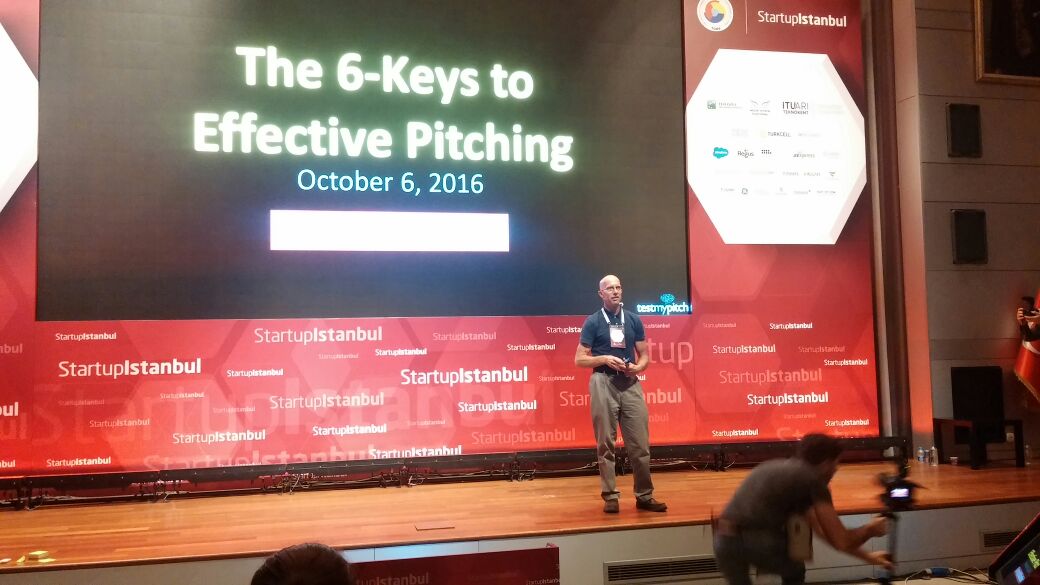 14:00  After a lunch break Start Up Istanbul is back with Effective Pitching Workshop from Bill Kenney!
12:30 Lunch
I fear not the man who has practiced 10.000 kicks once, but I fear the man who practiced one kick 10.000.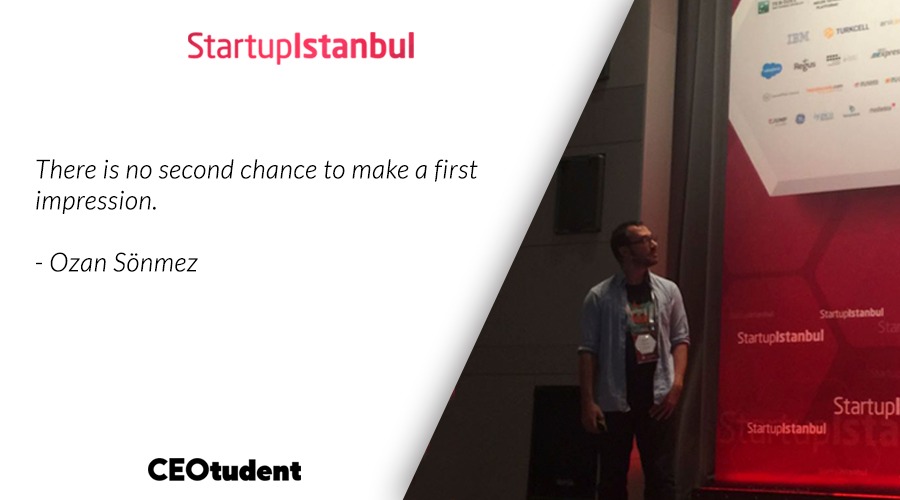 Hints for an effective presentation:
1)You represent yourself and your startup. Slides are just fort o support you not to write the whole story.
2) Always remember that there are different learning techniques.
3) If some of the things are wrong that is because of you.
4) Be prepared for all of the wastings.
5) You have two ears and one mouth. So talk less, listen more.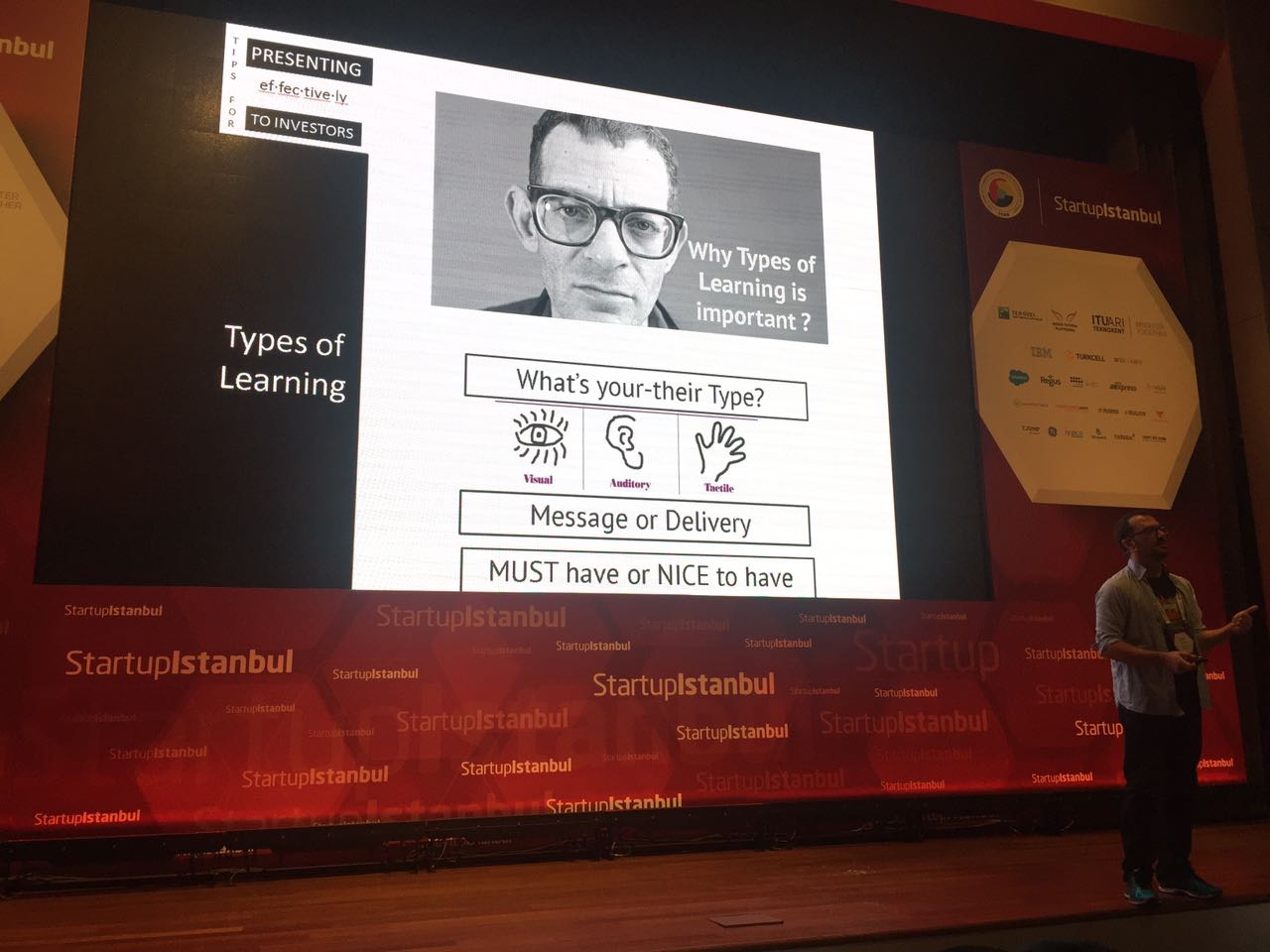 There is no second chance to make a first impression.
"Anything that can go wrong, will go growing." –Murphy's Law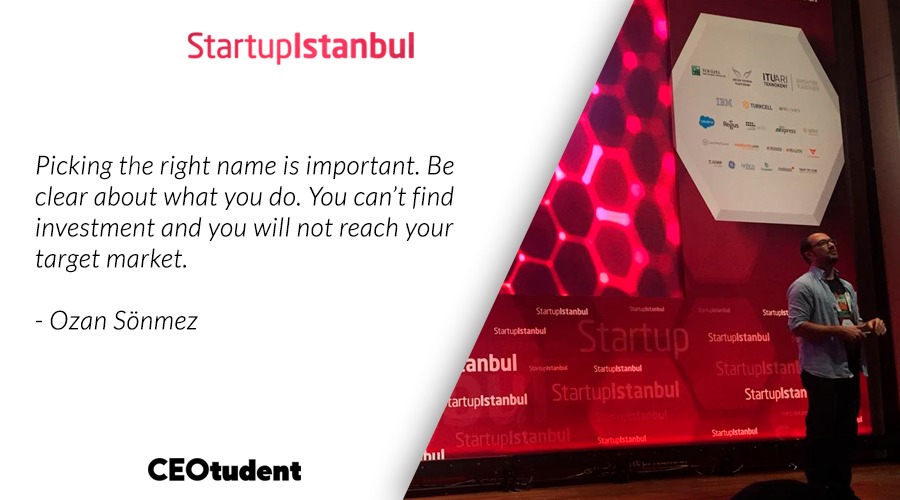 Now the startups which came to the stage are criticizing by the other entrepreneurs as they are mentioning about the importance of a startup's name.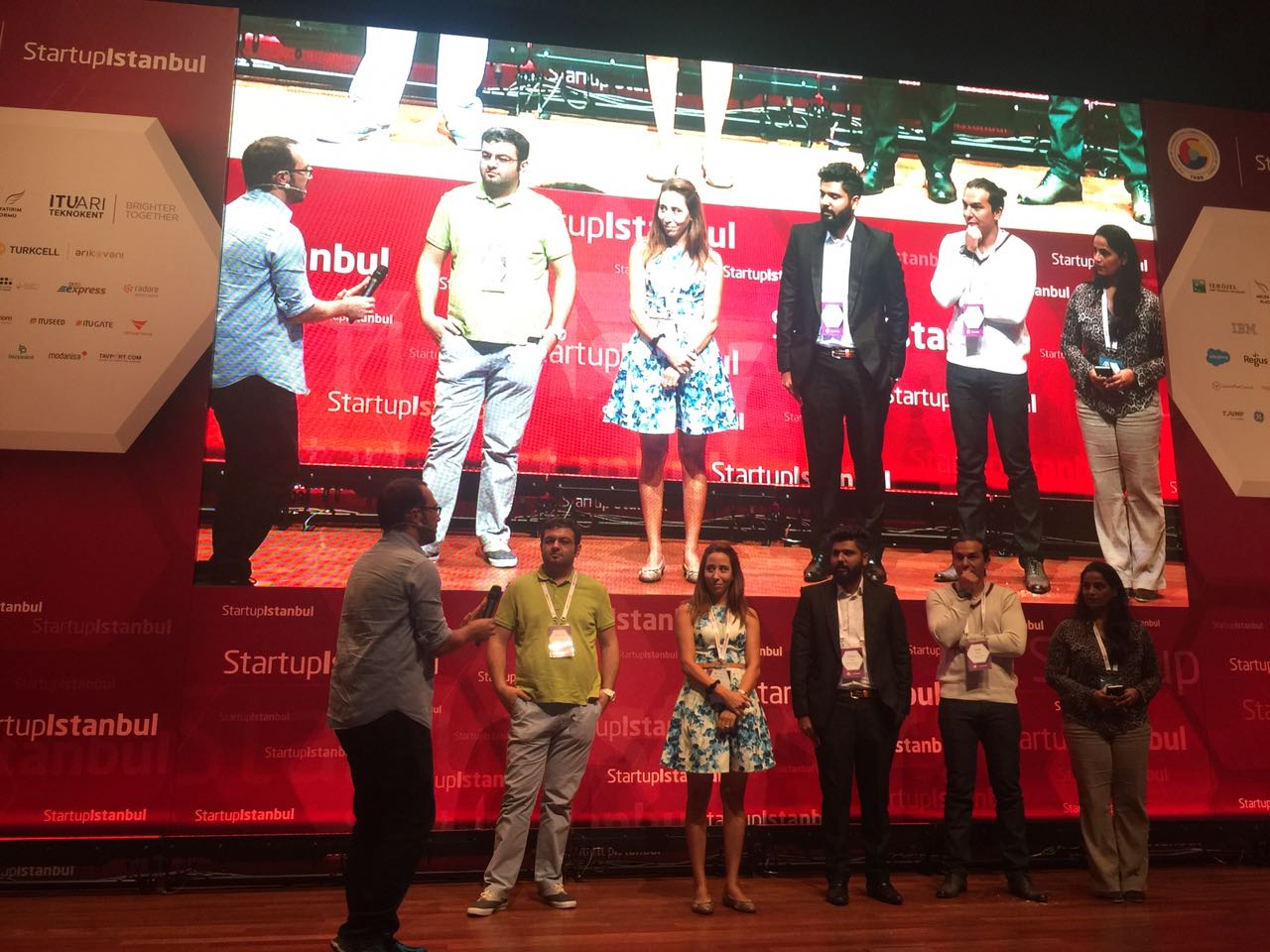 An entrepreneur should have tell its startup story in one minute at a presentation.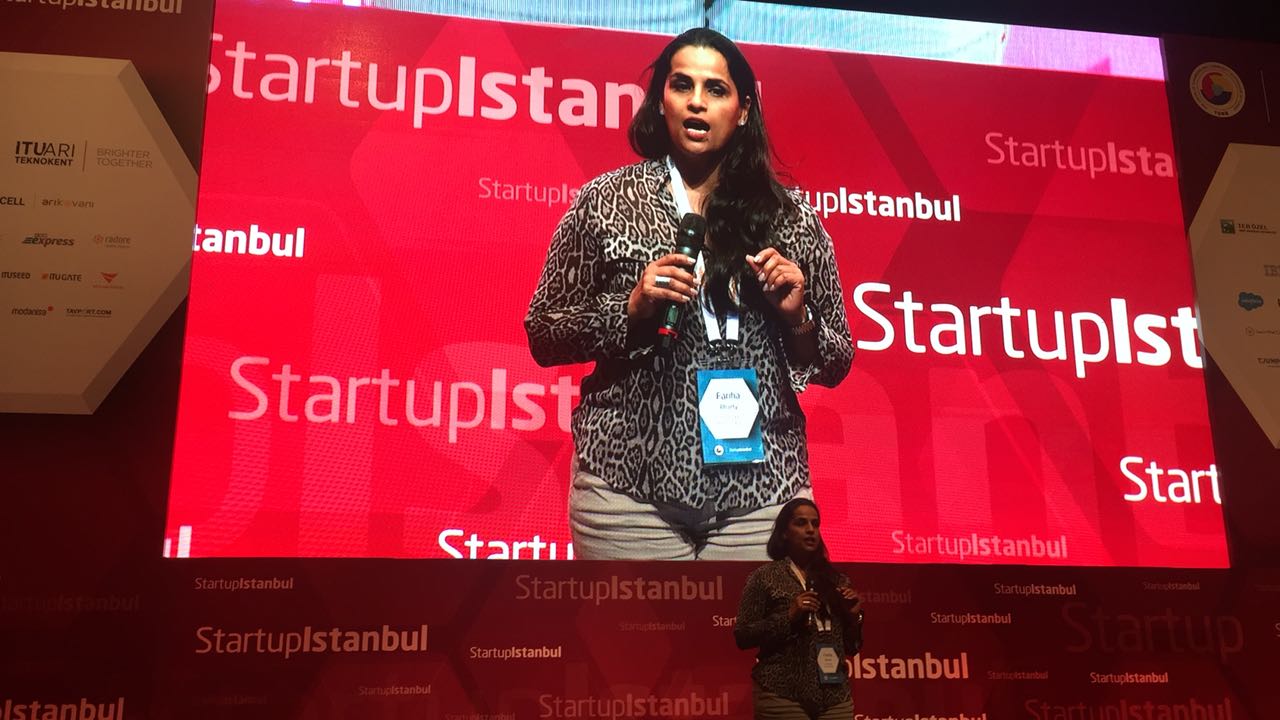 Entrepreneurs from all over the world are coming to stage one by one and telling their startups.
11:00  The event is going on with non-stop! "The Art of Pitching" with Ozan Sonmez and Amal Dokhan has started.
10:30  Coffee Break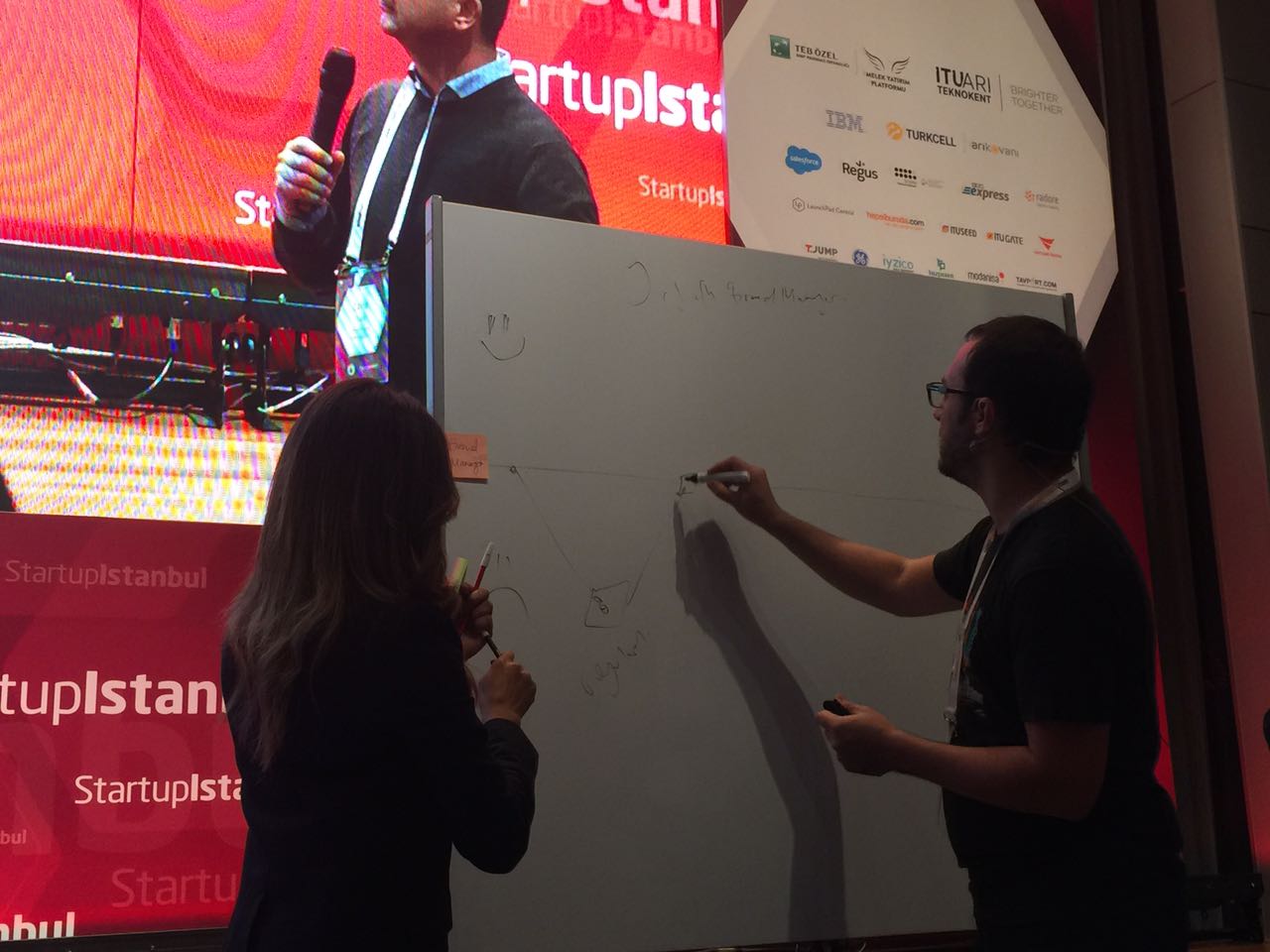 Startups are designing their journey maps for their customers.
Volunteer participants are welcoming to stage for helping them to understand their customers' needs.
Get feed back from your team and communicate with the customers to know their perspective.
It all starts with: How might we!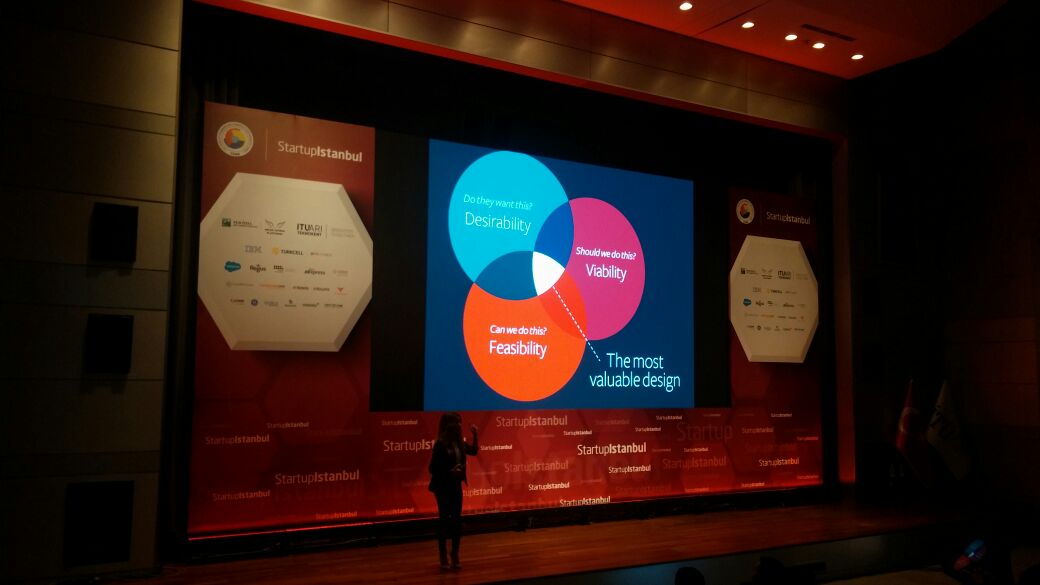 Products can be used once or twice and then we throw it away,but experience.. We can create a new culture with it.
"If you're not prepared to be wrong, you'll never come up with anything original." Sir Ken Robinson
Don't make the mistake of trying to understand your startup's customerts trough assumptions.
All participants took a post it and a pen and drew a portrait of the person who is sitting next to them. What an interesting start!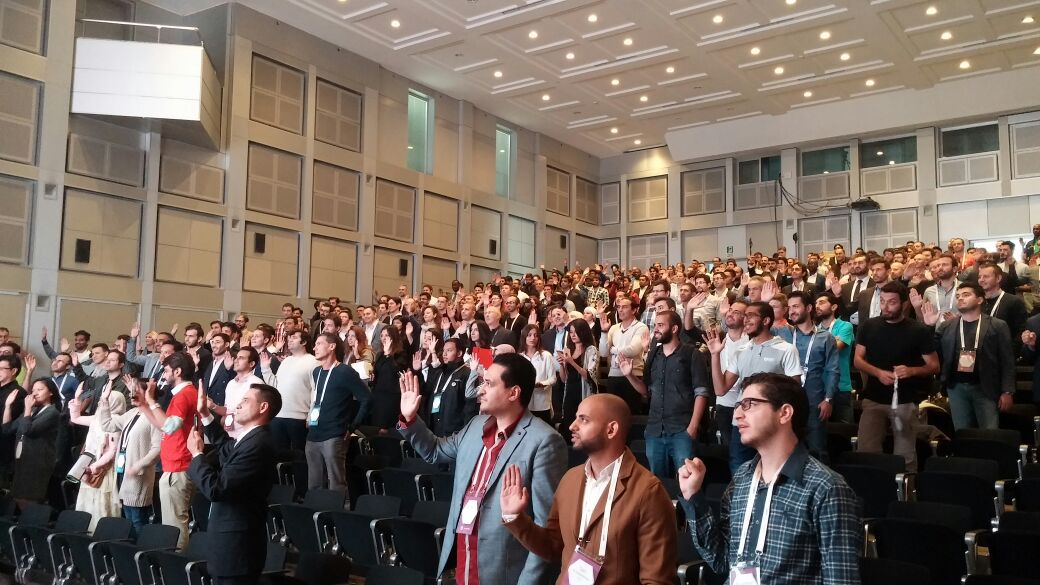 All of the entrepreneurs are standing for startup oath!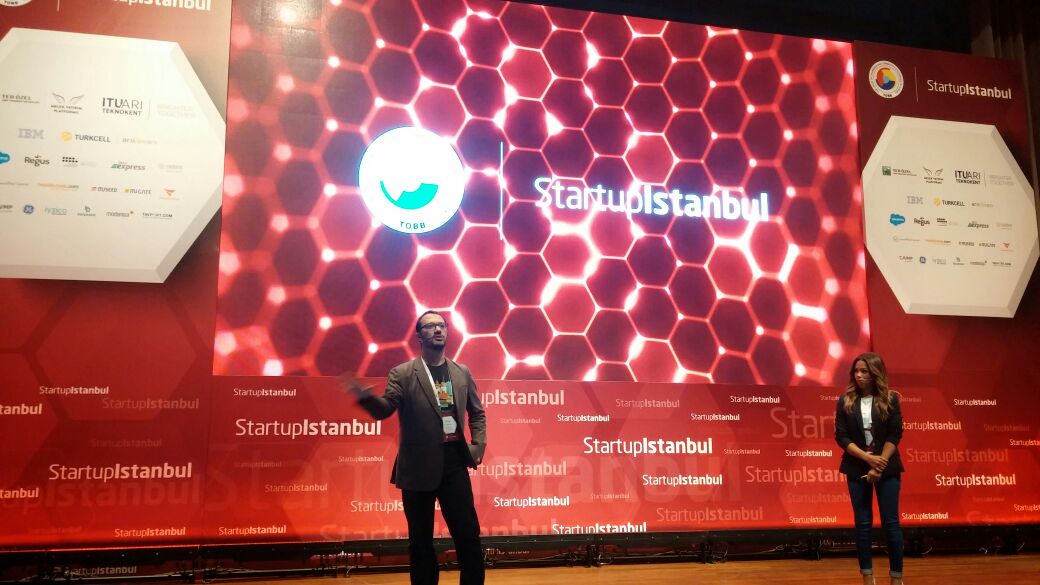 09:00  Startup Istanbul is getting started with Ozan Sonmez and Amal Dokhan's opening speeches.
We are livestreaming now on Startup Istanbul, the biggest entrepreneurship organization of Eurasia.
---
6 October 09:00